Oye Arnold: un dibujo animado que marcó mi infancia (ES/EN)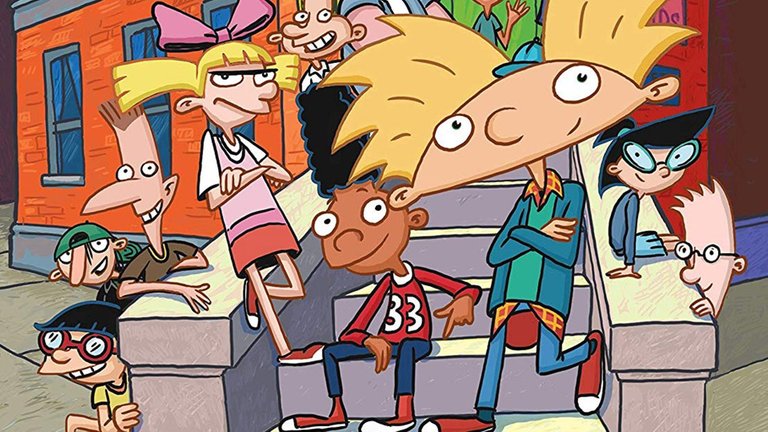 Fuente
Español
Hola amigos de Hive, hoy quiero hablarles de Oye Arnold un dibujo animado que marcó mi infancia, ya fuese simplemente por brindarme horas diversión o por darme una visión positiva del mundo a nivel social, ayudándome a entender principalmente que todas las personas son diferentes y únicas, y que el respeto debe prevalecer sobre todas las cosas, y también que si nos lo proponemos todos los problemas pueden ser resueltos de buena manera, actuando con ética y justicia.
Oye Arnold fue una serie animada producida por Nickelodeon y creada por Craig Bartlett cuya primera emisión se realizó en 1996. En cada episodio se nos muestra las vivencias de Arnold, un chico de 9 años habitante de un suburbio del estado de Washington en Estados Unidos, que junto a sus amigos del barrio se enfrenta a problemáticas de la vida cotidiana y que en ocasiones se mezclan con la fantasía.
Algo que me gusta de este dibujo animado es que promueve valores como la tolerancia y la justicia, pues todos los chicos del barrio tienen una personalidad única, con defectos y virtudes, y en cada uno de ellos podemos ver reflejados a nuestros amigos, quienes pudieran tener vicios, ser extraños y diferentes, tener traumas, estar un poco locos, tener desórdenes alimenticios, incluso ser incapaces de demostrar sus sentimientos, pero a pesar de todo esto el compañerismo y la amistad siempre prevalecen.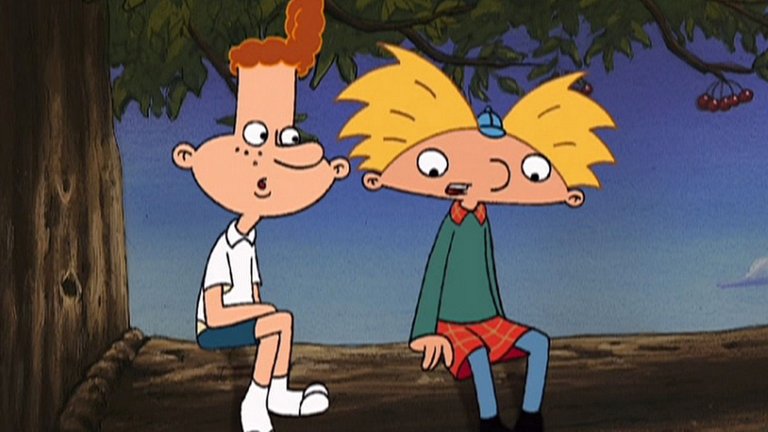 Fuente
Arnold es un personaje que se muestra muy maduro psicológicamente para su edad, siempre tiene una solución para los problemas, y cuando se ve sorprendido por problemas mayores, estos terminan resolviéndose para él gracias a su gran moral y al apoyo de sus amigos, familiares y vecinos, que están en sintonía con sus ideales de justicia.
Debo decir que en algunos personajes veo una parte de mí, ya sea en mi infancia o en mi vida adulta, por ejemplo, en El Niño Chocolate veo mi adicción a las hamburguesas, en Nadine mi curiosidad por los insectos y gusto por las cosas extrañas, en Helga, la situación con mi amor platónico de la escuela, de quien en alguna ocasión sin motivo alguno dije algo malo, y llegó a sus oídos, por lo que nunca hubo armonía y guardé el secreto, y en Gerald, a mi mejor e inseparable amigo de la escuela, con quien siempre podía contar, y con quien aún mantengo amistad en la distancia después de 25 años, y finalmente en Arnold me veo a mí mismo, pues me considero una persona pacifica, que respeta a los demas, siempre intento hacer el bien y jamás he tenido intenciones de dañar a nadie, por lo menos de manera intencional.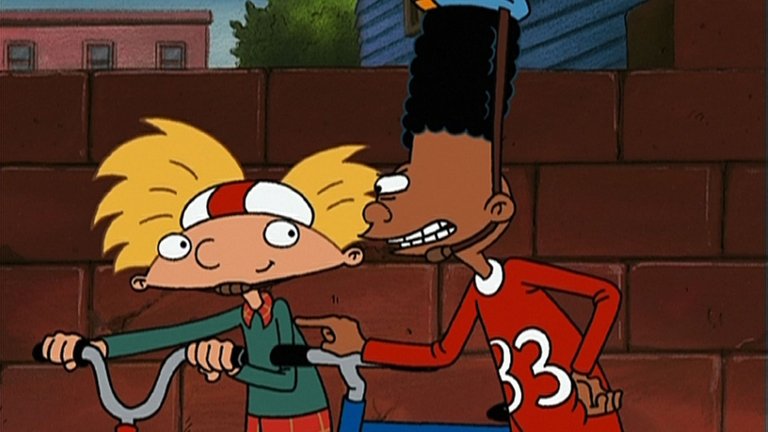 Fuente
Creo que Oye Arnold es un dibujo animado que todos los niños de esta época deberían ver, me parece que puede ser muy enriquecedor, ya que me parece que gran parte de las caricaturas en la actualidad no aportan nada positivo, y son sumamente extrañas.
Espero les haya gustado mi post déjenme en los comentarios su opinión respecto a esta serie animada
English
Hello friends from Hive, today I want to talk to you about Hey Arnold a cartoon that left footprint in my childhood, whether it was simply for giving me hours of fun or for giving me a positive view of the world at a social level, helping me to understand mainly that all people are different and unique, and that respect must prevail over all things, and also that if we propose it all problems can be solved in a good way, acting with ethics and justice.
Hey Arnold was an animated series produced by Nickelodeon and created by Craig Bartlett whose first broadcast took place in 1996. In each episode we are shown the experiences of Arnold, a 9 year old boy from a suburb of Washington State in the United States, who along with his friends in the neighborhood faces everyday life problems that sometimes are mixed with fantasy.
Something I like about this cartoon is that it promotes values such as tolerance and justice, because all the neighborhood children have a unique personality, with flaws and virtues, and in each of them we can see reflected our friends, who may have vices, be strange and different, have traumas, be a little crazy, have eating disorders, even be unable to show their feelings, but despite all this, companionship and friendship always prevail.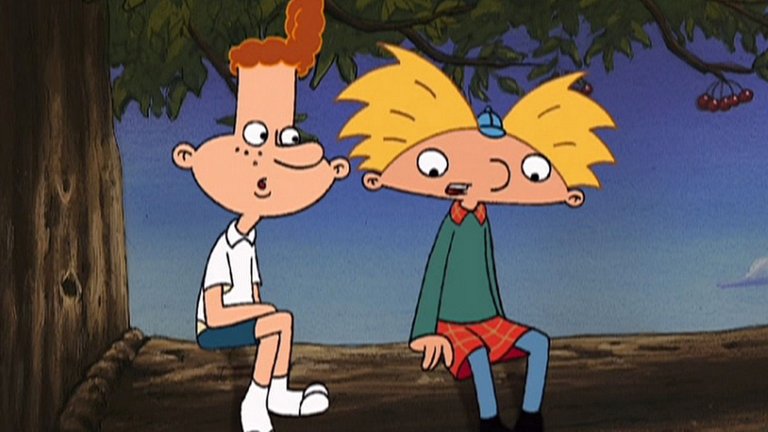 Source
Arnold is a character that is shown to be very psychologically mature for his age, he always has a solution for problems, and when he is caught in major problems, they end up being solved for him thanks to his great morals and the support of his friends, family and neighbors, who are in tune with his ideals of justice.
I must say that in some characters I see a part of me, either in my childhood or in my adult life, for example, in the Chocolate Kid I see my addiction to hamburgers, in Nadine my curiosity for insects and liking for strange things, in Helga, the situation with my platonic love from school, of whom I once said something bad for no reason, and it reached her ears so there was never a good relationship and i kept the secret, and in Gerald, to my best and inseparable friend from school, with whom I could always count on, and with whom I still maintain friendship in the distance after 25 years, and finally in Arnold I see myself, because I consider myself a peaceful person, who respects others, I always try to do good and I have never had intentions to harm anyone, at least intentionally.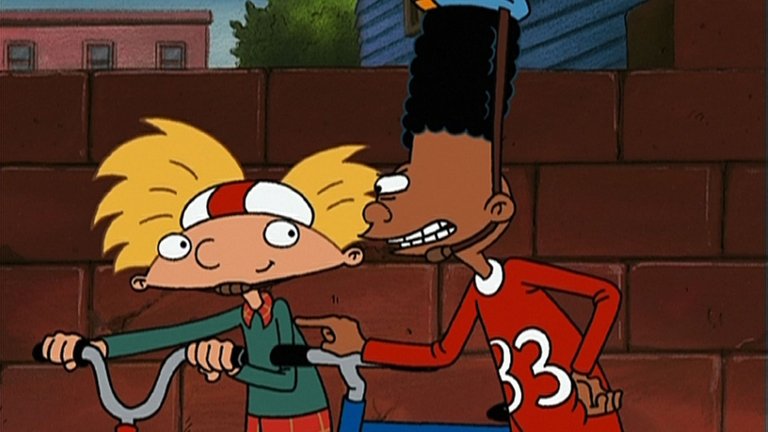 Source
I think Hey Arnold is a cartoon that all children of this era should watch, I find it can be very enriching, as it seems to me that many of the cartoons today do not bring anything positive, and are extremely strange.
I hope you liked my post leave me in the comments your opinion regarding this animated series.
Translated with www.DeepL.com/Translator (free version)
---
---