Broma con broma se paga. [Esp/Eng]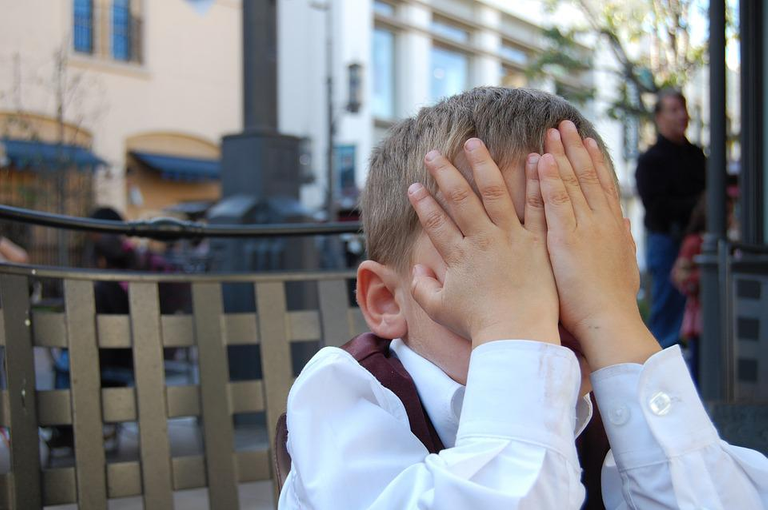 Vez tras vez, Anthony miraba su reloj de Batman, su corazón latía más rápido al ver que la hora para encontrarse con aquella chica se acercaba.
Junto a él, su mejor amigo Marcus, quién por mucho, había sido su compañero de aventuras, pero esta vez, era su compañero de travesía, de hecho, fue su plan que Isabella y Anthony se encontrarán en aquel sitio.
—¿Marcus, estás seguro de que ella quiere verme? —
Los nervios comenzaban a afectar el sistema nervioso de Anthony, que se desesperaba cada vez más al ver que el tiempo seguía consumiéndose, y la joven no llegaba.
—Por supuesto, elegante caballero. ¿Quién no quisiera estar entre tus brazos? Seguro que caerá en los tuyos fácilmente, tú tan solo mantén la calma, que yo haré lo que falte —
La risa dentro de Marcus era casi imposible de no verse, un plan malévolo se iba maquinando en sí, que tendría el único propósito de dejar en ridículo al pobre Anthony.
—¿Y qué tal si lo dejamos para otro día Marcus? La verdad es que tengo un mal presentimiento con esto, y la verdad ya no me está gustando la idea. ¿Por qué ella no me lo dijo a mí, sino a ti? ¿Y por qué en este sitio? —
—Vamos hombre tranquilízate. No puedes dejar a una mujer embarcada así como así, y esperar a que te dé otra oportunidad. Ella solo tiene un poco de pena, pero ya verás que todo saldrá bien. —
Marcus sacaba un pedazo de tela para ponerlo en los ojos de Anthony, para que su macabro plan pudiera darse de la manera como esperaba
—Marcus, ¿y por qué rayos tengo que tener los ojos vendados? ¿Acaso te dijo eso también? —
—Tranquilo campeón. Ella solo dijo que le daba pena verte, y que quería darte un besito en tus mejillas sonrojadas. ¿Solo no vayas a abusar ok? Además, bien sabes que ella es algo penosa, fue por eso que decidió decirme a mí para que nos encontráramos acá, pero como te he dicho, no te preocupes, acá estoy yo para cuidarte —
La carcajada en su interior hacía difícil mantener la seriedad de Marcus, quién intentaba de todas formas mantener la calma para que todo saliera como lo había planeado, solo así podría cobrar la venganza de haber puesto su confianza en Anthony, y que ahora debía compensar lo que le había hecho él en su momento.
—No, no, es mejor que me vaya Marcus, esto no me está gustando y además creo que ella ya no va a llegar. —
—¡Cálmate! Te digo que ella ya viene- Clic, Clic, hizo el teléfono de Marcus- ¿Ya escuchaste? Es un mensaje de ella, dice que en 2 minutos estará acá, así que ve preparándote, y coloca la mejor posición para darle el besito —
Durante semanas, Anthony había estado deseando siquiera rosar su mano con la de Isabella, quién era la niña más hermosa del colegio, y al saber que Marcus era amiga suya, no había perdido la oportunidad de hablar con él para que se la presentara.
Aun así, las sospechas de Anthony eran sensatas, conociendo a Marcus, podía esperar cualquier cosa de su parte. Sus razones era más que válidas, ya que no podía olvidar el momento cuando le dejó una rana en su mochila, haciéndolo gritar como un loco, y haciendo que hiciera el ridículo frente a todos en la escuela.
—¿Oye Marcus, espero que ya hayas olvidado lo que pasó el otro día con la rana verdad? —
El recuerdo de la escena, donde Marcus casi lloró del miedo, le daba el impulso más que suficiente para mantener su plan, sin importar lo que sucediera a partir de ese instante.
—Jamás amigo, ya sabes que eres como mi hermano, y ya hemos dejado eso en el pasado. Pero no hables tanto, y ponte en posición, que creo ver que se está acercando Isabella. —
El corazón de Anthony se detuvo en un instante. Sus manos eran imposibles de mantenerse quietas al pensar que daría no solo su primer beso, sino que lo haría con la muchacha más hermosa que jamás había visto.
—Hola Anthony. ¿Si me vas a regalar un besito? — La voz fina parecía ser la de Isabella, pero eso era lo de menos, después de todo, tan solamente imaginar darle un pequeño beso, lo convertiría en el chico más afortunado del mundo.
—Si, si me gustaría — Respondió con la voz casi entrecortada Anthony, mientras que hacía un gesto con sus labios preparándose para su triunfal logro.
—Bueno está bien. Use el labial de fresa para darte este besito, espero que te guste —
—¿"Labial de fresa?" —
Sin pensarlo 2 veces, Anthony llevó ambas manos a su cara para tratar de quitarse la venda, pues sospechas se habían convertido en algo real, ya que, a la única persona que le había dicho que le gustaba el labial de fresa, que había probado de su hermana era al mismo Marcus.
Pero justo antes de que pudiera hacerlo, sintió la piel fría en sus labios, y el sabor desabrido de lo que fuera que había llegado a sus labios.
Tan pronto pudo ver, su cara sonrojada paso a ser pálida, y sus emociones de nervios se convirtieron en enojo.
Una enorme iguana, el animal más temible para Anthony, estaba frente a sí, pasando su lengua por su boca al probar los labios de este, mientras todos los compañeros de su salón se reían a carcajadas por el dulce beso recibido.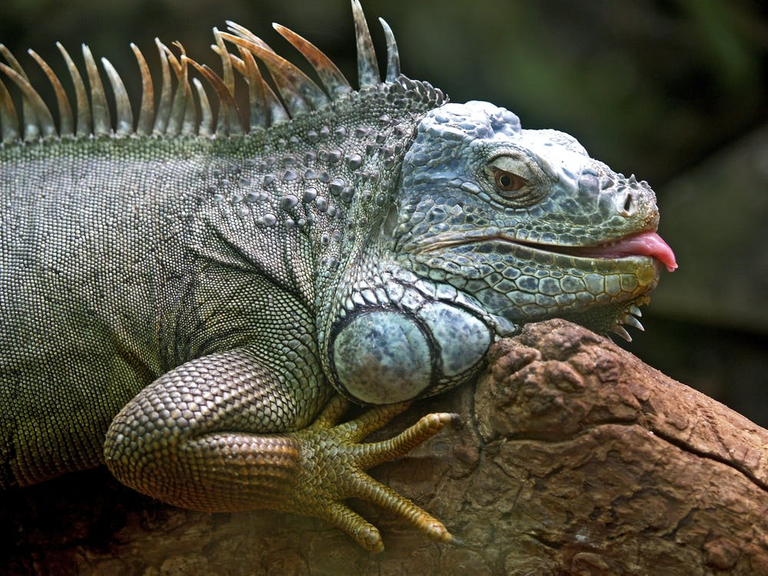 —¡Eres un desgraciado Marcus, eres un...! —
—Ey, cuida tus palabras plebeyo, no querrás que tu princesa escuche eso de tus dulces labios — Respondió casi perdiendo el aire Marcus, que había saldado la cuenta con su mejor amigo.
Porque al final, broma con broma se paga.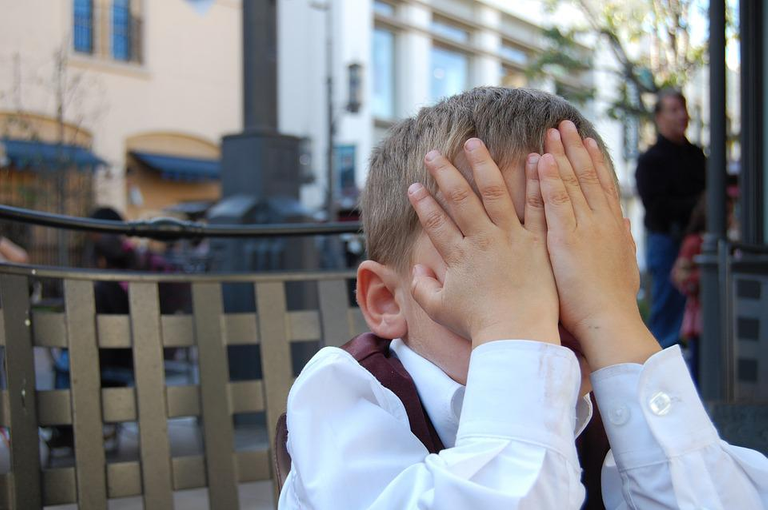 Time after time, Anthony looked at his Batman watch, his heart beating faster as he saw the time to meet the girl approaching.
Next to him, his best friend Marcus, who for a long time, had been his partner in adventure, but this time, he was his traveling companion, in fact, it was his plan that Isabella and Anthony would meet in that place.
-Marcus, are you sure she wants to see me? -
The nerves were beginning to affect Anthony's nervous system, who was getting more and more desperate as he saw that the time was still ticking away and the young lady was not arriving.
-Of course, elegant gentleman, who wouldn't like to be in your arms? I'm sure she'll fall into yours easily, you just keep calm, I'll do whatever it takes".
The laughter inside Marcus was almost impossible to miss, a malevolent plan was being hatched within himself, which would have the sole purpose of making a fool of poor Anthony.
-And what if we leave it for another day, Marcus? The truth is that I have a bad feeling about this, and the truth is that I don't like the idea anymore. Why she didn't tell me, but you? And why in this place? -
-Come on, man, calm down. You can't just leave a woman on board just like that, and wait for her to give you another chance. She's just a little sorry, but you'll see that everything will be all right. -
Marcus took out a piece of cloth to put over Anthony's eyes, so that his macabre plan could happen the way he hoped it would.
-Marcus, and why the hell do I have to be blindfolded? Did she tell you that too? -
-Easy, easy, champ. She just said she was sorry to see you, and that she wanted to give you a little kiss on your blushing cheeks. Just don't go abusing her, ok? Besides, you know she's a bit pitiful, that's why she decided to tell me to meet her here, but as I told you, don't worry, I'm here to take care of you - - I'm here to take care of you.
The laughter inside him made it difficult to keep the seriousness of Marcus, who was trying anyway to keep calm so that everything would go as he had planned, only this way he could take revenge for having put his trust in Anthony, and now he had to compensate for what he had done to him at the time.
-No, no, it's better that I leave Marcus, I'm not liking this and besides I don't think she's going to arrive anymore. -
-Calm down! I'm telling you she's coming- Click, click, click, she made Marcus' phone- Did you already listen? It's a message from her, she says she'll be here in 2 minutes, so get ready, and get in the best position to give her the kiss- -Click, click, click, click, click, click, click.
For weeks, Anthony had been wishing to even touch his hand with Isabella's, who was the most beautiful girl in the school, and knowing that Marcus was her friend, he had not missed the opportunity to talk to him to introduce her to him.
Still, Anthony's suspicions were sensible, knowing Marcus, he could expect anything from him. His reasons were more than valid, as he couldn't forget the time when he left a frog in his backpack, making him scream like a madman, and making a fool of himself in front of everyone at school.
-Hey Marcus, I hope you've already forgotten what happened the other day with the frog, right? -
The memory of the scene, where Marcus almost cried from fear, gave him more than enough momentum to stick to his plan, no matter what happened from that instant on.
-Never friend, you know you're like my brother, and we've already left that in the past. But don't talk so much, and get into position, I think I see Isabella approaching. -
Anthony's heart stopped in an instant. His hands were impossible to keep still at the thought that he would be giving not only his first kiss, but with the most beautiful girl he had ever seen.
-Hi Anthony, will you give me a little kiss? - The thin voice seemed to be Isabella's, but that was the least of it, after all, just imagining giving him a little kiss would make him the luckiest boy in the world.
-Yes, I'd like that," Anthony replied in an almost breathless voice, as he pouted his lips in preparation for his triumphant achievement.
-Well, that's all right. I used the strawberry lipstick to give you this little kiss, I hope you like it -".
-Strawberry lipstick?"
Without thinking twice, Anthony brought both hands to his face to try to remove the blindfold, for suspicions had become real, since the only person who had told him he liked the strawberry lipstick he had tasted from his sister was Marcus himself.
But just before she could do so, she felt the cold skin on her lips, and the unpalatable taste of whatever it was that had landed on her lips.
As soon as she could see, her flushed face turned pale, and her nervous emotions turned to anger.
A huge iguana, Anthony's most fearsome animal, was in front of him, running its tongue across his mouth as it tasted his lips, while all his classmates laughed out loud at the sweet kiss.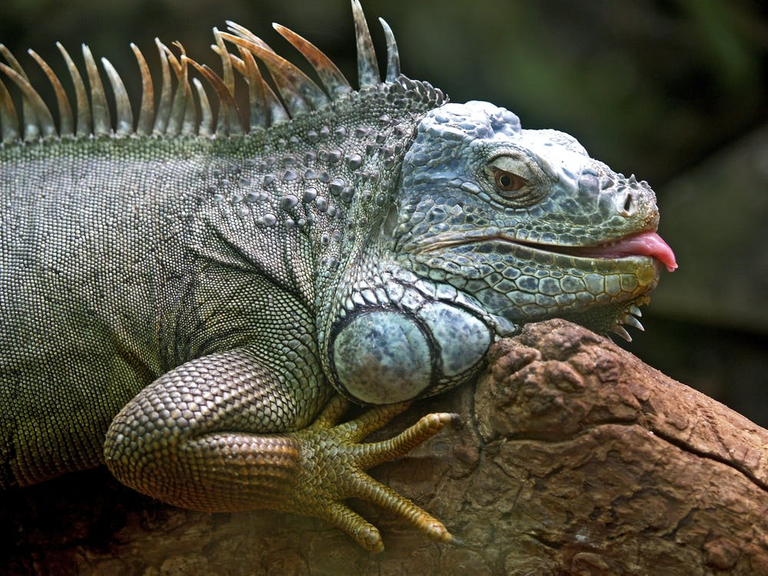 -You're a wretch Marcus, you're a...! -
-Hey, watch your words, commoner, you don't want your princess to hear that from your sweet lips," replied Marcus, who had settled the score with his best friend.
Because in the end, joke with joke is paid with joke.
Ismael D. Rodríguez
Fotografías propias. Tomadas con un Tecno Spark 6Go Editadas con Inshot
Discord ismaelrd04#9345




---
---