Expected crop [Eng/Esp]
Hi guys!
I hope you are having a great few weeks and that like me, your gardens are healthy and producing fruit to be able to help families and close friends, as is the case with us.
First of all, it has been too hard weeks in relation to the weather, one that is supposed to be more winter, but it has been the opposite, we have come to feel the heat to just over 39 degrees, which has made us have to be more aware of the plants than usual.
So, despite this, we have also had the joy of being able to harvest some things in the garden, and I wanted to show you some things that we have and that I harvested, we will surely feel encouraged to think about the benefits of continuing in the work of the garden despite the obstacles that may arise.
---
In the garden, I had the opportunity to plant a vegetable called Batata, which is a tuber, which like the potato, occurs below the ground, but unlike this, the batata is sweet, and has different aspects, color and flavor even, in the following image you can see one of those that I harvested.
It is red in appearance, and very sweet.
It took about 8 months of waiting to harvest it. But it was worth the wait.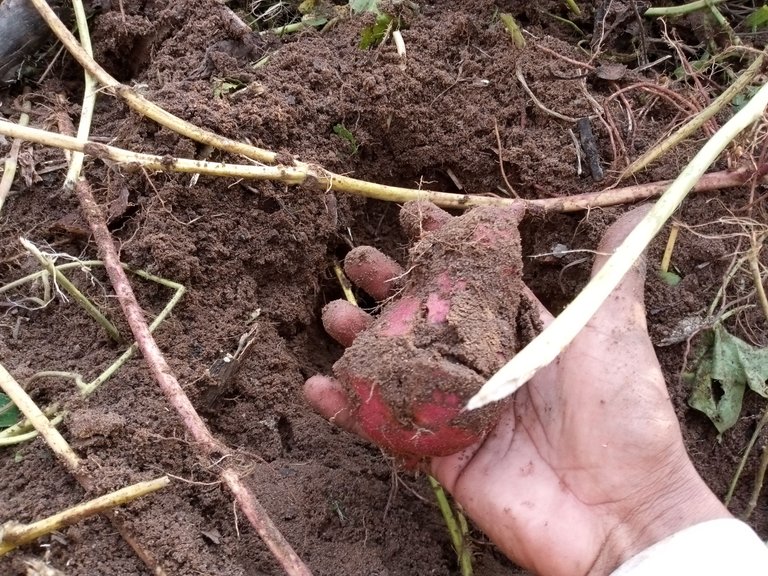 As well as this one, I was also able to harvest others of great size, in the following image you can see the size of one of almost 1 kg, and that was also exquisite, so I felt quite satisfied, although I expected a little more of this harvest of this item.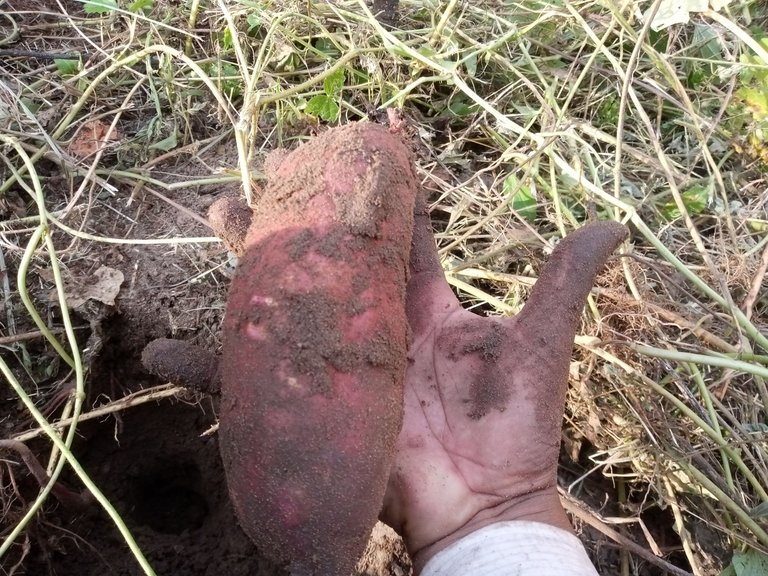 ---
We are also very excited, since my dad was able to build a tool with his own hands, and it has already passed the warm test, since we have used it to remove the weed banks that are in the orchard, and it is also useful to remove some items that are difficult to remove by hand.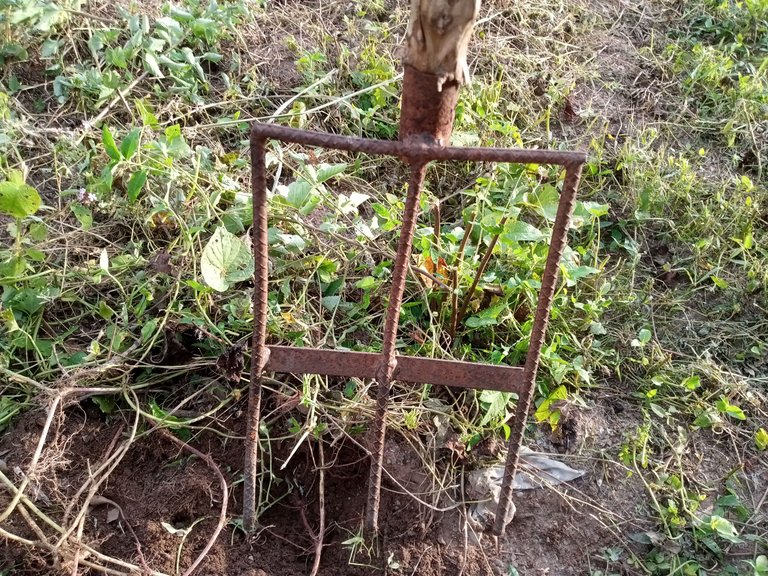 What a scare! As we were harvesting some ears of corn, I realized that there was something strange about one of the ears, and I had never seen one in person, and only through the nets.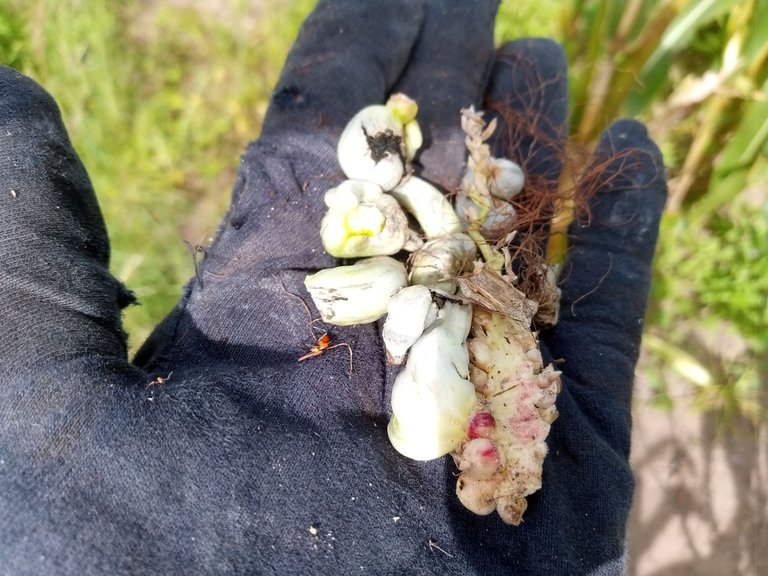 So I came across this corn mushroom or huitlacoche, as our friends from Mexico call it, and for them it becomes a rich food and becomes essential in their dishes, as well as its value, which becomes a little more expensive than corn itself.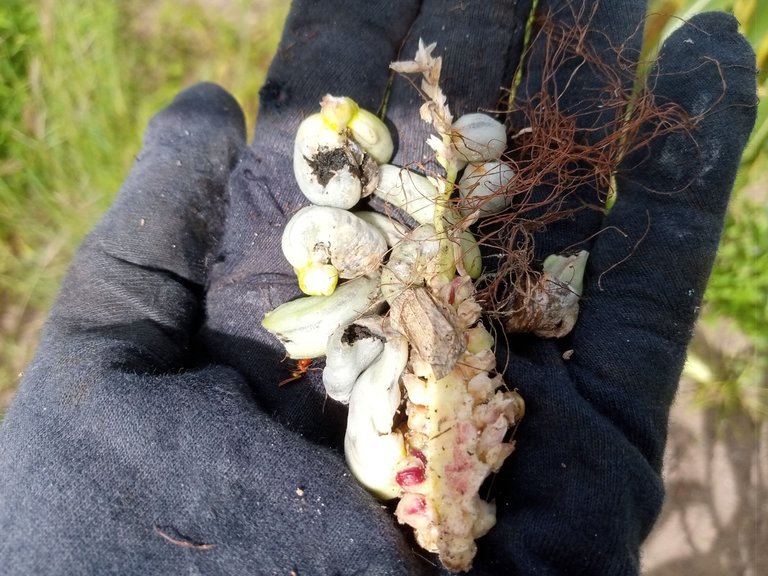 However, here in my country, in addition to not knowing how to prepare it, many like me, do not see it as relevant, since in itself, this fungus detracts strength to the plants.
So I felt a little calm because it was the only one I found in the garden.
---
On the other hand, dad has been very happy to observe how the banana plants continue to give great bunches, and how the other varieties of camburs are also giving fruit by the estimated date. Here we had decided to cut a bunch that was ready, and that we would then share.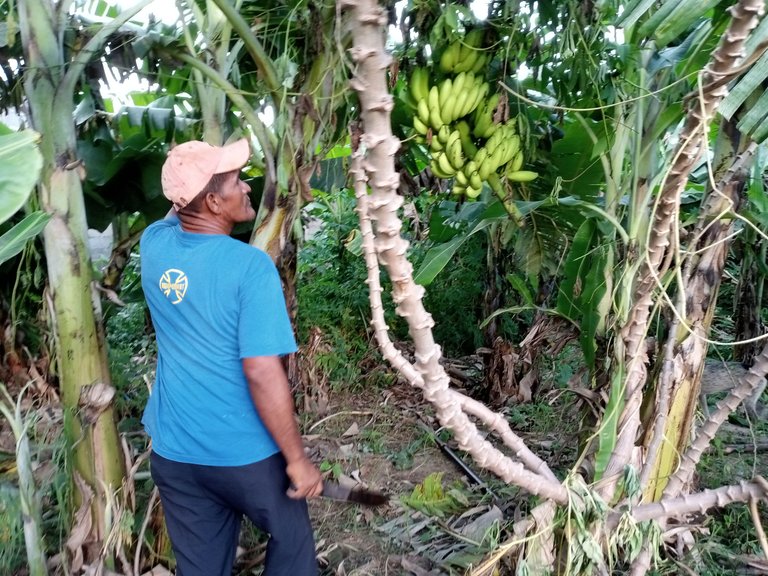 This variety is one that is known as apple cambur. It is a type of cambur but smaller, and its shell becomes yellow once the cambur is ripe and then we can eat it.
I liked this bunch because it gives a lot of them. In this case, 8 hands of almost 10 camburs each. So, the truth is that it was quite good for being the first bunch of this variety that we have in the orchard.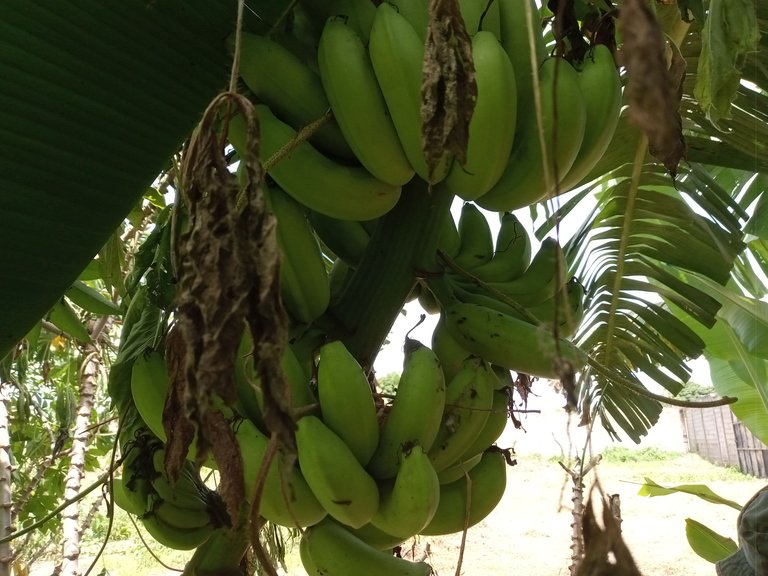 This is a type of plantain. Here it is called Topocho, and it is used as a vegetable especially, and like others of its kind, it is very rich in potassium. The only detail that we observe is that it takes a little longer to bear fruit, a little more than 9 months.
But, also its clusters become very beautiful and large, and these are also quite rich.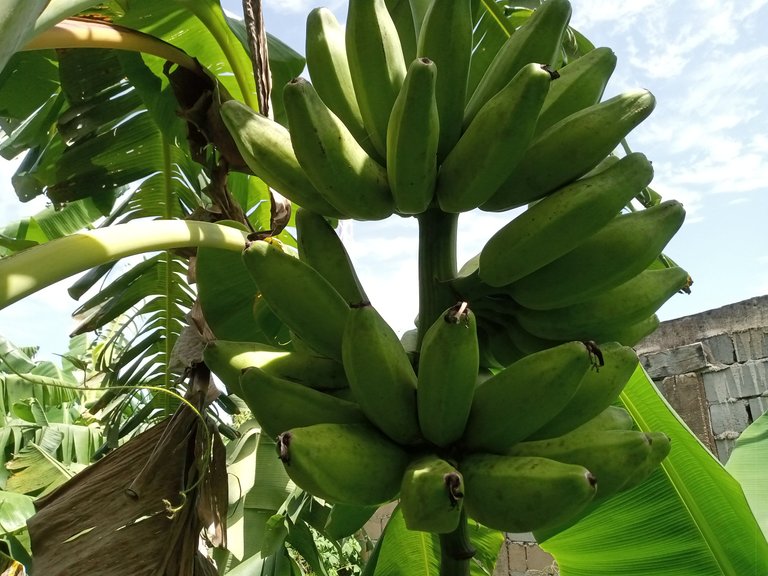 This cambur that you will see below, is the normal cambur, or green shell cambur, it is called this way because when it matures, its color stays like that, simply green.
But it is a type of cambur that is very rich, has a lot of flavor and is quite sweet, so it becomes an excellent option to continue planting it at home.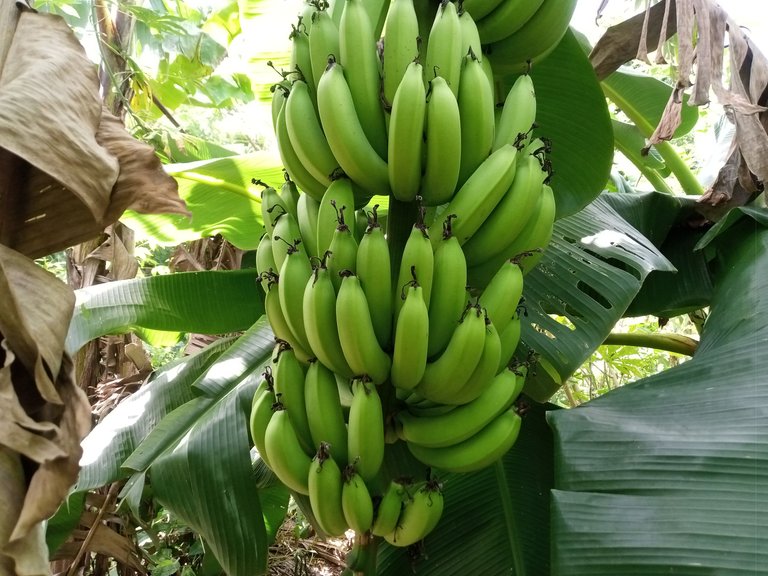 Here you can see the last bunch of topocho. With this one, dad has almost 5, and it makes us get excited, to the point of continuing planting and expanding the planting site of these, but a little more orderly.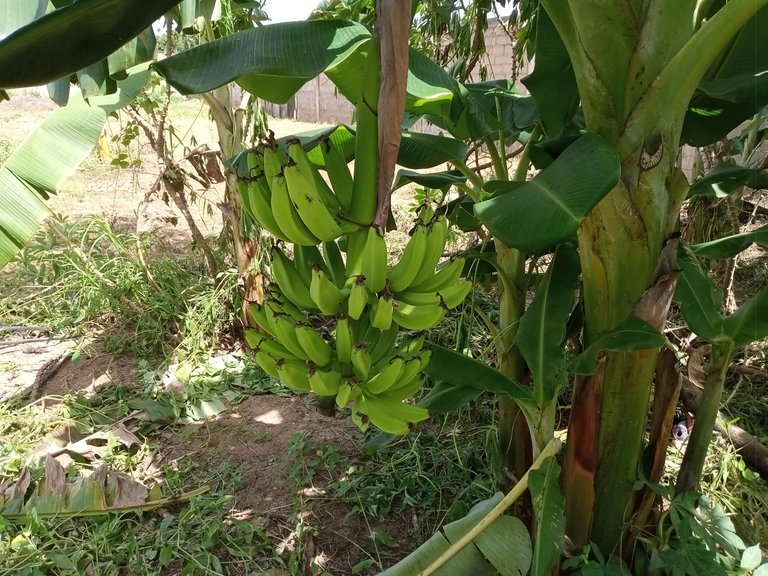 Well, so was the harvest, friends, it was really fantastic and we enjoyed it very much. I hope you are well, and your families too, I send you a hug.
Hola chicos!

Espero que estén pasando unas excelentes semanas y que la igual que yo, sus huertas estén saludables y produciendo fruto para poder ayudar a las familias y amigos cercanos, como es en el caso nuestro.

Antes que nada, han sido semanas semanas demasiado duras con relación al clima, uno que se supone debería ser de más invierno, pero ha sido todo lo contrario, hemos llegado a sentir el calor a poco más de 39 grados, lo que ha hecho que debamos estar más pendientes de las plantas que de como costumbre.

Así que, pese a ello, hemos también tenido la dicha de poder cosechar algunas cosas en la huerta, y pues quería mostrarles algunas cosas que tenemos y que coseché, seguro nos sentiremos animados al pensar en los beneficios de seguir en la labor de la huerta pese a los obstáculos que se puedan presentar.

---

En la huerta, tuve la oportunidad sembrar una hortaliza llamada Batata, que es un tubérculo, que al igual que la papa, se da por debajo de la tierra, pero a diferencia de esta, la batata es dulce, y tiene diferentes aspectos, color y sabor incluso, en la siguiente imagen podrán observar uno de los que coseché.

Es es aspecto rojo, y muy dulce.

Fueron aproximadamente 8 meses de esperar para poder cosecharlo. Pero valió la espera.

Así como este, también pude cosechar otros de gran tamaño, en la siguiente imagen podrán observar el tamaño de uno de casi 1 kg, y que también estaba exquisito, por lo que me sentí bastante satisfecho, pese a que esperaba un poco más de esta cosecha de este rubro.

---

También nos emocionamos mucho, ya que, mi papá pudo construir una herramienta con sus propias manos, y que ya ha pasado la prueba de cálida, pues la hemos usado para quitar los bancos de hierva que está en la huerta, y además, también es útil para sacar algunos rubros que se hace difícil sacar con las manos.

---

¡Qué susto! Mientras íbamos cosechando algunas mazorcas de maíz, me dí cuenta de que había algo raro en una de las mazorcas, y es que en persona jamás había visto uno, y tan solo por las redes.

Así que me encontré con este hongo de maíz o huitlacoche, como lo llaman nuestros amigos de México, y que para ellos llega a ser un rico alimento y llega a ser esencial en los platos de estos, así como su valor, que llega a ser un poco más caro que el propio maíz.

Sin embargo, acá en mi país, además de no saber prepararlo, muchos como yo, no le vemos tanta relevancia, ya que en sí, este hongo le resta fuerza a las plantas.

Por lo que me sentí un poco tranquilo pues fue el único que encontré en la huerta.

---

Por otro lado, papá ha estado muy contento al observar como las plantas de plátanos siguen dando grandes racimos, y como las otras variedades de cambures tambien están dando el fruto para la fecha que se tenía estimado. Aquí habíamos decidido cortar un racimo que ya estaba listo, y que entonces compartiríamos.

Esta variedad es uno que se conoce como cambur manzano. Es un tipo de cambur pero más pequeño, y su concha llega a ser amarillo una vez que el cambur esta maduro y entonces podamos comerlo.

Me gustó este racimo pues da muchos. En este caso, 8 manos de casi 10 cambures cada una. Así que, la verdad es que estuvo bastante bien para ser el primer racimo de esta variedad que se tiene en la huerta.

Este es una tipo de plátano. Acá se le llama Topocho, y se usa como verdura especialmente, y al igual que otros de su clase, es muy rico en potasio. El único detalle que observamos, es que tarda un poco más en dar su fruto, un poco más de 9 meses.

Pero, también sus racimos llegan a ser muy bonitos y grandes, y estos son también bastante ricos.

Este cambur que observarán a continuación, es el cambur normal, o cambur concha verde, se le dice así pues al madurar, su color se queda así, verde simplemente.

Pero es un tipo de cambur que es muy rico, tiene mucho sabor y es bastante dulce, por lo que llega a ser una excelente opción para seguir plantándola en casa.

Acá se de ja ver por último en racimo de topocho. Con este, ya son casi 5 que tiene papá, y pues hace que nos emocionemos, hasta el punto se seguir sembrando y expandiendo el sitio de siembra de estas, pero un poco más ordenados

Pues bien, así fue la cosecha amigos, realmente ha sido fantástico todo y los disfrutamos mucho. Espero que estén bien, y su familias también, les envío un abrazo.
---
---