Hongo en la huerta. Un enemigo perjudicial. [Esp/Eng]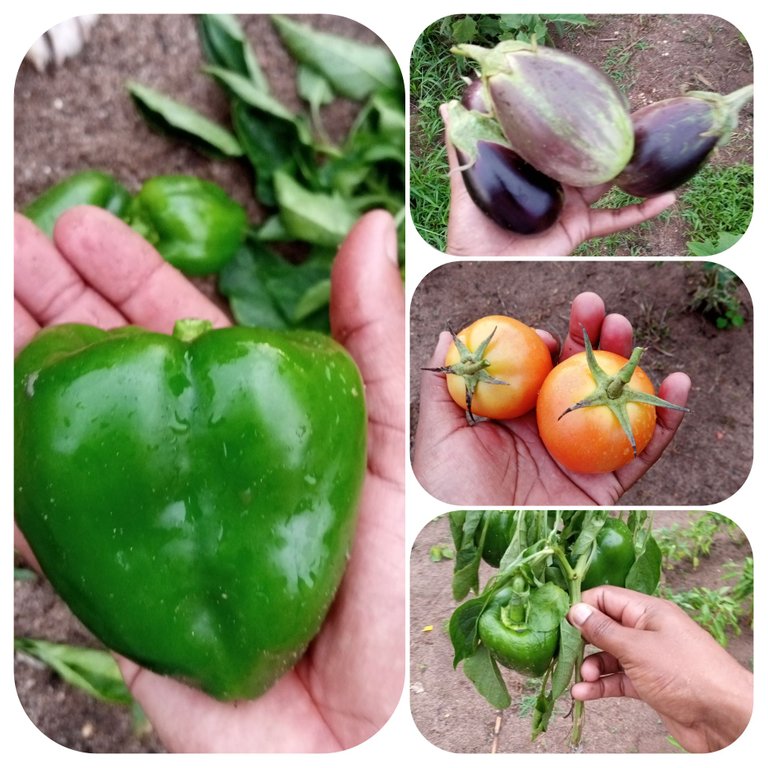 Hola mis queridos amigos, he estado un poco ausente debido a otras actividades, no obstante he estado lo suficienteme activo en la huerta en casa, y en la huerta que atiendo junto a mi papá, y que ahora está algunos rubros que tenías planeados y otros que no.
Pues, a finales de enero, había programado sembrar Pimentones, que es un aliño dulce que se prepara de diversas formas y maneras, y que, según mi estimado, estaría cosechando para estas semanas.
Pues bien, todo marchaba fenomenal hace pocos días, y además, ya podía observar los pequeños frutos creciendo de una manera hermosa y también saludable...
Hasta que paso algo que aún no le he encontrado razón:
Hello my dear friends, I have been a little absent due to other activities, however I have been active enough in the garden at home, and in the garden that I tend with my dad, and now there are some items that you had planned and others that you did not.

Well, at the end of January, I had scheduled to plant Paprika, which is a sweet dressing that is prepared in various ways and forms, and that, according to my estimate, I would be harvesting for these weeks.

Well, everything was going great a few days ago, and besides, I could already observe the small fruits growing in a beautiful and healthy way...

Until something happened that I still haven't found a reason for: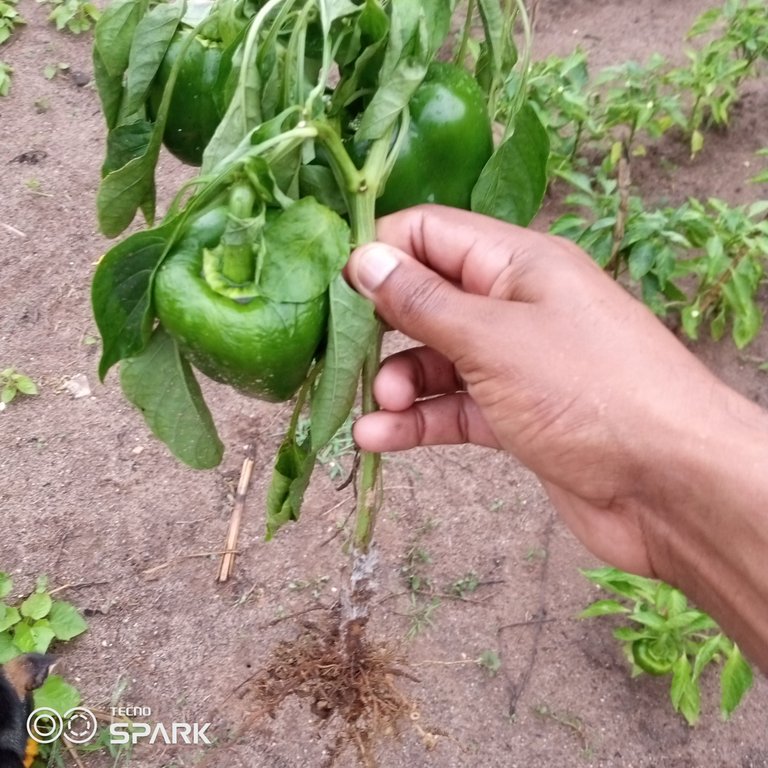 (Esta hermosa planta, padeció de pudrición de raíz, provocando que comenzara un marchitamiento desde el inicio del tallo, hasta todo lo que compone a la planta.)
El hongo Rhizoctonia solani, es el nombre del culpable de esta enfermedad que ataca a muchísimas plantas y cultivos, y que se desarrolla rápidamente por la culpa de las condiciones del suelo, el riego y el uso continuo de siembra en el área.
En la siguiente imagen, podrán observar como el daño se refleja justo a poco centímetros del comienzo del tallo.
(This beautiful plant suffered from root rot, causing it to start wilting from the beginning of the stem to everything that makes up the plant).

The fungus Rhizoctonia solani, is the name of the culprit of this disease that attacks many plants and crops, and that develops rapidly due to the fault of the soil conditions, irrigation and the continuous use of planting in the area.

In the following image, you can see how the damage is reflected just a few centimeters from the beginning of the stem.
Este afecta a la planta directamente, ya que ataca a tejido vascular de la planta, y además de eso, hace que la planta no absorba los nutrientes necesarios para mantenerse saludable.
Justo ahora que ha comenzado el invierno, este hongo aparece haciendo y causando en efecto que observarán a continuación:
It affects the plant directly, as it attacks the vascular tissue of the plant, and in addition to that, it causes the plant to not absorb the nutrients it needs to stay healthy.

Just now that winter has started, this fungus appears and causes the effect you will see below: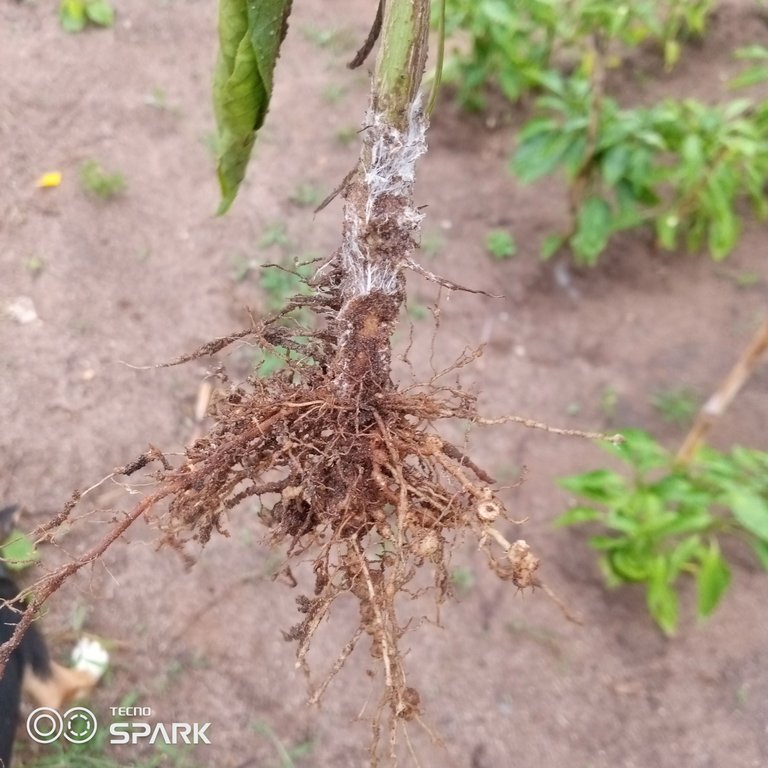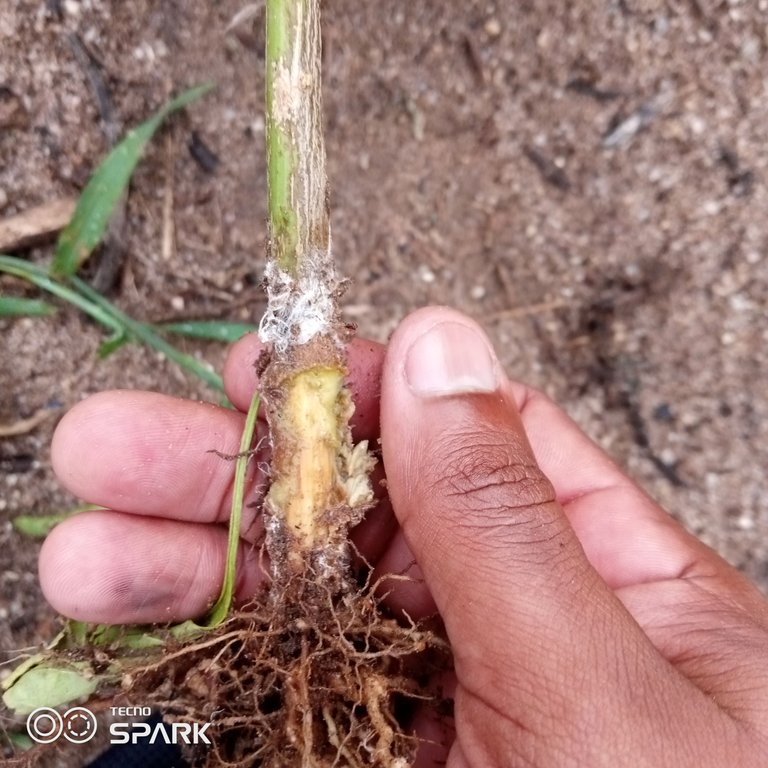 En el tallo necrótico, el hongo se percibe fácilmente, ya que hay una pequeña capa blanca que produce una especie de toxina que tiene un efecto muy negativo en las plantas, provocando una perdida considerable.
Aunado a ello, el hongo hace que las raíces también se vean afectadas, éste mismo hace que las raíces sean más débiles, y algunas de ellas se rompen, haciendo que el sistema de raíces de la planta comience a fallar, y a su vez, se vea reflejada en las hojas y el resto de la planta.
El control puede ser limitado, ya que, en cierta medida, todos los cultivos se exponen a este tipo de plagas. No obstante, se recomienda que la tierra se mueva profundamente antes de sembrar cualquier planta, todo esto para que el hongo no permanezca en el subsuelo, y entonces pueda proliferar.
A su vez, es recomendable que las siembras sean en temporadas cálidas, al menos los rubros que se ven mayormente afectado por dicho.
Ahora bien, no todo es malas noticias.
La siguiente imagen muestra al hermoso pimentón que coseché de la planta afectada, y aunque a decir verdad, esperaba poder mantener las plantas un periodo más largo, creo que sería un poco difícil.
In the necrotic stem, the fungus is easily perceived, since there is a small white layer that produces a kind of toxin that has a very negative effect on the plants, causing a considerable loss.

In addition, the fungus also affects the roots, making them weaker, and some of them break, causing the root system of the plant to begin to fail, which in turn, is reflected in the leaves and the rest of the plant.

Control may be limited, since, to some extent, all crops are exposed to this type of pest. However, it is recommended that the soil be moved deeply before planting any plant, so that the fungus does not remain in the subsoil and can then proliferate.

At the same time, it is recommended that planting be done in warm seasons, at least for those crops that are most affected by the fungus.

However, it is not all bad news.

The following image shows the beautiful paprika I harvested from the affected plant, and although to tell the truth, I was hoping to be able to keep the plants for a longer period, I think it would be a bit difficult.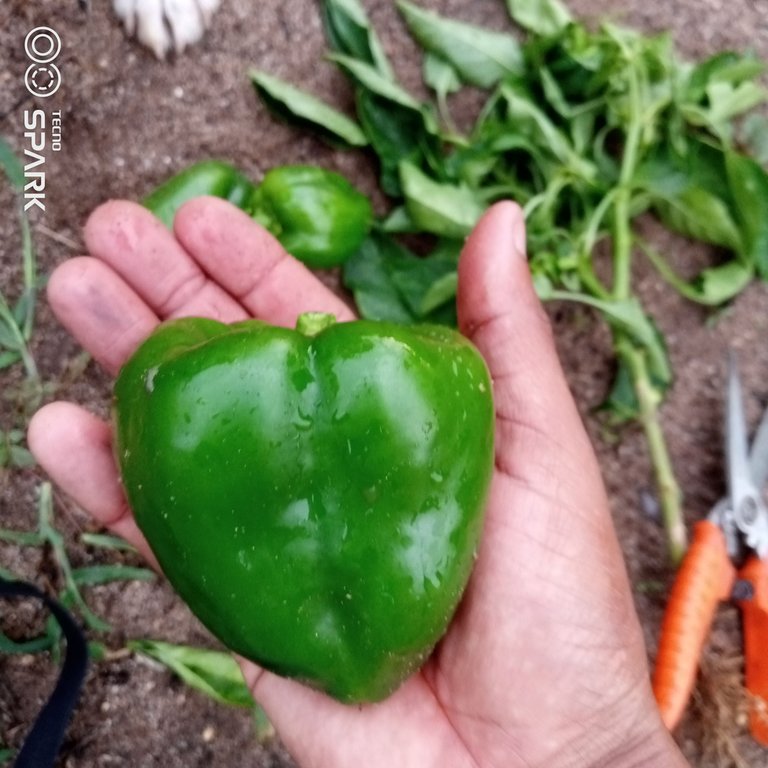 Acá se se puede observar el tamaño del pimentón, un poco más de 8 cm de largo, y casi 200gr de peso, así que no todo fue tan mal como esperaba, además, habían otros más, así que al final, estuvo regular la cosecha.
Here you can see the size of the paprika, a little more than 8 cm long, and almost 200gr in weight, so it was not as bad as I expected, besides, there were others, so in the end, the harvest was regular.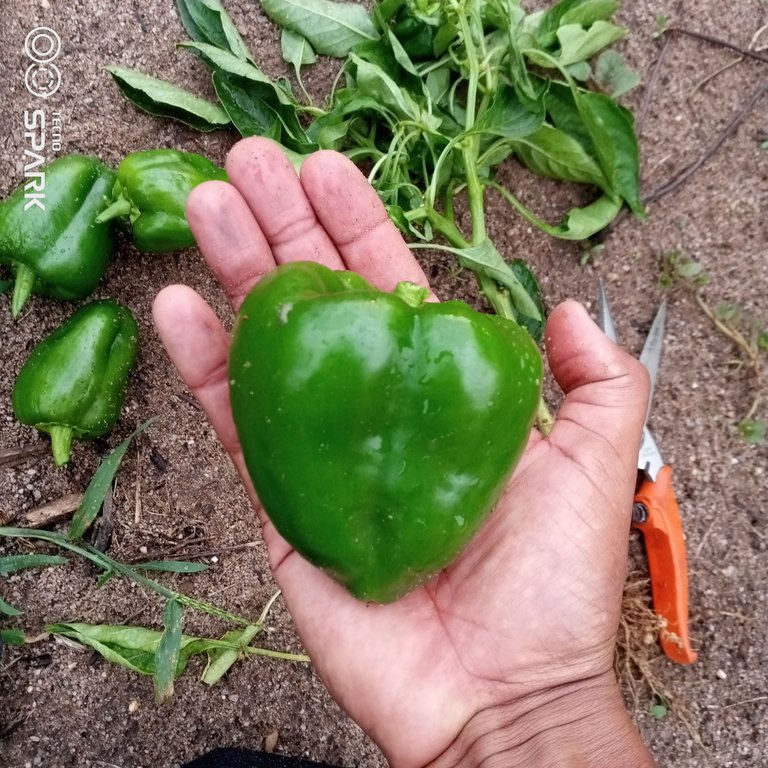 Lamentablemente, hemos tenido que lidiar con muchas cosas en contra, algunas de ellas desaniman, pero seguimos manteniendo el ritmo, bien sabemos que es necesario seguir cultivando y cosechando la tierra.
Así que, aún mantengo buen ánimo para compartir con ustedes de esta bonita practica, y mejor aún, de los buenos resultados que también son parte.
¡Saludos!
Unfortunately, we have had to deal with many things against us, some of them discouraging, but we continue to keep the pace, well we know that it is necessary to continue cultivating and harvesting the land.

So, I still keep good spirits to share with you of this beautiful practice, and better yet, of the good results that are also part of it.

Greetings!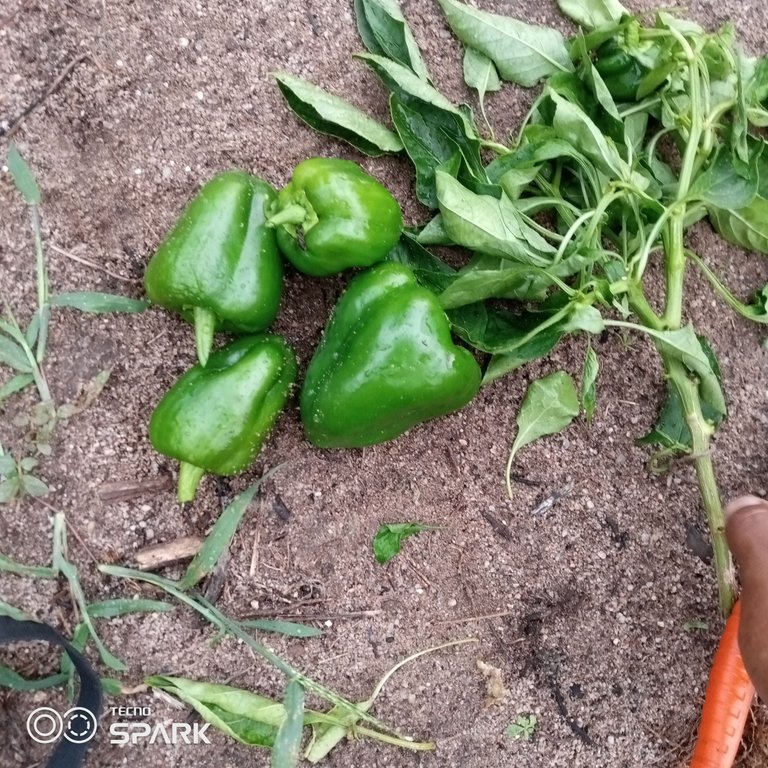 Ismael D. Rodríguez
Fotografías propias. Tomadas con un Tecno Spark 6Go Editadas con Inshot
Discord ismaelrd04#9345




---
---