From Living In Nature To Destroying The Nature, In the name of Civilization, We have Gone Too Far !!!

Hey Everyone, I hope you are all fine and doing great. Hey Everyone, I hope you are all fine and doing great. This Post is my entry to Weekly Featured Content in the #Hivelearners community. Today's topic to write about is Pro And Con Of Civilization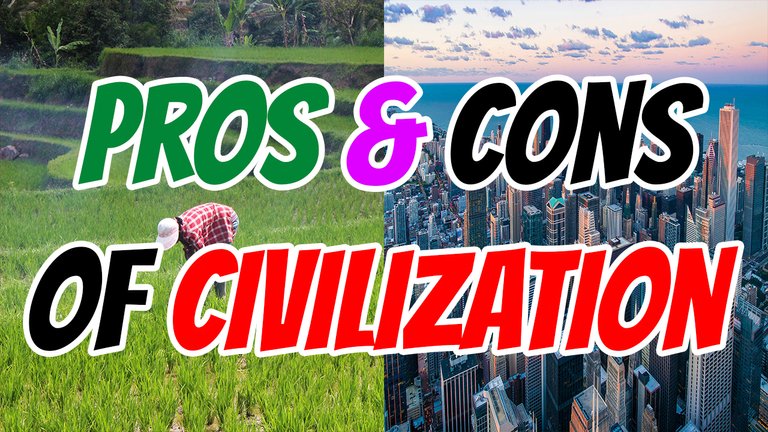 I have downloaded these images from Unsplash and edited them in Photoshop.

I would like to start this post with a beautiful quote from Will Durant


"Civilization begins with order, grows with liberty, and dies with chaos."

Civilization or modernization has some advantages as well as disadvantages. Some humans can be in favor of civilization and some can be against it.
I am a person who loves to live close to nature where there are mountains, grass and fresh air. Luckily or unlucky I was born in the city. My parents in the name of seeking a better life moved to the city. No doubt the city/urban life has more advantages for you to grow.
But it has its disadvantages too. Living in the city, I have seen people fall into depression. There is no peace in their life. They are in some kind of a race which is never going to end.

On the other hand, village life is more peaceful and close to nature. I have spent some years of my life in the village. The experience I got living in the village is far better than living in the city.
This may be due to my love for the village and being close to nature life, but believe me, the sign of relaxation village people have on their faces is unforgettable.
They are not in any race, they aren't in a race to get ahead of anyone. they are just living life peacefully.
If I had a choice to live in a village or a city, I would choose the village every time.

As I Have said Earlier, there are advantages as well as disadvantages in both lives. Let's discuss some advantages.
---
City Life Advantages
---
In the City life. You are more connected to the technology, you are aware of what is happening in the world and where we are heading too. In The City, we have Better facilities in the hospitals to treat the patient. We have a fast way of transportation. We can travel 100 miles in a few hours.
---
Village Life Advantages
---
Village life is close to Nature. There is very less of a chance of you getting ill, the food in the village is healthy. Life is simple and there are no complexities. In the village, there is a feeling/sense of brotherhood. When there is any problem, village people with the help of each other solve it. There is unity.
---
City Life DisAdvantages
---
One of the biggest disadvantages of City life is global warming. The technologies and tech products we are using in the name of advancement are harming the ozone layer, which is the reason we are getting more heat from the sun and hot weather. In the name of building huge buildings, we are cutting trees. The sense of brotherhood has died.
Technologies like Cell phones have divided us. Everyone is busy in their life and doesn't have time for their loved ones anymore. Suppose there are four brothers sitting in a single room. Instead of talking with each other, everyone would be busy using cell phones/laptops. This thing makes me very sad.
---
Village Life DisAdvantages
---
In the village life, there are fewer opportunities. There are very few hospitals are there to get good treatment. Roads are muddy. The transportation is slow. Health care is one of the big issues people are facing in the villages.

I was born into a family that now doesn't want to live in a village and I also can't force them to live with me in the village, so I am sacrificing my wish and living with them. In the end, we all gonna die. Let's not fight them over this.
---
Read my latest Blogs.
---
A Complete Guide and Invitation For my followers to Join Zealy Campaign.
Balloons, Cake, and a Whole Lot of Birthday Fun - A Memorable Birthday Celebration
I Am a Bad Investor and trader But I was Lucky !!!

Tried Afghani Chicken Karahi - CreativeSunday

Hive To Me Is My Gateway To Financial Freedom !!!


---
---