A beautiful Christmas movie: Last Christmas (2019) Movie Review -ENG / SPA-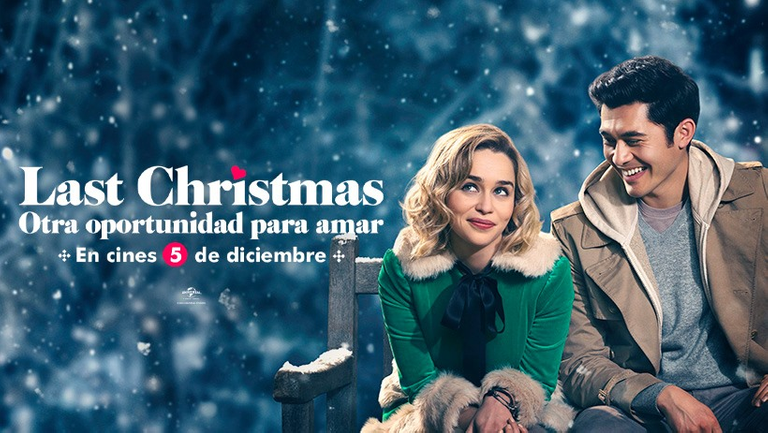 Source
Hello, hello dear internet cinephile friends, I hope you are very well! As you know, we are almost entering the most beautiful time of the year, so several television channels are showing very beautiful movies, and I saw this one that I want to share with my parents several days ago on Studio Channel, it's called "Last Christmas" which stars Emilia Clarke and Henry Golding. I hope you like it.
Hola, hola queridos amigos cinéfilos de internet,¡espero estén muy bien! Como saben, ya casi entramos en la época más hermosa del año, por lo que en varios canales de televisión están pasando peliculas muy bonitas, y esta que les quiero compartir la ví con mis padres hace varios días en Studio Channel, se llama "Last Christmas" la cual está protagonizada por Emilia Clarke y Henry Golding. Espero sea de su agrado.

Plot / Trama
Kate is a girl who works dressed as an elf in a Christmas store owned by a Chinese woman nicknamed "Santa". One day she sees a boy outside looking up through the door and goes out to talk to him, she meets him and finds out that his name is Tom. One day after a failed audition because she wants to be a singer, Kate sees him again and they go for a walk together, and she is captivated by Tom. Kate's mother suffers from depression and her father is a former lawyer who drives a bus. Kate's sister, Marta is a successful lawyer, but she is completely ignored by her mother and Kate rejects her for being a lesbian. Her being left without a place to live, since she moves away from her friend with whom she lives, returns to her parents' house and also begins to spend more time with Tom and begins to fall in love with him, Tom tells Kate that he is a volunteer in a shelter so she starts to go hoping to meet him, however every time she asks the staff about him, they reply that they never met him but every time she goes, she ends up volunteering.
Kate es una chica que trabaja vestida de duende en una tienda navideña cuya dueña es una china apodada "Santa". Ella un día ve a través de la puerta a un chico afuera mirando hacía arriba y sale a hablar con él, lo conoce y se entera que su nombre es Tom. Un día luego de una audicipon fallída ya que ella quiere ser cantante, Kate vuelve a verlo y salen a caminar juntos, y ella queda cautivada por Tom. La madre de Kate sufre de depresión y el padre es un ex abogado que maneja un autobús. La hermana de Kate, Marta es una exitosa abogada pero, es totalmente ignorada por su madre y Kate la rechaza por ser lesbiana. Ella al quedarse sin un lugar para vivir, ya que se aleja de su amiga con quién vive, regresa a casa de sus padres y también comienza a pasar más tiempo con Tom y comienza a enamorarse de él, Tom le cuenta a Kate que es voluntario en un albergue así que ella comienza a ir con la esperanza de encontrarse con él, sin embargo cada vez que pregunta por él al personal, ellos responden que nunca lo han conocido pero cada vez que ella va, termina haciendo voluntariado.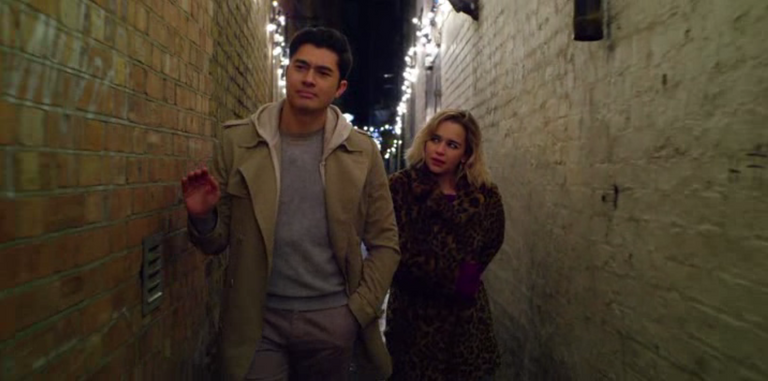 Tom and Kate start going on pretty nice dates, he not only shows her the places he likes the most but also teaches her how to skate so she can do well at an audition, and they spend a lot of good times together. One night, after leaving her parents' house after an argument with her sister, who was having dinner with them in celebration of her second promotion, she runs into Tom, who tells her leads to her apartment. There she opens up to him and tells him that a year ago she was very sick and had to have open heart surgery, that she feels half dead and doesn't feel like she has what it takes to succeed, but Tom encourages her. He then lays Kate down in her bed, letting her sleep alone there, she tries to get Tom to sleep with her but he refuses. The following days, Kate begins to put her life on track, begins to take care of her and also serves as cupid for her boss to pair up with a Danish client who is very much in love with her and goes almost always to her store. She also apologizes to her sister, and also sings Christmas carols to raise money to help the shelter.
Tom y Kate empiezan a tener citas bastante bonitas, él no solamente le muestra los lugares que más le gustan sino que también la enseña a patinar para que le vaya bien en una audición, y juntos pasan muchos momentos agradables. Una noche, luego de salir de salir de la casa de sus padres después de una discusión con su hermana, la cual estaba cenando con ellos como celebración de su segundo ascenso, se encuentra con Tom, la cual la lleva a su apartamento. Allí ella se abre con él y le cuenta que hace un año ella estuvo muy enferma y que la tuvieron que operar de corazón abierto, que se siente medio muerta y que no siente que tenga lo necesario para triunfar, pero Tom le da ánimo. Luego acuesta a Kate en su cama dejándola dormir sola allí, ella inteta que Tom duerma con ella pero él se niega. Los días siguientes, Kate empieza a encaminar su vida, empieza a cuidarse y también sirve de cupido para que su jefa se empareje con un cliente danés que está muy enamorado de ella y va casi siempre a la tienda. También se disculpa con su hermana, y también se pone a cantar villancicos para recaudar fondos para ayudar al refugio.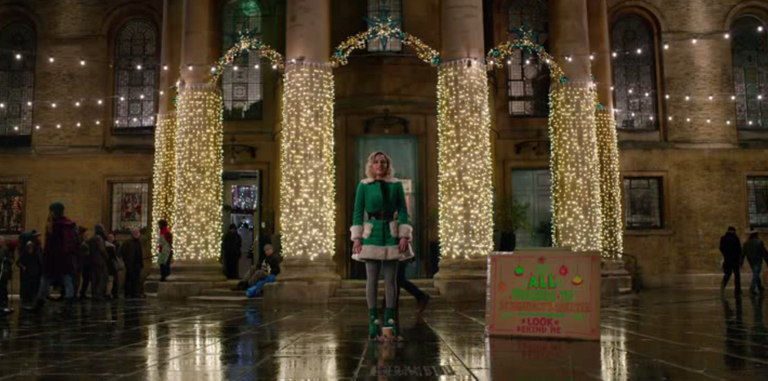 After several days without seeing him, Kate meets Tom on a bench and he tells her he has something to tell her, but she freaks out and tells him she's afraid of commitment and walks away. One day Kate tries to make peace with Tom and goes to visit him at her apartment, but she is surprised to find a real estate agent there and after a rather confusing conversation at first. Kate learns that the previous owner of the house died in a bicycle accident last year and that the place has been empty ever since, she finds Tom's phone in the closet and realizes that he was the one who donated his heart when they operated on her, and that all the encounters she had with him really were fictitious, so she leaves the place quite bewildered.
Después de varios días sin verlo, Kate se reúne con Tom en una banca y él le dice que tiene algo que decirle, pero ella se asusta y le dice que le tiene miedo al compromiso y se aleja. Un día Kate intenta hacer las paces con Tom y va a visitarlo a su apartamento, pero se sorprende al encontrar allí a un agente inmobiliario y luego de una conversación al principio bastante confusa. Kate se entera que el anterior dueño de la casa falleció en un accidente en bicicleta el año pasado y que el lugar ha estado vacío desde entonces, ella encuentra el teléfono de Tom en el armario y se da cuenta que él fué el que le donó su corazón cuando la operaron, y que todos los encuentros que tuvo con él realmente fueron ficticios, por lo que abandona el lugar bastante desconcertada.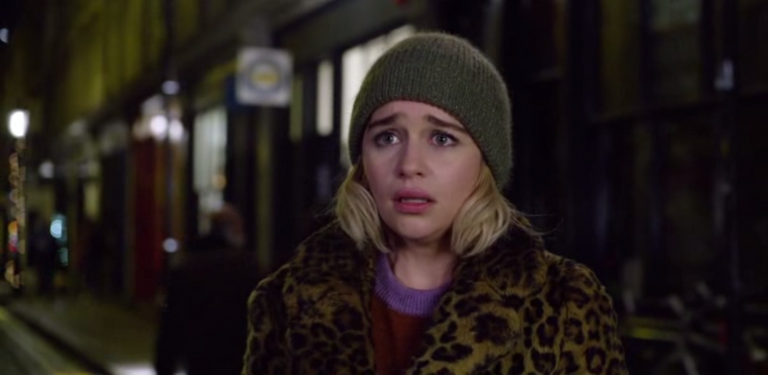 Arriving at the garden bench where they sat together several times, Kate sees Tom again, who tells her that she can feel it because it is part of her, that she owns her heart, and to take care of it. because it will always belong to you. Kate promises him and in the middle of her tears she says goodbye to him. She then reveals that the bench is memorialized in her memory. 2 weeks later for Christmas, Kate puts on a show to which she invites all of her friends and family, including Santa and her new husband. Kate dressed as an elf and wearing Christmas lights on her clothes, she sings "Last Christmas" after giving an emotional speech, recalling the happy times she had with Tom. Then, Kate and her family are seen celebrating Christmas together, along with her sister's girlfriend Marta hers, in happiness for the first time. In the final scenes, a visibly healthy Kate is shown writing in her journal in her garden that Tom presented to her, visibly happy.
Al llegar al banco del jardín en el que se sentaron juntos varias veces, Kate vuelve a ver nuevamente a Tom, el cual le dice que ella lo puede sentir porque es parte de ella, que es la dueña de su corazón, y que lo cuide porque siempre le pertenecerá. Kate se lo promete y en medio del llanto se despide de él. Luego se revela de que él banco es conmemorativo en su memoria. 2 semanas después para Navidad, Kate realiza un espectáculo al que invita a todos sus amigos y familia, incluyendo a Santa y a su nuevo esposo. Kate vestida de elfo y luciendo luces navideñas en su ropa, canta "Last Christmas" luego de dar un emotivo discurso, recordando los momentos felices que pasó con Tom. Luego, se ve a Kate y a su familia celebrando juntos la Navidad, junto a la novia de su hermana Marta, en felicidad por primera vez. En las escenas finales se muestra a Kate visiblemente sana escribiendo en su diario en el jardín que Tom le presentó, visiblemente feliz.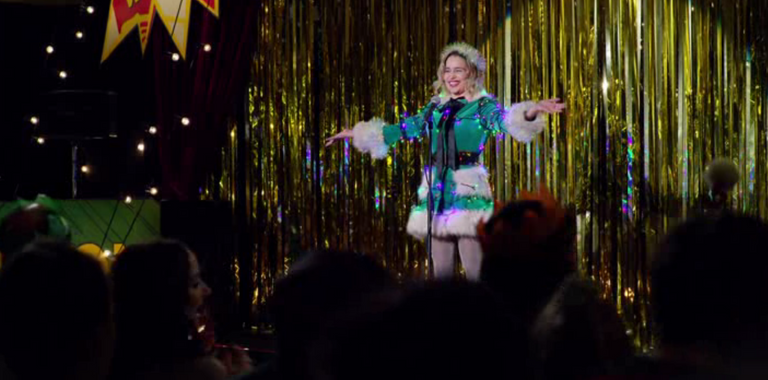 My Opinion / Mi Opinión
I like Christmas movies a lot and this is one of the ones I liked the most, it caught my attention because I'm a fan of Emilia Clarke who I've seen in other productions like "Me Before You" and "Game of Thrones" and also by Emma Thompson which I have also seen in many productions such as "Nanny McPhee", "Beauty and the Beast" among others, and I really enjoyed it. The story is really beautiful and I confess that in several parts it makes me cry, it is based on a Christmas song of the same name from the 80s written by the singer George Michael which I also love. I really liked the acting of the actors, especially Emilia Clarke and Henry Golding who had incredible chemistry and their performances never seemed forced or anything to me, in general all the casting did a great job.
Las películas navideñas me gustan mucho y esta, es de las que mas me han gustado, me llamó la atención porque soy fan de Emilia Clarke la cual he visto en otras producciones como "Yo Antes de Ti" y "Juego de Tronos" y también de Emma Thompson la cual también he visto en bastantes producciones como "Nanny McPhee", "La Bella y la Bestia" entre otras, y vaya que la disfruté mucho. La historia es realmente hermosa y confieso que en varias partes me hace llorar, está basada en una canción navideña del mismo nombre de los años 80 escrita por el cantante George Michael la cual también me encanta. Me gustó mucho la interpretación de los actores, en especial de Emilia Clarke y Henry Golding los cuales tuvieron una química increible y sus actuaciones en ningún momento me pareció forzada ni nada, en general todo el casting hizo un gran trabajo.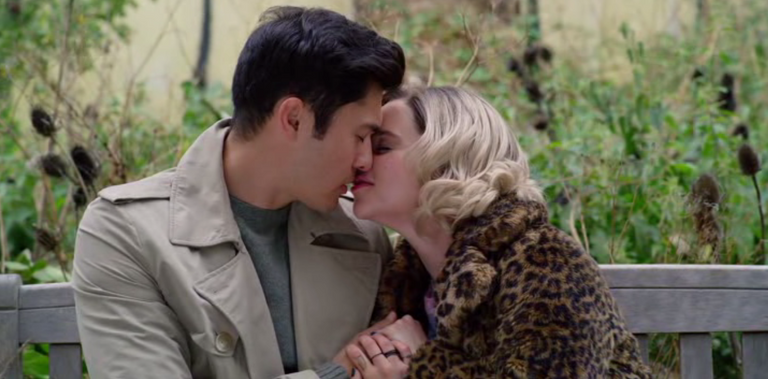 The photography is really very good and the locations where they recorded is what I really like the most, since what I enjoy the most about Christmas are the Christmas decorations and decorations, it also has a fairly wide and colorful color palette which will perfectly with the theme of the film. I find it a very sweet and romantic movie, and there are many scenes that I really liked especially the dates of Kate and Tom, the one where they go to the skating rink being my favorite scene. Although the ending disappointed me a bit, I wouldn't change it since in its own way it also managed to bring me a few tears. It is very nice to see how Tom made the days of chaos that Kate was going through happier and also gave her the support she needed for her to move on, leave behind all the bad things she felt in her life and begin to be more generous. with those most in need and to take better care of herself. Tom not only literally gave his heart to Kate, but also changed his life for the better and that seems like a great manifestation of love to me.
La fotografía es realmente muy buena y las locaciones en dónde grabaron es lo que realmente más me gusta, ya que lo que más disfruto de la Navidad son las decoraciones y adornos navideños, también tiene una paleta de colores bastante amplia y colorida la cual va a la perfección con la temática de la película. Me parece una película muy dulce y romántica, y hay muchas escenas que me gustaron mucho en especial las citas de Kate y Tom, siendo la que van a la pista de patinaje mi escena favorita. Aunque me dececionó un poco el final no lo cambiaria ya que a su manera también logró sacarme unas cuantas lágrimas. Es muy lindo ver como Tom hizo de los días de caos que Kate estaba atravesando, unos más felices y también le dió el apoyo que necesitaba para que ella siguiera adelante, dejara atrás todo lo malo que sentía de su vida y comenzara a ser mas generosa con los más necesitados y a cuidar mas de sí misma. Tom no solamente lliteralmente le dió su corazón a Kate, sino también cambió su vida para bien y eso me parece una gran muanifestación de amor.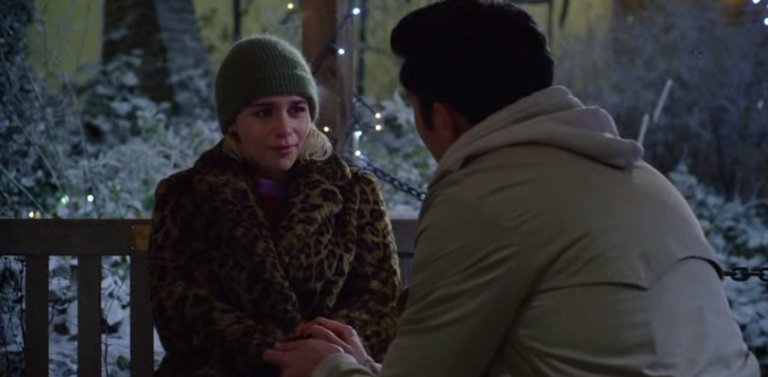 The soundtrack of the movie is another thing that I really liked about the whole movie since I am a big fan of the music of the group Wham! and George Michael and this soundtrack consists of 14 songs from them. I really loved that Emilia Clarke sang a version of "Last Christmas" which you know, I really like and it's a pity that they didn't put that version on the soundtrack, and I would also say that the score which was composed by Theodore Shapiro as well is very pretty. At Christmas time they always release very nice movies, almost all of them romance, but this one is especially special for me because it really got into my heart, the first time I saw it was in the cinema and I really enjoyed it, so I confess that Since I keep a digital copy of the film, I like to see it at other times of the year as well. I would like to recommend this movie to everyone who has not had a chance to see it yet, I assure you that you will not regret it.
El soundtrack de la película es otra cosa que realmente me gustó de toda la pelicula ya que soy muy fan de la música del grupo Wham! y George Michael y este soundtrack se compone de 14 canciones de ellos. Me encantó mucho que Emilia Clarke cantara una versión de "Last Christmas" la cual ya saben, me gusta mucho y es una lástima que no hayan puesto esa versión dentro del soundtrack, y también diría que el score el cual fué compuesto por Theodore Shapiro también es muy bonito. En la época navideña siempre lanzan películas muy bonitas casi todas de romance, pero en especial esta es especial para mí porque realmente se metió en mi corazón, la primera vez que la ví fué en el cine y la disfruté bastante, por lo que confieso que como conservo un ejemplar digital de la película, me gusta verla también en otras épocas del año. Me gustaría recomendar esta película a todos los que no han tenido la oportunidad de verla todavía, les aseguro que no se van a arrepentir.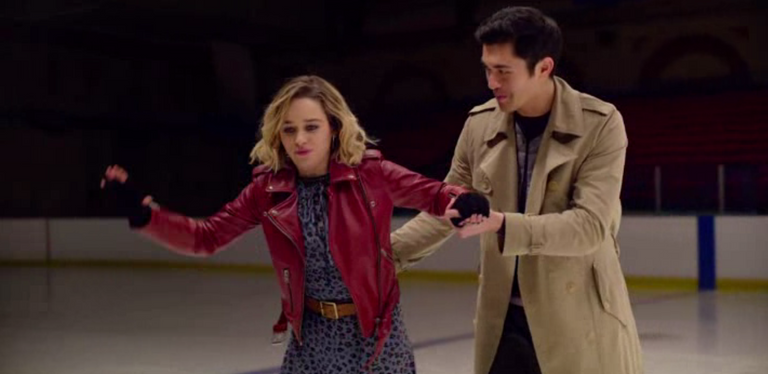 Well dear friends this has been all for today's post, I hope you liked it and entertained. Thank you all very much for your attention and support for my work, I send a hug to all of you and we will meet again in a new post.
Bueno queridos amigos esto ha sido todo por el post de hoy, espero que les haya gustado y entretenido. Muchas gracias a todos por su atención y apoyo a mi trabajo, les mando un abrazo a todos y ya nos reencontraremos en un nuevo post.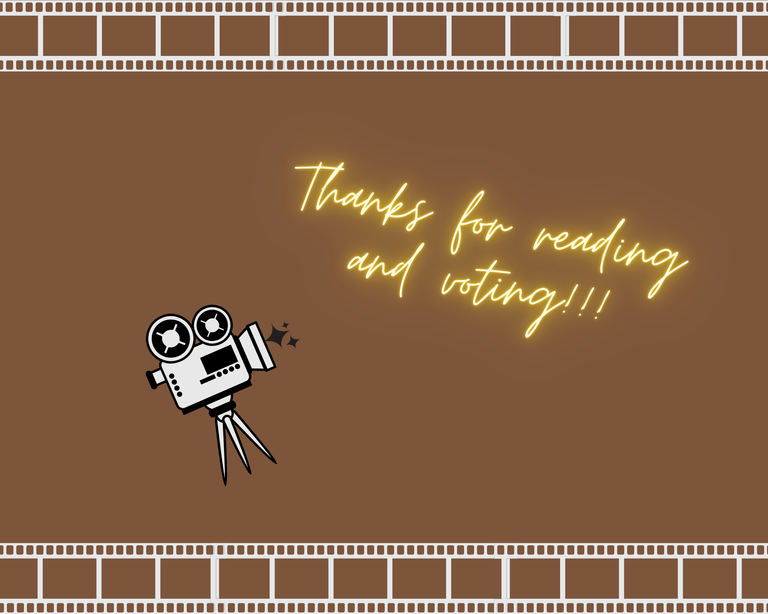 The farewell image was made by me with the canva editor, and the photographs of the film are screenshots taken by me on my computer from a digital copy that I keep of the film.
La imagen de despedida fué realizada por mí con el editor canva, y las fotografías de la película son screenshots tomados por mí en mi computadora de una copia digital que conservo de la película.
---
---