My very useful co-worker: My Nikon Coolpix L840 camera -ENG / SPA-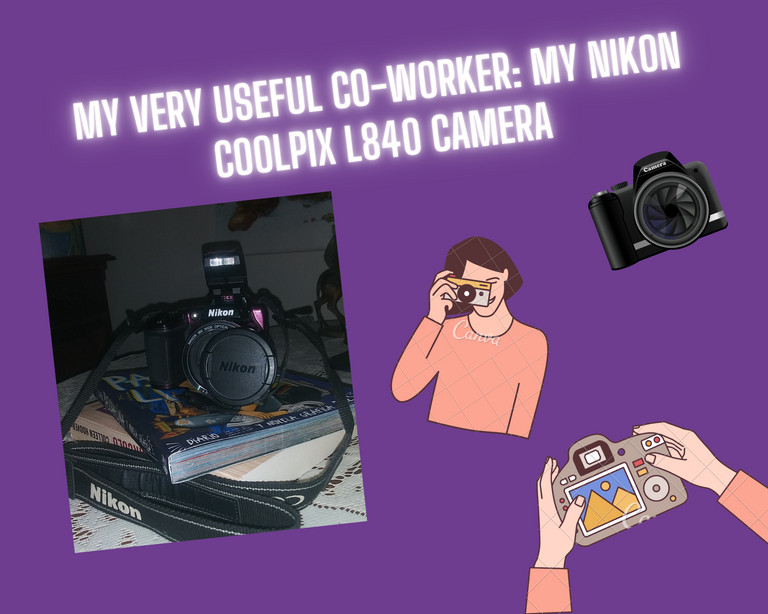 Hello my dear Geek community and technology lovers friends! I hope you are well, today I am here to show you my dear travel and work partner who has been with me for several years now and it has worked out super well for me, it is my Nikon Coolpix L840 semi-professional digital camera which has worked out quite well for me . I hope you like it.
¡Hola mi querida comunidad Geek y amigos amantes de la tenología! Espero estén bien, hoy estoy por aquí para mostrarles a mi querida compañera de viajes y trabajo la cual ya lleva varios años conmigo y me ha salido súper bien, se trata de mi cámara digital semi profesional Nikon Coolpix L840 la cual me ha salido bastante bien. Espero les agrade.

I bought this camera on one of my last trips to Aruba, and I confess, at first I chose it because its purple color caught my attention, however when the seller of the store gave me its specifications I fell in love with it even more because although It is not a 100% professional camera but it is as if it were and it also adapts to my needs, since it is compact and light so it is very easy for me to move and it has excellent features.
Compré esta cámara en uno de mis últimos viajes a Aruba, y lo confieso, al principio la escogí porque me llamó la atención su color morado, sin embargo cuando el vendedor de la tienda me dió sus especificaciones me enamoré aún mas de ella ya que aunque no es una cámara 100% profesional pero es como si lo fuese y además se adapta a mis necesidades, ya que es compacta y liviana por lo que me resulta muy fácil de trasladar y tiene excelentes características.
The camera is 16 megapixels and has a built-in lens with a NIKKOR 38x zoom which for me is wonderful since I can take pictures of places far away and they come out as if they were just a few inches away and they come out quite sharp. I admit that thanks to this zoom I like to call it "my spy camera" since I can take scenes without being in them. The quality of the video that it records is also excellent since it has HD quality and both the image and the sound are really great, so it is ideal to use it both in important family events, and in some other social event that admits digital cameras since, for example, although If you are in the last row of a concert, you could take photos and videos as if you were in the front row and this is exciting for me.
La cámara es de 16 megapixeles y tiene un lente incorporado con un zoom NIKKOR 38x el cual para mí es una maravilla ya que puedo tomar fotografías de lugares estando lejos y salen como si estuviese a pocos centímetros de distancia y salen bastante nítidas. Admito que gracias a este zoom me gusta llamarla "mi cámara espía" ya que puedo tomar escenas sin necesidad de estar en ellas. La calidad del video que graba también es excelente ya que tiene calidad HD y tanto la imagen como el sonido es realmente genial así que ideal para usarla tanto en eventos familiares importantes, como en algún otro evento social que admita cámaras digitales ya que por ejemplo aunque esté en la última fila de un concierto, podría tomar fotos y videos como si estuviese en primera fila y esto para mí es emocionante.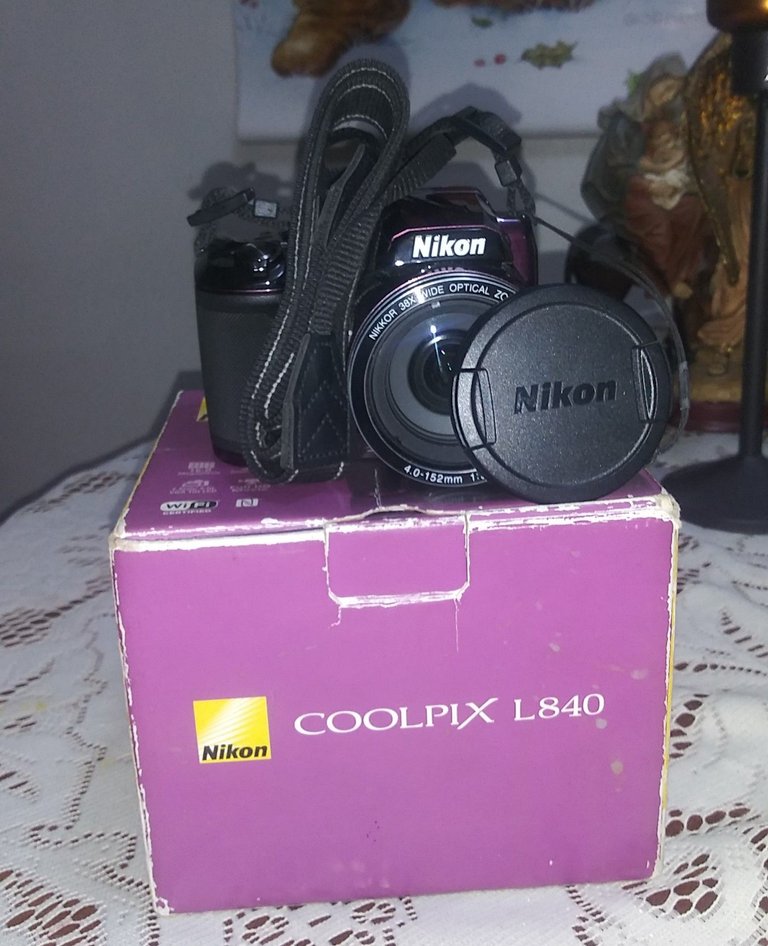 I really like that it has the noise reduction function in the photos, so when I take photos that come out shaky I can fix them, and I don't need to use a tripod to get the photos perfect. I also really like the photography modes that it brings (the one I use the most is portrait mode) and also scene modes that adapt to any place so I can take pictures outside at night and they come out quite sharp and clear, and its flash is very powerful and also helps a lot hahaha. And something that also caught my attention is that the display screen of the camera can be displayed downwards and although I don't know what it's for, it still seems interesting to me. The good thing about this camera is that it uses 4 AA batteries which last a long time since in my case, I bought them in October and I still have them in use and they don't show signs of discharging. Before buying this camera I had 2 quite simple ones, a Kodak Easyshare that they gave me when I was 15 years old and a Panasonic which I bought when I turned 20 and although they still work they are very simple and are only good for photographs so this one is more suited to my current goals.
Me gusta mucho que tenga la función de reducción de ruido en las fotografías, así cuando tome fotos que salgan movidas las puedo arreglar, y tampoco me hace falta usar algún trípode para que las fotos salgan perfectas. También me gustan mucho los modos de fotografía que trae (el que más uso es modo portrait) y también modos de escena que se adaptan a cualquier lugar por lo que logro tomar fotografías afuera de noche y salen bastante nítidas y claras, y su flash es muy potente y también ayuda bastante jajaja. Y algo que también me llamó la atención, es que la pantalla de visualización de la cámara puede desplegarse hacía abajo y aunque no se para que sirve igual me parece interesante. Lo bueno de esta cámara es que usa 4 baterías AA las cuales duran mucho ya que en mi caso, las compré en octubre y todavía las tengo en uso y no da señales de que se vayan a descargar. Antes de adquirir esta cámara tenía 2 bastante sencillas, una Kodak Easyshare que me regalaron en mis 15 años y una Panasonic la cual me compré cuando cumplí 20 años y aunque todavía funcionan son muy simples y solamente sirven para fotografías así que esta se adapta más a mis propósitos actuales.
As accessories, the camera comes with a strap which allows it to be hung around the neck, a protective cap for the lens, a USB cable and a 16 GB microSD memory card apart from its manuals and warranty. As you can see, the camera adapts perfectly to my needs, which makes it a great companion for my photographic work and also for leisure moments that I want to immortalize photographically. I really want to recommend it to you since it is a good investment, it is cheaper than a professional camera (this one cost me $599 and the professional one was $799) and it does basically the same functions, except that the professional camera comes with the lens Zoom apart, and this one already has it incorporated so that's a point in my favor. Although it's not really necessary, I'd like to buy a tripod soon since it helps me to take group photos with the self-timer.
Como accesorios, la cámara trae una correa la cual permite colgarla en el cuello, una tapa protectora para el lente, un cable USB y una tarjeta de memoria microSD de 16 GB aparte de sus manuales y garantía. Como ven, la cámara se adapta perfectamente a mis necesidades por lo que la convierte en una gran compañera para mis trabajos fotográficos y también para momentos de ocio que quiera inmortalizar fotográficamente. De verdad que se las quiero recomendar ya que es una buena inversión, es más económica que una cámara profesional (esta me costó 599$ y la profesional costaba 799$) y cumple básicamente las mismas funciones, sólo que la cámara profesional viene con el lente de zoom aparte, y esta ya la trae incorporada así que punto a mi favor. Aunque no es muy necesario me gustaría comprarle un trípode próximamente ya que me sirve para sacar fotografías grupales con el auto disparador.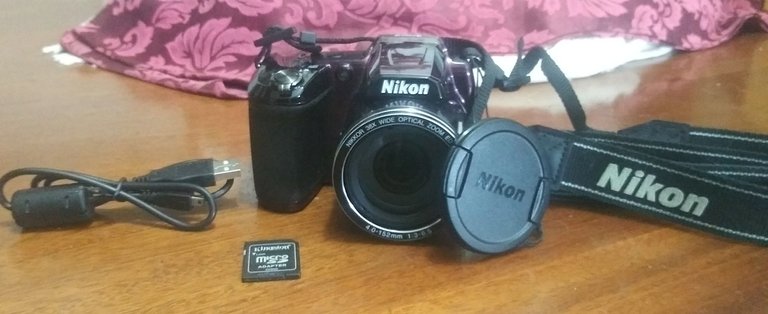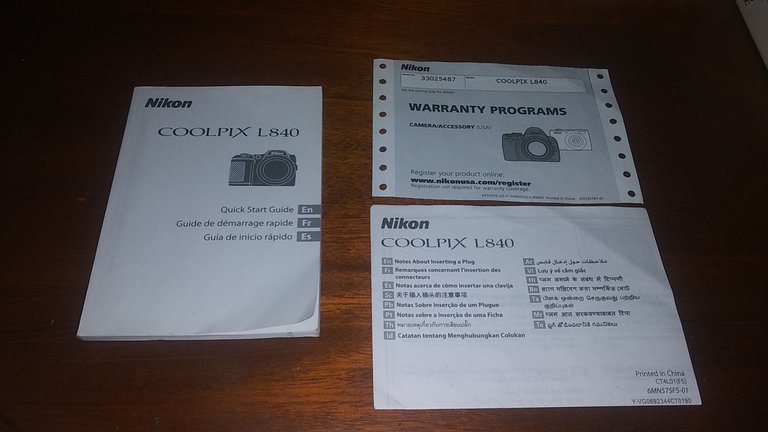 Well dear friends, this is all for today's post, I hope you liked it, it has been a pleasure to share my digital camera with you, thank you all very much for your attention and support of my work. I send you a hug and see you next time.
Bueno queridos amigos, esto es todo por el post de hoy espero les haya gustado, ha sido un placer compartir con ustedes mi cámara digital, muchas gracias a todos por su atención y apoyo a mi trabajo. Les mando un abrazo y hasta una próxima oportunidad.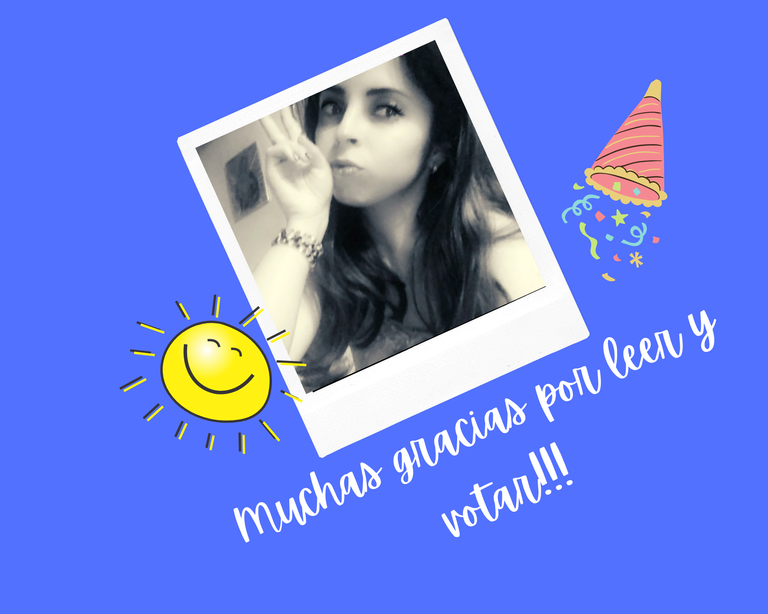 I designed the welcome and farewell images in canva editor, and the photos are my own taken with my LG Aristo 2 cell phone.
Las imágenes de bienvenida y despedida las diseñé en canva editor, y las fotos son propias tomadas con mi celular LG Aristo 2
---
---