Remembering more old times! Meet my collection of Artilugia & old Pascualina journals collecion <ENG / SPA>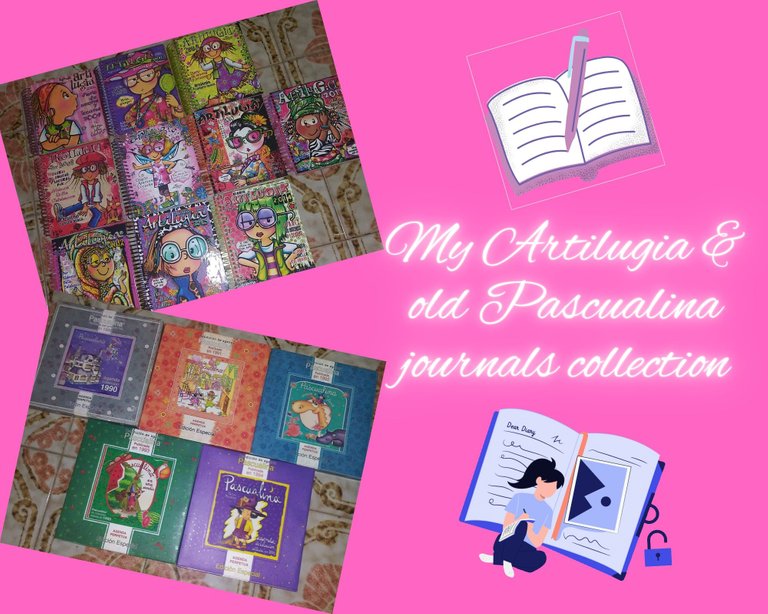 Hello dear friends! I hope you are very well, today cleaning my room again I discovered in a trunk that my mother has my Artilugia journals that I collected from 2004 to 2013 and my Pascualina collector's edition journals from the 90s, how it made me nostalgic and I got so happy to have achieved them after so long I would like to share them with you, I hope you like them.
¡Hola queridos amigos! Espero estén muy bien, hoy nuevamente limpiando mi habitación descubrí en un baúl que tiene mi mamá mis diarios de Artilugia que coleccioné desde el año 2004 hasta 2013 y mis diarios Pascualina edición de colección de los años 90, como me dió nostalgia y me puse tan feliz de haberlos conseguido después de tanto tiempo me gustaría compartirlos con ustedes, espero les guste.

I started collecting Artilugia's journals in 2004 since a year before they had gift me Pascualina's one and since I liked it so much the following year, apart from a new Pascualina, they also bought me Artilugia (which in the history of these diaries Artilugia is Pascualina's younger sister) because I really liked to write and I don't have enough space for just one, so I started collecting them in 2004 and I keep almost all of them, except for the ones from 2005 and 2007, which I had almost new since I didn't need to use them although I bought them anyway I gave them away, the 2005 one to a friend from high school and the 2007 one to my best friend
@bethyjade
.
Los diarios de Artilugia los comencé a coleccionar en el año 2004 ya que un año antes me habían regalado el de Pascualina y como me gustó tanto el año siguiente aparte de una nueva Pascualina también me compraron la Artilugia (la cual en la historia de estos diarios Artilugia es la hermana menor de Pascualina) porque me gustaba mucho escribir y no me alcanza el espacio de una sola por lo que las empecé a coleccionar desde el 2004 y las conservo casi todas, menos la del año 2005 y 2007 las cuales como las tenía casi nuevas ya que no me hizo falta utilizarlas aunque igual las compraba las regalé, la del 2005 a una amiga de la secundaria y la del 2007 a mi mejor amiga

@bethyjade

.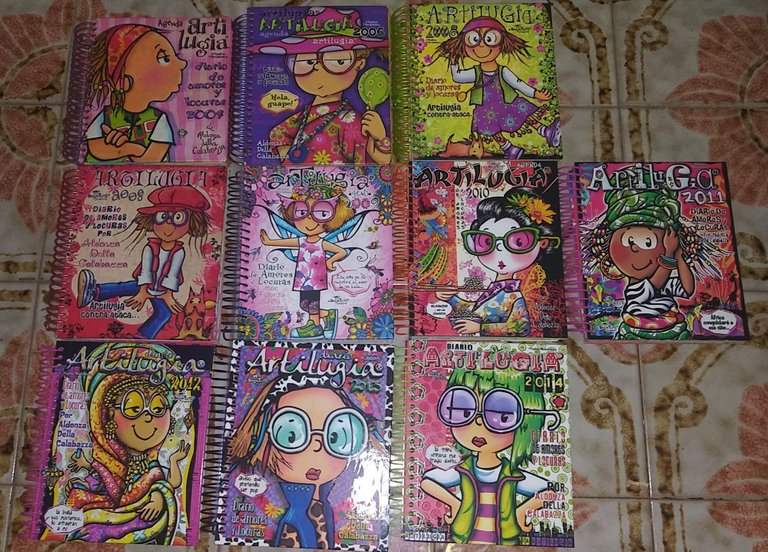 We started with the 2004, 2006 and 2008 editions. They are the most deteriorated because back then when I traveled I took them with me, in 2008 I bought 2 since I thought I would use them but in the end I only used one. I remember that I liked to paste the stickers on the pages and other places so they are the only ones that have empty sticker pages.
Empezamos con las ediciones de 2004, 2006 y 2008. Son las que más deterioradas están ya que en aquel entonces cuando viajaba me las llevaba conmigo, en el año 2008 compré 2 ya que pensaba utilizarlas pero al final solamente utilicé una. Recuerdo que me gustaba pegar los stickers en las páginas y otros lugares por lo que son las únicas que tienen las páginas de stickers vacías.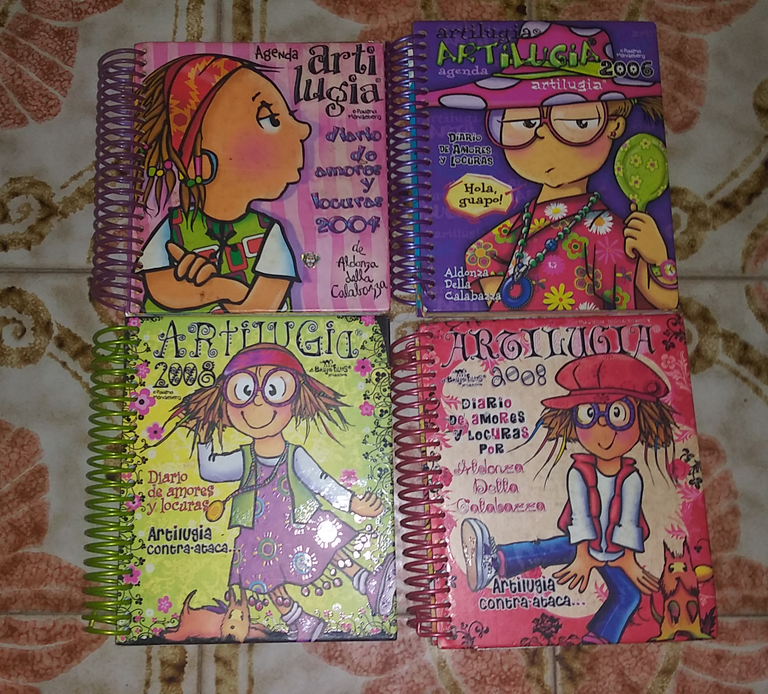 The following ones are from the years 2009 and 2010 which I like very much, as of 2009 they began to take them out in cardboard boxes since before they came in a plastic bag. What I really liked about these diaries is that their main character had an alter ego called "Artilugia" who always adopted a different style because she likes a boy and wanted to take care of him from a girl who also liked the same boy, so the cartoons that the journals brought were quite funny.
Las siguientes son de los años 2009 y 2010 las cuales me gustan mucho, a partir de 2009 empezaron a sacarlas en cajas de cartón ya que antes venían en una bolsa plástica. Lo que me gustaba mucho de estos diarios es que su protagonista tenía un alter ego llamado "Artilugia" la cual siempre adoptaba un estilo diferente porque le gusta un chico y quería cuidarlo de una niña la cual también gustaba de el mismo chico, por lo que la historieta que traían los diarios eran bastante graciosas.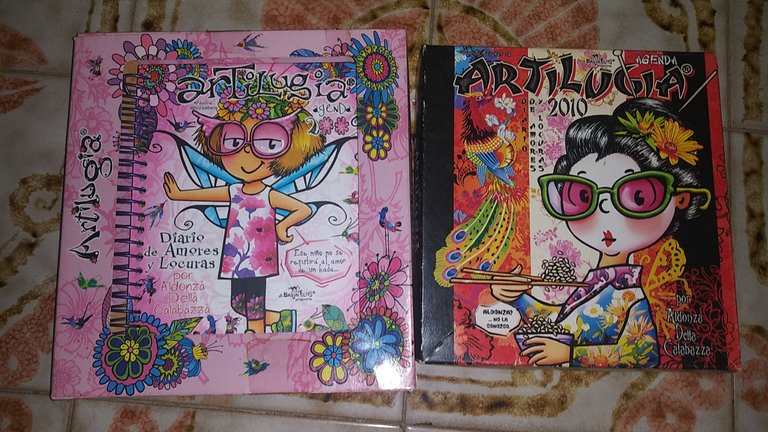 We continue with the 2011 and 2012 editions, whose covers are one of my favorites, these mean a lot to me since in them I also wrote about my university stage and all the events that happened to me during that stage. Although today these memories are bittersweet, I also really liked having put them on paper and I filled these diaries as much as the Pasucalinas of these years since at that time I had a lot to write.
Continuamos con las ediciones de 2011 y 2012 las cuales sus portadas son de mis preferidas, estas significan mucho para mí ya que en ellos también escribía sobre mi etapa universitaria y todo los acontecimientos que me pasaron en esa etapa. Aunque hoy en día son agridulces estos recuerdos, igualmente me gustó mucho haberlos plasmado en papel y estos diarios los llené tanto como las Pasucalinas de estos años ya que en aquel entonces tenía mucho que escribir.
The 2013 and 2014 editions are the last ones I bought since they were later stopped being distributed in my country and the bookstore where I bought them closed, so it was impossible for me to get the 2015, 2016 and 2017 editions, which I think were the last ones. in going out I confess that when I stopped buying them I missed them a lot since I really liked writing on them, and I still miss them since writing made me relax and let off steam of anything.
Las ediciones de 2013 y 2014 son las últimas que compré ya que luego las dejaron de distribuir en mi pais y la librería donde las compraba cerró por lo que me fué imosible conseguir las ediciones de 2015, 2016 y 2017 las cuales creo que fueron las últimas en salir. Confieso que cuando dejé de comprarlas las extrañaba mucho ya que me gustaba mucho escribir en ellas, y todavía las extraño ya que escribiendo me relajaba y me desahogaba de cualquier cosa.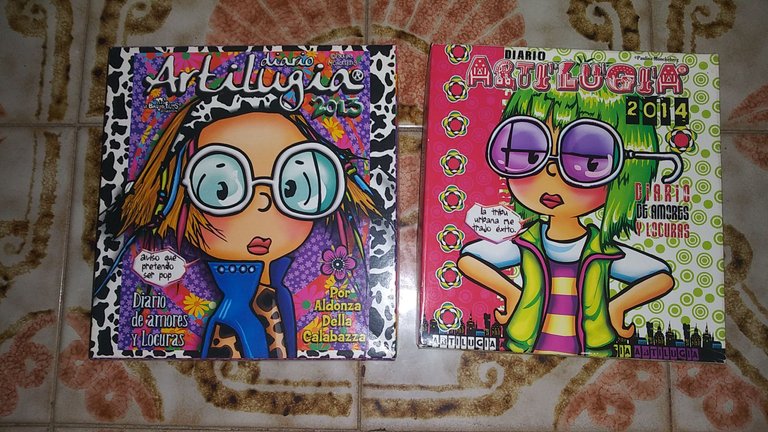 A few years before they stopped distributing the newspapers of Artilugia and Pscualina they also relaunched some special editions of the first Pascualina diaries of which I could only buy 4 since unfortunately I stopped getting them later, I was not able to write in them anymore which are collectible however, I used the blue one when I was studying English so it is the only one that is damaged.
Pocos años antes de que dejaran de distribuir las los diarios de Artilugia y Pscualina también relanzaron unas ediciones especiales de los primeros diarios de Pascualina de las cuales solamente me pude comprar 4 ya que lamentablemente luego dejé de conseguirlas, no fuí capaz de escribir en ellas ya que son de colección sin embargo, usé la azul cuando estudiaba inglés por lo que es la única que está deteriorada.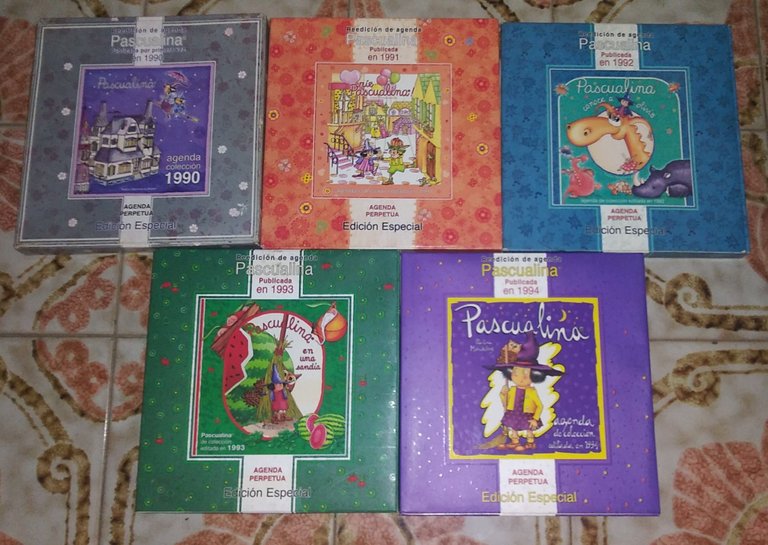 All these diaries are very important to me, they contain important parts of my life, memories and so on, so I consider them part of me and I would be unable to get rid of them at this point hahaha although I am very happy to have been able to give 2 to people who are very dear to me and that you can take advantage of.
Todos estos diarios son muy importantes para mí, contienen partes importantes de mi vida, recuerdos y demás por lo que las considero parte de mí y sería incapaz de deshecharlas a estas alturas jajaja aunque estoy muy feliz de haber podido regalar 2 a personas que son muy queridas para mí y que las pueden aprovechar.

Well dear friends this has been all for today's post, I hope you liked it and entertained. It was an immense pleasure to share with you my journals which are very important to me. Thank you all very much as always for your attention and support of my work, I send you a big hug and we will meet again in another post.
Bueno queridos amigos esto ha sido todo por el post de hoy, espero que les haya gustado y entretenido. Fué un inmenso placer compartir con ustedes mis diarios los cuales con muy importante para mí. Muchas gracias a todos como siempre por su atención y apoyo a mi trabajo, les mando un fuerte abrazo y ya nos reencontraremos en otro post.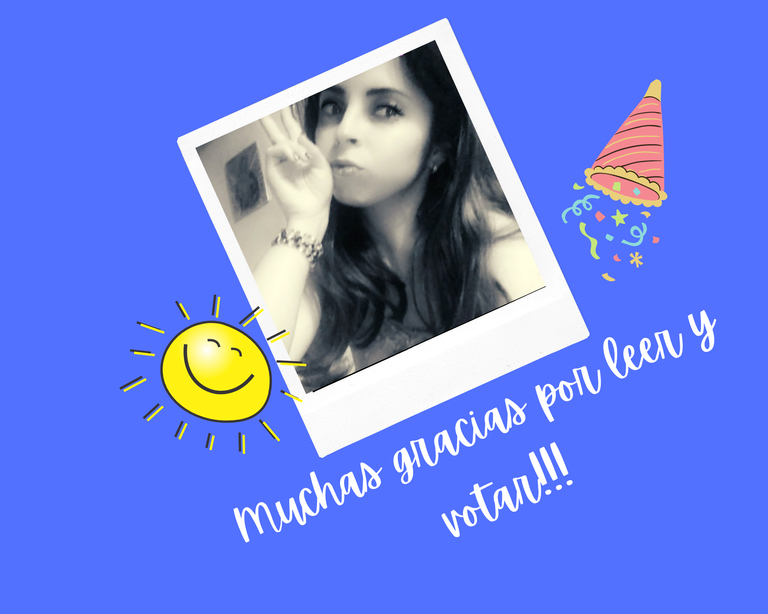 The welcome and farewell images were designed by me with the canva editor, and the photos of my journals are my property, taken with my LG Aristo 2 cell phone.
Las imágenes de bienvenida y despedida fueron diseñadas por mí con el editor canva, y las fotos de mis diarios son de mi propiedad tomadas con mi celular LG Aristo 2.
---
---