What to do with my DEC assets after the Splinterlands airdrop
Maybe some of you are also thinking of what to do with your dec assets after the Splinterlands airdrop is finished.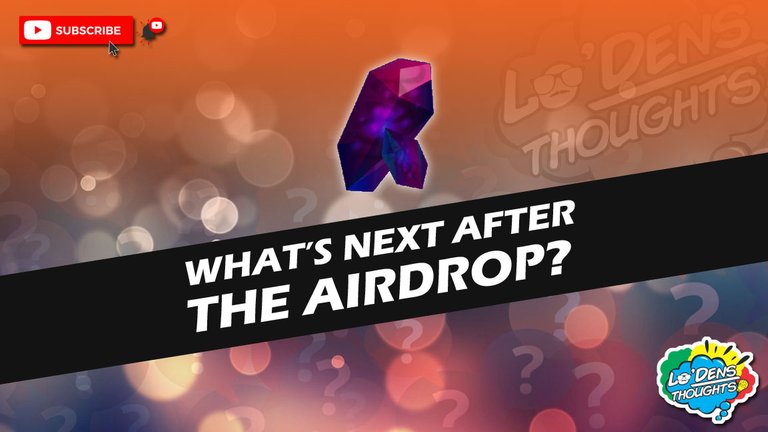 About Splinterlands
Splinterlands is an NFT card game where you use your card assets to battle another opponent which will earn you rewards for winning.
As of today, it is one of the only few NFT games that you can trust.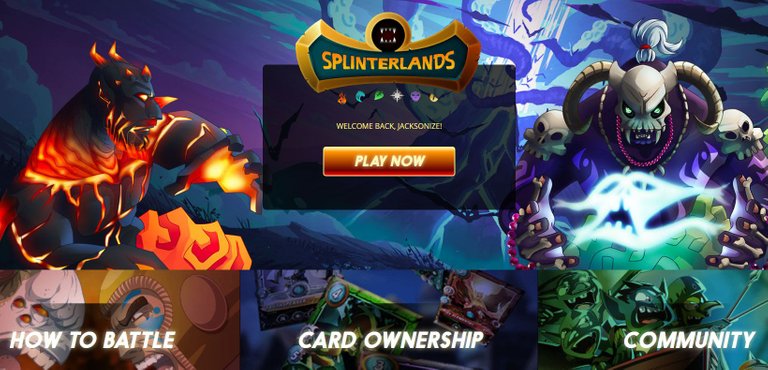 Requirements:
Hive Account ( Click here for tutorial)
Splinterlands Account (Click here for my referral)
Some of us are worried that DEC's price will continue to go down after the airdrop.
DEC might fall but if Splinterlands can think of a way to make it more usable, it might stabilize its position. The current use of DEC as of now is for buying, renting, entering tournaments, and upgrading guilds. I think only the first two are mostly used as of now.
---
So what would I do with my DEC after the airdrop? What are my options?
SPS Staking
I can convert my DEC to SPS - yes, converting your DEC to SPS and staking it is a good idea. Staking SPS will earn you more SPS and will also give you voucher rewards.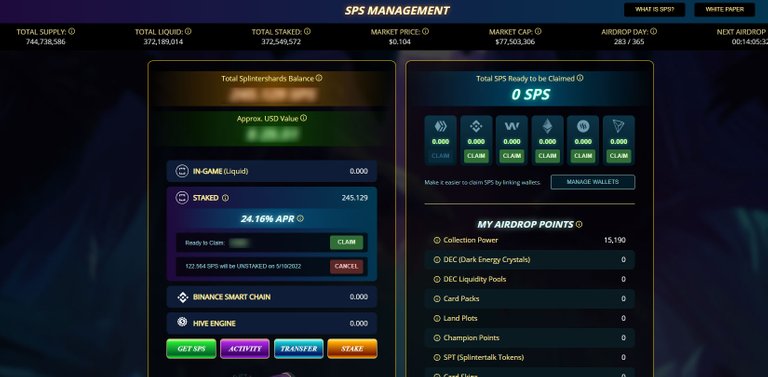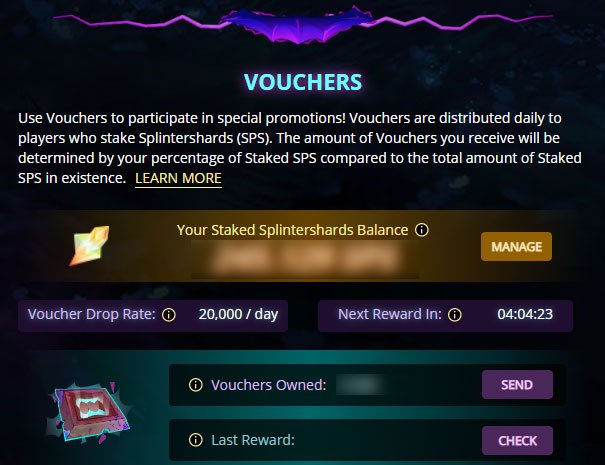 It is still better than cashing it out or changing it to other tokens which have no use.
Splinterlands has many good plans for SPS soon. They also continuously remind us about it on their Twitter account. I also think that the value of SPS will soar in the near future (maybe in the 3rd quarter)
---
Buy Cards
Splinterlands has mentioned that after they finished upgrading the battle, ghost cards or default playable cards will result in a decrease in rewards. In short, only owned cards will be greatly rewarded.
So what I am planning to do is to increase my card assets so I will not be affected by this new system.
My only concern is not to be late in buying cards because I can feel that the prices will go up after the new system has been implemented.
If you want to snipe for cheaper cards in the market, you can use peakmonster's bidding tool so that when someone sold their card that meets your budget or below the current value, your account will automatically purchase it.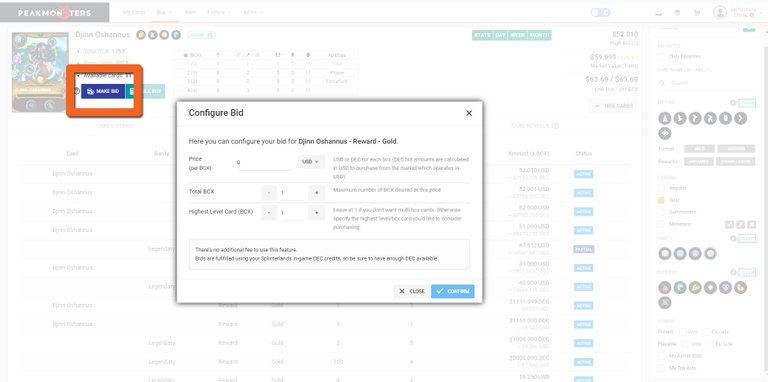 You can follow @peakmonsters to learn more about their site.
---
Anyways, as I was saying, I am planning to buy cards with my DEC before the airdrop ends. Why? it's because growing your Splinterlands assets gives you more chances of earning.
More Card assets Means:
More chance of winning battles
Gets you to a higher league
Greater Rewards ( because a higher league gives you more rewards)
More EOS chest to open
More Daily Quest Chest to open
Higher Chance of winning the leader board
Higher League's like gold will not bring you back to bronze after EOS
Higher chance of winning guild wars for your guild
Chance of joining higher league tournaments
Chance of winning in higher league tournaments
I could think of a lot more ways why you should convert your DEC assets to cards after the airdrop but I'll just stop here.
---
My last option is to put it in Tribaldex's pool. Tribaldex's pool allows your tokens to earn fees and some even give you LP token rewards.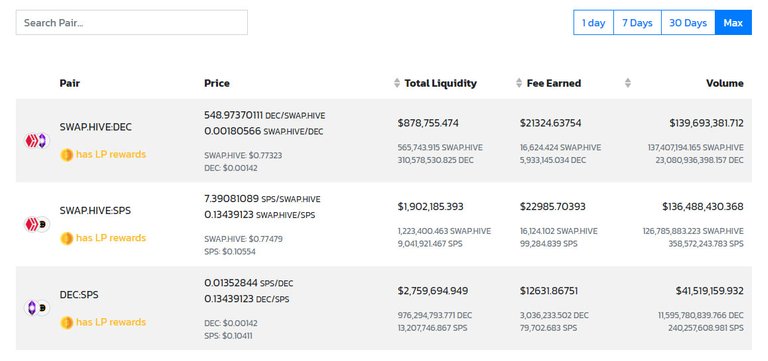 Click here to read my post about Tribaldex Diesel Pool
I don't want to change my token into some tokens that will just sleep in my wallet. Let us not put our money into sleep and expect it to grow. Holding your tokens in your wallet and waiting for their value to increase is waste of time. Time is Gold, my friends, make your money work for you.
---
I hope I have enlightened you through this article, if you have some good ideas, please comment in the comment section.

About The Author
Name: Lo Dens
Born: 1976
Profession:
Graphic Artist
Web Designer
Video Editor
Social Media Manager
Blogger
Vlogger

Hobbies:
Gardening

NFT's:
Splinterlands
Rising Star Game
Axie
Dragonary
Alien Worlds
Gnome City
Synergy of Serra,
---
My Social Media Links
Let's be friends! Follow me on my
Social Media Accounts
Facebook Page
Youtube
Twitter
Instagram
Linkedn
Tumbler
Pinterest
---
---