Apocalyptic Homesteading (Day 1100)
Hello Everyone!
Wonky sleep, Wily weather, Storm preparations, Rodents in the tub & Occasionally getting stuff done!
Woot! I am on time again with my writing routines... and I was even able to squeeze in a hot bath at the very end of the day... without it knocking my precious 'timing' off. Part of me wants to end this entry with that sentence... just because it sums things up well... but alas I know better than to give it all such a marginal amount of effort... and think it is good enough.
Anyways, the weather held up for much of the day and although I spent a good bit of indoors (avoiding the gusty winds) I did eventually get outdoors later in the day. At first I was just trying to get the place ready for the inbound severe weather... but one thing lead to another rather quickly and I scrambled around to get as much done as I could... while I could.
Honestly I should have started doing stuff much earlier in the day but I had a really wonky nights sleep and upon waking around dawn... I promptly fell back asleep and slept until nearly noon. If it had all been 'uninterrupted sleep' it sure would have been nicer... but for the most part I could not seem to remain asleep for more than a few hours at a time.
So, in short... I had to 'scramble' if I wanted to get everything done during the afternoon hours. It all worked out though... aside from getting 'all' the grapevines harvested... but I did get a good amount more of them harvested so that is progress. The only major thing that I fell short on this past week was getting more leaves raked up but hopefully I can get that done early next week... once things dry out... again!
My timing today got a bit thrown off when I went to empty the outdoor tub because I found a dead mouse floating in it... and then later (while I was pumping the water out) I found another one that had sunk to the bottom. Needless to say that the tub then required a 'deep cleaning' (with hot water and bleach) instead of the 'simple rinse' that I was intending to give it.
Per usual I gave the dead rodents to the chickens to snack on and also 'per usual' I hope they got the message that it is okay to eat and even hunt them! Expecting the chickens to pick up on dog tactics might seem like a stretch (they already get a bellyful eating bugs) but hey... it would not bother me at all if they got a bit more aggressive in regards to the vermin.
All that jazz aside, I am feeling pretty good about being 'cooped up' for the next few days but when I looked close at the weather forecast... I saw that where I am at is possibly the worst area for very severe thunderstorms and tornadoes. Sometime tonight things are going to be turning pretty foul outside and although it is still 'early in the game' to do so... I will probably keep the HAM radio on so I can listen for tornado warnings.
Alright, I thought that I had more words in me for this entry... but I am going to wrap it up... so that I can work on another of those 'Something Different' entries that I have been making the last few weeks. I hope that everyone is doing well and has a nice time.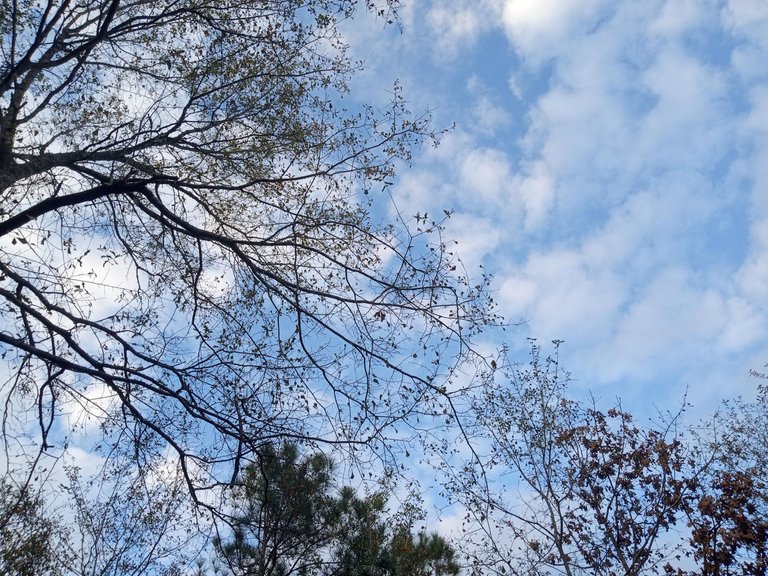 It sure was a pretty day!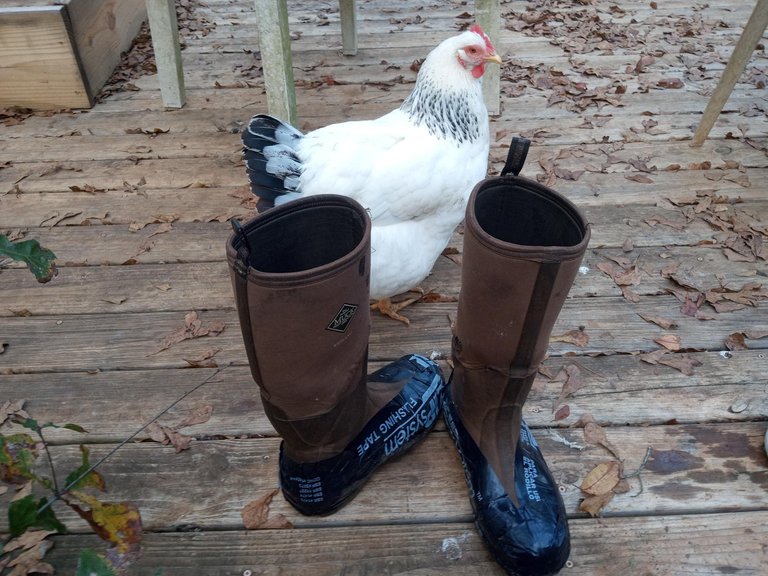 Emily approves of my boot repair!
Thanks for reading!

Please check out the Homesteading Community:
https://peakd.com/c/hive-114308/created
Homesteading Resources:
https://peakd.com/hive-114308/@jacobpeacock/homesteading-resources
Want to join Hive?
Sign Up Via My Referral Below!
https://peakd.com/register?ref=jacobpeacock

That Is All For Now!
Cheers! & Hive On!
All content found in this post is mine!
---
---