Apocalyptic Homesteading (Day 286-292)
Hello Everyone!
Apocalyptic Homesteading Day 286-292!
Content Creation Habits, Persimmon Groves, A Bushcraft Idea, Plumbing A Barrel, Autumn Approaches & Some eXode Musings
The morning is dragging on and I slept in until almost seven o'clock after waking up several times earlier and then falling back asleep. I was just too comfortable snuggled up to the dogs to get all that interested in getting out of bed. I was also sort of caught up in some wacky dream that kept dragging on and I was hoping to find out how it ended or at the very least how it all played out. The dream has already grown fuzzy at this point but I do recall that I had built a bunch of structures and was in the process of dismantling and moving some of them to new locations but in a few instances I failed to remove all the stuff inside of them beforehand and was left scrambling to protect the contents from an array of approaching foul weather. Although there was the looming sensation that at any moment in the dream a massive storm was about to break loose... it never quite arrived.
Anyway, I keep thinking about trying to get back into the habit of writing and posting each day as well as making more videos and podcasts but I have yet to have any real success in that regard. This morning when I awoke I told myself that 'today is the day' and the best thing that I could do is open the text editor and begin plugging away and later when I do my morning chores that I should take a phone with me to get some pictures. One thing is for sure and that is that if I am going to get back into the daily posting habit that I will need to get into all the little routines that make doing that habit easier like carrying a phone, keeping a phone for that purpose charged and of course keeping an eye out for things to take pictures of. Managing the media sure gets tedious after a while and it may well be that more than anything else that has lead me to where I currently am with documenting stuff. The best thing that I can do is concern myself with producing media and worry about the rest (like the archiving) as it comes up.
The sun is still a few hours away from rising and although I have been awake for a little over an hour now I have yet to feel all that motivated to do any writing. I guess it is a bit crazy to expect myself to fire up the text editor and start writing as soon as I start brewing my espresso each morning but that is often exactly what I do. The routine of it sure is comforting even if I only write a little and it is probably the only reason that I have managed to keep pecking out these entries on a consistent basis. Back when I first arrived here I would often write at the end of the day and whoa that was always a tedious task given my level of fatigue but now with writing in the morning (and pretty much no fatigue) I often find myself staring blankly at the blinking cursor as the fog of sleep gradually fades away.
As far as yesterday goes I did not accomplish all that much aside from my routine chores and taking several short hikes. I dunno why I kept hiking around but every time that I felt like doing it I would slip on my boots and start wandering around looking at stuff. Ever since I did all that mowing recently I keep looking at different parts of the property and thinking about how much more useful they would be minus all the pine trees growing in them. Most of these areas tend to be nice flat areas that would get excellent sun all day if the pines were not in the way. Some of the areas are a bit more sloped but would make for awesome places to do terraced gardens or fruit tree groves. One thing that all the areas have in common is that they would all work for large scale solar panel installations and honestly that is what keeps drawing my eye to them the most!
All that 'sunny stuff' aside, the woodland here would be much healthier minus a good bit of those slash pines and eventually I will have to start thinning out some of the more choked pine groves not just for their own health but also for brush control in regards to fire prevention. The same could be said for all the standing dead and fallen pine trees so I will assuredly have to address those as well at some point. The big pine forest where I have the garden at is probably the first pine forest that I am going to clean up and given all the mowing that I have done on it I guess that I have already begun the process. That entire grove is littered with fallen pine trees and while I was mowing I made sure to avoid the larger logs altogether given the time of year. Once we get a few good cold snaps here and the snakes go dormant I am going to start sectioning up all the fallen trees in that grove and perhaps using the rounds as borders around the persimmon trees so they are protected from the lawnmower and/or weed-eater when I maintenance the area. We will see how all that works out when the time comes because it might be better to find something else to protect the tree trunks with.
There is of course a lot of other things that I want to do this winter and during my hiking I kept revisiting the area north of the current shelter site and thinking that it is the area that I should focus on cleaning up before delving into doing the same in any other wooded areas. Mainly between the brush there and the fallen/felled trees it is a little too much 'kindling' laying on the ground and it would give me some peace of mind to get it all cleaned up. There is also that large flat shelf in that area which would be nice to utilize even if that is just for a place to hang out at in the shade which is in short supply inside the shelter area. I am still undecided as to just how much I want to commit myself to clearing any other areas before settling on where I am going to build my actual little homestead at. For now I am simply thinking it all through and making mental notes about how much sun is in various areas, how the runoff water flows over them and all the little things that amount to making good observations so I can then make well informed decisions when altering the sites. The mental legwork never really ends but I think that I enjoy it too much to ever complain about it.
When it comes down to it I am still less than a year in at this place and although the beginning was wonky (as it always is) I must say that I have settled into a nice balanced routine that generally only occurs much later after I have been at a place for a year or more. Given the conveniences now in place I look back on the past (during similar times of year) and am thankful at just how good I now have it because when I walked outside long before sunrise it was a bit chilly and I did not reflexively think 'time to work double-time winter is coming' or something along those lines. Instead I thought about how snug and warm I will be over the coming colder months and how well prepared for them I am. I really am looking forward to that time of year not just because I will get to see how the new cabin does but also because most of the bugs will disappear during that time and of course I can do more off-trail hiking without having to be vigilant about venomous snakes nor disturbing the local wildlife.
On a different note. I have been seriously entertaining the idea of setting up a bushcraft shelter area somewhere in the woods here. I was at first considering trying to utilize a bunch of the poles that I have left over from doing the site clearing but the more that I think about it the more that I think using something that will last longer might be the route to take. I considered using some of the ample fat-lighter wood that is scattered around the place but given how flammable the stuff is I am uninclined to build everything with it and thinking to maybe use it for the main support posts and/or the headers if for anything at all. I also do not want to use any screws or nails at the bushcraft site and although there are plenty of vines around I think that I am going to stick to rope, cable, and paracord to hold everything together. I keep picturing using the bushcraft site as a place to hangout at and use as a nature observation area when the weather permits it. We will see where the idea goes but it has been a pervasive one of late especially during the heat of the day when I often have to retreat to the cabin to escape the heat. In other words a nice little semi-civilized shaded area in the woods would be a nice place to unwind at. If I build it somewhere downhill I could probably even pipe some water to the site with a gravity-fed system and setup a nice outdoor dining area at it to boot.
Alright, it is yet another day and although I have been up since before the sunrise I have yet to write anything. When I first awoke I got over-involved with some cryptocurrency stuff and nearly three hours later I am just now realizing that most of the morning is already gone! Well, I at least learned a few things about staking Cardano (ADA) and I was able to cash out some of my eXode card sale earnings while HIVE was worth around ninety cents so that was rather productive to say the least. The trickle of sales from my eXode collection has been pretty cool since the early alpha launch which I guess was a year or more ago now. Although I have not been super active with the game development I have been keeping an eye on it and love where the game is heading as it gets closer to reaching the beta phase. I do not think that I previously mentioned it but sometime back I successfully landed on a planet in the game and have been sitting on an NFT of that planet for a while now. With the latest released demo game features I was able to scan and research the planet which was pretty cool because it showed me what could be done with different zones of the planet and what kind of resources and such that it holds. Maybe it is just me but I really like the idea of an NFT like a planet producing its own NFT(s) whether that is from the activity being done on the planet by the player or by the planet's inherent resources being harnessed.
As you can tell by that... I went down the rabbit hole with all that jazz this morning and need to either write out whatever I sat down to write about or get outside and get my morning chores done before it gets super hot. It is actually quite chilly this morning (much colder than yesterday) and I shivered the first time I let the dogs out this morning so its getting to be that time of year again for sweaters. I would say that we just got our first cold snap of the year but it seems a bit early for that so I do not know what else to call it but burr was it a surprise and I am glad that I had set the air-conditioner in the cabin to low before going to bed the night before.
Anyway, yesterday was not super productive but I did retrieve my black rain barrel from where I had it stored and finally used those plumbing fixtures that I got for it many months ago. Everything fit together quite nicely as far as the plumbing went but I have yet to leak test it because I need to fabricate a good stand to hold the barrel upright. Although I really like having the plumbing ports in the bottom of the barrel it sure makes setting the barrel up a bit trickier. For the time being I might just set it on some cinder blocks, partially fill the barrel and leak test my fittings before diving into building some kind of stand for it. Heck I am just happy to see that project moving along because ultimately that barrel could produce a good amount of hot water each day just sitting in the sun and now that I think of it that barrel would do well for keeping a small greenhouse warm in the winter if I set it up inside of one. At the moment I am going to keep it simple and see just how hot the full late summer sun can make the water and go from there.
It has now stretched on into the afternoon and I find myself once again wanting to write so here I am after finishing all my morning duties. It is a holiday weekend here but I have yet to get in the spirit of things and kind of just want to take long naps and read a book or something instead of firing up the music (and perhaps the fire-pit) and grooving out in the shade. It seems like more effort than it might be worth to entertain myself especially since I can chill in the air conditioning and avoid the heat outdoors altogether. Yesterday I kept popping in and out of the cabin and was enjoying the heat for the most part but something kept chewing on my legs (some sort of flying insect) so I wound up spending a bunch of time inside watching an old television show after watching way too much of the news. Mainly it was the variety of natural disasters that folks are facing and how many of them are in some unlikely places that have not had to deal with that sort of thing in recent memory or ever at all. As far as all that natural disaster jazz goes it has been one heck of a year and now that we are heading into the fall and winter there will probably be shortages occurring from it all as well as new disasters to cope with. Or so it all seems... but who the heck knows how things will be until we get there. For now the tragedies seem to be mounting up and it is difficult to not occasionally get overwhelmed by the enormity of the losses and heart-ache of folks affected by it all.
Alright, it is another morning and although it will do it soon... the sun has yet to rise. Once again it is a chilly morning and it makes me think that fall might arrive slightly early this year. Technically autumn is only a mere two weeks away but between the super cool nights and the fact that both the grapes and persimmons have already ripened for the year... it makes me think there will be an early fall followed by an early (and perhaps hard) winter. Having never been here for this time of year I do not have much to compare it with so I am cautious about making any kind of prediction. With that said though, the squirrels have been super active for a few weeks now, there seems to be less flies and other insects and my own instincts are telling me to get ready for some much colder weather. Mainly I just have to rifle through my stuff and dig out my cold weather gear and make sure it is in good repair for the oncoming seasons. I will also need to get all my propane tanks filled, clean up my heaters and figure out what (if anything) I am going to do about the water lines that supply water to the shelter site. Honestly I am rather excited about the changing weather and looking forward to another productive winter here.
Anyway, it was not a super productive day or anything but I did get in a few short hikes and spent a good bit of time outdoors getting some sun which is something that I am trying to do more of each day. I spent so much time cooped up indoors over the summer that whenever I get out in the sun I almost immediately feel my mood improve and chide myself over depriving myself from getting enough sun to keep my vitamin D levels high. Given my lifestyle I do get a good amount of sun each day one way or another but intentionally basking in it sure does help a lot! What has happened during the summer is that I have been doing my routine chores super early in the morning and very late in the day and at both those times the sun is low on its respective horizon so I have not been getting an incredible amount of the stuff until recently.
So... it is another morning and although I awoke around four o'clock I have yet to write anything because I got way over-involved doing stuff online and sorting through hundreds of eXode cards and getting them listed on the player market. Thankfully I do not have to do a bunch of listing all that often but with the way HIVE has been climbing in price folks are buying more cards than they usually do. It is fun to participate in it all so I do not mind even though I seemed to have merely blinked this morning and four hours had passed. 'Good times' is all I can really say about it other than perhaps needing to remind myself to manage my morning hours a bit better and not get totally sucked in!
I have yet to get the heck on with my day and have yet to recap yesterday which now that I think about it... not much happened and it was quite the lazy Sunday aside from spreading a bunch of diatomaceous earth in and around the chicken coop and then dusting the dogs with it. The dogs really seem to like it and of course it is the food/medical grade kind so it is not harmful to me or them. I dusted them pretty heavy with it and left them outside for a few hours so that they would lay and/or play in all their 'spots' (shallow holes, shaded places, sunny spots etcetera) and spread the stuff there as well. Of course I wound up with a good bit of it indoors as well and although the air conditioner's filter will not like it... neither will any pests and I have to routinely clean the filter anyway so it is no big deal. In the future I am thinking that I might dust the dogs every six months just for good measure against lice, mites and of course fleas. I am also thinking that I should stock up on a few bags of the stuff just for good measure which would go a long way if other forms of pest control are not available.
Alright, I failed to write anything at all yesterday even though I spent most of the day piddling around on the computer. I once again got over-involved with listing and buying eXode cards which was pretty fun because it was the last day of sales for some of the alpha assets and there was apparently a bit of a buying frenzy going on because of it. I also had to adjust a bunch of card prices to account for the high price of HIVE and the changing landscape of the player market itself. Having never really done much as far as markets and such go I am probably being overcautious with how I approach it but so far it seems to be working out pretty well and over a year later I am still doing it so that says a lot in and of itself.
Ah, the sun is already up and I am still sipping my espresso and waking up all the way which seems to be taking longer than usual today. One way or another I am going to have to be a bit more physically productive today and perhaps get in a few hikes along with some actual work. As soon as I get a day where it is not going to rain (like it did yesterday and supposedly will today) I need to uninstall the 'desk' at the foot of the bed that holds the monitor, mouse, keyboard and whatnot and then raise it up a little bit so that it is not so low. A buddy of mine online suggested that the height of the desk might be why my wrist got injured when I was gaming a lot several weeks ago and I think they were correct. Hopefully that is what it is and raising the desk will fix it because I still cannot use the mouse for more than about thirty minutes without my hand either growing numb or falling asleep altogether.
The biggest challenge will be getting the monitor (that I have no feet or hanger attachments for) installed in a way that does not interfere with the electric outlets. If it comes down to it I can assuredly move the outlet but I kind of want to avoid having to do that if possible. The way that I currently have the monitor mounted is not really ideal because it is hanging (like a framed picture on a wall) by some cloth ribbon attached to some screws that I installed in the plastic case where some of the actual mounting brackets are supposed to be used. I think that I am going to either use some wire or very thin metal cable to hang the monitor with and get rid of the cloth ribbon altogether so that it is not constantly collecting dust. In other words I want to make a much better mounting system for the monitor which would also make cleaning behind it, moving it and accessing all its rear ports much easier. I swear that sometimes it is the littlest things (in regards to convenience) that make all the difference!
The morning is still dragging on here and I should most likely get outdoors and get to doing my chores but here I am pecking out some words hoping to share something meaningful. I am also here doing this because I want to wrap this entry up today and get it posted so that I can attempt to get back to posting at least once a week. If I can manage that then I will not have a behemoth of an entry to edit and proofread every thirty-odd days. Week after week as those entries grow so does my dread of having to wade through it all at the end and do the inevitable corrections and clarifications and I think that a good way to deal with that is to just avoid creating those long entries altogether. I guess that the only real downside is that I will need to take more pictures than I have been but heck I have admitted multiple times now that I know that I have been slacking in the picture, video and podcast departments!
Somehow over the last several years I have managed to hold onto my writing habit (or it has held onto me) and through it all I am still here sharing my life so I guess that it is safe to say by now that I have firmly cemented the routine of 'sharing' into my lifestyle and it has been surprisingly healthy for me. In many ways the writing has been the continuous thread that 'holds it all together' for me (as far as perspective goes) and regardless of how skewed it might get one way or another I am glad that it is my own and not one influenced by the selling/buying of products, advertising or any number of things that folks seem to let dominate (or just influence) their narratives at the cost of their own uniqueness. I am in no way bashing folks here and I absolutely understand that a single good sponsorship (or product placement) can radically improve the quality of a person's life... but at some point I think that for me personally I would find it unfulfilling even if it made me financially successful. That last bit is totally subjective of course and I must say that 'financially successful' to me is measured in doing exactly what I have been doing which is making sure that month after month my basics are covered and that me and the critters stay well-sheltered, well-fed and most importantly loved... and that is good enough for me.
Okay, I went off on a side note there with all of that but I hope you understand what I am getting at there and how the writing (and especially earning revenue from it) has helped improve my overall quality of life and I dare say it... my mental well-being. It took a lot of focus and dedication on my part to get to where I am and yeah there will always be ups and downs but occasionally I peruse over the last few years pictures, videos and writings and am like: Whoa you did all that stuff and came out of it a better person! The other day I even read through several pages of a journal from ten years ago and what struck me most is that just reading it was bringing back a bunch of old detailed memories that I did not even know that I possessed from those times. For humor's sake it is worth noting that the newly formed editor in me kept cringing as I was reading the journal entries and I had to just tune it out because I kept reflexively wanting to correct the errors, re-structure the grammar and do all the stuff to make it more mentally palatable! None of that really took away from the reading experience and hopefully this winter I can transcribe some of that stuff and see what can be done with it for archival purposes. I know that the way to preserve all those writings is to digitize them and I do not know if or when I will be up for such a task as that but it may be well worth doing just to not have to have so much storage devoted to manuscripts and journals.
That is enough 'writing about writing' for me for one day so I should move onto another topic or wrap this entry up altogether. Better yet I should get outside before noon arrives and get the last of the morning chores finished. I have come and gone several times during the writing of this and gotten a bunch done so I may as well go knock out the rest of it without much fuss over not finishing this entry yet and moving onto the editing. Hahaha... I wonder how many times that I have written that line over the last several years.
I got those chores done and only have to get some pictures to complete this so woohoo to staying on track. After taking a bunch a pictures I only wound up with two good ones for this post! I hope that everyone is doing well and has a nice day/night.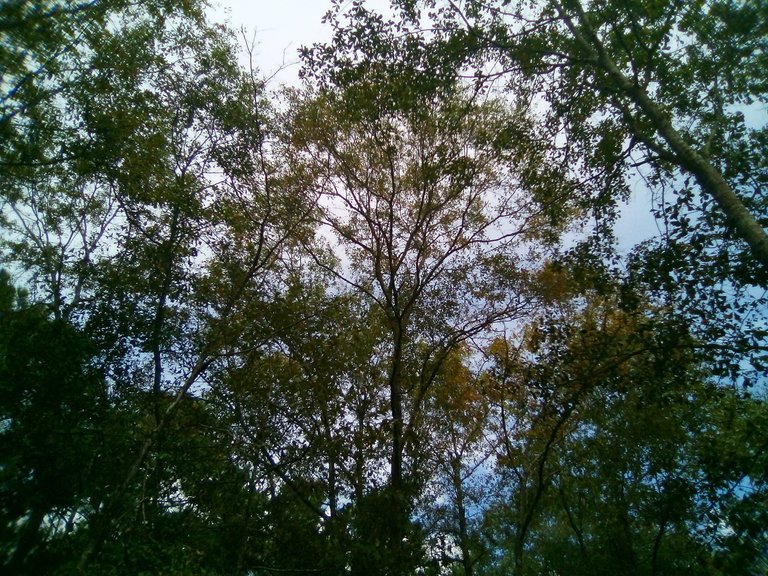 Some of the leaves are already beginning to change colors!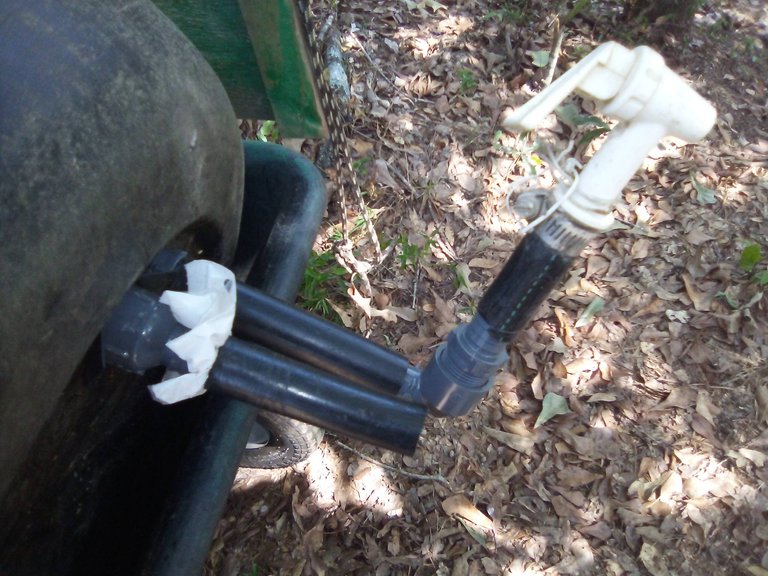 My quick and easy water barrel plumbing!
Thanks for reading!
More about me: I have been doing property caretaking (land stewardship) for many years (decades) and live a rather simple life with my dogs doing what most folks would consider to be an 'alternative minimalist lifestyle' but what I often just think of as a low-impact lifestyle where I get to homestead and spend the majority of my time alone with my dogs in the woods doing projects in the warmer months and taking some downtime during the colder months.
Nearly four years ago I began sharing the adventures (misadventures) of my life via writing, videos, pictures and the occasional podcasts and although my intention was to simply share my life with some friends it undoubtedly grew into much more than that over the years and now I find myself doing what equates to a full-time job just 'sharing my life' which is not even all that glamorous or anything but hey folks seem to enjoy it so I just keep doing it!
The way that I look at it is that I give it all my best each day and while some stuff I write is better than others I think that for the most part I do a pretty good job at doing what I am doing which is simply 'sharing my life' as candidly as I possibly can and whatever folks get (or do not get) from it there is always the satisfaction of me doing what I set out to do... which is to simply share my life.

Please check out the Homesteading Community:
https://peakd.com/c/hive-114308/created
Hive Survival Guide Sixth Edition can be found here:
https://peakd.com/hive/@jacobpeacock/hive-survival-guide-sixth-edition

A playlist of my Jacob Goes Off Grid Videos can be found here:
https://www.youtube.com/playlist?list=PL8CsWYxlqp36dEFkg5mnlzgY41bE761oK
Please consider becoming a patron on my Patreon page!!!
https://www.patreon.com/jacobpeacock
Contribute via Paypal:
https://PayPal.me/jacobpeacock

That Is All For Now!
Cheers! & Hive On!
---
---