[ Esp-Eng ] NFL | El exceso de confianza permitió la mayor remontada de la semana 2️⃣ 🏈 Overconfidence allowed for the biggest comeback of week 2️⃣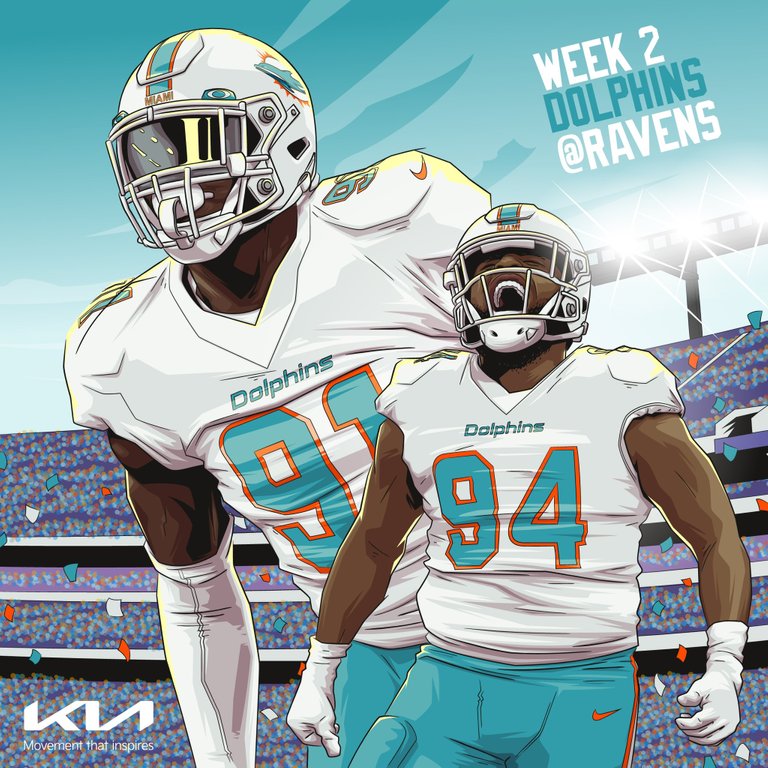 Fuente | Source
El día domingo 18 de septiembre nos dispusimos a ver el juego divisional de la conferencia americana entre los Miami Dolphins - división este vs. Baltimore Ravens - división - norte, donde Miami era el equipo visitante y Baltimore jugaba en su casa, el M&T Bank Stadium, el partido se jugó sobre césped natural y tuvo una duración de 3 horas y 20 minutos, antes del encuentro cada franquicia venía con un juego ganado y cero perdido. La serie particular de estos equipos está liderizada por Baltimore 10 a 8.
On Sunday, September 18, we watched the divisional game of the American conference between the Miami Dolphins - East division vs. Baltimore Ravens - North division, where Miami was the visiting team and Baltimore was playing at its home, the M&T Bank Stadium, the game was played on natural grass and lasted 3 hours and 20 minutes, before the game each franchise came with one game won and zero losses. The series between these teams is led by Baltimore 10-8.
A continuación mostramos la tabla de desempeño de los dos mariscales que se enfrentaron en el duelo divisional, como podemos apreciar la actuación del mariscal de campo de Miami fue superior en yardas aéreas y en touchdowns, no así en cuanto a intercepciones de pase donde el mariscal de Baltimore mostró más precisión en los pases, otro punto que resalta en la estadística son los intentos de pase, en estos números el mariscal de Miami como se puede apreciar lanzó más balones que su rival, pero este no tuvo intercepciones, razón por la cual su índice de pasador termina siendo mejor aunque de nada le sirvió para que Baltimore ganara el desafío.
Below we show the performance table of the two quarterbacks that faced each other in the divisional duel, as we can see the performance of the Miami quarterback was superior in air yards and touchdowns, but not in pass interceptions whereas the Baltimore quarterback showed more accuracy in his passes, Another point that stands out in the statistics are the pass attempts, in these numbers, the Miami quarterback, as can be seen, threw more balls than his rival, but he did not have interceptions, the reason why his passer rating ends up being better although it was of no use for Baltimore to win the challenge.
| Mariscal - QB | ATT | CMP | PCT % | YDS | TD | INT | QBR |
| --- | --- | --- | --- | --- | --- | --- | --- |
| Tua Tagovailoa (Miami) | 50 | 36 | 72.00 | 469✔️ | 6✔️ | 2 | 124.10 |
| Lamar Jackson (Baltimore) | 29 | 21 | 72.41 | 318 | 3 | 0 | 142.60 |
Nomenclatura empleada: ATT (Intentos de pase) | CMP (Pases completados) | PCT% (Porcentaje de pases completados) | YDS (Yardas lanzadas) | TD (Touchdowns) | INT (Intercepciones de pase) | QBR (Índice de pasador del mariscal).
Nomenclature used: ATT (Pass attempts) | CMP (Completed Passes) | PCT% (Percent Passes Completed) | YDS (Yards Thrown) | TD (Touchdowns) | INT (Pass Interceptions) | QBR (Quarterback Passer Rating).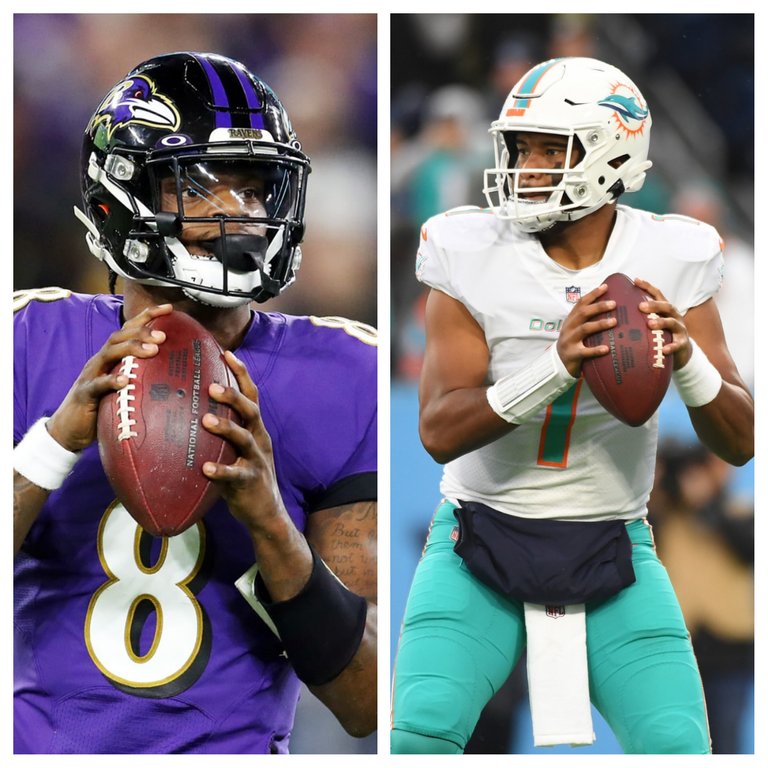 Fuente | Source
En este partido se enfrentaron dos mariscales cuyas carreras vienen en ascenso, la diferencia más notable la observamos en la experiencia y antigüedad en la liga. El mariscal de Miami Tua Tagovailoa, está en su 3.er año con la franquicia, su edad es de 24 años, por su parte Lamar Jackson, es un experimentado mariscal de campo con 5 años en la NFL y 25 años de edad. Es de acotar que el mariscal de campo de Miami en la actualidad es el único jugador en esa posición que es zurdo, lo que lo convierte en una elite reducida de al menos 30 jugadores que han sido zurdos en 100 años de existencia de la NFL.
In this game, two quarterbacks faced each other whose careers are on the rise, the most notable difference is their experience and seniority in the league. Miami quarterback Tua Tagovailoa is in his 3rd year with the franchise and is 24 years old, while Lamar Jackson is an experienced quarterback with 5 years in the NFL and 25 years of age. It should be noted that Miami's quarterback is currently the only player at that position who is left-handed, which makes him part of a small elite of at least 30 players who have been left-handed in 100 years of the NFL's existence.
| Equipo | Team | 1° | 2° | 3° | 4° | Total |
| --- | --- | --- | --- | --- | --- |
| Miami Dolphins | AFC | Este | East | 0 | 7 | 7 | 28 | 42🏆 |
| Baltimore Ravens | AFC | Norte | North | 7 | 21 | 7 | 3 | 38 |

Desde el 1.er cuarto intuimos que el encuentro sería un verdadero duelo. El volado lo ganó Miami por lo que patearía el ovoide y Baltimore iniciaría la 1.ª serie ofensiva, la patada inicial fue excelente en altura y distancia por parte del pateador de Miami, por lo que el balón fue fildeado por el receptor abierto (WR) de Baltimore, Devin Duvernay, dentro de la zona de anotación, y tras una carrera impresionante de 103 yardas logró evadir a la defensiva de Miami y anotar el 1.er touchdowns del partido y único de ese cuarto. No vimos a la ofensiva de Miami para nada intimidante y amenazadora, resaltamos el desempeño de la defensiva, la cual en nuestra opinión paró a la arrolladora ofensiva de Baltimore, el final del cuarto cerraría con marcador favorable a Baltimore 7 a 0.
From the 1st quarter, we sensed that the game would be a true duel. The kickoff was excellent in height and distance by the Miami kicker, so the ball was caught by Baltimore's wide receiver (WR), Devin Duvernay, inside the end zone, and after an impressive run of 103 yards, he managed to evade the Miami defense and score the 1st and only touchdown of the game in that quarter. We did not see the Miami offense at all intimidating and threatening, we highlight the performance of the defense, which in our opinion stopped the overwhelming Baltimore offense, the end of the quarter would close with a score in favor of Baltimore 7 to 0.
Un regreso de patada de 103 yardas 🔥🏈 Devin Duvernay

📺 #BlitzEnTUDN por @ElNueveOf #NFLMX #RavensFlock pic.twitter.com/IgV2KnWkGR

— NFL México (@nflmx) September 18, 2022

El 2.º cuarto fue en nuestra apreciación dominio hegemónico por parte de la ofensiva y defensiva de Baltimore, quienes neutralizaron a la tímida ofensiva y defensiva de Miami, la formación defensiva de Blitz (ataque de 4 o más defensivos sobre el mariscal contrario) fue decisiva para que tan solo Miami pudiera anotar un touchdown en este cuarto, por su parte la ofensiva de Baltimore, quienes emplearon diferentes formaciones ofensivas, entre ellas, la formación escopeta, formación i, así como la formación pistola, les valió para dar protección segura a su mariscal de campo para que este lanzara 3 pases de anotación que terminaron en 3 touchdowns, uno de ellos un bombazo de 75 yardas, lo cual puso el marcador de este cuarto nuevamente a favor de Baltimore con un aplastante 28 a 7. El héroe de este cuarto fue el mariscal de campo de Baltimore, Lamar Jackson, quien estuvo inmensamente preciso en cada uno de sus pases.
The 2nd. In our opinion, the 2nd quarter was dominated by Baltimore's offense and defense, who neutralized Miami's timid offense and defense, the defensive formation of Blitz (attack of 4 or more defensive players on the opposing quarterback) was decisive so that only Miami could score a touchdown in this quarter, while Baltimore's offense, who used different offensive formations, among them, the shotgun formation, i-formation, as well as the pistol formation, was enough to give safe protection to their quarterback so that he could throw 3 touchdown passes that ended in 3 touchdowns, one of them a 75-yard bomb, which put the score of this quarter again in favor of Baltimore with a crushing 28 to 7. The hero of this quarter was Baltimore's quarterback, Lamar Jackson, who was immensely accurate on each of his passes.

Estamos seguros de que la charla en los vestuarios de Miami debió haber sido inspiradora, ya que en muestra opinión devolvió la confianza a los jugadores, prueba de ello es que la ofensiva de Miami salió a anotar y logra un touchdowns en la mitad del cuarto, el 2.º de los delfines en el juego. Pero a pesar de la excelente defensiva que mostró Miami, la ofensiva rival estaba confiada que tenía el partido asegurado y la victoria en el bolsillo, pero no fue así, la defensa de Miami era otra a la que habíamos visto en la mitad del partido, por lo que solo permitió una sola anotación de touchdown por intermedio de su mariscal, Lamar Jackson, quien por tierra realizó una impresionante carrera de 79 yardas para anotar un touchdown, destacamos nuevamente que la defensiva de Miami fue una cortina de hierro, los parciales de este cuarto nuevamente favorecieron a Baltimore con un marcador 35 a 14, en nuestra apreciación vimos muy confiados a los cuervos de Baltimore, quienes aflojaron la defensa y la ofensiva.
We are sure that the talk in the Miami locker room must have been inspiring, since in our opinion it gave back the confidence to the players, proof of this is that the Miami offense came out to score and scored a touchdown in the middle of the quarter, the 2nd of the Dolphins in the game. But despite the excellent defense that Miami showed, the rival offense was confident that they had the game secured and the victory in the pocket, but it was not so, Miami's defense was different from the one we had seen in the middle of the game, so they only allowed a single touchdown through their quarterback, Lamar Jackson, who by land made an impressive run of 79 yards to score a touchdown, we emphasize again that Miami's defense was an iron curtain, the partials of this quarter again favored Baltimore with a score of 35 to 14, in our appreciation we saw very confident to the Baltimore Ravens, who loosened the defense and offense.

El último cuarto fue apoteósico, fue aquí que comenzaría la histórica remontada del encuentro, al punto durante la mayor parte del cuarto fue dominio ofensivo y defensivo de Miami, su mariscal de campo, Tua Tagovailoa, estuvo como nunca antes lo habíamos visto, lanzó 4 touchdowns que voltearon el marcador y ganar el duelo, anotar 28 puntos en un cuarto no sucede muy seguido, y remontar una diferencia de 21 puntos, mucho menos, fue tal la presión de la defensiva de Miami, que solo permitió una anotación de gol de campo por parte de Baltimore, el partido lo liquidó Miami faltando 0:14 segundos. El marcador final fue 42 a 38 a favor de Miami, quienes con esta victoria suman dos juegos ganados sin aún conocer la derrota y liderizar la división invictos con la mayor remontada que se da en un encuentro en la segunda semana de una temporada regular.
The last quarter was apotheosis, it was here that would begin the historic comeback of the game, to the point during most of the quarter was offensive and defensive dominance of Miami, their quarterback, Tua Tagovailoa, was like we had never seen before, He threw 4 touchdowns that turned the scoreboard and won the duel, scoring 28 points in a quarter does not happen very often, and coming back from a difference of 21 points, much less, the pressure of Miami's defense was such, that only allowed a field goal touchdown by Baltimore, the game was settled by Miami with 0: 14 seconds left. The final score was 42-38 in favor of Miami, who with this victory have won two games without defeat and lead the division undefeated with the biggest comeback in a game in the second week of a regular season.

Factores claves de la victoria | Key factors in the victory
Como ya lo dijimos en el título de este post, el principal factor de la derrota de Baltimore en nuestra opinión se debió al exceso de confianza, esto se dio porque Baltimore dominó los 3 tercios del encuentro, y al final Miami replanteo su juego aéreo y defensivo como nunca antes le habíamos visto, y Baltimore no pudo reponerse del ataque aéreo de la ofensiva de Miami liderada por su mariscal de campo Tua Tagovailoa, quien fue un espectáculo en el 4.º cuarto. A continuación mencionamos los factores claves de la contundente victoria de los delfines de Miami.
El explosivo ataque aéreo de Miami en el 4.º cuarto con 4 Touchdowns para un total de 6 en todo el partido.
Las yardas totales alcanzadas 547 versus 473 de Baltimore.
El único balón suelto (fumble) del partido por parte de Baltimore, esta acción le valió a Miami materializar una anotación, y a partir de allí en el último cuarto controlar el tiempo de posesión del balón, 34: 37 versus 25:13 de Baltimore.
El exceso de confianza de Baltimore en nuestra opinión contribuyó negativamente en el resultado para los cuervos, lo cual hizo que Miami volteara el resultado en el último momento con una espectacular remontada ofensiva que no encontró obstáculos en su camino, aquí vale mencionar una máxima del futbol americano: Malas defensivas y poco control del reloj no ganan partidos, agregamos que aunado a lo mencionado, un exceso de confianza puede revertir un juego, el ejemplo de ello son las estadísticas ofensivas de Baltimore, las cuales fueron superiores a las de Miami.
As we already said in the title of this post, the main factor of Baltimore's defeat in our opinion was due to overconfidence, this happened because Baltimore dominated the 3 thirds of the game, and in the end, Miami rethought their aerial and defensive game as we had never seen before, and Baltimore could not recover from the aerial attack of Miami's offense led by their quarterback Tua Tagovailoa, who was a spectacle in the 4th quarter. The following are the key factors in the Miami Dolphins' resounding victory.
Miami's explosive aerial attack in the 4th quarter with 4 Touchdowns for a total of 6 for the entire game.
Total yards gained 547 vs. 473 for Baltimore.
The only fumble of the game by Baltimore, this action allowed Miami to score a touchdown, and from there on in the fourth quarter to control the time of possession, 34:37 versus 25:13 for Baltimore.
Baltimore's overconfidence in our opinion contributed negatively to the result for the Ravens, which made Miami turn the result in the last moment with a spectacular offensive comeback that found no obstacles in its way, here it is worth mentioning a maxim of American soccer: Bad defenses and poor clock control do not win games, we add that in addition to the above, overconfidence can reverse a game, the example of this is Baltimore's offensive statistics, which were superior to those of Miami.
📌
Translated with 
www.DeepL.com/Translator 
(free version)
Notice to the reader
My mother tongue is Spanish,
so please excuse me for any grammatical or syntax errors 
in the translation of this content. 













  Descargo de responsabilidad ⚠️ Disclaimer




2022 NFL Enterprises LLC. NFL y el diseño del escudo de la NFL son marcas registradas de la National Football League.Los nombres de los equipos, los logotipos y  los diseños de los uniformes son marcas registradas de los equipos indicados. Todas las demás marcas comerciales relacionadas con la NFL son marcas comerciales de la National Football League. Imágenes de la NFL © NFL Productions LLC. | 2022 NFL Enterprises LLC. NFL and the NFL shield design are trademarks of the National Football League. Team names, logos, and uniform designs are the teams' trademarks. All other NFL-related trademarks are trademarks of the National Football League. NFL Images © NFL Productions LLC.






🔢






Todas las estadísticas empleadas en la elaboración de este post son números oficiales de la National Football League (NFL) | All statistics used in this post are official numbers from the National Football League (NFL) | www.nfl.com
















Original Content by @jakim7

Copyright @jakim7 | All Rights Reserved 2022 |

Animated Banner Created By @zord189



---
---