Splinterlands Chaos Legion Pack Opening and Giveaway #15 "Friday the 13th!"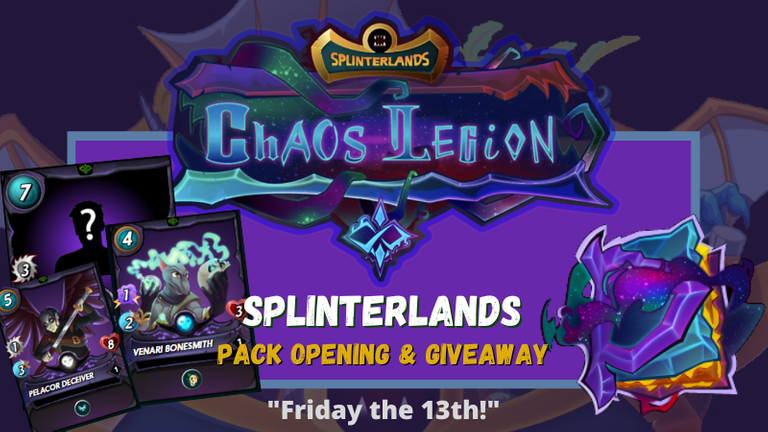 Website | White Paper | Discord | Hive Blog | My Referral
It's Friday the 13th this week, spoooooooooooky so I chose a specific pack to share for this week, and I may have waited just a little bit on this one just to get it out on this day >:D
The spookiest pack of them alllllllll:
Let's check out the pack opening!: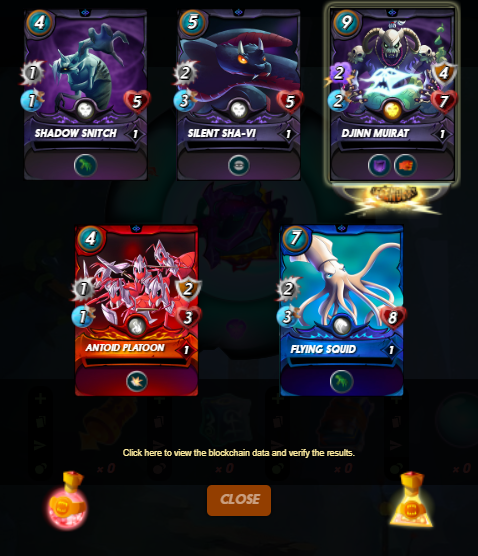 A Death Themed pack, with a Legendary Djinn Muirat in it, this card absolutely dominates at level 3. And his bone fingers and voodoo vibes are absolutely perfect theme to go off of for this Friday the 13th!

Card Tips & Tricks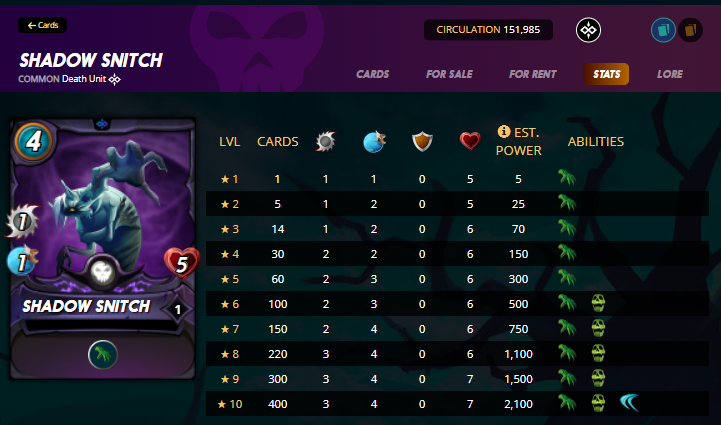 Shadow Snitch
Normal Foil, Common, Death Monster
Shadow Snitch is an alright Reach Attacker in a Death meta with almost no Reach Attackers, making it a very good core card for Death, which would otherwise be pretty weak in certain teams (for example, Fire.)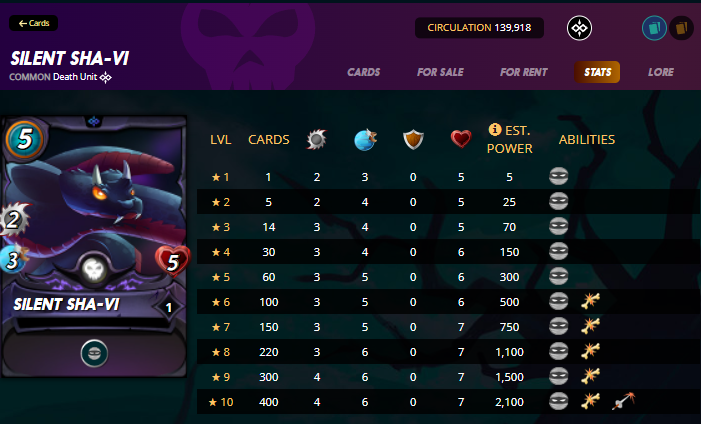 Sielnt Sha-Vi
Normal Foil, Common, Death Monster
The only card with Silent in its name that lacks Silence :P
All good though, Sha-Vi is an amazing Sneak Attacker, and will likely be a core aspect of Death's offensive Core until the set rotates out... Until then, this Crippling monstrosity of a Sneak Monster is gunna put in work.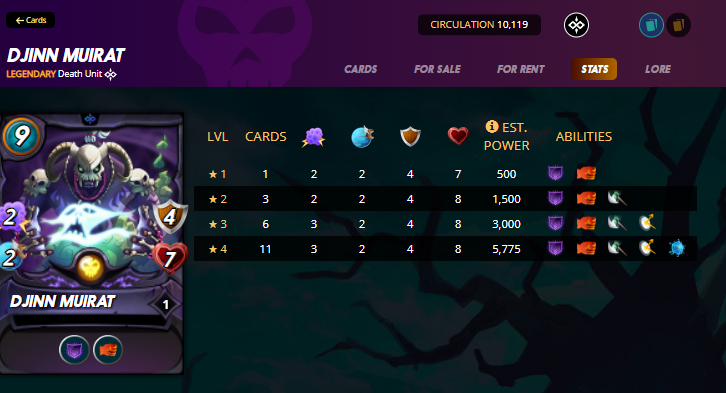 Djinn Muirat
Normal Foil, Legendary, Death Monster
Djinn Muirat is awesome, and he just gets more awesome with levels, providing the answer to Death's lacking anti-magic initially, he quickly becomes a powerful offensive tank with a huge health pool, magic damage, and magic reflect, making him a great magic counter, but also great on nearly any high mana team.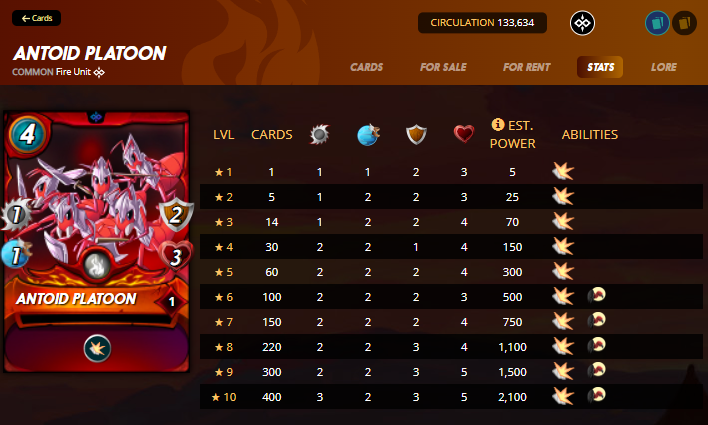 Antoid Platoon
Normal Foil, Common, Fire Monster
I'm known as Ant Miners in the discord cuz I used to collect them. Soon, I will evolve into Antoid Platoon, cuz this is Pokemon now.
You though there as actually going to be a tip here? You fool: Buy Antoid Platoons before I buy them all. Antoid Platoon to the moon, it rhymes, therefore it's a slogan, therefore it's TRUE.
True Technical Analysis here.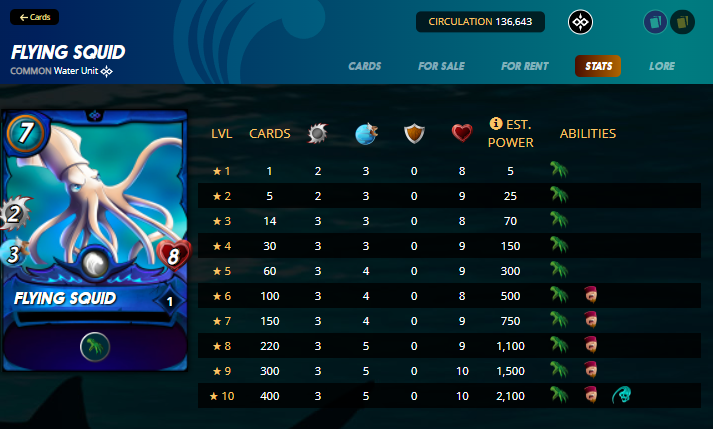 Flying Squid
Normal Foil, Common, Water Monster
Doesn't fly, but has enough tentacles to be a squid: 2/10.
Jokes aside, Flying Squid is a great reach attacker, and is basically the equivalent of Finneas Rage, go on, check out his price. Yeah, this one's a common, so it'll be cheaper, but you can expect it to perform like a common version of Fineas Rage imo.

Giveaway Time!
Well, it's GOTTA be a death giveaway huh? Let's do this: Comment your favorite Death CL Common, and if your comment is picked, you just won that card.
9 additional Winners will be chosen to win a Pelacor Deceiver
3 additional Winners will be chosen to win a Venari Bonesmith
Upvotes, Follows, and Tips are OPTIONAL, you do NOT need to do this, but they are always always appreciated!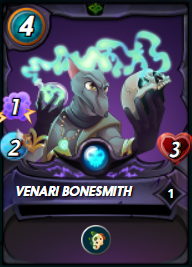 Here are the rules:
Comment your IGN
Have Fun!
That's it! You'll be entered into all drawings, although you can only win once per Giveaway Post!
Giveaway will be drawn using the Wheel of Names when this post pays out 7 days from now!

SPL Giveaway Notification List
---
Tired of missing my Giveaways? Wondering why you were tagged? I'm starting a notification list based on the previous entries this week. This specific notification list is for SPLINTERLANDS related Giveaways, if at any time, you'd like to be removed from these notifications, just leave a message asking me to be removed (you can still enter giveaways, and you'll also be entered automatically into my giveaways for such a comment as well!)
Also if you'd like to be added to ALL Giveaway notifications, let me know!
@caimanx @torran @vrezyy @luizeba @amaillo-m @arpuch @crazy-bones @henruc @sigmon @kotenoke @relf87 @blitzzzz @technocrypton @gluthor @jdike @arc7icwolf @mxm0unite @reagept @packagedmilk @screamheart @litrydow @amaari @irisworld @vrezyy @yasky @gessy @mr-house @dagz @boboman @xheadhunterz @rentaw03 @iroc11 @umaunion @davideownzall @noctury @geom @amaari @highhaschdi @candnpg @astralvedico @josieb @unusualuser @scoutroc @squishna @lorddiablo @bteim @subidu @edskymiguel @stekene @ducanhsx1 @haizelanne @eman13088 @waynechuasy @easilykilled @portalmonsters @cjames-40 @forsaken99 @yeckingo1 @lorddiablo @eijibr @loboguara @vadermunk @theacks @kyo-gaming @mrmare @ninosplinter @movebitch @seeweed @teerandom @crazy-bones @scoutroc @galaxios @vaynard86 @paulriq @acidosis @beelmukjj @ninosplinter @geom @dubble @splurgee @new.things @ian0426915 @astralvedico @iroc11 @shadecroat @splurgee @wommi @portalmonster @vaynard86 @ninosplinter @qoogohome @nwb0719 @scoutroc @boboman @stonmack @kyo-gaming @loboguara @wommi @dlmmqb @waynechuasy @drunksamurai @seeweed @osmw14 @ecto1337 @dusi @gidien @brando28 @kryptofire
---

𝕊𝕚𝕘𝕟 𝕌𝕡 𝕗𝕠𝕣 𝕊𝕡𝕝𝕚𝕟𝕥𝕖𝕣𝕝𝕒𝕟𝕕𝕤 𝕟𝕠𝕨!
Website | White Paper | Discord | Hive Blog | My Referral
Wanna join the Chaos Legion? Play with me on Splinterlands!
if you use my link, here: https://splinterlands.com?ref=jakkal
I'll send you 100 DEC when you sign up and get a spellbook, (as long as you show up as referred) which should help you get started via renting! Also, feel free to message me, I can answer any questions, give tips, etc.
You ALSO get entered into every giveaway that I do, and sometimes I'll do special Referral only giveaways and delegations, which will be starting back up again soon as well!
---
---