Splinterlands NEW Reward Monsters Reveal! DEATH and EARTH "Skulls, Plants, Fire? Oh My!"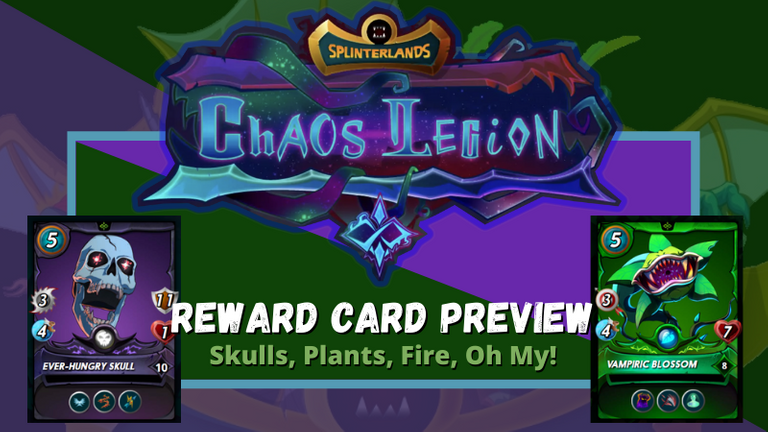 Website | White Paper | Discord | Hive Blog | My Referral
---
New Reward Cards!
As many of you know, the Rewards 2.0 update will be featuring 12 new Reward cards, and we received an inside scoop in the Town Hall today, providing information into 2 of the Reward Cards incoming. These cards will be entering your collections and chests in just 2 weeks, at the end of this season when Rewards 2.0 goes live!
This means I'll have a few Town Halls to reveal the new cards and preview them to you guys who may have missed it, so without further ado, here's the Death and Earth monsters revealed today!
If you wanna read the detailed information on the upcoming changes, including the new rShares earnings per league, and how the chests now drop cards/loot, please check it out here:
https://peakd.com/splinterlands/@splinterlands/splinterlands-ranked-rewards-update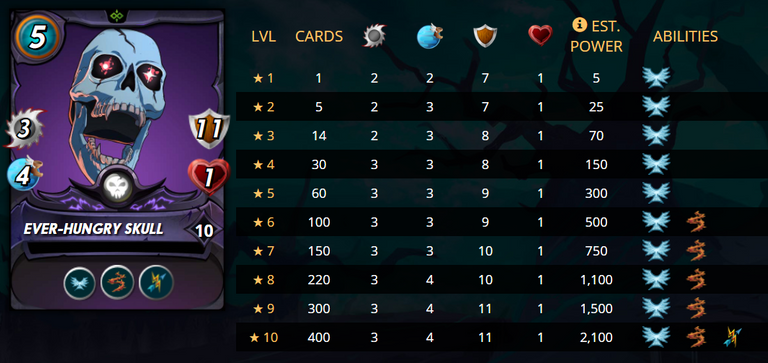 Ever-Hungry Skull
Mid Mana Armor Tank | Anti Range | Anti Melee | Anti Earthquake
---
This card is going to be absolutely WILD with Resurrect in Diamond, and he's going to be an absolute nightmare in Equalizer, Weak Magic, Lost Magic, and Earthquake.
I love him having more than 1 Melee as well, as it gives another solid option for a cheaper mid mana tank in some special situations. He's very niche, but also very powerful in his niche, so I can't wait to level this guy, at least to 6. He also happens to be very strong for a Common monster. Actually, I may just max him by then, as I will likely have my Diamond Death Alt ready for that >:D
I see Hungry Skull + Riftwing forming the core of a VERY powerful anti-Yodin composition, and being a fairly solid Earthquake comp core as well. Finally, he makes an awesome Gold Level backline sneak protection for Thorns.
I don't think he's a very good idea to use in Broken Arrows or in any ruleset where you're expecting to face magic, but that might leave room for some really gutsy plays when predicting an opponent. That being said, Windeku will almost always be used over this guy in all standard situations. Also, I would not use him in Poison for sure.
I'm a little sad this guy doesn't have Scavenger, but that's okay, he's still pretty cool.
What they DON'T tell you is that this guy is probably flinging his head at you to be able to eat you faster: It's about efficiency. efficiency!!!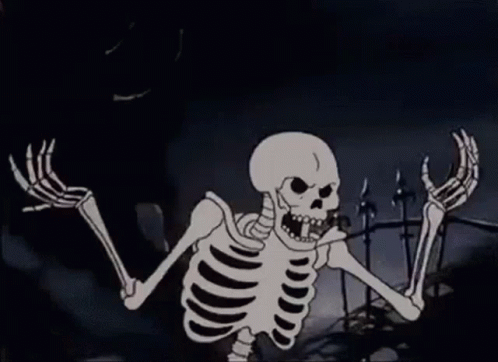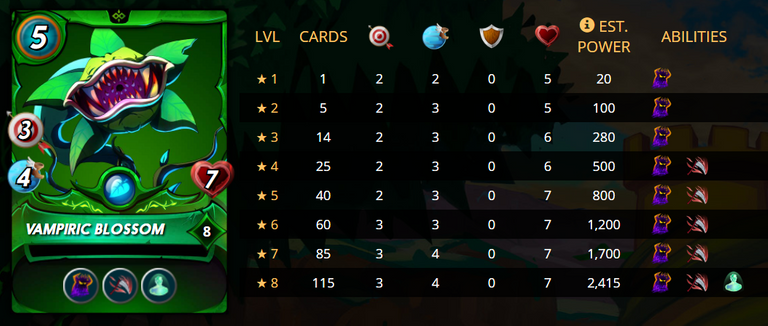 Vampiric Blossom
Ranged Attacker | Anti No Attack | Anti-Poison | Anti-Llama
Another "Flying Squid" moment, it will forever both me that VAMPIRIC Blossom does not get anything Life Leech oriented. That's okay, that's okay, I'm fine, really. It's okay.
He's a solid card, I don't like him as much as the Skull, but he is a very powerful card for shutting down Gelatinous Cube, Orianthus and Almo Cambio. He's also a solid pick for anti-Llama, especially at max where he gains Immunity.
Stats wise, he kind of reminds me of a tankier Kulu, he's not got bad stats, but they're just a little underwhelming and I think this'll make him niche without Prince Rennyn.
I'll be using him in Noxious Fumes, Close Ranged, and No Melee. I wish this guy had True Strike, as that would make him a Kitty Almo slayer >:D not that I don't like Kitty Almo, but it would be a cool niche for him to have!
Also, he reminds me of the Hungry Plant from Little Petshop of Horrors, so I'm maxing him. Usability and meta be damned, I'm feeding the plant.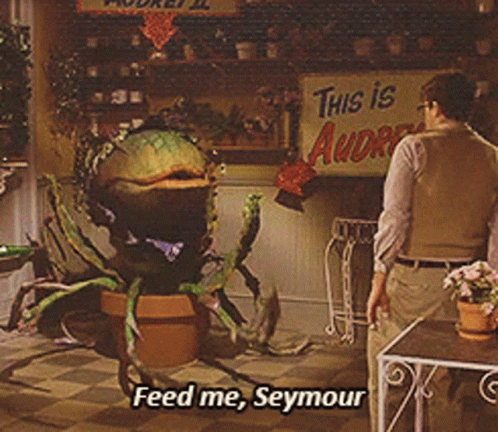 Lastly, enjoy a Wallpaper from the Town Hall featuring one of the other new Reward Cards!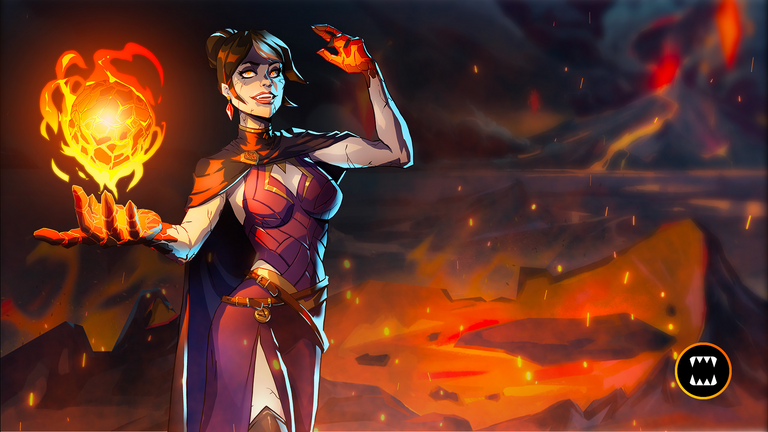 SPL Giveaway Notification List
Wanna win a EARTH or a DEATH Card? Put your IGN in the comments and tell me which of these two is your favorite! Tell me why you like them more, whether it's art, the stats, or maybe they're a part of your main, or a specific ability!
---
Tired of missing my Giveaways? Wondering why you were tagged? I'm starting a notification list based on the previous entries this week. This specific notification list is for SPLINTERLANDS related Giveaways, if at any time, you'd like to be removed from these notifications, just leave a message asking me to be removed (you can still enter giveaways, and you'll also be entered automatically into my giveaways for such a comment as well!)
Also if you'd like to be added to ALL Giveaway notifications, let me know!
@caimanx @torran @vrezyy @luizeba @amaillo-m @arpuch @crazy-bones @henruc @sigmon @kotenoke @relf87 @blitzzzz @technocrypton @gluthor @jdike @arc7icwolf @mxm0unite @reagept @packagedmilk @screamheart @litrydow @amaari @irisworld @vrezyy @yasky @gessy @mr-house @dagz @boboman @xheadhunterz @rentaw03 @iroc11 @umaunion @davideownzall @noctury @geom @amaari @highhaschdi @candnpg @astralvedico @josieb @unusualuser @scoutroc @squishna @lorddiablo @bteim @subidu @edskymiguel @stekene @ducanhsx1 @haizelanne @eman13088 @waynechuasy @easilykilled @portalmonsters @cjames-40 @forsaken99 @yeckingo1 @lorddiablo @eijibr @loboguara @vadermunk @theacks @kyo-gaming @mrmare @ninosplinter @movebitch @seeweed @teerandom @crazy-bones @scoutroc @galaxios @vaynard86 @paulriq @acidosis @beelmukjj @ninosplinter @geom @dubble @splurgee @new.things @ian0426915 @astralvedico @iroc11 @shadecroat @splurgee @wommi @portalmonster @vaynard86 @ninosplinter @qoogohome @nwb0719 @scoutroc @boboman @stonmack @kyo-gaming @loboguara @wommi @dlmmqb @waynechuasy @drunksamurai @seeweed @osmw14 @ecto1337 @dusi @gidien @brando28 @kryptofire @urkanon @onw @ak08 @exeld @postapocgamer @sudeginsiu @beelmukjj
---

Website | White Paper | Discord | Hive Blog | My Referral
The NEW Rewards Cards are COMING! Play with me on Splinterlands!
if you use my link, here: https://splinterlands.com?ref=jakkal
I'll send you 100 DEC when you sign up and get a spellbook, (as long as you show up as referred) which should help you get started via renting! Also, feel free to message me, I can answer any questions, give tips, etc.
You ALSO get entered into every giveaway that I do, and sometimes I'll do special Referral only giveaways and delegations, which will be starting back up again soon as well!
---
---