La fuerza que me atormenta | The force that torments me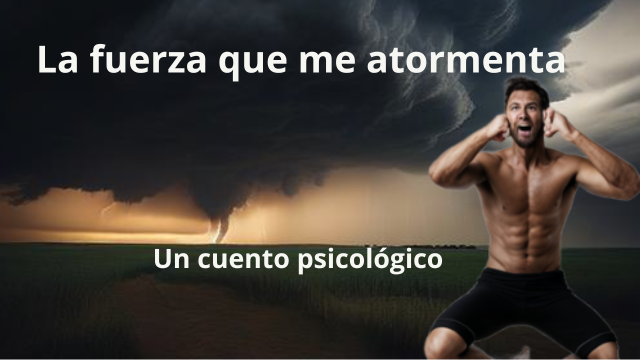 Hay quienes se quejan de no poder dormir, ¡y sí... yo estoy entre ellos! Al menos por los momentos. El problema es que no entiendo, el porqué siento que una fuerza me evita permanecer acostado. Pero los males no terminan allí, incluso, me impide quedarme sentado, sin azorarme, y hace que empiece a caminar sin rumbo predeterminado.
Algo debe estar funcionando mal en mi cerebro, un momento… ¿Y si es en la esfera espiritual? ¡No…! Si le cuento a un médico, pensará que estoy loco, que si escucho voces en mi mente, o veo cosas que otros no ven. Terminará decretándome como esquizofrénico. Sí, de esos que hablan solos mientras caminan hasta el punto de que se desconectan de la realidad.
¡No!, yo no escucho voces en mi mente, bueno, para serte sincero, escucho la mía. ¡No me dirás que tú no hablas de vez en cuando contigo mismo! ¡Ah…, de seguro, más a menudo de lo que estás dispuesto a admitir!
Sí, mi amigo, loco, no estoy. Pero no dudo de que lo estaré si no consigo dominar a esta fuerza implacable que me atormenta e impide que esté un par de minutos acostado.
¡Dios mío ayúdame! Me siento cansado, y sin fuerzas. Con los días y semanas, ya mi cuerpo se ve consumido. Algunos, los más imprudentes, me preguntan de qué si estoy gravemente enfermo. Los entiendo, ya rayó en lo esquelético, y cuando me veo al espejo, las ojeras resaltan mi mirada ya sin brillo y algo lúgubre, como si presagiaran un final inminente.
¡Ayúdame! ¿No sé por qué te lo pido? Nada puedes hacer, ni mucho menos entenderme. Me pregunto, ¿es esto lo que sienten los suicidas? Si es así, los compadezco, bueno, me compadezco a mí mismo, aunque todavía amo a la vida, y sé que tengo mucho porque vivir. ¡No me rendiré! ¡Dios mío ayúdame!
Me estoy volviendo loco. ¡Ahora hablo con Dios en todo momento, pero no logro escuchar sus respuestas! Quizás sea su indiferencia, porque nunca antes lo busque en serio. ¡Nadie puede ayudarme…! ¡Oh cielo!
Veo el cielo, mientras la lluvia cae sobre mí, tendido en el suelo. ¡No puedo creerlo! Estoy escuchándolo sin oír, sé que he sido liberado. El escalofrío recorriéndome lo confirma. Tantos meses en penurias, afligido sin aparente sentido, son tan solo parte de una condena segura, si no cambio mi camino, sí, puedo redimir mis pasos, gracias a que fui escuchado en las penumbras de mi alma.
Amigo mío, ponte pronto por el buen camino. No sea, que tú tampoco puedes a llegar a acostarte, ni a sentarte con tranquilidad, y pierdas más que la paz. ¡Seguro que entiendes!
There are those who complain about not being able to sleep, and yes, I am one of them! At least for the time being. The problem is that I don't understand why I feel like a force is preventing me from staying in bed. But the woes don't end there, it even prevents me from sitting down without feeling uncomfortable, and makes me start walking without a predetermined destination.
Something must be wrong with my brain, wait a minute... What if it's in the spiritual realm? No...! If I tell a doctor, he'll think I'm crazy, that I hear voices in my mind, or see things that others don't see. He'll end up declaring me as schizophrenic. Yes, one of those who talk to themselves while walking to the point where they disconnect from reality.
No! I don't hear voices in my mind, well, to be honest, I hear mine. Don't tell me you don't talk to yourself from time to time! Ah..., surely, more often than you're willing to admit!
Yes, my friend, I'm not crazy. But I don't doubt that I will be if I don't manage to master this relentless force that torments me and prevents me from being in bed for a few minutes.
Oh my God, help me! I feel tired and weak. With the days and weeks, my body is already consumed. Some, the most imprudent, ask me if I am seriously ill. I understand them, I have already reached the point of being skeletal, and when I look in the mirror, the dark circles highlight my gaze already without shine and somewhat gloomy, as if they foreshadowed an imminent end.
Help me! I don't know why I ask you. You can't do anything, much less understand me. I wonder, is this what suicidal people feel? If so, I pity them, well, I pity myself, although I still love life, and I know I have a lot to live for. I will not give up! Oh my God, help me!
I'm going crazy. Now I talk to God all the time, but I can't hear his answers! Maybe it's his indifference because I never really looked for him seriously. No one can help me...! Oh heaven!
I see the sky, while the rain falls on me, lying on the ground. I can't believe it! I'm listening to it without hearing it, I know I've been freed. The shiver running through me confirms it. So many months in hardships, afflicted without apparent meaning, are just part of a sure condemnation, if I don't change my path, yes, I can redeem my steps, thanks to the fact that I was heard in the shadows of my soul.
My friend, get on the right track soon. Lest you also cannot get to lie down, nor sit down calmly, and lose more than peace. Surely you understand!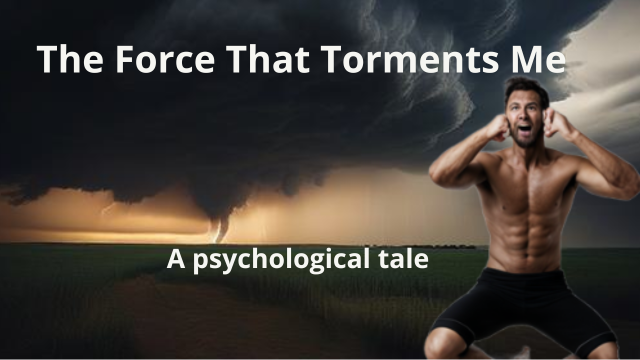 A short story originally written in Spanish and translated to English with www.deepl.com
Image created by me at https://vispunk.com and formatted with www.canva.com.
---
Un cuento original de @janaveda
Imagen creada por mí en https://vispunk.com y formateado con www.canva.com

---
---