#TravelHongKong: Ocean Park Hong Kong Free Birthday Rides

---
19 February 2023
---
"Don't just count your years, make your years count."
-George Meredith
---
This is kind of a late birthday post since I had my natal day on the 2nd day of January. I feel Blessed and Happy At 34 despite the awful experiences and challenges I've been through in the past few years. I lost a lot (financially), and I've been through tough days (physically, emotionally, and mentally), but there is something that remains strong that keeps me motivated to go on in life, my faith.
Enough for it because this post doesn't really focus on that matter. For the second time, I experienced a free birthday treat at Ocean Park Hong Kong. You can check my very first birthday exploration at Ocean Park here. That day was different and not as exciting as this year. My buddy that day didn't want to go on any rides, so we ended up just roaming around and taking photos of the animals. It wasn't as thrilling as I thought it would be.
When it comes to Ocean Park Hong Kong, it isn't just underwater exploration that you should try, but the extreme rides! And that's what I want to experience in my life. Fortunately, my birthday this year fell on a holiday so I had a chance to go back to this theme park and experience some of the extreme rides.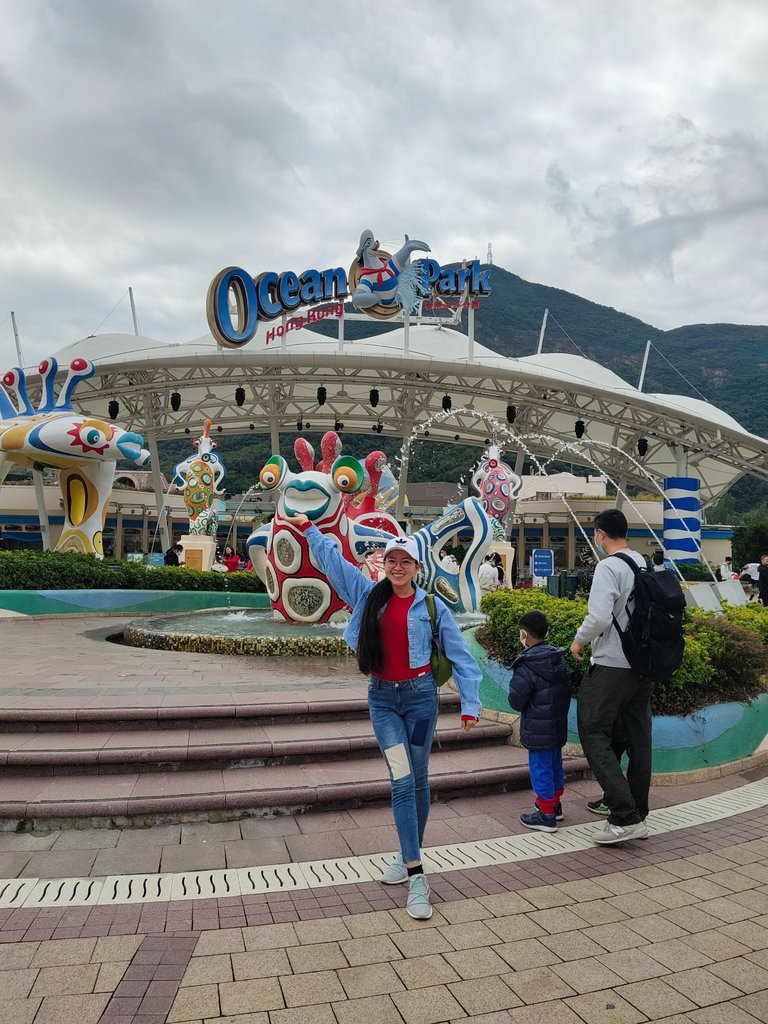 Ocean Park Hong Kong Free Birthday Rides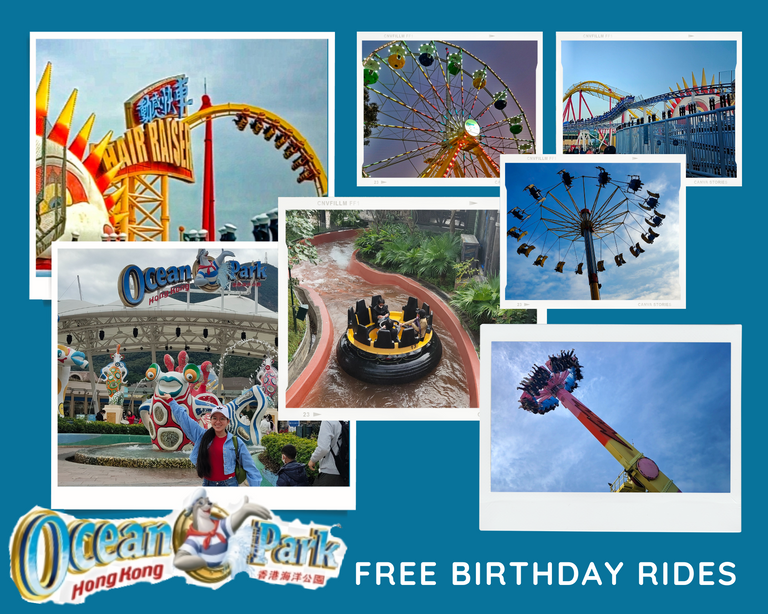 Created in Canva
I went there alone since my friend was on duty. However, I met an Indonesian who was also a solo wanderer and birthday celebrant, and we both decided to go together. I remembered my Disneyland adventure, I also met an Indonesian who became my buddy that day. I guess Asians do flock together and easily get along. And believe me, this Indonesian wasn't afraid of extreme rides and she didn't seem to get dizzy, while I felt like I wanted to puke that day after a few rides, lol. Finally, I met a buddy who's not afraid of extreme rides and can go along with me!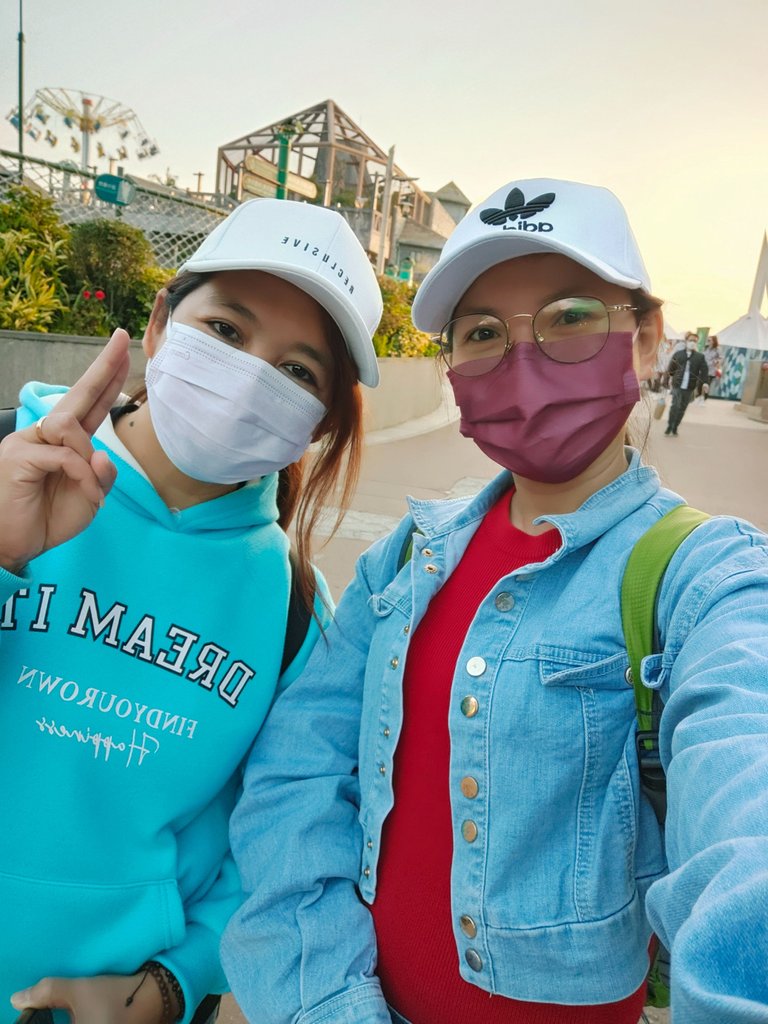 This is what I love here in Hong Kong. There are several birthday perks for birthday celebrants and one would definitely enjoy those perks. For those who want to celebrate their birthday at Ocean Park, you just need to show your ID and you will be granted free entrance to all attractions and rides. My excitement can not be contained while queueing at the entrance because I truly wanted to experience extreme rides.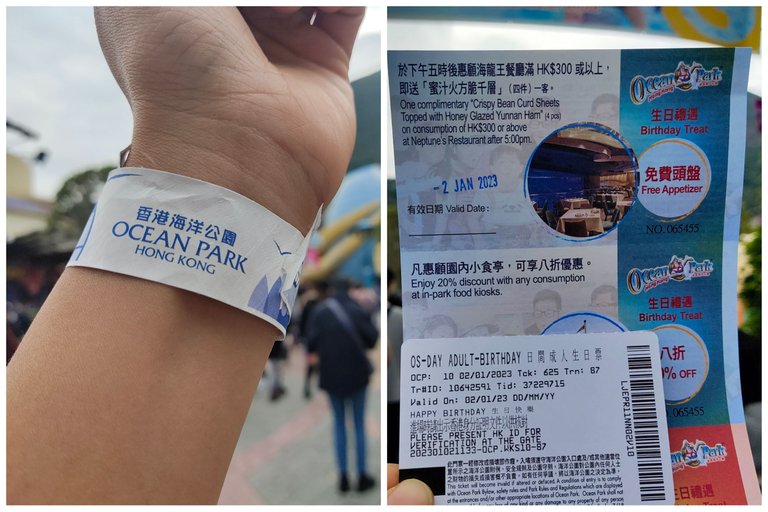 Ocean Park has eight attraction zones with 43 different attractions including underwater explorations, and animal engagement shows and 16 of them are different rides for different ages. One day isn't enough to ride them all so I just chose those in Thrill Mountain and the Summit.
These photos were taken from the top of the Ocean Park Tower.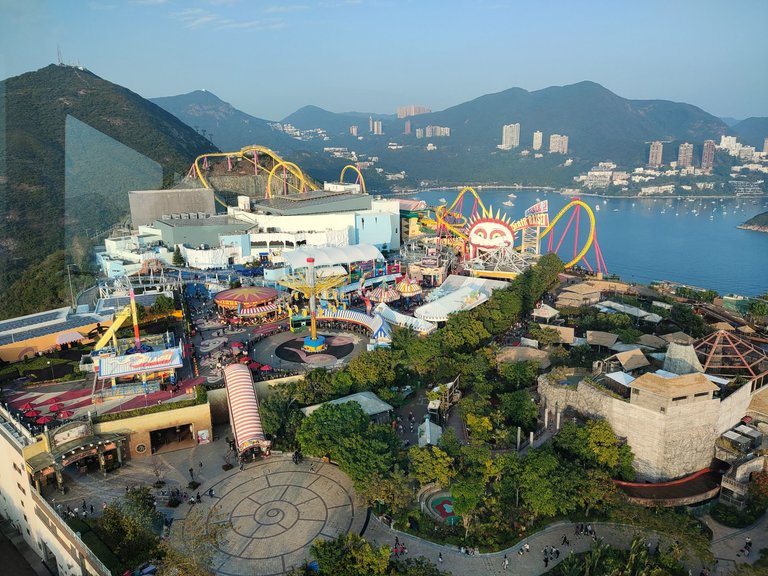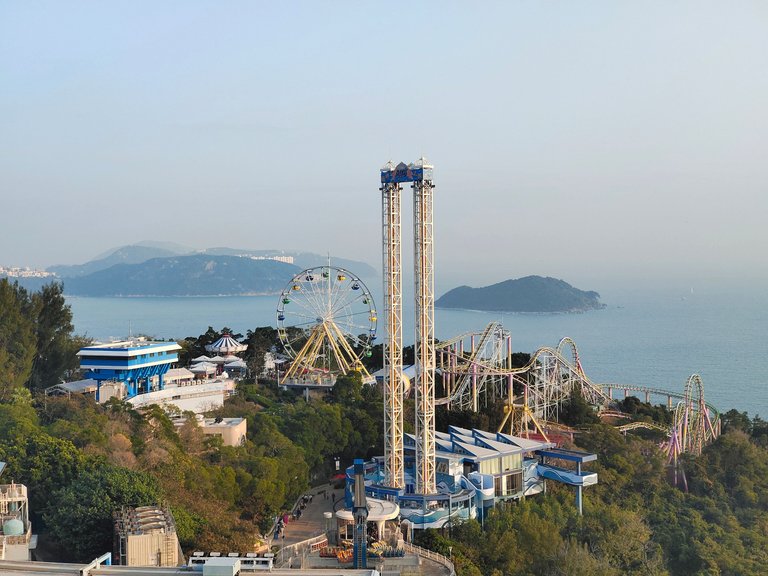 There are two main areas in this park. The first floor is mainly for underwater attractions, the Asian animals zone, with not-so-extreme rides, while the top area at the Summit and Thrill Mountain comprises the carnival, extreme rides, marine, and arctic world. And there are three In-Park Transportation to travel to different areas: the tram, ocean express train, and cable car.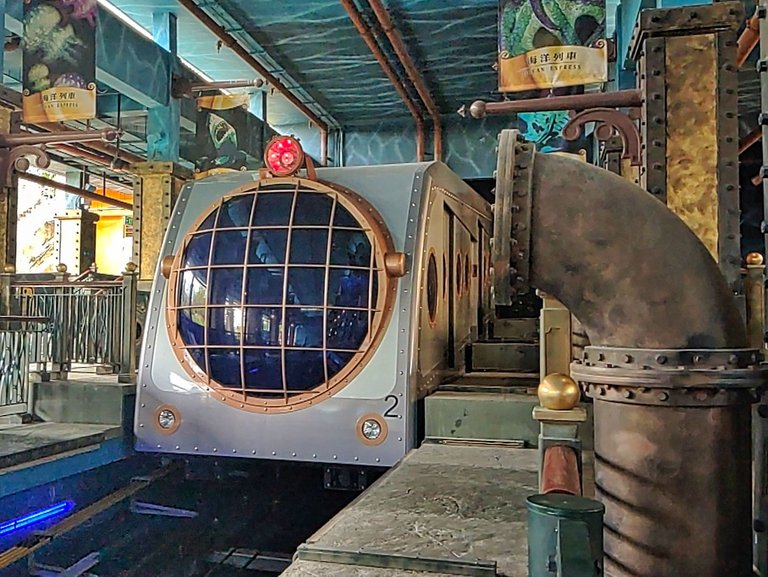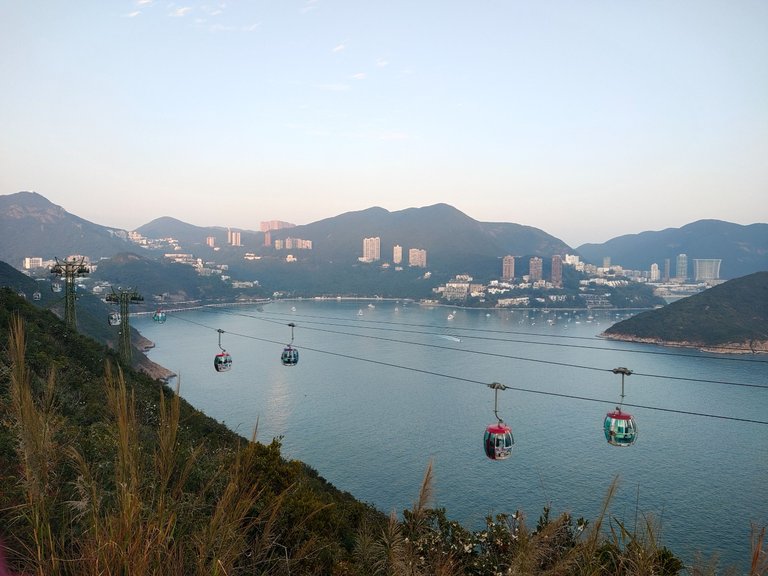 The tram just roams to certain parts of the lower area, so to get to the top, you need to ride either the cable car or the ocean express train. But the cable car lane always has a very long queue so we opted to ride the express train which brought us to the top in less than five minutes.
Now let's get our feet to the Summit and Thrill Mountain and enjoy the rides! Don't throw up though.
Most of the rides are on Summit and Thrill Mountain. Some of them are extreme and aren't recommendable for those with health issues, while some are suitable for all ages. Before jumping onto the wild rides, we first went into the wild, the rainforest.
The Rapids
The Rapids is the only wet ride at Ocean Park, so you shouldn't miss it! Riding on it is like rafting in the rapid water. It was the most amazing water ride I ever tried. The queue wasn't amazing though as it took us more or less an hour. Seeing those on the boats rafting on the water as they passed by us made me more excited since it was my first time.
When it was our turn, we excitedly hopped into the circular-shaped boat which can accommodate up to 9 people. It is advisable to go with a group, or else, the solo rafting would be so boring. Moreover, there were splashes of water along the waterway so it was expected to get wet. Some wore raincoats which were available at the counter. However, we didn't see it so we were a little bit soaked after that adventure.
The boat was twirling as we rafted along the rough water and so we hadn't had any steady video. The most exciting part was when we crashed down the churning rapids before we enter a not-so-rough water. But the adventure didn't end yet as we surged roughly up a seeming water railway and crashed to the bottom before we got back to the base.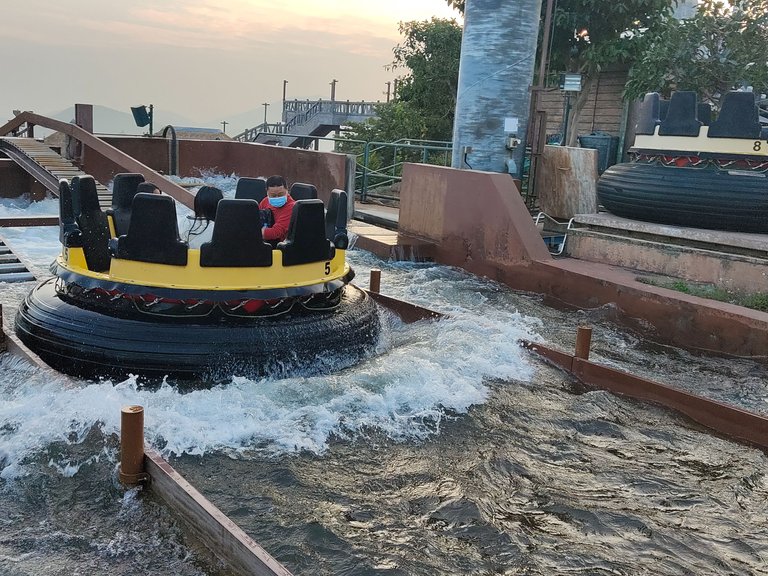 I must say that I enjoyed this ride a lot even though I got soaked.
The Hair Raiser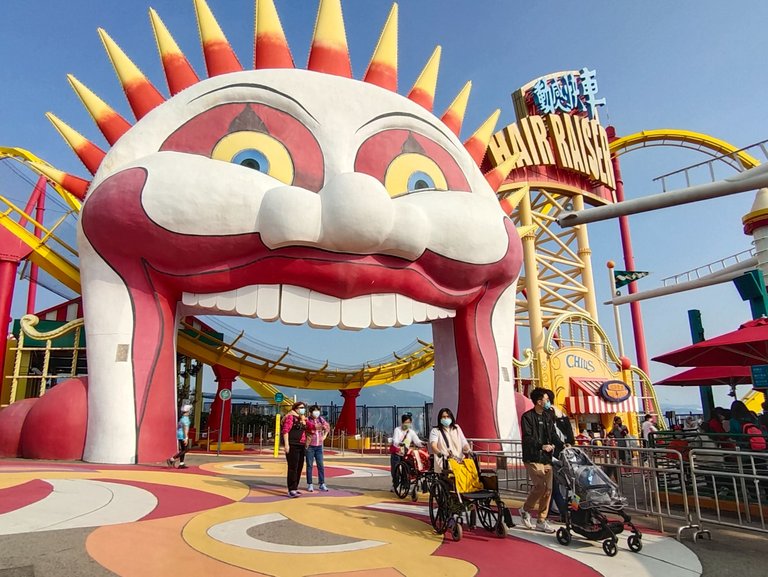 This ride is undoubtedly the most popular in Ocean Park. It is also called a 360° roller coaster with 850m in length and is just one of the three roller coasters in this park. And from the name itself, you could tell what kind of roller coaster it is. And mind me, you wouldn't like it 😂. This is for risk-takers and is healthy. If you have a heart problem, don't ever dare to try it!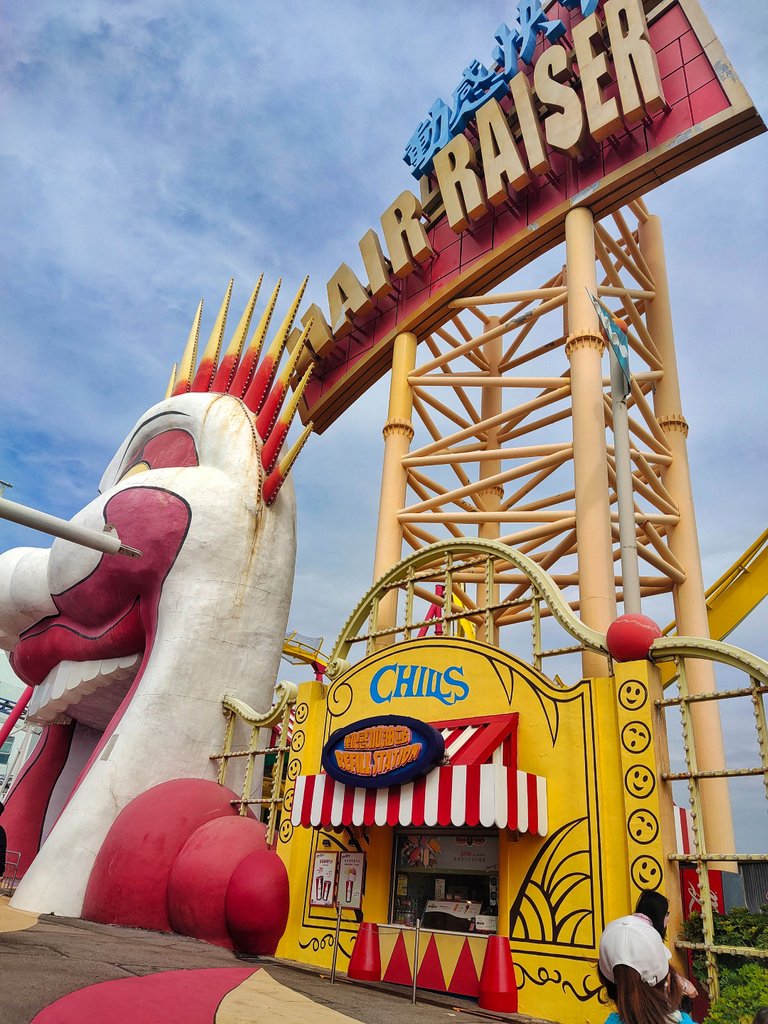 This roller coaster runs at 88km/h for more or less 2 minutes. My heart pumped even faster as we tucked our butts into the seats. Gadgets, caps, and bags were definitely not allowed, or else, they'll fly in the air. I held the handrails so tightly and readied myself for turns, rolls, twists, dives, and screams.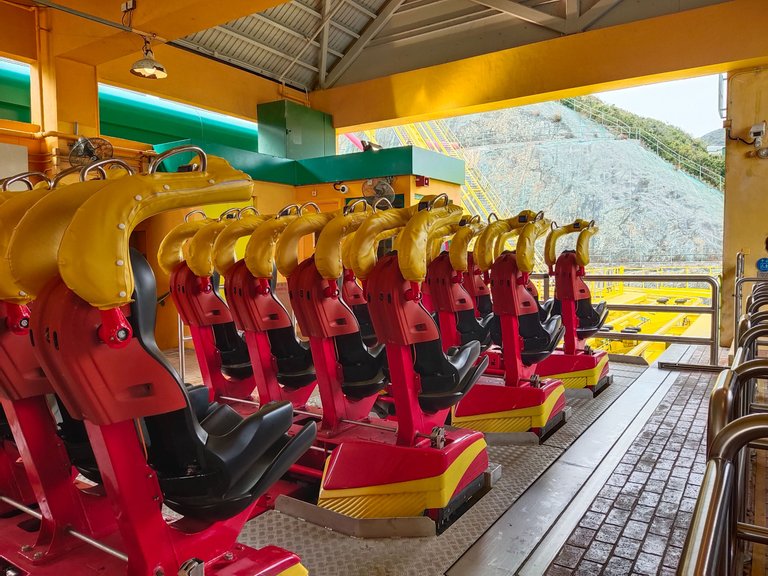 (The following photos were screenshots from my video so don't mind the bad resolutions)
The vertical loop was fine but I cursed myself and I felt like I wanted to retreat when it had zero-gravity roll and Immelmann turn, especially at the part where we turned upside down: our feet on top and heads down. Just imagine that scene!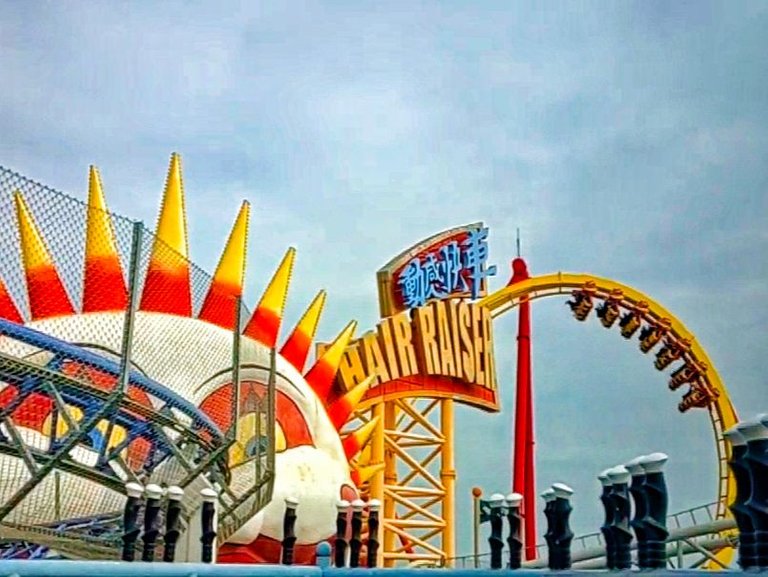 We rolled up and down and I was screaming at the top of my lungs. I felt like my brain would explode and I swore I don't want to ride on it again 😂😂. My eyes were closed the whole time and so I missed the scenic view of the South China Sea. I felt like my feelings would get worse if I opened my eyes so I opted not to.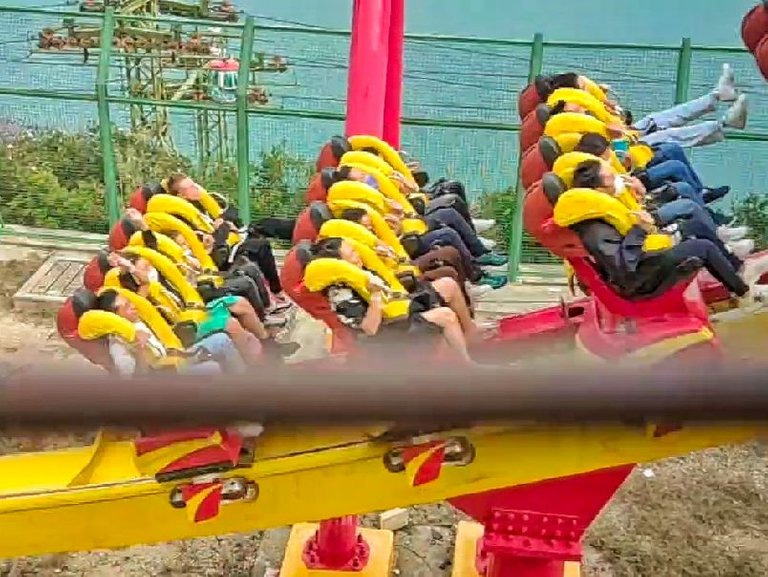 In the end, I was like crumpled and walked towards the bag shelf like a rotten veggie 😂. It took a while to regain my posture but my head was still dizzy. I looked like a mess while walking down the stairs, lol.
---
On my way to the next destination, I questioned myself,
"Can you still have another ride?"
Guess what was our next ride? Another roller coaster, wtf! Get yourself ready Jane! My mind shouted.
Arctic Blast
Located in the Polar Adventure is the Arctic Blast with an artic and icy blue theme. It is truly suited for those who aren't a fan of Hair Raiser. Kids and even oldies can ride on this speedy coaster.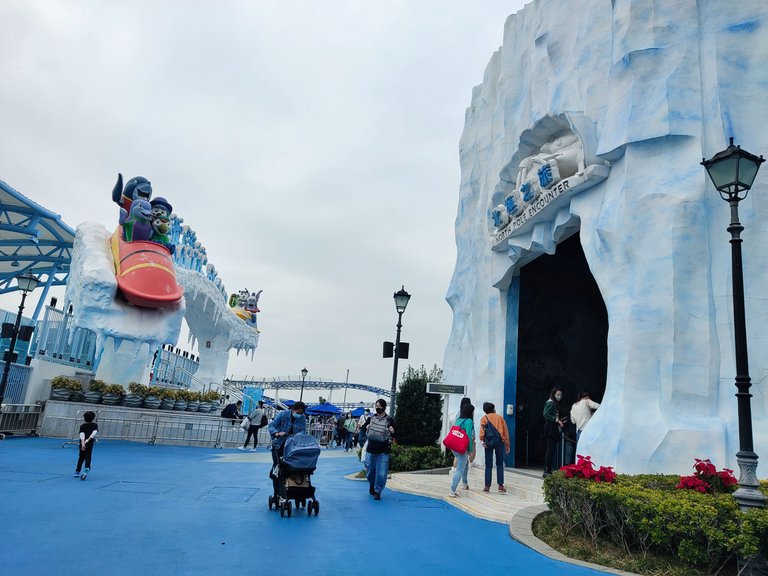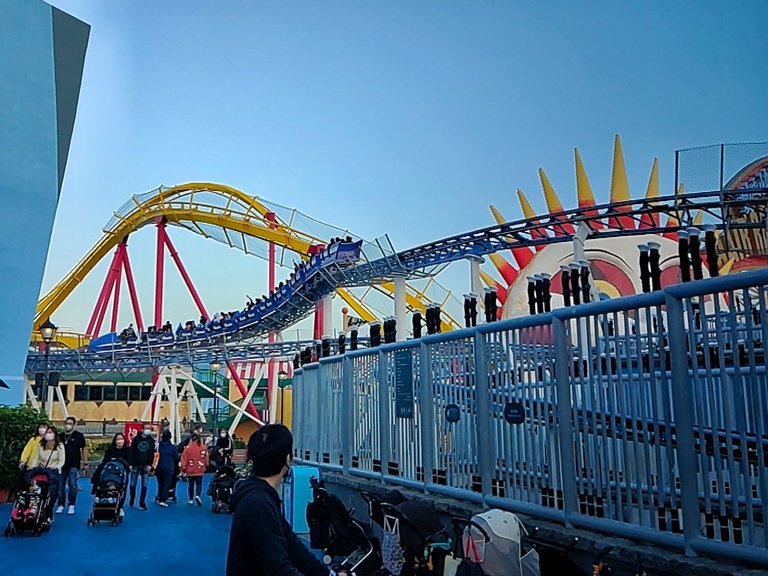 As expected, the queue was very long and the waiting time lasted for almost an hour. However, it gave me ample time to recharge before we rolled again in the air. Moreover, the polar vibe didn't make us bored in the line. We took a selfie first before we get haggard again, and the staff saw it. We were then advised to take off our caps, leave our phones, and even our eyeglasses for safety purposes.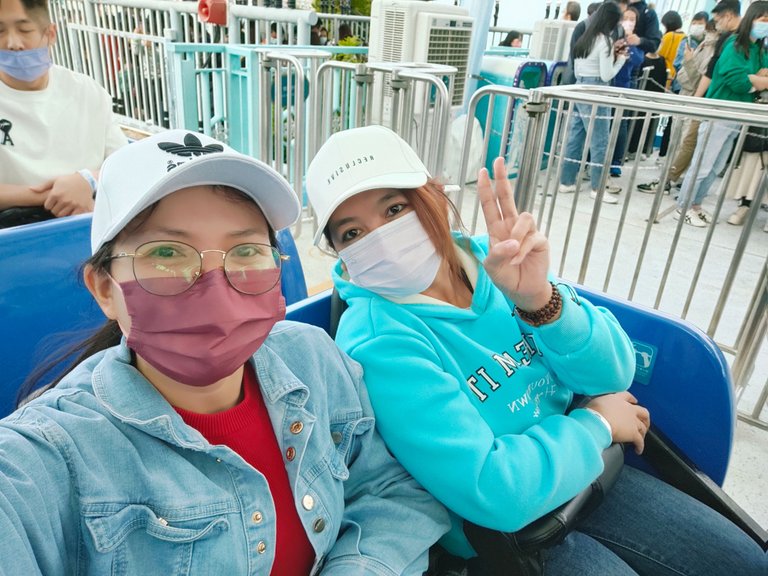 It may be blue but I didn't feel blue and I even felt more excited as we rolled on the coaster rail. This was just similar to the ordinary roller coaster you've been riding on in your place, but with a different vibe as it is in Ocean Park.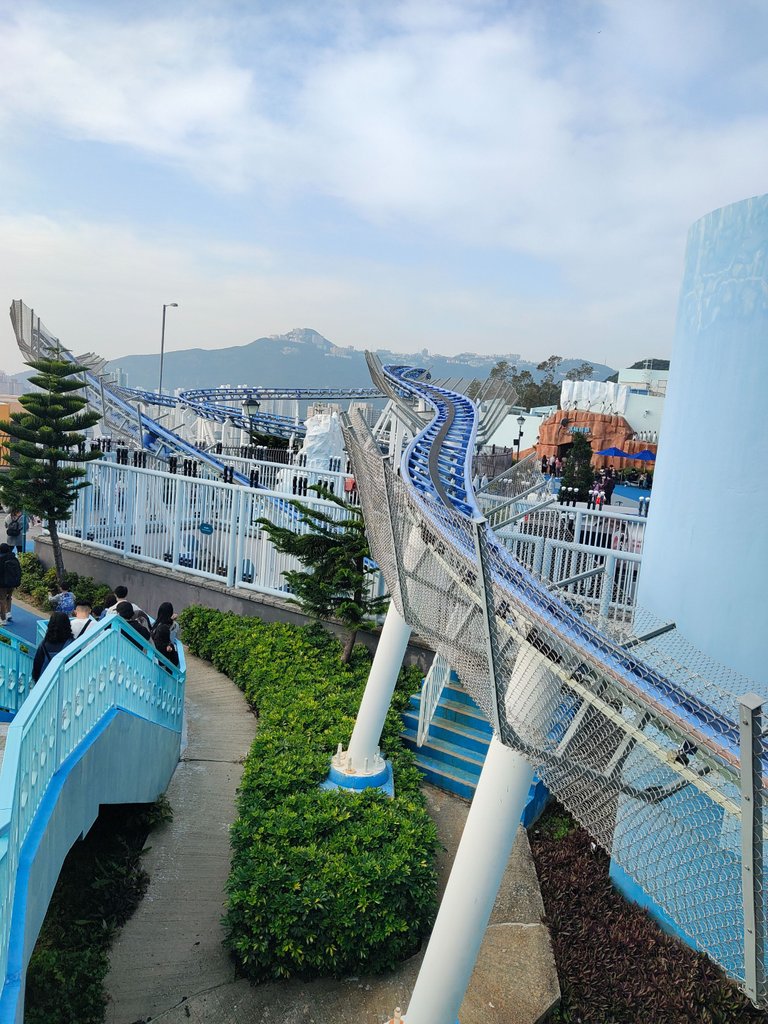 We screamed hard as we rolled up and down the rail. And of course, it wouldn't be satisfying if we don't raise our hands in the air. It's the enjoyable part of riding a roller coaster.
---
As if we recharged on that ride because, after our Arctic Blast, we were ready again for another extreme ride!
The Flash
The Flash is a swing ride that would bring you upside down. Just refer to the photo above. It runs approximately 60 km/h and 22 meters up in the air. I felt the same vibe as the Hair Raiser when I saw this ride beforehand. Even though I was hesitant, I continued because it was one of the extreme rides I wanted to experience when I first visited Ocean Park. This was the last extreme ride I tried, and I would say that my experience was terrible.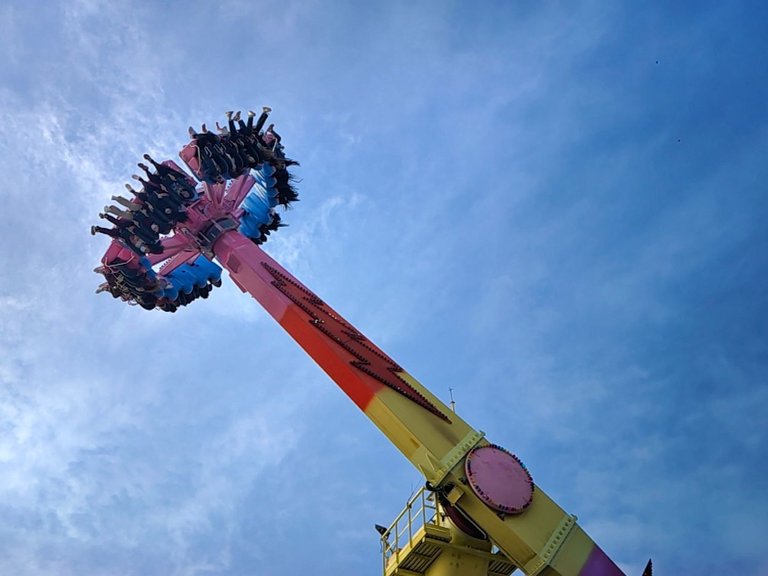 As we buckled ourselves into the seats, I noticed that mine was a little loose or was it normal? I wasn't sure. Although the staff checked our seatbelts, I was so worried that I might fall when on top and kept telling my acquaintance and the staff, "hey this is loose" several times. But they didn't mind me. I held the handrails too tightly and I imagined myself falling as we swung higher and higher.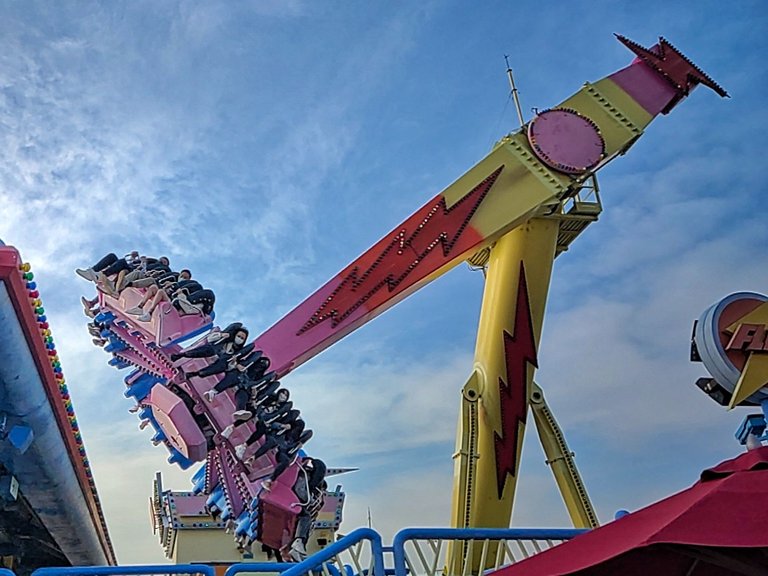 The speed was slow at the beginning but gradually increased as it swung higher and higher. As we got to the top and turned upside down, I screamed at the top of my lungs and that time, I truly convinced myself to open my eyes to know how it feels. But I just felt dizzy, lol. We swung at maximum speed and as it speedily swung down, I felt like we would be smashed into the ground and I just kept screaming. It happened a few times and I felt like I'll have a sore throat after.
Although it was a horrible experience, I enjoyed it a lot and I want to try it again, lol. But I didn't feel well after this ride. I felt like throwing up and my stomach was churning. Probably because we rode to different rides consecutively and The Flash experience made it worse.
---
But guess what? The adventure didn't end yet. But the next one was the last.
The Indonesian walked out before me and I saw her heading to the opposite side. I stayed for a while as I wanted to take a video. The next moment I saw her lining up for the next ride. I went to her side and she asked me, "Are you okay?" I just jokingly answered, "I want to vomit." 😂
Rev Booster
Even though I don't feel well, I still queued for this ride as I thought it wouldn't make my stomach and head churn. But as the adage says, "don't judge the book by its cover."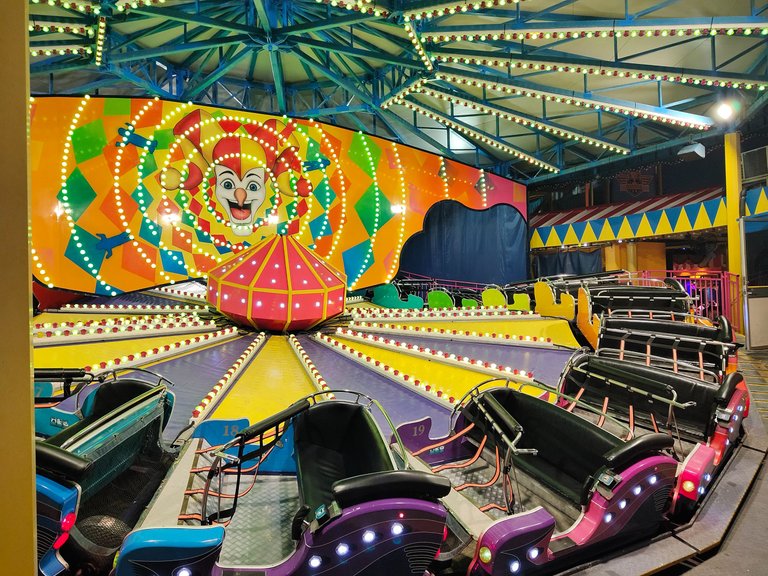 The Rev Booster is a spinning ride with a carnival theme since it is located in the Carnival area of the park. Just like other rides, the speed is fine in the beginning but eventually speeds up faster and faster while spinning. We wavily spun around with the beat of the music. But we didn't mind it as the screams were louder than the music.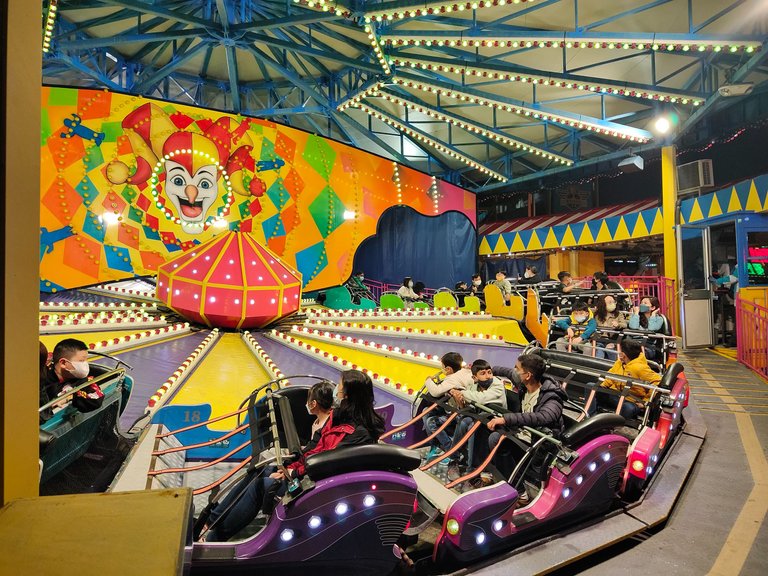 It wasn't as thrilling as other rides, but enough to make you feel dizzy. So it's better to ride on it on an empty stomach if you don't want to get puke. And this was the last ride I tried.
Although the Whirly Bird was just next to it, I put myself to rest as I felt like I would vomit in a second if I rode again.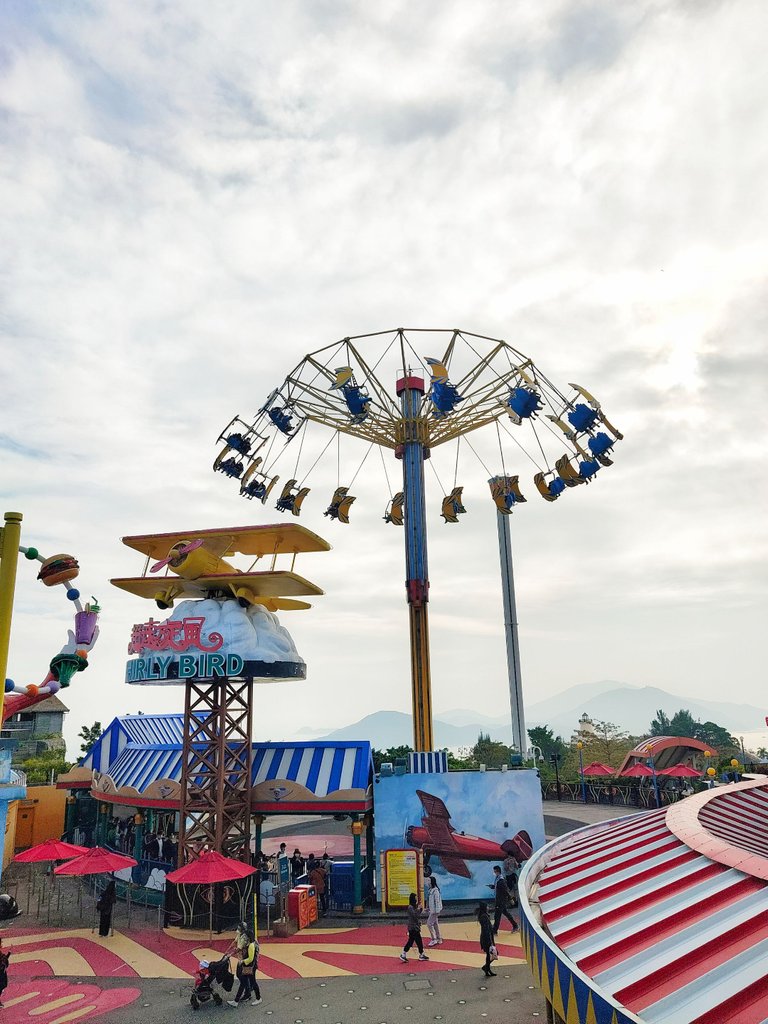 I went to the lavatory and tried to puke to relieve the feeling but I couldn't. After a little rest, we headed to the marine world to see sea mammals but we came across Ocean Park Tower so we rode on it.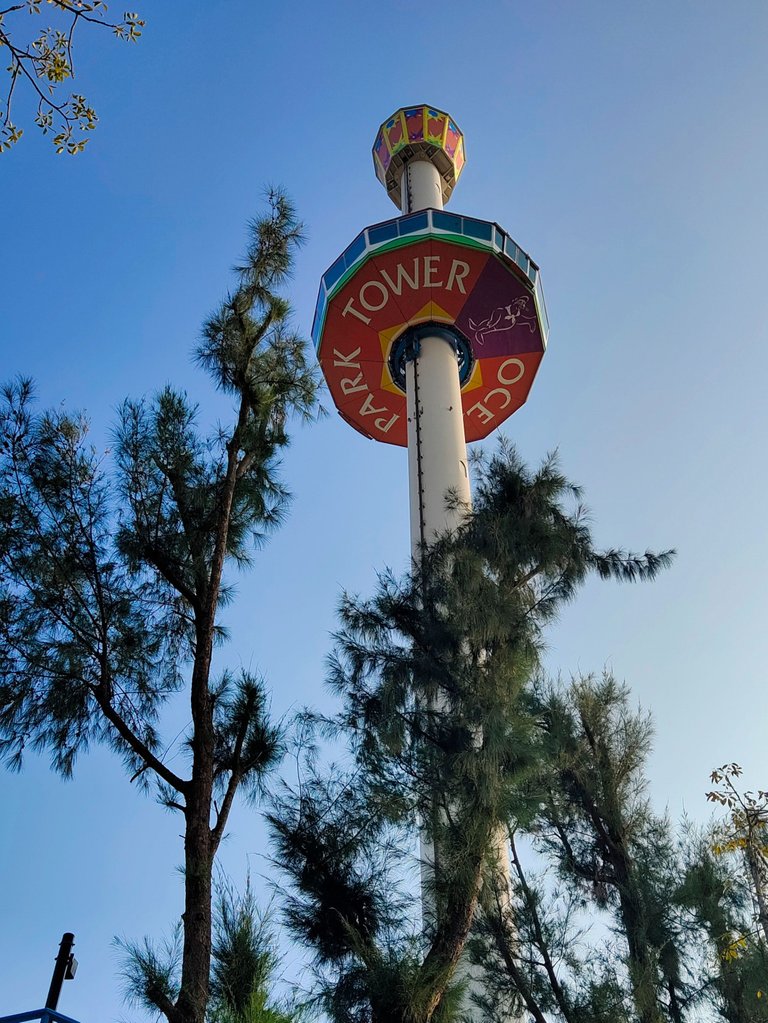 The tower will be closed soon and it was indeed a great decision to ride on it. It offers a 360° view of Ocean Park and the outlying islands. It rotates as it goes higher. It is also great to ride in it when the sun is settling down as the sunset looks stunning from above.
Aside from those aforementioned rides, some rides are suitable for all ages like the Ferris wheel and carousel, and a lot more kiddie rides at Whiskers Harbour. And there are other rides I missed visiting like the Crazy Galleon, it's a pirate ship, Wild Twister similar to the Flash, and I wasn't able to find the Bungee Trampoline. It must be fun jumping high in the air on the trampoline. Some rides have been closed since 2021, and I learned that some will be closing soon for some reason, so there'll be lesser excitement in Ocean Park sooner or later.
After riding the tower, the Indonesian and I parted as she wanted to ride more. It was such a birthday for both of us. And if given a chance to visit Ocean Park again next year, I will definitely ride on those I haven't tried yet.
You can also watch the complete vlog on YT here:

Which ride do you want to try?
Thanks for stopping by.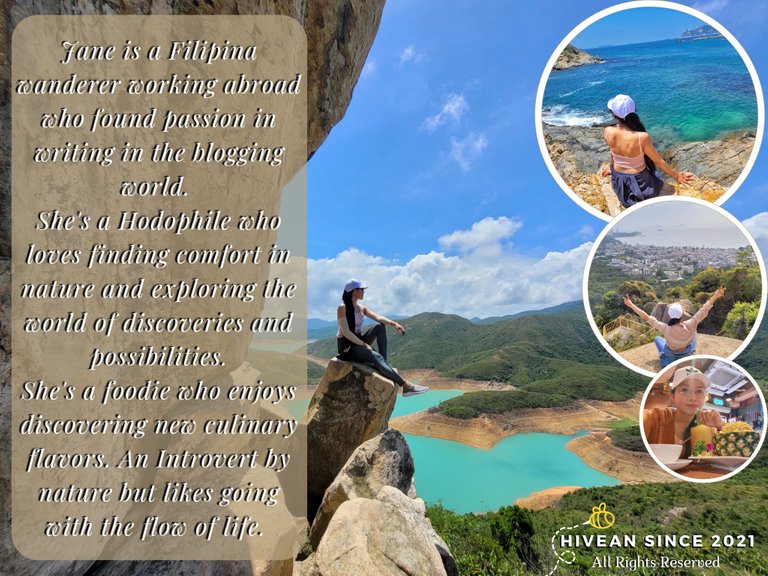 Join her on her quest for self-discovery and wanderlust. If you like her content, don't hesitate to upvote, drop a comment, reblog, and follow for more wonderful adventures.
---
You can also reach me on my socials and let's be connected:
•Facebook
•YouTube
•Twitter
•read.cash
•noise.app
---
▶️ 3Speak
---
---