Gluten-Free Vegetarian Tofu Pizza With Pickled Olive, Okra, and Spinach Toppings
20th November 2022
Happy Sunday Foodies!
Are you spending your weekend in front of your screen, or the kitchen? I believe this should be the day for some quality time with your fam, and perhaps, prepare something delicious food for them.
Here comes another experimental cooking of mine that is suitable for vegetarians. This can be vegan too if we omit one of the ingredients. Nonetheless, I am certain that this is healthy and very affordable.
I became a tofu lover ever since I lessened the meat consumption in my diet for some reason. That is my great source of protein aside from beans and nuts. Besides, it tastes like meat as well, depending on how you cook it.
I thought of making a pizza using tofu without any gluten since I have an intolerance to it. The result came unexpectedly great, and I want to try again with a different variety of toppings.
So for today, I'll share with you this gluten-free tofu pizza with pickled olive, okra, and spinach toppings. So vegetarian, isn't it? Others probably don't like the taste of pickled olive because of its sour taste. You can omit it and add some ham and cheese instead. But then again, I made this vegetarian pizza without using any meat and cheese.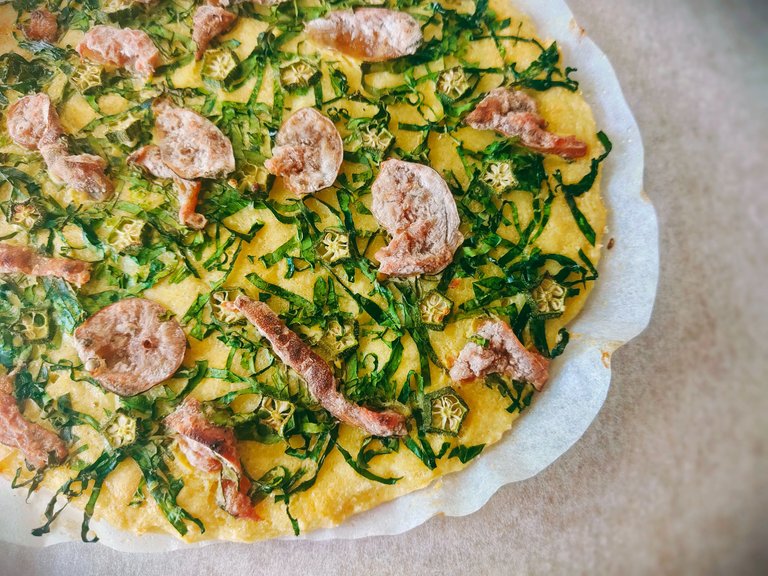 ---
The ingredients and procedures are just so simple. You only need a block of tofu, egg, butter, okra, spinach, pickled olive (optional if you don't like the taste), and some corn flour for binding the tofu crumbs for pizza dough.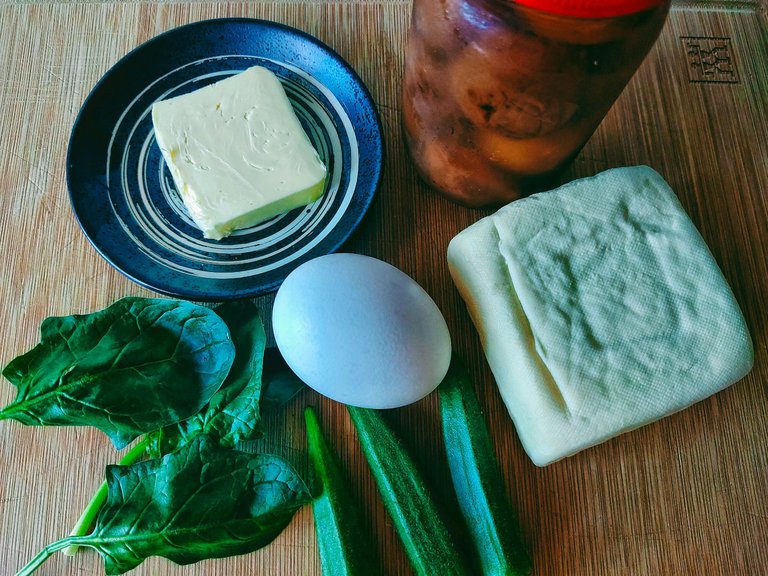 Just prepare and cut the ingredients as shown in the photo. I added butter to the dough to add more taste. I prefer eating food with butter to cheese. With these few ingredients, you can make a simple, yet healthy vegetarian pizza.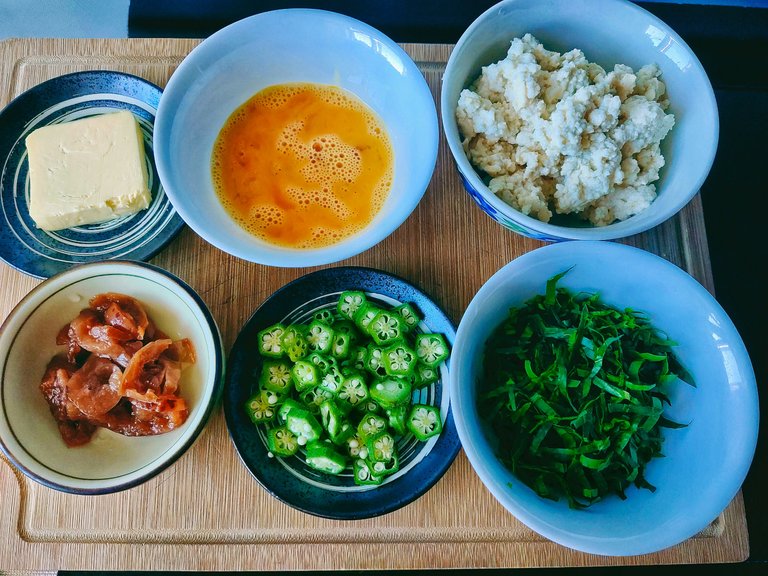 ---
Let's start with crushing the tofu, then mix it with butter, corn flour, and some egg. Just make sure the mixture won't be so mushy, as it should be thick and firm. Don't add too much egg, save some for later use, and add just enough to bind the ingredients.
On your baking plate, place a baking paper, pour the tofu mixture, and form it into the dough. Brush the top with the remaining egg.
Then arrange the toppings (spinach, okra, pickled olive) on top, and bake it for about 15 minutes or until the dough becomes cooked well.
Again, this was just experimental cooking. Later after adding the toppings on top, I realized that it should have been better if the okra and spinach are cooked first before adding them on top of the tofu pizza dough, lol. Still, the taste was good though. If you want to try it, you can cook the toppings first before topping them onto the top of the pizza dough. You can also change the toppings according to your preferences. You can add ham, sausages, tomato sauce, cheese, and whatever you like. The main thing here is the tofu pizza dough.
Excitedly, I removed it from the oven after hearing the indication sound of it that it's already done.
Here it is, the tofu pizza!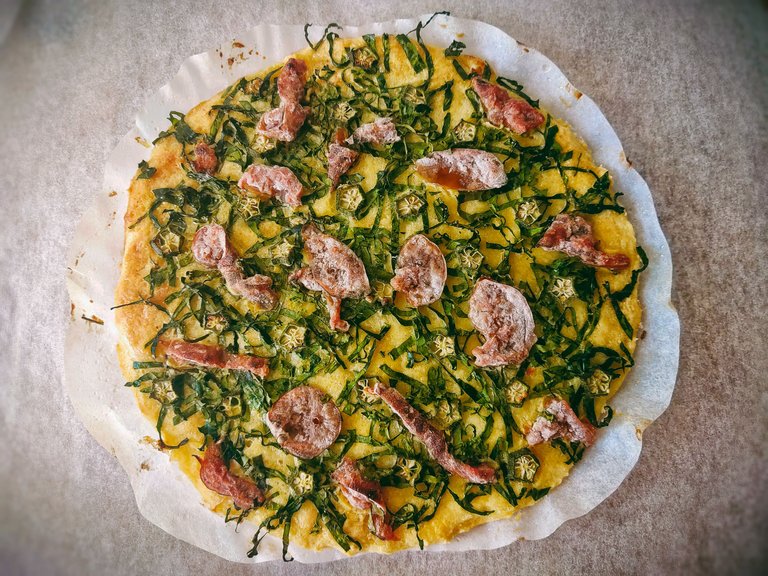 Since spinach and okra weren't cooked before topping, they became crispy. Although I like the taste, I guess it would be better if vegetable toppings will be cooked first.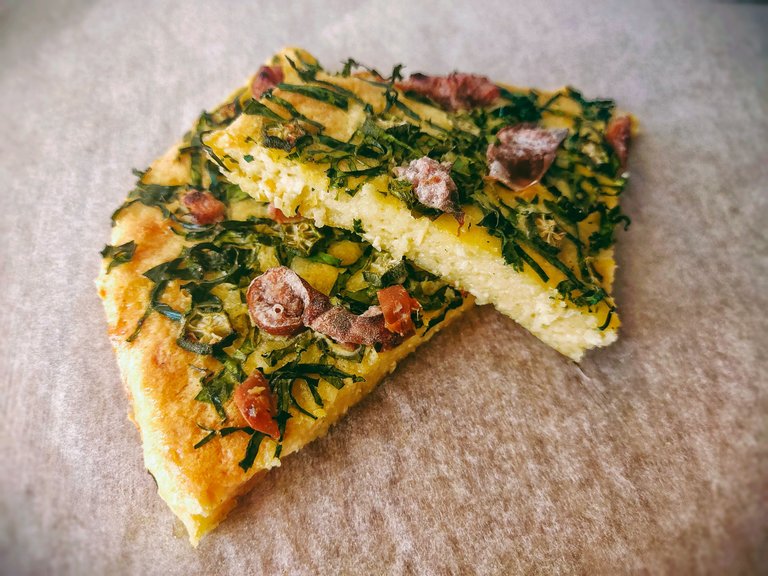 For those who don't like pickled olives, you can add meat instead. I just added this to add a different color on top. All ingredients I used were just available in our veggie compartment.
Next time, I'll add tomatoes and meaty flavors.
The remaining okra and spinach were cooked as an accompaniment to the pizza, along with these leftover tofu balls, fried and cut into halves. We shouldn't waste leftover food. There are always ways to recook and eat them delightfully.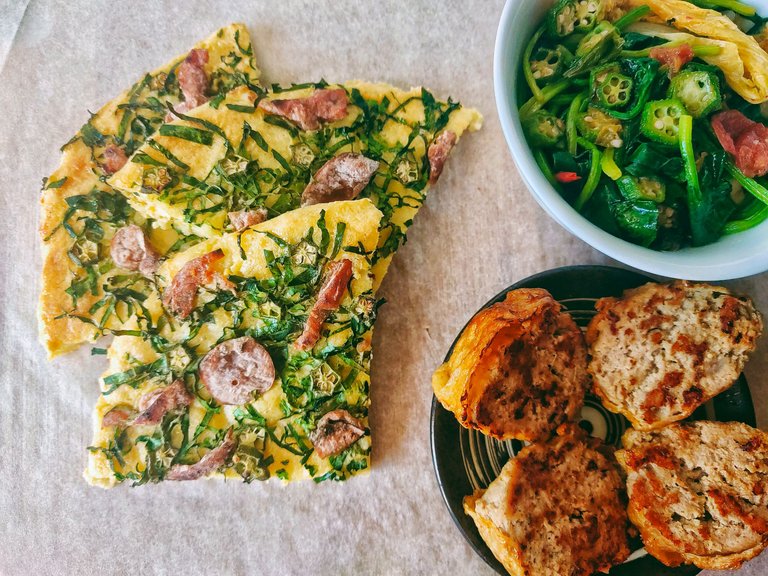 Yep, the brown-colored food is tofu balls. I might share another recipe about it next time.
So this was my lunch set at the time of cooking. The vegetarian dish was perfectly paired with green tea.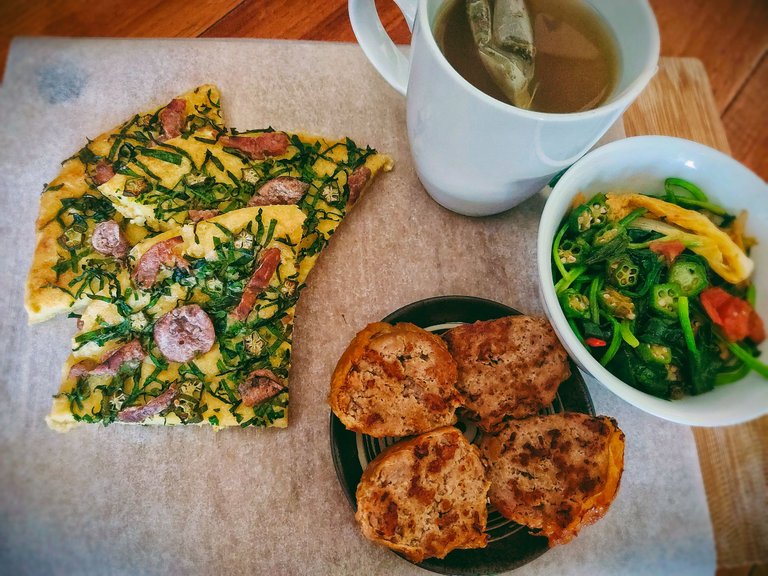 That's all for today's cooking!
---
You can check my other experimental cooking.

Zucchini Fries With Italian Herbs And Udon Noodles In Tomato Sauce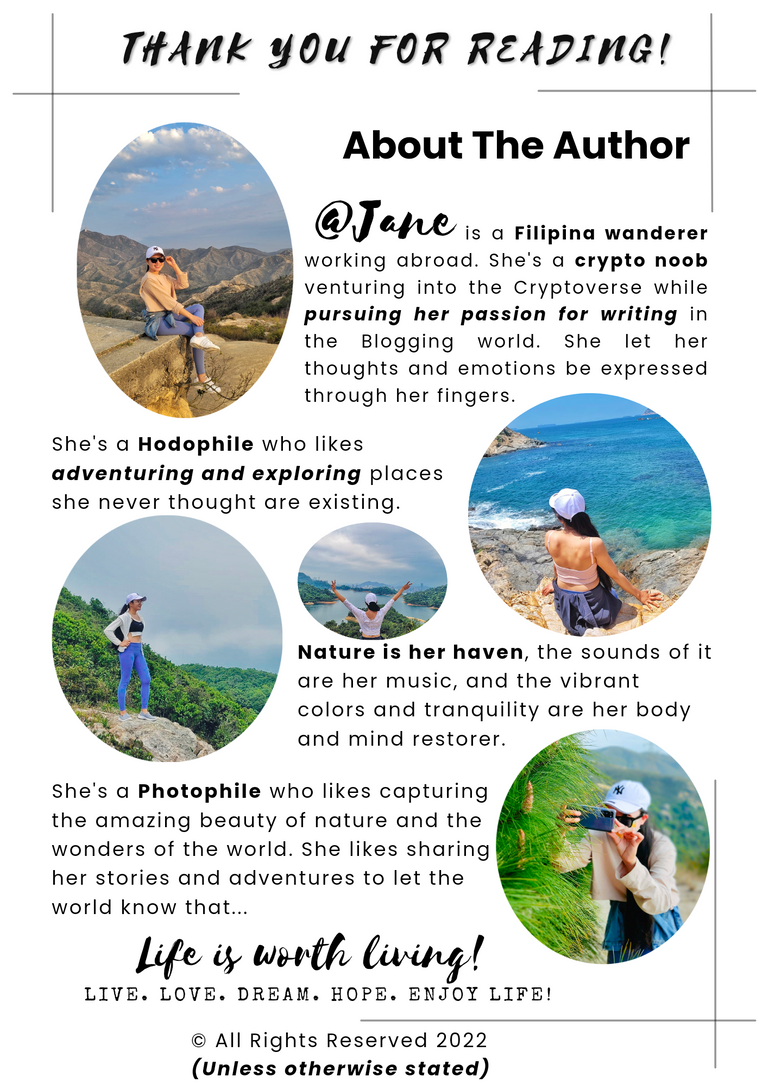 You can also reach me on my socials and let's be connected:
---
---