Filipino Puto With A Twist

---
September 19, 2022
I've been working for almost five years here abroad and I seldom eat Filipino food, only when I visit Central HK where a lot of Filipino stores can be found. Most of the time, I am craving Pinoy food, especially the delicacies and snacks.
Last Sunday I visited Central and stopped over at Worldwide, a one-stop mall to shop for Filipino food and other products. There I saw puto cheese or Filipino-style rice cake with cheese on top. I bought one pack and took it home. Last Tuesday I craved again, then I thought, why not make one at home and save some for snacks?
That very day, I went to the market to buy ingredients. This recipe is just so easy and wouldn't need many ingredients and a long process of cooking, except with the fermentation process.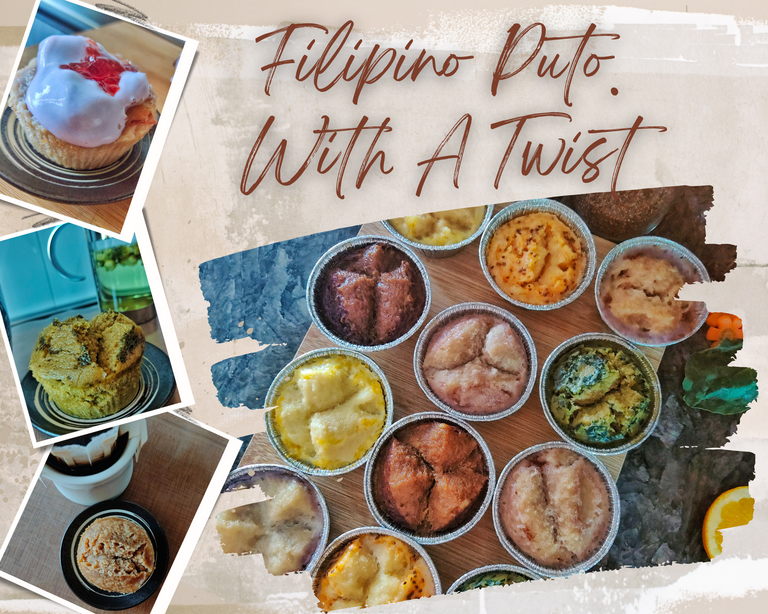 Image created in Canva
Filipino puto is a Filipino term for rice cake. It's a popular Pinoy delicacy made of rice flour and coconut milk and often topped with cheese and added other flavors. It's so fluffy and tasty and it's a favorite delicacy or snack of many Filipino.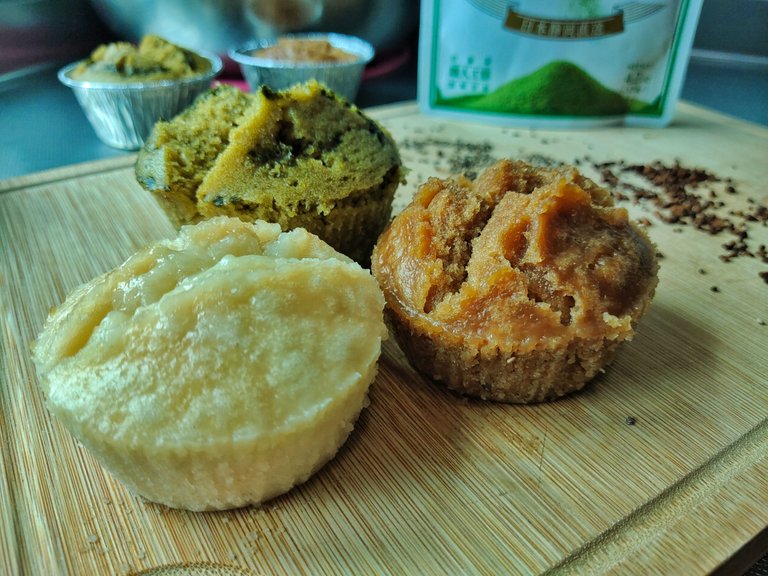 In our country, we serve puto as our midday snacks usually paired with Filipino dishes like dinuguan (blood soup), or with pansit (Filipino-style fried vermicelli). It's also perfect to pair with coffee in the morning. This delicacy is also served on many occasions, like birthdays, fiestas, Christmas, New Year, and other special events.

Let's cook Pinoy Puto with a twist
Since it's my first time cooking puto, I got these ingredients and methods of cooking puto from my favorite Filipino food blog site, Kawaling Pinoy.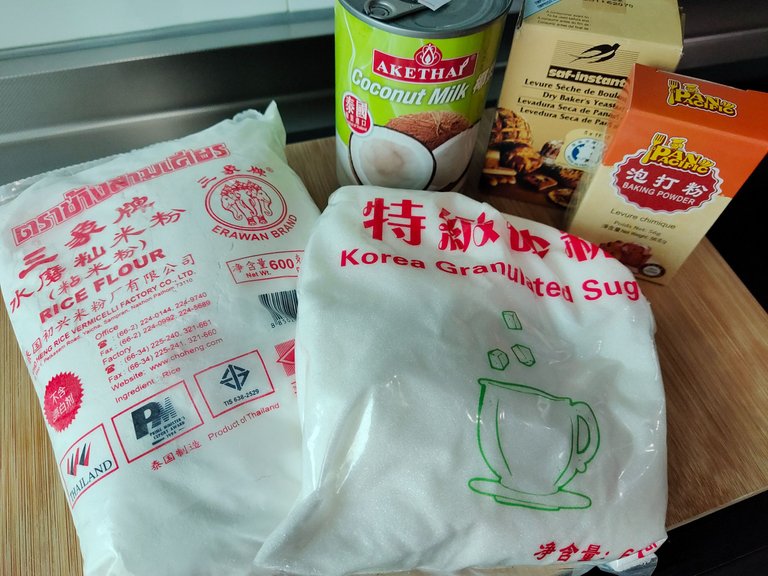 Ingredients
4 cups rice flour
1 1/2 cups sugar
3 tablespoons baking powder
1/2 teaspoon salt
2 cups water
1 can (13.5 ounces) coconut milk
non-stick cooking spray or melted butter
The ordinary cooking of puto needs a fermentation process. It usually takes overnight or two days. Some would ferment it for four hours. But I was too excited to cook it. Aside from baking powder, I added instant yeast to the ingredients and fermented the rice flour for only an hour. This will help to get that lift you want while steaming the puto. This is just my own version. You can follow the usual cooking process if you want to make Pinoy puto.
INSTRUCTIONS
Combine the dry ingredients of rice flour, sugar, baking powder, and salt in a bowl and mix until well combined.
Gradually add water and coconut milk. Then whisk until the dry ingredients are diluted and well-combined. Cover the bowl and ferment the puto batter. (If you don't want to ferment it for a long time, just add baking powder or instant yeast, or both to the dry ingredients and ferment it for an hour)
Here are the twists
While mixing the ingredients, I thought it would be boring if I cook plain puto. I scanned my eyes in the kitchen to look for ingredients I could add to the puto batter. Something different and not the usual flavors of puto. At the corner, I spotted the rack with coffee and tea. Then my mind told me, why not add them to my puto?
I saw matcha green tea and coffee, so I divided the puto batter into three. One for the plain one, the other two for matcha and coffee flavors. You can try this if you want to. You would definitely love the new flavors of puto!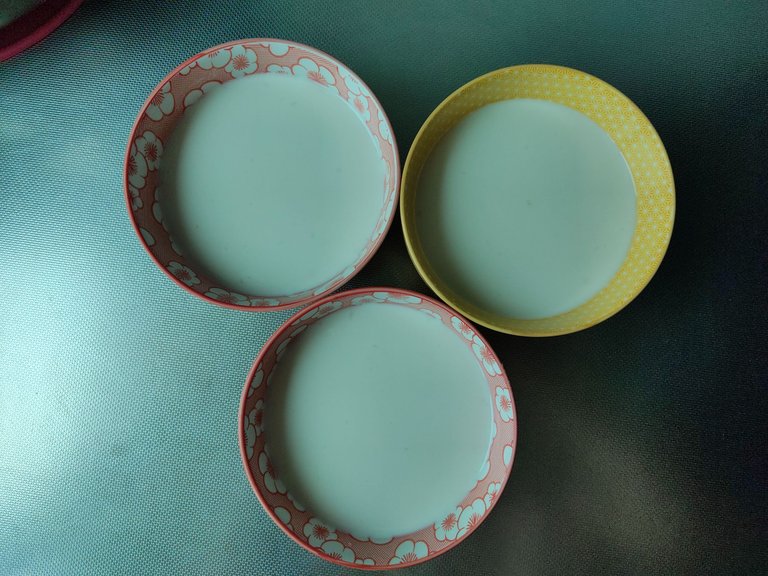 Dilute the matcha green tea powder and coffee in two separate sauce cups. Then mix them well into the puto batter.
Get the molders and brush them with melted butter or use a cooking spray. Then slowly pour the puto batter into the molders.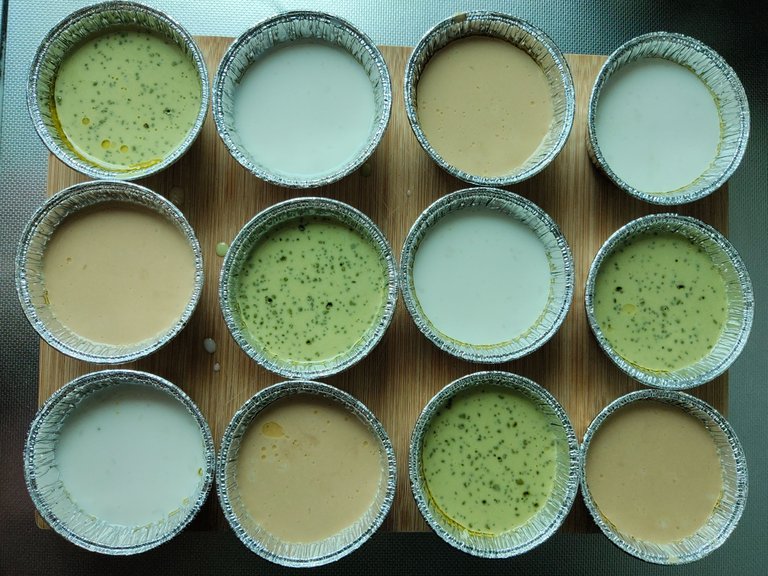 Another flavor twist
Then I remembered we have cheese inside the fridge, so I decided to grate some and sprinkled it on the molders with plain puto batter. Then I saw chia seeds, so I opted to sprinkle them into the two molders with plain putto batter to make it healthier. So the other two cups are cheese-chia flavors.
Let's cook them!
We have no steamer so I used a big wok and cooked in two batches.
Steam the puto batter for 15 minutes.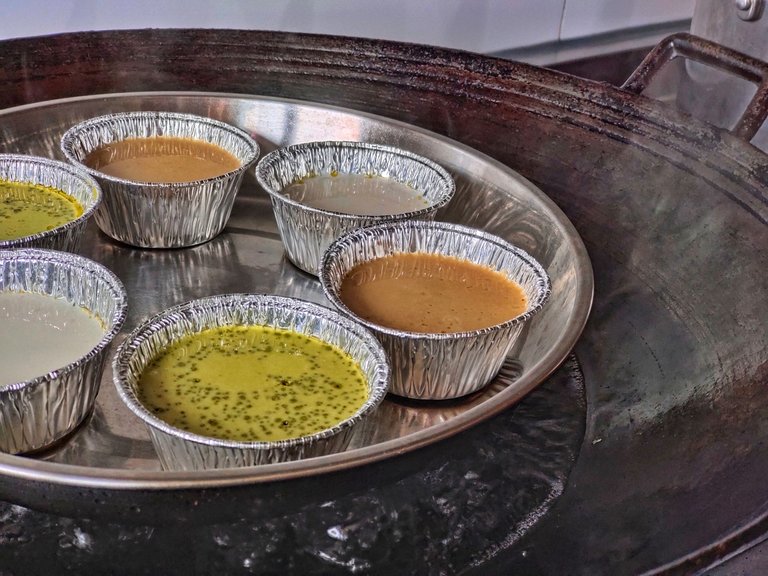 You can use a toothpick to check if the puto is already cooked. Insert it in the center and once it comes out clean, the puto is already cooked.
15 minutes wasn't enough since my puto sizes were quite bigger, so I extended it to 18 minutes, turned off the fire, then covered it for a minute or two.
Here's the first batch. The baking powder and instant yeast helped the puto get the lift I was aiming for.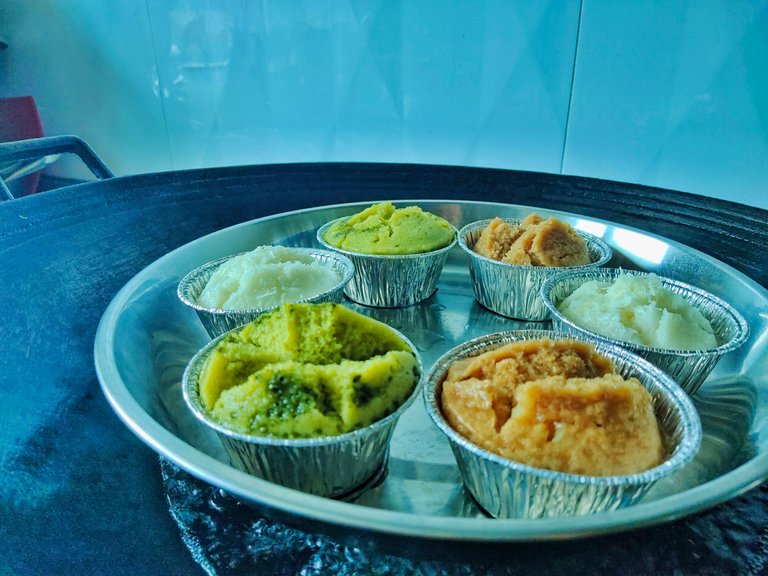 The 2nd batch. The two cups with chia seeds got darker colors. I didn't actually expect it.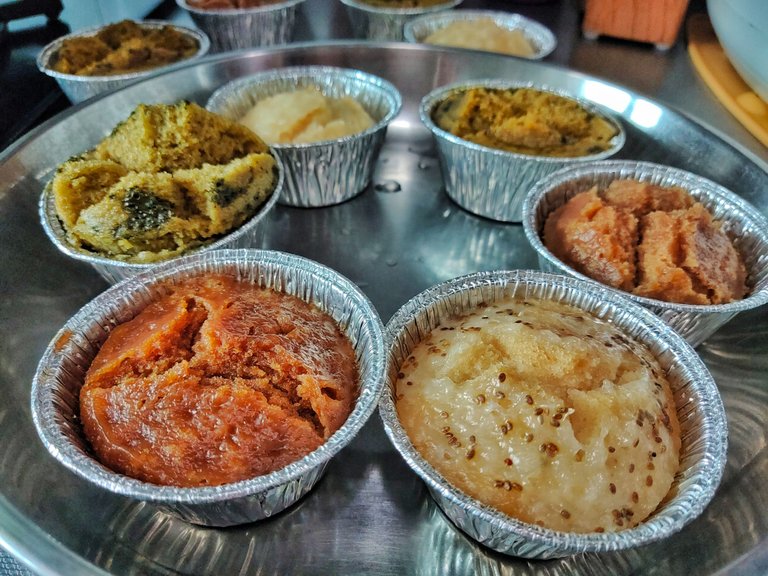 All in all, I was able to make 12 pieces in 4 flavors: matcha, coffee, cheese, and chia.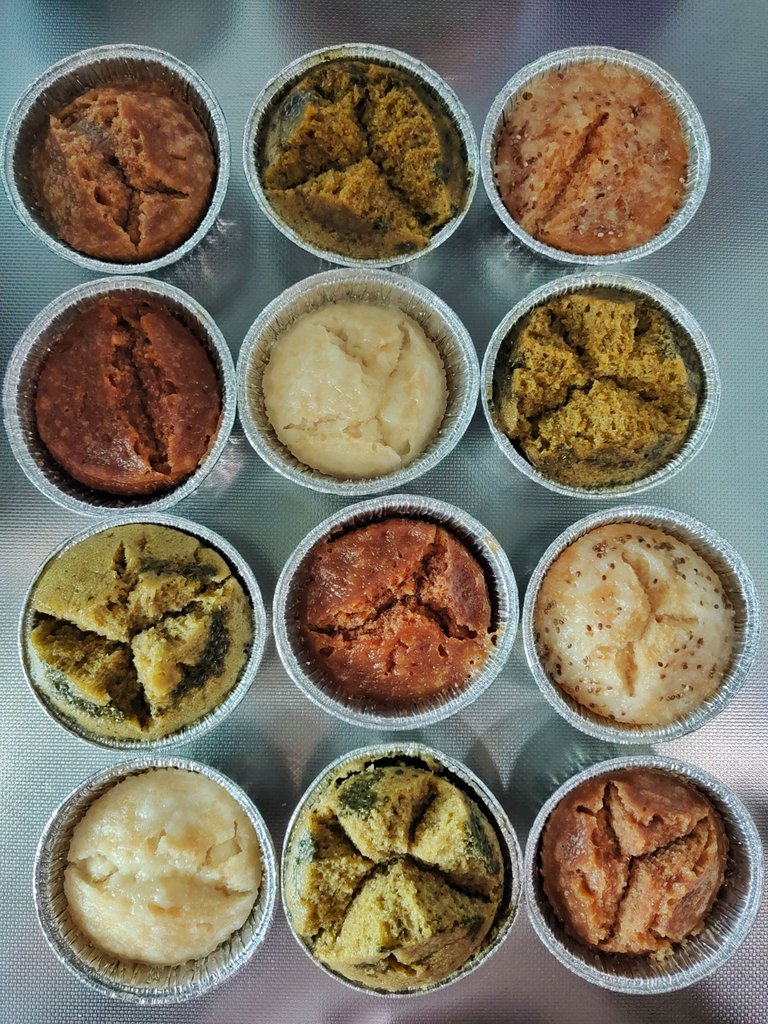 The original version of Pinoy puto is just made from rice flour and cooked in coconut milk. But in later times, people learned more flavors to add to it to make it tastier and more appealing. The most popular puto is the cheese flavor and kids love it.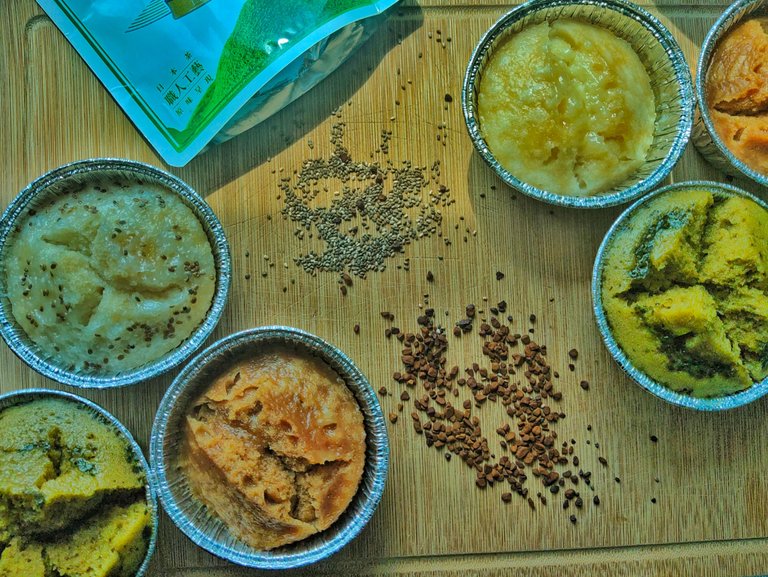 Some are using food colorings of different colors like purple, orange, and yellow. I haven't seen other colors though. Some purple-colored puto has ube flavor which is one of my favorites too. Ube is also popular in our country and can be flavored in different kinds of delicacies.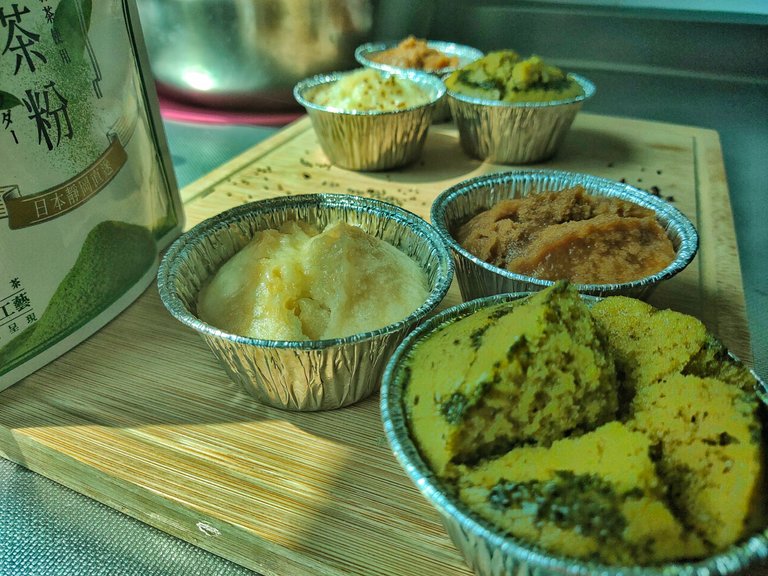 So when I saw the tea and coffee, I opted to try it since I never tasted puto with matcha and coffee flavors yet. I guess you guys, the Filipinos here, who are making puto as a business out there can try these flavors. For sure, your buyers will like them.

There are a lot of ways to enjoy puto not just paired with diniguan or pansit which are the usual sets. This is also perfect for breakfast or midday snacks.
The coffee-flavored puto is of course, perfect with your favorite coffee. Cold season is coming, this will be great to cook more for my breakfast.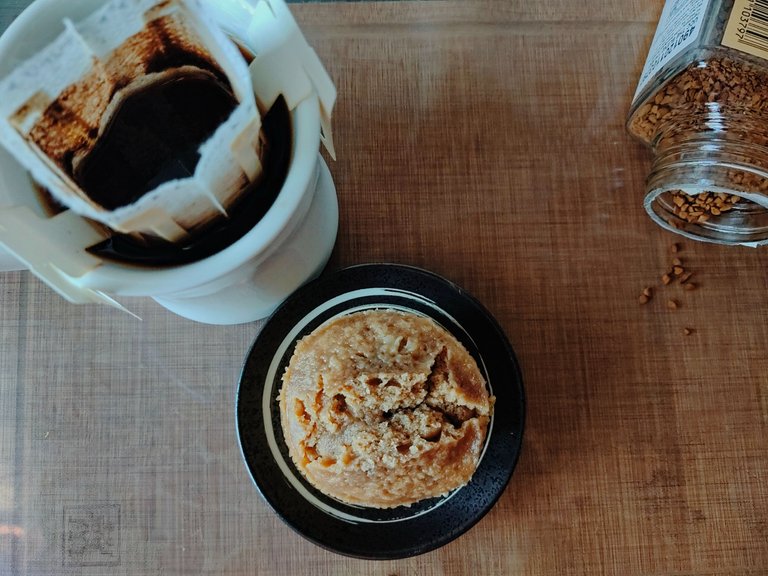 In the afternoon while having your tea, why don't you add a matcha green tea puto to your tea set? I like the outcome when matcha is not diluted well. Some matcha particles created greener colors in the puto. In that way, I could really taste the full flavors of matcha. The ones I made were perfect to pair with our chrysanthemum tea.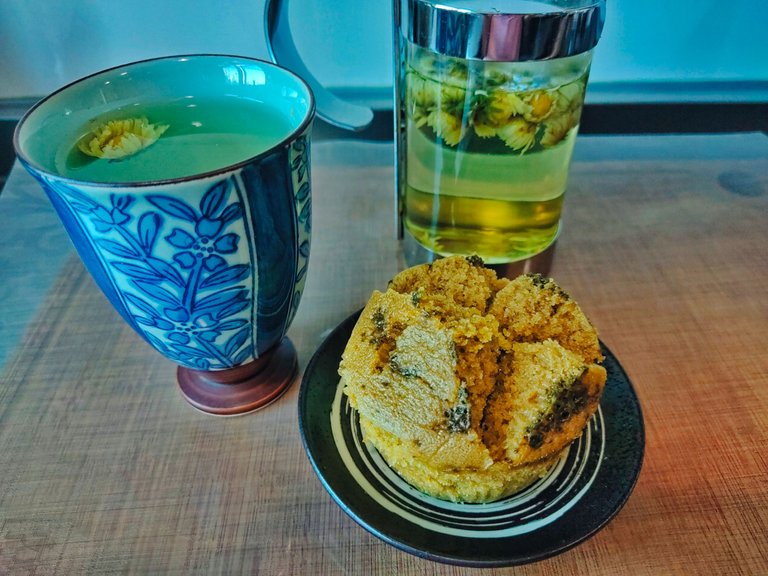 If you feel bored with plain puto, you can add more flavors to it, not just cheese. Do you have fruit jams like strawberry jam and orange marmalade? Then those are perfect toppings for you plain puto. I saw strawberry jam inside the fridge, so I opted to try it and the taste was so good. It can be a great flavor to puto too. I might try mixing the fruit jam to puto batter next time to see how it tastes. I guess it'll be yummy.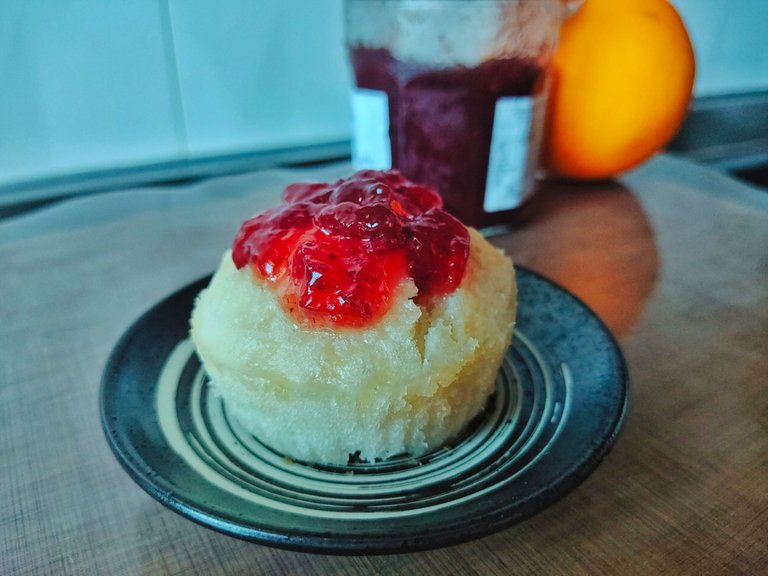 Given that fruit jam tastes good when topped on puto, you can try other flavors too like honey if you have it at home or chocolate chips. Kids would certainly love it! There are some puto flavors too that aren't sweet. I once tasted a puto with ham and hotdog and it was great. Carbohydrates and proteins are packed into one food. That's awesomely delicious. You can add some sesame seeds too when cooking puto and I will try this next time since we have it at home. The chia seeds just complement well with the puto flavor. Yummy and healthy.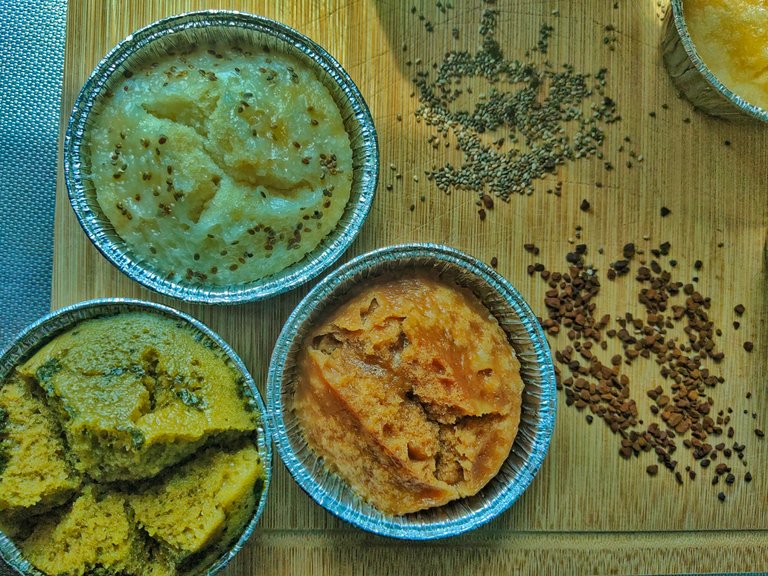 I was able to save more for the next two days. Perfect for my breakfast and snacks. I can just reheat them in the oven or simply eat them while they're cold. Mind me, the cold one tasted so good too. It's like a cold dessert since the puto is sweet.
Pinoy puto rice is also nutritious with some carbohydrates, protein, calcium, potassium, and other nutrients. Since it is made from rice flour you'll feel heavy in your stomach after eating as it is equivalent to eating plain rice.

After making this puto with a twist, I opted to make it again the week after with more flavors to choose from and took a short video for it.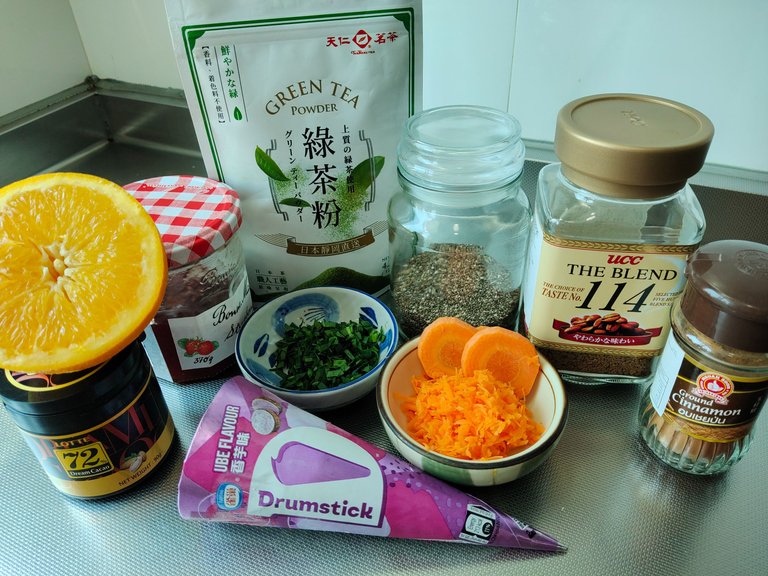 green tea and spinach
carrot and chia seeds
orange and chocolate
coffee and cinnamon
strawberry jam
ube (purple yam) ice cream flavor 😊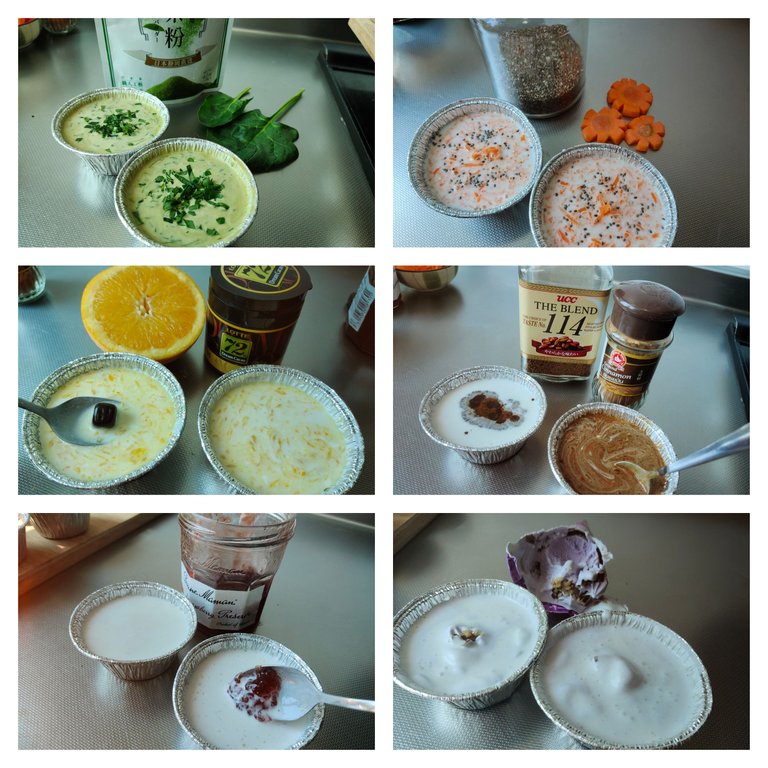 More flavors, more choices, from healthy to sweet and yummy.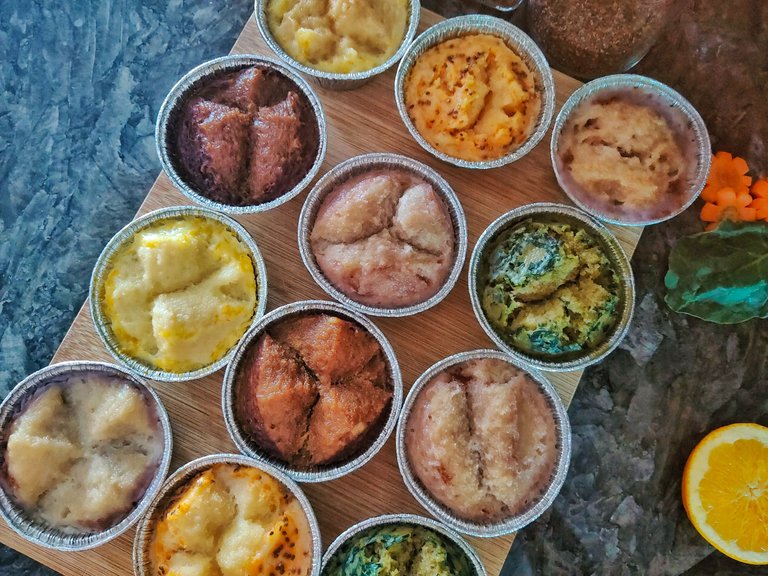 It was a worthy effort in preparing and cooking. I got the taste that I wanted. Besides, I was able to save more from the day of cooking to the weekend.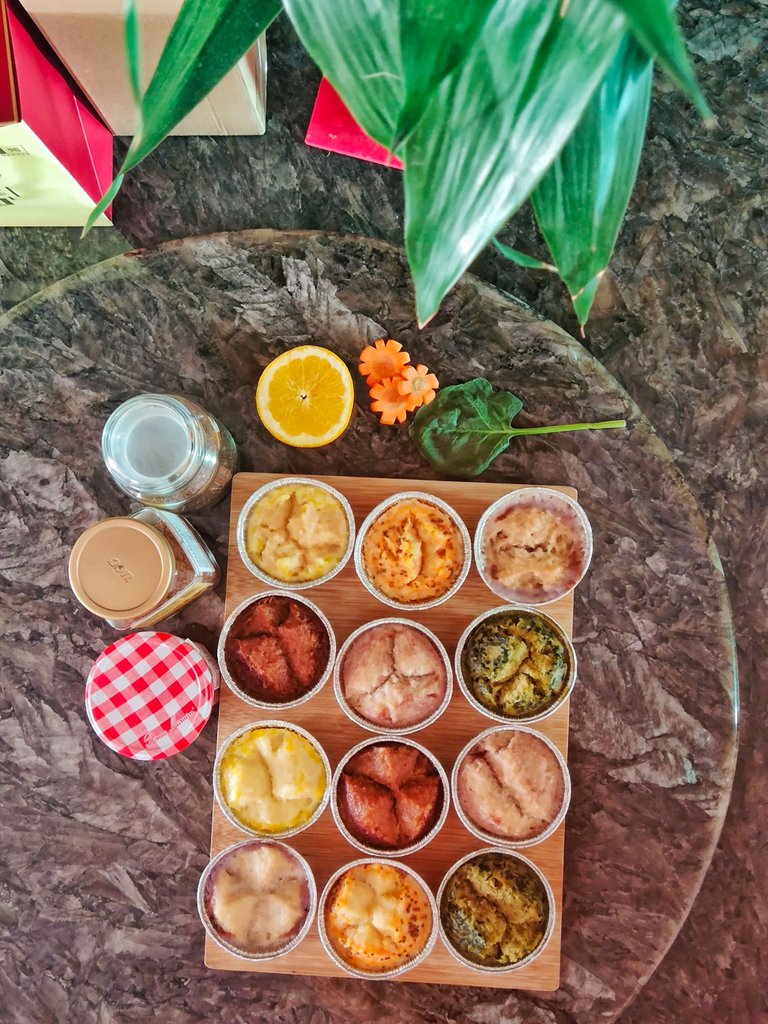 And let's give it a try! My favorite flavor there is the ube ice cream flavor. The combination of my favorite pinoy delicacy and favorite ube flavor ice cream taste so good, especially putting ice cream on top. The perfect snack of the day!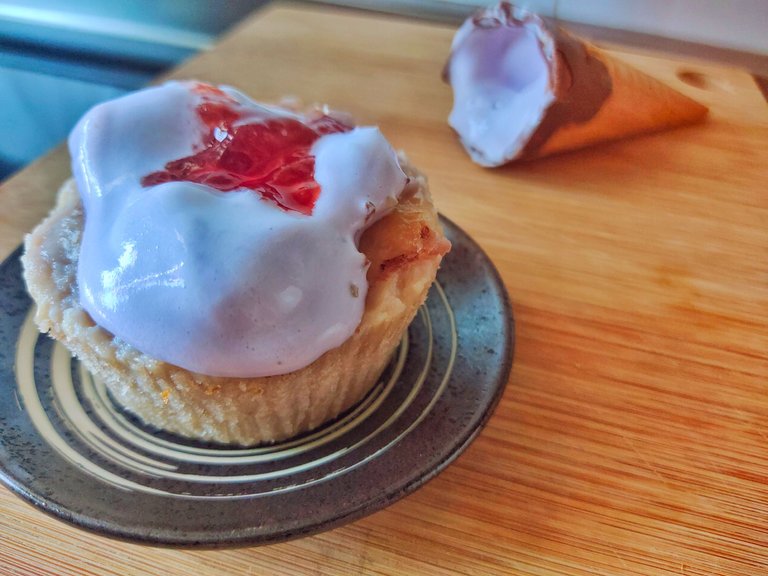 If you want to try this but have no rice flour, if you have a blender at home, you can simply blend rice with coconut milk. That's too easy.
So what are you waiting for? Try these yummy Pinoy flavors. You can choose your own flavors too and create a version with a twist.
Happy cooking!
(All photos are mine)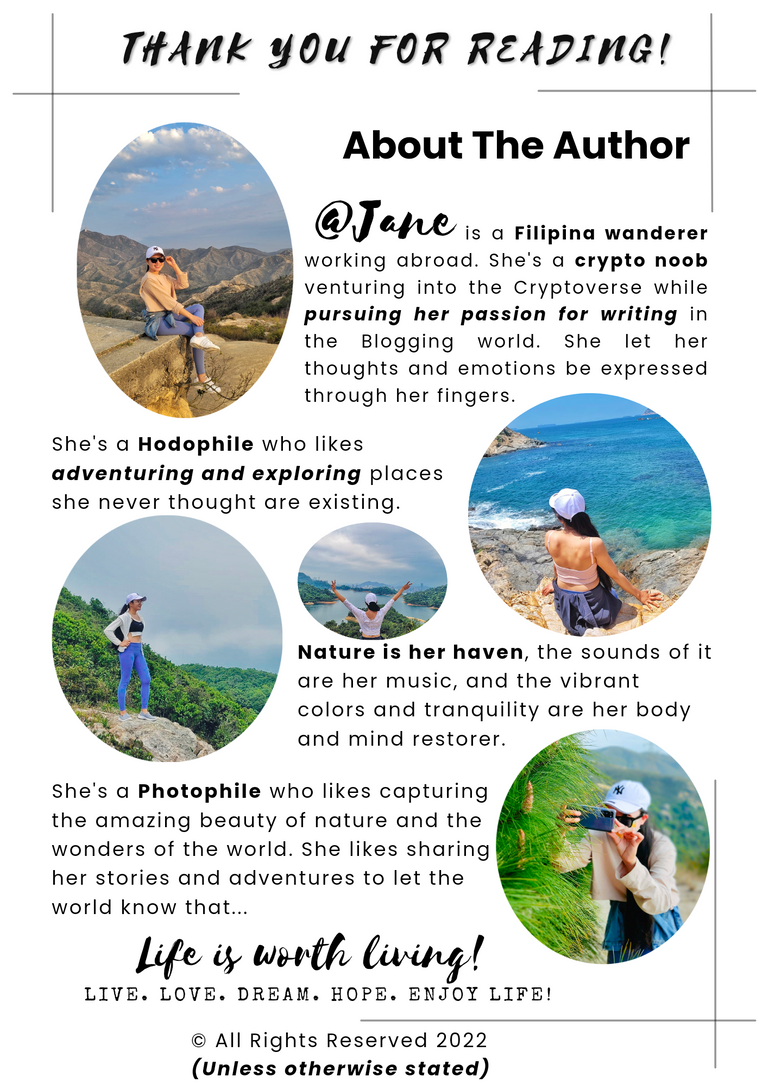 ---
▶️ 3Speak
---
---