#ChristmasInHK22: Sweet Goodies & Cuties At Mrs. Claus Bakery House
---
21st January 2023
Christmas and New Year ended but I am yet to share another Christmas installation in Hong Kong which I wasn't able to post last month. In fact, there are a lot more that are long been sitting in my gallery. If you will scroll down my feed, you will definitely see some other Christmas attractions I first posted on different communities.
After visiting the Santa Village one weekend in December, I saw a small room of Mrs. Claus Bakery and that I thought that was the only one. However, when I visited the Landmark that day to see what attractions were there, I was surprised to see a huge Mrs. Claus bakery house that occupied the whole atrium.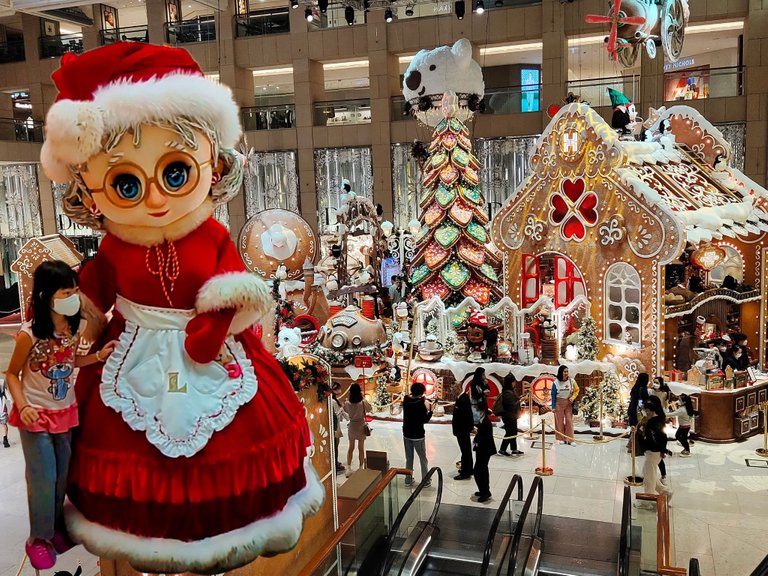 Landmark never fails to amuse me with its Christmas decorations each year. I have several collections of photographs of its decorations these past years. Last December, the atrium was turned into a Christmas Joy House full of pink cute toys, a giant Christmas tree, a hanging train, giant bears, and others. This year, Mrs. Claus and her bakers and friends owned the place.
I am not a kid anymore, but I'm turning back into being one every time I am seeing cute Christmas decorations. I am used to seeing them as early as September in my country, so being in this foreign land, the only season that I could feel it's Christmas is when seeing Christmas decorations and hearing Christmas carols.
Let's start the tour at Mrs. Claus Bakery. You can also watch the video above for a better experience 😊.
The first things I noticed were the giant Christmas tree made up of cookies, hanging airships, hot air balloons, a giant bear head, and a hanging reindeer. Those airships and hot air balloons were probably used to transport baking ingredients by Mrs. Claus's bakery elves. There are giant white bears too that serve as assistants in lifting sacks of flour and other necessary baking stuff.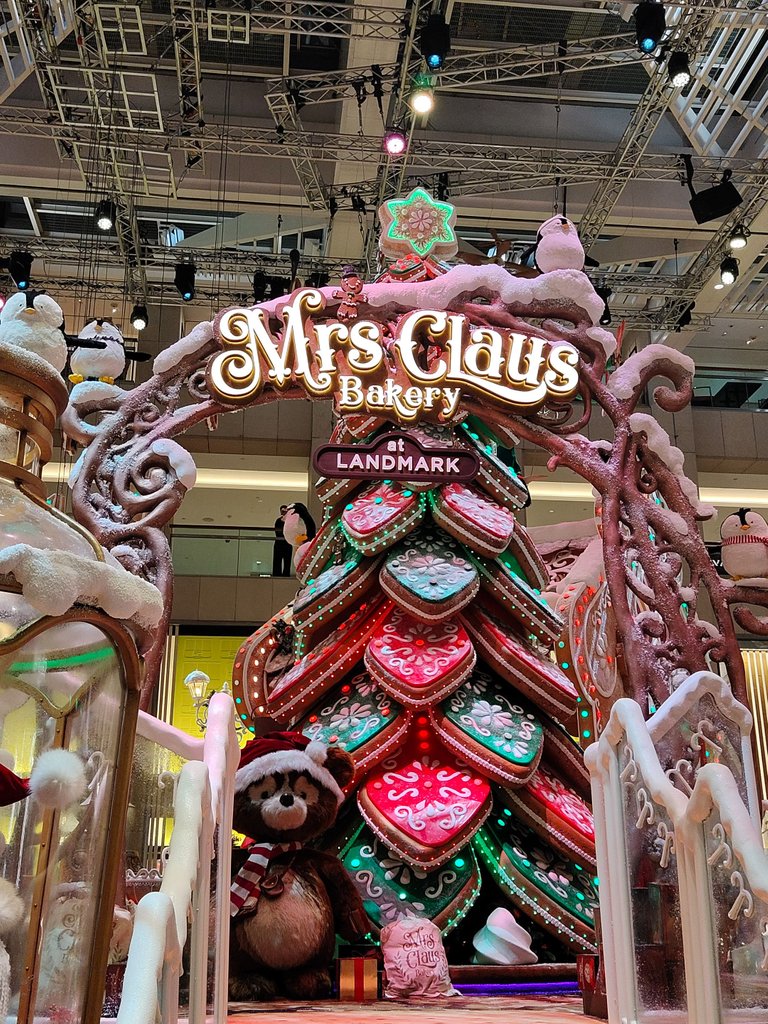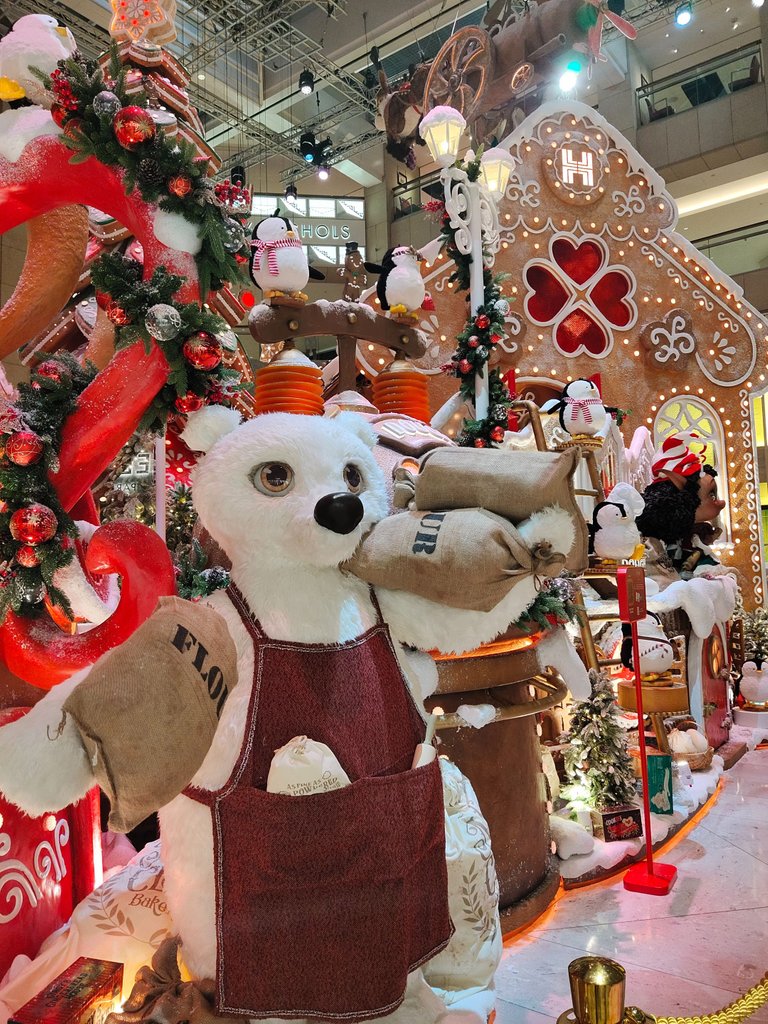 And have you noticed the cute penguins? These little assistants are everywhere along with some little gingerbread men.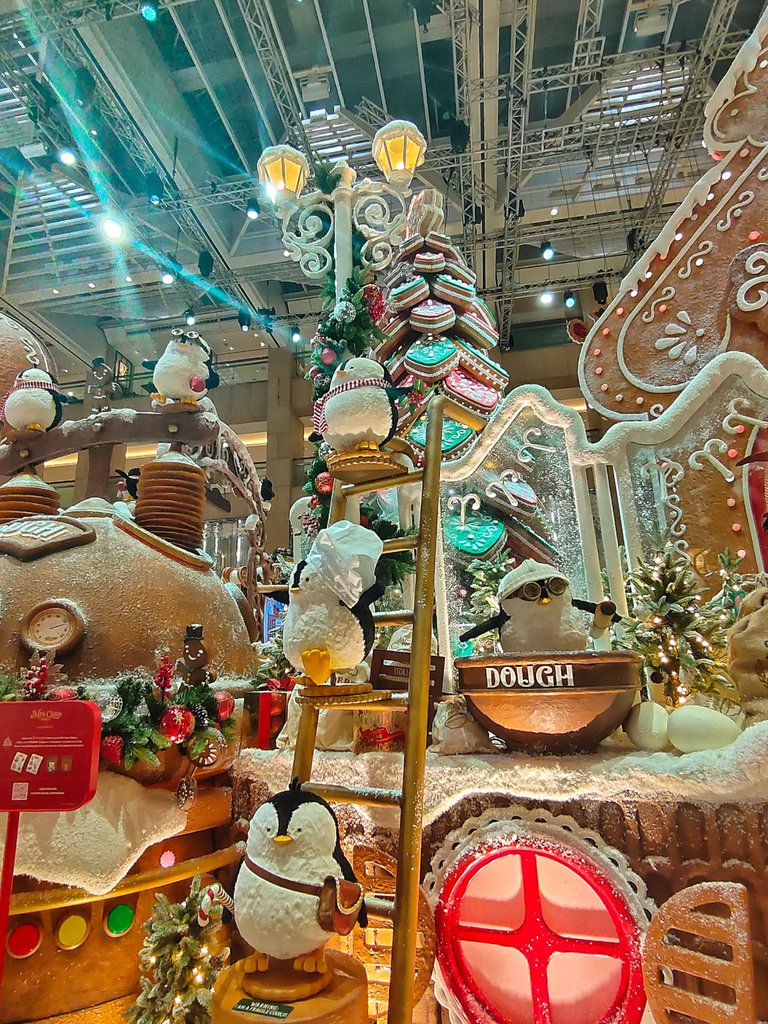 Head up to Mrs. Claus's bakery to experience the very first Xmasverse. But one has to book with a corresponding payment and all proceeds will go to a charity. Get a chance to explore the whole Xmasverse and have digital interaction with Mrs. Claus, Gingerman, and all staff in a wondrous land.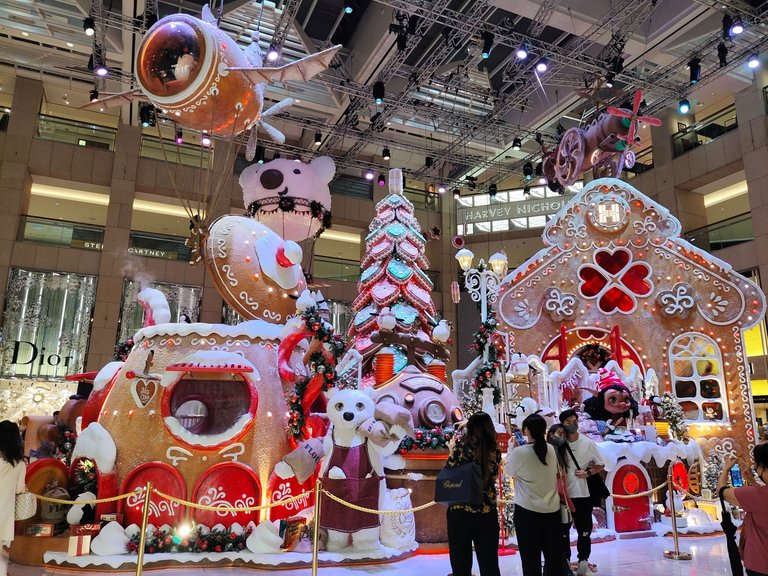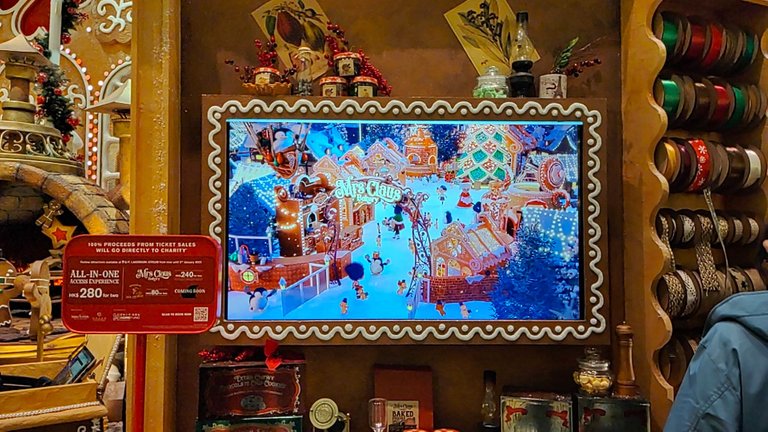 There are different parts of the bakery that kids, as well as those young at heart, enjoyed exploring.
Baking ingredients and some cookies are available at Gingy's Gingerbread House. There are some cute collectibles too that are worth taking out, with payment, of course.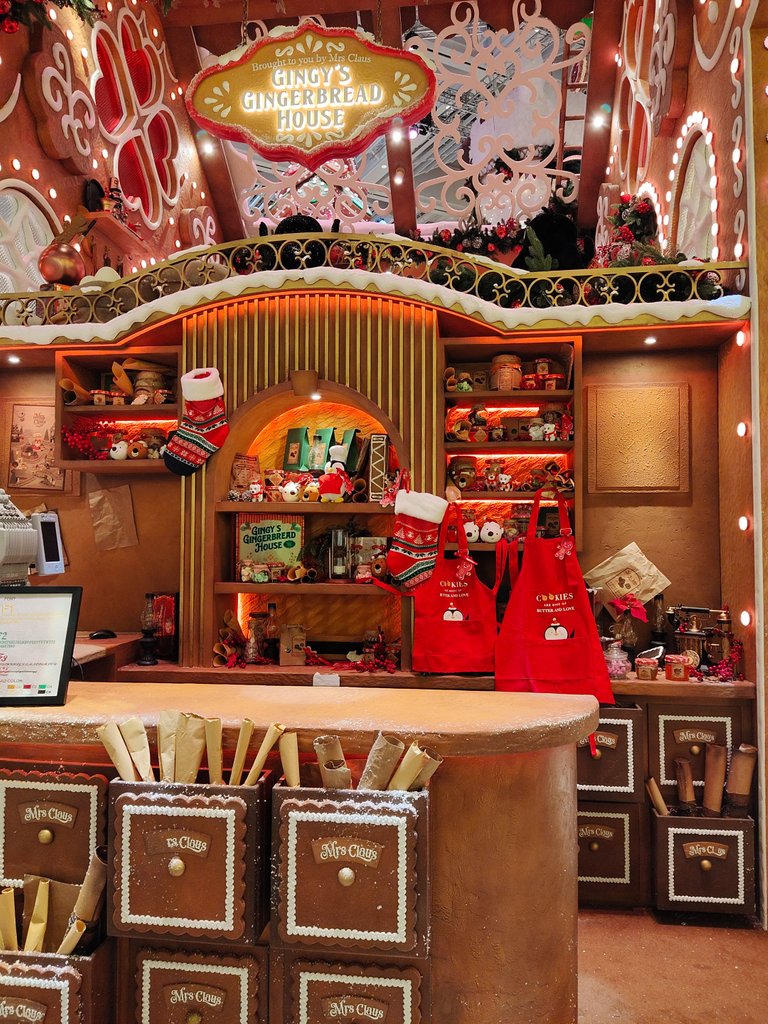 On the other side, you'll see Gingy's baked cookies of different flavors and shapes which were baked on the traditional baking stove with the help of her little helpers: an elf, a penguin, and a gingerbread man.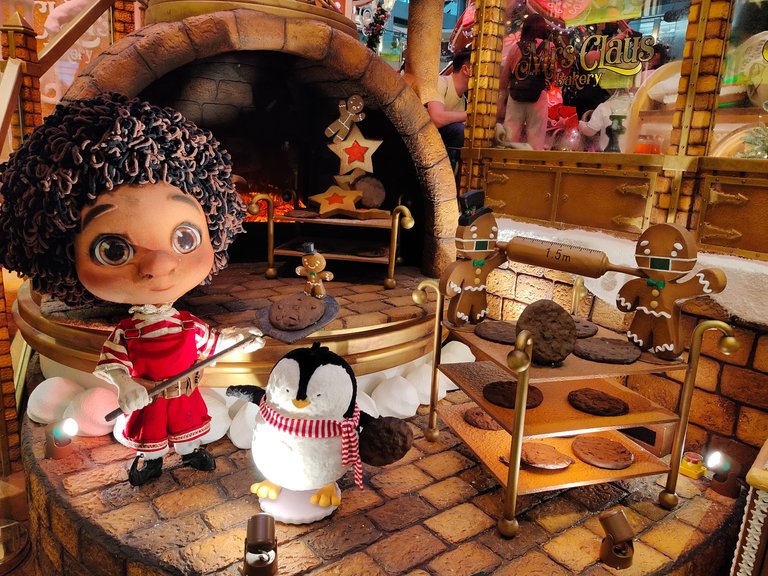 The next part on the right side of Gingy's Gingerbread House is Sugarplum Sweet Shoppe with an elf and penguin helpers. All kinds of sweets from Gingy's House are displayed on a big shelf packed in bottles along with different ribbons which could be used in designing DIY gifts.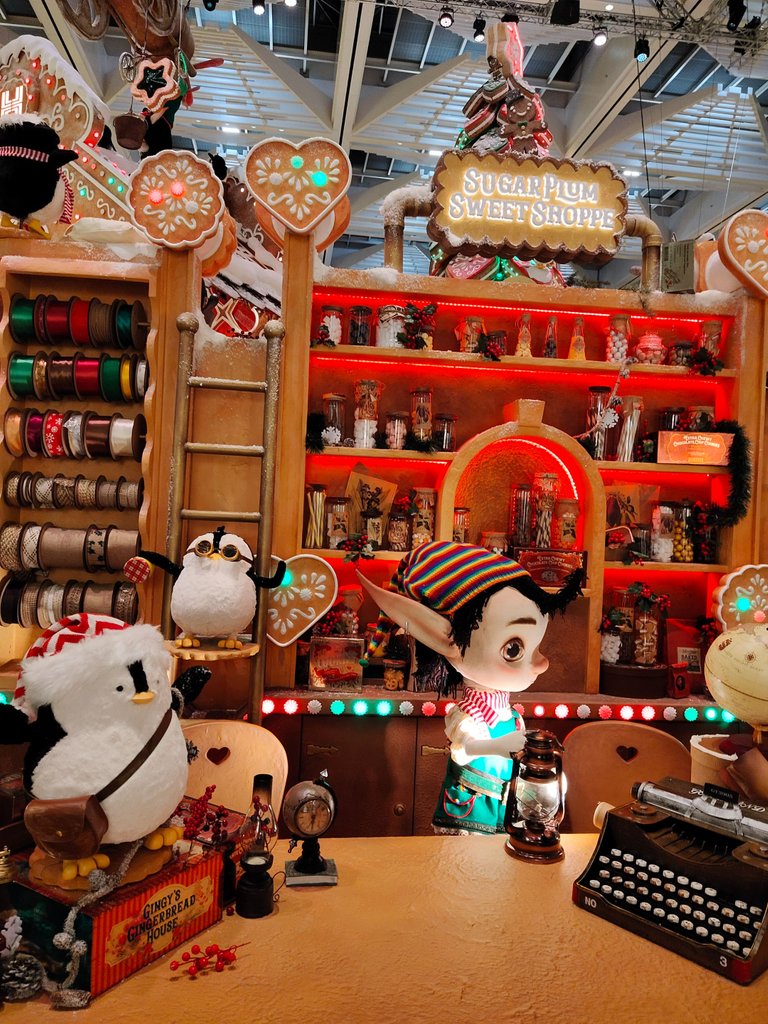 The weather is too cold recently, want some hot choco? Head to Hohohot Cocoa Stand to get some. Go back to being a kid while spinning around inside a giant teacup. Don't forget to get some cocoa as a souvenir! Just kidding.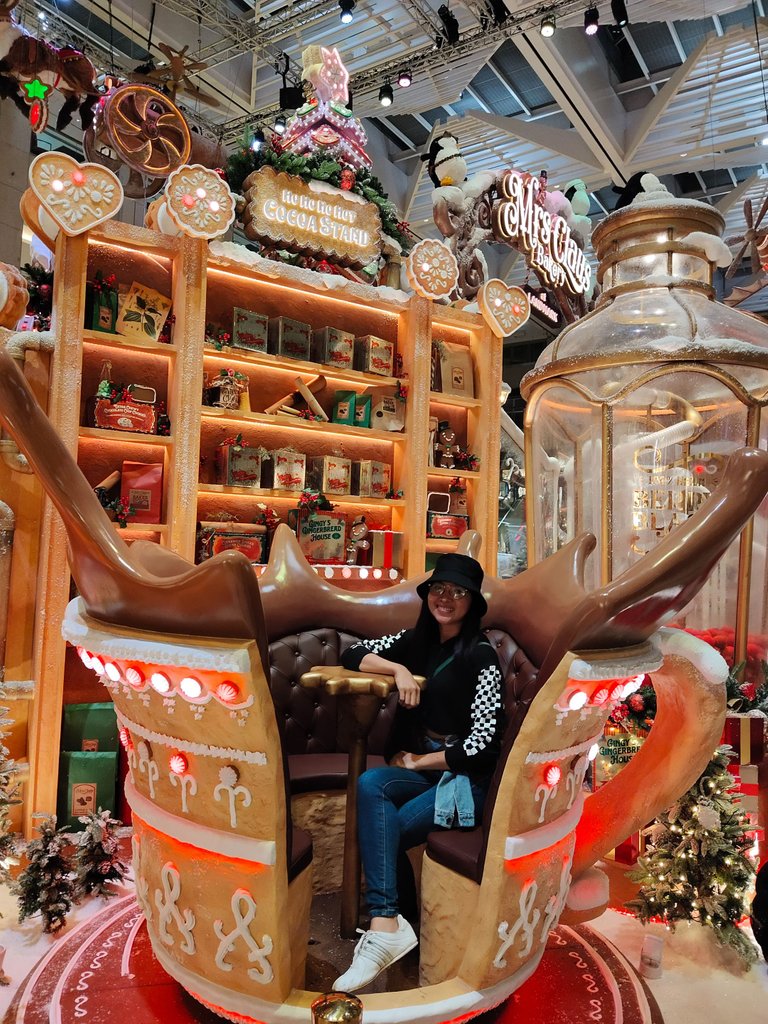 I suddenly crave the hot cocoa of my grandmother. She used to make cocoa tablets back then. She would collect the cacao seeds after we, her grandchildren done popping and sucking the sweetness off the flesh of cacao pulps. I might look for it this weekend.
Those who want to help in baking could collect the ingredients at Ingredients Library. Some helpers are available in the area too. Indeed, penguins were everywhere. I wonder how many they were in Mrs. Claus Bakery House.
The best part was the real interaction with Mrs. Claus who appears to have selfies with the visitors on an occasional basis and limited time. I heard there was a real Gingerbread man too but he probably go out at certain hours.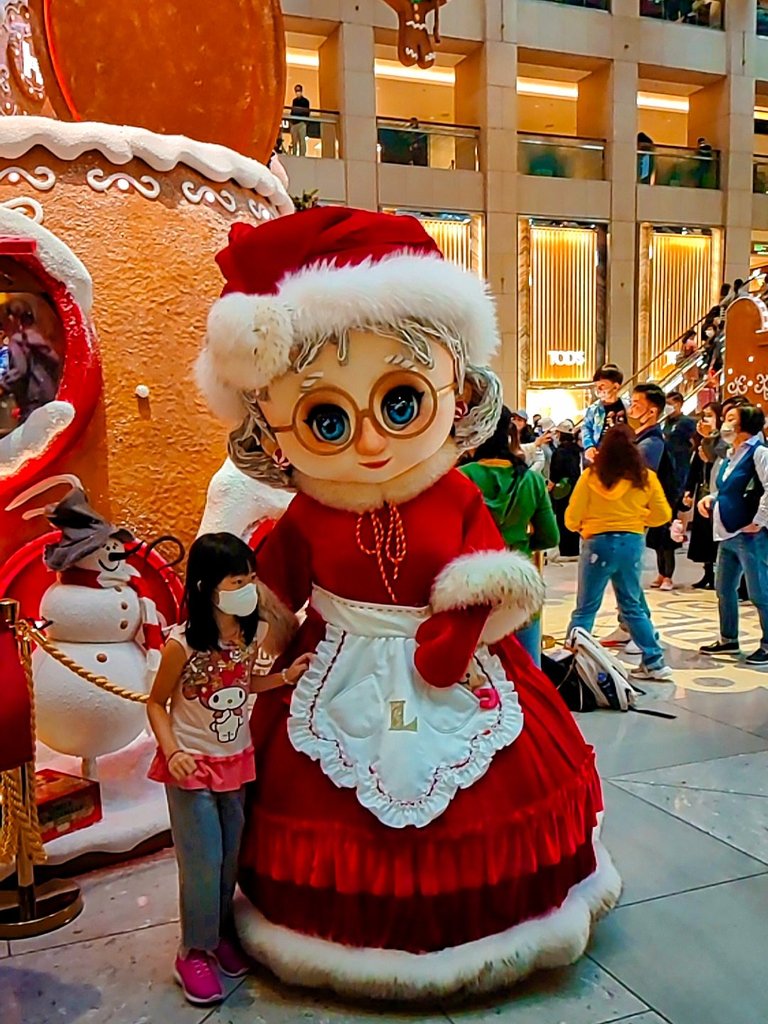 I truly had fun exploring Mrs. Claus's Bakery House like a kid. Since Santa Claus Village exists, I wonder if this exists too in real life. Are you curious about Mrs. Claus like me? Click here to know some info about her.
---
This is my not-so-late entry for #MarketFriday. I thought @dswigle would like to see Mrs. Claus' Bakery House and her goodies and cute helpers. I would love to taste her real cookies someday if this bakery house really does exist.
Want to read more Christmas gala in Hong Kong? Head to the search tab and type #ChristmasInHK2022 😁.
Happy Market Friday everyone.
You can also reach me on my socials and let's be connected:
•Facebook
•YouTube
•read.cash •noise.app
•Twitter
---
▶️ 3Speak
---
---