Tai Mo Shan Series Of Waterfalls (My Solo Journey To The Highest Peak Of Hong Kong - Part 2) & Some Giveaways!
19 March 2023
My solo journey to the highest peak in Hong Kong continued after passing by the hidden village and the temple. I finally saw the starting point of Tai Mo Shan at past noon.
Come and join me again in My Solo Journey To The Highest Peak In Hong Kong - Part 2 (Tai Mo Shan Series Of Waterfalls)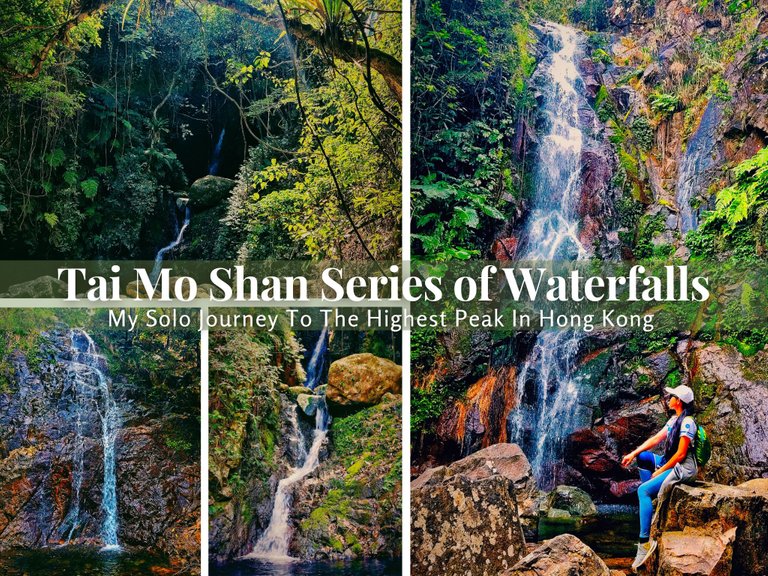 Created in Canva
From this point, I followed the directions to the waterfalls as per instructions. The series of waterfalls are along the way to the peak, so the solo journey wouldn't be boring at all.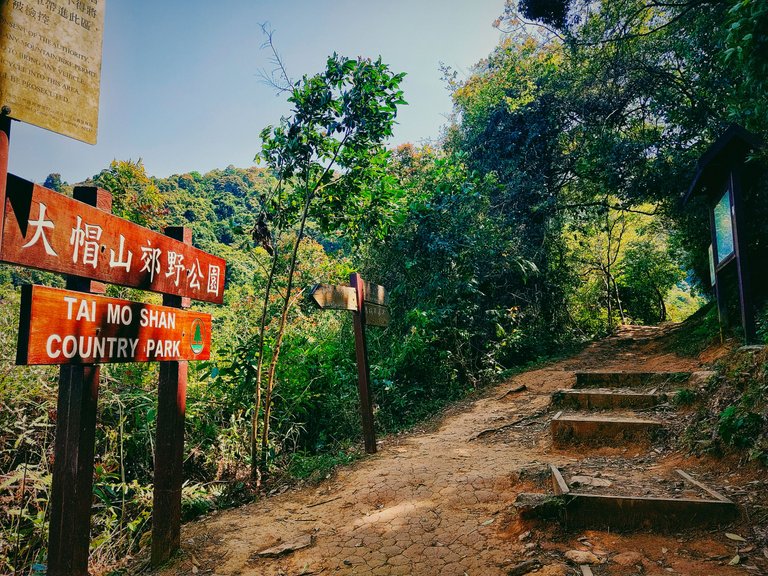 It may be an easy climb and there was no way you'll be lost in this forest (at this point) as the trail was just a continuous narrow paved path. However, since it isn't concrete, it can be challenging to climb the rocky slope, especially in the rainy season. Flash floods near the waterfalls can possibly happen as well. Yet, the archway of the trail is beautiful, isn't it? But kind of enchanting. Would you dare hike alone on this trail? I did it, so you can.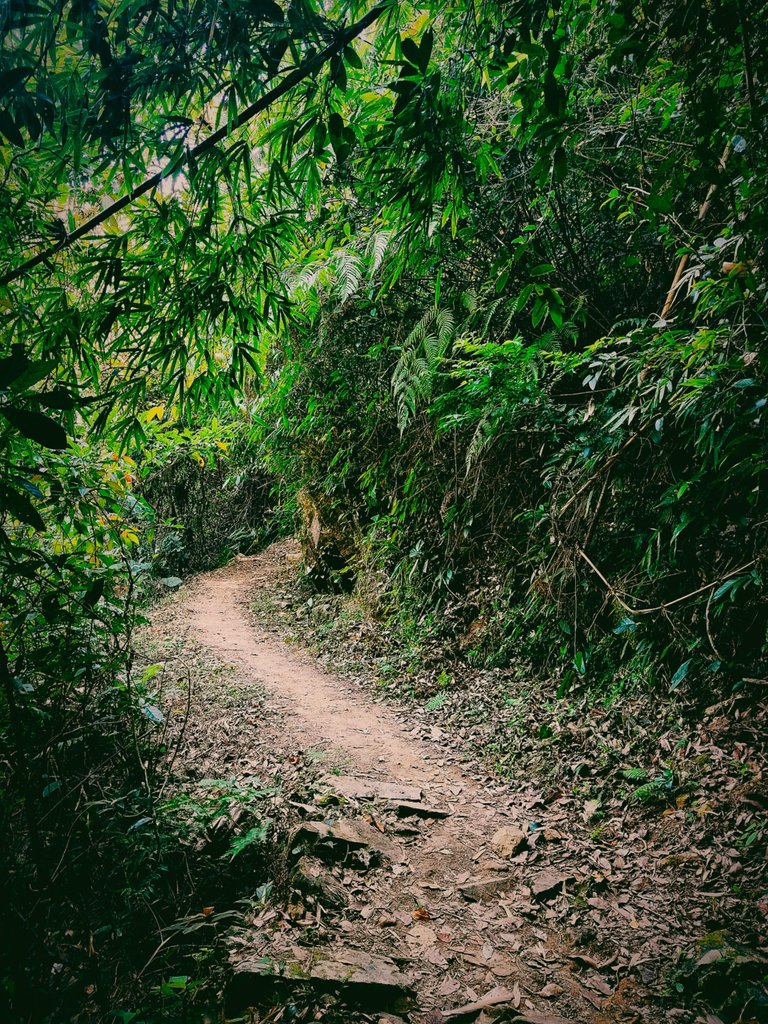 Note that the trail became too steep as I climbed higher. A better gear is needed here to avoid sliding on those rocky steps which do not have any handrails on the sides. One wrong step would lead you to slide down the slope.
On some occasions, I would stop to take a breath as it was truly strenuous climbing those steep trails which added to my time along with those spent in taking photos and videos, lol.
Bottom WaterFall
After more than an hour of exhausting climbing, I finally reached the bottom part of the waterfalls. It was, as well, located at the bottom of the hill. I was hearing the gushing of water from the point of the residential house after the temple. The sound just made me more excited to see the real waterfalls.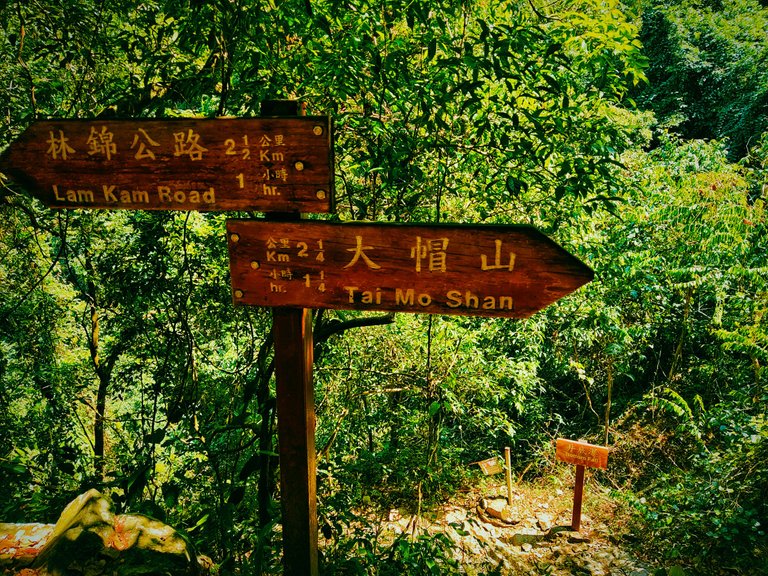 Lo and behold. The Bottom Fall hiding in its enchanting spot. Summer or rainy season may make the waterfall more beautiful, but be aware of flash floods as well. I was by myself at first in this secluded spot, but later, a few hikers from the opposite route began to descend because they were also interested in seeing it.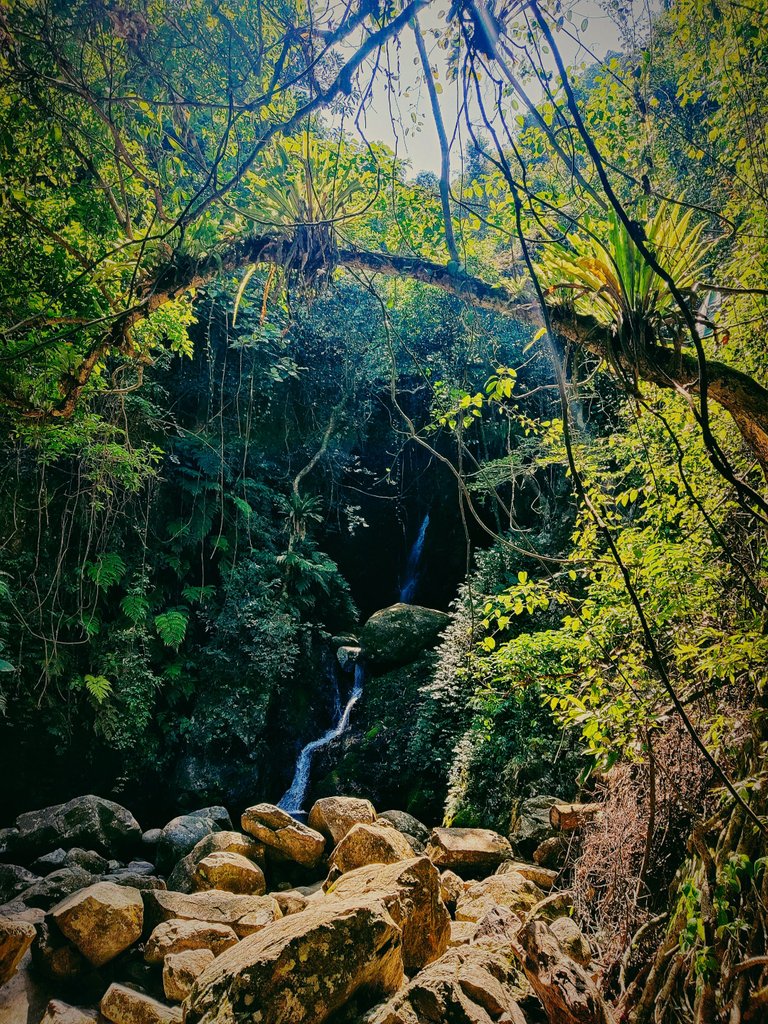 The water has a suspension in the middle and then continuously cascades down the bottom. It was truly tempting but would surely eat much of my time.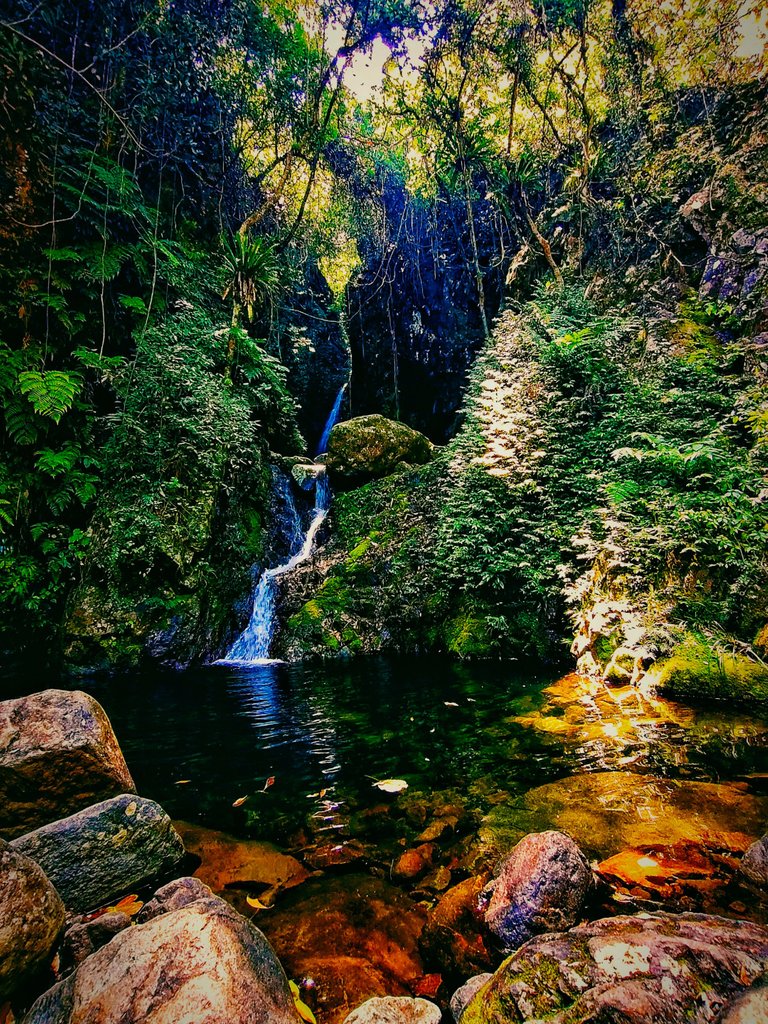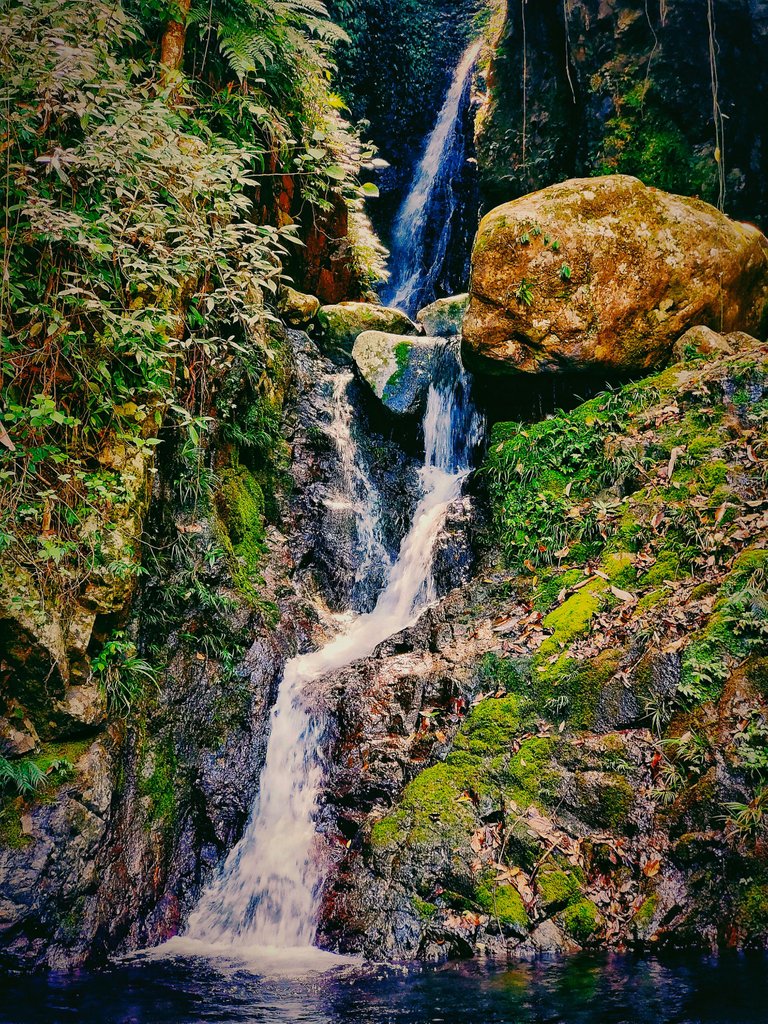 And it could have been a perfect spot to soak in the cold water if no one was around. But then again, it wasn't my main goal. Later, a mother and her son stopped over to take a breather and had their lunch, I mean, a quick bite of their apples, and so was I.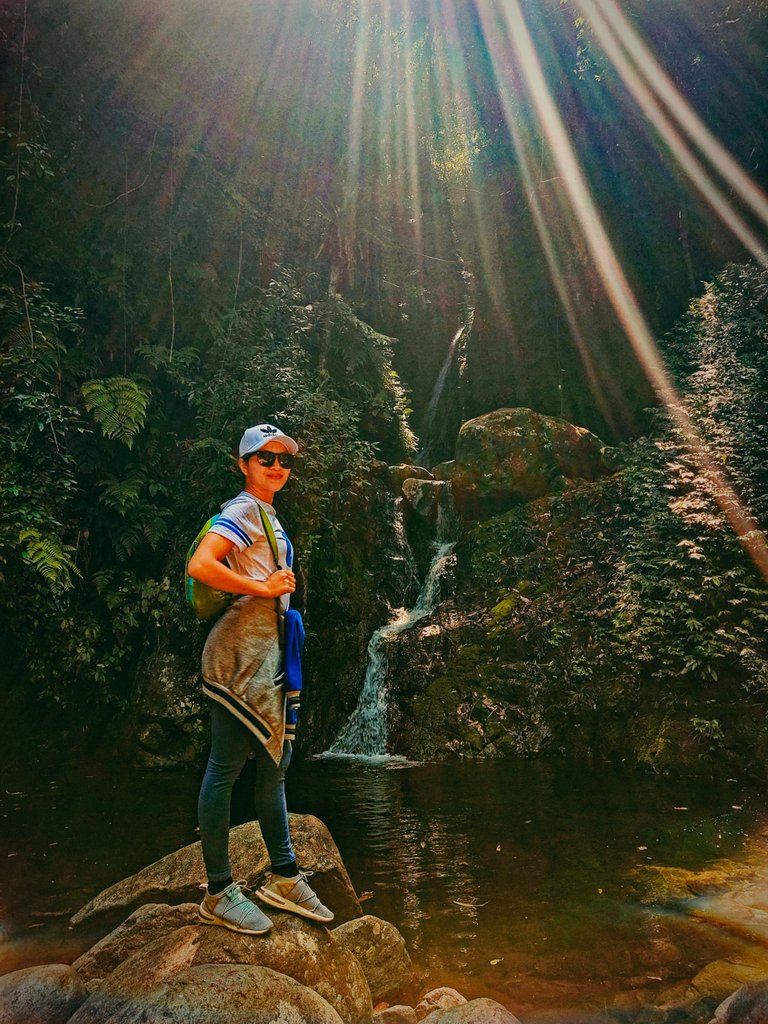 I took that opportunity to fill my tummy while they were around as I planned to follow them on the trail. The thought of going uphill in the jungle alone was sometimes concerning.
---
Middle Fall
It wasn't long before the mother and son opted to leave so I packed my food quickly and followed them. The cliff got even steeper and I have to wear my knee support this time in case I slipped or stumbled over rocks. But the truth is, my right knee is weaker than my left, lol.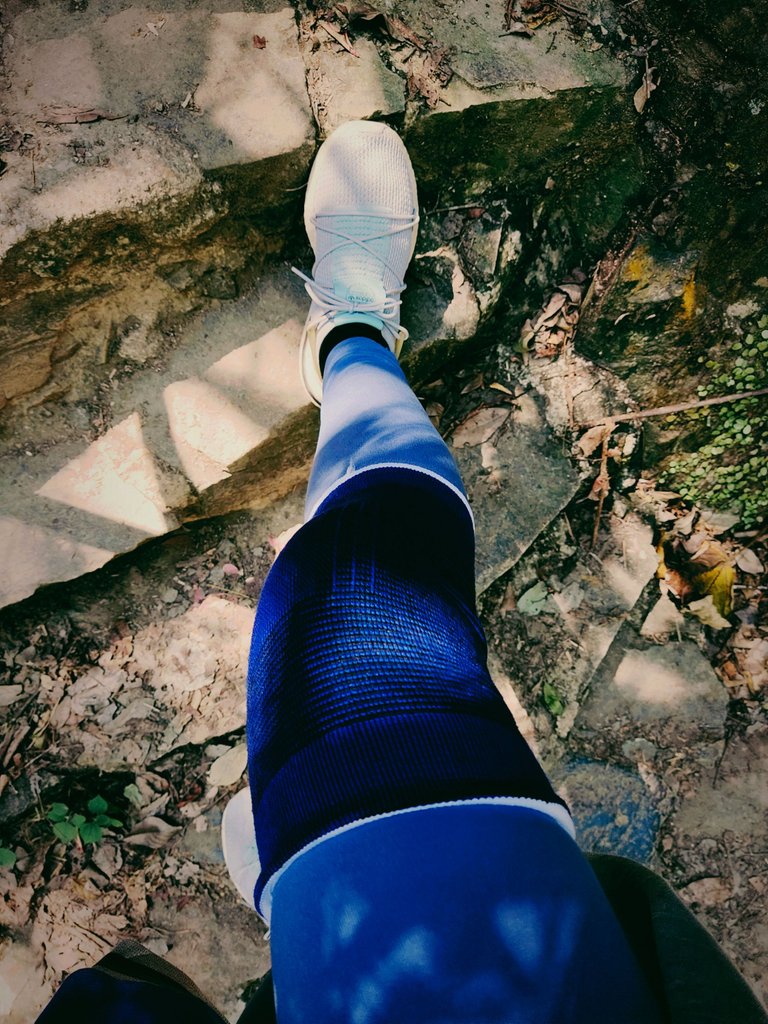 I felt like this mountain had the wildest trail I had ever taken. Compared to other trails, this was the most difficult as well. Our journey to the Violet Hill and the Twin Peak was excruciating and we climbed a thousand stairs in a row but this was more difficult as the steps were rocky, narrow, and uneven, not concrete.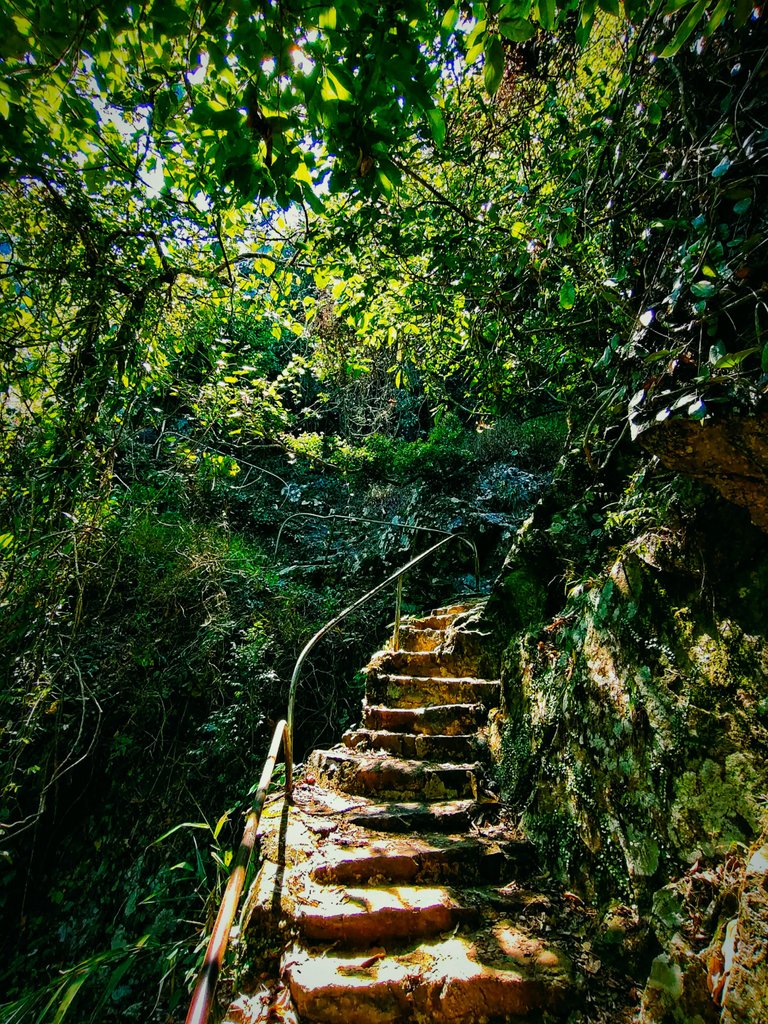 The continuation of the trail to the next fall has handrails on the sides which were quite safer to climb. However, on the next point, we were on our own, with no more handrails.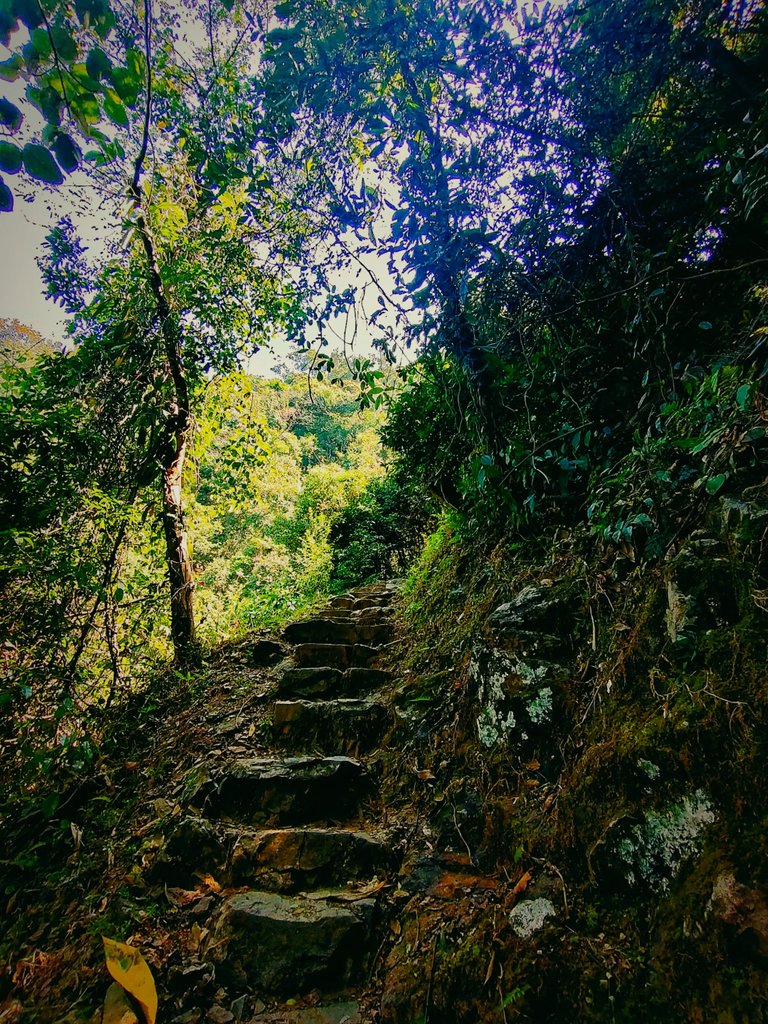 The Middle Fall was only a few minutes from the bottom. From there I thought, if this is the middle fall, then the next could be the main one.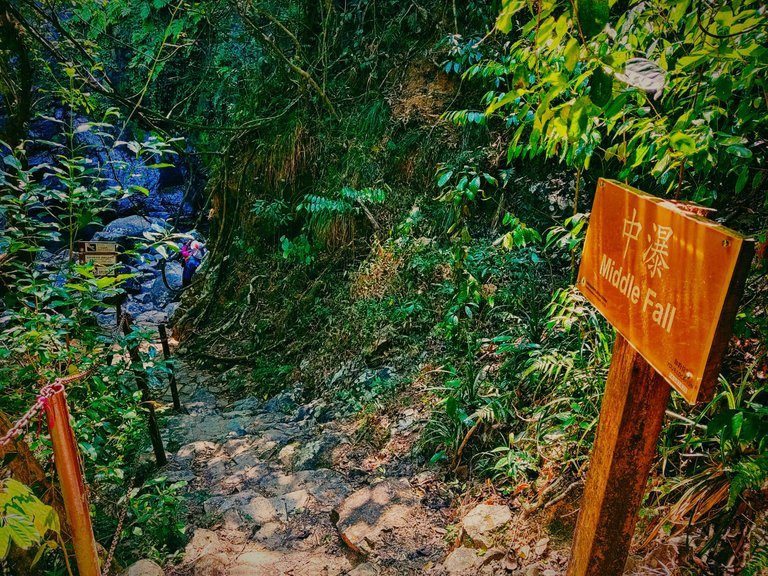 Just imagine if the water is at its most volume. It's probably best to revisit the falls after heavy rain.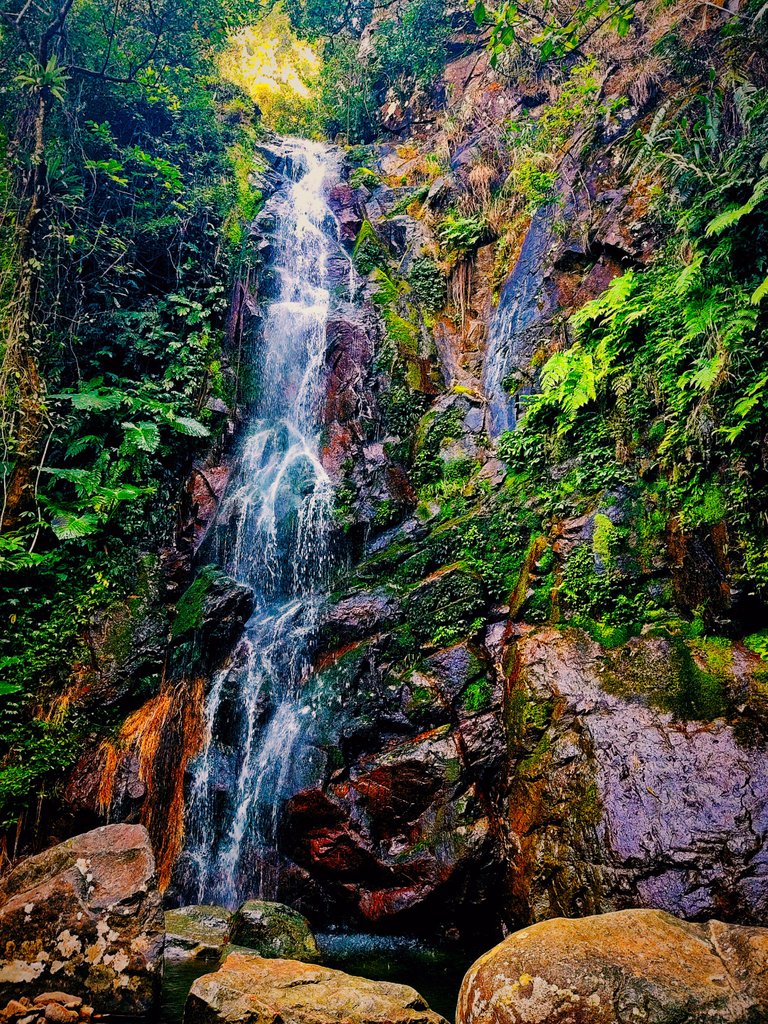 Beautiful and enchanting the fall was. I found comfort in it and it made me want to stay longer. Some would find the bottom fall the prettiest, but the middle was for me the most beautiful.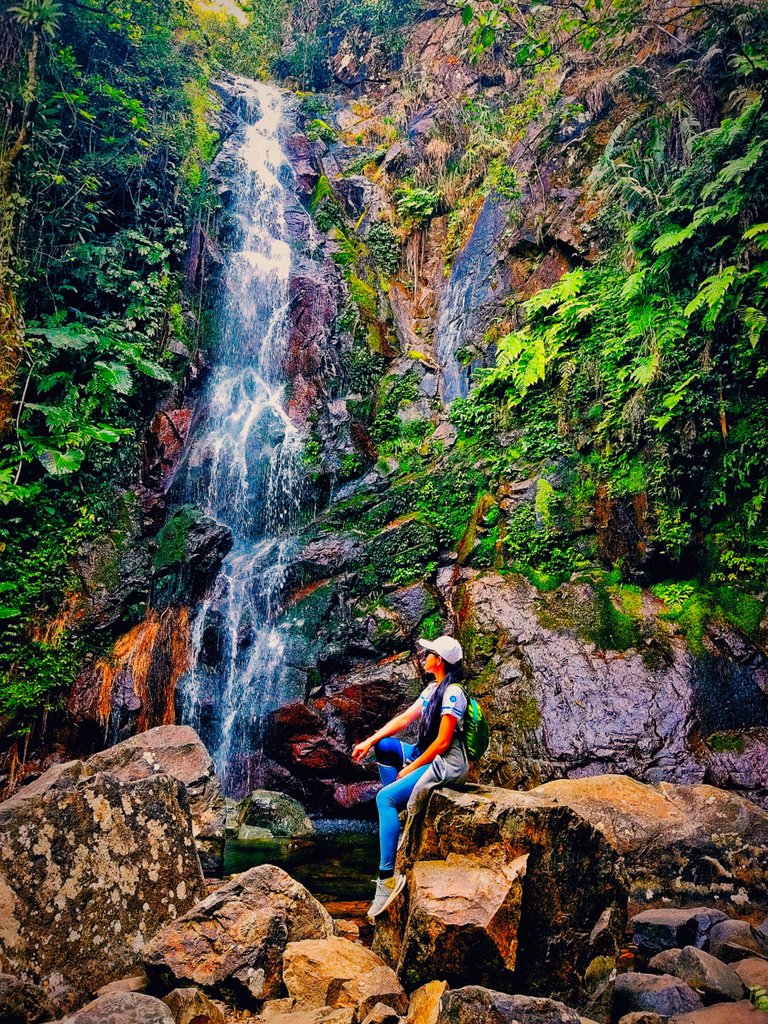 The old Chinese woman was happy to see the waterfall. She was my temporary photographer, lol.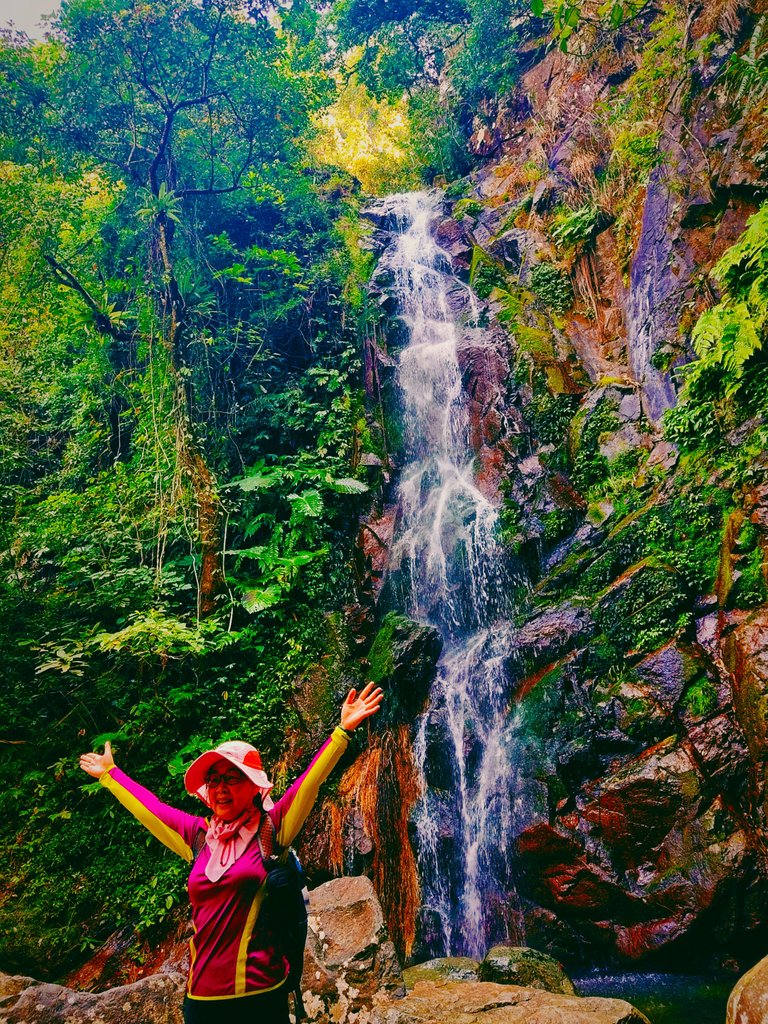 It was indeed a great decision to stick with the mother and son as I got some photographers, lol, I mean a company on the trail.
---
Main Fall
I thought the main fall was just a few minute's distance from the middle fall, but I felt like I climbed another hill for almost half an hour. It has the steepest trail as well and we were fortunate enough to see connected chains as handrails. However, in some parts, there weren't any handrails anymore.
I didn't take my distance from the old woman as her son left her behind. I was willing to lend a hand in case she needed it, but she seemed even tougher than me, lol. Chinese old people like hiking. It probably is their secret to a longer life.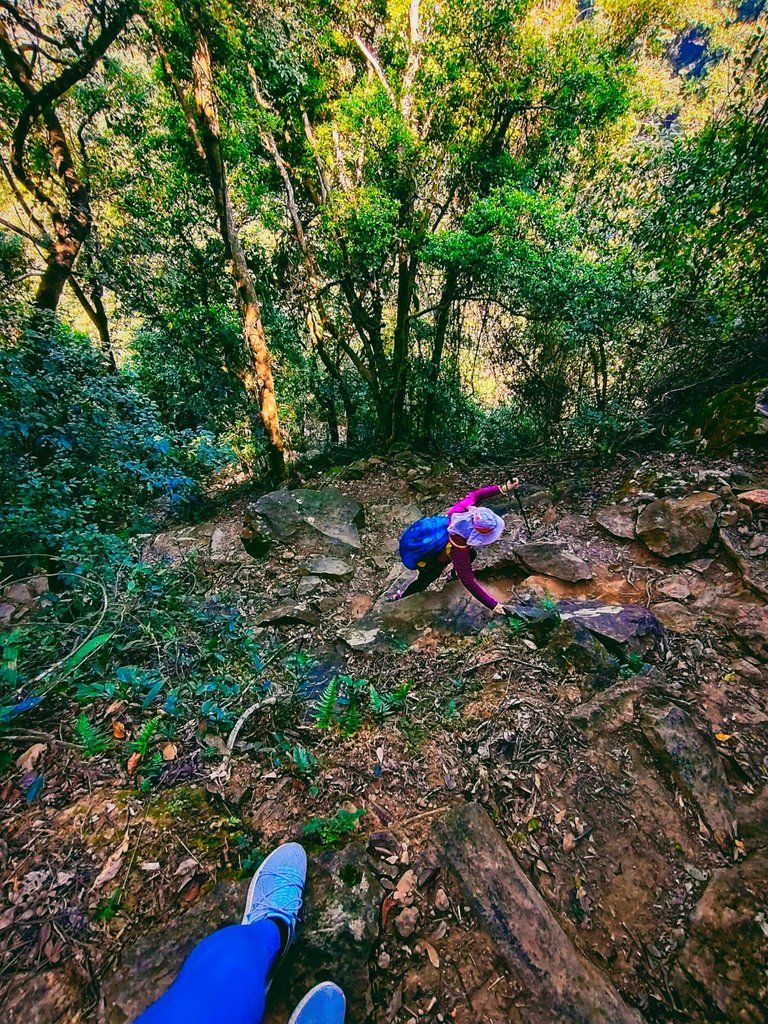 I could feel more stress set upon my legs as I climbed uphill. My muscles started to feel the pain. I have to be careful in every step as it gets steeper and steeper. I came across a hole that seemed like a cave, or probably an unfinished business since it was blocked.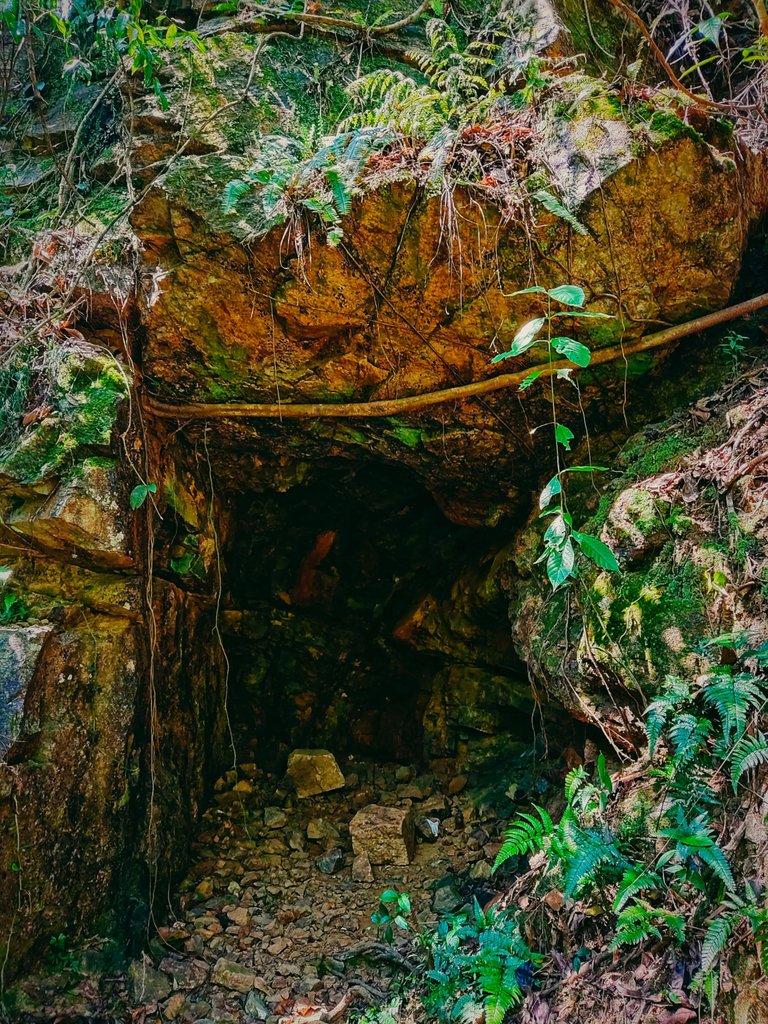 The higher we got, the prettier the view was. At this point, I can already see a better view, not just trees, ferns, and other wild plants. I saw a hill that I thought was the peak and I was looking forward to reaching it.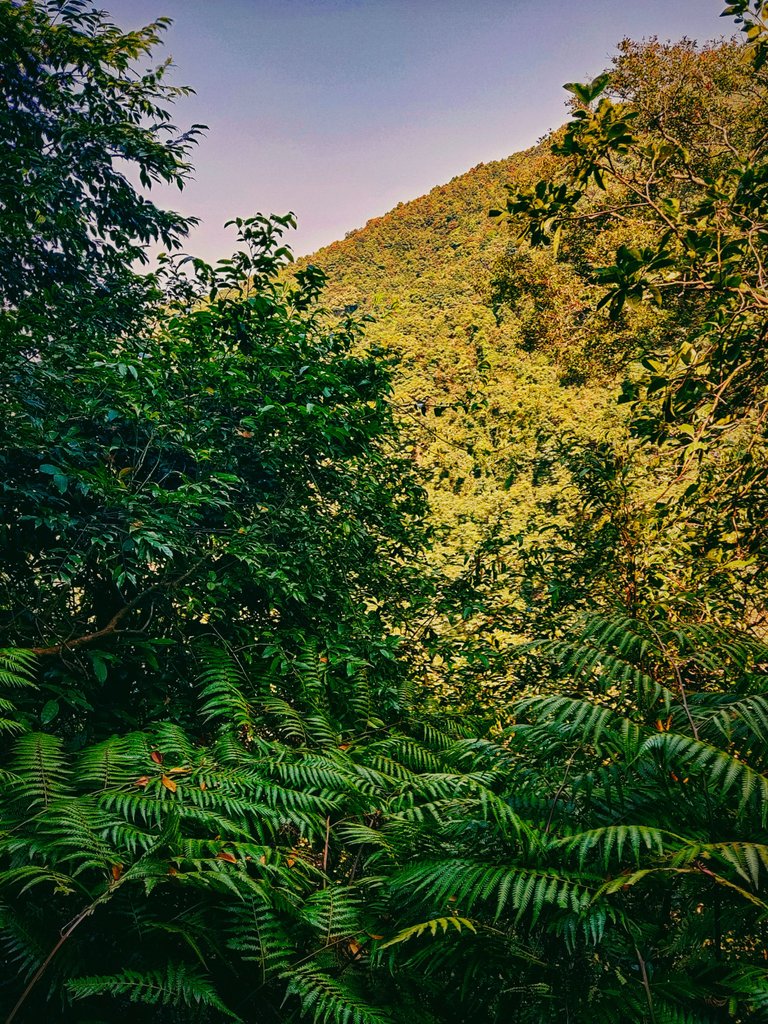 Just imagine how toxic to climb this kind of trail is. Aside from having no handrails in most of the parts, the cliff was truly steep and I felt like my legs would give up sooner or later.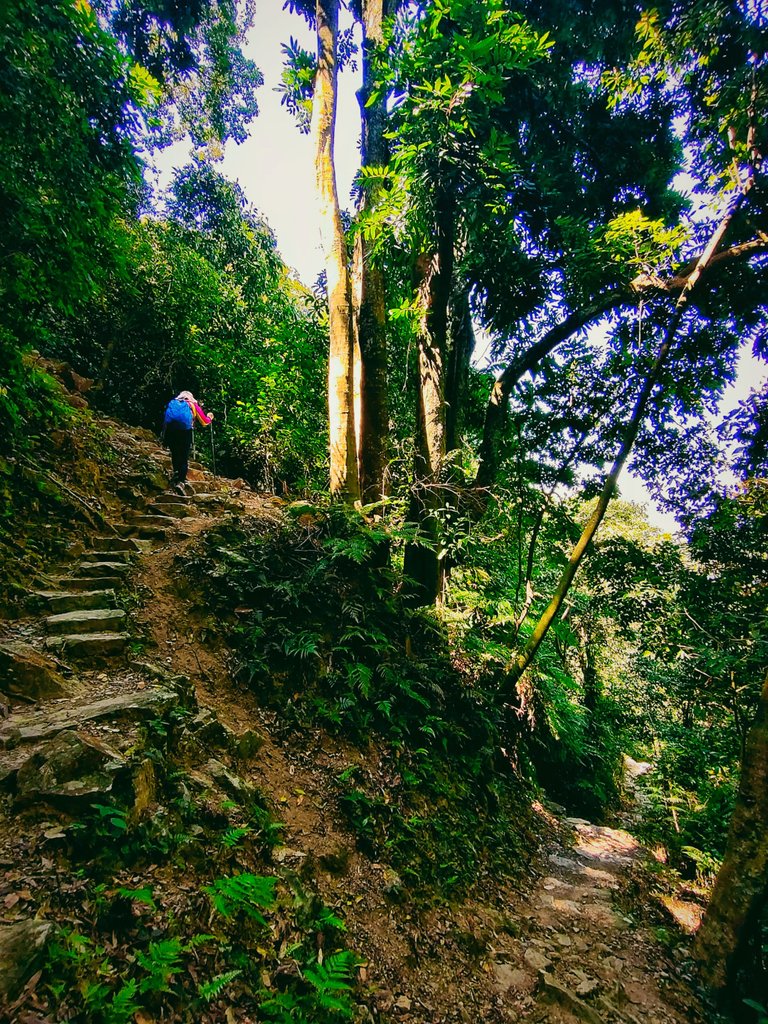 Can you trace the trail? Photo taken from above the steep slope.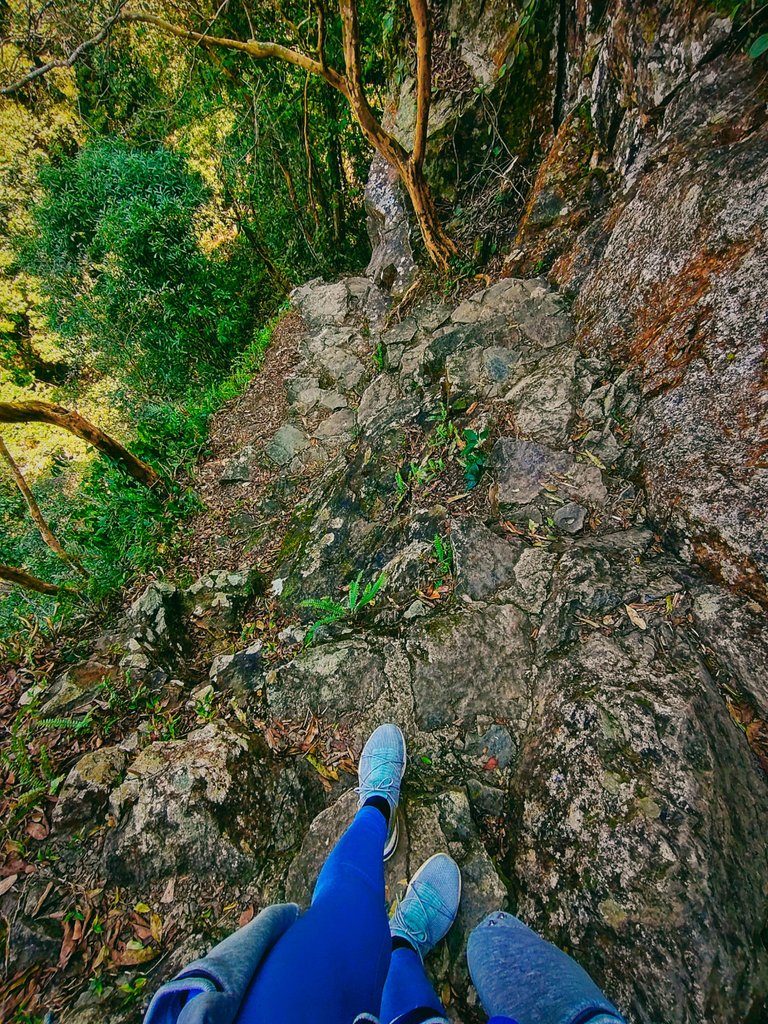 The old woman would stop at some point, and so was I.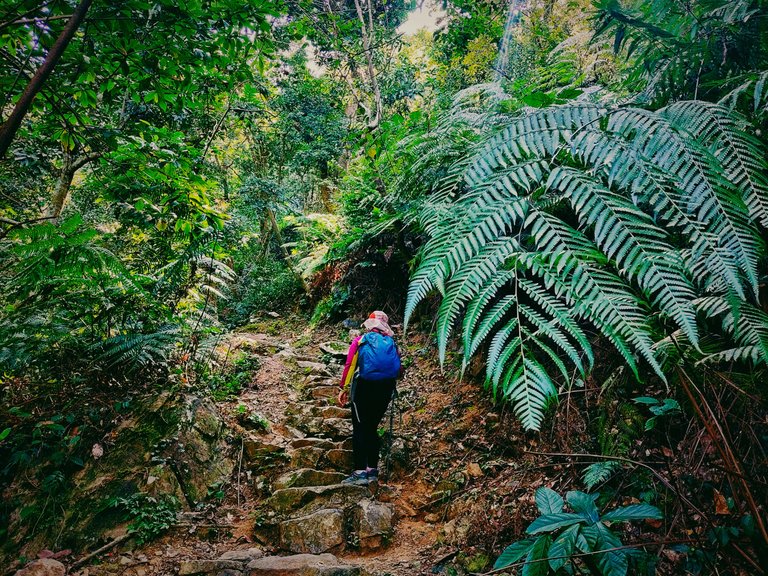 Finally! After almost half an hour from the middle fall, we reached the main fall!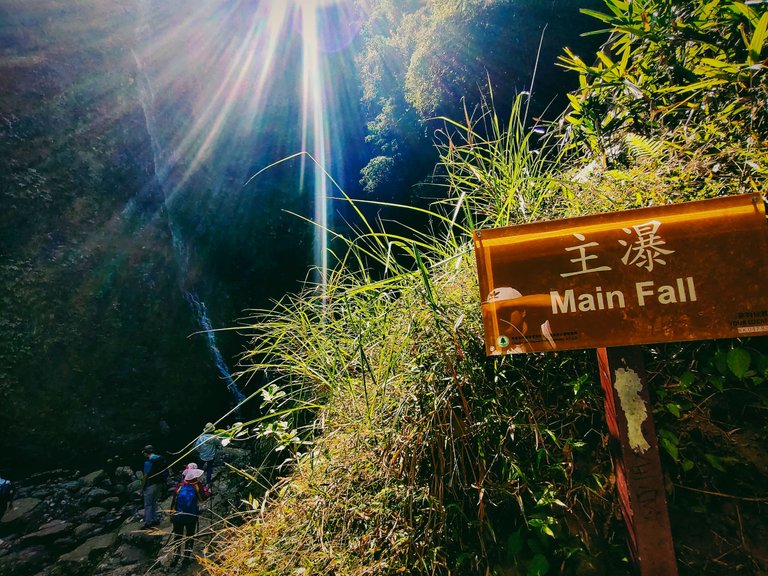 My journey to this fall was excruciating and I got pain in my legs due to the steep slopes, but it didn't meet my expectations. It wasn't as pretty as the middle and bottom fall. No wonder why hikers just pass by it and don't stay for long.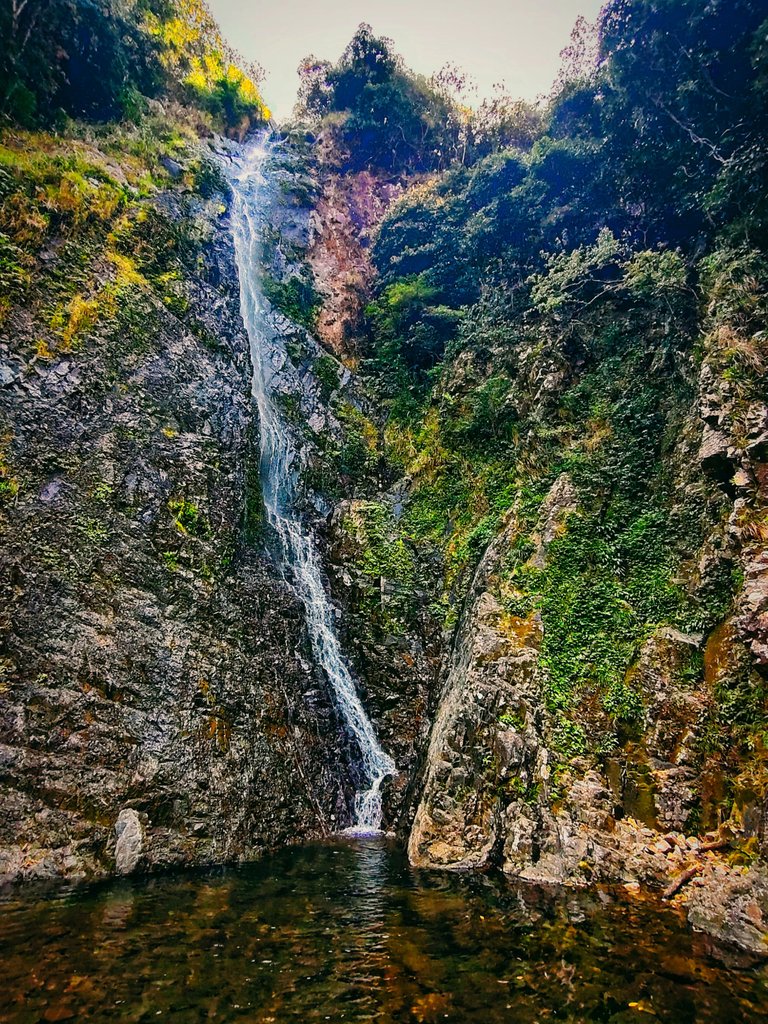 There was a resting place on the upper right side of the cliff. It served as a viewing deck of the waterfall. A few groups of hikers were going down from both routes at this point. Some stayed, and the rest continued.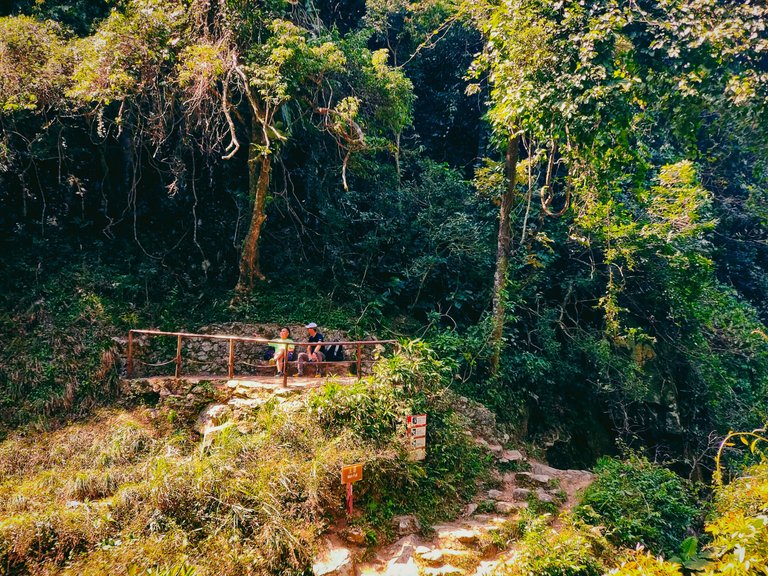 I thought the mother and son would continue their hike so I waited for a while. Unfortunately, they were only after seeing the waterfalls as they stayed at this point.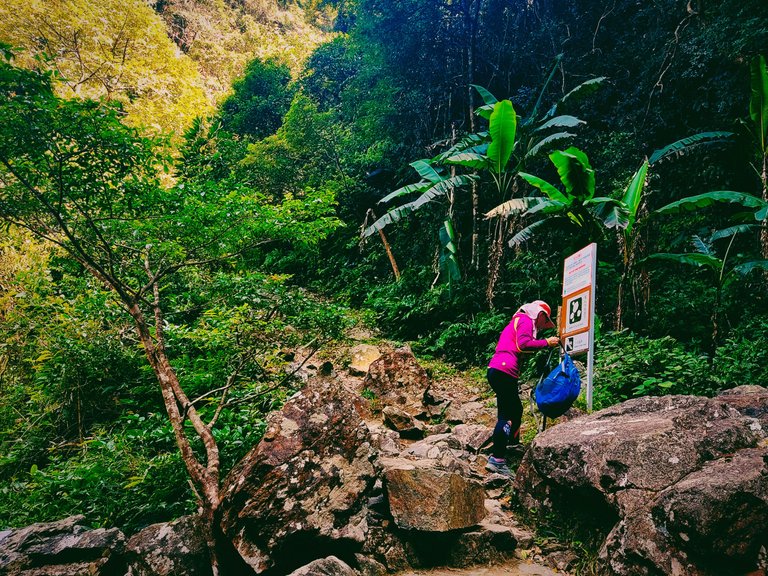 If I had known, I should have followed the other hikers like the French family who climbed up first. It left me with no choice but to continue the trail alone again. And it was time to grab my apple as I felt like I would pass out at any time, lol. Who would bring a salad for lunch when hiking? Glad I bought some apples and choco bars that I could munch along the trail.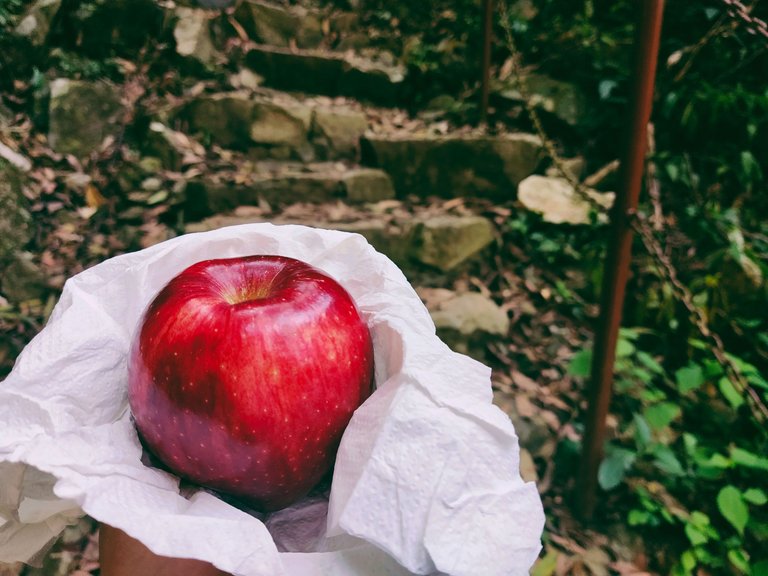 And here comes another set of challenging rocky steps. A never-ending one! Surprisingly, from this point, I saw several banana trees which I seldom see in any part of Hong Kong. Another cave was spotted, and this time, it was deeper compared to the first one. What could it be? I truly have no idea. Something that only Tai Mo Shan knows.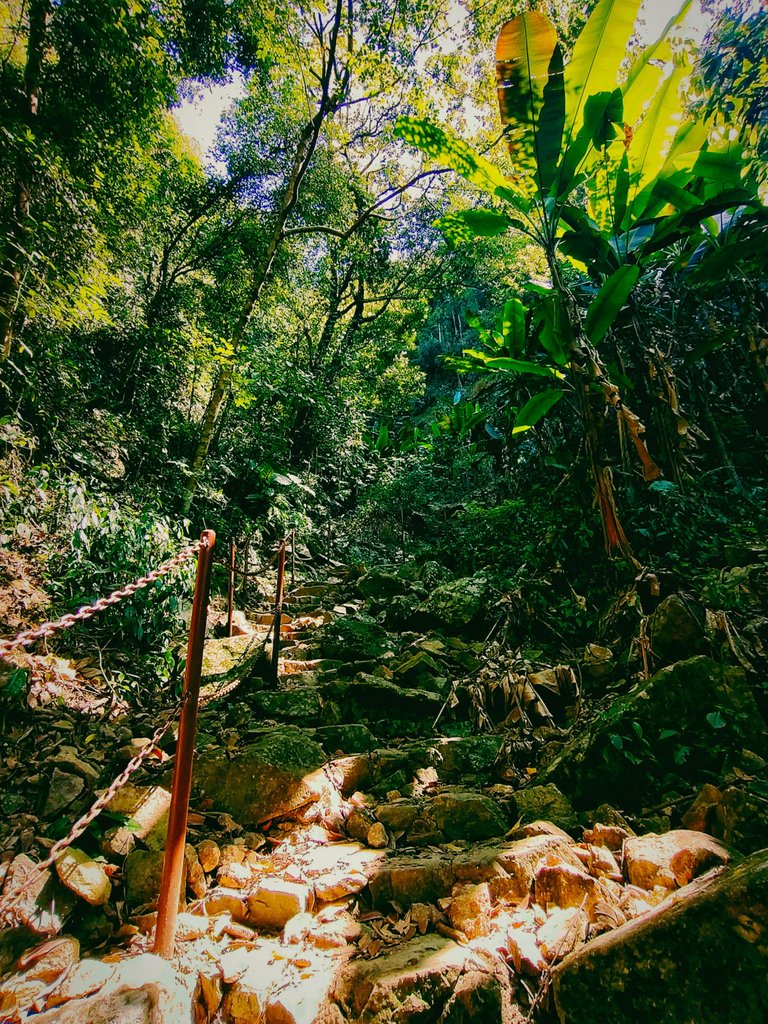 ---
Scatter Fall
When I thought the main fall was the end, I unexpectedly saw, yet another fall that was more or less five minutes away from the main fall. It's the Scatter Fall. There were a few hikers again and I thought I could have new companions. Unfortunately, just like the mother and son, they were only after the waterfalls. Some came from the opposite route and they were on their way down the point where I started.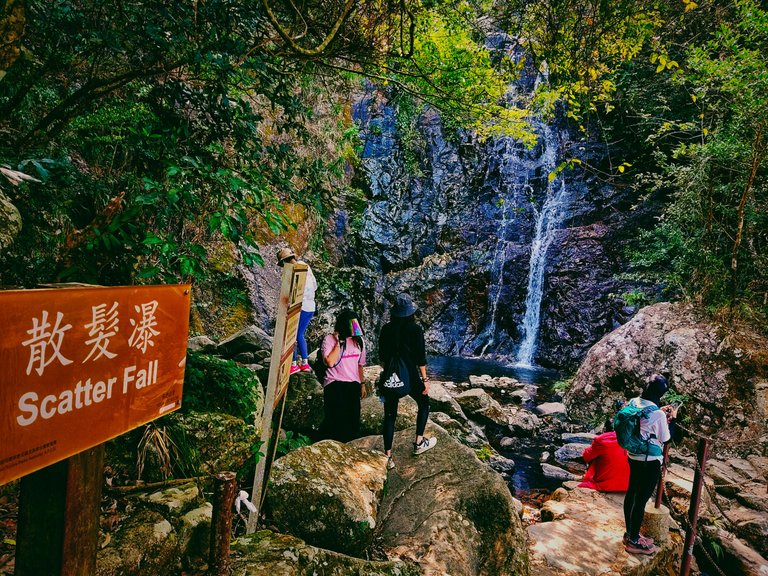 And from the name itself, the water is scattered.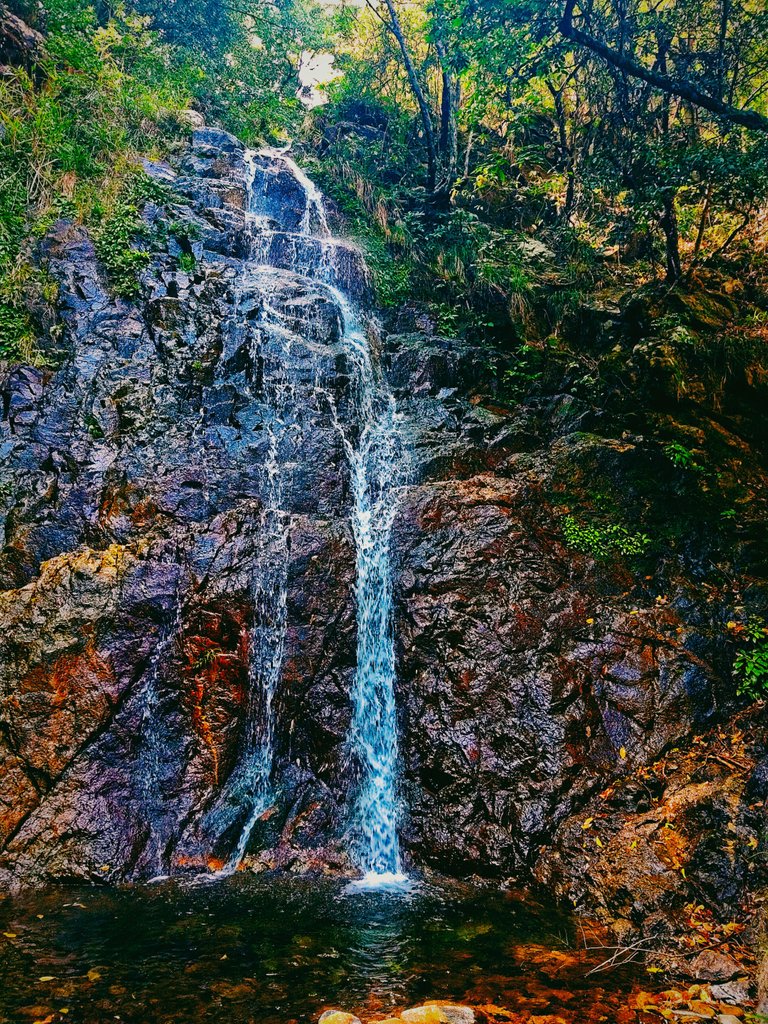 I sat by the cliff beyond the string fence to finish my apple. It offered a scenic view of another city or town in the New Territories.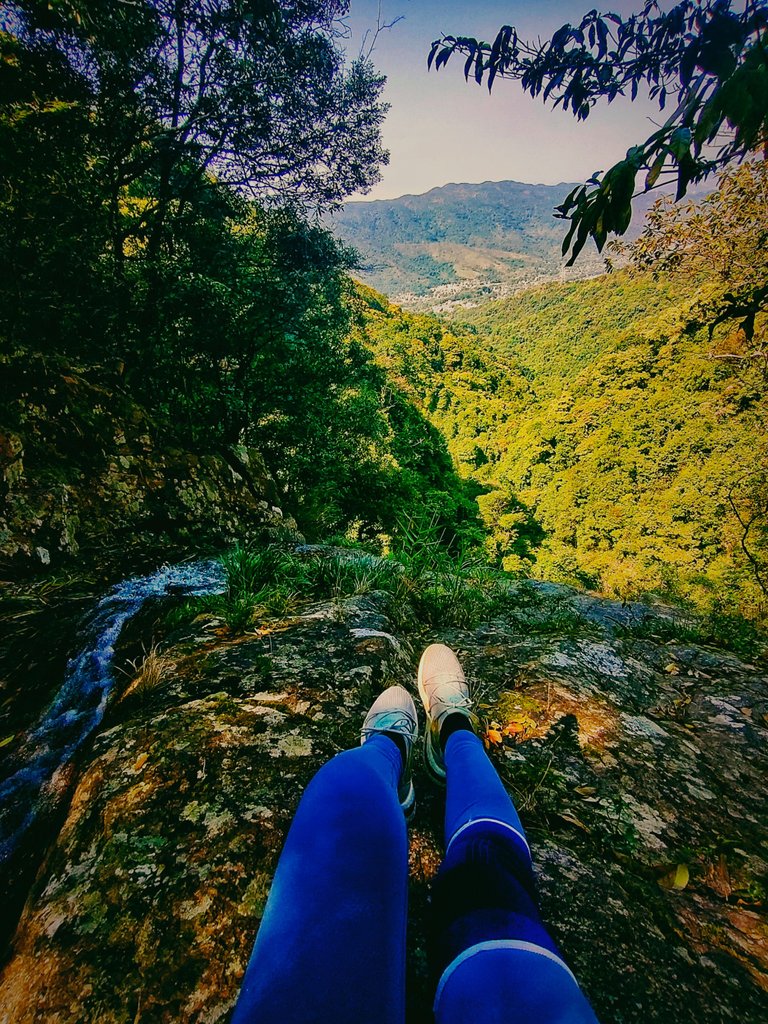 I get accustomed to being alone on the trail, but what concerned me was the time. It was already two in the afternoon and I was yet to reach the summit. I had no idea either about how long I still needed to climb. I pass through, yet another seemingly endless steep rocky stairway that got my legs' muscles a little cramped. I'm really getting old, lol.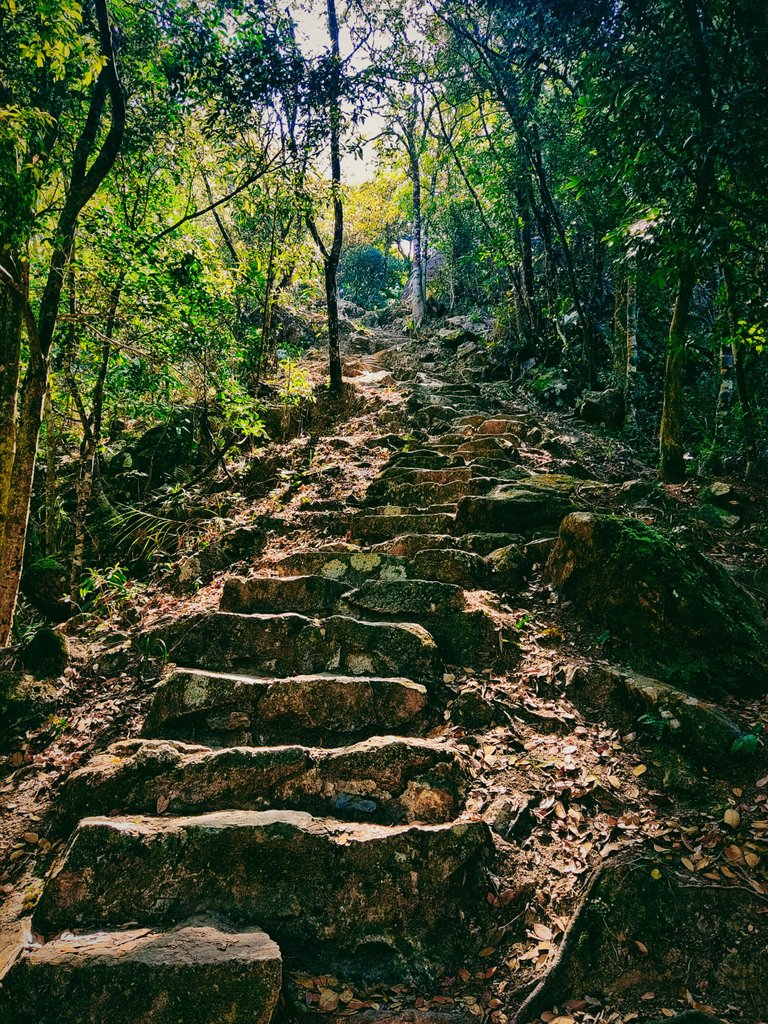 I finally saw a signboard that only tells about the danger. I got more concerned when I read the part, "No access beyond this point." I was like, "are you kidding me? What exactly does this mean?"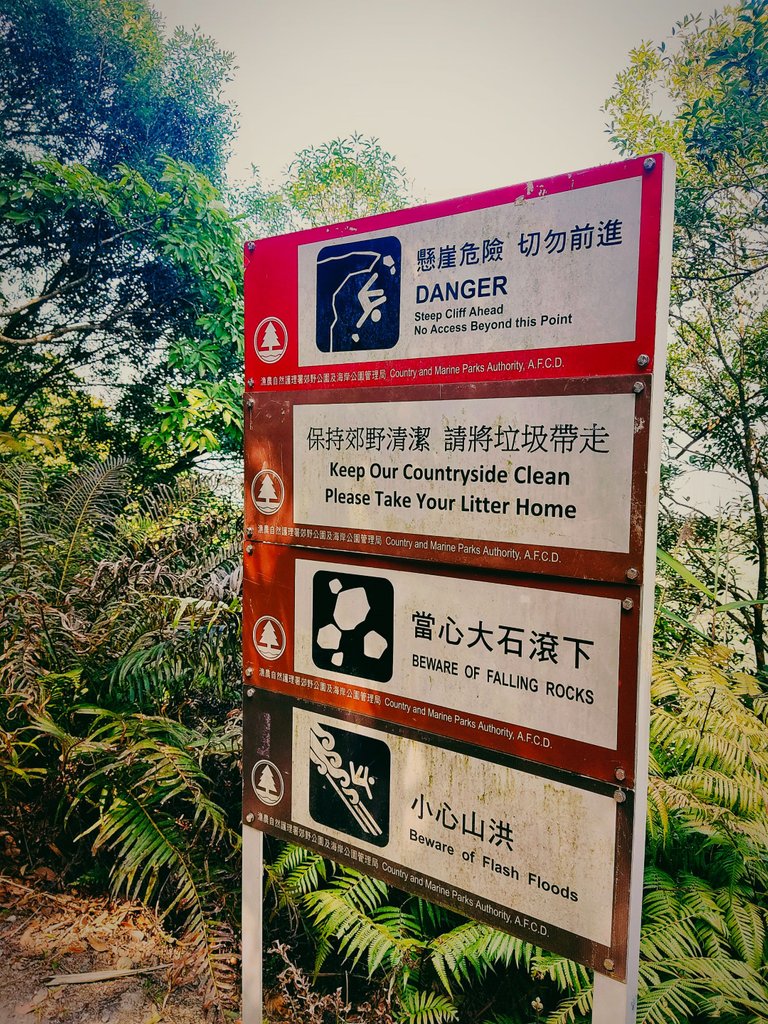 It was proven when I reached another higher part of the cliff and saw this intersection that glued me to my spot. "I'm dead!" I thought. There was no sign showing the direction to the summit. Left or right? "Where exactly is the way to the summit?"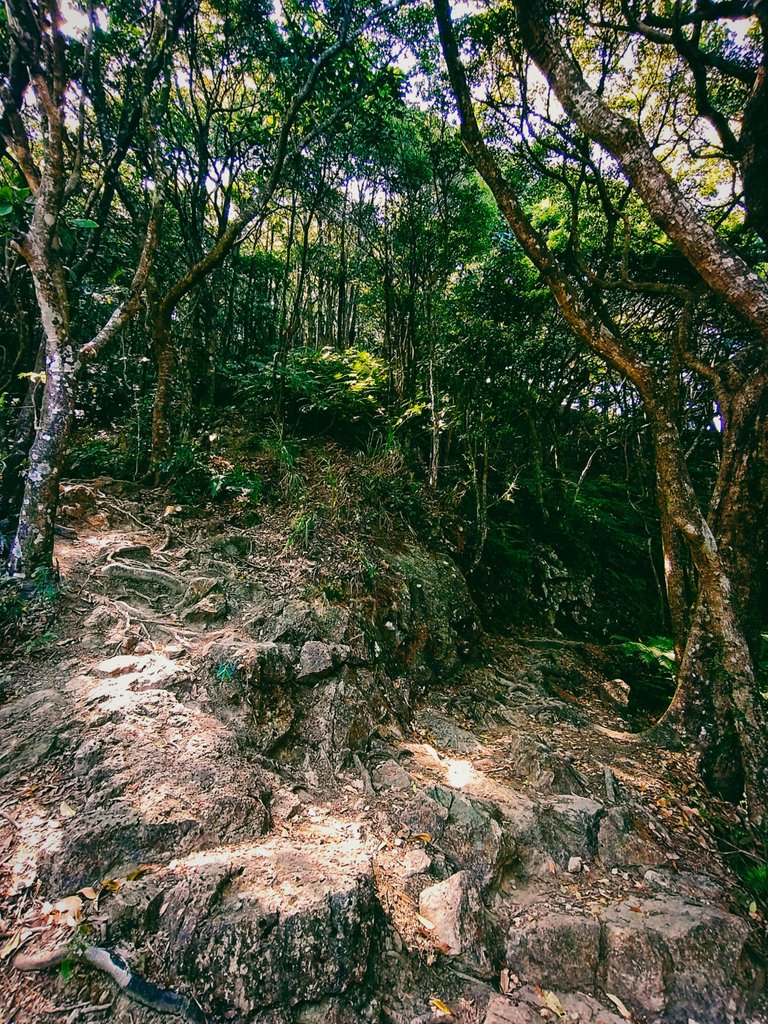 I felt hopeless and bewildered about which path to follow because if I choose the wrong one, I might end up on another trail, or get lost in the jungle. I tried to think of a solution and thought about Google Maps but to no avail. There was no internet connection on this side and my phone was just useless! I can't even read the article guide.
The time was running. But I didn't want to retreat!
---
I must conclude this post here because it is pretty lengthy (which I wrote for a few days, lol) as I truly want my readers to feel my real hiking experience. It's a travel blog anyway, not photography.
Now if you reach this far, I have a little giveaway for you. This will be the first and might happen from this day onwards. Probably every weekend? Let's see. 1 HIVE and 100 POINTS each will go to the first two readers who could give the correct answers to my questions below. If there is none, I would consider the closest answers.
Which path do you think I followed, left or right?

What time do you think I reached the highest peak?
You might consider reading my exploration of the derelict compound that I spotted below the ridge on my way to the summit. It could give you a hint of the possible time I reached the summit.
Then comment down your answer below. You can reblog this and share it with your friends as well if you want to 😊.
Thanks for stopping by. See you on my final journey. You would definitely love the finale!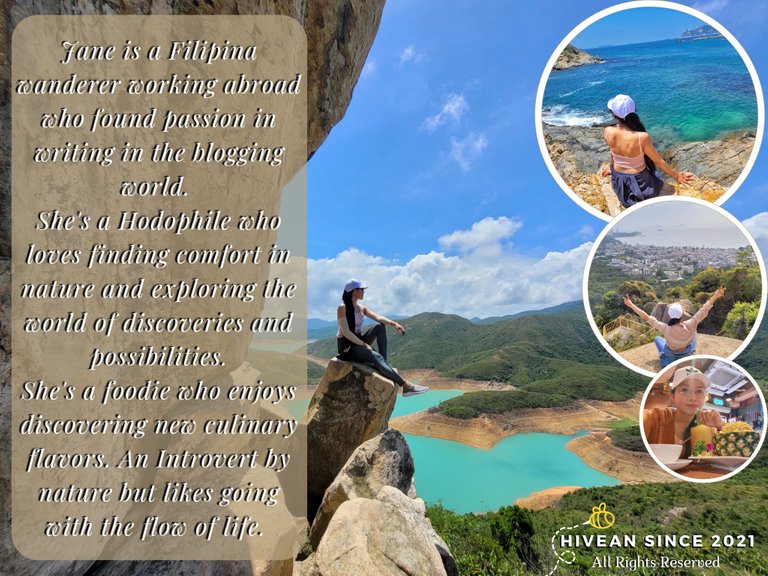 Join her on her quest for self-discovery and wanderlust. If you like her content, don't hesitate to upvote, drop a comment, reblog, and follow for more wonderful adventures.
---
You can also reach me on my socials and let's be connected:
---
---