Sunset from Havana's floating pier [ES-EN]
Hola Hola!! Hace unas semanas estuve por esta zona, que los habaneros llamamos el ¨Muelle flotante¨ , pues efectivamente es un muelle y flota 😂, así de creativos, nos ponemos a veces 😅.
Este paseo Marítimo, flota justo en la Bahía de La Habana, a un costado del Muelle de Luz (o "la lanchita de Regla", si a todo le cambiamos los nombres!)
Pues aunque estuvimos desde cerca de las 3:00 pm, es normal que durante una sesión de fotos el tiempo se estire como un chicle y nos tomen altas horas de la noche. Ya cerca del crepúsculo, había terminado con los chicos que retraté y que próximamente les traeré, y antes de irme, pues ya mi esposo me esperaba para llevarme para la casa, tomé algunas fotos de los alrededores, sobre todo queriendo resaltar el increíble cielo que se veía, las luces de la ciudad y las siluetas de la arquitectura de la zona.
Hello! A few weeks ago I was in this area, which the locals call the ¨floating pier¨, because it is indeed a pier and it floats 😂 that's how creative we get sometimes. 😅
This promenade floats right in the Bay of Havana, next to the "Muelle de Luz" /Pier of light (or as we call it: "la lanchita de Regla"/ Regla's little boat , yes, we change the names of everything!)
Although we were there from about 3:00 pm, it is normal that during a photo shoot the time stretches like a chewing gum and we are taken late at night.
Before I left, because my husband was already waiting to take me home, I took some pictures of the surroundings, especially wanting to highlight the incredible sky, the lights of the city and the silhouettes of the architecture of the area.
Antes de llegar a las imágenes de cielos impresionantes, quisiera detenerme en esta foto:
Before I get to the images of awesome skies, I'd like to just dwell on this photo: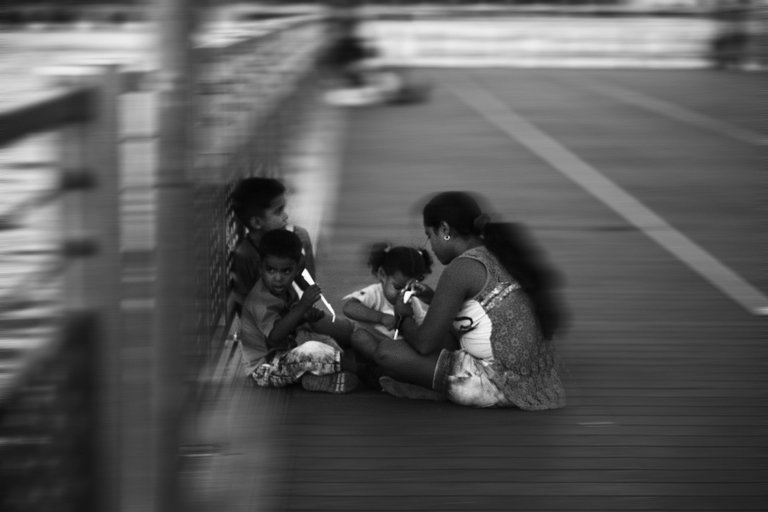 Esta imagen la tomé, casi de carrerilla, pero no me llamó la atención por los colores que tenía, que era muy bonitos, y que de hecho eliminé a propósito, para quedarme solo con estas personitas, 3 niños y su muy joven madre, sentados en el muelle, comiendo lo que conocemos como "cucuruchos de maní". Para los que no saben mucho de Cuba, este cucurucho hace un tiempo atrás unos 3 años, costaba apenas 1 cup, unos 4 centavos de dólar y contenía unos 12 o 15 granos de maní. La última vez que supe de su precio durante este 2022, costaba 10 cup y traía menos de 10 granos dentro. ¿Qué quiero decir con esto? Pues no es una reflexión para ponernos a llorar 😞, sino pienso en la fortaleza de esa madre con sus tres pequeños, que a pesar del altísimo costo que tiene cualquier cosa en este país con salarios bajísimos, ella saca su tiempo, su esfuerzo, ganas y algo de dinero para sacar a pasear a sus niños, para que conozcan el mar de cerca y se llenen de experiencias. Reflexiono en las cosas que hacen nuestras madres por nosotros, y los que son madres y padres, por sus hijos...
I took this picture, almost on the run, but it did not catch my attention because of the colors it had, which were very pretty, and in fact I purposely eliminated it, to stay only with these little people, 3 children and their very young mother, sitting on the dock, eating what we know as "peanut cones". For those who don't know much about Cuba, this "cucurucho" about 3 years ago, cost only 1 cup, about 4 cents and contained about 12 or 15 peanut grains. The last time I heard about its price during this 2022, it cost 10 cup and had less than 10 grains inside. What do I mean by this? Well, it is not a reflection to start crying, but I think of the strength of that mother with her three little ones, that despite the high cost of anything in this country with very low salaries, she takes her time, effort, desire and some money to take her children for a walk, so that they can know the sea closely and be filled with experiences. I think of the things that our mothers do for us, and those who are mothers and fathers, for their children...
Ahora les propongo este grupo de fotos para alegrar el alma y sentirnos agradecidos por poder ver un día más, lleno de colores.
Now I propose this group of photos to cheer our souls and make us feel grateful for being able to see one more day, full of colors.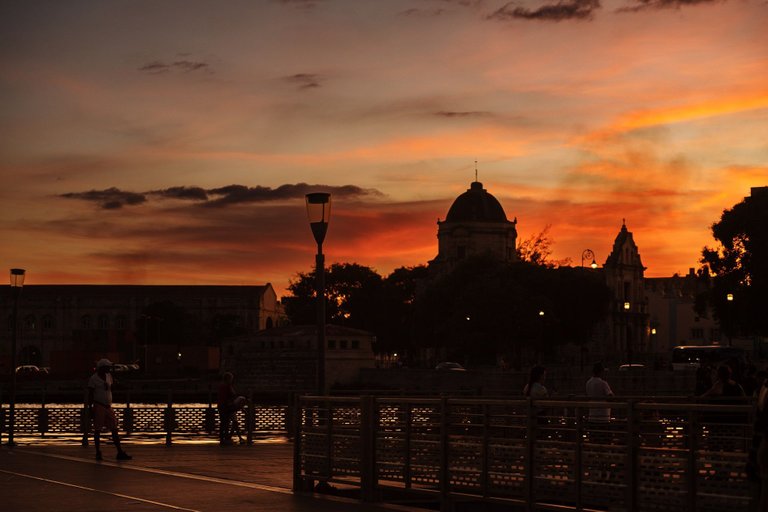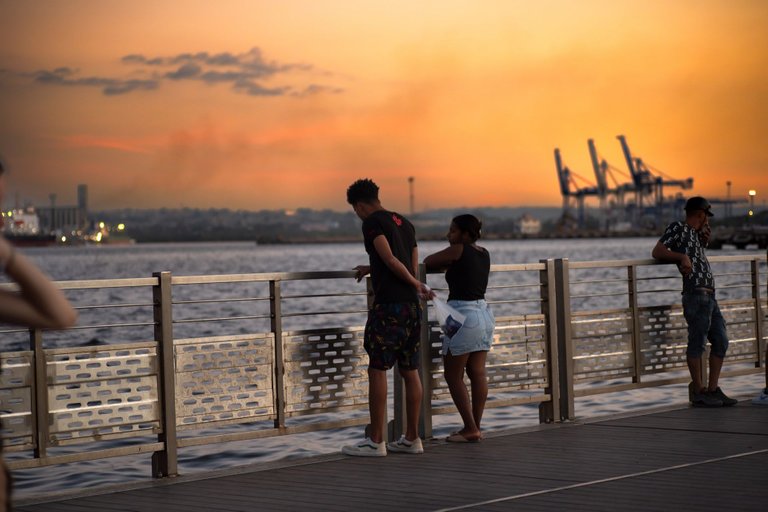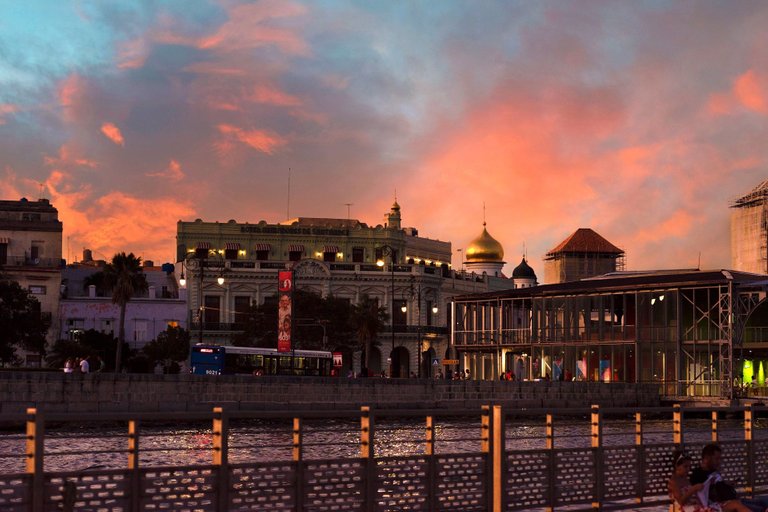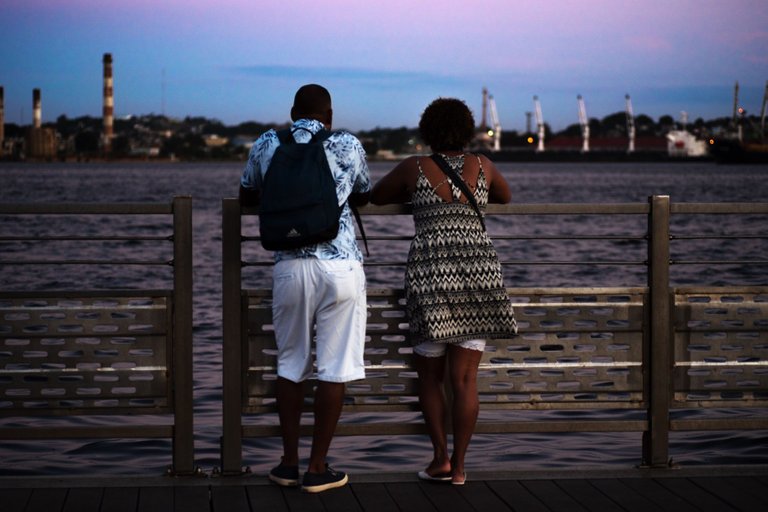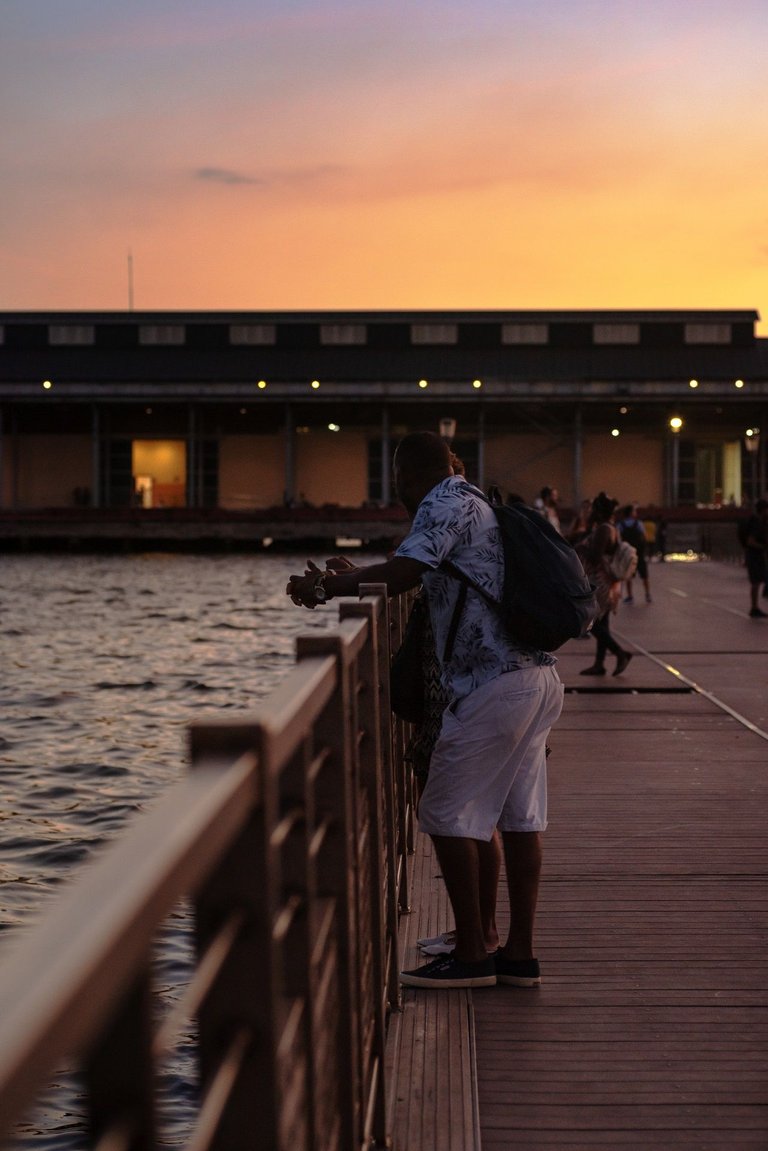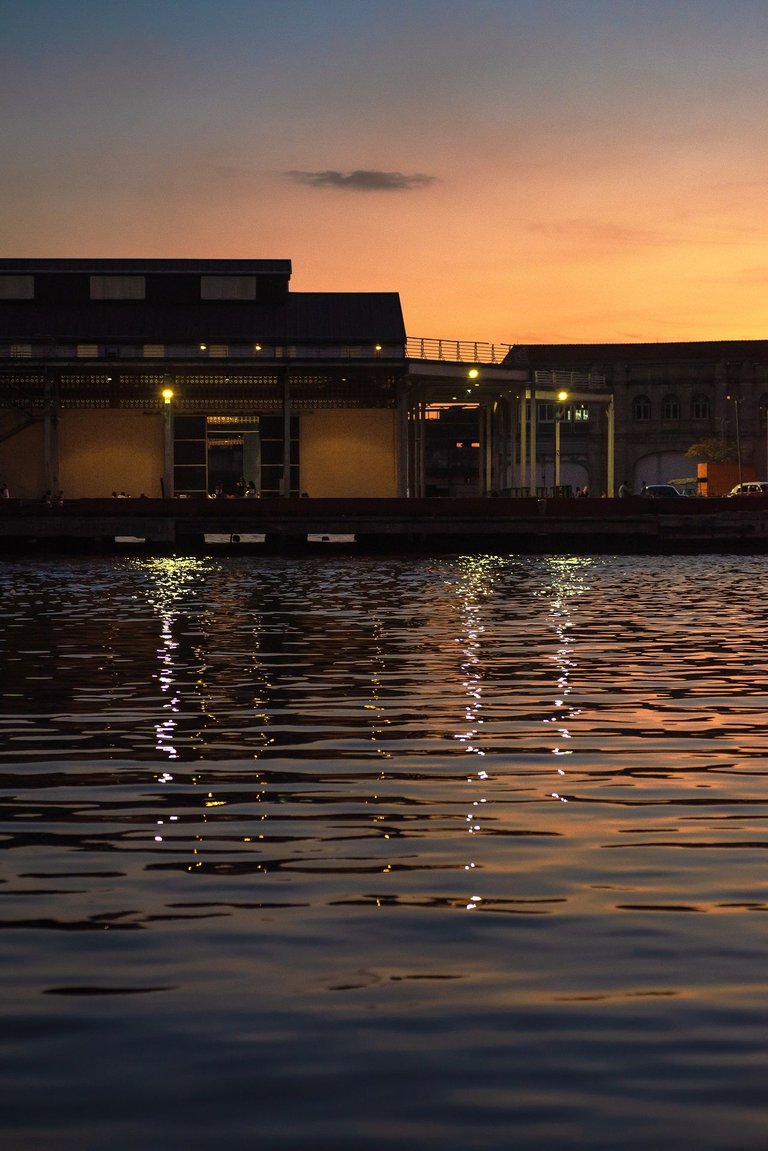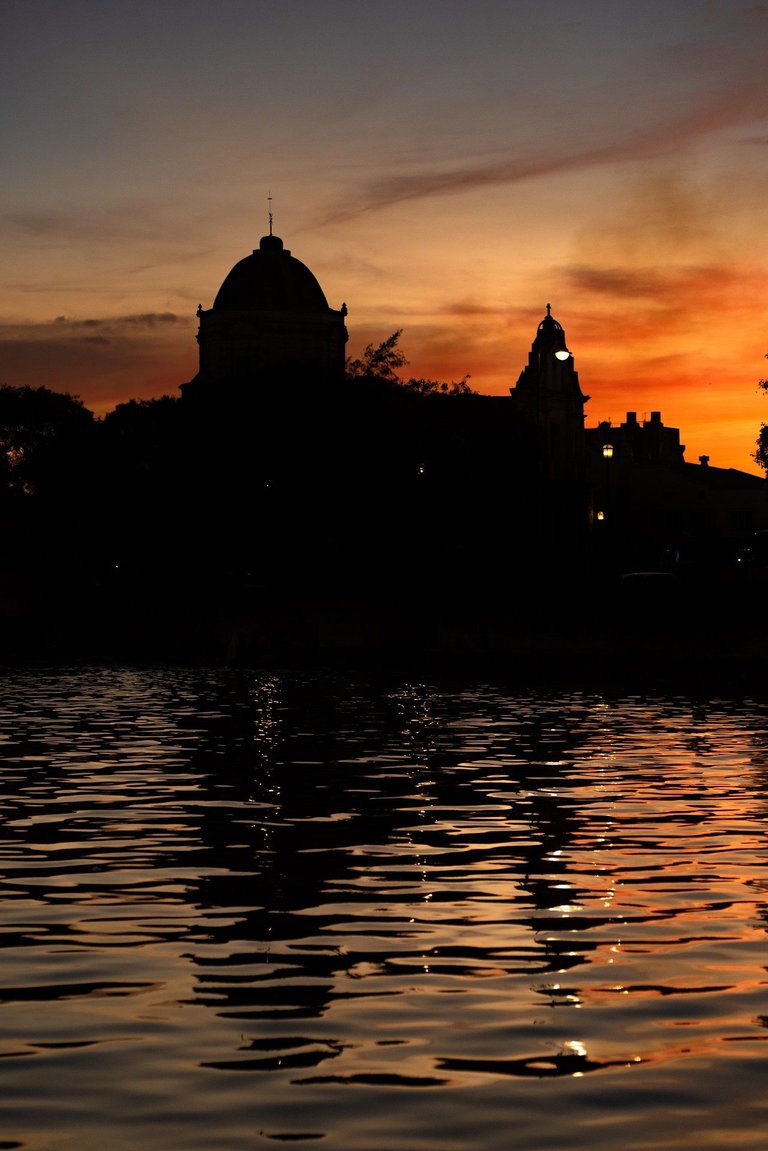 - Nikon d750
-TAMRON SP AF 90mm F2.8 Di Macro 1:1 272NII
-Wacom Intuos pro Pen Tablet
-Asus PC
-Adobe Photoshop CC 2022
-Translated in: Traductor DeepL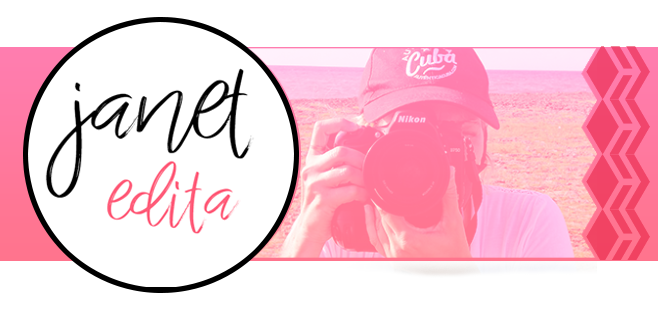 |
MIS REDES SOCIALES
INSTAGRAM ♦️ TWITTER ♦️ LINKEDIN

Apoyo a la comunidad @hivecuba😍

Apoyo a la comunidad @aliento😍
---
---