Casa Tomada: Exposición en el Museo Nacional de Arte Decorativo [ESP-ENG]
---
El pasado Sabado mi hija me llevó a disfrutar de la exposición del Artista Gaspar Libedinsky en el Museo Nacional de Arte Decorativo, cuyo nombre es " Casa Tomada".
Last Saturday my daughter took me to enjoy the exhibition of the Artist Gaspar Libedinsky at the National Museum of Decorative Art, whose name is "Casa Tomada"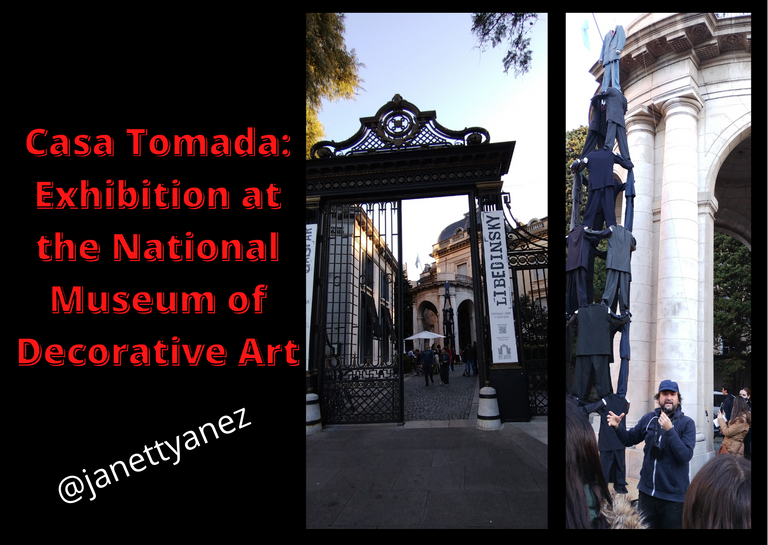 En el video que les muestro a continuación les realizo un recorrido por las diversas obras presentadas por este artista ubicadas estratégicamente en las instalaciones del Museo Nacional de Arte Decorativo.
---
Al iniciar el recorrido Gaspar Libedinsky explica el por qué le colocó el nombre a su exposición, "Casa Tomada", basándose en el hecho de haber utilizado las instalaciones del Museo para exponer su obra.
---
In the video that I show you below, I take you on a tour of the various works presented by this artist strategically located in the facilities of the National Museum of Decorative Art.
---
At the beginning of the tour, Gaspar Libedinsky explains why he gave his name to his exhibition, "Casa Tomada", based on the fact that he had used the Museum's facilities to exhibit his work.
---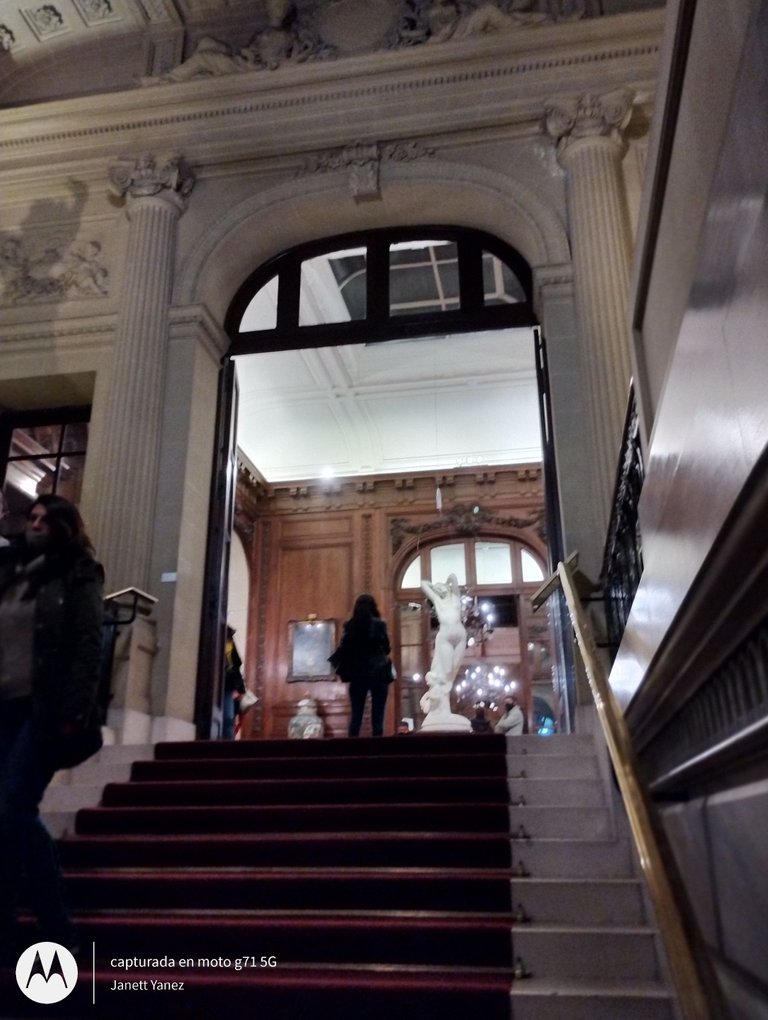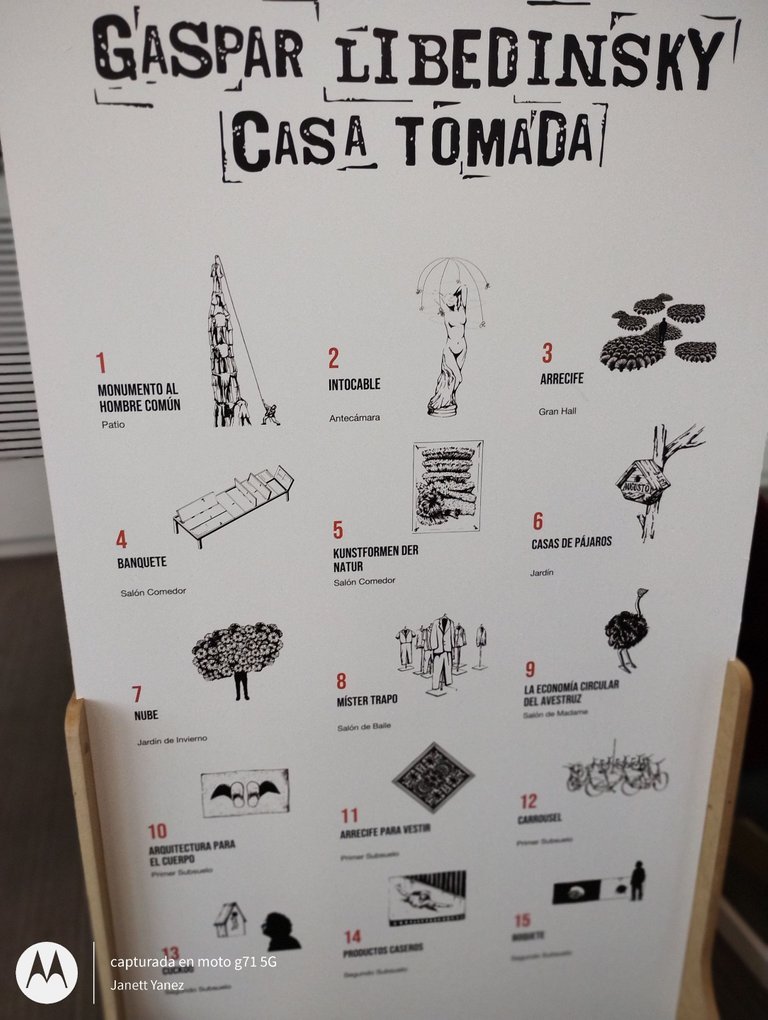 ---
La exposición consta de varias obras todas realizadas con materiales de la vida cotidiana, tales como escobillones, ropa usada, trapos de limpiar usados, cajones de verduras usados, bicicletas, entre otros.
The exhibition consists of several works, all made with materials from everyday life, such as brooms, used clothes, used cleaning rags, used vegetable crates, bicycles, among others.
---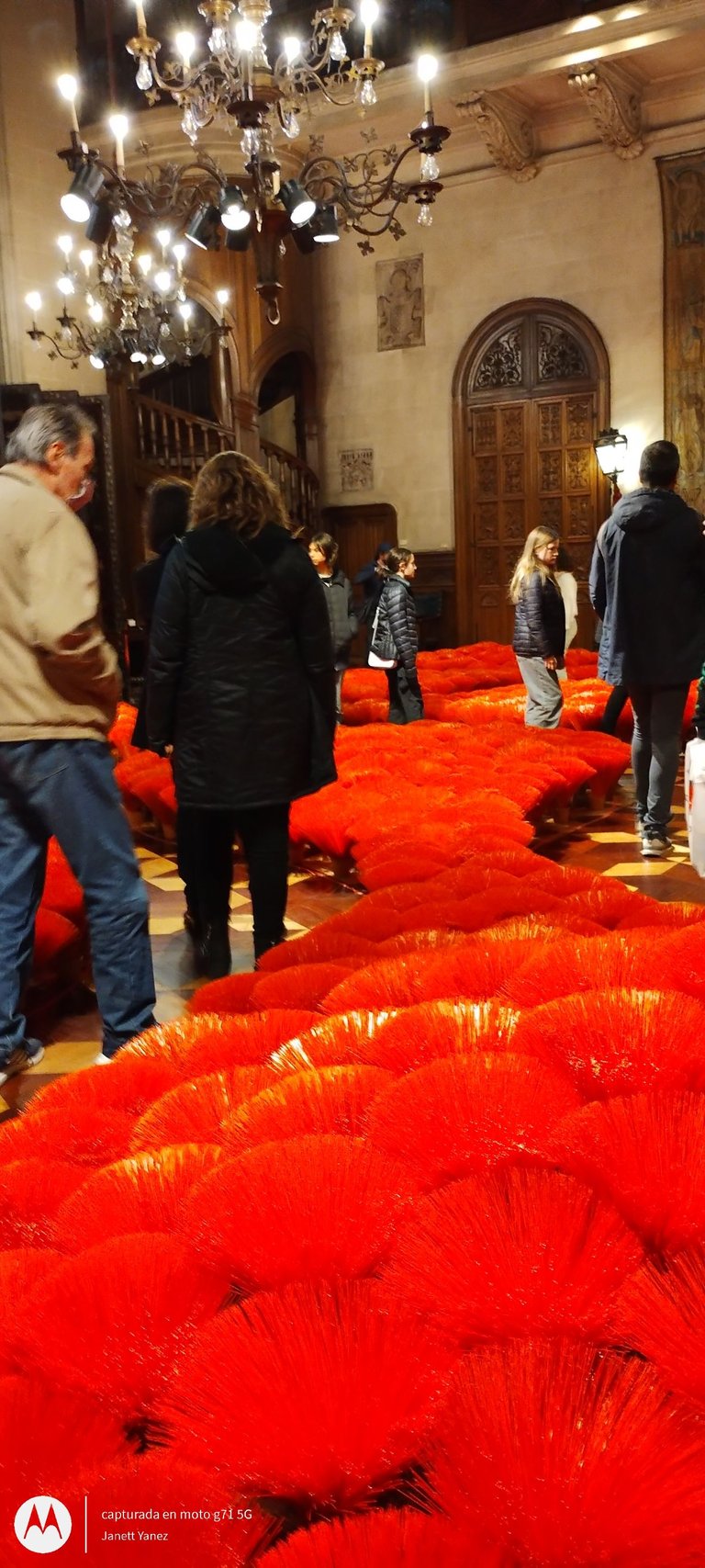 Arrecife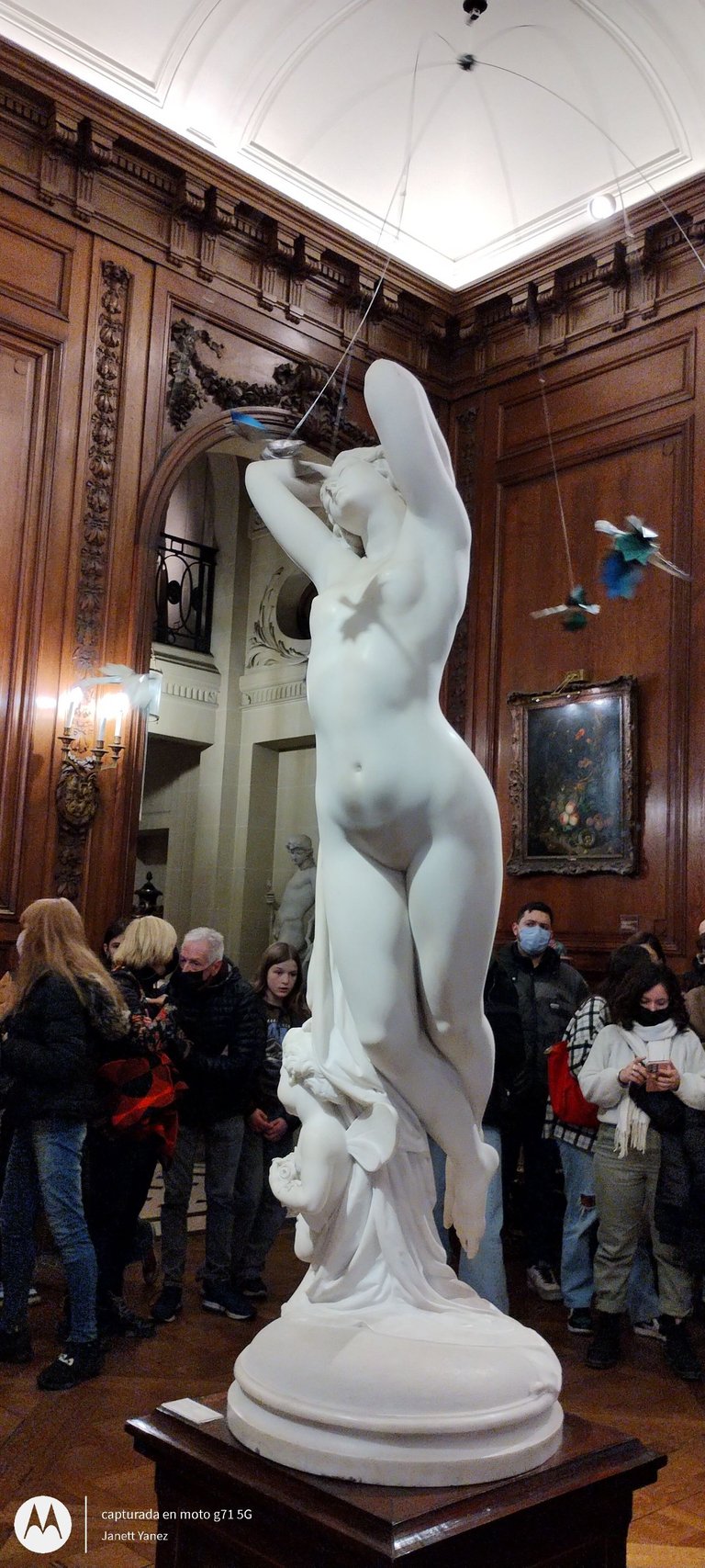 Intocable
---
Una de las mas llamativas es la de los avestruces, una obra realizada con plumeros, cuya distribución perfecta nos brinda las imágenes de un par de avestruces en tamaño real.
One of the most striking is that of the ostriches, a work made with dusters, whose perfect distribution gives us the images of a pair of ostriches in real size.
---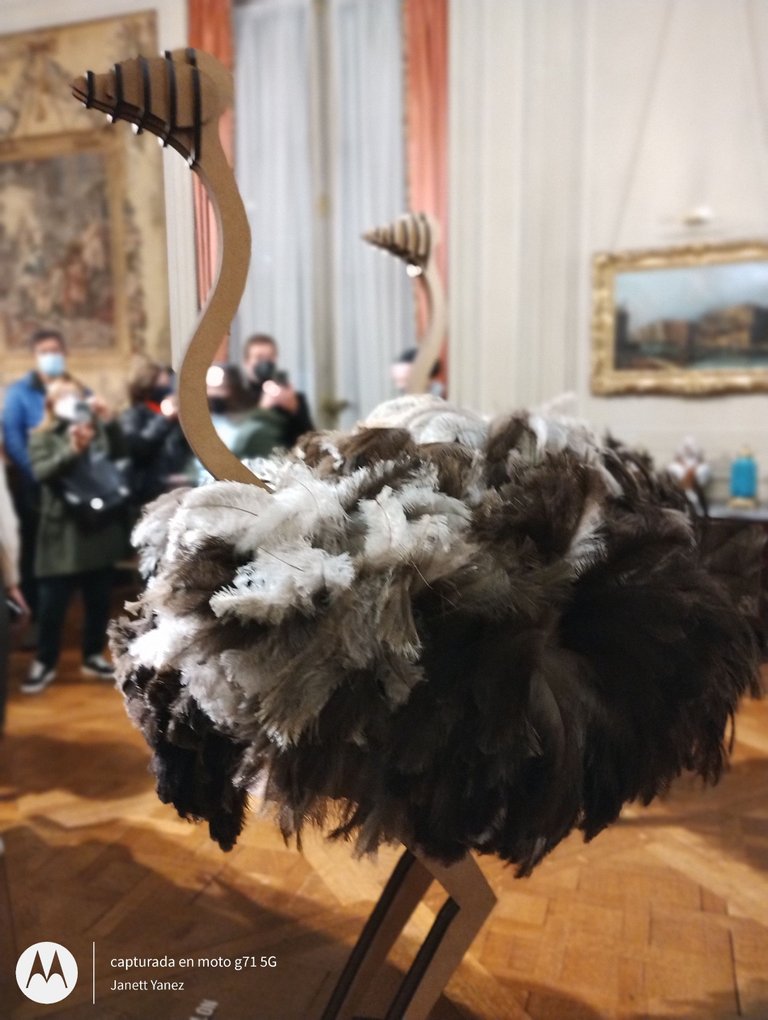 Avetruces
---
Otra de las obras de Gaspar Libedinsky es la Nube, realizado con 300 escobillones o cepillos que se utilizan para lavar las pocetas, en diversos colores, que cuelgan desde el techo del Museo formando una gran nube.
---
El Carrusel es una obra conformada con bicicletas usadas sincronizadas en un eje común que giran al compás del mismo formando un carrusel.
Another of Gaspar Libedinsky's works is the Cloud, made with 300 brooms or brushes that are used to wash the basins, in different colors, that hang from the ceiling of the Museum forming a large cloud.
---
The Carousel is a work made up of used bicycles synchronized on a common axis that rotate to the beat of the same forming a carousel.
---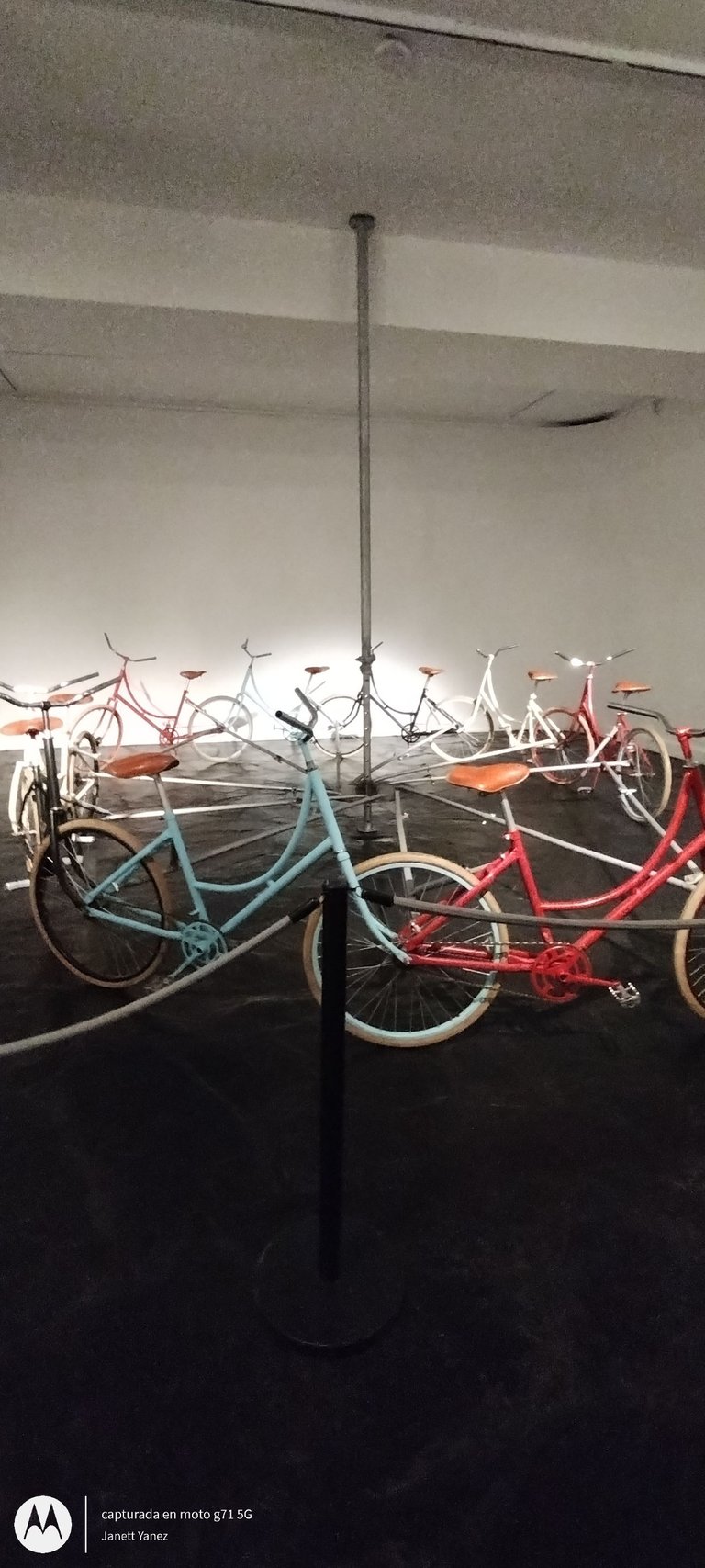 Carrusel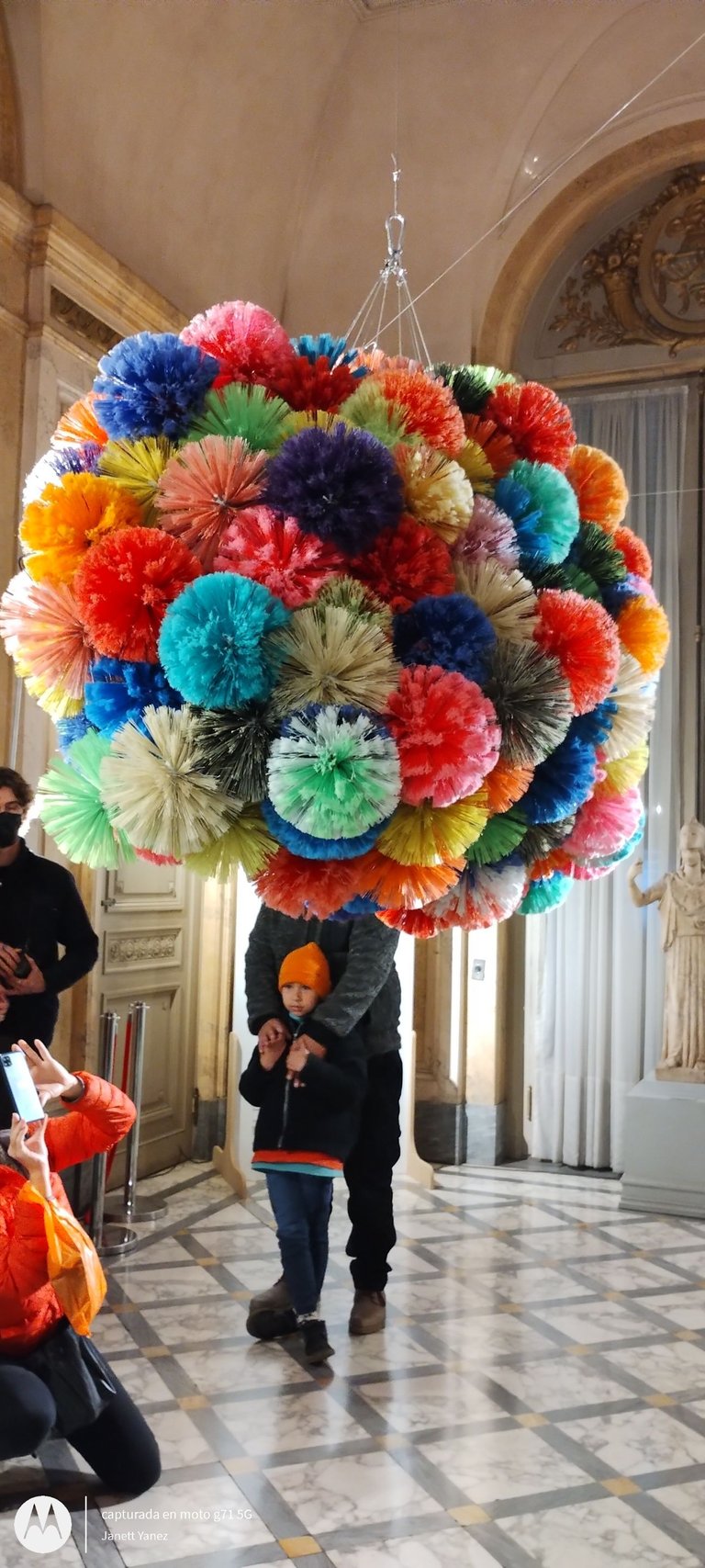 La Nube
El Banquete es una obra basada en la sustitución de la mesa principal de un comedor por una mesa elaborada por el artista, cuya particularidad es que está diseñada con puertas que pueden abrirse o cerrarse a voluntad.
---
La novedad o improvisación de esta obra es de poder obtener una separación entre los comensales si asi lo desean.
The Banquet is a work based on the substitution of the main dining room table for a table made by the artist, whose peculiarity is that it is designed with doors that can be opened or closed at will.
---
The novelty or improvisation of this work is to be able to obtain a separation between the diners if they so wish.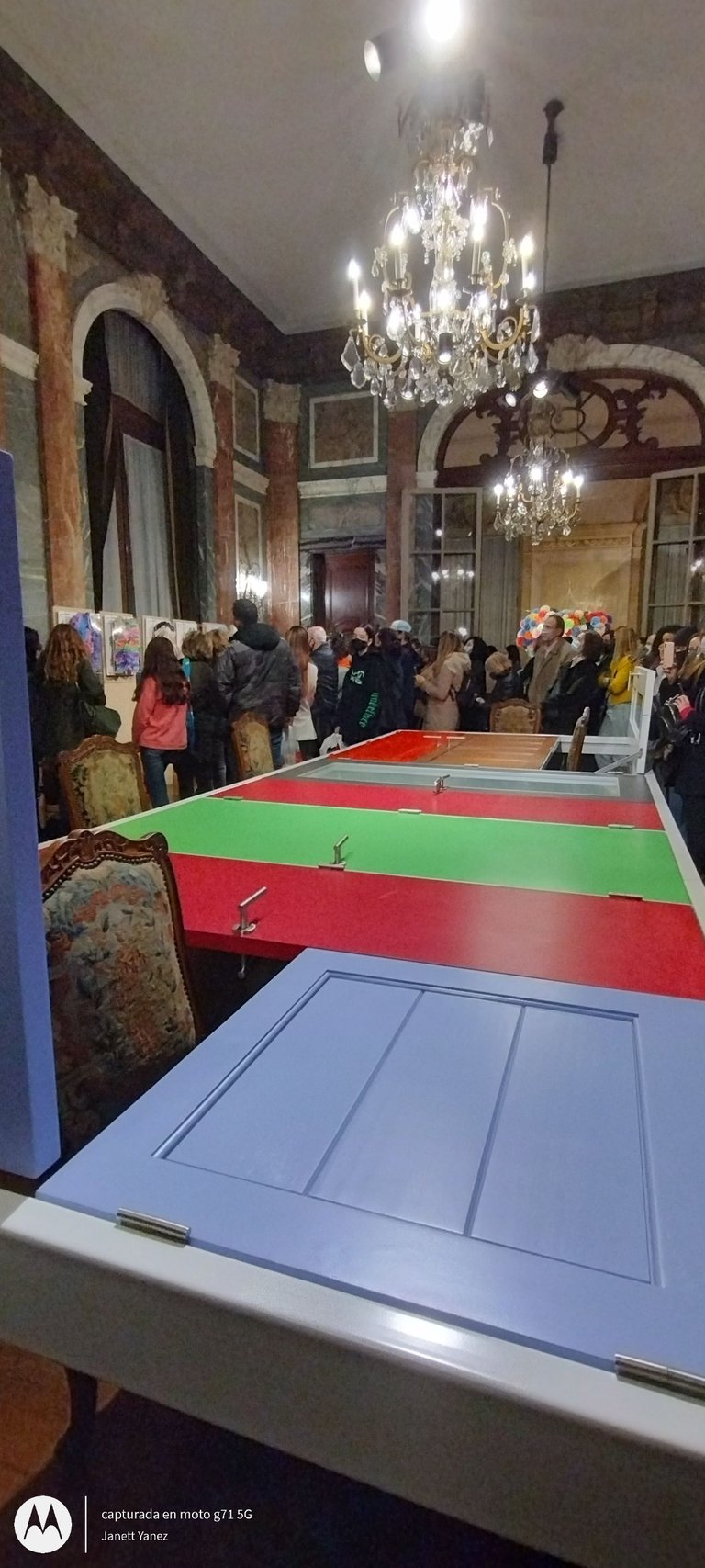 El Banquete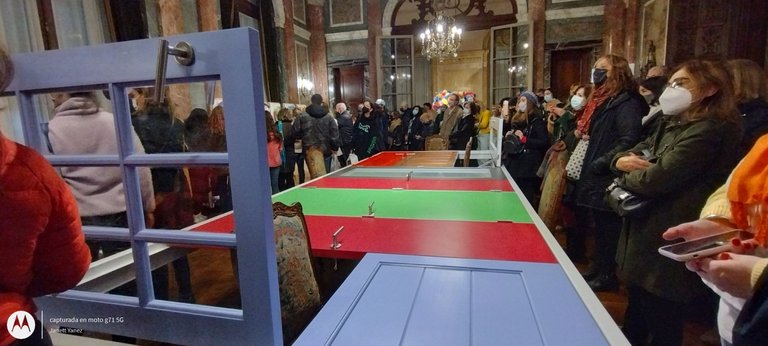 Mister trapo es una obra que consta de una colección de 12 prendas confeccionadas con trapos domésticos 100% de algodón hechos en Argentina, tales como: trapos para limpiar el piso, trapeadores, etc.
---
Los presenta colgados como piezas danzantes en el Salon de Baile del Museo.

Mister Rag is a work that consists of a collection of 12 garments made with 100% cotton domestic rags made in Argentina, such as: rags to clean the floor, mops, etc.
---
He presents them hanging as dancing pieces in the Ballroom of the Museum.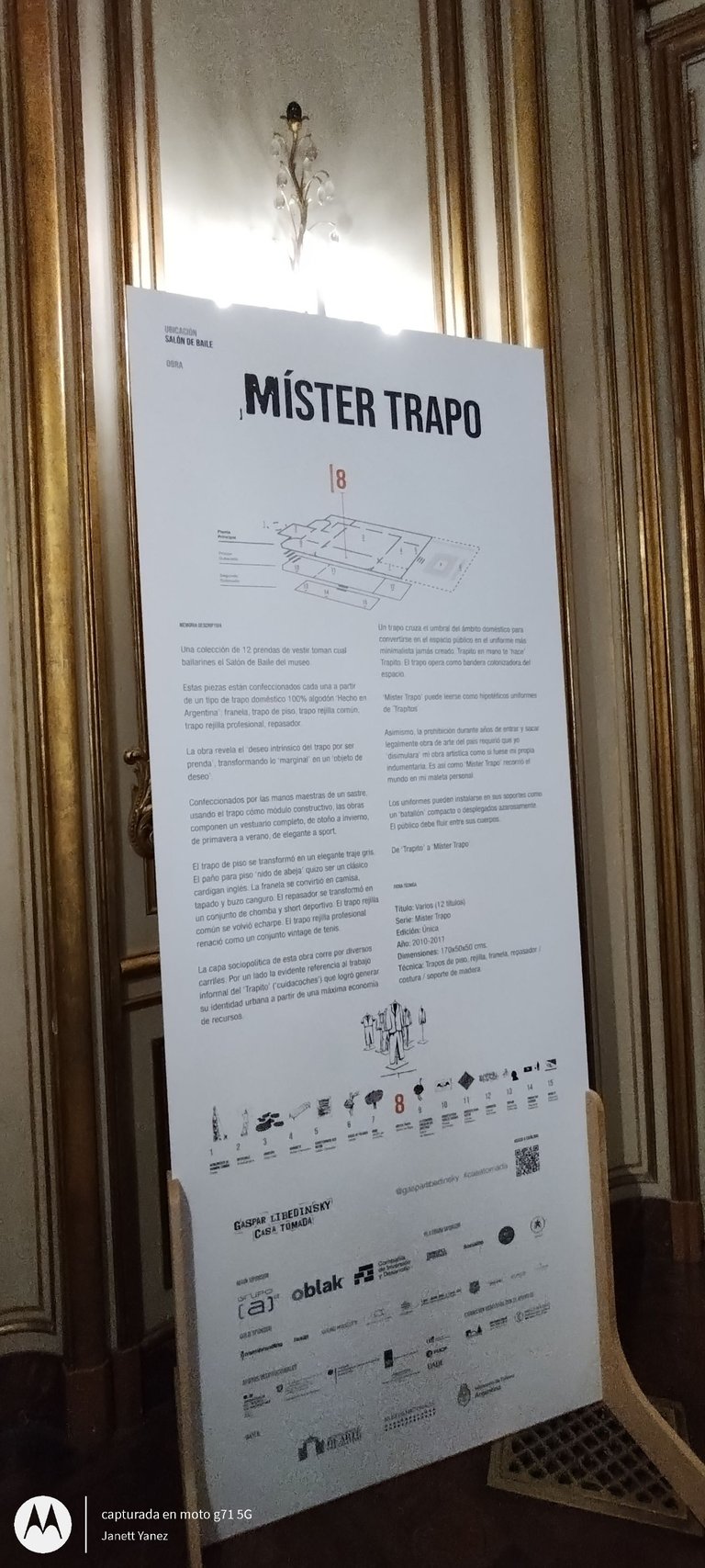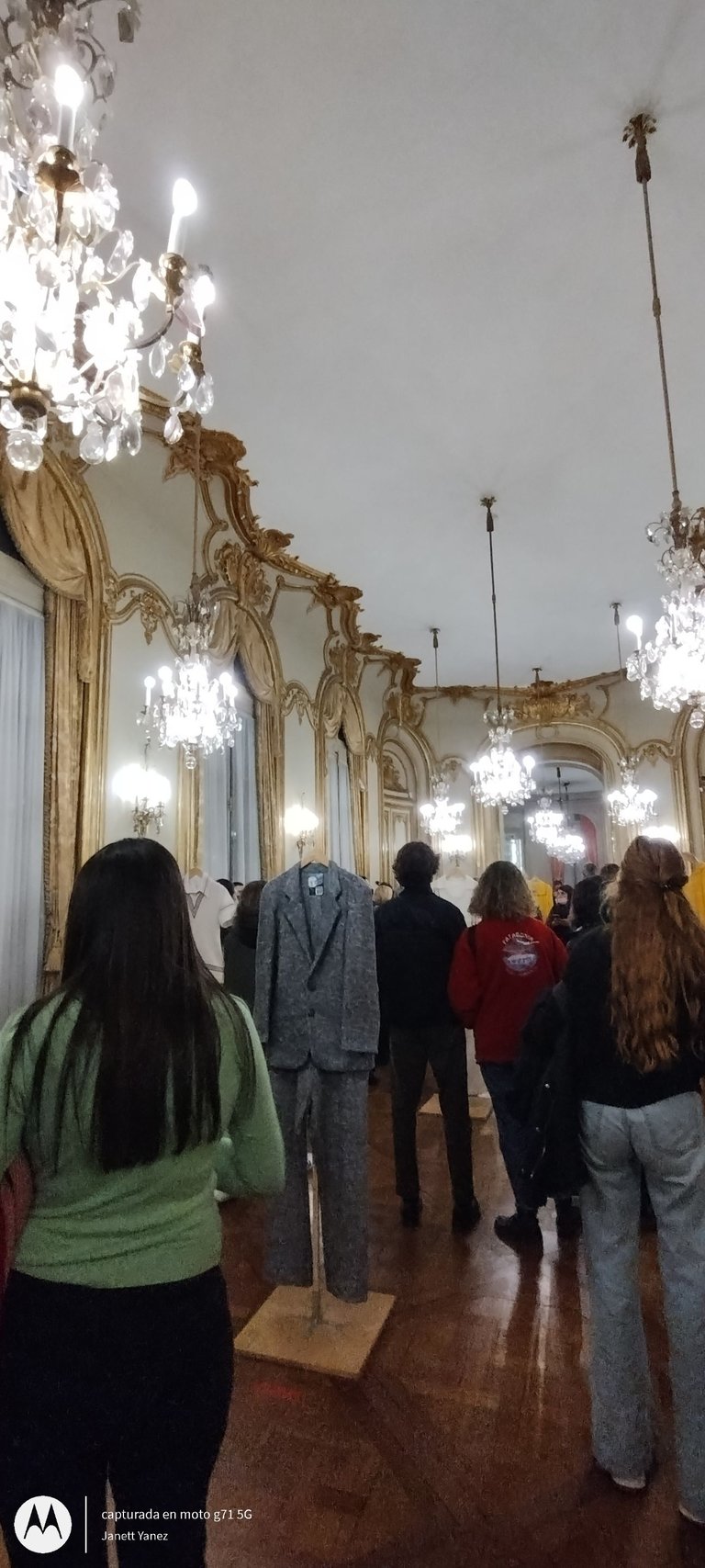 Kunstformen Der Natur es otra de obra del artista conformada por 12 piezas elaboradas basadas en el trabajo de Ernst Haeckel un naturista y filosofo, formadas por escobillones domésticos de diversos colores.
Kunstformen Der Natur is another of the artist's works made up of 12 elaborate pieces based on the work of Ernst Haeckel, a naturist and philosopher, made up of household brooms of various colors.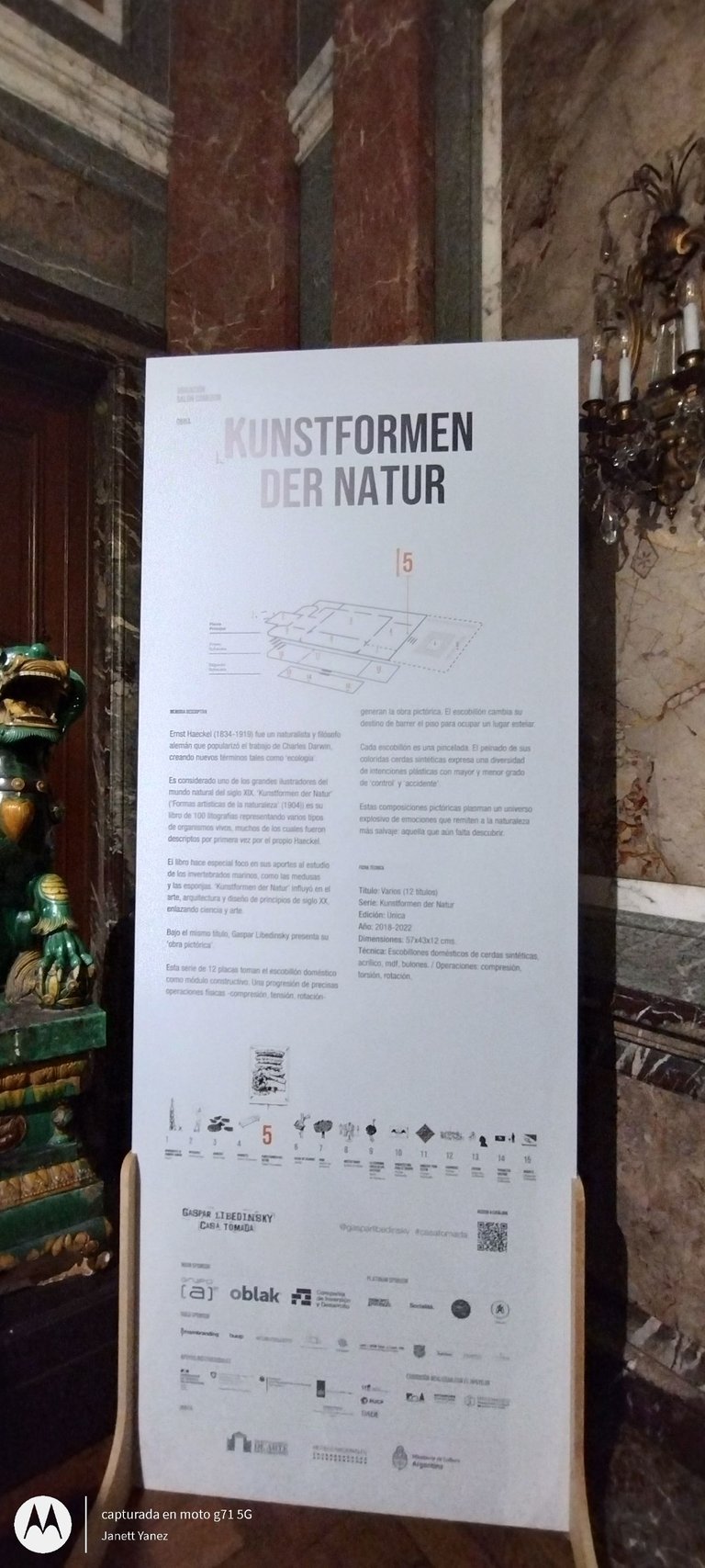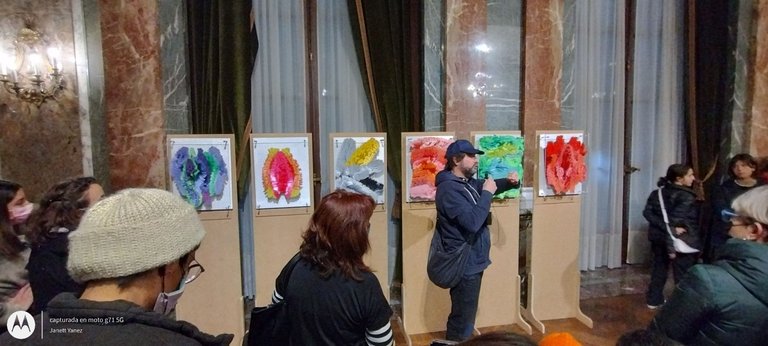 ---
Particularmente me gustó mucho el colorido y el efecto que los escobillones producen en cada placa.
---
I particularly liked the color and the effect that the brushes produce on each plate.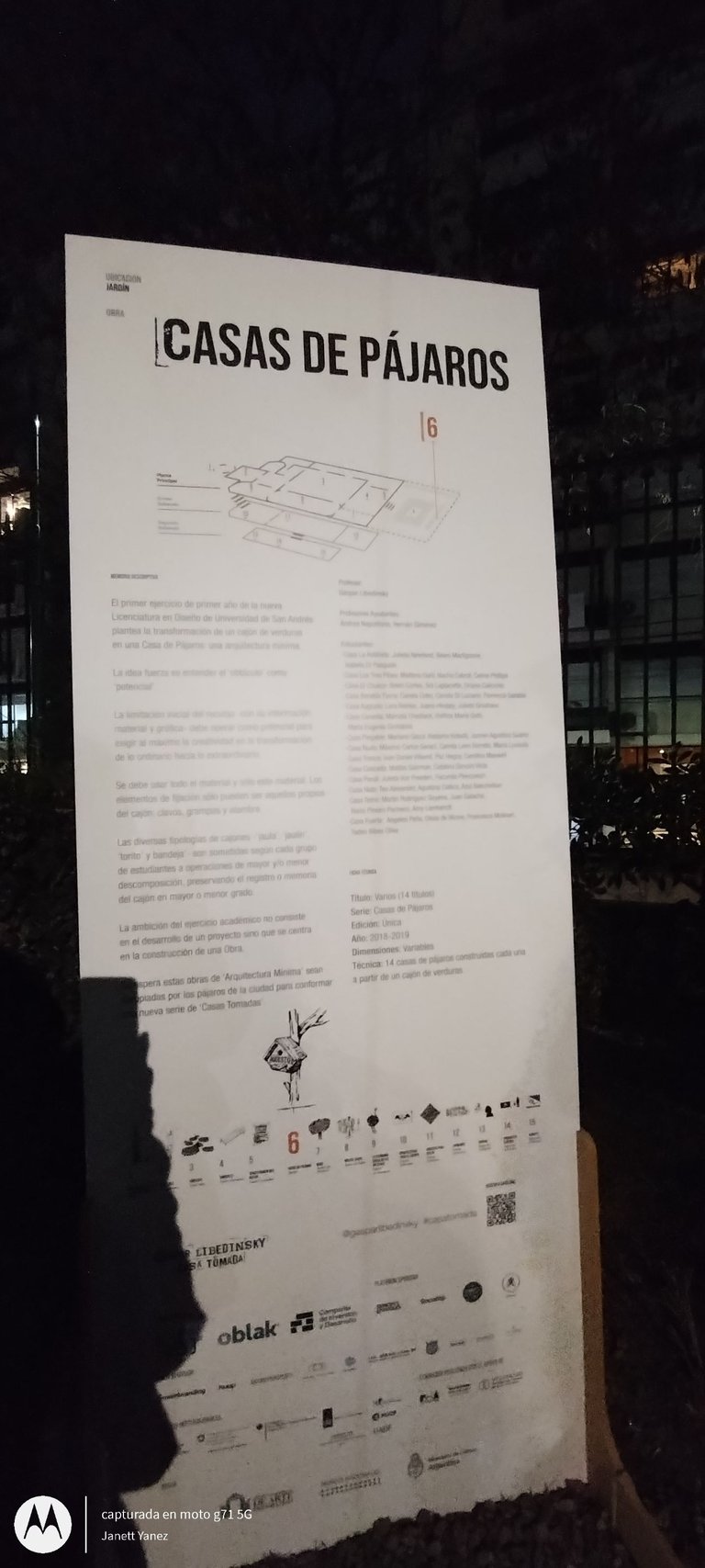 ---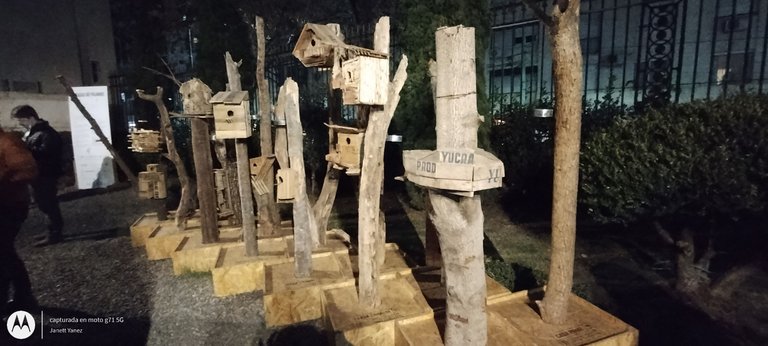 Por último, la Casa de Pájaros es una de las obras que se exponen en la parte exterior del Museo, elaboradas con cajas de verduras viejas.
Finally, the House of Birds is one of the works on display outside the Museum, made from old vegetable boxes.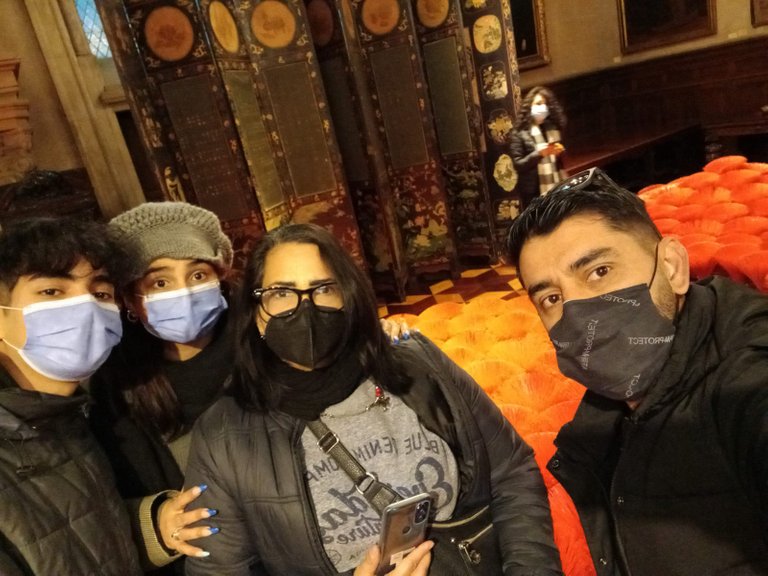 ---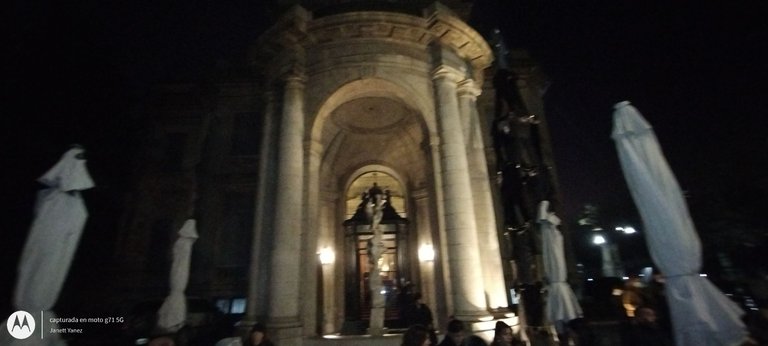 Todas las imágenes son de mi propiedad al igual que el video que les presento.
All the images are my property as well as the video that I present to you

---
▶️ 3Speak
---
---