Intento e invento de un Delicioso Pastel de Berenjena [ESP-ENG]
Hace un par de días no sabia que preparar para el almuerzo y miré que tenía disponible y lo primero que ví fueron tres preciosas berenjenas que me invitaban a inventar algo muy rico con ellas 😜.
A couple of days ago I didn't know what to prepare for lunch and I looked at what was available and the first thing I saw were three beautiful eggplants that invited me to invent something very delicious with them 😜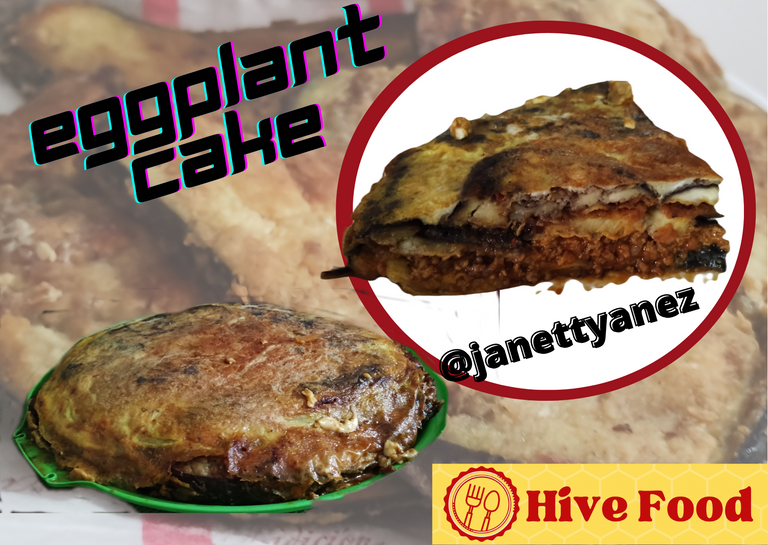 Este plato lo llamé Pastel de Berenjena, cuya idea se me ocurrió como una solución a la búsqueda de algo nuevo pero delicioso.
---
La idea inicial nace sin la salsa boloñesa, pero en vista de que en mi casa no tuve apoyo para hacerlo sin ella, cuya propuesta inicial era sustituirla por queso o jamón, terminé haciendo uno relleno con salsa boloñesa al estilo de "El Rincón de Tata", con la receta original de mi madre.
Finalmente el plato fue una combinación de varias recetas entre ellas el cuajao, el pasticho de berenjena y/o tortilla de vegetales.
---
Sin más preámbulo les comparto la preparación de la misma.
I called this dish Aubergine Cake, whose idea came to me as a solution to the search for something new but delicious.
---
The initial idea was born without the Bolognese sauce, but since I had no support at home to do it without it, whose initial proposal was to replace it with cheese or ham, I ended up making one stuffed with Bolognese sauce in the style of "El Rincón de Tata", with my mother's original recipe.
Finally, the dish was a combination of several recipes, including cuajao, eggplant pasticho and/or vegetable omelette.
---
Without further ado, I share the preparation of it.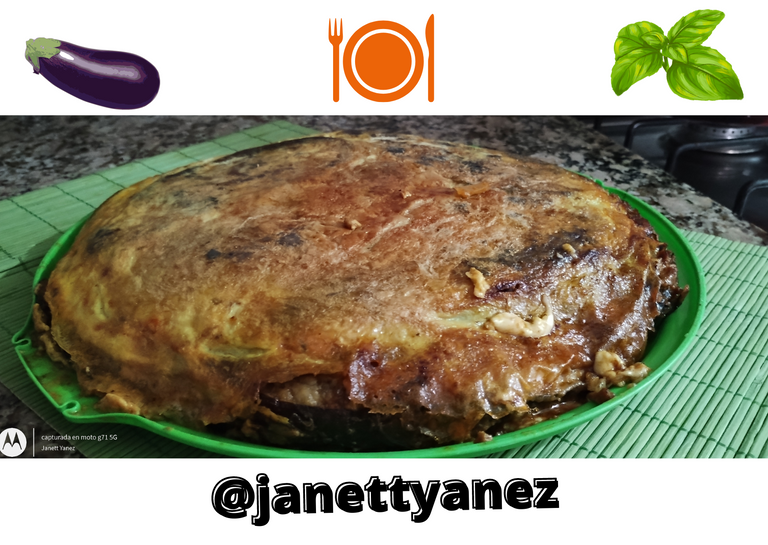 ---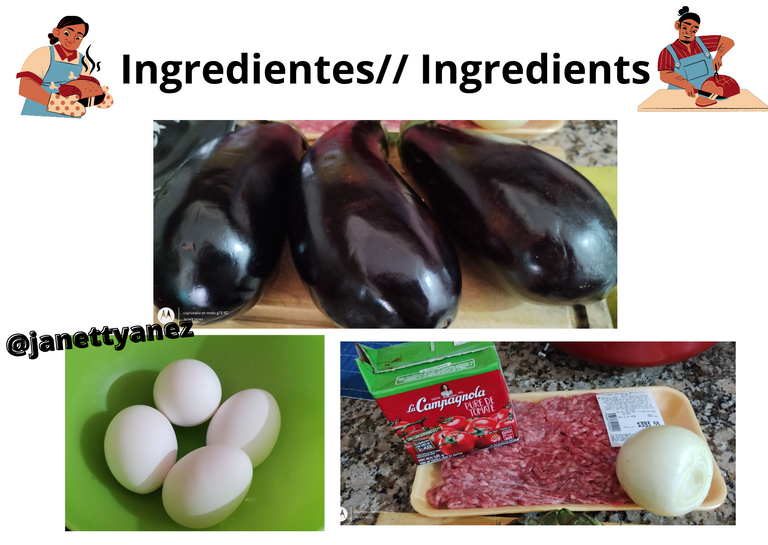 3 berenjenas
4-5 huevos
500 gramos de carne molida o picada
1 cebolla
250 ml de pasta de tomate
300 gramos de Queso Mozzarella
Harina de trigo.
1 cubito de caldo de carne
Sal, perejil, oregano, curcuma, Ajo.
1/2 taza de Vino Tinto.
3 eggplants
4-5 eggs
500 grams of ground or minced meat
1 onion
250ml tomato paste
300 grams of Mozzarella Cheese
Wheat flour.
1 beef bouillon cube
Salt, parsley, oregano, turmeric, garlic.
1/2 cup of Red Wine.

Proceso / Process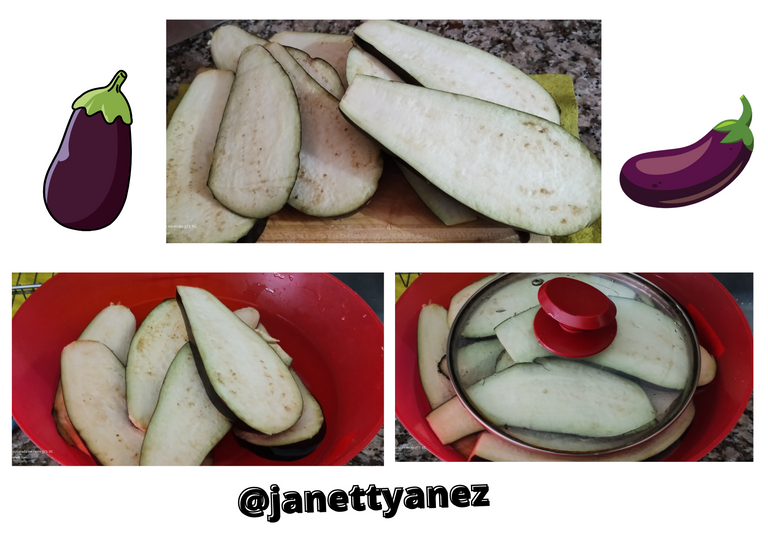 ---
Iniciamos cortando las berenjenas y sumergiéndolas en agua con sal y vinagre para quitarle el amargo por un plazo de 15 minutos aproximadamente.
We start by cutting the aubergines and immersing them in water with salt and vinegar to remove the bitterness for approximately 15 minutes.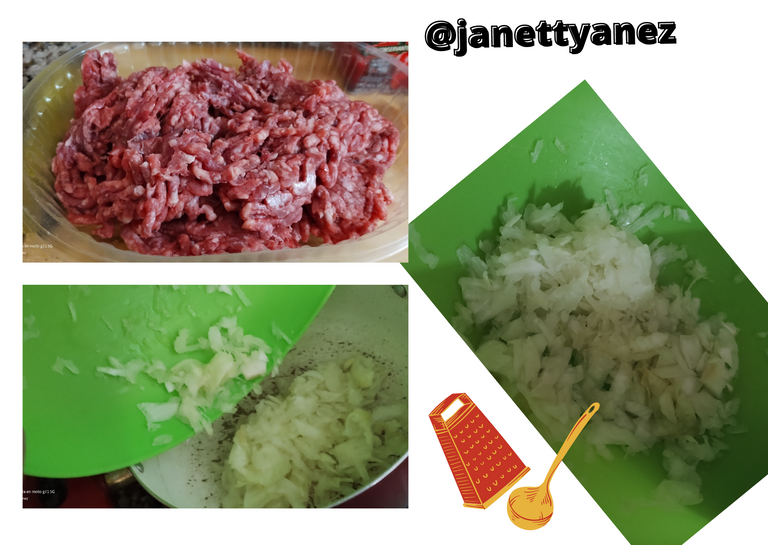 Seguidamente preparamos la Salsa Boloñesa, existen muchas recetas para la preparación de esta salsa, pero particularmente yo utilizo la receta tradicional de mi familia utilizada para las pastas, empanadas, tortillas, entre otras.
Comenzamos rayando la cebolla e incorporándola en una olla con un poco de aceite para sofreírla con el ajo triturado.
Next we prepare the Bolognese Sauce, there are many recipes for the preparation of this sauce, but I particularly use the traditional recipe of my family used for pasta, empanadas, tortillas, among others.
We start by grating the onion and incorporating it in a pot with a little oil to fry it with the crushed garlic.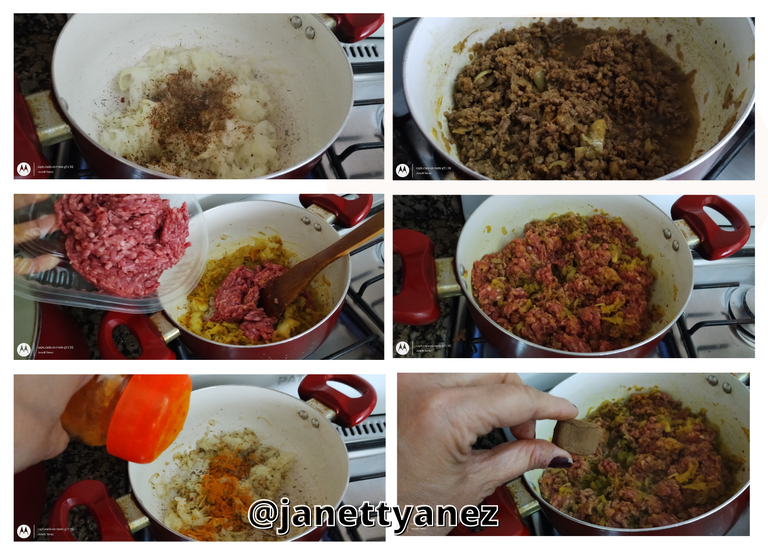 Luego le agregamos los condimentos antes señalados, revolviendo constantemente.
De inmediato se agrega la carne progresivamente y se continua revolviendo; de inmediato le agregamos un cubito de concentrado de caldo de carne y vino tinto.
Then we add the seasonings mentioned above, stirring constantly.
Immediately add the meat progressively and continue stirring; we immediately add a cube of meat broth concentrate and red wine.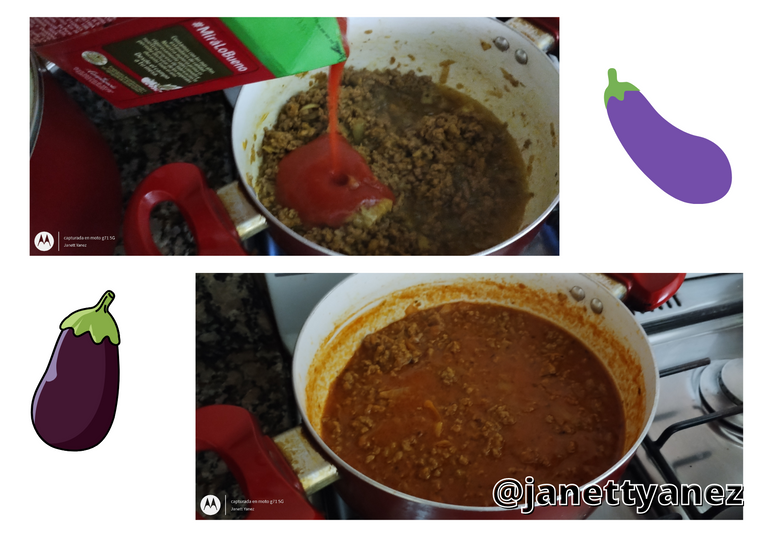 Se continúa revolviendo por un par de minutos más y luego se agrega la pasta de tomate o tomates pelados, según la preferencia de cada uno.
Finalmente se deja cocina a fuego lento por unos 5-6 minutos más, para que logre capturar el sabor de los ingredientes.
Continue stirring for a couple more minutes and then add the tomato paste or peeled tomatoes, depending on your preference.
Finally, it is left to cook over low heat for about 5-6 more minutes, so that it can capture the flavor of the ingredients.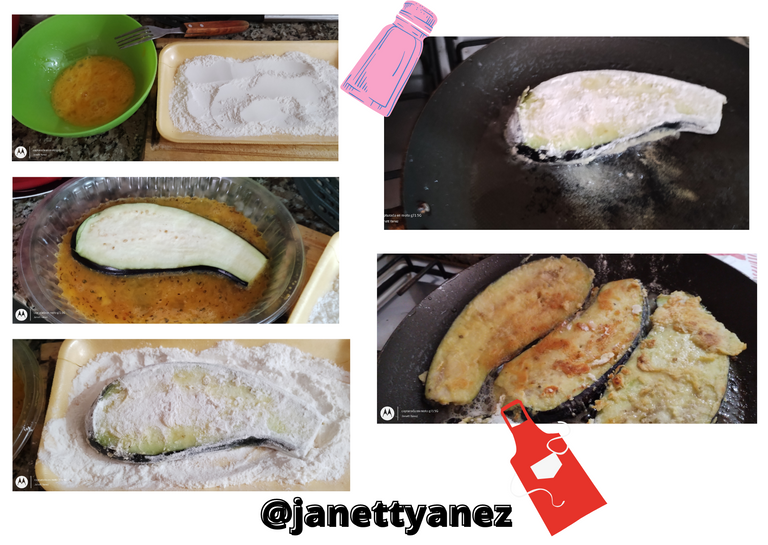 Procedemos a preparar la mezcla donde humedeceremos las berenjenas, con 3 huevos, un poco de sal, oregano y perejil.
Luego el proceso consiste en humedecer las berenjenas en la mezcla, luego se pasan por harina de trigo, esto se hace un par de veces antes de colocarlas a cocina en un sartén con un poquito de aceite.
Luego se tapan para que se cocinen por dentro y queden crujientes.
Recuerden no colocar mucho aceite porque la berenjena mayormente lo absorben.
We proceed to prepare the mixture where we will moisten the eggplants, with 3 eggs, a little salt, oregano and parsley.
Then the process consists of moistening the aubergines in the mixture, then passing them through wheat flour, this is done a couple of times before placing them in a pan with a little oil in the kitchen.
They are then covered so that they cook on the inside and become crispy.
Remember not to put too much oil because the eggplant mostly absorbs it.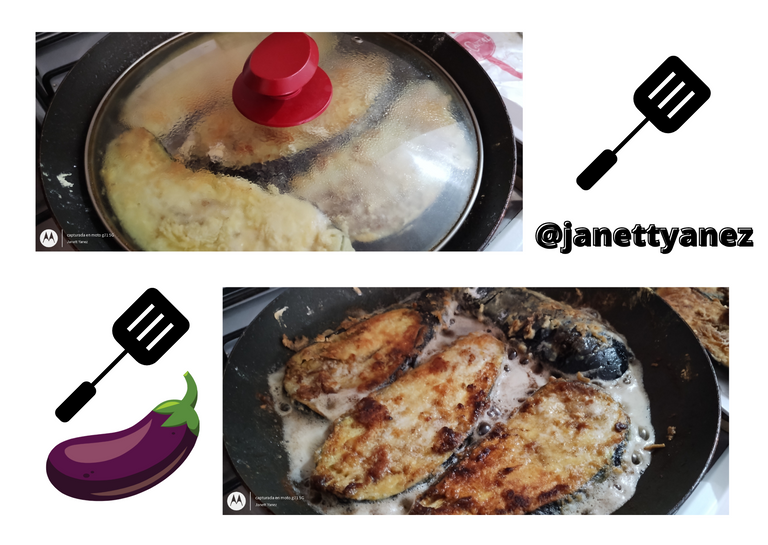 Este proceso se repite hasta terminar con todas las rodajas de berenjenas.
Particularmente las coloco a secar en papel absorbente mientras voy cocinando las demás para que eliminen el exceso de aceite.
This process is repeated until all the aubergine slices are finished.
I place them to dry on absorbent paper while I cook the others so that they remove excess oil.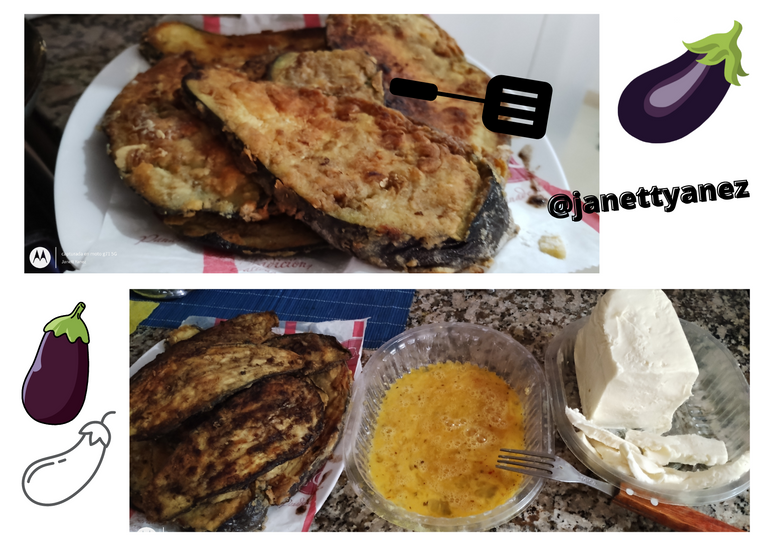 A continuación iniciamos el ensamblado del pastel, preparando con 2 huevos una mezcla igual a la que preparamos en el paso anterior, pero esta vez para la capa del pastel.
Next we start assembling the cake, preparing with 2 eggs a mixture equal to the one we prepared in the previous step, but this time for the cake layer.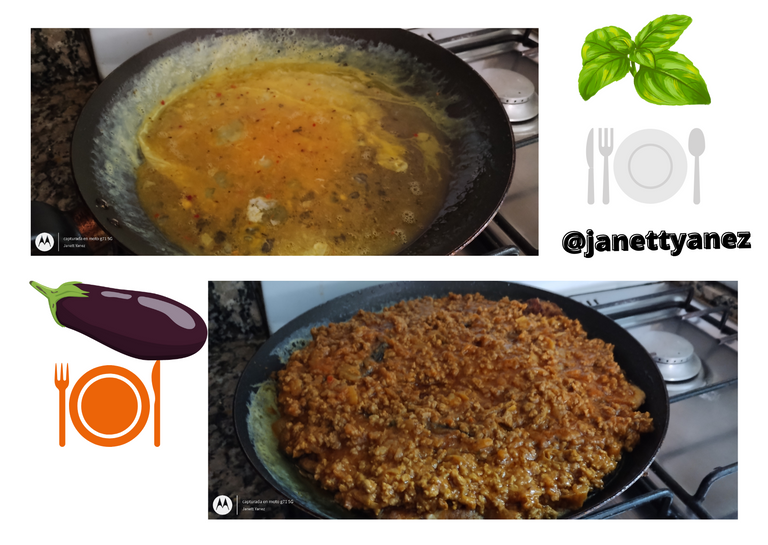 Se coloca la mitad de la mezcla en el sartén previamente rociado con aceite, se deja calentar por un minuto y luego se coloca la primera capa de berenjenas.
De inmediato se agrega una capa de salsa boloñesa y luego una capa de queso mozzarella.
Finalmente se cubre con otra capa de berenjenas.
Se tapa por dos o tres minutos a fuego lento para que se integren los ingredientes.
Luego con un plato se da vuelta al pastel para terminar su cocción.
Place half of the mixture in the pan previously sprayed with oil, let it heat for a minute and then place the first layer of aubergines.
A layer of bolognese sauce is immediately added and then a layer of mozzarella cheese.
Finally it is covered with another layer of aubergines.
It is covered for two or three minutes over low heat so that the ingredients are integrated.
Then, with a plate, the cake is turned over to finish cooking.
---

Resultado Final
---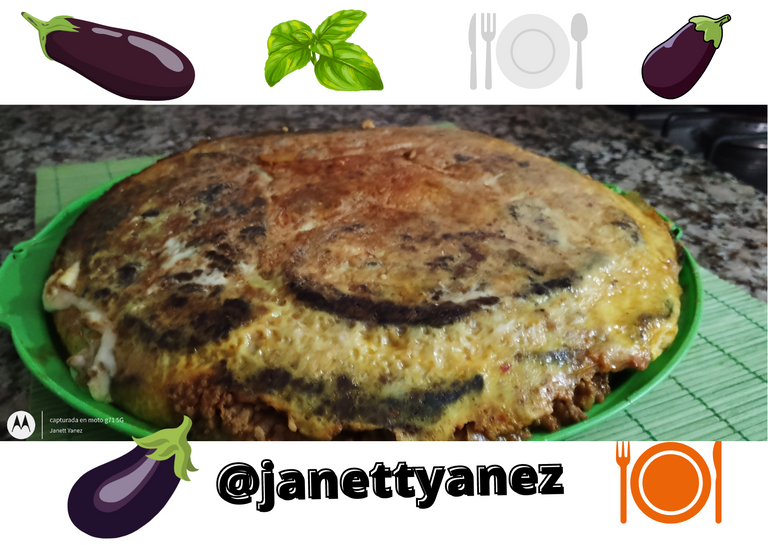 ---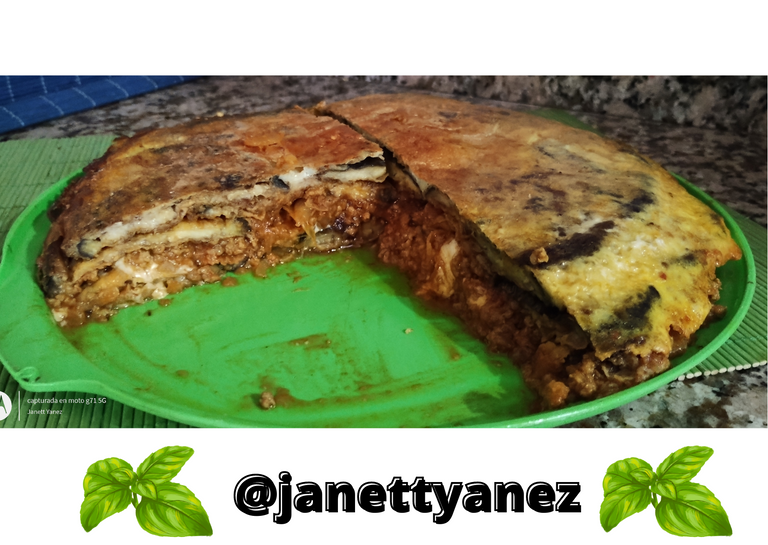 ---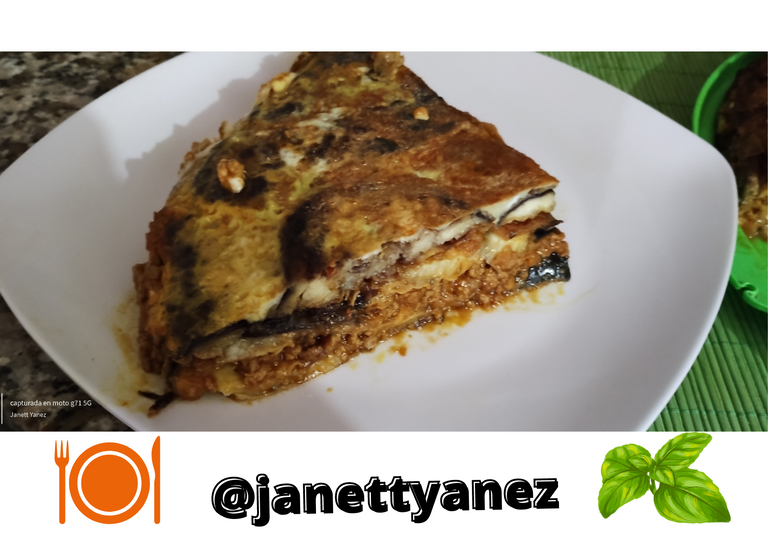 ---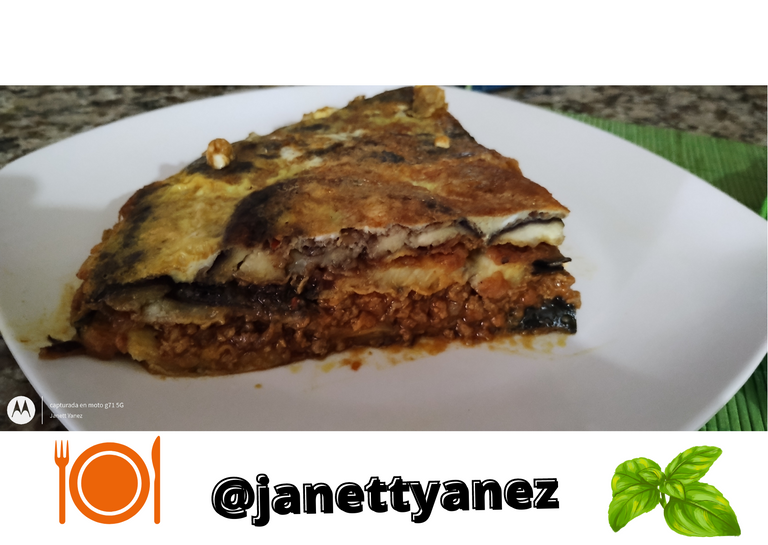 Espero que si les gustó este plato, se animen a prepararlo y luego nos compartan su experiencia.
Todas las imágenes son de mi propiedad, lo collage fueron elaborados por mi en Canva, al igual que el separador y el banner de despedida.
I hope that if you liked this dish, you will be encouraged to prepare it and then share your experience with us.
All the images are my property, the collage was made by me in Canva, as well as the separator and the farewell banner.
---
---