Tres impactantes testimonios de vida en Hive // Iniciativa de @rutablockchain [ESP-ENG]
Con motivo a la proximidad del cumpleaños de nuestra querida blockchain
#hive
los amigos de
@rutablockchain
nos invitan a seleccionar 3 de los testimoniales que más nos impactaron, una tarea nada fácil pero que disfruté muchísimo.
---
Mi selección se enfocó en tres hivers, cuya amistad surge después de entrar en mi vida
#hive
, manteniéndonos en frecuente contacto a traves de nuestras publicaciones en la red e inclusive compartiendo actividades en Discord; ellos son:
@mariale07
,
@irvinc
y
@jlufer
.
On the occasion of the proximity of the birthday of our beloved blockchain
#hive
, the friends of
@rutablockchain
invite us to select 3 of the testimonials that impacted us the most, a task that was not easy but that I enjoyed very much.
---
My selection focused on three hivers, whose friendship arises after entering my
#hive
life, keeping us in frequent contact through our posts on the network and even sharing activities on Discord; they are:
@mariale07
,
@irvinc
and
@jlufer
.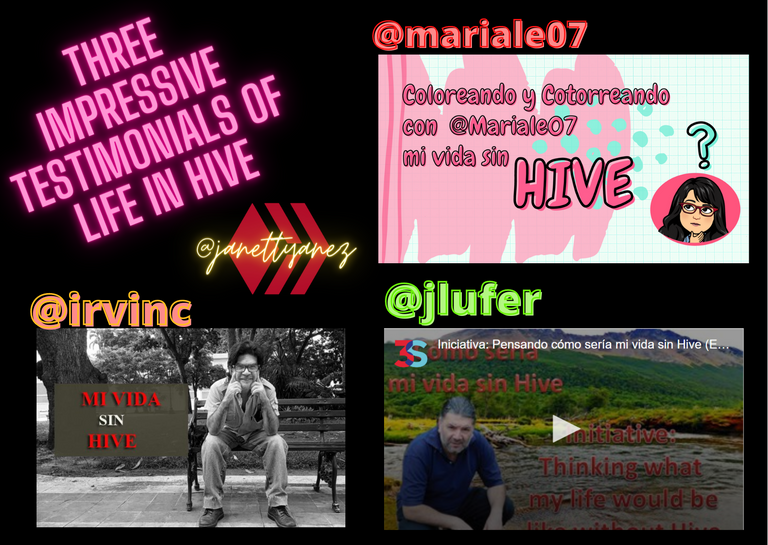 El testimonio de esta venezolana que al igual que yo, formamos parte de esos millones de venezolanos que estamos esparcidos por el mundo me hizo sentir mas que identificada con ella.
El tema de las injusticias y las innumerables adversidades que atraviesan los emigrantes es un tema conocido por todos, mas sin embargo quienes estamos fuera de nuestras tierras lo vemos desde otra óptica quizás mucho mas sensible.
Afortunadamente mi amiga @mariale07 pudo encontrar en #hive una alternativa que le ha proporcionado esa tranquilidad que ella nos relata de manera tan emotiva desde el amor incondicional de una madre, quien reconoce ese invaluable beneficio que le proporciona esta red, al poder cuidar y estar al lado de su bella hija @isabella.art.
Definitivamente esto representa en la vida de @mariale07, algo que ella misma manifiesta como la tranquilidad que tanto deseaba; el hecho de poder cuidar a su hija y no dejarla durante tantas horas sola, fue algo que ella le prometió a su pequeña que no volvería a suceder, una promesa que ha podido cumplir gracias a #hive.
@mariale07 es una de esas venezolanas que ante la adversidad se fortalece, es una hivers que hace vida en nuestra red de forma constante e inclusive ha promocionado diversas actividades donde apoya a los usuarios, no solo monetariamente sino también con orientaciones y sugerencias para sus publicaciones.
Su arduo trabajo y constancia en #hive en los últimos años son muestra de los logros que podemos alcanzar, una excelente referencia para los hivers nuevos y no tan nuevos, que hacemos vida en esta plataforma.
Es la fundadora de la comunidad #hivefood, donde se comparten recetas de platillos familiares, así como esos secretos que comparten nuestras familias de generación en generación; así como abre las puertas a la comunidad hispanoparlante para sus publicaciones en el idioma castellano.
Realmente es un honor contar con esta hivers como amiga y compañera de plataforma.
The testimony of this Venezuelan who, like me, is part of those millions of Venezuelans who are scattered around the world made me feel more than identified with her.
---
The subject of the injustices and innumerable adversities that emigrants go through is a subject known to all, but nevertheless, those of us who are outside our lands see it from another point of view, perhaps much more sensitive.
---
Fortunately, my friend
@mariale07
was able to find an alternative in
#hive
that has provided her with that peace of mind that she relates to us in such an emotional way from the unconditional love of a mother, who recognizes that invaluable benefit that this network provides her, being able to care for and be next to her beautiful daughter
@isabella.art
.
---
Definitely this represents in the life of
@mariale07
, something that she herself manifests as the tranquility that she wanted so much; The fact of being able to take care of her daughter and not leaving her alone for so many hours was something that she promised her little one that would never happen again, a promise that she has been able to keep thanks to
#hive
.
@mariale07 is one of those Venezuelans who gets stronger in the face of adversity, she is a hivers who lives on our network constantly and has even promoted various activities where she supports users, not only financially but also with guidelines and suggestions for her publications.
Her hard work and perseverance in #hive in recent years are proof of the achievements we can achieve, an excellent reference for new and not so new hivers, who make life on this platform.
She is the founder of the #hivefood community, where recipes for family dishes are shared, as well as those secrets that our families share from generation to generation; just as she opens the doors to the Spanish-speaking community for her publications in the Spanish language.
It really is an honor to have this hivers as a friend and platform partner.



Un magnifico ejemplo de dedicación y excelencia es mi amigo @irvinc con quien he compartido desde mis inicio en la blockchain desde la antigua red.
Al leer su testimonio en la parte introductoria nos recrea el hipotético escenario de su vida sin #hive, dejando claro lo que ésta red representa para él.
@irvinc es uno de los hivers que pueden considerarse como ejemplo de constancia y trabajo, cuyo compromiso y sentido de pertenencia es evidente a través de sus actividades diarias dentro de la plataforma asi como la trayectoria y reconocimiento que ha alcanzado.
Ciertamente me siento identificada con él, cuando se describe como una persona activa e inquieta, cuyas pasiones están relacionadas mayormente con la lectura y la escritura, por lo que para él, su vida sin #hive seria sucumbir en las penumbras del pasado y verse inmerso en un declive económico que no le permitiría contar con los equipos tecnológicos que forman parte primordial para realizar sus actividades diarias.
Asi mismo, comparto con @irvinc lo que afirma con relación a que esta red nos brinda a todos aquellos usuarios cuyas edades representa una limitación u obstáculo para lograr un empleo estable, la oportunidad de seguir generando ingresos que contribuyen de alguna forma a resolver esas deficiencias en el ámbito económico.
Afortunadamente todo lo que nos relata en su publicación testimonial, solo fue una recreación muy lejana de la realidad y que hoy tanto él como muchos usuarios de la plataforma podemos sentirnos aliviados y tranquilos en ese aspecto.
Para finalizar, me atrevo a afirmar que @irvinc es otro gran hiver que nos sirve de inspiración a todos aquellos que iniciamos con esta plataforma en tiempos difíciles y que a pesar de las adversidades que hemos atravesado seguimos aca fieles con ella, haciendo comunidad y participando activamente en las diversas actividades e iniciativas que proponen las diversas comunidades.
A magnificent example of dedication and excellence is my friend @irvinc with whom I have shared since my beginnings in the blockchain from the old network.
Reading her testimony of him in the The introductory part recreates for us the hypothetical scenario of his life without #hive, making it clear what this network represents for him.
@irvinc is one of the hivers who can be considered an example of perseverance and work, whose commitment and sense of belonging is evident through his daily activities within the platform as well as the trajectory and recognition he has achieved.
I certainly feel identified with him, when he describes himself as an active and restless person, whose passions are mostly related to reading and writing, so for him, his life without #hive would be succumbing to the shadows of the past and being immersed in an economic decline that would not allow them to have the technological equipment that is an essential part of carrying out their daily activities.
Likewise, I share with @irvinc what he affirms in relation to the fact that this network offers all those users whose age represents a limitation or obstacle to achieving stable employment, the opportunity to continue generating income that contributes in some way to solving those deficiencies. in the economic field.
Fortunately, everything he tells us in his testimonial publication was only a recreation very far from reality and today both he and many users of the platform can feel relieved and calm in that regard.
To conclude, I dare to affirm that @irvinc is another great hiver that inspires all of us who started with this platform in difficult times and that despite the adversities we have gone through we remain here faithful to it, building community and participating. actively in the various activities and initiatives proposed by the various communities.



@jlufer
es uno de esos amigos que he cultivado a través del tiempo gracias a esta plataforma, lo conocí desde la plataforma anterior pero mas recientemente hemos interactuado en
#hive
a través de nuestras publicaciones.
He tenido la oportunidad de intercambiar algunos comentarios relacionadas con Argentina, país donde resido desde hace tres años, así como algunas experiencias vividas por él en la provincia donde vive con su familia.
En su testimonio @jlufer deja claro que no se imagina su vida sin #hive, evidentemente esto se debe a la gran compenetración y responsabilidades que tienen dentro de la plataforma, lo que hace que su actividad diaria sea constante y su interacción con los usuarios de la plataforma sea significativa.
Adicionalmente, comparto con @jlufer la afirmación relacionada con la posibilidad que nos brinda #hive a usuarios como él y yo cuyas edades superan los 50 años y que imposibilitan mayormente la apertura a un empleo estable, siendo mayor aun su caso debido a que él vive en una provincia del país cuya actividad económica es menor a la de la capital donde yo resido.
Sin embargo, haciendo el ejercicio de la recreación de un escenario hipotético donde #hive no formara parte de nuestras vidas, él se imagina realizando actividades relacionadas con la fabricación de muebles y fuentes que ocasionalmente realiza para cubrir algunos gastos.
Dichas actividades representaría para él, ya no una distracción o alternativa para unos ingresos adicionales, sino que vendrían a formar parte esencial de su presupuesto familiar, lo que le agregaría una situación de estrés que ciertamente pudiera afectar su tranquilidad.
Estoy segura que @jlufer es otro de esos valioso hivers con que contamos día a día en nuestra plataforma, cuyo compromiso, trabajo y dedicación ha contribuido al crecimiento de #hive y a su expansión por todo el mundo.
@jlufer
is one of those friends that I have cultivated over time thanks to this platform, I knew him from the previous platform but more recently we have interacted on
#hive
through our posts.
I have had the opportunity to exchange some comments related to Argentina, the country where I have lived for three years, as well as some experiences lived by him in the province where he lives with his family.
In his testimony @jlufer makes it clear that he cannot imagine his life without #hive, obviously this is due to the great rapport and responsibilities they have within of the platform, which makes their daily activity constant and their interaction with platform users significant.
Additionally, I share with @jlufer the statement related to the possibility that #hive offers users like him and me whose ages are over 50 years old and that make it mostly impossible to open a stable job, his case being even greater because he lives in a province of the country whose economic activity is less than that of the capital where I live.
However, doing the exercise of recreating a hypothetical scenario where #hive would not be part of our lives, he imagines himself carrying out activities related to the manufacture of furniture and fountains that he occasionally does to cover some expenses.
These activities would represent for him, no longer a distraction or alternative for additional income, but would become an essential part of his family budget, which would add a stressful situation that could certainly affect his tranquility.
I am sure that @jlufer is another of those valuable hivers that we have every day on our platform, whose commitment, work and dedication have contributed to the growth of #hive and its expansion throughout the world.

---
Es evidente, que la influencia y la importancia de
#hive
en nuestras vidas, es algo que quizás muchos hasta que realizaron este ejercicio propuesto por
@rutablockchain
, se percataron de ello.
Invito a mis amigos @jlufer, @mariale07 y @amandaj a participar en esta hermosa iniciativa.
It is evident that the influence and importance of
#hive
in our lives is something that perhaps many, until they carried out this exercise proposed by
@rutablockchain
, realized it. I invite my friends
@jlufer
,
@mariale07
and
@amandaj
to participate in this beautiful initiative.

---
---