SURFING: My baby daughter Madison catches her first wave with Dada!

Summer is coming to Cape Town! Here is a post that I hope @riverflows enjoys, because she told me to "Get that baby surfing!" Haha!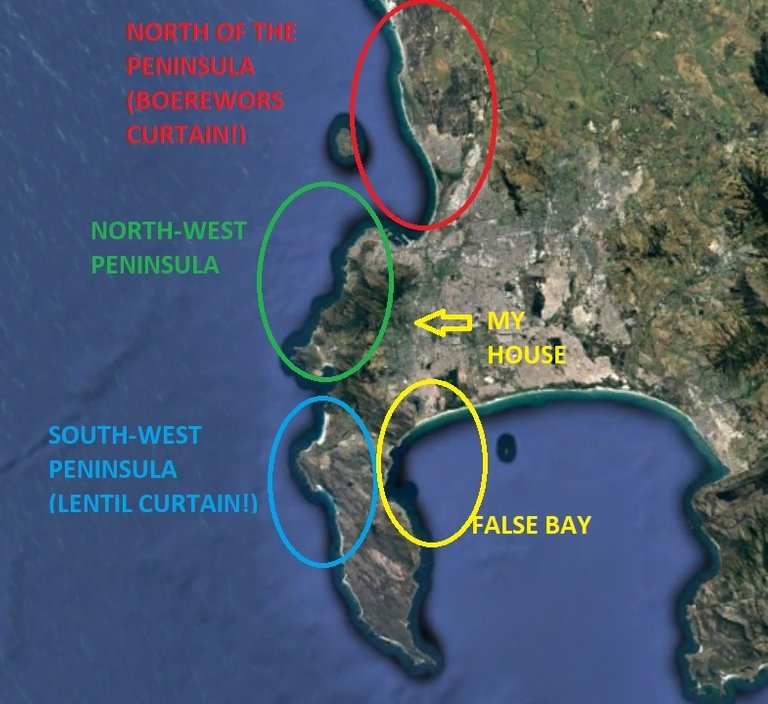 This is a very funny time in Cape Town where the summer sun warms up the water in False Bay (yellow zone) to nearly 20 degrees Celsius. Meanwhile, the prevailing SE summer winds blow surface water out to sea on the exposed side, which then gets replaced by very cold water from deeper down, that has travelled from Antarctica on the Benguela current.
So yesterday, while my friends were surfing in 10 degree water with full wetsuits, booties and hoods in offshore conditions, I was surfing in my boardshorts in 20 degree water in slightly onshore choppy conditions about 10km away!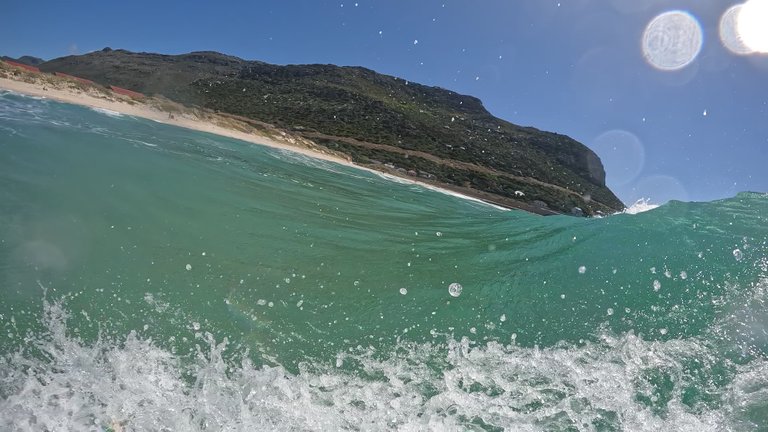 It wasn't THAT bad either...
Still, the reason why I was stuck on the warm-water beach instead of surfing groomed offshore ice-cold surf with my friends? Family responsibility!
We have friends visiting Cape Town from a landlocked neighbouring country called Zimbabwe. They have a new daughter we have never met, and we have an even younger baby daughter that they've never met! They were excited to show their toddler daughter and their 5-year old son the sea for the first time, but obviously would prefer a water temperature that is comfortable for swimming.
So we had a wonderful day, getting to see them for the first time since the Covid pandemic, and getting to meet each others' daughters for the first time.
But I had been looking forward to a summer day like this for another reason - I've been looking forward to it for 16 months now!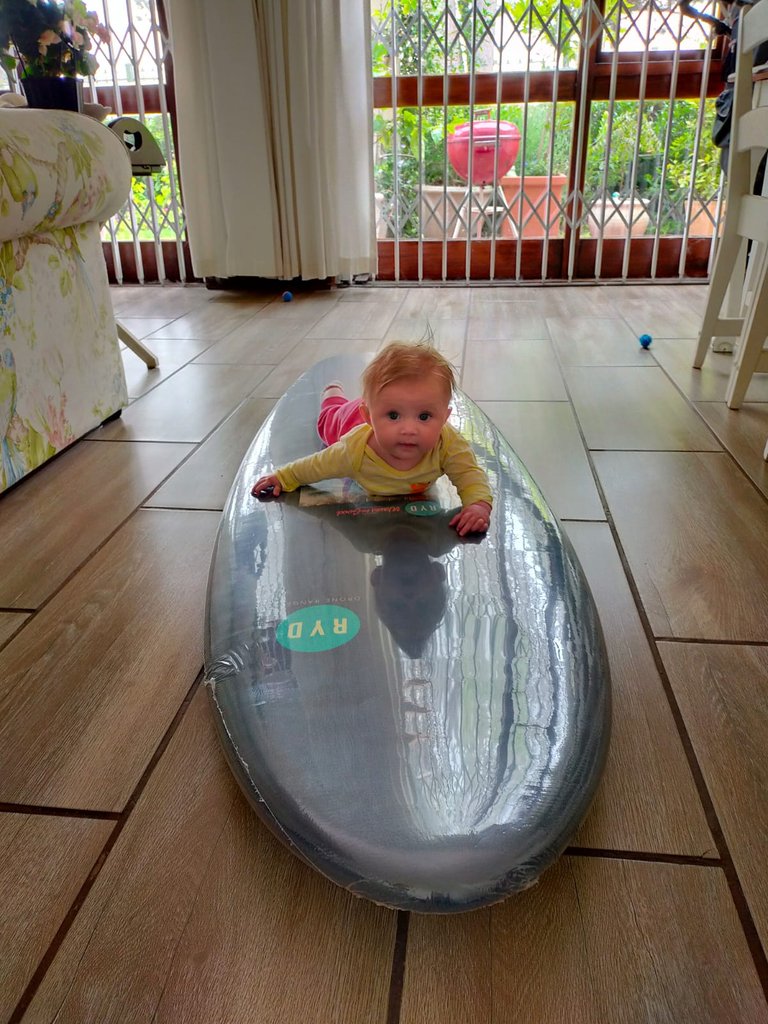 Exhibit A - last summer I bought a soft-top surfboard that I call "Maddy's board" as I have always intended to catch some waves with her one day! It's actually a great board for small waves and shore-breaks and shallow rocky novelty waves and I use it quite often!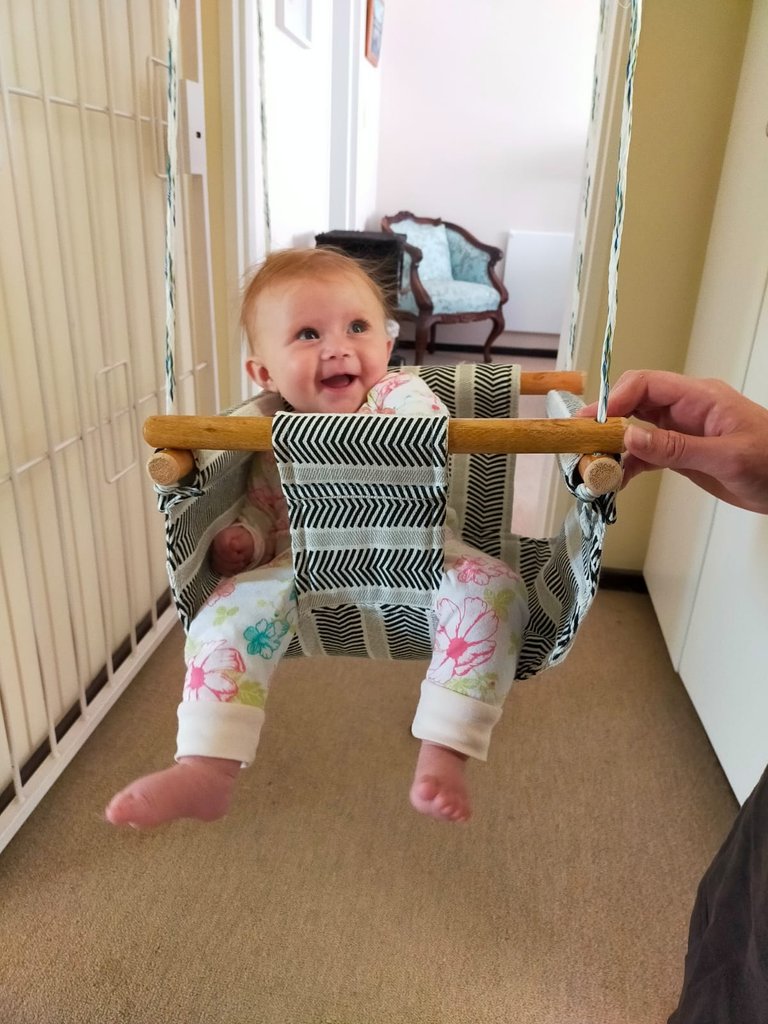 Exhibit B - Getting baby Madison used to having fun with adrenaline!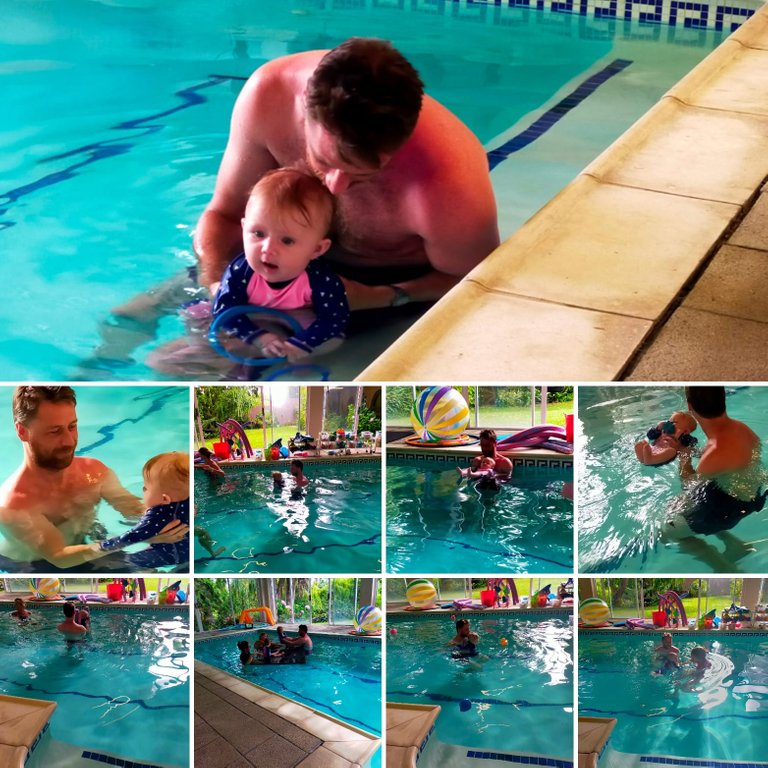 Exhibit C - getting Madison used to water and holding her breath if necessary!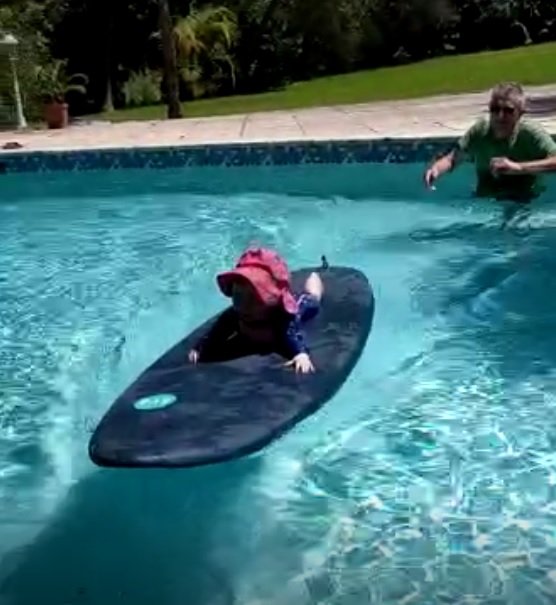 Exhibit D - Last summer baby Madison enjoyed getting pushed across the swimming pool on her board!
Then winter came along, but baby Madison still kept going to her little swim classes in the heated pool!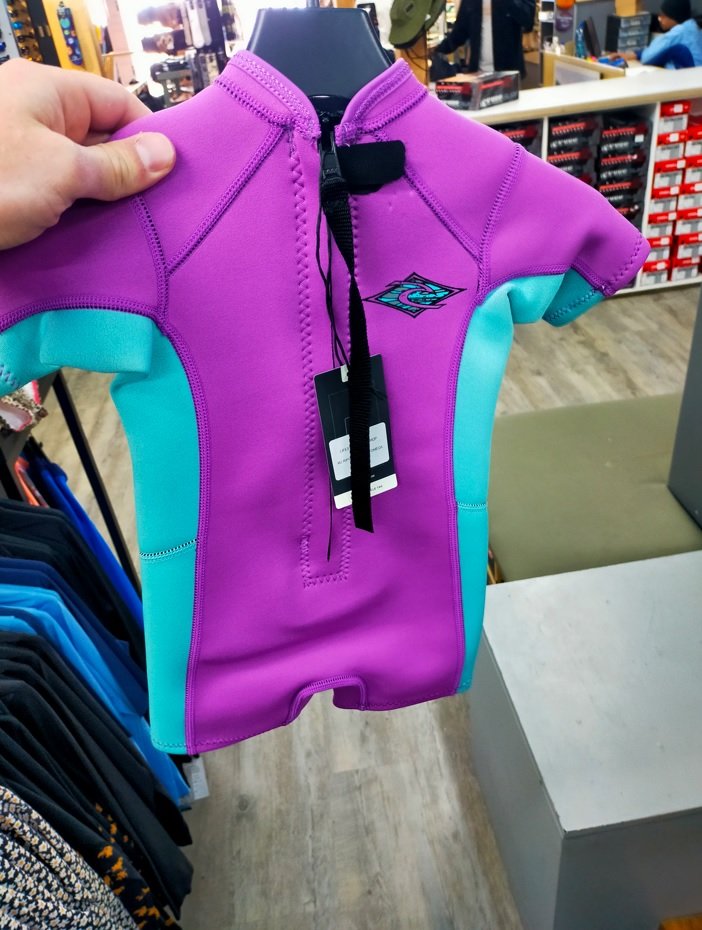 Exhibit E - As this summer came rolling in, and the water in False Bay gets warm enough for us adults to swim in, it's still important to remember that babies can't keep warm quite as well as us, so I found the smallest, cutest wetsuit I've ever seen! Maddy is now 16 months old but this is still pretty big for her! Haha!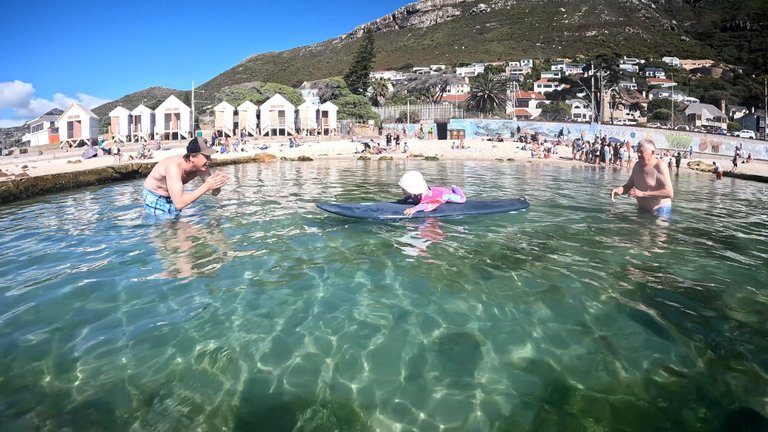 Exhibit F - testing the sun-suit, wetsuit and arm-band combination in a tidal pool with water directly from the sea (similar temperature)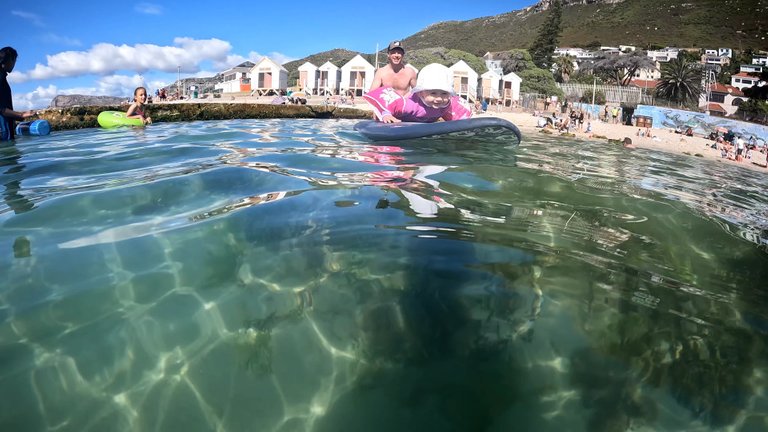 She seems to be enjoying it!... on the way to Mama behind the camera!
Finally, yesterday...the day arrived!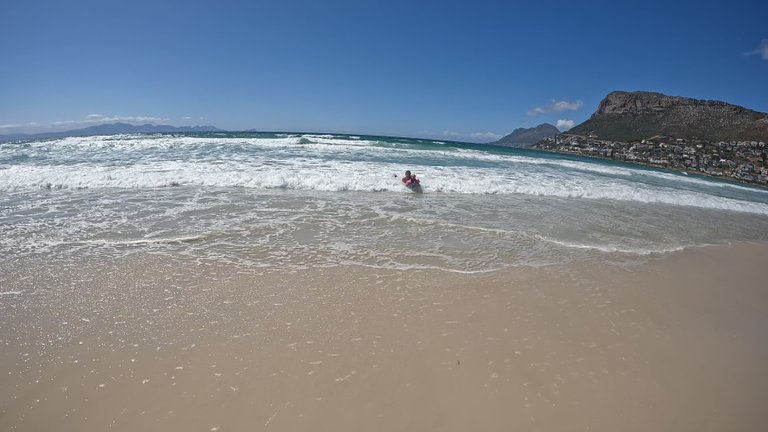 The waves were choppier than we would have liked, but "mission accomplished" as we quickly get a little one all the way to the beach going "Weeee!"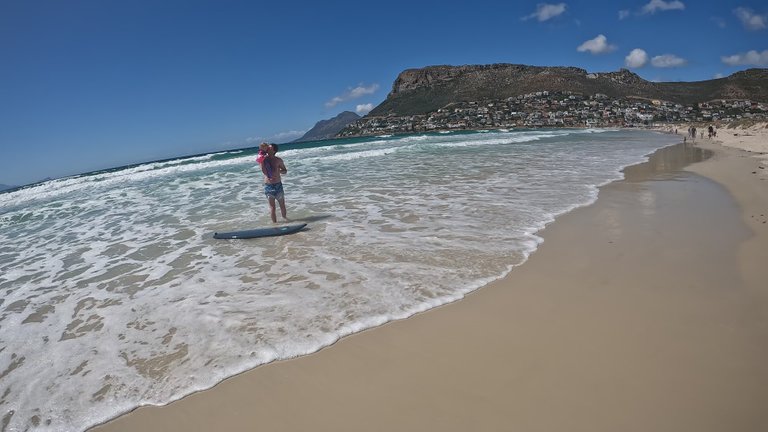 Kisses for Daddy's very brave girl! Now it's time to get warm again!
I think she had fun and will hopefully be keen for the next beach day with Dada! It's important to not make it scary for her, so I won't push it if she's not enjoying it... but she was very brave this time. She seems to be enjoying playing in the sand at the beach more each time as well!
THE END
---
---