Moonlight Merriment: Trail of Delicacies - Genshin Impact Event | Gameplay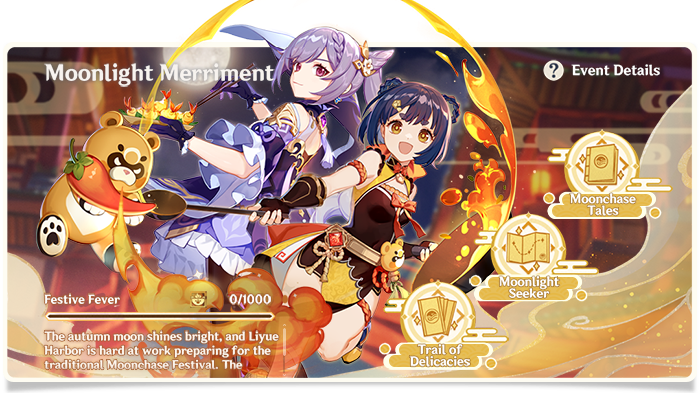 Hello, living beings! Recently was the anniversary of Genshin Impact, yes, we already have more than a year playing this incredible wonder, but I won't talk about the anniversary, because really almost all the community was unhappy with the awards it gave us considering the incredible support it has received worldwide, being one of the best games in the world, as well as one of the highest-grossing games in its first year, but anyway, I'm going to talk about one of the events that took place: The Moonlight Merriment.
This amazing event lasted about two weeks, I think, and consisted of three parts, the first part consisted of world missions where we watched the biggest food contest in Liyue take place; the second part took us to explore different locations on the map of Teyvat looking for special hidden cough chests and some floating green things that were useless at the end, and the third part, Trail of Delicacies which is the gameplay I'm going to tell you about right now.

¡Hola, seres vivos! Hace poco fue el aniversario de Genshin Impact, ¡Sí, ya tenemos más de un año jugando esta increíble maravilla!, pero no hablaré del aniversario, porque de verdad que casi toda la comunidad estuvo descontenta con los premios que nos dio teniendo en cuenta el increíble apoyo que ha recibido a nivel mundial, siendo uno de los mejores juegos del mundo, además de uno de los que más ha recaudado en su primer año, pero en fin, les voy a hablar de uno de los eventos que tuvieron lugar: The Moonlight Merriment.
Este increíble evento duró aproximadamente dos semanas, creo, y constó de tres partes, la primera parte consistió en misiones de mundo donde observamos cómo tuvo lugar el mayor concurso de comida de Liyue; la segunda parte nos llevó a explorar locaciones diferentes del mapa de Teyvat buscando cofres de tosoros especiales que estaban escondidos y unas cosas verdes flotantes que al final no sirivieron para nada, y la tercera parte, Trail of Delicacies que es el gameplay del que les voy a hablar ahora mismo.

  




Just like the second exploration part, this third part will take us on a monster hunt, plus we will have to offer plates of food to get bonuses that will help us defeat all the monsters much easier and faster.
One of my favorite things about this part of the event is that the more challenges we complete in this hunt, the more difficult it gets until we end up facing one of the biggest monsters in the area.

Al igual que la segunda parte de exploración, esta tercera parte nos va a llevar de cacería de monstruos, además de que vamos a tener que ofrecer platos de comida para obtener bonificaciones que nos ayudarán a vencer a todos los monstruos mucho más fácil y rápido.
Entre mis cosas favoritas de esta parte del evento es que mientras más desafíos vamos terminando de esta cazería, mayor va a ser la dificultad hasta que terminamos enfrentando uno de los mayores monstruos de la zona.

  




We were forced to fly! Yes, as there were six different places in the area that we had to explore to face and defeat the monsters, we were placed in spaces where there were planning nudes that made it easier for us to travel to the different places, it was a lot of fun.
I particularly had problems with several dishes, firstly because I couldn't cook them, so I had to visit most of the chefs until I got the one who was going to sell me the recipes I needed, and the second problem was that I didn't have the ingredients, so I had to search everywhere for them like crazy.

¡Nos obligaron a volar! Sí, como eran seis lugares diferentes de la zona que teníamos que explorar para enfrentar y vencer a los monstruos, nos colocaron espacios donde habían nudes de planeación que nos facilitaban el viaje a los diferentes lugares, fue muy divertido.
Yo particularmente tuve problemas con varios platos, primero porque no los podía cocinar, así que tuve que visitar a la mayoría de los chefs hasta que conseguí al que me iba a vender las recetas que me hacían falta, y el segundo problema fue que no tenía los ingredientes, así que tuve que buscarlos como loco por todos lados.

 




I brought you the third hunting spot which was in the more hated than loved Spynedragon, that place where more than half of all players have frozen to death because they didn't bring a healer or a pyro element character to light a fire and not die at the hands of the inclement cold that is all over the area and from which we can't escape easily. Watch the gameplay and I hope you like it!

Yo les traje el tercer lugar de cacería que no fue más que en la más odiada que amada Spynedragon, ese lugar donde más de la mitad de todos los jugadores a muerto congelado por no llevar healer ni un personaje del elemento pyro para encender una fogata y no morir a manos del frío inclemente que está en toda la zona y del que no podemos escapar fácilmente. ¡Vean el gameplay y espero que les guste!


Some of the images were taken from here.

Algunas de las imágenes fueron tomadas de aquí.

---
---