Puella Magi Madoka Magica - I want to be a Magical Girl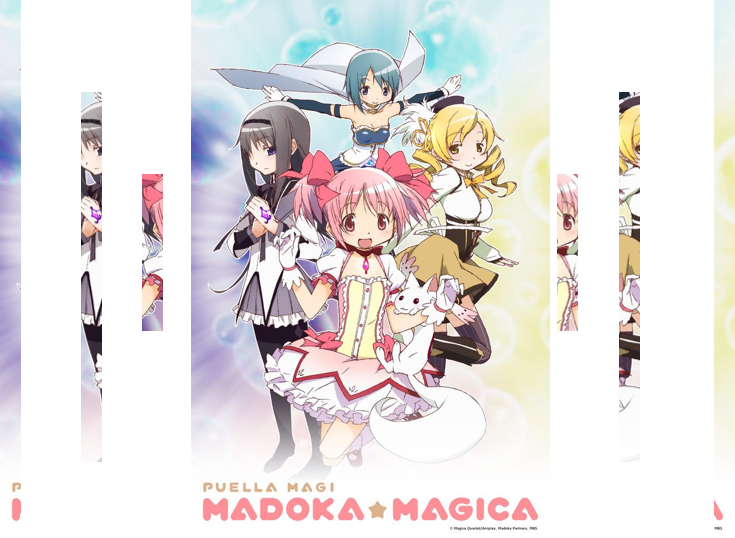 Go watch the trailer I put at the end, perfectly made by Kyubey, and if you've already seen the series you'll laugh, and if you haven't seen it read the review at your own risk because it will be full of spoilers.
Now, yes, hello, living beings, magical creatures! In college I was recommended like forty times to watch Madoka Magica, that I was going to love it, and I never watched it, two or three years ago I was reminded of it again and I watched it, obviously I was in shock, I was always told it was a series about magical girls and already, when I watch it I find things much more complicated than just magical girls, my brain explodes and I happy that it's happening.
Puella Magi Madoka Magica is from 2011, and the truth is I thought it was from the '90s, and later I will tell you why. It all starts in a dream that Madoka has where she sees a magical girl fighting against something she doesn't know what it is, there she meets Kyubey, a beautiful white cat that has red eyes, if you meet a cat like that run, that means danger, and in that dream, Kyubey tells Madoka that she can prevent the magical girl from fighting, she just has to make a wish to be able to fight with her and win, but Madoka wakes up and starts a normal day in her life, until the girl she saw in her dream arrives in her class, and everything goes to hell.

Vayan a ver el trailer que les puse abajo, perfectamente echo por Kyubey, y si ya vieron la serie se van a reir, y si no la han visto lean la reseña bajo su propia responsabilidad, pues estará llena de spoilers.
Ahora, sí, ¡Hola, seres vivos, criatúras mágicas! En la universidad me recomendaron como cuerenta veces que viera Madoka Mágica, que la iba a amar, y nunca la vi, hace dos o tres años me la volvieron a recordar y la vi, obviamente quedé en shock, siempre me dijeron que era una serie sobre niñas mágicas y ya, cuando la veo me encuentro con cosas mucho más complicadas que solo niñas mágicas, me explota el cerebro y yo feliz de que eso esté sucediendo.
Puella Magi Madoka Magica es del 2011, y la verdad pensé que era de los 90, y más adelante les diré por qué. Todo comienza en sueño que Madoka tiene donde ve a una niña mágica peleando contra algo que no sabe qué es, ahí conoce a Kyubey, un gato blanco hermoso que tiene ojos rojos, si se encuentran a un gato asím corran, eso significa peligro, y en ese sueño Kyubey le dice a Madoka que puede evitar que la niña mágica pelee, tan solo tiene que pedir un deseo para poder combatir junto a ella y así ganar, pero Madoka despierta y comienza un día normal en su vida, hasta que a su clase llega la niña que vio en su sueño, y todo se va al carajo.

       




And if you were not on guard to receive spoilers, it's time to do it, all the important things I will comment here, at least the ones I consider important. Watching the series for the second time I could notice a thousand things that I hadn't noticed the first time I watched it, is that watching a movie, a series, or reading a book for the second time is like doing it with all the spoilers made, so why do people get upset when they read spoilers of something? Instead of feeling aversion, they should be thankful that in the first time they will see things with the experience they would like to have, but no, so ñe.
Anyway, I'm not talking about spoilers, I'm talking about Madoka Magica, we are going to have four pillars around Madoka that little by little we are going to understand the reasons why they are related to her and why everything happens: Kuybey, the white cat with red eyes, who wants Madoka to make her wish and become a magical girl; Homura, the magical girl that Madoka saw in her dream, who wants to prevent Madoka from making the wish at all costs; Mami, a magical girl who will help Madoka to understand everything that is happening little by little, and Sayaka, Madoka's best friend, to whom Kyubey also insists that she becomes a magical girl, and who eventually ends up doing it.
In the beginning, everything is going to be chaotic, and at the end too, but don't worry, at some point we will understand everything and we will become the most enlightened beings on earth, or at least that's how we will feel, because we will not believe the intensity and magnitude of what was really happening and we never realized it, we just believed what was happening and did not think beyond what we were being shown, although it was not much, there were signs that told us a different story.

Y si no estaban en guardia para recibir los spoilers, es momento de que lo hagan, todas las cosas importantes las voy a comentar aquí, al menos las que yo considero importante. Al ver la serie por segunda vez pude notar mil cosas que no había notado la primera vez que la vi, es que ver una película, una serie, o leer un libro por segundo vez es como hacerlo con todos los spoilers hechos, entonces, ¿por qué la gente se molesta cuando leen spoilers de algo? En vez de sentir aversión, deberían agradecer que en la primera vez verán las cosas con la experiencia que se quisiera tener, pero no, así que ñe.
En fin, yo no estoy hablando de spoilers, estoy hablando de Madoka Magica, vamos a tener a cuatro pilares al rededor de Madoka que poco a poco vamos a entender las razones por las cuales se relacionan con ella y el por qué de todo lo que sucede: Kuybey, el gato blanco de ojos rojos, que quiere que Madoka pida su deseo y se convierta en una niña mágica; Homura, la niña mágica que Madoka vio en su sueño, que quiere evitar a toda costa que Madoka pida el deseo; Mami, una niña mágica que va ayudar a Madoka a entender todo lo que está sucediendo poco a poco, y Sayaka, la mejor amiga de Madoka, a la cual Kyubey también le insiste que se convierta en niña mágica, y que eventualmente lo termina haciendo.
Al principio todo va a ser caótico, y al final también, pero no se preocupen, en algún momento entenderemos todo y nos convertiremos en los seres más iluminados de la tierra, o al menos así nos vamos a sentir, porque no vamos a creer la intensidad y magnitud de lo que en realidad estaba pasando y nunca nos dimos cuenta, solo creímos lo que estaba pasando y no pensamos allá de lo que nos estaban mostrando, aunque igual no era mucho, pero sí había indicios que nos contaban una historia diferente.

      




These three paragraphs are going to be complete spoilers, so I'm giving you the warning. I'm going to tell you about my favorite moments in Madoka Magica that exploded my brain, and no matter how many times I watch them two or three times I still think they're awesome.
In chronological order, the first moment is when Mami faces one of the witches alone and doesn't let Homura help her, so she ends up dying. Fuck, that chapter is one of the saddest and most frustrating ones out there, Sayaka still hadn't made her wish, so she could never help her, and even though Kyubey insisted them to become magical girls, they didn't because Homura broke free from the spell when Mami dies and was able to take down the witch by herself, but if Mami had listened and accepted Homura's help everything would have been different, but that wasn't the course things should take.
The second moment is when Sayaka becomes a witch, I remember that episode, and I cry again, why didn't you accept Homura's help, Sayaka, why did you have to be proud, stay away from Madoka, and end up becoming what you swore to destroy, why? The first time I watched that chapter I didn't know what was going on, and I was shocked and cried when happens, the second time I watched it I was already shedding tears since the first time I understand wherein the story I'm going, this series is too dark for it to be just about some magical girls.
The third moment is the chapter that should be the first one you would have to watch in order to understand the series from the beginning, but it would take away the mystery throughout and that's not the idea, you must already know which one I'm talking about if you already watched the series, and if you haven't seen it and don't want spoilers, what are you doing reading this, how the fuck Homuro could endure so long trying to save Madoka from turning into a magical girl? I mean, how horrible, the moment when they start going over and over again all the timelines where Homura meets Madoka is too painful when she crying explains everything to Madoka, I don't know who cries more, her or me, it's horrible, wretched series, entertain me, but don't make me cry, don't be like that either, okay, how horrible.

Estos tres párrafos van a ser por completo spoiler, así que les doy el aviso. Voy a hablarles de mis momentos favoritos en Madoka Mágica, que me explotaron el cerebro, y sin importar que los vea dos o tres veces me siguen pareciendo increíbles.
En orden cronológico, el primero momento es cuando Mami se enfrenta sola a una de las brujas y no deja que Homura la ayuda, por lo que termina muriendo. Joder, ese capítulo es de los más tristes y frustantes que hay, Sayaka todavía no había pedido su deseo, por lo que nunca pudo ayudarla, y aunque Kyubey les insistía en que se convirtieran en niñas mágicas, no lo hicieron porque Homura se liberó del hechizo cuando Mami muere y pudo acabar con la bruja ella sola, pero si Mami hubiera escuchado y aceptado la ayuda de Homura todo hubiera sido diferente, pero ese no era el curso que debían tomar las cosas.
El segundo momento es cuando Sayaka se convierte en una bruja, me acuerdo de ese episodio y vuelvo a llorar, ¿por qué no aceptaste la ayuda de Homura, Sayaka, por qué tenías que ser orgullosa, alejarte de Madoka y terminar convirtiéndote en lo que juraste destruir, por qué? La primera vez que vi ese capítulo no sabía qué estaba pasando, y me sorprendí y lloré cuando sucede, la segunda vez que la vi ya estaba soltando lágrimas desde la primera vez que entiendo en qué parte de la historia voy, esta serie es demasiado oscura como para que trate solo de unas niñas mágicas.
El tercer momento es el capítulo que debería ser el primero que se tendría que ver para poder entender la serie desde el principio, pero se le quitaría el misterio que hay en todo momento y no es la idea, ya deben saber de cuál hablo si ya vieron la serie, y si no la han visto y no quieren spoilers, ¿qué hacen leyendo esto? ¿Cómo carajos Homuro pudo soportar tanto tiempo intentando salvar a Madoka de que se convirtiera en una niña mágica? O sea, qué horrible, el momento en el que comienzan a pasar una y otra vez todas las lineas de tiempo en las que Homura se encuentra con Madoka es demasiado doloroso, cuando ella llorando le explica todo a Madoka, no sé quién llora más, si ella o yo, es horrible, desgraciada serie, entreténme, pero no me hagas llorar, tampoco seas así, vale, qué horrible.

          




The soundtrack of the series is completely epic and according to everything we are going to see, as I write this I'm listening to it and I can remember with just the song almost all the moments they allude to, and it's a rare thing, the songs are too animated, only the dark and gloomy lyrics fit perfectly with the overall concept of the series, the rest of the song is just the pink and flashy exterior that leads us to fall into the existential trap of this series, although they are not all, what's more, here I leave OST on Spotify for you to listen to it, it's a masterpiece.
I did, and many other people did too, but almost always the approach taken when talking about the series is only about the plot, about how dark it is, about the decisions that only 14-year-old girls have to make without really knowing the repercussions that their lives will have, and all that, but rarely is the subject of the animation, specifically, the animation of the witches, touched upon.
Have you really paid attention to witches? I mean, for the most part, they are not animated, nor are the objects and the rest of the things that accompany them in their domains, they are not drawings on paper that they put on the screen, that's why they are so terrifying and give a feeling of complete incoherence or that they should not be there, not only because they are witches and they feed on people's lives, no, their existence and presence in that place were taken to a higher level and the way they are represented goes beyond what is noticed at first glance.

El soundtrack de la serie es completamente épico y acorde con todo lo que vamos a ver, mientras escribo esto lo estoy escuchando y puedo recordar con solo la canción casi todos los momentos a los que hacen alusión, y es una cosa rara, las canciones son demasiado animadas, solo las letras oscuras y tétricas encajan perfectamente con el concepto general de la serie, el resto de la canción solo es el exterior rosa y llamativo que nos lleva a caer en la trampa existencial de esta serie, aunque no son todas, es más, aquí les dejo OST en Spotify para que lo escuchen, es una obra maestra.
Yo lo hice, y mucha otra gente también, pero casi siempre el enfoque que se toma al hablar de la serie es solo de la trama, de lo oscura que es, de las decisiones que tan solo unas niñas de 14 años deben tomar sin saber de verdad las repercusiones que van a tener sus vidas, y todo eso, pero pocas veces se toca el tema de la animación, en específico, de la animación de las brujas.
¿Le han prestado atención de verdad a las brujas? O sea, en su mayoría, no están animadas, ni los objetos y el resto de cosa que las acompaña en sus dominios, no son dibujos en papel que pusieron en la pantalla, por eso es que son tan terroríficas y dan una sensación de completo incoherencia o de que no deberían estar ahí, no solo porque son brujas y se alimentan de la vida de la gente, no, sus existencias y presencias en ese lugar fueron llevadas a un nivel superior y la forma en que está representadas va más allá de lo que se nota a primera vista.

          




This is a series that despite how complicated, dark and sentimental it is, can be watched by anyone older than 8-10 years old, although for the younger ones it will generate many questions that adults will have to take a deep breath before answering and try to give a simple answer to something complicated, good luck with that.
As I told you at the beginning of the post, I chose this specific trailer thinking about those people who haven't seen the series, although if the whole post would have been coherent, I would have done it without spoilers, I didn't want to do it that way, how annoying is having to apologize for something as useless as a spoiler, we are all going to die and here we continue, so don't come with idiocies, in fact, soon I will make a post talking about spoilers.
If you have already seen the series, the trailer is going to look great, very well done and that leaves absolutely everything in expectation, the best appetizer to open our hunger and make us want to watch the series, and if I hadn't seen it a little while ago I would watch it again right now, but no, I have to see other things first.

Esta es una serie que a pesar de lo complicada, oscura y sentimental que es, la puede ver cualquiera mayor de 8-10 años, que si bien para los más pequeños va a generar muchas preguntas que los adultos van a tener que respirar profundo antes de responer y tratar de dar una respuesta simple a algo complicado, suerte con eso.
Como al principio de la publicación les dije, elegí estre trailer en específico pensando en aquellas personas que o han visto la serie, aunque si toda la publicación hubiera tenido coherencia, la hubiera hecho sin spoilers, pero no quise hacerla así, qué fastidio es tener que pedir disculpas por algo tan inútil como un spoiler, todos nos vamos a morir y aquí seguimos, así que no vengan con idioteces, es más, pronto haré una publicación hablando de los spoilers.
Si ya vieron la serie, el trailer les va a parecer una genialidad, muy bien hecho y que deja a la expectativa absolutamente todo, el mejor aperitivo para abrirnos el hambre y que queramos ver la serie, y si no la hubiera visto have poco la volvería a ver ahorita mismo, pero no, debo ver otras cosas primero.

---
---