You - Love it's destruction | Impressions and series review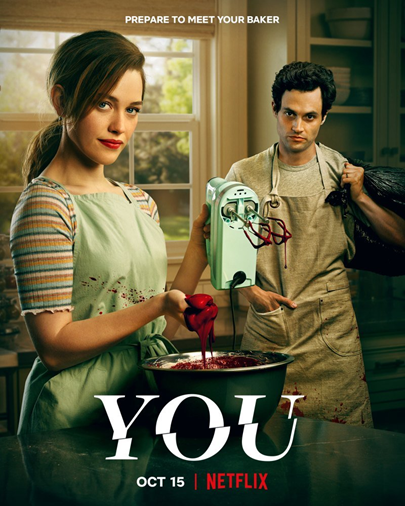 Hello, living beings! I didn't even remember that the third season of You was coming out and when it premiered a few days ago it ended up slapping me with how good it is, an exquisite, Joe and Love became one of my favorite killer couples, and considering that this is the third season, I recommend you not to read if you don't want to find out possible spoilers.
This third season is a very amazing thing, I hadn't even finished the first chapter and I was more in love with Love and Joe if it was possible, both are completely crazy, but together they reach an unimaginable level of insanity, they are their best allies and worst enemies.
Aha, this third season starts after everything went to shit in Anavrin and Love's brother ended up dead, and Love would have ended up dead if she hadn't been pregnant with the most beautiful baby a murderous parents could have, then they both move to Mother Linda, a city so perfect it's hell and where all sightings of true happiness are completely eradicated.

¡Hola, seres vivos! Ni siquiera me acordaba de que iba a salir la tercera temporada de You y cuando se estrenó hace pocos días me terminó dando cachetadas de lo buena que es, una exquisites, Joe y Love se convirtieron en una de mis parejas de asesinos favoritos, y teniendo en cuenta que esta es la tercera temporada, les recomiendo no leer si no quieren entererse de posibles espoilers.
Esta tercera temporada es una cosa muy increíble, ni siquiera había terminado el primer capítulo y estaba más enamorado de Love y Joe si era posible, ambos están completamente locos, pero juntos llegan a un nivel de locura inimaginable, son sus mejores aliados y peores enemigos.
Ajá, esta tercera temporada comienza después de que todo se fuera a la mierda en Anavrin y el hermano de Love terminara muerto, y Love hubiera terminado muerta si no hubiera estado embarazada del bebé más hermoso que unos padres asesinos pudieran tener, entonces ambos se mudan a Madre Linda, una ciudad tan perfecta que es un infierno y donde todo avistamiento de felicidad verdadera es completamente erradicada.

         




Henry is a beautiful little thing that makes even Joe love him, when he only loves his mother's challenges that he finds in the women he decides to harass, in short, we will see him very little, but we will die little by little of tenderness until we do not know whether to really kill us or cry our eyes out because of what happens, I decided to cry my eyes out, obviously, although I could not help it.
If previously we knew a lot about Joe, in this season we will know each of his deranged but logical thoughts and feelings, we will understand much more the reasons for his actions, and once again we will accompany him to therapy, although this time it is for couples, and Love will be with us.
Love is going to be an excellent co-star, fuck, if her performance in the second season was exquisite and ended up becoming that horrendous thing that is on par with Joe, and that nobody would have suspected, fuck, in this third season her character is going to be a wonderful mastery of madness and instability.

Henry es una cosita hermosa que hace que incluso Joe lo ame, cuando él solo ama a los retos de su madre que encuentra en las mujeres que decida acosar, en fin, lo vamos a ver muy poco, pero moriremos poco a poco de ternura hasta que no sabemos si de verdad matarnos o llorar a mares por lo que sucede, yo decidí llorar mares, obviamente, aunque no pude evitarlo.
Si anteriormente conocíamos muchísimo a Joe, en esta temporada vamos a conocer cada uno de sus desquiciados pero lógicos pensamientos y sentimientos, enténderemos muchísimo más las razones de su actuar y una vez más lo acompañaremos a terapia, aunque esta vez es de pareja, y Love estará junto a nosotros.
Love va a ser una excelente coprotagonista, joder, si su actuación en la segunda temporada fue exquisita y terminó convertida en esa cosa horrosa que está a la par de Joe, y que nadie hubiera sospechado, fuck, en esta tercera temporada su personaje va a ser una maestría de locura e inestabilidad maravillosa.

         




I mean, look at that beautiful face of someone unhinged, doesn't it make you want to run away? Because I do, Victoria Pedretti shined in a way that few actresses would have done in her place, although I have a complaint and that is that they made her character more unstable than she should be, I mean, yes she is crazy and you don't know what the fuck she can do at any moment, but I think they overdid it a little bit, just a little bit.
Joe, on the other hand, is still going to be Joe, a top-notch manipulator, but his character is going to have several things that he falls back on and loses a bit of his insane appeal, but I imagine they did that to make Love stand out more in the story, so everything is completely balanced.
Mother Linda is going to be a hell made a reality, horrible, the evil one of the town will be a harpy that if she doesn't like you she turns you into the leprosy person of the town making no one treat you and sinking you little by little into misery until she finally decides to reach out to pull you out of the pit where she sunk you and make you thank her for saving you, that one a bitch from head to toe, a very well done character, I hated her every time.

O sea, vean esa cara hermosa de alguien desquiciado, ¿no les dan ganas de salir corriendo? Porque a mí sí, Victoria Pedretti se lució de una forma en la que pocas actrices lo hubieran logrado en su lugar, aunque tengo una queja y es que volvieron a su personaje más inestable de lo que debería, o sea, sí está loca y no se sabe qué carajos puede hacer en cualquier momento, pero creo que se les pasó la mano un poquito, solo un poquito.
Por el contrario, Joe va a seguir siendo Joe, un manipulador de primera calidad, pero su personaje va a tener varias cosas en las que recae y pierde un poco de su atractivo insano, pero imagino que lo hicieron para que Love destacara más en la historia, así que todo queda completamente equilibrado.
Madre Linda va a ser una infierno hecho realidad, horrible, la malvada de la ciedad será una arpía que si no le caes bien te convierte en la persona con lepra de la ciudad haciendo que nadie te trate y te hunde poco a poco en la misera hasta que finalmente decide tenderte la mano para sacarte del pozo donde te hundió y hacer que le agradezcas por salvarte, esa una perra de pies a cabeza, un personaje muy bien hecho, la odié siempre.

      




If Penn Badgley creates his own ASMR channel where he would be talking about anything for hours and hours I would become his number one consumer, I mean, in this third season I lost count of how many monologues he did, sometimes I just closed my eyes to listen to him and that's it, although I still understood what he was saying, I played the ignorant, I insanely love the excessive amount of monologues he did in this third season.
Like I told you, they became one of my favorite killer couples, they are too cute and complement each other perfectly, they are beautiful, DO NOT FALL IN LOVE WITH ANYONE LIKE THAT, EVER. Watch the trailer, watch all the previous seasons, and love this very real fiction.

Si Penn Badgley crea su propio canal de ASMR donde él estaría hablando de cualquier cosa durante horas y horas yo me convertiría en su consumidor número uno, o sea, en esta tercera temporada perdí la cuénta de cuántos monólogos hizo, a veces solo cerraba los ojos para escucharlo y ya, aunque igual entendía lo que decía, pero me hacía el ignorante, amo insanamente la cantidad excesiva de monólogos que él hizo en esta tercera temporada.
Como les dije, ellos se convirtieron en una de mis parejas de asesinos favoritos, son demasiado tiernos y se complementan perfectamente, son hermosos, NO SE ENAMOREN DE NADIE ASÍ, JAMÁS. Vean el trailer, vean todas las temporadas anteriores, y amen esta ficción muy real.

---
---