Fin de una mala racha para Magallanes // End of a bad streak for Magallanes [ESP/ENG]

Con la derrota ante el eterno rival, Leones del Caracas, la preocupación aumentó cuando Navegantes del Magallanes cayó derrotado en casa (8-7) ante Cardenales de Lara en el último compromiso de la segunda semana, sin embargo, tras finalizar con récord negativo de dos victorias y cuatro derrotas, el inicio de esta tercera semana no pudo ser mejor al vencer (4-7) a las Águilas del Zulia.
With the defeat against the eternal rival, Leones del Caracas, the concern increased when Navegantes del Magallanes lost at home (8-7) against Cardenales de Lara in the last game of the second week, however, after finishing with a negative record of two wins and four losses, the start of this third week could not have been better with a 4-7 victory over Águilas del Zulia.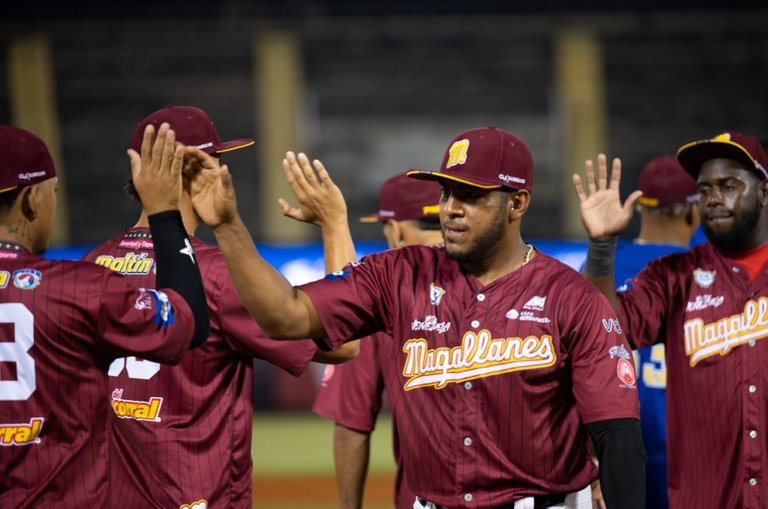 Fuente
Con este último resultado, La Nave Turca corta una racha de tres derrotas en fila, situación que no se daba desde hace casi un año, cuando desde el 14 al 16 de noviembre de 2021 cayeron ante Tigres y en par de ocasiones ante las Águilas.
With this last result, La Nave Turca cut a streak of three losses in a row, a situation that had not occurred for almost a year, when from November 14 to 16, 2021 they lost to Tigres and on two occasions to the Águilas.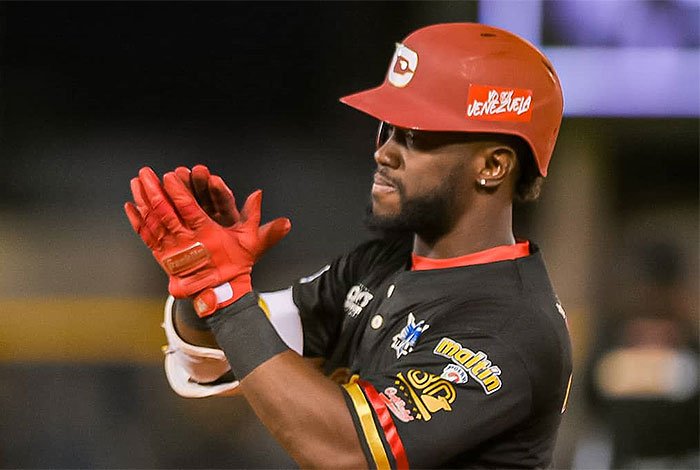 Fuente
Toma y dame ante los pájaros rojos // Take and give me before the red birds
Con la necesidad de ganar para calmar las aguas de la tormenta dejada por perder el clásico, llegó Magallanes al encuentro del domingo, 30 de octubre de 2022, y pese al esfuerzo de haber remontado el juego en par de ocasiones, no pudieron hacerlo por tercera y última vez, y finalmente tuvieron que conformarse con la enseñanza que te deja una derrota en un encuentro tan disputado como lo fue este.
Pese a llegar con una carrera de ventaja al noveno episodio, Bruce Rondón no pudo colocar el cerrojo, tampoco la defensa lo ayudó mucho, ya que la carrera del empate llegó gracias a un error en fildeo del tercera base Alberto Gonzalez.
En extrainnings el ex jugador de los actuales campeones de la Liga Nacional de la MLB (Philadelphia Phillies), Odubel Herrera, logró con un sencillo al left traer al plato a Alberth Martínez y aventajar a Cardenales. En el mismo 10mo episodio, en una jugada muy polémica que le terminó costando la primera expulsión como manager a Yadier Molina, los larenses anotaron una carrera más para irse al cierre con dos de ventaja. A pesar de que Arturo Nieto impulsó la carrera del descuento y posteriormente con un hit de Engelb Vielma Magallanes tendría corredores en las esquinas con un solo out, ninguno de los dos bateadores que se pararon en plato pudieron dar el batazo.
With the need to win to calm the waters of the storm left by losing the classic, Magallanes arrived at the game on Sunday, October 30, 2022, and despite the effort of having come back on a couple of occasions, they could not do it for the third and last time, and finally had to settle for the lesson that a defeat leaves you in a game as disputed as this one was.
Bruce Rondón was not able to put the game away, and the defense did not help him much either, as the tying run came thanks to a fielding error by third baseman Alberto Gonzalez.
In extra innings, the former player of the current MLB National League champions (Philadelphia Phillies), Odubel Herrera, managed with a single to left to bring Alberth Martinez to the plate and give the Cardinals the lead. In the same 10th inning, in a very controversial play that ended up costing Yadier Molina his first ejection as manager, the Larios scored one more run to go to the close with a two-run lead. Although Arturo Nieto drove in the go-ahead run and later with a hit by Engelb Vielma Magallanes had runners on the corners with only one out, none of the two batters who stood at the plate were able to hit the ball.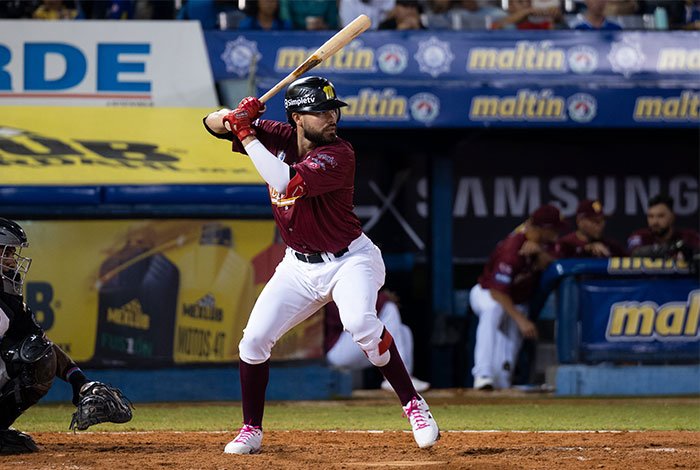 Fuente
Retorno al buen rumbo // Back on track
Con un día de descanso para tomar algo de respiro y aclarar ideas, La Nave finalmente volvió a reencontrarse con el triunfo el martes ante un equipo rapaz que no se dio por vencido y logró igualar la contienda en el octavo episodio.
El conjunto local hilvanó cuatro anotaciones en el segundo capítulo para colocarse en ventaja desde temprano en el juego y no fue hasta el octavo que lograría nuevamente anotar, cuando la necesidad de retomar la ventaja perdida, los llevó a buscar las carreras que finalmente consiguieron en tres oportunidades en esa entrada.
Esta vez el cerrador de Magallanes si pudo mantener a raya a los bateadores contrarios, para sellar el triunfo y acabar con la mala racha.
With a day of rest to take a breather and clarify their ideas, La Nave finally got back to winning ways on Tuesday against a rapaz team that did not give up and managed to tie the game in the eighth inning.
The home team scored four runs in the second inning to take an early lead and it was not until the eighth inning that they were able to score again, when the need to regain the lost lead led them to look for runs, which they finally got three times in that inning.
This time the Magallanes' closer was able to keep the opposing batters at bay to seal the victory and end the bad streak.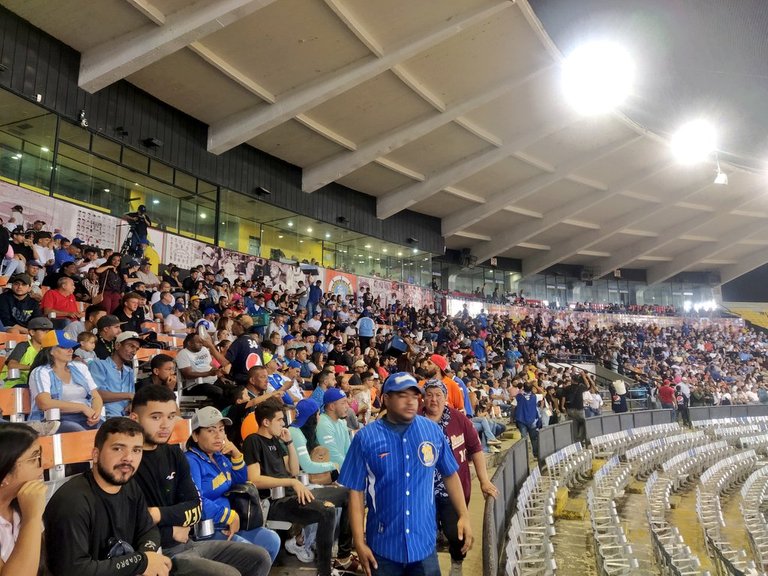 Fuente
Impresiones // Impressions
Bruce Rondón y Anthony Vizcaya siguen demostrando que a pesar de sus tropiezos en el octavo y noveno juego, respectivamente, son los mejores brazos que tiene el equipo turco en su bullpen, aunque en ese dueto podemos incluir al lanzador José Ascanio, que en los cuatro juegos que ha salido a relevar no ha permitido carreras limpias.
Situación que sigue preocupando es la de los importados, de los cuatro que fueron contratados sólo Lázaro Hernández ha destacado y si a esto le añadimos lo incierto que se comienza a ver la llegada de grandes ligas a este equipo, puede convertirse en una temporada larga, sinceramente espero que los problemas se solucionen para así poder ir a ver a nuestros muchachos de la Gran Carpa, defender la camiseta naval en este lustro.
Magallanes ahora le toca agarrar carretera, para en una pequeña gira de dos días enfrentar a Tigres de Aragua en Maracay y Bravos de Margarita en La Guaira, antes de devolverse a Valencia para recibir a los felinos. Particularmente espero al menos una victoria en estos dos juegos, pero la pelota es redonda y ya veremos qué sucede. Me despido agradeciendoles por leerme una vez más y espero hayan disfrutado el post tanto como lo hice yo redactandolo.
Bruce Rondón and Anthony Vizcaya continue to demonstrate that despite their stumbles in the eighth and ninth game, respectively, they are the best arms that the Turkish team has in its bullpen, although in that duet we can include pitcher José Ascanio, who in the four games he has relieved has not allowed any clean runs.
Of the four that were hired, only Lázaro Hernández has been outstanding and if we add to this the uncertainty of the arrival of big leaguers to this team, it could turn into a long season. I sincerely hope that the problems are solved so that we can see our boys from the Big Tent defending the naval jersey in this five-year period.
Magallanes now has to hit the road for a two-day road trip to face Tigres de Aragua in Maracay and Bravos de Margarita in La Guaira, before returning to Valencia to receive the felines. I am particularly hoping for at least one win in these two games, but the ball is round and we will see what happens. I say goodbye thanking you for reading me once again and I hope you enjoyed the post as much as I did writing it.
Texto traducido al inglés mediante DeepL // Text translated into English through DeepL
---
---