Magallanes regresa a Valencia tras su primera gira de la campaña // Magallanes returns to Valencia after its first tour of the season [ESP/ENG]
Navegantes del Magallanes obtuvo una victoria y una derrota en sus primeros dos duelos fuera de casa. El pasado martes, 25 de octubre, fueron blanqueados (0-3) por los Tiburones de La Guaira en el Universitario, mientras que al siguiente día la ofensiva despertó para quedarse con la victoria (10-6) ante Tigres de Aragua.
Navegantes del Magallanes obtained a win and a loss in their first two away games. Last Tuesday, October 25, they were blanked (0-3) by the Tiburones de La Guaira at the Universitario, while the following day the offense woke up to win (10-6) against Tigres de Aragua.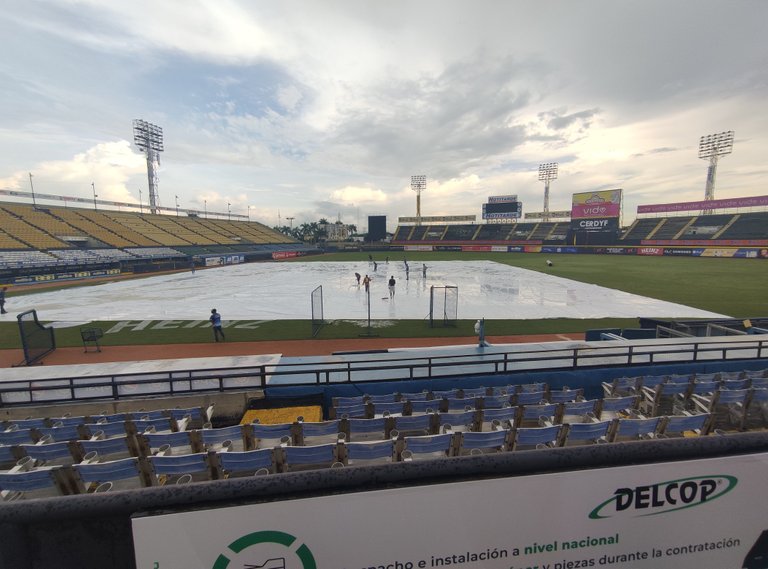 Fuente
El balance sigue siendo positivo en estos primeros enfrentamientos, los eléctricos ahora deberán afrontar una serie de dos encuentros en casa ante Caribes de Anzoátegui, previo a lo que será el primer enfrentamiento ante el «eterno rival» el próximo sábado.
The balance continues to be positive in these first encounters, the electric team must now face a two-game series at home against Caribes de Anzoátegui, prior to what will be the first confrontation against the "eternal rival" next Saturday.
---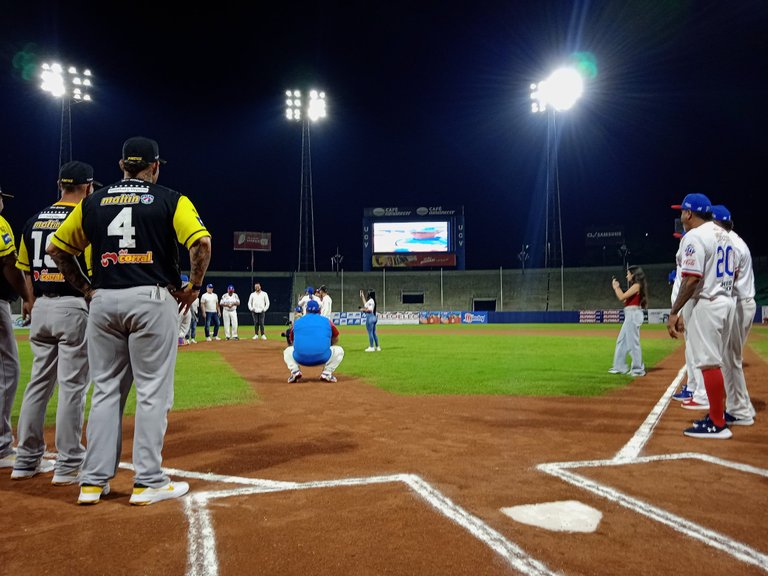 Fuente
Maniatados por los lanzadores guaireños // Manhandled by Guairean pitchers
La artillería naval poco pudo hacer ante los envíos de los cinco lanzadores que se pararon en el montículo del estadio Universitario de Caracas, el abridor de los Tiburones, Manuel Olivares, fue el único que recibió hit, en total fueron tres. Mientras que los relevistas concretaron la blanqueada de manera casi perfecta, solo en el sexto inning se volvió a embazar un corredor debido a un error en tiro del lanzador Gregory Infante, a partir de allí todos los que se pararon en la caja de bateo fueron retirados.
El pitcheo magallanero no lució mal, el abridor Yohander Méndez recibió una carrera en el tercer episodio, cuando Juan Fernández fue traído al plato por un doble de Danry Vásquez. La segunda anotación fue cargada a la cuenta Ángel Acevedo en el séptimo, cuando Wilson García trajo a Mikel García con sencillo al jardín izquierdo. La tercera y última anotación del encuentro llegó en el octavo, ante los envíos de Darwin Ramos el segunda base Franklin Barreto la sacó del parque.
Aunque los lanzadores mantuvieron siempre el juego cerrado, los bateadores quedaron en deuda en este encuentro, solo el cubano Lázaro Hernández logró conectar dos inatrapables, uno de ellos un doble, sin embargo, esto no lo pudieron aprovechar sus compañeros para romper el cerrojo, el otro pelotero en poder conectar un inatrapable en este juego fue Daniel Mayora.
The naval artillery could do little against the five pitchers who stood on the mound of the University Stadium of Caracas, the starter of the Tiburones, Manuel Olivares, was the only one who received a hit, in total there were three. While the relievers completed the shutout in an almost perfect manner, only in the sixth inning a runner got a runner caught again due to a throwing error by the pitcher Gregory Infante, from then on all those who stood in the batter's box were retired.
Magallanero's pitching did not look bad, starter Yohander Méndez received a run in the third episode, when Juan Fernández was brought to the plate by a double by Danry Vásquez. The second run was credited to Angel Acevedo in the seventh, when Wilson Garcia brought in Mikel Garcia with a single to left field. The third and last run of the game came in the eighth, when second baseman Franklin Barreto knocked it out of the park against Darwin Ramos.
Although the pitchers always kept the game closed, the hitters were in debt in this game, only the Cuban Lázaro Hernández managed to connect two hits, one of them a double, however, his teammates were unable to take advantage of this to break the shutout, the other player who was able to connect a hit in this game was Daniel Mayora.
---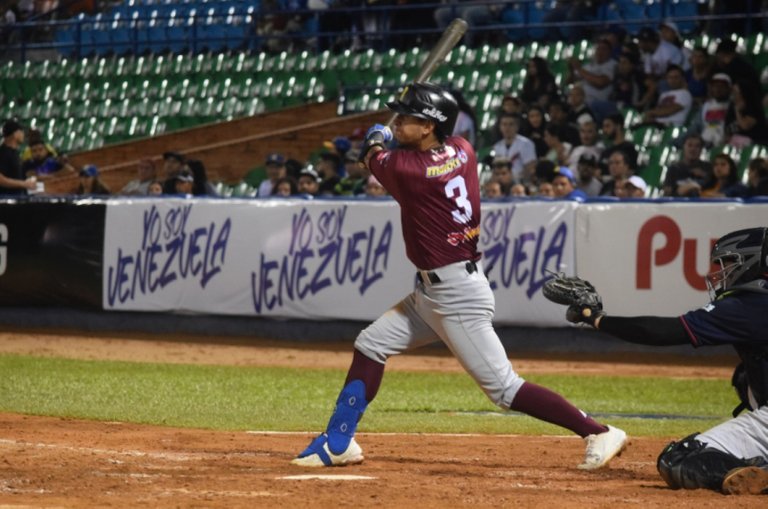 Fuente
Otro duelo de batazos ante los bengalíes // Another slugfest against the Bengalis
Para el segundo duelo de esta semana, la ofensiva volvió a responder como en los primeros dos juegos de la campaña, siendo contundentes desde la primera entrada.
Otra vez ante los Tigres de Aragua se dio un choque de batazos, pero esta vez el escenario fue el José Pérez Colmenares de Maracay.
La nave castigó al abridor Jair Jurrjens con cuatro carreras limpias, situación que llevó al manager Jackson Melián a retirarlo de la contienda en el mismo primer episodio, donde solo logró realizar par de outs, para darle la responsabilidad a Francisco Chaparro. Este último logró retirar la primera entrada, sin embargo, fue apaleado en la segunda y con tres carreras permitidas tuvo que ser cambiado por Anthony Ortega, para así evitar que la ventaja fuese más abultada. En el tercer inning Magallanes sumó una carrerita más ante los envíos de Ortega.
Tigres descontó una carrera en el primer episodio y desde allí no logró anotar sino hasta el octavo, cuando el juego ya se encontraba 10-1, debido a que los filibusteros anotaron par de carreras más en la séptima entrada. En ese octavo inning los de casa hicieron dos y en noveno fueron tres más, pero ya sería insuficiente porque la visita trajo a su cerrador, Bruce Rondón, para apagar las llamas de un incendio que prometía ser más grande.
For the second duel of this week, the offense responded again as in the first two games of the campaign, being convincing from the first inning.
Once again against the Tigres de Aragua there was a clash of hits, but this time the scenario was the José Pérez Colmenares de Maracay.
The ship punished starter Jair Jurrjens with four clean runs, a situation that led manager Jackson Melián to retire him from the game in the first inning, where he only managed to make a couple of outs, to give the responsibility to Francisco Chaparro. The latter managed to retire the first inning, however, he was beaten in the second inning and with three runs allowed he had to be replaced by Anthony Ortega, in order to avoid a bigger advantage. In the third inning, Magallanes added one more run against Ortega.
Tigres scored one run in the first episode and from then on did not manage to score until the eighth, when the game was already 10-1, due to the fact that the Filibusteros scored two more runs in the seventh inning. In the eighth inning, the home team scored two more runs and in the ninth inning three more, but it would not be enough because the visitors brought in their closer, Bruce Rondón, to put out the flames of a fire that promised to be bigger.
---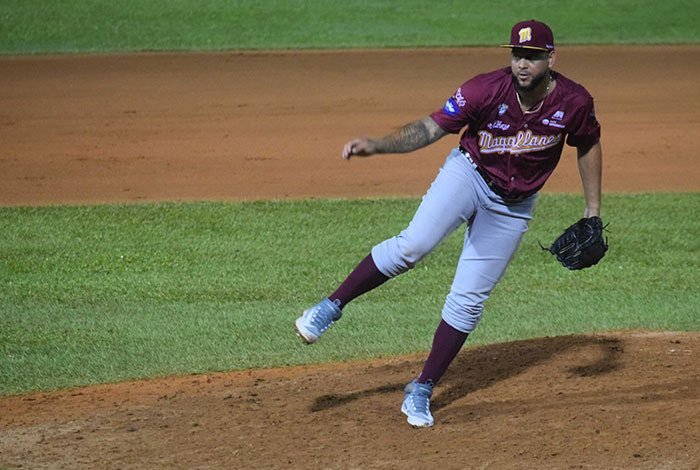 Fuente
Impresiones // Impressions
Me quito el sombrero ante los pitcher de los Tiburones de La Guaira, que lograron parar a una ofensiva que venía de conectar más de 15 inatrapables en cada uno de los dos primero juego de la campaña, sin duda, nada que decir sobre este juego, Magallanes hizo lo que pudo ante unos lanzadores que estuvieron en su día.
Ya para el segundo duelo fue lo esperado, el equipo con mejor bateo fue contundente ante la escuadra con la peor efectividad en lo que va de la naciente temporada de la LVBP. Todos los bateadores lograron conectar al menos un inatrapable, a excepción de Rayder Ascanio y Daniel Mayora que se fueron de 1-0 y 5-0, respectivamente.
Robert Zárate y Bruce Rondón siguen comandando de gran forma el bullpen, mientras que el trabajo de los abridores fueron muy bueno en estos dos juegos, a pesar de que Yohander Méndez tuvo que cargar con la derrota ante Tiburones, ambos abridores concretaron cuatro entradas completas y recibieron solo una anotación.
En la ofensiva destaca lo realizado hasta ahora por el right fielder Lázaro Hernández, que promedia .438 de average, en 16 turnos al bate tiene 7 hit (entre ello un doble y un batazo de vuelta completa), 5 carreras anotadas y 2 impulsadas. Mención especial para Ricardo Paolini y Engelb Vielma, que se fueron de 4-3 con dos anotadas ante los Tigres de Aragua, el primero logró impulsar 1 carrera.
Ahora toca afrontar una serie dura en casa, los finalistas del año pasado se enfrentarán por primera vez desde aquel 18 de enero en Puerto La Cruz, donde Magallanes consiguió su decimotercer título de campeón de la liga invernal venezolana, al derrotar en el séptimo juego de la Gran Final a Caribes de Anzoátegui (2-3).
Hats off to the pitchers of the Tiburones de La Guaira, who managed to stop an offense that had more than 15 hits in each of the first two games of the campaign, without a doubt, nothing to say about this game, Magallanes did what they could against pitchers who were on their day.
In the second game it was as expected, the team with the best batting was convincing against the team with the worst effectiveness so far in the nascent LVBP season. All batters managed to hit at least one hit, with the exception of Rayder Ascanio and Daniel Mayora who went 1-0 and 5-0, respectively.
Robert Zárate and Bruce Rondón continue to command the bullpen in a great way, while the work of the starters was very good in these two games, although Yohander Méndez had to take the loss against Tiburones, both starters pitched four complete innings and conceded only one run.
In the offense, the performance so far of right fielder Lazaro Hernandez stands out, who averages .438 average, in 16 at-bats he has 7 hits (including a double and a complete game hit), 5 runs scored and 2 runs batted in. Special mention for Ricardo Paolini and Engelb Vielma, who went 4-3 with two runs scored against Tigres de Aragua, the former managed to drive in 1 run.
Last year's finalists will face each other for the first time since January 18 in Puerto La Cruz, where Magallanes won its thirteenth Venezuelan winter league championship title by defeating Caribes de Anzoátegui (2-3) in the seventh game of the Grand Final.
Texto traducido al inglés mediante DeepL // Text translated into English through DeepL
---
---