No hay mejor forma de iniciar un Mundial que brindándoles unas arepas a tu rival // There is no better way to start a World Cup than by offering arepas to your rival [ESP/ENG]
Y sí, ¿Por qué este título tan pintoresco?. Porque ha ganado la selección de Venezuela en su debut en el Mundial de Béisbol U-23 2022 y no pudo ser de la mejor forma, que propinándole nueve arepas (0-9) a un timorato equipo de Sudáfrica.
And yes, why such a colorful title? Because the Venezuelan national team has won in its debut in the Baseball World Cup U-23 2022 and it could not have been in a better way than beating nine arepas (0-9) to a timorous South African team.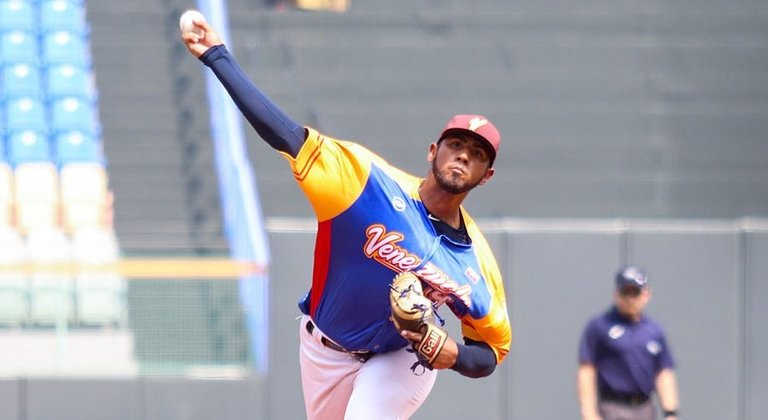 Fuente
El U-23 Baseball World Cup Taipei 2022 ya inició, en el primer juego de la jornada los locales Chinese Taipei vencieron (2-6) a Colombia, pero acá no te vengo hablar de lo que fue ese partido inaugural, sino del compromiso pautado para horas más tarde entre Venezuela y la selección de Sudáfrica.
The U-23 Baseball World Cup Taipei 2022 has already started, in the first game of the day the local Chinese Taipei defeated Colombia (2-6), but here I am not going to talk about the opening game, but about the game scheduled for hours later between Venezuela and the South African team.
---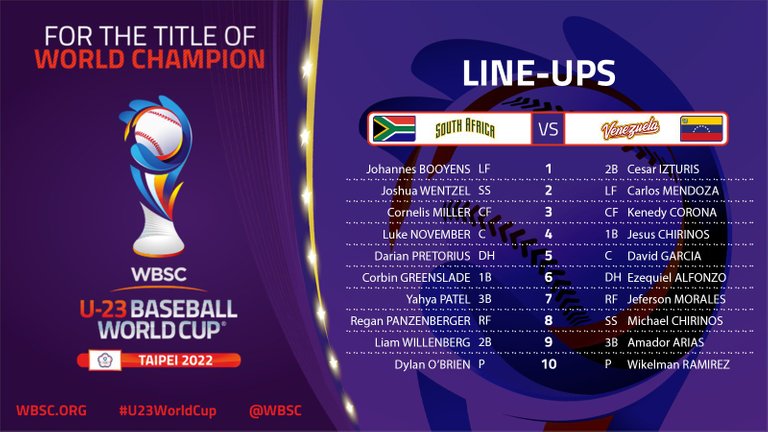 Fuente
El Line-up
Para este primer compromiso, el manager Carlos García depositó toda su confianza en el as de la rotación y campeón mundial, Wikelman Ramírez. Este abridor estuvo a solo dos outs de concretar el no hit no run, a pesar de no conseguir la hazaña se llevó todos los reflectores al completar 6.1 entradas labor, donde no permitió carreras, tan solo concedió un hit y ponchó a 11 bateadores.
The Line-up
For this first game, manager Carlos García put all his trust in the ace of the rotation and world champion, Wikelman Ramírez. This starter was only two outs away from achieving the no hit no run, despite not achieving the feat, he took all the spotlight by completing 6.1 innings of work, where he allowed no runs, only conceded one hit and struck out 11 batters.
---
Desarrollo
Aunque el juego comenzó muy parejo, con 3 episodios donde tuvimos un gran duelo de pitcheo y tan solo fue en el tercer inning que veríamos el primer imparable.
La cosa cambió a partir de la cuarta entrada, cuando tras una mala lectura del center fielder en un batazo de Carlos Mendoza, el primera base Jesús Chirinos anotó la primera rayita en el marcador. El mismo Mendoza colocó el 0-2 en la pizarra, cuando llegó al home gracias a un error del campocorto sudafricano Joshua Wentzel. Al ver que su defensa no lo apoyaba, el abridor Dylan O'brien comenzó a dudar, propinándole un pelotazo a Jefferson Morales, para que luego Michael Chirinos trajera la tercera carrera en los pies del bateador designado Ezequiel Alfonzo.
En la quinta entrada Sudáfrica movió el bullpen, el manager no permitió que O'brien regresará a la lomita y trajo a Mohamed a lanzar. A pesar del cambio de lanzador el descontrol continuó en un episodio curioso, ya que Armando Arias llegó a la almohadilla por boleto, César Izturis se embasó por sencillo y Mendoza falla un toque de bola preparado al primer lanzamiento, lo cual permite que el receptor reaccione rápidamente enviando la bola a segunda para colocar out al corredor, pero debido al que lanzamiento no es muy bueno este llega a salvarse, sin embargo, tras ver la repetición de la transmisión se pudo verificar que era out de calle, como dirian por alli. Finalmente el manager de Sudáfrica pagó caro su ingenuidad al no solicitar la revisión, ya que Mendoza más adelante si fallaría en su misión, pero gracias al ojo de halcón de García que no falló al solicitar revisión en un dobleplay dejo la entrada más viva que nunca, con corredores en primera y tercera con un solo out. Un fly de sacrificio de Kenedy Coronado trajo la cuarta carrera, un doble de Jesús Chirinos impulsó la quita y Amador Arias con hit al rigth filder impulsó la sexta.
En la sexta entrada el manager de Sudáfrica trató de detener la ofensiva vinotinto cambiando nuevamente de lanzador, pero la jugada le volvió a fallar, ya que Alfonzo recibió a Maritz con doblete y la defensa volvió a pecar tras un rodado de Jeferson Morales que el tercera base no logró enviar correctamente a la inicial, para así colocar el 0-7 en la pizarra taiwanesa. Michael Chirinos trajo la octava carrera con ayuda del segunda base que no pudo fildear la bola. Como si fuera algo que ya habíamos visto anteriormente, el pitcher se descontroló y tras un Wild Pitch permitió que el corredor avanzara, para que posteriormente fuera llevado al plato con un sencillo de Arias. El coach luego de tantos errores se levantó a hablar con su lanzador y este respondió a su confianza retirando a los tres bateadores venezolanos que seguían.
En el séptimo y último episodio, Wentzel cortó el juego perfecto del abridor venezolano con un sencillo, único hit de su selección en todo el juego. Tras este imparable Carlos García le quita la bola para que se vaya a celebrar con sus compañeros, dejándole la labor de cerrar la victoria a Juan Querecuto y este respondió de buena forma concretando los dos últimos outs.
Development
Although the game started very evenly, with 3 episodes where we had a great pitching duel and it was only in the third inning that we would see the first hit.
Things changed in the fourth inning, when after a misread by the center fielder on a hit by Carlos Mendoza, first baseman Jesús Chirinos scored the first run on the scoreboard. Mendoza himself put the 0-2 on the scoreboard, when he reached home thanks to an error by South African shortstop Joshua Wentzel. Seeing that his defense did not support him, starter Dylan O'Brien began to hesitate, throwing a ball to Jefferson Morales, and then Michael Chirinos brought in the third run at the feet of designated hitter Ezequiel Alfonzo.
In the fifth inning South Africa moved the bullpen, the manager did not allow O'Brien to return to the mound and brought in Mohamed to pitch. In spite of the change of pitcher, the out of control continued in a curious episode, since Armando Arias reached the cushion for a ticket, César Izturis got on base for a single and Mendoza missed a bunt prepared for the first pitch, which allowed the catcher to react quickly sending the ball to second to place the runner out, but due to the fact that the pitch was not very good, he managed to save himself, however, after watching the replay of the transmission, it was verified that it was a walk off, as they would say over there. Finally the South African manager paid dearly for his naivety in not requesting the review, as Mendoza would later fail in his mission, but thanks to Garcia's hawk eye that did not fail to request a review on a double play, he left the inning more alive than ever, with runners on first and third with only one out. A sacrifice fly by Kenedy Coronado brought in the fourth run, a double by Jesus Chirinos drove in the fifth and Amador Arias with a hit to the rigth filder drove in the sixth.
In the sixth inning, the South African manager tried to stop the Venezuelan offense by changing the pitcher again, but the play failed again, as Alfonzo received Maritz with a double and the defense failed again after a Jeferson Morales' ground ball that the third baseman failed to send correctly to the first base, to put the 0-7 on the Taiwanese board. Michael Chirinos brought in the eighth run with the help of the second baseman who failed to field the ball. As if it was something we had seen before, the pitcher got out of control and after a wild pitch allowed the runner to advance, to be later taken to the plate with a single by Arias. The coach after so many errors got up to talk to his pitcher and he responded to his confidence by retiring the three Venezuelan batters that followed.
In the seventh and last episode, Wentzel cut the perfect game of the Venezuelan starter with a single, the only hit of his team in the whole game. After this hit, Carlos García took the ball away from Wentzel to celebrate with his teammates, leaving the job of closing the victory to Juan Querecuto, who responded in a good way, getting the last two outs.
---
Fuente
Breve análisis
Lo del abridor venezolano fue fenomenal, una victoria que permite agarrar confianza en un mundial que estará mucho más difícil a partir de ahora, ya que la selección del sur de África no demostró ser un buen termómetro para medir el nivel de la selección. Esperemos que el día de mañana Japón y Venezuela nos regalen un duelo más parejo.
Brief analysis
The Venezuelan opener was phenomenal, a victory that allows us to gain confidence in a World Cup that will be much more difficult from now on, since the South African team did not prove to be a good thermometer to measure the level of the national team. Let's hope that tomorrow Japan and Venezuela will give us a more even match.
Texto traducido al inglés mediante DeepL // Text translated into English through DeepL
---
---