SHARE YOUR BATTLE Weekly Challenge! LEGIONNAIRE ALVAR (EN-ES)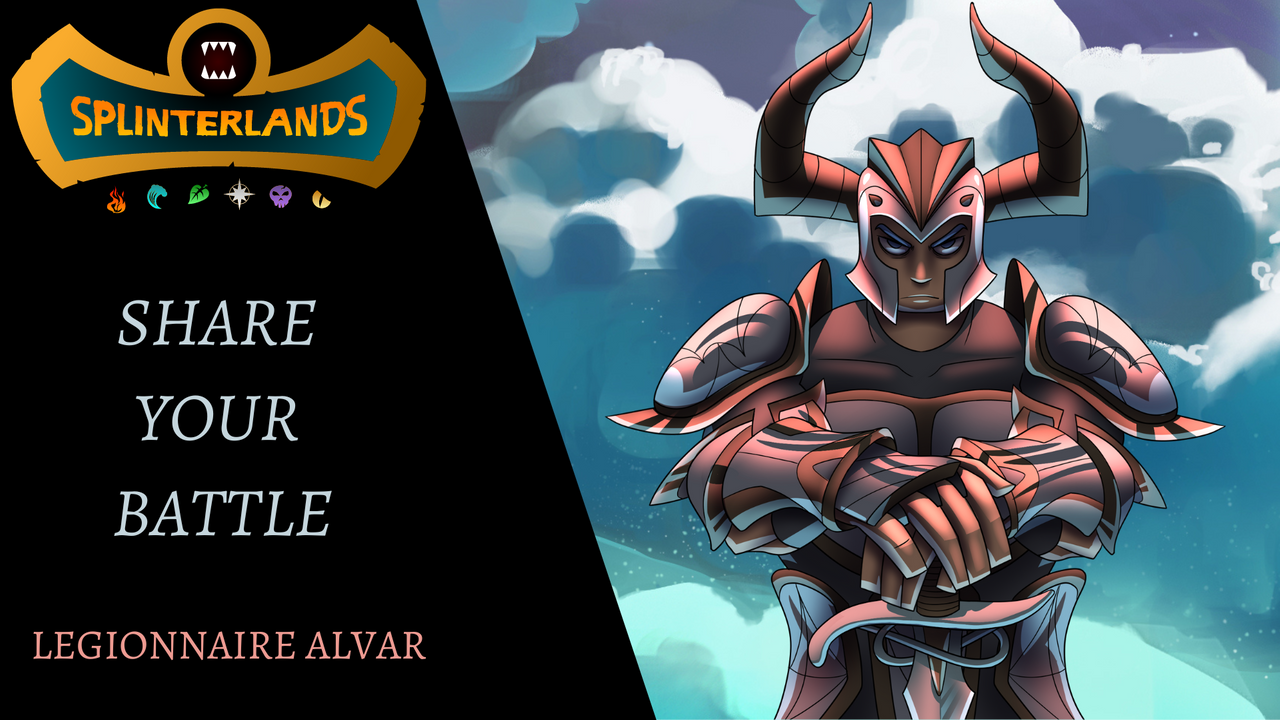 Images obtained in @splinterlands
The Chaos Legionnaires are ruthless warriors and the Chaos Legion's elite fighting force. Alvar Veralyn was conscripted into their ranks at a young age after his family was slain and his world conquered by the Chaos Legion. The harsh conditioning that all conscripts receive nearly broke the child, but in the end, his old, easy way of life was subsumed by the desire for battle and conquest. Alvar dedicated himself to his training, intent on reshaping his mind and his body until he had no equal on the battlefield. Eventually, he rose to the rank of General and now stands as leader of the Chaos Legionnaires.

Alvar is a most imposing sight on the battlefield. His armor is imbued to withstand the strongest of magical attacks, and even the mightiest of foes is no match for his massive, two-handed sword, which some say was forged in the Realm of Nightmare. He lives for battle, wading through his enemies and striking them down as he seeks out the strongest among them to engage in single combat. He enjoys nothing more than watching the life fade from his opponent's eyes. His conquests are legendary even among the Legionnaires, and he earned the title of Godkiller after the Battle of Dargnilat, during which he single-handedly defeated one of the Old Gods.

Los Chaos Legionnaires son guerreros despiadados y la fuerza de combate de élite de la Chaos Legion. Alvar Veralyn fue reclutado en sus filas a una edad temprana, después de que su familia fuera asesinada y su mundo conquistado por la Chaos Legion. El duro condicionamiento que reciben todos los reclutas estuvo a punto de quebrar al niño, pero al final, su antigua y fácil forma de vida fue subsumida por el deseo de batalla y conquista. Alvar se dedicó a su entrenamiento, con la intención de remodelar su mente y su cuerpo hasta que no tuviera igual en el campo de batalla. Con el tiempo, alcanzó el rango de General y ahora es el líder de los Chaos Legionnaires.

Alvar es una imagen imponente en el campo de batalla. Su armadura está imbuida para resistir los ataques mágicos más fuertes, e incluso el más poderoso de los enemigos no es rival para su enorme espada a dos manos, que algunos dicen que fue forjada en el Reino de la Pesadilla. Vive para la batalla, vadeando a sus enemigos y abatiéndolos mientras busca a los más fuertes entre ellos para entablar un combate singular. Nada le gusta más que ver cómo la vida se desvanece de los ojos de su oponente. Sus conquistas son legendarias incluso entre los Legionarios, y se ganó el título de Asesino de Dioses tras la Batalla de Dargnilat, en la que derrotó él solo a uno de los Dioses Antiguos.

LEGIONNAIRE ALVAR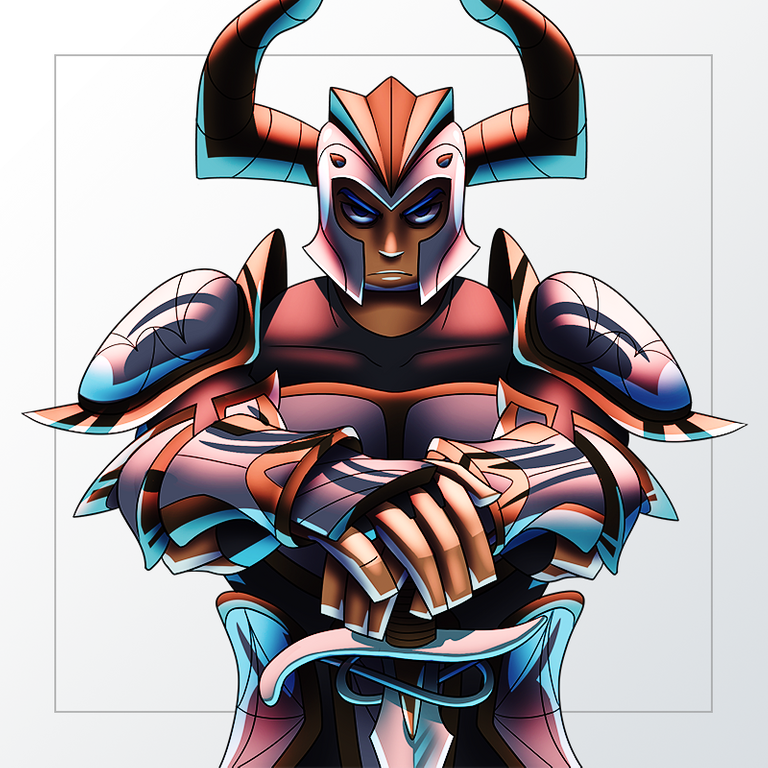 Edition: Chaos Legion
Rarity: Legendary
Splinter: Neutral
Attack: Melee
Abilities: Void Armor
In the Splinterlands weekly challenge we will talk about Legionnaire Alvar a card that until recently I had not paid much attention to but once I started playing it has become indispensable in my combat strategies. Let's know more about this card.
En el desafío semanal de Splinterlands hablaremos de Legionnaire Alvar una carta que hasta hace poco no le había prestado mucha atención pero una vez empecé a jugarla se ha vuelvo indispensable en mis estrategias de combate. Conozcamos más acerca de esta carta.
Legionnaire Alvar es una carta del Splinter Neutral de la edición Chaos Legion. La carta cuesta 9 puntos de maná y tiene 2 punto de ataque cuerpo a cuerpo, 2 puntos de velocidad, 8 puntos de escudo y 6 puntos de vida, a nivel 1.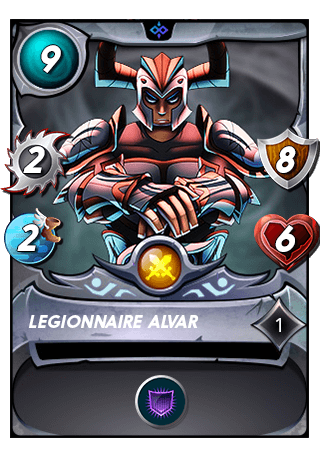 Legionnaire Alvar has the ability Voip Armor at level 1, from level 2 he learns Giant Killer. At level 3 he will learn the Demoralize skill and finally at level 4 he will learn the Deathblow skill.
Legionnaire Alvar dispone de la habilidad Voip Armor a nivel 1, a partir del nivel 2 aprende Giant Killer. A nivel 3 aprenderá la habilidad Demoralize y por último a nivel 4 aprenderá la habilidad Deathblow.

A fearsome opponent that can deal with any enemy creature. Thanks to being from the Splinter Neutral, we can use it in countless battles and get a lot out of it.
Un oponente temible y que puede hacer frente a cualquier criatura enemiga. Gracias a ser del Splinter Neutral, podemos usarlo en innumerables batallas y sacarle mucho partido.

Sharing my battle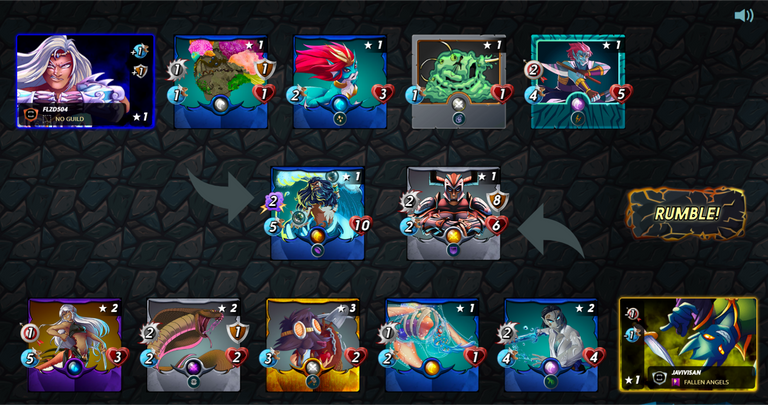 Mana Cap: 24 # Rules: Standard
In this combat we will be able to see the full potential of Legionnaire Alvar. His high shield together with the ability Void Armor make this card a difficult enemy to beat.
En este combate podremos ver todo el potencial que alberga Legionnaire Alvar. Su elevado escudo junto con la habilidad Void Armor hacen de esta carta un enemigo difícil de batir.
Let's take a look at the selected cards:
Veamos las cartas seleccionadas:
Line Up
Position
Card
Description
0
I will use Quix the Devious as a summoner. Perfect against ranged attack creatures and to slow down all enemy creatures.


Usaré como invocador a Quix the Devious. Perfecto contra criaturas de ataque a distancia y para reducir la velocidad de todas las criaturas enemigas.

1
In first position I will put Legionnaire Alvar, powerful creature thanks to his shield and Void Armor ability.


En primera posición pondré a Legionnaire Alvar, potente criatura gracias a su escudo y habilidad Void Armor.

2
In second position I will use Tide Biter, low mana cost, fast and with good attack. She can also attack from this position.


En segunda posición usaré a Tide Biter, de bajo coste de maná, rápida y con buen ataque. Además puede atacar desde ésta posición.

3
Third position for Torrent Fiend. To protect the creatures coming after it.


Tercera posición para Torrent Fiend. Para proteger las criaturas que vienen detrás de ella.

4
Fourth position for Scavo Hireling who will repair the shield of Legionnaire Alvar.


Cuarta posición para Scavo Hireling que reparará el escudo de Legionnaire Alvar.

5
Fifth position for Uraeus creature with low mana cost and good attack to the last enemy position.


Quinta posición para Uraeus criatura de bajo coste de maná y buen ataque a la última posición enemiga.

6
Finally, Naga Assassin for only 2 mana, a very fast creature with ranged attack.


Por último, Naga Assassin por tan sólo 2 de maná una criatura muy rápida y con ataque a distancia.
---
⚔ Round 1 ⚔
It will be a long combat, my enemy plays Djinn Oshannus and Merdaali Guardian to heal him, while Creeping Ooze slows down all my creatures. The good thing is that Axemaster has his strength reduced. The first turn, we hit and heal in one round without any casualties.
Será un combate largo, mi enemigo juega con Djinn Oshannus y Merdaali Guardian para curarlo, mientras Creeping Ooze ralentiza a todas mis criaturas. Lo bueno es que Axemaster ve reducida su fuerza. El primer turno, nos golpeamos y curamos en un asalto sin ninguna baja.
⚔ Round 2 ⚔
In the second turn I slowly lower the life of Djinn Oshannus and Axemaster while my Legionnaire Alvar continues to endure the blows while I repair his shield with Scavo Hireling.
En el segundo turno voy bajando poco a poco la vida de Djinn Oshannus y de Axemaster mientras mi Legionnaire Alvar sigue aguantando los golpes mientras reparo su escudo con Scavo Hireling.
⚔ Round 3 ⚔
In this third turn I continue lowering little by little the life of Djinn Oshannus and Axemaster. We continue to hold without suffering any casualties.
En este tercer turno sigo bajando poco a poco la vida de Djinn Oshannus y Axemaster. Seguimos aguantando sin sufrir ninguna baja.
⚔ Round 4 ⚔
It is on the fourth turn that I am able to destroy Axemaster and now any damage I take from Djinn Oshannus will be repaired by Scavo Hireling. I have just won the fight 💪
Es en el cuarto turno cuando puedo destruir a Axemaster y ahora cualquier daño que reciba de Djinn Oshannus será reparado por Scavo Hireling. Acabo de ganar el combate 💪
⚔ Round 5 ⚔
Fifth turn and I eliminate Djinn Oshannus, now I just have to wait to see how little by little I destroy the rest of his creatures.
Quinto turno y elimino a Djinn Oshannus, ya solo queda esperar para ver como poco a poco voy destruyendo al resto de sus criaturas.
⚔ Round 6 ⚔
Sixth turn in which I manage to destroy the only powerful creature that my enemy had Uloth Dhampir and now I only wait anxiously for the victory that is about to come.
Sexto turno en el que consigo destruir a la única criatura poderosa que tenía mi enemigo Uloth Dhampir y ya únicamente espero con ansia la victoria que está por llegar.
⚔ Round 7 ⚔
Seventh turn and I destroy Hardy Stonefish and Creeping Ooze.
Séptimo turno y destruyo a Hardy Stonefish y Creeping Ooze.
⚔ Round 8 ⚔
And on the eighth turn, I end up eliminating Merdaali Guardian and win the battle without losing any creature.
Y en el turno octavo turno, termino por eliminar a Merdaali Guardian y ganar la batalla sin perder ninguna criatura.

My opinion
Legionnaire Alvar is another one of those cards that once you try it you can't live without it. Thanks to its stats and abilities it becomes a difficult opponent to defeat.
Legionnaire Alvar es otra de esas cartas que una vez la pruebas no puedes vivir sin ella. Gracias a sus estadísticas y habilidades se vuelve un oponente difícil de derrotar.
Ideal to play against magic decks or very powerful creatures. The best strategy is to play it together with a card that can repair its shield, in this case it becomes invincible.
Ideal para jugarla contra mazos de magia o contra criaturas muy poderosas. La mejor estrategia es jugarla junto a una carta que pueda reparar su escudo, en este caso se vuelve invencible.


---
---