SHARE YOUR BATTLE Weekly Challenge! MOLTEN ASH GOLEM (EN-ES)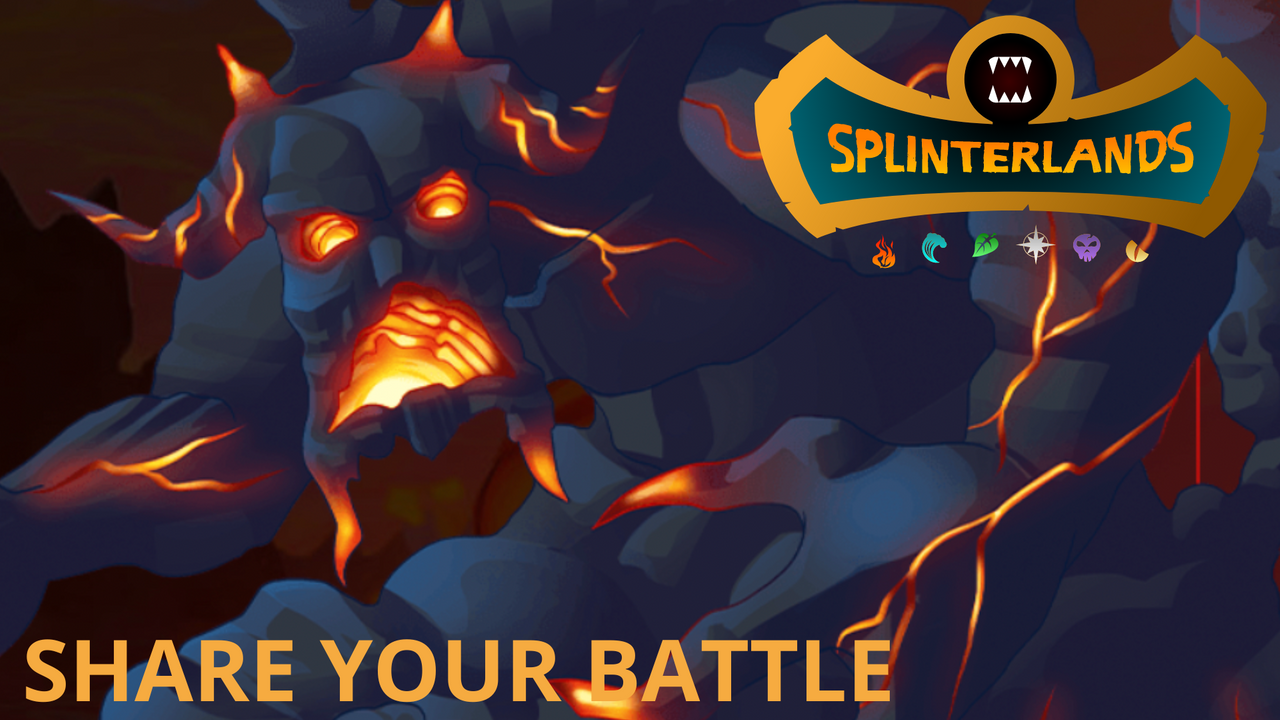 Images obtained in @splinterlands
The Molten Ash Golems are birthed from a creature known as the Forgotten One. Created by the High Magus of the Crypteia and serving as his personal servant, the Forgotten One is a fiery beast of might and malice.

The Forgotten One's great power sometimes spills over, leaving trails of molten ash in its wake. And within these beats the strong enchantments the Magus originally put on his Forgotten One. Within a day, these piles of burning ash become sentient.

Rising from the ground and forming into loose humanoid shapes, these Molten Ash Golems have only one desire. Find their creator. They will travel the lands searching for the Forgotten One, never tiring and never needing to stop. Once reunited with their source, they serve faithfully for as long as they continue to burn.

Los Molten Ash Golem nacen de una criatura conocida como el Forgotten One. Creado por el High Magus de Crypteia y sirviendo como su sirviente personal, el Forgotten One es una bestia ardiente de poder y malicia.

El gran poder del Forgotten One a veces se desborda, dejando estelas de ceniza fundida a su paso. Y dentro de ellas laten los fuertes encantamientos que el Magus puso originalmente en su Forgotten One. En un día, estos montones de ceniza ardiente se vuelven sensibles.

Levantándose del suelo y formando formas humanoides sueltas, estos Molten Ash Golems sólo tienen un deseo. Encontrar a su creador. Recorrerán las tierras en busca del Forgotten One, sin cansarse y sin necesidad de detenerse. Una vez reunidos con su fuente, servirán fielmente mientras sigan ardiendo.

MOLTEN ASH GOLEM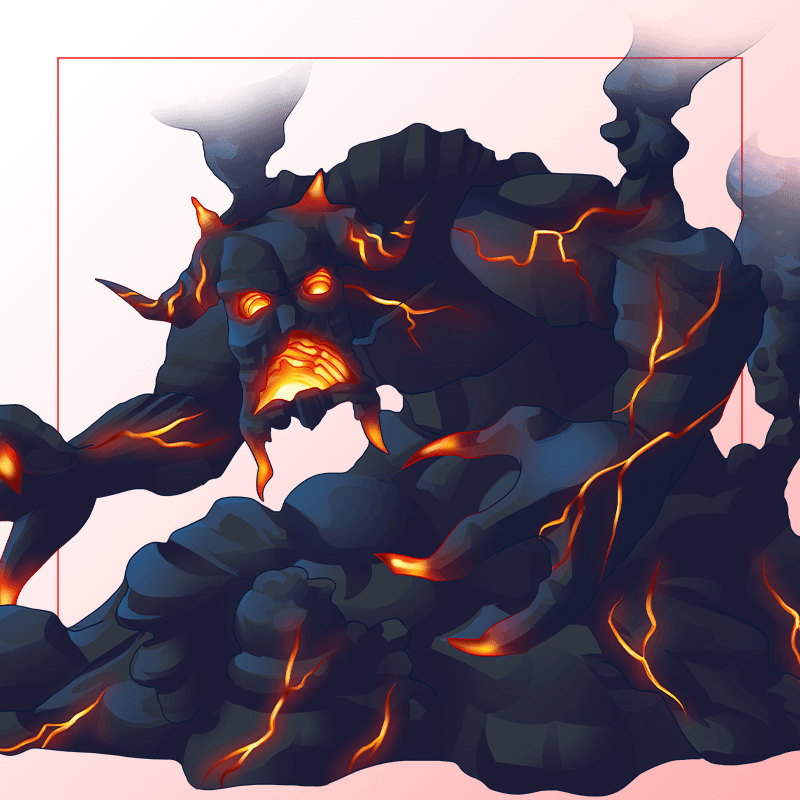 Edition: Chaos Legion
Rarity: Rare
Splinter: Fire
Attack: Ranged
Abilities: Close Range
In the Splinterlands weekly challenge it is the turn to talk about Molten Ash Golem a card from the Chaos Legion edition. Let's learn more about this card.
En el desafío semanal de Splinterlands es el turno de hablar de Molten Ash Golem una carta de la edición Chaos Legion. Conozcamos más acerca de esta carta.
Molten Ash Golem is a Fire Splinter card from the Chaos Legion edition. The creature that costs 6 points of mana and has 1 point of ranged attack, 1 point of speed and 9 points of life, at level 1.
Molten Ash Golem es una carta del Splinter Fuego de la edición Chaos Legion. La criatura que cuesta 6 puntos de maná y tiene 1 punto de ataque a distancia, 1 punto de velocidad y 9 puntos de vida, a nivel 1.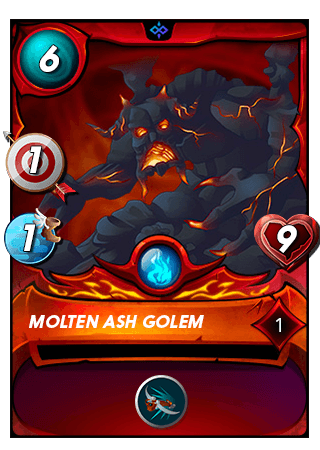 **Molten Ash Golem has the ability Close Range from level 1, but also at level 5 it learns Weaken and finally at level 8 it learns Demoralize. All of them are very remarkable skills.
Molten Ash Golem dispone de la habilidad Close Range desde su nivel 1, pero además a nivel 5 aprende Weaken y por último a nivel 8 aprende Demoralize. Todas ellas, habilidades muy destacables.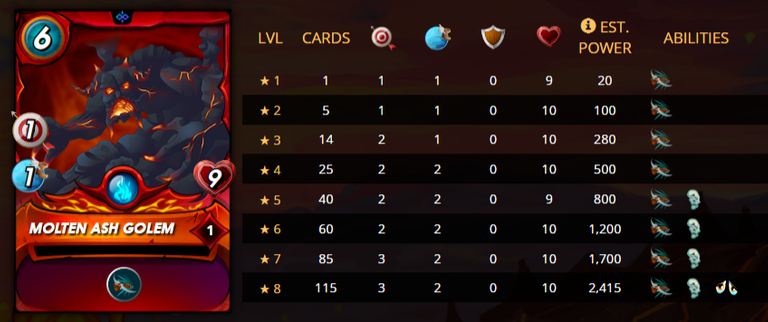 We can use Molten Ash Golem both as a tank in the first position and in the last position to avoid being attacked from the rear. It is a very versatile and interesting card, perfect to play in Bronze and Silver leagues. Besides being able to use it in higher leagues thanks to its excellent skills.
Podemos usar a Molten Ash Golem tanto de tanque en primera posición como en última posición para evitar que nos ataquen por la retaguardia. Es una carta muy versátil e interesante, perfecta para jugarla en ligas Bronce y Plata. Además de poder usarlo en ligas superiores gracias a sus excelentes habilidades.

Sharing my battle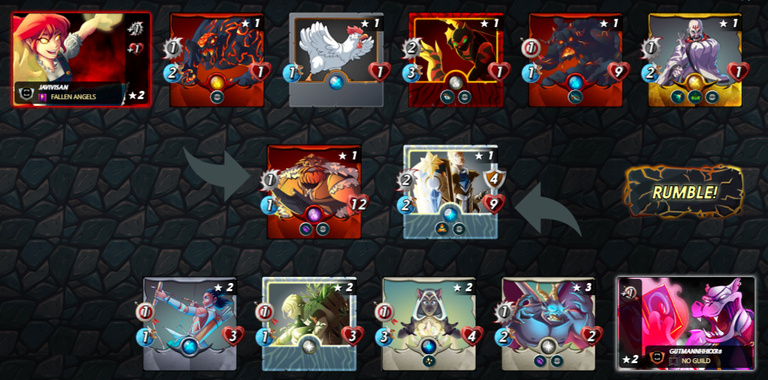 Mana Cap: 21 # Rules: Super Sneak
I have selected this battle which clearly reflects the function and use that can be given to Molten Ash Golem. In it we will see how it can be a very useful card to receive damage thanks to its high life.
He seleccionado esta batalla en la que se refleja claramente la función y uso que se le puede dar a Molten Ash Golem. En ella veremos como puede ser una carta muy útil para recibir daño gracias a su elevada vida.
Let's take a look at the selected cards:
Veamos las cartas seleccionadas:
Line Up
Position
Card
Description
0
The selected summoner for this battle will be Tarsa. Due to the conditions of the battle I think it is the best choice.


El invocador seleccionado para está batalla será Tarsa. Debido a las condiciones del combate creo que es la mejor opción.

1
In the number 1 position I will put Tusk the Wide as it is a creature with low mana cost and incredible vitality.


En la posición número 1 pondré a Tusk the Wide ya que es una criatura de bajo coste de maná y una increíble vitalidad.

2
In position number 2 I will use Scorch Fiend. He will be able to attack from this position thanks to the Super Sneak condition and his attack will be boosted by my summoner.


En el puesto número 2 usaré a Scorch Fiend. Podrá atacar desde esta posición gracias a la condición Super Sneak y su ataque se verá potenciado por mi invocadora.

3
In the number 3 position I will put Furious Chicken, solely to hinder the enemy's attack.


En el puesto número 3 pondré a Furious Chicken, únicamente para estorbar el ataque al enemigo.

4
In the number 4 position and well protected will be Serpentine Spy, perfect for eliminating the enemy's weaker creatures.


En el puesto número 4 y bien protegido estará Serpentine Spy, perfecto para eliminar a las criaturas más débiles del enemigo.

5
In the number 4 position I will put Molten Ash Golem. Due to its high vitality it will be in charge of taking all the damage from the Super Sneak condition.


En el puesto número 4 pondré a Molten Ash Golem. Debido a su alta vitalidad será la encargada de recibir todo el daño de la condición Super Sneak.

6
Finally, I will put Venator Kinjo in the 6th position. Thanks to his ability Camouflage he cannot be attacked until he is in first position.


Por último, en el puesto número 6 pondré a Venator Kinjo. Gracias a sú habilidad Camouflage no podrá ser atacada hasta estár en primera posición.
---
Round 1
The first turn passes without any casualties, on my side trying to destroy Shieldbearer who takes all my hits and on the opponent's side attacking both Tusk the Wide and Molten Ash Golem.
El primer turno trascurre sin ninguna baja, por mi parte intentando destruir a Shieldbearer que se lleva todos mis golpes y por parte del rival atacando tanto a Tusk the Wide como a Molten Ash Golem.
Round 2
In the second turn I start taking casualties and I lose Tusk the Wide but in exchange I manage to destroy the annoying Shieldbearer.
En el segundo turno ya empiezan a haber bajas por mi parte pierdo a Tusk the Wide pero a cambio consigo destruir al molestoso Shieldbearer.
Round 3
This turn I lose Scorch Fiend and Furious Chicken, which was to be expected since I wanted to use them for that purpose. I destroy Xenith Archer and things are still very close although I think I have some advantage since he uses ranged attack creatures that he won't be able to use in first position.
En este turno pierdo a Scorch Fiend y a Furious Chicken, cosa que era de esperar ya que las quería usar con ese proposito. Yo destruyo a Xenith Archer y las cosas siguen muy igualadas aunque creo que tengo algo de ventaja ya que usa criaturas de ataque a distancia que no podrá usar en primera posición.
Round 4
In the fourth round I lose Serpentine Spy, I only have Molten Ash Golem and Venator Kinjo. The good thing is that I still have a creature with good defense to withstand enemy attacks. The enemy, on the other hand, loses Herbalist and now only has 2 creatures.
En la ronda cuarta pierdo a Serpentine Spy, ya tan sólo cuento con Molten Ash Golem y Venator Kinjo. Lo bueno es que sigo teniendo una criatura con buena defensa para aguantar los ataques enemigos. El enemigo por su parte, pierde a Herbalist y ya únicamente cuenta con 2 criaturas.
Round 5
Turn 5 passes without any casualties on either side. Me hitting his Venari Crystalsmith while my Molten Ash Golem continues to withstand my enemy's attacks.
El turno 5 transcurre sin ninguna baja por ambos lados. Yo golpeando a su Venari Crystalsmith mientras mi Molten Ash Golem sigue aguantando los ataques de mi enemigo.
Round 6
Turn 5 passes without any casualties on either side. Me hitting his Venari Crystalsmith while my Molten Ash Golem continues to withstand my enemy's attacks.
Por fin consigo eliminar a Venari Crystalsmith y ya tengo el combate prácticamente ganado. Sólo esperar el golpe final.
Round 7
On the seventh turn I destroy Gargoya Scrapper and get the victory with my Molten Ash Golem holding on until the last moment.
Ya en el turno séptimo destruyo a Gargoya Scrapper y consigo la victoria con mi Molten Ash Golem aguantando hasta el último momento.

My opinion
I'm not a fan of Fire Splinter and I barely have any cards to compete with him, but I must say that Molten Ash Golem is a very playable card because of his mana cost, vitality and Close Range ability.
No soy un admirador del Splinter Fuego y apenas tengo cartas con las que competir con él, pero debo decir que Molten Ash Golem es una carta muy jugable por su coste de maná, vitalidad y su habilidad Close Range.
A very balanced card that plays a very important role in lower leagues and can also be very present in higher leagues as it has very attractive skills.
Una carta muy equilibrada que juega un papel muy importante en ligas inferiores y que también puede estar muy presente en ligas más alta ya que cuenta con habilidades muy atractivas.




---
---