(ESP-ENG) House of Hammer, un lado turbio de Hollywood // House of Hammer, a shady side of Hollywood!
Hola amigos, buenas vibras para todos.
Hello friends, good vibes to all.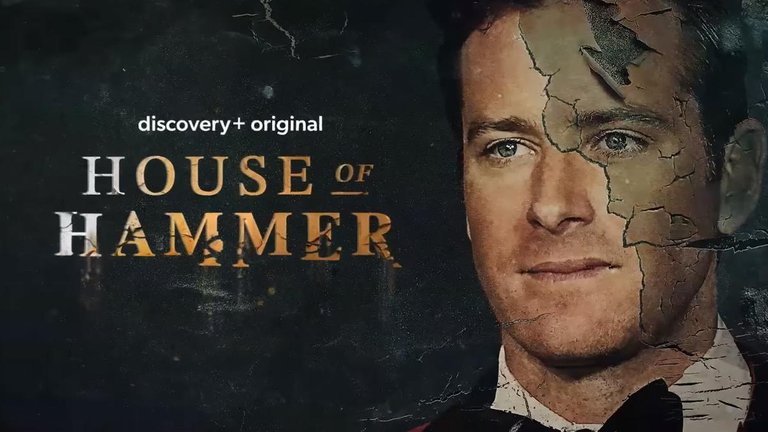 De vez en cuando más allá de las típicas series y películas que podemos llegar a disfrutar considero que es bueno sentarse a ver algún tipo de documental que de cierta forma nos conecte un poco con la realidad de este mundo en el que vivimos, aunque esa realidad tristemente no sea la que muchos podamos desear por lo oscura y siniestra que es. Cuando hablo de documentales me puedo referir a aquellos que visibilizan y hasta estudian diría yo tanto a un asesino serial como también a la parte sombría y asquerosa de un pequeño universo en el que muchas personas se consideran intocables, hablo de Hollywood, siendo el segundo lamentablemente cada vez más frecuente en estos días.
From time to time, beyond the typical series and movies that we can enjoy, I think it is good to sit down and watch some kind of documentary that somehow connects us a little with the reality of this world in which we live, even if that reality is sadly not the one that many of us may wish for because of how dark and sinister it is. When I talk about documentaries I can refer to those that make visible and even study, I would say, both a serial killer and also the dark and disgusting part of a small universe in which many people consider themselves untouchable, I am talking about Hollywood, being the second one unfortunately more and more frequent these days.
En esta oportunidad el actor al que le tocó estar en el ojo de huracán es Armie Hammer, uno que tuvo una carrera muy ascendente pero una vez comenzaron a llegar todas las acusaciones que sobre él recaen esta se fue a pique hasta el día de hoy. Pero en el documental no solo hablan de él como el epicentro de todos los problemas y males sino que también extienden la "investigación" hacía una parte de su familia, entiéndase su bisabuelo, abuelo y su padre. La verdad que conocer los testimonios en boca de las victimas sobre las cosas que este actor llegó a hacer es algo sumamente perturbador porque aunque Hammer hasta el sol de hoy niegue todo lo ocurrido, no deja de ser presuntamente verdad.
This time the actor who was in the eye of the hurricane is Armie Hammer, one who had a very upward career but once all the accusations against him began to arrive, it went downhill until today. But in the documentary they not only talk about him as the epicenter of all the problems and evils but also extend the "investigation" to part of his family, meaning his great-grandfather, grandfather and father. The truth is that knowing the testimonies of the victims about the things that this actor did is extremely disturbing because even though Hammer to this day denies everything that happened, it is still presumably true.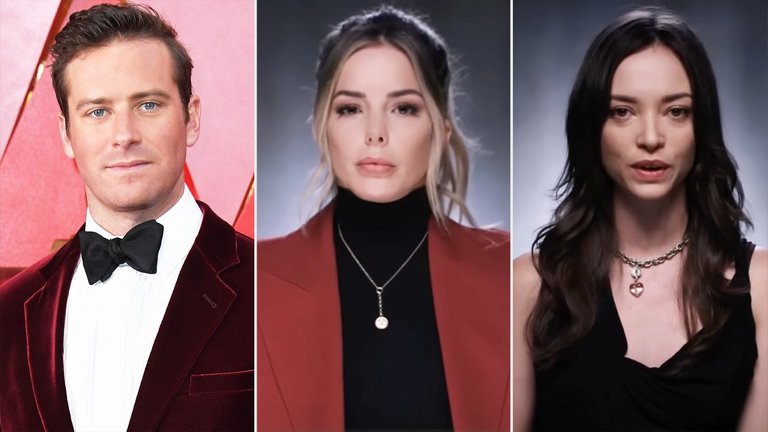 Como les comenté este documental está llevado por dos de su presuntas victimas, presuntas porque aunque sea muy obvio y evidente todo siempre hay que presumir de la inocencia de los acusados hasta que se demuestre lo contrario, por una abogada quien es la que representa a una de ellas y por alguien que es sin dudas la que le da todo el peso y credibilidad a las acusaciones que aquí se hacen y me refiero a la tía de de este actor, Cassey Hammer. A manera de una entrevista y con pruebas en la mano estas mujeres van relatando todo lo que les tocó vivir en primera persona por llegar a involucrarse con el actor, uno que según ellas es un depredador sexual y un caníbal. La verdad es que a medida que se van descubriendo cosas, más denso se va poniendo todo.
As I mentioned before, this documentary is carried by two of his alleged victims, alleged because although it is very obvious and evident, we must always presume the innocence of the accused until proven otherwise, by a lawyer who represents one of them and by someone who is undoubtedly the one who gives all the weight and credibility to the accusations made here and I am referring to the aunt of this actor, Cassey Hammer. In the form of an interview and with evidence in hand, these women relate everything they had to live in first person to get involved with the actor, one that according to them is a sexual predator and a cannibal. The truth is that the more things are discovered, the denser everything gets.
A pesar de considerarme una persona que le gusta el cine y la televisión para mi este actor nunca llegó a ser tan relevante, si conocido pero no relevante, estuvo en series como Desperate Housewives y fue protagonista en películas como Call me by Your Name, The Social Network y la más reciente Death on The Nile, estrenada a principios de este año pero hasta ahí, nada rotundamente exitoso. De hecho para ese entonces ya las acusaciones estaban en su punto más álgido por lo que Disney se replanteo sacarlo de la película ya sea grabando nuevas escenas o de forma digital, ninguna de las dos fueron validas ni viables y lo que decidieron fue relegar su papel a uno mucho más secundario a pesar de que dentro de la historia original sea uno de los de más peso e importancia.
Although I consider myself a person who likes movies and television for me this actor never became so relevant, if known but not relevant, he was in series like Desperate Housewives and starred in films like Call me by Your Name, The Social Network and the most recent Death on The Nile, released earlier this year but so far, nothing resoundingly successful. In fact by that time the accusations were at their peak so Disney reconsidered removing him from the film either by recording new scenes or digitally, neither of the two were valid or viable and what they decided was to relegate his role to a much more secondary despite the fact that within the original story is one of the most weight and importance.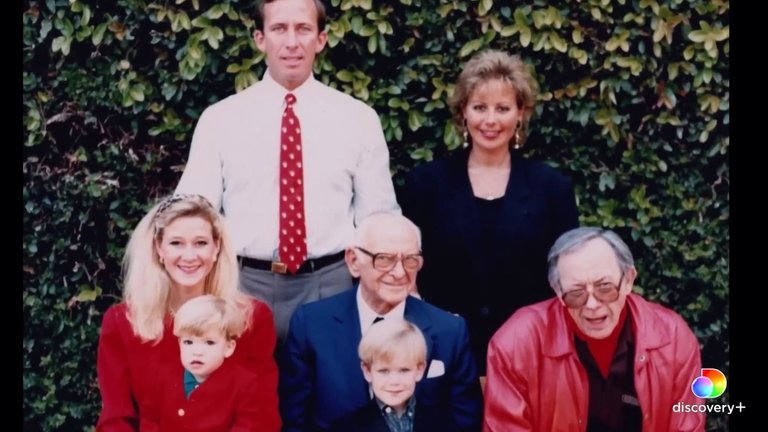 Pero de las cosas más interesantes de este documental es el vistazo que la dan a todo el trasfondo familiar el cual toca varias generaciones pasadas como haciendo entender que los males de esta familia es algo que está en los genes, de lo que no se puede escapar, y no se si será exagerado pensar de esa forma o hasta perturbador dada toda la información que es suministrada a lo largo de sus capítulos. Estamos hablando de la cabeza de esta familia, Armand Hammer, quien fue un magnate petrolero, de las personas más influyentes de la época con un poder económico y político sin precedentes. Tanto es así que construyó el nombre de su familia bajo ese poder y de ahí en adelante todos los miembros quedarían inmerso bajo ese manto, la cosa es que tanto poder no es bueno y esto hizo que Armand pasara a ser de un espía de la Unión Soviética hasta un capitalista que sobornaba presidentes, al de Venezuela incluido.
But one of the most interesting things about this documentary is the glimpse that is given to the whole family background which touches on several past generations as if making us understand that the evils of this family is something that is in the genes, which can not be escaped, and I do not know if it is exaggerated to think that way or even disturbing given all the information that is provided throughout its chapters. We are talking about the head of this family, Armand Hammer, who was an oil tycoon, one of the most influential people of the time with unprecedented economic and political power. So much so that he built the name of his family under that power and from then on all the members would be immersed under that mantle, the thing is that so much power is not good and this made Armand become from a spy for the Soviet Union to a capitalist who bribed presidents, including the president of Venezuela.
La característica más común acá y es lo que entiendo que quisieron hacer notar en este documental es que todos los hombres de esa familia estuvieron y están dañados, todos con comportamientos erráticos y muy por encima de la ley dada la posición que tenía y en el caso de Armie que tiene. Los relatos de las victimas son fuertes, crudos y gráficos porque hablan de actitudes abusivas ya sean físicas como psicológicas, exponen una personalidad fetichista sin ningún tipo de limites ni consentimiento y lo de siempre, una forma de ser muy alejada de la realidad que viene dada por el hecho de considerarse intocable dado el estatus que tiene o tenía diría yo.
The most common characteristic here and what I understand that they wanted to point out in this documentary is that all the men in that family were and are damaged, all with erratic behavior and well above the law given the position they had and in the case of Armie that he has. The stories of the victims are strong, raw and graphic because they speak of abusive attitudes both physical and psychological, they expose a fetishistic personality without any limits or consent and the usual, a way of being very far from reality that is given by the fact of considering himself untouchable given the status he has or had I would say.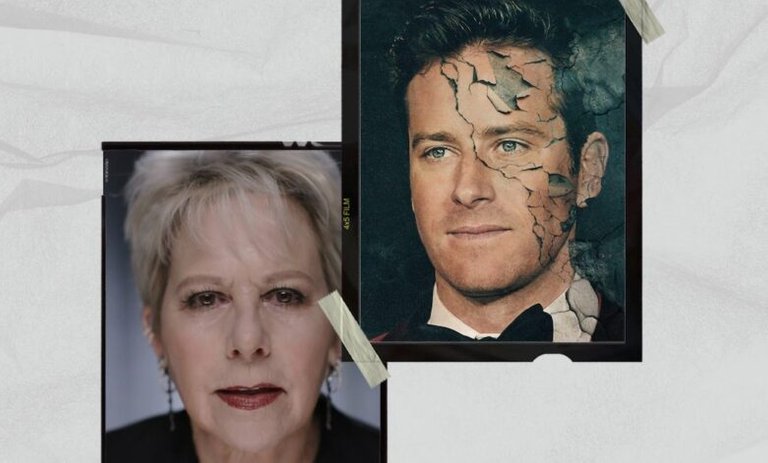 La cosa es que es un documental en donde, como se da en la mayoría de los casos, solo se expone un lado de la historia porque el otro se niega a participar pero creo que es suficiente para entender la magnitud de toda la situación. Me pareció bastante crudo, como ya dije, porque no te esperas todas las cosas que ocurren y ocurrieron alrededor de esa familia y aunque suene un poco insensible es bastante interesante porque es una mirada que yo creo que es poco conocida y que por tanto todos deberían de por lo menos tener una referencia. Al final es una muestra más de que el poder y el dinero son capaces de corromper cualquier mente, de que ser un privilegiado es sinónimo de tener carta blanca para cualquier tipo de comportamientos.
The thing is that it is a documentary where, as in most cases, only one side of the story is exposed because the other refuses to participate but I think it is enough to understand the magnitude of the whole situation. I found it quite raw, as I said, because you do not expect all the things that happen and happened around that family and although it sounds a little insensitive is quite interesting because it is a look that I think is little known and therefore everyone should at least have a reference. In the end it is another example that power and money are capable of corrupting any mind, that being privileged is synonymous with having carte blanche for any kind of behavior.
Muchas veces cuando salen este tipo de documentales las personas tienden a pensar que es algún tipo de publicidad camuflada, marketing, etc pero sinceramente acá no vi nada de eso, po el contrario lo noté muy real e inquietante. Es por esto que se los recomiendo a todos porque a veces es bueno buscar ver un poco más allá de todo lo que puede llegar a esconder un actor de Hollywood. Y esto lo que me lleva a pensar es que cuantos casos desconocidos no habrán regados en el mundo con caras conocidas y famosas? - ya sabemos las historias de Kevin Spacey, Bill Cosby, Harvey Weinstein pero estoy más que convencido que por ahí habrán miles de historias sin ser contadas.
Many times when this kind of documentaries come out people tend to think that it is some kind of camouflaged advertising, marketing, etc. but honestly here I saw nothing like that, on the contrary I found it very real and disturbing. This is why I recommend it to everyone because sometimes it is good to look beyond everything that can hide a Hollywood actor. And what this leads me to think is that how many unknown cases are there in the world with known and famous faces? - We already know the stories of Kevin Spacey, Bill Cosby, Harvey Weinstein but I am more than convinced that there are thousands of untold stories out there.
Esta historia cuenta con tres episodios de una hora aproximadamente y la pueden conseguir en HBO Max. Allí arriba les dejo el tráiler para que le echen un vistazo y se animen a verla, como ven es un poco corto pero creo que vale la pena, cosas como estas no pueden pasar desapercibidas.
This story has three episodes of approximately one hour and you can get it on HBO Max. Above I leave you the trailer so you can take a look at it and get excited to watch it, as you can see it's a little short but I think it's worth it, things like this can't go unnoticed.
Bueno mi gente por hoy es todo, espero que les haya gustado.
¡Un abrazo a todos, nos vemos en la próxima!
Well my people that's all for today, I hope you liked it.
¡A hug to everyone, see you next time!
---
---