(ESP-ENG) Jung E, exploring the limits of artificial intelligence!
Hola amigos, buenas vibras para todos.
Hello friends, good vibes to all.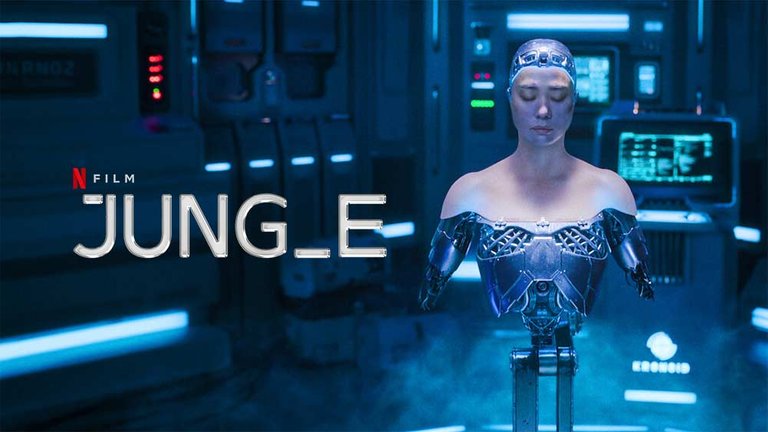 Cuando me decidí ver esta película lo hice a sabiendas que no soy en lo absoluto un fanático del cine coreano, ya sean films o series, de hecho lo único que he visto es la demasiado popular Squid Games y porque aparentemente era un deber hacerlo. A partir de esa serie la verdad no he visto más nada hasta Jung E, pero que cambió? - realmente nada, solo que esta historia me enteré que tocaba un poco el tema de IA y como es lo que está de moda en estos días por todo aquello del Chat GPT y las imágenes producidas con base en esa tecnología pues quise darle una oportunidad. Los coreanos así sin hacer mucho ruido siento que pueden estar en un nivel muy parecido a las grandes productoras americanas, esta película puede que ser otra prueba más.
When I decided to watch this movie I did so knowing that I am not at all a fan of Korean cinema, be it films or series, in fact the only thing I have seen is the overly popular Squid Games and because apparently it was a must see. After that series I haven't really watched anything else until Jung E, but what changed? - Nothing really, just that this story I found out that it touched a bit on the subject of AI and as it is what is fashionable these days because of all that GPT Chat and the images produced based on that technology, I wanted to give it a try. The Koreans without making much noise I feel that they can be at a very similar level to the big American producers, this film may be another proof.
Esta es una historia que explora los tantos caminos que se pueden desarrollar con la inteligencia artificial y si me lo preguntan a mi muy honestamente pienso que lo visto en este film puede que sea el futuro en un mediano a largo plazo, creo que hay mucha gente trabajando en esto, la misma gente de Elon Musk, Neuralink y muchas otras que estarán bajo de la mesa aún. Es un film en donde veremos los limites, hasta donde es factible llegar, donde está esa línea divisoria entre lo que es humano y lo que no, que tanto se puede humanizar una maquina o un robot. Son preguntas que yo diría que ya pueden ser respondidas y es que en estos países asiáticos de primer mundo ya hay robots que atienden a las personas así que que tan lejos no estamos. Pero bueno, hablemos un poco de esta apuesta coreana que llegó a Netflix.
This is a story that explores the many paths that can be developed with artificial intelligence and if you ask me I honestly think that what is seen in this film may be the future in the medium to long term, I think there are many people working on this, the same people of Elon Musk, Neuralink and many others that will be under the table yet. It is a film where we will see the limits, how far it is feasible to go, where is that dividing line between what is human and what is not, how much can a machine or a robot be humanized. These are questions that I would say can already be answered and in these first world Asian countries there are already robots that serve people, so we are not so far away. But well, let's talk a little about this Korean bet that came to Netflix.
Esta historia se sitúa en un planeta Tierra post apocalíptico alrededor del año 2130 en donde el cambio climático hizo de las suyas y logró que fuera imposible vivir en él, lo convirtió en un sitio totalmente inhabitable. Todo esto hizo que las personas se trasladaran a refugios para poder subsistir pero con lo que no contaban es que en varios de estos lugares se daría inicio a una guerra civil por el simple control de las armas, suministros, etc poniendo en peligro la poca estabilidad que de por si ya existe. Es acá cuando aparece Jung-E (Kim Hyun-joo), una veterana de guerra y una gran líder de las fuerzas de los aliados, para someterse a un procedimiento científico/futurista el cual consta en la clonación de su cerebro para convertirlos en datos y así crear un ejercito de maquinas con base en los datos de esta mujer.
This story is set on a post-apocalyptic planet Earth around the year 2130 where climate change did its thing and made it impossible to live on it, it became a totally uninhabitable place. All this made people move to shelters to survive but what they did not count on is that in several of these places would start a civil war for the simple control of weapons, supplies, etc. endangering the little stability that already exists. It is here when Jung-E (Kim Hyun-joo), a war veteran and a great leader of the allied forces, appears to undergo a scientific/futuristic procedure which consists in the cloning of her brain to convert it into data and thus create an army of machines based on the data of this woman.
La trama inicia a partir del momento en que aparentemente este robot que está programado para realizar simulaciones para así optimizar su funcionamiento comienza a actuar no acorde a lo esperado. Será que recuerda algo?, habrán restos de lo que fue su vida en esas maquinas de combate? y si es así, ese robot puede considerarse una persona, pueden haber sentimientos hacía él?. Todo esto es un poco el argumento del film, es buscar entender que tanto bien puede hacer esta tecnología pero hasta que punto es moralmente correcto lo que se puede hacer con ella. Porque si, la ambición del humano yo creo que es ilimitada y que tengamos una herramienta como esta en nuestras manos puede se un arma mortal; siempre lo he dicho, nosotros como raza somos los únicos capaces de destruirnos, suena muy dramático y catastrófico todo pero es así.
The plot starts from the moment when apparently this robot that is programmed to perform simulations in order to optimize its operation begins to act not according to expectations. Could it be that it remembers something, could there be traces of what its life was like in those combat machines, and if so, can this robot be considered a person, could there be feelings towards it? All this is a bit the argument of the film, is to seek to understand how much good this technology can do but to what extent it is morally correct what can be done with it. Because yes, the human ambition I think is unlimited and that we have a tool like this in our hands can be a deadly weapon; I have always said it, we as a race are the only ones capable of destroying ourselves, it sounds very dramatic and catastrophic but that's how it is.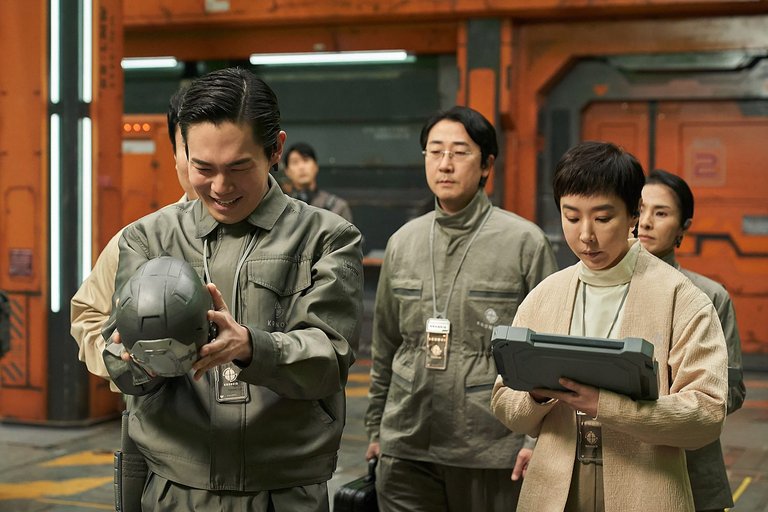 Esta película tiene un claro punto fuerte y es que como ciencia ficción es muy buena, los coreanos en ese mundo están muy bien posicionados y a pesar de no ser un consumidor frecuente puedo decir que las producciones que están dentro de ese genero destacan todas. Sin ser un experto en el tema ni mucho menos pero me da la sensación que en un gran porcentaje esta película fue hecha con la conocida animación CGI, o lo que es lo mismo a las imágenes generadas por computadora lo que la hace más impresionante todavía. La verdad es que todas las escenas se ven de una calidad superior, las de acción son una barbaridad, muy bien logradas, fluidas hasta el punto que en varios pasajes te da la sensación de que fueran personas reales detrás de todo aquello. Como dije, el film vale mucho la pena verlo por este aspecto, es increíblemente realista todo.
This film has a clear strong point and it is that as science fiction is very good, Koreans in that world are very well positioned and despite not being a frequent consumer I can say that the productions that are within that genre all stand out. Without being an expert on the subject or much less but I get the feeling that a large percentage of this film was made with the well-known CGI animation, or what is the same as computer generated images which makes it even more impressive. The truth is that all the scenes look of a superior quality, the action scenes are amazing, very well done, fluid to the point that in several passages you get the feeling that they were real people behind it all. As I said, the film is worth seeing for this aspect, it is incredibly realistic.
Que pasa? - pues como buen "cine" coreano el drama forma parte importante de su trama, es más, me atrevería a decir que este es el genero predominante más allá del propio acción o hasta de la aventura. Esto lo digo porque el contexto real, el de más peso en esta trama es precisamente un drama familiar, todo ese conflicto que se genera entre lo que es la inteligencia artificial como tal y el humano es dado por una relación de familia no resuelta en el pasado y que a la larga lo que provocará es una especia de crisis existencial importante entre lo que está bien y está mal. No voy a decir que lo disfruté pero tampoco estuvo terrible, es algo que se puede ver sin problemas. Para mi le faltó un poco más de acción al asunto, hubiesen hecho eso y el film, para mi, sería muy sobresaliente pero como no fue el caso se me quedó un poco corta.
What is it? - Well, as good Korean "cinema" the drama is an important part of its plot, in fact, I would dare to say that this is the predominant genre beyond the action or even adventure. I say this because the real context, the most important in this plot is precisely a family drama, all this conflict that is generated between what is artificial intelligence as such and the human is given by an unresolved family relationship in the past and that ultimately what will cause is a kind of major existential crisis between what is right and wrong. I'm not going to say I enjoyed it but it wasn't terrible either, it's something you can watch without problems. For me it lacked a little more action, had they done that and the film, for me, would have been very outstanding but as it was not the case it fell a little short.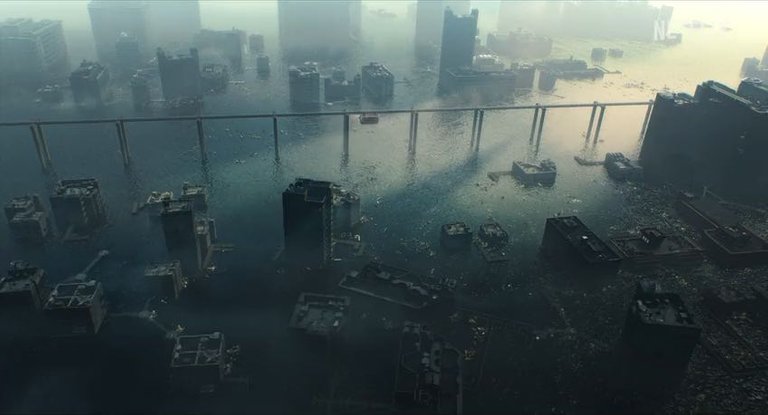 No se confundan, a pesar de ser en un gran mayoría un drama la película no aburre, por lo menos a mi no, entro de todo es entretenida y como es un poco corta se ve bastante rápido. Los personajes hay que decir que estuvieron bastante bien, si algo tienen los actores coreanos es que les gusta ser muy expresivos en sus interpretaciones por lo que el drama, el dolor, la rabia, la tristeza o la alegría la llevan a otro nivel. Kang Soo-Yeon, actriz protagonista y que falleció poco después de terminar el rodaje, es la líder científica de la misión y su rol es muy importante en la trama, ella es la que le inyecta el drama correspondiente por es ella la pieza clave de este conflicto existencial que les mencioné antes. Muy promedio su actuación, fue buena, pero sin exagerar.
Don't get confused, despite being mostly a drama the movie is not boring, at least not to me, it is entertaining and as it is a little short it is watched pretty fast. The characters were pretty good, if there is something Korean actors have is that they like to be very expressive in their interpretations so the drama, pain, anger, sadness or joy take it to another level. Kang Soo-Yeon, the leading actress who died shortly after the filming ended, is the scientific leader of the mission and her role is very important in the plot, she is the one who injects the corresponding drama because she is the key piece of this existential conflict that I mentioned before. Her performance was very average, it was good, but not over the top.
Y por la otra parte tenemos a Kim Hyun-joo quien es la otra cara de moneda, es la encargada de darle vida a esa soldado con habilidades especiales que tanto destaca con sus escenas de acción. Lo poco que se vio de ella me convenció mucho, buenas manobras, combate cuerpo a cuerpo, para eso es necesario cierta habilidad y ella claramente la tiene. En términos generales la actuacion no estuvo mala, pero si hay muchos elementos característicos de este cine coreano que no me terminan de enganchar, por lo que no es la película, soy yo.
And on the other hand we have Kim Hyun-joo who is the other side of the coin, she is in charge of giving life to that soldier with special skills that stands out with her action scenes. The little that was seen of her convinced me a lot, good manobras, hand to hand combat, for that you need a certain skill and she clearly has it. In general terms the acting was not bad, but there are many characteristic elements of this Korean cinema that I'm not really hooked, so it's not the movie, it's me.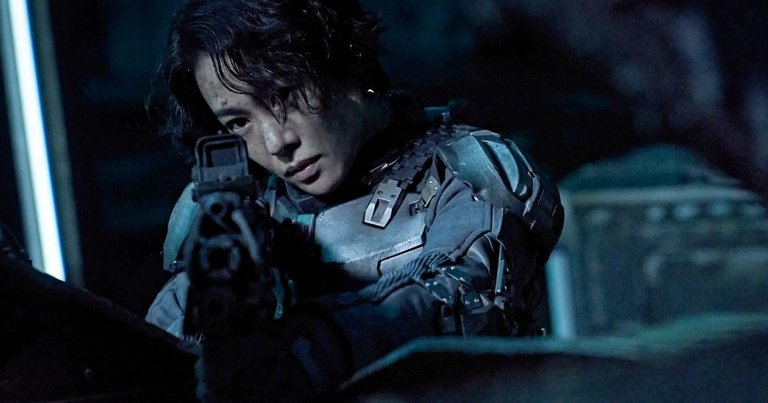 Le tengo que dar un 6.5/10 porque para mi hubo más drama del esperado, creí que tomaría otra dirección pero no fue así. No es malo el film, lo recomiendo mucho por sus ambientaciones dentro del Sci-fi, buen nivel de acción y que al final la historia en si te engancha al punto de que llegas a empatizar un poco y ponerte en los zapatos de los involucrados. Está en Netflix y dura alrededor de hora y media. Les dejo el tráiler para que le echen un vistazo.
I have to give it a 6.5/10 because for me there was more drama than expected, I thought it would take another direction but it was not. The film is not bad, I highly recommend it for its Sci-fi settings, good level of action and that at the end the story itself hooks you to the point that you get to empathize a bit and put yourself in the shoes of those involved. It's on Netflix and lasts about an hour and a half. I leave the trailer for you to take a look.
Bueno mi gente por hoy es todo, espero que les hay gustado.
¡Un abrazo a todos, nos vemos en la próxima!
Well my people that's all for today, I hope you liked it.
¡A hug to all of you, see you next time!
---
---