(ESP-ENG) La música sinfónica es más versátil de lo que piensan // Symphonic music is more versatile than you might think.
Hola amigos, buenas vibras para todos.
Hello friends, good vibes to all.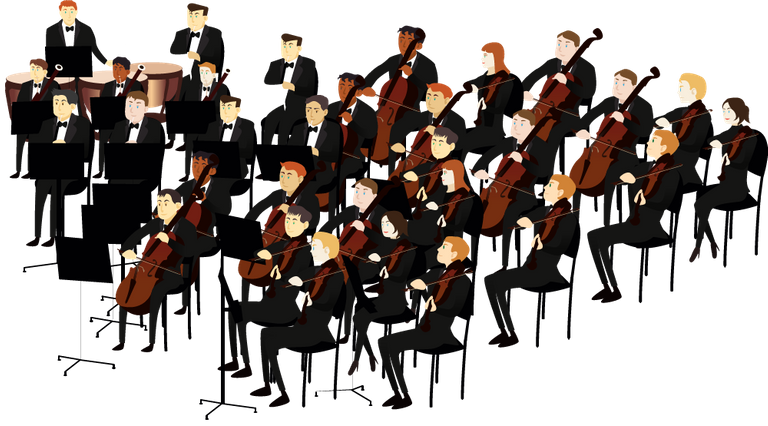 Cuando se piensa en la majestuosidad de una orquesta de estilo sinfónico muchos lo hacen con Beethoven, Mozart o Tchaikovsky en sus mentes y si, es valido ese pensamiento pero esa música no se limita únicamente para esos autores. Para otros lo sinfónico es sinónimo de aburrimiento y es que lamentablemente la música clásica ha tenido ese estigma durante mucho tiempo que en mi opinión no puede estar más errado.
When people think of the majesty of a symphonic style orchestra, many do it with Beethoven, Mozart or Tchaikovsky in their minds and yes, that thought is valid, but that music is not limited only to those authors. For others symphonic music is synonymous with boredom and unfortunately classical music has had that stigma for a long time, which in my opinion could not be more wrong.
Es por esto que el día de hoy he decidido comprobar mi punto de vista y enseñarles que este tipo de música y orquestas no necesariamente tiene que ser poco atractivas para la gente. Es más, se van a dar cuenta lo versátil que es y lo bien que se puede acoplar a varios estilos y ocasiones cuando se hace de la manera correcta. Vamos entonces y veamos que tan increíble puede ser lo sinfónico llevado a otros aires.
That is why today I have decided to prove my point of view and show you that this type of music and orchestras do not necessarily have to be unattractive to people. What's more, you will realize how versatile it is and how well it can be coupled to various styles and occasions when done in the right way. So let's go ahead and see how amazing symphonic can be taken to other airs.
- Salsa Symphonic.
Escuchar la 5ta sinfonía de Beethoven en salsa es de las mejores cosas que oído desde siempre pero, tocar la percusión (timbal y congas) leyendo partituras? - sin duda es otro nivel. Si se dieron cuenta los músicos estaban leyendo y ejecutando cada golpe quirúrgicamente y eso, en la salsa que es un ritmo que se presta mucho para la improvisación y dejarse llevar, es algo muy difícil de conseguir. Ver estos instrumentos, que muchos de ellos estoy seguro no están acostumbrados a emitir sonidos y golpes para la música latina, tocar de manera tan perfecta me reafirma que la música es universal y que por tanto no tiene fronteras para todo aquel que se sienta libre de ejecutarla.
Listening to Beethoven's 5th symphony in salsa is one of the best things I've ever heard, but playing percussion (timbales and congas) while reading sheet music? - It is certainly another level. If you noticed, the musicians were reading and executing each hit surgically and that, in salsa, which is a rhythm that lends itself to improvisation and letting go, is something very difficult to achieve. Seeing these instruments, which I am sure many of them are not used to making sounds and beats for Latin music, play in such a perfect way reaffirms to me that music is universal and therefore has no borders for anyone who feels free to play it.
- Fruta Fresca - Carlos Vives. (Symphonic)
Carlos Vives es uno de los exponentes de la música latina más importantes que hay en la actualidad y desde siempre y en esta oportunidad nos trae junto a Gustavo Dudamel, de los mejores directores de orquesta del mundo, una canción que es icono llevada al terreno sinfónico. La filarmónica de Los Ángeles junto a varios músicos que siempre acompañan a Vives fueron los encargados de hacer sonar semejante pieza; y es que debe ser muy complicado hacer esta adaptación porque son estilos tan diferentes y que aún así suena igual o hasta mejor que la grabación original. De las mejores cosas que pueden oír es lo latino adaptado a estas orquestas, de verdad muy rara vez decepcionan.
Carlos Vives is one of the most important exponents of Latin music today and always has been, and this time he brings us together with Gustavo Dudamel, one of the best conductors in the world, a song that is an icon taken to the symphonic field. The Los Angeles Philharmonic along with several musicians who always accompany Vives were in charge of making such a piece sound; and it must be very complicated to make this adaptation because they are so different styles and still sounds the same or even better than the original recording. One of the best things you can hear is Latin music adapted to these orchestras, they rarely disappoint.
- Rock Symphonic.
Cambiando radicalmente de estilo creo que cuando hablamos de rock sinfónico a la mayoría se nos viene a la cabeza Metellica con la Sinfónica de San Francisco. Entre un álbum de un poco más de veinte canciones una de mis favoritas siempre será The Memory Remains por dos cosas: por la gente cantando sola y el que se aprecia mucho el toque de la orquestra durante ese "coro". Creo que el rock es lo que mejor se puede adaptar a este estilo y otra prueba de ello es "The Call of Ktulu", un instrumental de casi 10 minutos en donde lo que reina es una excelente instrumentación entre el rock y lo clásico.
Changing the style radically, I think that when we talk about symphonic rock, most of us think of Metellica with the San Francisco Symphony. Among an album of a little more than twenty songs, one of my favorites will always be The Memory Remains because of two things: the people singing alone and the fact that you can really appreciate the touch of the orchestra during that "chorus". I think that rock is what can best adapt to this style and another proof of this is "The Call of Ktulu", an instrumental of almost 10 minutes where what reigns is an excellent instrumentation between rock and classical.
- Cinema Symphonic.
Una leyenda de la composición de bandas sonoras hace su aparición, John Williams, con la marcha imperial de las Guerra de las Galaxias. Otro claro ejemplo de la versatilidad de la que hablo en el titulo de esta publicación es esta pieza mítica del cine, de la cultura popular y de la música pero, por qué? - pues según como yo lo veo a través de estas piezas a muchas personas les gusta, sin saberlo, la música clásica y ya para mi eso es un éxito rotundo.
A legend of soundtrack composition makes his appearance, John Williams, with the imperial march of Star Wars. Another clear example of the versatility of which I speak in the title of this publication is this mythical piece of cinema, popular culture and music, but why? - Well, according to how I see it through these pieces, many people like, without knowing it, classical music and for me that is a resounding success.
Puede que no estén acostumbrados a escuchar Mozart pero si son fanáticos de muchas bandas sonoras de grandes películas que lógicamente tienen una base en lo sinfónico, la gran mayoría la verdad, y de esa forma un poco indirecta es como terminan agarrando el gusto por este bello estilo musical.
They may not be used to listen to Mozart but they are fans of many soundtracks of great movies that logically have a symphonic base, the vast majority of them, and in this indirect way is how they end up getting a taste for this beautiful musical style.
- Anime Symphonic.
Ok, acá entramos a un mundo totalmente diferente pero recuerden que de lo que estamos hablando es de lo VERSÁTIL que es la música sinfónica. Sin duda el mundo anime está teniendo un gran auge en los últimos tiempos y eso se debe en cierta parte a su música y temas que acompañan a cada historia. Attack On Titan es de los animes más populares que hay y ver como usaron a una orquesta sinfónica para uno de sus espectáculos y hacer de esa manera que un público que puede que nunca haya escuchado un tema clásico se enamore de eso es algo para resaltar mucho.
Ok, here we enter a totally different world but remember that what we are talking about is how VERSATILE symphonic music is. Undoubtedly the anime world is having a great boom in recent times and that is due in part to its music and themes that accompany each story. Attack On Titan is one of the most popular anime out there and seeing how they used a symphony orchestra for one of their shows and making an audience that may have never heard a classical theme fall in love with it is something to highlight a lot
Para muchos era hasta impensable adaptar lo sinfónico a este tipo de contenido, que por cierto es brutal, pero ahí lo tienen, la música de las grandes orquestas demostrando que todo se puede y que en la música no deberían de existir barreras ni prejuicios.
For many it was unthinkable to adapt the symphonic to this type of content, which by the way is brutal, but there you have it, the music of the great orchestras demonstrating that anything is possible and that in music there should be no barriers or prejudices.
---
Con esta lista espero en lo posible haber demostrado que la música es algo que no tendría que tener ninguna etiqueta porque al final lo que se logra con eso es encasillarla y que no podamos ser capaces de entenderla y disfrutarla tal y como se merece.
With this list I hope to have demonstrated that music is something that should not have any label because in the end what is achieved with that is to pigeonhole it and that we can not be able to understand and enjoy it as it deserves.
Bueno mi gente por hoy es todo, espero que les haya gustado.
¡Un abrazo a todos, nos escuchamos en la próxima!
Well my people that's all for today, I hope you liked it.
¡A hug to all of you, we'll hear you in the next one!
---
---