(ESP-ENG) The Menu, many secrets and sins to pay!
Hola amigos, buenas vibras para todos.
Hello friends, good vibes to all.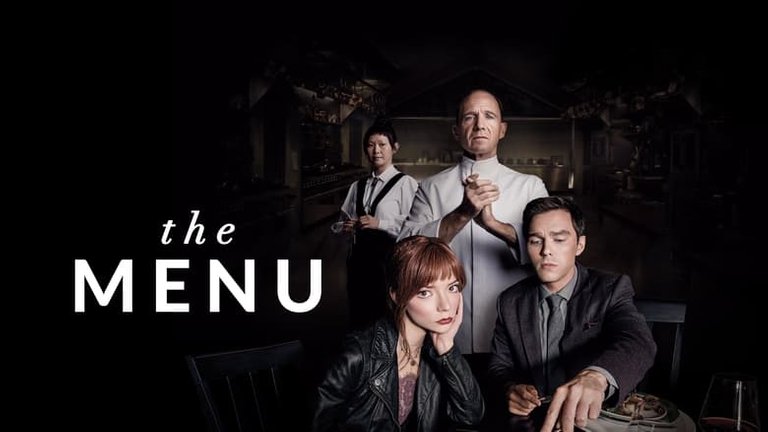 Estamos un poco claros que a este restaurant estoy llegando un poco tarde y que probablemente la comida que me vayan a servir ya no sea tan exclusiva pero de igual manera había que vivir la experiencia porque al final del día es eso lo que se paga cuando se va a estos sitios, muchas veces los platos pasan a un segundo plano. Esta era una película que la tenía en mi lista desde un buen rato básicamente por el elenco que tiene y por la historia que hay detrás de este muy particular restaurant. Confieso además que la expectativa que tenía era grande ya que este film es llamado a ser uno de los mejores del año pasado, cosa que no me gusta mucho porque mientras más ganas hay de ver algo mayor puede ser la decepción.
We are a little clear that I am arriving a little late to this restaurant and that probably the food they are going to serve me will not be so exclusive, but I still had to live the experience because at the end of the day that is what you pay for when you go to these places, many times the dishes take a back seat. This was a movie that had been on my list for a long time, basically because of the cast and the story behind this very particular restaurant. I also confess that I had great expectations because this film is called to be one of the best of last year, which I don't like very much because the more you want to see something, the greater the disappointment can be.
De buenas a primera que puedo decir de este película? - pues para los que no la han visto les diría que es una combinación entre Ratatouille, Kill Bill (no se por que pero siento que hay un aroma de ese film en esta historia), un poco de The White Lotus y un buen capitulo de Master Chef, ustedes combinan esos cuatros elementos y como resultado van a obtener El Menú. Claramente estamos ante una critica a las altas clases sociales, a como lo instantáneo o "rápido" está matando todo el arte culinario y general y como eso puede llevar a que las personas que están en ese mundo en algún momento de sus vidas se sientan vacíos. Yo como fotógrafo no puedo concebir que una foto hecha con un teléfono sea igual a una hecha con una cámara profesional, nunca será lo mismo. Pues ese es el sentimiento general del Chef Slowik, así que vamos entonces y hablemos un poco de este film.
What can I say about this movie? - Well, for those who have not seen it, I would say that it is a combination of Ratatouille, Kill Bill (I don't know why but I feel that there is an aroma of that film in this story), a bit of The White Lotus and a good episode of Master Chef, you combine those four elements and as a result you are going to get The Menu. Clearly this is a critique of the upper classes, how the instantaneous or "fast" is killing all culinary and general art and how that can lead to people who are in that world at some point in their lives feeling empty. I as a photographer can't conceive of a photo taken with a phone being the same as one taken with a professional camera, it will never be the same. Well that's the general feeling of Chef Slowik, so let's go ahead and talk a little bit about this film.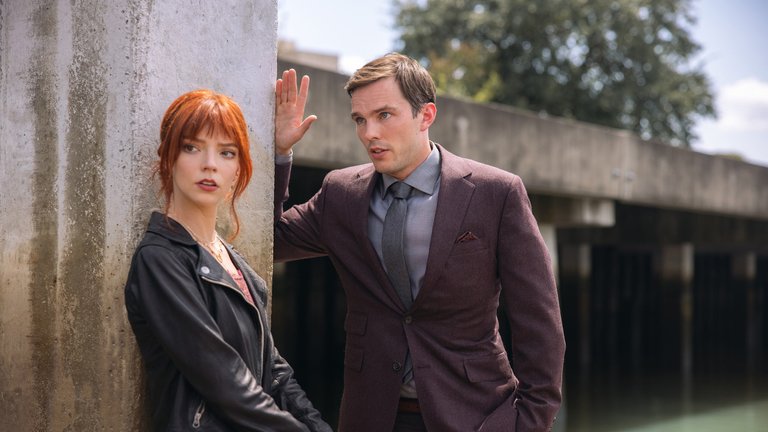 En un principio esta historia se centra en una pareja, Margot y Tyler (Anya Taylor-Joy y Nicholas Hoult) quienes son dos personas totalmente despreocupadas por el dinero y que deciden ir a disfrutar de una nueva forma de comer, de toda una nueva experiencia gastronómica que está dando mucho de que hablar entre la gente que tiene la capacidad económica de permitirse semejantes lujos. Uno de los detalles es que dicho lugar queda en una isla apartada de todo y para llegar a él hay que tomar un barco, uno que pronto se darán cuenta está lleno de gente importante e influyente y es que no podía ser de otra forma, la mayoría de la gente que va no es al azar.
At first this story focuses on a couple, Margot and Tyler (Anya Taylor-Joy and Nicholas Hoult) who are two people totally unconcerned about money and decide to go to enjoy a new way of eating, a whole new dining experience that is giving much to talk about among people who have the economic capacity to afford such luxuries. One of the details is that this place is on an island away from everything and to get there you have to take a boat, one that you will soon realize is full of important and influential people and it could not be otherwise, most of the people who go there are not random.
Este restaurant está bajo el mando de Julian Slowik (Ralph Fiennes) quien es un reconocido chef con una cocina de vanguardia y muy conceptual que la verdad hace que todo el mundo quiera probar sus platos y como ya he dicho, vivir la gran experiencia de sentarse en una de sus mesas. Una vez los comensales llegan y se instalan empiezan con el proceso de degustación uno que va funcionando como lo esperado hasta que nuestro chef decide hacer un cambio al menú para introducir un nuevo ingrediente, uno que sin ninguna duda cambiará la velada y la vida de muchos de los presentes. Es acá cuando todo comienza a suceder y es cuando la trama toma otro color, uno más sorpresivo, inesperado y hasta violento.
This restaurant is under the command of Julian Slowik (Ralph Fiennes) who is a renowned chef with an avant-garde and very conceptual cuisine that really makes everyone want to try his dishes and as I said, live the great experience of sitting at one of his tables. Once the diners arrive and settle in, the tasting process begins, one that goes as expected until our chef decides to make a change to the menu to introduce a new ingredient, one that will undoubtedly change the evening and the lives of many of those present. It is here when everything starts to happen and it is when the plot takes on a different color, one that is more surprising, unexpected and even violent.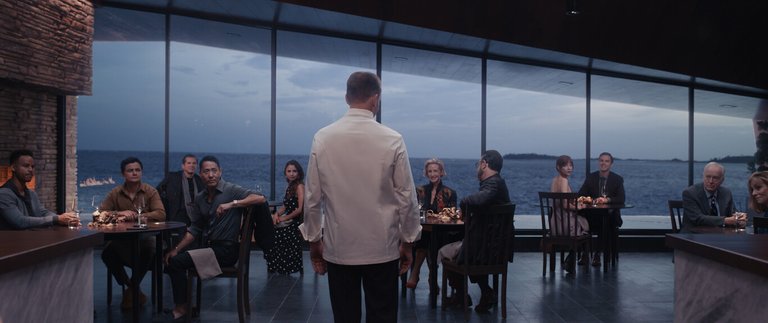 Hay que empezar por lo obvio, no estamos ante una película culinaria aunque sus platos hayan sido tomados como referencia de un famoso restaurant noruego, estamos ante un film lleno de una comedia negra, una brutalidad totalmente inesperada y sobre todo de una muy buena critica a la sociedad. La comedia se da por situaciones que se van viviendo dentro del restaurant que pueden caer en lo absurdo, cosas que son difíciles de ver porque este humor siento que no es para todo el mundo, realmente te tiene que gustar. Y cual es el contexto de esta comedia? - pues la interacción de todas las mesas, cada una tiene una historia diferente con unos personajes bastante particulares que son llevados al limite siendo acá el momento perfecto para que dentro de la desgracia salga a relucir esa gracia tan peculiar.
We must start with the obvious, this is not a culinary film although its dishes have been taken as a reference from a famous Norwegian restaurant, this is a film full of black comedy, a totally unexpected brutality and above all a very good criticism of society. The comedy is given by situations that are living inside the restaurant that can fall into the absurd, things that are difficult to see because I feel that this humor is not for everyone, you really have to like it. And what is the context of this comedy? - Well, the interaction of all the tables, each one has a different story with some very particular characters that are taken to the limit being here the perfect moment for the misfortune to bring out that peculiar grace.
La brutalidad va un poco con la referencia que di en un principio, Kill Bill es un clásico del cine que tiene altas cargas de este humor negro y de una brutalidad desenfrenada. Pues aquí es lo mismo, uno no espera por todo lo que termina pasando y eso es algo que me gustó muchísimo, estas cantidades de sangre, esta tensión de que algo va a pasar pero no sabes muy bien la forma en como va suceder, ese peligro que hay en el aire, todo eso hace que la película sea muy disfrutable. Las escenas fueron hechas de una manera muy buena, hasta poéticas diría yo, todo tiene un sentido, nada pasa porque si, hay una sola escena de acción la cual está excelente, no le hace falta más porque el entorno ya es lo suficientemente violento.
The brutality goes a bit with the reference I gave in the beginning, Kill Bill is a classic film that has high loads of this black humor and unbridled brutality. Well here it's the same, you don't expect everything that ends up happening and that's something I really liked, these amounts of blood, this tension that something is going to happen but you don't really know how it's going to happen, the danger in the air, all that makes the film very enjoyable. The scenes were made in a very good way, even poetic I would say, everything has a sense, nothing happens just because, there is only one action scene which is excellent, it doesn't need more because the environment is already violent enough.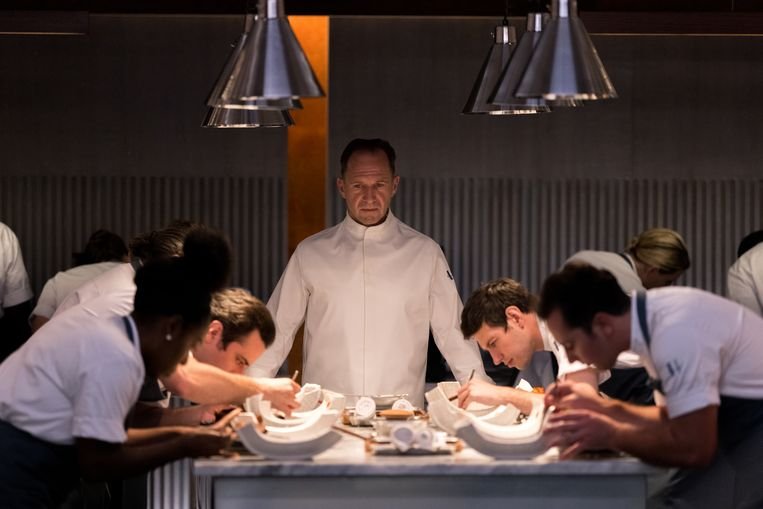 Y por último tenemos la critica a la sociedad pero más en especifico a las clases altas. En este film las vemos reflejadas como las intocables, las que por encima de ellas no hay más nada por lo que se sienten un poco inmunes a todo lo que les rodea. Pero como siempre hay secretos, todos los tenemos y acá no es la excepción a esa regla; la película muestra a estas personas como las grandes culpables de que este arte de cocinar cada vez valga menos y esto es gracias a la cultura de lo desechable, de que todo sea para aparentar y no para disfrutar realmente como se debe y en parte hay que decir que un poco de razón tiene. Hoy en día esas pequeñas cosas no son apreciadas como se debería, no solo en la cocina sino en otros muchos aspectos, por lo que este ángulo es otra de las cosas muy top de esta trama, una que vuelvo y repito me enganchó de principio a fin.
And finally we have the criticism to society but more specifically to the upper classes. In this film we see them reflected as the untouchables, the ones that above them there is nothing else so they feel a little immune to everything around them. But as there are always secrets, we all have them and here is no exception to that rule; the film shows these people as the big culprits that this art of cooking is worth less and less and this is thanks to the culture of the disposable, that everything is for show and not to really enjoy as it should and in part it must be said that a little right. Nowadays those little things are not appreciated as they should be, not only in the kitchen but in many other aspects, so this angle is another of the top things of this plot, one that again and I repeat hooked me from beginning to end.
Tengo que hablar de Anya Taylor-Joy. Es el personaje que le da vida a esta película, su actuación es muy destacable, es una actriz que tiene una capacidad de interpretar el drama, la comedia, la acción y el suspenso muy bien y todo en una misma escena. Hay un pasaje del film, el único creo yo, en donde la vemos cuerpo a cuerpo con otro personaje y la verdad es que aunque fue un tanto corta estuvo aceptable, era un toque que le faltaba a la trama y Anya lo entregó muy bien. Un personaje rudo, directo, sin medias tintas y que te dice las verdades en la cara. Lo mejor de El Menú fue ella sin dudas. Su pareja Tyler es el típico personaje que detestas porque es uno que está totalmente desconectado de la realidad, un tipo egoísta, egocéntrico al que le agarras rencor, esto se buena señal de que Nicholas Hoult también hizo la tarea.
I have to talk about Anya Taylor-Joy. She is the character that gives life to this film, her performance is very remarkable, she is an actress who has the ability to interpret drama, comedy, action and suspense very well and all in the same scene. There is a passage of the film, the only one I think, where we see her body to body with another character and the truth is that although it was a little short it was acceptable, it was a touch that was missing to the plot and Anya delivered it very well. A tough character, direct, without half measures and that tells you the truth to your face. The best thing about The Menu was her without a doubt. Her partner Tyler is the typical character that you hate because he is totally disconnected from reality, a selfish, self-centered guy that you resent, this is a good sign that Nicholas Hoult also did his homework.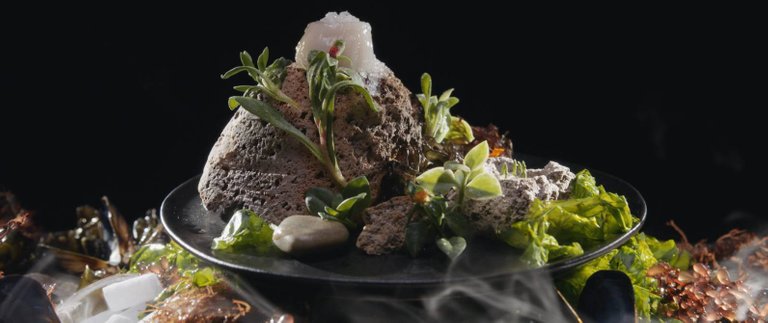 Y finalmente Ralph Fiennes. el chef meticuloso y drástico que todo lo tiene que tener bajo su control. Es un personaje complejo porque en principio no sabes muy bien que es lo que le pasa, es un tanto ambiguo de entender pero después muchas puertas se van abriendo y poco a poco vamos descubriendo su personalidad y sobre todo cosas de su pasado para que así nos sirva de contexto y lograr conocerlo mejor. Es muy oscuro pero transparente a la vez, esa gente que sabes que tiene una historia oculta pero que sus intenciones van por delante. El trabajo de Fiennes es esplendido, te crees realmente que es un chef de primera.
And finally Ralph Fiennes, the meticulous and drastic chef who has to have everything under his control. It is a complex character because at first you do not know very well what happens to him, is somewhat ambiguous to understand but then many doors are opening and gradually we discover his personality and especially things of his past so that we serve as context and get to know him better. It is very dark but transparent at the same time, those people who you know have a hidden history but their intentions are ahead. Fiennes' work is splendid, you really believe he is a top chef.
Este film es un 8.5/10, me gustó mucho, no sucumbí ante las expectativas porque para mi fueron cumplidas. Un buen suspenso acompañado de una comedia acida y negra con muchos toque de una violencia muy medida y necesaria para lo que es la trama y el mensaje que se busca dar. Recomendada a todo el mundo, es una joya de película. Dura un poco más de hora y media y disponible en HBO Max. Por acá les dejo el tráiler.
This film is an 8.5/10, I liked it a lot, I did not succumb to the expectations because for me they were fulfilled. A good suspense accompanied by an acid and black comedy with many touches of a very measured and necessary violence for what the plot is and the message it seeks to give. Recommended to everyone, it is a gem of a movie. It lasts a little over an hour and a half and is available on HBO Max. Here is the trailer.
Bueno mi gente por hoy es todo, espero que les haya gustado.
¡Un abrazo a todos, nos vemos en la próxima!
Well my people that's all for today, I hope you liked it.
¡A hug to everyone, see you next time!
---
---