(ESP-ENG) Venom, una historia de amor o de venganza? // Venom, a story of love or revenge?
Hola amigos, buenas vibras para todos.
Hello friends, good vibes to all.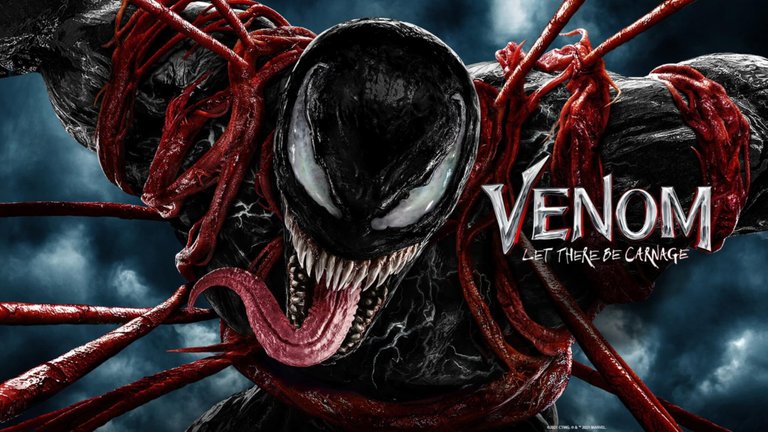 Aterrizamos en otra película del gran universo de Marvel y lo hacemos con la última entrega de Venom. Estrenada este año no había tenido la oportunidad de verla hasta hace un par de días y la verdad es que si me gustó pero creo que me generé muchas expectativas al respecto. Esto lo digo porque a pesar de conocer un poco el origen de estos personajes en los comics la historia no es para nada parecida y eso en mi opinión le resta un poco.
We land on another movie of the great Marvel universe and we do it with the latest installment of Venom. Released this year I had not had the opportunity to see it until a couple of days ago and the truth is that I liked it but I think I generated too many expectations about it. I say this because despite knowing a little of the origin of these characters in the comics, the story is not at all similar and that in my opinion detracts a little.
Lo que si vemos en estas cintas es la comedia que ya parece ser una marca registrada de Marvel y como no, el increíble trabajo visual que hay detrás de estas producciones, de hecho el diseño de "Carnage" es bastante bueno y acertado. No perdamos más el tiempo entonces y hablemos un poco de lo que es este nuevo titulo que nos trajo Marvel para todos los fanáticos.
What we do see in these films is the comedy that already seems to be a trademark of Marvel and of course, the incredible visual work behind these productions, in fact the design of "Carnage" is quite good and accurate. Let's not waste any more time then and let's talk a little bit about what is this new title brought to us by Marvel for all the fans.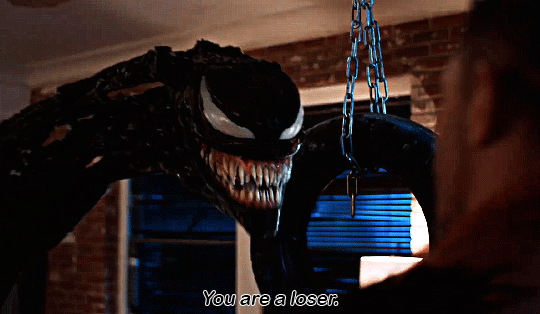 Esta película es la continuación de la vida de Eddie Brock (Tom Hardy) pero en esta oportunidad una vida que comparte que con el simbionte Venom. La cosa es que llevan un día a día bastante disfuncional porque tienen intereses distintos, Eddie solo quiero tener una vida normal pero Venom siempre tiene hambre de cerebros de personas malas por lo que siempre es impulsivo y con cierto temperamento.
This movie is the continuation of the life of Eddie Brock (Tom Hardy) but this time a life he shares with the symbiote Venom. The thing is that they have a quite dysfunctional day to day because they have different interests, Eddie just want to have a normal life but Venom is always hungry for brains of bad people so it is always impulsive and with a certain temper.
Son tal cual un matrimonio, no hay mejor metáfora para ellos. Pero esta "novela" se ve interrumpida por la aparición de un par de criminales un tanto psicópatas, uno de ellos es Cletus Kasady (Woody Harrelson) y Frances Barrison o Shriek (Naomie Harris) que lo unico que están buscando es la mayor de las venganzas. A partir de este momento comienza a surgir el caos ya que por medio de un encuentro desafortunado entre ciertos protagonistas hace acto de presencia el que sería el enemigo de esta cinta: CARNAGE.
They are just like a married couple, there is no better metaphor for them. But this "novel" is interrupted by the appearance of a couple of somewhat psychopathic criminals, one of them is Cletus Kasady (Woody Harrelson) and Frances Barrison or Shriek (Naomie Harris) that the only thing they are looking for is the greatest revenge. From this moment on, chaos begins to emerge because through an unfortunate encounter between certain protagonists, the enemy of this film: CARNAGE, makes an appearance.
Por donde empezamos? - a ver, claramente la historia sobre la que está hecha esta película no es la misma a la original, tiene sus similitudes pero no es igual lo que hace que sucedan dos cosas: que los que si sepamos un poco más de los comics hayamos "extrañado" la verdadera naturaleza de Carnage pero, y caemos en lo segundo, agradecemos que hayan tratado de personificar lo mejor posible a tan increíble personaje.
Where do we start? - Let's see, clearly the story on which this movie is made is not the same as the original, it has its similarities but it is not the same which makes two things happen: that those of us who know a little more about the comics have "missed" the true nature of Carnage but, and we fall into the second, we are grateful that they have tried to personify as best as possible such an incredible character.
Con esto no quiero decir que la película sea mala, para nada, de hecho la disfruté porque se deja ver, el toque de comedia romántica en una película de esta naturaleza es algo que siempre pega. Porque es eso, al final estamos ante una historia de amor en la que los involucrados buscan vengarse por no poder ser correspondidos pero también tenemos la otra cara de la moneda de la vida sentimental de Eddie con Anne (Michelle Williams). La verdad es que pensaría que está hecha para todos los gustos.
With this I do not mean that the film is bad, not at all, in fact I enjoyed it because it is easy to watch, the touch of romantic comedy in a film of this nature is something that always hits. Because that's what it is, in the end we are faced with a love story in which those involved seek revenge for not being able to be reciprocated but we also have the other side of the coin of Eddie's sentimental life with Anne (Michelle Williams). The truth is that I would think that it is made for all tastes.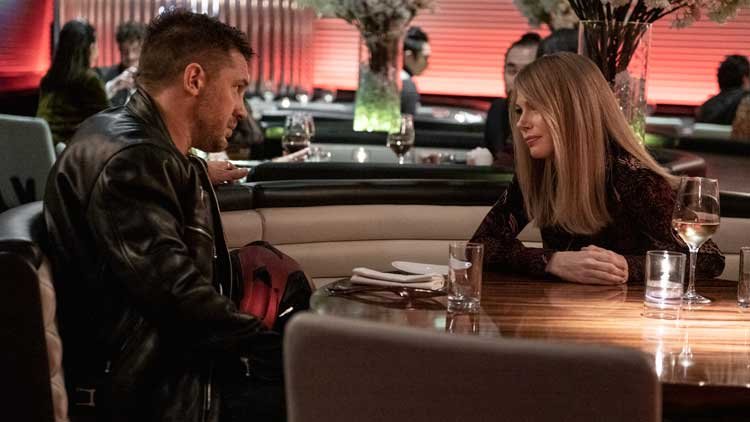 Como ya comenté, no hay mucho que decir a nivel de producción y realización porque siempre Marvel sobresale en esos aspectos. Hay algo que si noté y agradezco y es que a Carnage lo hicieron mucho más grande y poderoso que a Venom, no le dieron la forma de ser destructiva que él tiene pero por lo menos lo compensaron con un diseño bastante aceptable. Muchos me dirán que las películas no tienen porque parecerse tanto a los comics o libros y es verdad, pero a veces cuando un aspecto de un personaje es tan evidente y claro no verlo en la pantalla grande puede ser un poco extraño.
As I already mentioned, there is not much to say about production and execution because Marvel always excels in those aspects. There is something that I did notice and appreciate and that is that they made Carnage much bigger and more powerful than Venom, they didn't give him the destructive form that he has but at least they compensated for it with a pretty acceptable design. Many will tell me that the movies don't have to look as much like the comics or books and it's true, but sometimes when an aspect of a character is so obvious and clear not seeing it on the big screen can be a little strange.
A Tom Hardy le va muy bien el personaje, de por si es un actor bastante ágil y gracioso cuando es necesario, que la verdad ser Eddie y convivir con Venom es de lo mejor de la película, hay escenas que sinceramente dan risa genuina. El villano que en este caso es Woody Harrelson también está aceptable, no estamos acostumbrados a verlo hacer el papel de malo pero creo que dentro de como armaron al personaje estuvo bastante bien.
Tom Hardy is doing very well in the character, he is a very agile and funny actor when necessary, being Eddie and living with Venom is one of the best of the movie, there are scenes that honestly give genuine laughter. The villain in this case is Woody Harrelson is also acceptable, we are not used to seeing him play the role of the bad guy but I think that within how they put together the character was pretty good.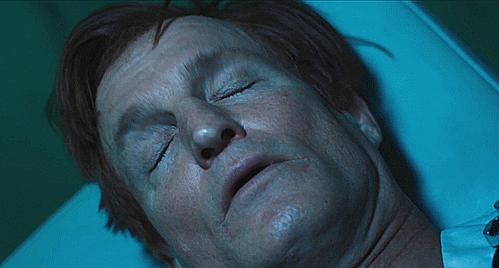 En fin, films como Venom se aprecian mucho en estos tiempos porque estamos en un constante bombardeo de superhéroes. Pero, Venom es uno de ellos? - yo creo que si, muy a su estilo pero sin duda lo es. Y eso es lo que me gusta de esta parte del universo de Marvel, que tenemos a un héroe no tan héroe que NUNCA veremos con una capa o luchando sin hacer ningún tipo de destrucción.
Anyway, films like Venom are very much appreciated these days because we are in a constant bombardment of superheroes. But is Venom one of them? - I think so, very much in its own style, but without a doubt it is. And that's what I like about this part of the Marvel universe, that we have a not so heroic hero that we will NEVER see wearing a cape or fighting without doing any kind of destruction.
Amor o venganza? - por ahí leí que Venom era de las historias de amor más grandes de Marvel y mira, puede que tengan razón ya que por lo menos todos los elementos que conforman una historia así están presentes acá. Aspectos que no me molesta nada porque son cosas que en una trama de este estilo pueden llegar a ser un poco novedosas. La venganza por amor también está presente así que podemos decir que existe un poco de cada cosa.
Love or revenge? - I read somewhere that Venom was one of Marvel's greatest love stories and look, they may be right because at least all the elements that make up a story like this are present here. Aspects that don't bother me at all because they are things that in a plot of this style can become a bit novel. Revenge for love is also present so we can say that there is a little of everything.
Siempre voy a recomendar una película de Marvel ya que es imposible que hagan una cinta del todo mala. A esta le doy un 7/10 porque me gustó todo lo que vi en ella salvo el verdadero Carnage. Tiene una duración de un poco más de hora y media que la verdad se pasan bastante rápido. Les dejo el tráiler para que vean de que va.
I'm always going to recommend a Marvel movie since it's impossible for them to make a totally bad movie. I give this one a 7/10 because I liked everything I saw in it except for the real Carnage. It's a little over an hour and a half long and it goes by pretty fast. I leave you the trailer so you can see what it's about.
Bueno mi gente por hoy es todo, espero que les haya gustado.
¡Un abrazo a todos, nos leemos en la próxima!
Well my people that's all for today, I hope you liked it.
Hugs to all, see you next time!
---
---