(ESP-ENG) WeCrashed: un jefe terrible, una empresa colapsada // WeCrashed: a terrible boss, a collapsed company!
Hola amigos, buenas vibras para todos.
Hello friends, good vibes to all.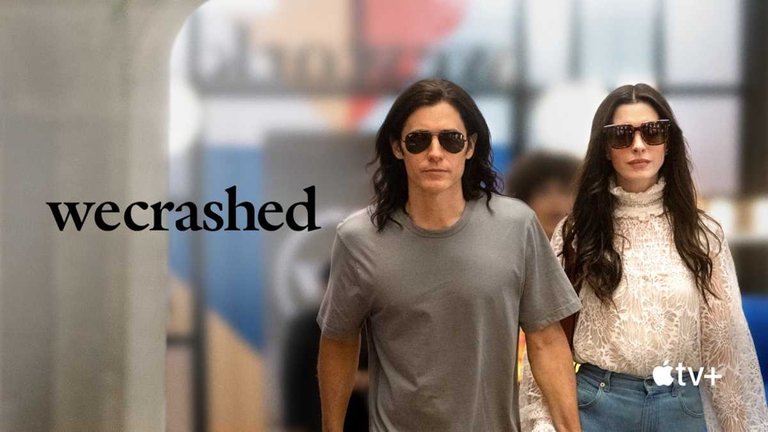 Tal parece que en los últimos tiempos muchas de las productoras se han puesto de acuerdo para traernos estas historias que aunque parezcan una fantasía pura por el desastre que llegamos a ver en la pequeña pantalla la verdad es que fueron historias muy reales en los que muchos sufrieron las consecuencias de personas que en algún momento tuvieron una gran idea pero por una serie de razones, entre ellas ser unos terribles jefes, llegaron a quedarse en la nada absoluta. Esta miniserie nos muestra la historia del despegue y el colapso de WeWork, una empresa que llegó a ser la tercera privada más importante del mundo.
It seems that in recent times many of the production companies have agreed to bring us these stories that although they seem like pure fantasy because of the disaster that we get to see on the small screen, the truth is that they were very real stories in which many suffered the consequences of people who at some point had a great idea but for a number of reasons, including being terrible bosses, came to be left in absolute nothingness. This miniseries shows us the story of the takeoff and collapse of WeWork, a company that became the third largest private company in the world.
Esta trama la vi por dos razones. La primera por sus protagonistas, Jared Leto y Anne Hathaway. Creo que no hay espacio para la duda si unos actores de este calibre se unen para contar esta historia, actores que son de los mejores que hay, ganadores de premios Oscar y que como verán llevan a cabo una interpretación increíble. Y la segunda razón es porque ya hemos visto "Inventing Anna" y "The Dropout", miniseries que van de la mano y que resultan fascinantes por el como puede llegar a ser la gente una vez tocan la fama y el dinero, el cambio que sufren es radical, un cambio claramente para mal porque el final siempre termina siendo el mismo: fraudes y desprestigio. Pero bueno, hablemos un poco de este trabajo de Apple TV...
I saw this plot for two reasons. The first is for its stars, Jared Leto and Anne Hathaway. I think there is no room for doubt if actors of this caliber come together to tell this story, actors who are some of the best there are, Oscar winners and as you will see they deliver an incredible performance. And the second reason is because we have already seen "Inventing Anna" and "The Dropout", miniseries that go hand in hand and are fascinating for how people can become once they touch fame and money, the change they undergo is radical, a change clearly for the worse because the end always ends up being the same: fraud and discredit. But well, let's talk a little bit about this Apple TV work...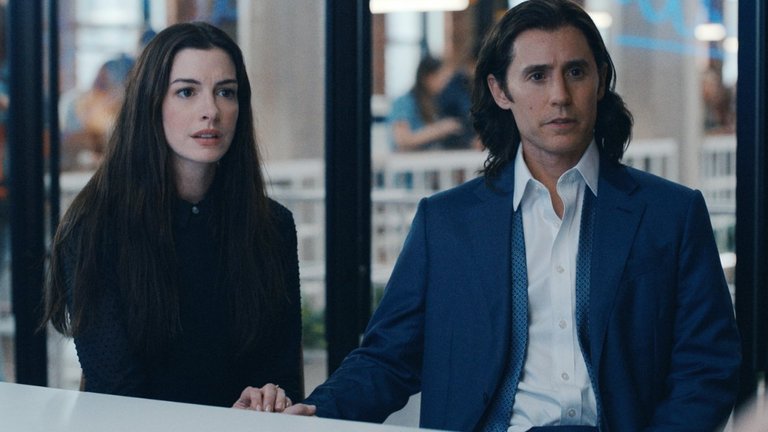 Lógicamente esta es una historia basada en hechos reales y nos habla del nacimiento, crecimiento, auge y la caída inevitable y estrepitosa de WeWork, una empresa de coworking que fue creada por Adam Neumann (Jared Leto). Esta empresa, como ya dije, llegó a ser de las más importantes del mundo con una valoración de 47 mil millones de dólares, estaba destinada a ser la nueva Amazon o hasta Google, pero por las excentricidades y la pésima gerencia de su jefe el derrumbe era algo que se veía cada vez más cerca pero a pesar de eso muchos decidieron seguir creyendo y ser fieles hasta que llegó el momento final, ese en el que esos muchos lograron despertar del "encantamiento" de ese falso gurú.
Logically this is a story based on true events and tells us about the birth, growth, boom and the inevitable and resounding fall of WeWork, a coworking company that was created by Adam Neumann (Jared Leto). This company, as I said, became one of the most important in the world with a valuation of 47 billion dollars, it was destined to be the new Amazon or even Google, but due to the eccentricities and bad management of its boss, the collapse was something that looked closer and closer but despite that many decided to continue believing and being faithful until the final moment came, the one in which those many managed to wake up from the "enchantment" of that false guru.
El desplome de WeWork fue algo que sucedió en apenas un año, en un solo año una empresa que estaba en lo más alto, en la mira de los inversores más importantes del mundo dejó de ser relevante y la confianza se fue al suelo. Entonces, que pasó? - pues eso es lo que esta miniserie nos enseña, nos adentra en lo que era la vida de esta pareja muy pero muy particular, sobretodo Rebekah Neumann (Anne Hathaway) quien es la esposa de Adam y que acá, según yo, se lleva todos los focos por la gran actuación que se marcó Hathaway, siento que interpretar a un personaje real es mucho más complicado de hacer que uno ficticio y tanto Jared como Anne sobresalen haciéndolo. Así que bueno, una miniserie llena de drama que nos relata los diez año de gloria de WeWork.
The collapse of WeWork was something that happened in just one year, in just one year a company that was at the top, in the sights of the most important investors in the world ceased to be relevant and confidence went down. So, what happened? - Well, that's what this miniseries shows us, it takes us into what was the life of this very, very particular couple, especially Rebekah Neumann (Anne Hathaway) who is Adam's wife and who here, according to me, gets all the spotlight for the great performance that Hathaway gave, I feel that playing a real character is much more complicated to do than a fictional one and both Jared and Anne excel doing it. So well, a miniseries full of drama that tells the story of WeWork's ten years of glory.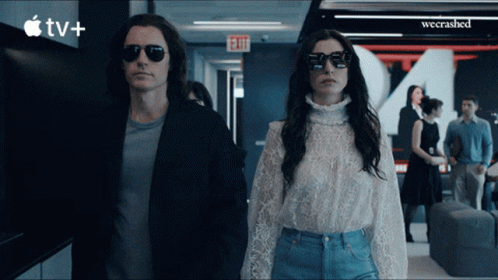 La forma en la que es contada la historia va de adelante hacia atrás y a partir de allí todo va de manera lineal. Esto es porque al ser una historia real ya se sabe cual es el final, se sabe lo que termina sucediendo con la empresa y con Adam, de ahí a que no se busque tener tanto misterio resguardando la acción que pone fin al mandato de los Neumann. Lo que obviamente no se sabe son todas las razones, las decisiones, todo lo que hizo a lo largo de los años para que al final la empresa casi se declarara en bancarrota. Es un viaje a través de TODO lo que NO se sebe hacer si quieres mantener estable un negocio, verán muchas cosas absurdas y comportamientos extraños que vienen dados por un par de personas que la verdad nunca pensaron en llegar a donde lo hicieron.
The way in which the story is told goes from front to back and from there everything goes in a linear way. This is because, being a true story, you already know what the end is, you know what ends up happening with the company and with Adam, hence the fact that it does not seek to have so much mystery by keeping the action that puts an end to the Neumann's mandate. What is obviously not known are all the reasons, the decisions, everything he did over the years so that in the end the company almost went bankrupt. It is a journey through EVERYTHING you should NOT do if you want to keep a business stable, you will see many absurd things and strange behaviors that come from a couple of people who never really thought about getting to where they did.
Más allá de todo lo que se pueda ver a nivel de negocios esta miniserie es una muestra de que tan alejados de la realidad pueden llagar a estar las personas cuando la fama y las cantidades exorbitantes de dinero le tocan la puerta de su casa, el nivel de desconexión es tal que todo termina derivando en actitudes mesiánicas, delirios de grandeza y en llegar a creer que eres un Dios con una oficina en un edificio en Nueva York. Existe una similitud muy marcada entre Anna Delvey, Elizabeth Holmes y Adam y Rebekah Neumann y es que todos tienen el don y el poder de convencimiento muy grande, supieron como llegarle a las personas adineradas correctas y lograr, de manera efímera, ser poderosos.
Beyond everything that can be seen at a business level, this miniseries is a sample of how far away from reality people can become when fame and exorbitant amounts of money knock on the door of their house, the level of disconnection is such that everything ends up deriving in messianic attitudes, delusions of grandeur and in believing that you are a God with an office in a building in New York. There is a very marked similarity between Anna Delvey, Elizabeth Holmes and Adam and Rebekah Neumann and is that they all have the gift and the power to convince, they knew how to reach the right wealthy people and achieve, in an ephemeral way, to be powerful.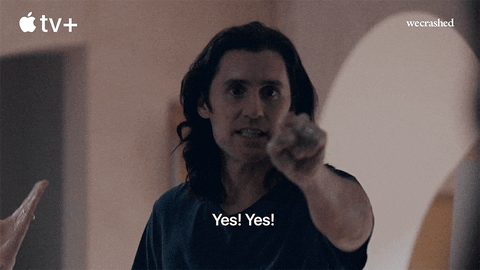 Entonces, para ser estafadores hay que ser inteligentes? - creo que no y las tres miniseries son la prueba de ello. Si fueran personas pensantes muy probablemente yo no estaría escribiendo esto porque no se hubiesen hecho las historias de sus fracasos. Tuvieron una buena idea, porque la verdad eran buenos conceptos todos pero no lograron capitalizarlos y si en los negocios no tienes la mentalidad necesaria, terminas como estos cuatro personajes, con una fama maltrecha. WeCrashed nunca te va a aburrir, la forma en como es contada la historia es muy dinámica, hay sus toques de drama y tragedia pero la comedia también es algo que está presente y es dada por la personalidad y la forma de ser de los protagonistas. Te ríes, sufrirás de vergüenza ajena y te preguntarás siempre: ¿Cómo este par logró tantas cosas?...
So, to be con artists you have to be smart? - I think not and the three miniseries are proof of that. If they were thinking people I probably wouldn't be writing this because the stories of their failures would not have been made. They had a good idea, because in truth they were all good concepts but they failed to capitalize on them and if you don't have the right mindset in business, you end up like these four characters, with a battered reputation. WeCrashed will never bore you, the way the story is told is very dynamic, there are touches of drama and tragedy but the comedy is also something that is present and is given by the personality and the way of being of the protagonists. You will laugh, you will suffer from embarrassment and you will always ask yourself: How did this pair achieve so much?...
Anne Hathaway es una reina de la actuación, siempre la he tenido en alto pero después de haberla visto acá y llegar a odiar a su personaje de grandes manera, no queda otra que reafirmar ese pensamiento. Es un personaje sumamente raro, con una personalidad muy chocante y con una carga psicológica importante. Ella siempre ha estado en las sombras y de un momento a otro quiere resaltar y ser escuchada por lo que toda su filosofía de vida la quiere plasmar en la empresa, ella es vegana, hace yoga, todo es "paz y amor" pero en el fondo es una persona muy tóxica y controladora. Ver esa dualidad de personalidad es algo que a Anne le queda muy bien, la puedes ver llorar sin problemas y al segundo se transforma en una persona histérica y manipuladora. Sin dudas es el personaje más top de esta miniserie, el nivel interpretativo es brutal.
Anne Hathaway is an acting queen, I've always held her in high regard but after seeing her here and coming to hate her character in a big way, I can only reaffirm that thought. She is an extremely strange character, with a very shocking personality and with an important psychological burden. She has always been in the shadows and from one moment to another she wants to stand out and be heard so she wants to capture her whole philosophy of life in the company, she is vegan, she does yoga, everything is "peace and love" but deep down she is a very toxic and controlling person. Seeing that duality of personality is something that suits Anne very well, you can see her cry without problems and the second she transforms into a hysterical and manipulative person. Undoubtedly she is the top character of this miniseries, the acting level is brutal.
Y por el otro lado tenemos a Jared Leto en un papel que también le quedó como anillo al dedo por la personalidad del verdadero Adam. Sabemos de la versatilidad de Leto, no podemos encasillarlo con el Joker, es un actor impresionante y la forma en como hace suyo toda la forma de ser de Adam es increíble. Es una personalidad alocada, perseverante, un alma libre que va descalzo al trabajo y que no acepta un no como respuesta pero a la vez es una persona sumamente frágil e inmadura. Creo que el gran fuerte de esta miniserie es que tanto Jared como Anne se complementan de una forma muy única, la trama no sería la misma si alguno de los dos faltara, como se diría coloquialmente son tal para cual y es ahí donde radica la magia de esta historia, todo el peso está sobre sus hombros y lo saben llevar con clase y sin ningún problema.
And on the other side we have Jared Leto in a role that also fits him like a glove because of the personality of the real Adam. We know about Leto's versatility, we can't pigeonhole him with the Joker, he is an impressive actor and the way he makes Adam's whole way of being his own is incredible. He's a crazy personality, persevering, a free soul who goes barefoot to work and doesn't take no for an answer but at the same time he's an extremely fragile and immature person. I think the great strength of this miniseries is that both Jared and Anne complement each other in a very unique way, the plot would not be the same if either of them were missing, as we would say colloquially they are perfect for each other and that is where the magic of this story lies, all the weight is on their shoulders and they know how to carry it with class and without any problem.
La verdad es que me gustó mucho esta miniserie, de hecho todas las de este estilo me llaman la atención. Es muy entretenida, no es el típico documental en donde te aburres al segundo capitulo. Es un buen drama/comedia acompañado por par de actuaciones de diez y con un elenco que tampoco lo hizo mal, hay par de caras conocidas que le dan un poco más de forma a esta historia. Esta miniserie reafirma que Apple TV sigue haciendo contenido y productos a la altura y que si siguen por esa senda el futuro será muy bueno.
The truth is that I really liked this miniseries, in fact all the ones of this style catch my attention. It is very entertaining, it is not the typical documentary where you get bored after the second chapter. It's a good drama/comedy accompanied by a couple of great performances and a cast that didn't do too bad either, there are a couple of familiar faces that give a little more shape to this story. This miniseries reaffirms that Apple TV continues to make content and products at the height and if they continue on that path the future will be very good.
8.5/10 porque Jared Leto y Anne Hathaway son espectaculares, la verdad vale mucho la pena ver esta historia solo por ellos dos, el nivel que le inyectan es muy grande. Esta miniserie consta de ocho episodios de cincuenta minutos cada uno aproximadamente y como ya le dije está disponible en Apple TV. Les dejo el tráiler para que le den una mirada.
8.5/10 because Jared Leto and Anne Hathaway are spectacular, the truth is worth watching this story just for the two of them, the level they inject is great. This miniseries consists of eight episodes of approximately fifty minutes each and as I said it is available on Apple TV. I leave the trailer for you to take a look.
Bueno mi gente por hoy es todo, espero que les haya gustado.
¡Un abrazo a todos, nos vemos en la próxima!
Well my people that's all for today, I hope you liked it.
¡A hug to everyone, see you next time!
---
---