(ESP-ENG) Yellowjackets, a tragic past that haunts everyone!

Hola amigos, buenas vibras para todos.
Hola amigos, buenas vibras para todos.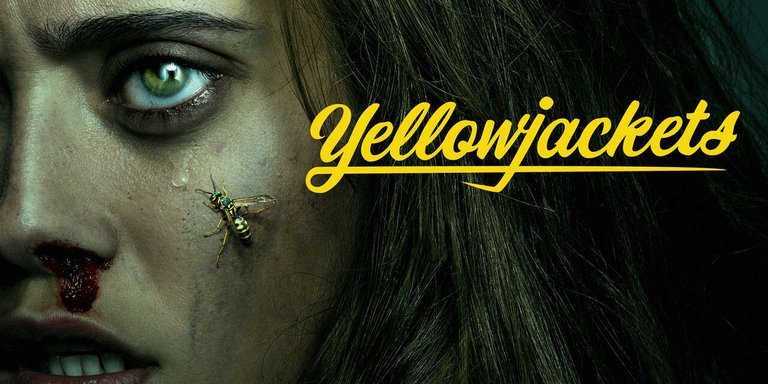 A ustedes no les pasa que en su juventud vivieron algo, alguna experiencia no grata o simplemente un recuerdo que por más que quieran olvidar no pueden y que años después aún los persigue sin ustedes quererlo? - bueno, de algo así va esta serie de la que me habían hablado muchísimo y fue recién hace unos días atrás que tuve la oportunidad de echarle un ojo después de un poco más de un año que tiene de estrenada. Confieso que desconocía por completo de que se trataba por lo que empecé totalmente a ciegas y la verdad no me arrepiento y es que la historia de las Yellowjackets es tan fascinante como trágica y perturbadora, cosa que obviamente no sabía ni muchos menos me esperaba porque hay algo que tienen que saber, la intriga y el no saber lo que realmente está pasando son los elementos base de esta trama.
Haven't you ever lived through something in your youth, some unpleasant experience or simply a memory that even though you want to forget you can't and that years later still haunts you without you wanting it to? - Well, that's what this series is about, and I had heard a lot about it and it was only a few days ago that I had the opportunity to take a look at it after a little more than a year since its release. I confess that I was completely unaware of what it was about so I started totally blindly and the truth is that the story of the Yellowjackets is as fascinating as tragic and disturbing, which obviously I did not know and much less I expected because there is something you have to know, the intrigue and not knowing what is really happening are the base elements of this plot.
Son pocas las series que logran dejarme contrariado a medida que sus capítulos van transcurriendo y esta es una de ellas, como les comenté desde el primer episodio ya sabes que algo malo o por lo menos extraño ronda en el aire, hay un ambiente en donde se nota que el secreto que esconden estas mujeres es un poco pesado incluso para ellas mismas. Es una trama llena de suspenso, de un terror psicológico importante pero también es un thriller porque hay matices chantajes y asesinatos y por si fuera poco pudiéramos hablar de un drama porque lo que vivieron y están viviendo las protagonistas es una carga nada grata. Pero bueno, vayamos y hablemos un poco más a profundidad de lo que es esta gran serie porque si, la serie es bastante buena.
There are few series that manage to leave me upset as their chapters go by and this is one of them, as I told you from the first episode you know that something bad or at least strange is in the air, there is an atmosphere where you can see that the secret that these women hide is a little heavy even for themselves. It is a plot full of suspense, an important psychological terror but it is also a thriller because there are shades of blackmail and murder and if that were not enough we could talk about a drama because what the protagonists lived and are living is not a pleasant burden. But well, let's go and talk a little more in depth about what is this great series because yes, the series is pretty good.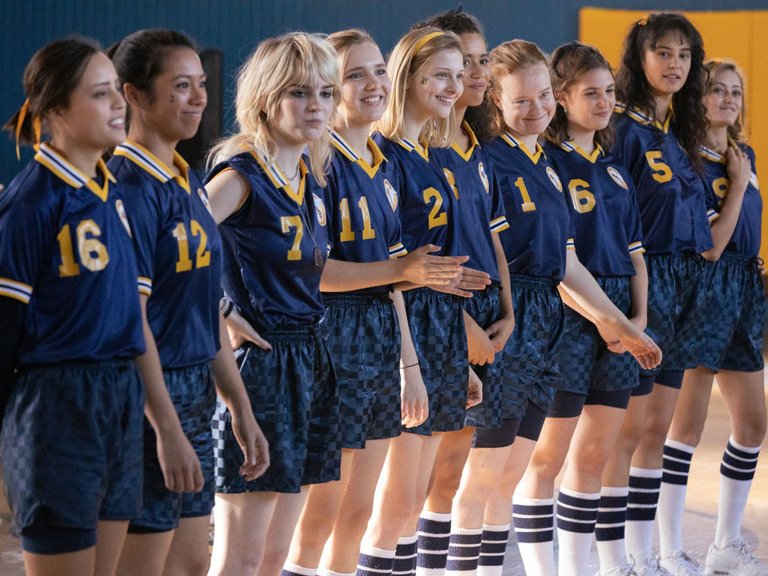 Quienes son las Yellowjackets? - pues de ellas va enteramente la historia. Son un grupo de adolescentes que pertenecen a un exitoso equipo de futbol, de verdad que eran muy buenas al punto de que se clasificaron para el campeonato nacional. Pero como en todo grupo siempre habrán piques, roces y malentendidos lo cual era la norma pero no pasaba nada ya que al final de una u otra forma resolvían sus problemas. A pesar de todo eran un grupo "unido" y bajo esa actitud deciden partir a dicho campeonato sin saber que aquel viaje cambiaría sus vidas para siempre y es que el avión en donde viajaban se estrella en una zona recóndita montañosa de la que pronto se darán cuenta que es muy complicado salir por una serie de cosas que comienzan a ocurrir un poco fuera de lo común.
Who are the Yellowjackets? - The story is entirely about them. They are a group of teenagers who belong to a successful soccer team, they were really good to the point that they qualified for the national championship. But as in any group there will always be quarrels, frictions and misunderstandings which was the norm but nothing happened because in the end one way or another they solved their problems. In spite of everything they were a "united" group and under this attitude they decided to leave for the championship without knowing that this trip would change their lives forever. The plane in which they were traveling crashes in a remote mountainous area from which they will soon realize that it is very difficult to get out because of a series of things that begin to happen a little out of the ordinary.
La cosa es que hubo unas sobrevivientes que casi 25 años después están tratando de seguir con sus vidas a pesar de lo complicado que es dicha tarea. Fue tal lo que sucedió en aquellas montañas que ninguna quiere hablar de eso, no lo han hacho desde aquella época pero amigos, las mentiras y los secretos de alguna manera salen a flote y algo así estarán a punto de experimentar nuestras "valientes". Una parte de la trama comienza acá, en buscar y descubrir que es lo que está pasando después de tanto tiempo y porque hay quienes quieren abrir esa caja de secretos y la otra parte de dicha historia se mantendrá en aquellas montañas para mostrarnos esos días difíciles y extraños que vivieron apartadas de todo.
The thing is that there were some survivors that almost 25 years later are trying to go on with their lives in spite of how complicated this task is. It was so much what happened in those mountains that none of them want to talk about it, they haven't talked about it since that time but friends, lies and secrets somehow come out and something like that our "brave ones" are about to experience. One part of the plot starts here, searching and discovering what is going on after so long and why there are those who want to open that box of secrets and the other part of the story will stay in those mountains to show us those difficult and strange days they lived apart from everything.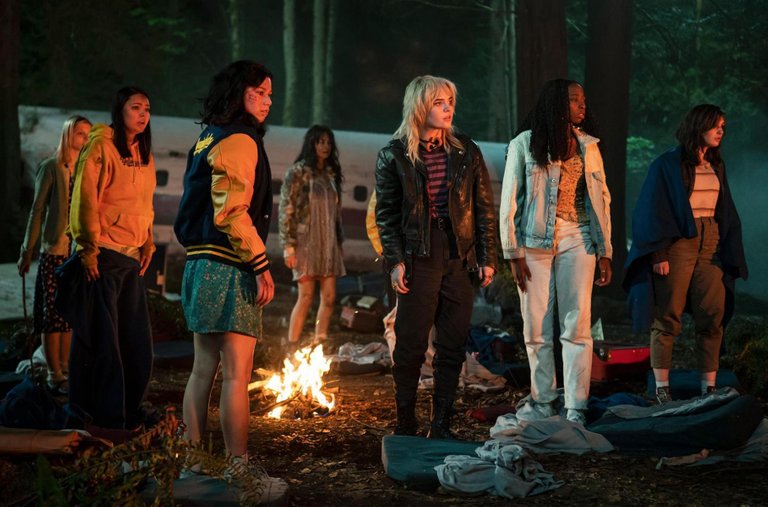 Como les hablé esta es una trama que tiene dos líneas temporales, la primera en las montañas en donde veremos toda la convivencia y los fenómenos extraños que atormentaban a estas muchachas y la segunda estas mismas muchachas hechas mujeres adultas tratando se sortear sus vidas con todos estos secretos muy bien guardados. Esta serie tiene algo y es que apenas te sientas a verla sabes que lo que verás es solo la punta del iceberg, creo que esto es su característica principal, juegan mucho con el "hype" y la expectación del querer saber que hay detrás de todo para solo darte migajas entre los episodios. Es una buena formula porque evidentemente te invita a que no dejes de verla y que al final la hace mucho más interesante y misteriosa, nosotros somo curiosos por naturaleza por lo que en algún momento esa ansiedad de no entender bien que pasa la van a sentir.
As I told you this is a plot that has two timelines, the first in the mountains where we will see all the coexistence and strange phenomena that tormented these girls and the second these same girls made adult women trying to sort their lives with all these closely guarded secrets. This series has something and that is that as soon as you sit down to watch it you know that what you will see is just the tip of the iceberg, I think this is its main feature, they play a lot with the "hype" and the expectation of wanting to know what is behind everything to only give you crumbs between episodes. It's a good formula because it obviously invites you to keep watching it and in the end it makes it much more interesting and mysterious, we are curious by nature so at some point you will feel that anxiety of not understanding what is going on.
Pero no solo es la expectativa sino los plot twist que hay o más bien que abundan. Me atrevería a decir que en cada capitulo hay uno que te desmonta totalmente la teoría que ya tenías pensada por lo que todo lo que ves o piensas puede que no sea real del todo. Esas pequeñas sorpresas por lo inesperado son de las cosas que más disfruto y valoro tanto en una serie como en una película, son elementos que suben mucho el puntaje en mi ranking a la hora de puntear y recomendar. Obviamente todo esto hace que esta trama no sea nada aburrida, te garantizo que no te vas a cansar si eres de los que disfruta del genero. Importante, hay mucho material juvenil, las típicas peleas y discusiones entre "amigas" pero que al final lo que darán es más contexto para asimilar un poco el desenlace.
But it is not only the expectation but also the plot twists that abound. I would dare to say that in each chapter there is one that totally dismantles the theory that you already had thought so everything you see or think may not be real at all. Those little surprises for the unexpected are some of the things I enjoy and value the most in a series as well as in a movie, they are elements that raise the score a lot in my ranking when it comes to scoring and recommending. Obviously all this makes this plot is not boring at all, I guarantee you will not get tired if you are one of those who enjoy the genre. Important, there is a lot of juvenile material, the typical fights and arguments between "friends" but in the end what they will give is more context to assimilate a little of the outcome.
https://mixdeseries.com.br/wp-content/uploads/2022/08/Yellowjackets-4.webp
Del genero pues lo mismo, el suspenso y ese terror psicológico es muy bueno pero no es uno que asusta con los típicos "jump scare", es uno más profundo, siento como que es un miedo a lo intangible, al desconocimiento a la verdadera naturaleza de las cosas, se sabe que algo raro hay pero no descifras que es. Y en cuanto al drama pues veremos problemas familiares derivados a todo ese pasado, problemas con adicciones, hay por ahí ciertos trastornos de personalidad, sinceramente hay de todo un poco por lo que muchos flancos están cubiertos, hay buen entretenimiento por donde lo quieras ver. Y por último y fue algo que me sorprendió mucho es lo violenta y cruda que es, hay unas escenas muy explicitas a punto de caer en el "gore" las cuales siempre voy a alentar, estuvieron muy bien hechas, esto ultimo con el terror que les hable al principio da una combinación super interesante.
As for the genre, the suspense and psychological terror is very good but it is not one that scares with the typical "jump scare", it is a deeper one, I feel like it is a fear of the intangible, the lack of knowledge of the true nature of things, you know that there is something strange but you can't figure out what it is. And as for the drama, we will see family problems derived from all that past, problems with addictions, there are certain personality disorders, honestly there is a little bit of everything so many flanks are covered, there is good entertainment wherever you want to see it. And finally and something that surprised me a lot is how violent and raw it is, there are some very explicit scenes about to fall into the "gore" which I will always encourage, they were very well done, the latter with the terror that I spoke at the beginning gives a super interesting combination.
El elenco es muy top, actrices como Melanie Lynskey, Christina Ricci, Ella Purnell y Juliette Lewis dan vida a estos personajes, tanto las jóvenes como las adultas. Shauna, Misty, Jackie y Natalie son sus personajes, de los más interesantes de toda la serie. La actuación más top creo que se la lleva Ricci, su personaje es super complejo y complicado de entender, una persona con una necesidad inmensa de atención que la llevará a hacer una que otra locura. Y Juliette Lewis es otra destacable, una adicta a todo que busca desesperadamente respuestas de un pasado inconcluso, una combinación peligro y letal. En general hasta las actrices jóvenes sobresalen, todos los personajes son imperdibles.
The cast is very top, actresses like Melanie Lynskey, Christina Ricci, Ella Purnell and Juliette Lewis give life to these characters, both young and adult. Shauna, Misty, Jackie and Natalie are their characters, some of the most interesting of the whole series. The top performance I think goes to Ricci, her character is super complex and complicated to understand, a person with an immense need for attention that will lead her to do something crazy. And Juliette Lewis is another standout, an addict to everything who desperately seeks answers from an unfinished past, a dangerous and lethal combination. Overall even the young actresses stand out, all the characters are unmissable.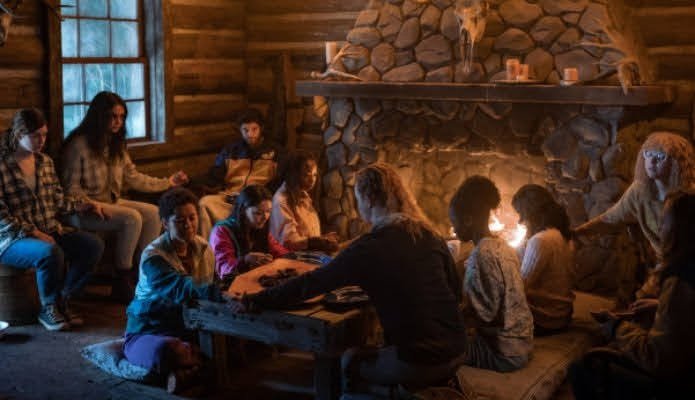 Una serie espectacular, con un final abierto, sorprendente y por lo menos para mi muy inesperado. Lo bueno es que la segunda temporada se estrena a finales de Marzo por lo que es buen momento para que la vean. Le doy un 8.5/10, es de esas series top de las que creo que muy poca gente habla y conoce. Tiene una duración de 10 episodios de una hora cada uno, esta disponible en Hulu. Se las recomiendo mucho, vale increíblemente la pena. Les dejo el tráiler para que le echen un ojo.
A spectacular series, with an open ending, surprising and at least for me very unexpected. The good thing is that the second season premieres at the end of March so it's a good time to watch it. I give it an 8.5/10, it is one of those top series that I think very few people talk about and know about. It has a duration of 10 episodes of one hour each, it is available on Hulu. I highly recommend it, it is incredibly worth it. I leave you the trailer so you can take a look at it.
Bueno mi gente por hoy es todo, espero que les haya gustado.
¡Un abrazo a todos, nos vemos en la próxima!
Well my people that's all for today, I hope you liked it.
¡A hug to everyone, see you next time!
---
---