SYPHYLIS; THE MASTER OF DISGUISE, LORD OF PRETENCE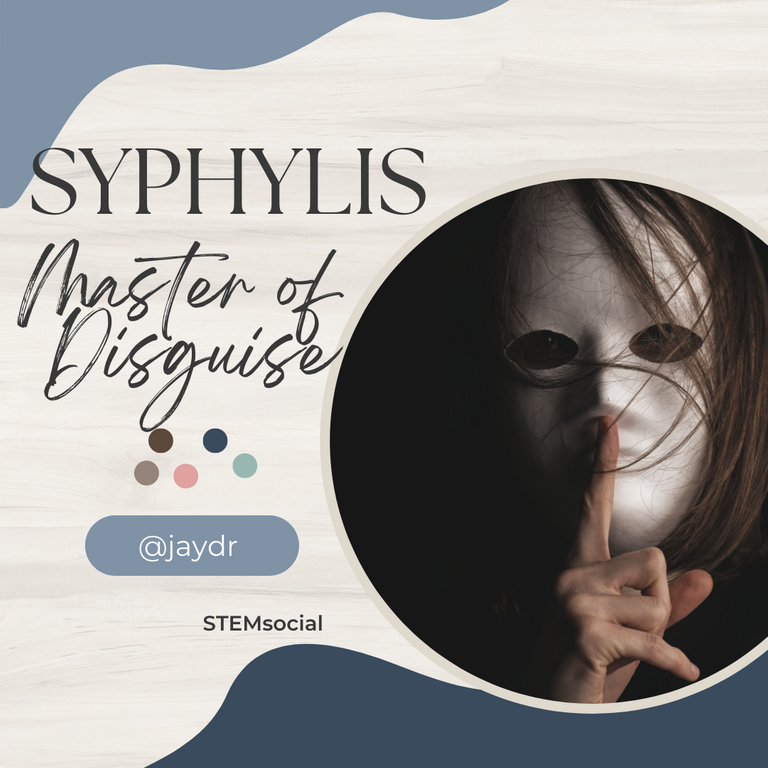 Have you seen the movie or read the novel master of disguise?, A man had an ability to blend and clothe himself like other people to the extent that he will be mistaken for them and he could speak and act like these people even to the point of making an exchange for money.
This act of disguise has also been seen in nature where some animals can ghost or even change their skin colour to suit their environment in order for them not to be easily caught.
It is however very interesting that some diseases can also behave like other diseases and hence becoming a case that requires a high level of suspicion from the medical practitioner to detect them.
Syphilis is a disease caused by Treponema pallidum(also known to cause yaws and pinta), usually by sexual intercourse or exchange of body fluid with someone who is infected with the disease, especially over the site of injury.
It is one that can be very easily treated if detected early however the problem about it is that it is often hard to detect due to its chicannery and disguise.
Many people have been having syphilis and getting treated over many years however people who are ignorant of these disease may often consider it to be something else and then go ahead to treat those things which eventually turns out to be wrong and leads them back to the doctor's office.
Syphilis can occur in both men and women although sometimes it may go on without symptoms in them over a period of time, by the time symptoms are beginning to show it is often true that the disease has gone to advanced stages.
The people most at risk of syphilis are
those who often avoid using protection such as condoms during sex with multiple sexual partners
-Those who have partners who may have syphilis or other sexually transmitted infections such as HIV AIDS
Men who have sex with men

Drug addicts
STAGES OF SYPHYLIS
Because of its difficulty to quickly detect it is important to itemize the progress of this disease even for public awareness so when any of such is detected in your body you can know when to reports to the clinic.
The stages vary in order of terror and destructiveness, the earlier phases are known for increased risk of spread while the later phases are known for increased risk of damage done.
PRIMARY STAGE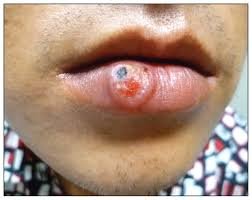 Source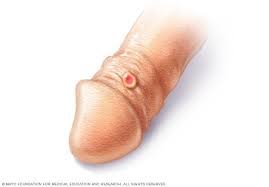 Source
A small round chancre is the most common symptom in this phase. It occurs on the skin and most commonly round the pubic region and the mouth. It could occur at the site of entry of the bacteria into the body and may take about 3 weeks after entry before the store shows up this sores are known to last about 10 to 90 days.
---
SECONDARY STAGE
A secondary syphilis is very deceptive and one of the hardest to diagnose. It shows up with skin rashes, all over the body and mostly at the soles and palms of the hand. Along side some other constitutional symptoms like headaches, fever and joint pain with a sore throat too. These are all symptoms similar to many other diseases.
Hence the name "the great imitator". In Medicine, syphilis can be thought to be any infective disease, dermatology disease or even nervous disease as we would find later on.
---
LATENT STAGE
Here the we find all the symptoms often first and second stages resolve totally to the point that patients look normal and well, the only way to detect the disease in people at this stage is with the use of testing called the VDRL Test. (Veneral disease research laboratory).
The disease is still in full progression however and does not mean retrogression of the bacteria in them.
---
THE TERTIARY STAGE
Here is when the infection has done some damages, mostly neurological and cardiovascular. Neurosyphylis occur affecting either the meninges - the brain covering, the parenchyma or the vessels o the brain. It may also manifest as gummatous syphylis, forming lesions in various organs like liver, kidney or even the testis.
For the cardiovascular syphylis, there may be an aneurysm formation and or even some form of aortic insufficiency. There are different durations for the occurence of this complications but it could take decades from the latent period. For some people they may never develop tertiary symptoms, while unfortunately some other will.
---
CONGENITAL SYPHYLIS
Speaking of unfortunate brings, there is also congenital syphylis, where a child contracts syphilis from mother. The Treponema can cross the placental barriers and infect the fetus, leading to either death of the fetus or even birth to a sick fetus. The symptoms are usually similar to as in adults and even more hurtful, due to their none existent immunity. For this reasons proper ante natal care involves ruling out if mother has syphylis by doing the VDRL earlier mentioned.
At this point I want to draw a close to this brief discussion. There is more to learn about Syphylis and helpful links will be share for further readings. The rate of its complications had fallen with the discovery of penicillin how ever it jumped back up several years later. However it is very treatable and only needs a high index of suspicion. Don't rule out syphilis until you have really ruled it out.
Thanks for reading.
---
Hi, I am @jaydr, I am a medical doctor practicing in Nigeria. I m glad I can share this information for health information and awareness purposes only and not for self diagnosis. If any of these things described applies to you, kindly visit your doctor and avoid self diagnosis. I am also on Med-hive community where I share most medical and helpful content to enrich readers.

Thumbnail designed using Canva
References

Centers for Disease Control and Prevention. Sexually Transmitted Disease Surveillance 2007 Supplement, Syphilis Surveillance Report. Centers for Disease Control and Prevention. Centers for Disease Control and Prevention.

The Great Impostor Did It Again: Syphilitic Arthritis
---
---