Finally Freedive with the Famous Sardine Run of Moalboal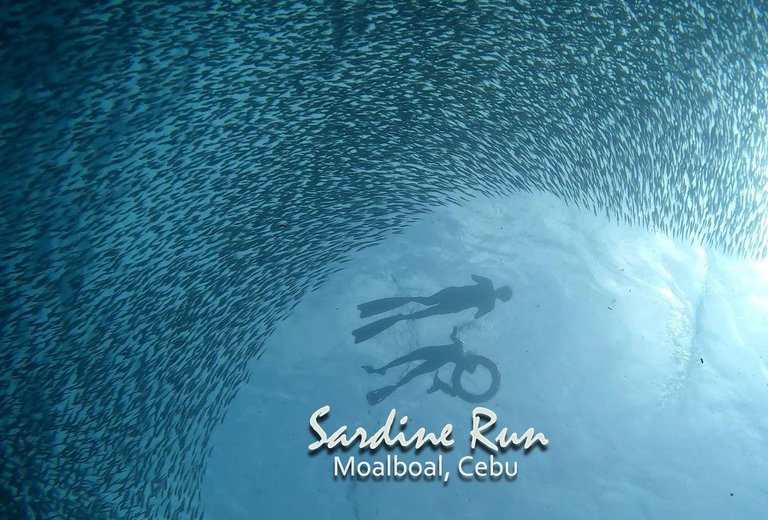 I used to feel jealous whenever I see someone I know swimming with the famous sardine run of Moalboal, Cebu. So many questions randomly pop up in my mind like what is the feeling of being surrounded by the school of sardines? does it feel scary up close? Well, it's time for me to find out. Last week, My wife had her work leave for a few days and we both decided to spend the days in Moalboal. And our stay in Moalboal won't be enough if we were not going to try their sardine run attraction and lucky enough the hostel where we stayed also offers such activity including the dive guide, as well as an action camera for the underwater videos which the guide will be the one filming us underwater. And yes, we took the hostels' offer since the additional fee is fair enough and for our safety as well considering that we were new to the place.
As we arrived at the spot where the sardines are located it is a bit crowded due to local and foreign tourists that wanted to witness the sardine run as well. Good thing is that our guide really knows how to set us up so as not to look crowded in our underwater videos. And finally, I got to experience freediving with the sardines that somehow creates a huge circle that is so vast that it shut out the sun's light. Actually, I'm the one who enjoyed it the most, my wife only stays on the surface since she always floats up to the surface every time she tries to descend. Anyhow, she enjoys watching me tho while I chase the sardines. All credits to our guide for doing all the efforts in filming and taking a long breath hold just to give us good shots, kudos to Sir Michael. If you ever happen to visit Moalboal you may contact them if you needed a guide Moalboal 4M's & South Tour Package. Hope you enjoyed our short video.
---
---