A building with history [Esp-Eng]
Greetings my dear friends, I hope you are all very well and are having a great day, I am glad to be able to write again for this community, now that I feel a little better health, some time ago I wanted to take pictures of the place I will tell you about next, and thanks that I can go out to the street again I could take them, but in doing so I had some surprises.
I want to tell you about a building that originally was a beautiful hotel with a quite peculiar structure from my point of view, the Garden Hotel, quite popular in its time, and known by older people, as it was inaugurated long ago, by the 30's, this hotel was important and currently although it is no longer, it is still a building that is part of the history of this city, which by the way is also known as garden city.
Saludos mis queridos amigos, espero que todos estén muy bien y que estén teniendo un día genial, me alegra poder volver a escribir para esta comunidad, ahora que me siento un poco mejor de salud, hace algún tiempo que quería tomar fotos de él lugar del que les hablaré a continuación, y gracias a que puedo salir a la calle de nuevo pude tomarlas, pero al hacerlo me llevé algunas sorpresas.
Quiero hablarles de un edificio que originalmente era un hermoso hotel con una estructura bastante peculiar desde mi punto de vista, el hotel Jardín, bastante popular en su época, y conocido por las personas de más edad, pues fue inaugado hace mucho, para los años 30, este hotel fue importante y actualmente aunque ya no lo es, sigue siendo un edificio que forma parte de la historia de esta ciudad, que por cierto se conoce también como ciudad jardín.
---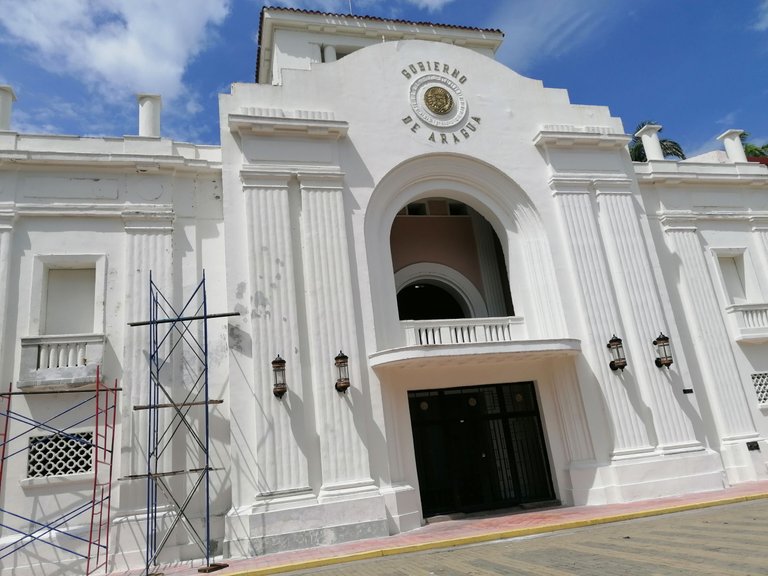 This place is incredibly big, going around it is something that takes some time when you do it walking, and although now there is not much around it, it has a beautiful entrance that seems to be from a very old time but at the same time current and sophisticated, this place after some years stopped being a hotel, and instead began to be used as the building of the governor of the Aragua state of Venezuela.
I do not know until what date it was used as the governor's office, because I must confess that I thought it still was and in fact I was a little afraid to take pictures of the place, because I thought they would call my attention or something like that, but I tell you and here my surprise, that when I visited the place it had become something else, it is currently used as a media headquarters, a radio station and a television station, it is a place closed to the public and because at the back entrance there were security guards, I did not want to take pictures.
Este sitio es increíblemente grande, rodear lo es algo que toma algo de tiempo cuando lo haces caminado, y aunque ahora a sus alrededores no hay mucho tiene una hermosisima entrada que parece de una época muy antigua pero a la vez actual y sofisticada, este lugar después de algunos años dejó de ser un hotel, y en su lugar comenzó a utilizarse como eel edificio de la gobernación del estado Aragua de Venezuela.
No se hasta que fecha fue utilizado como la gobernación, pues debo confesar que creí que todavía lo era y de hecho sentía algo de temor de tomar fotos del lugar, porque pensaba que me llamarían la atención o algo así, pero les cuento y aquí mi sorpresa, que al visitar el lugar se había convertido en algo más, actualmente se utiliza como una sede de medios de comunicación, de una emisora y de una televisora, es un lugar cerrado al público y debido a que en la entrada posterior se encontraban guardias de seguridad, no quise tomar fotos.
---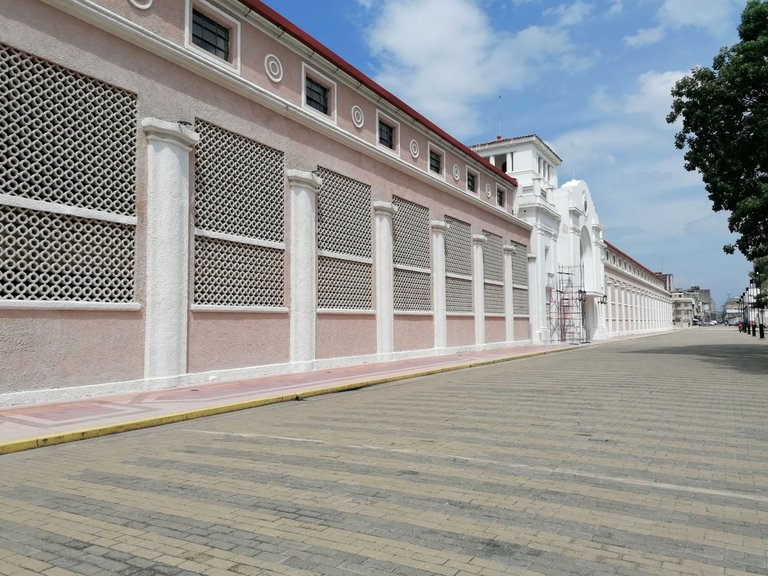 The surroundings are huge and very recently it was maintained, the paint was changed and they left it quite nice and clean, a place that does not look the years it has been in use, let alone all the uses that have been given so far, and like other buildings in Maracay this is also part of the historical and artistic heritage and I think that a building so old and with so much history deserves that place.
On the other hand, that same day I took the pictures, they were fixing it up a little more, painting the walls and so on, which is great because they keep fixing this great place so that it does not lose its beauty while with proper care it can last much longer, who knows? Maybe it will serve a few more decades and be used for other things as time goes by.
Los alrededores son enormes y hace muy poco que se le hizo mantenimiento, se cambió la pintura y lo dejaron bastante lindo y limpio, un lugar que no aparenta los años que tiene en uso, y menos todos los usos que se le han dado hasta ahora, y al igual que otros edificios de maracay este forma parte también del patrimonio histórico y artístico y creo que un edificio tan antiguo y con tanta historia se merece ese lugar.
Por otra parte, ese mismo día que tomé las fotos, estaban arreglandolo un poco más, pintando las paredes y demás, lo cual es genial porque siguen arreglando este grandioso lugar para que no pierda su belleza a la vez que con los cuidados adecuados puede durar muchísimo más tiempo, ¿quién sabe? Quizá cumpla unas cuantas décadas más y sea utilizado para otras cosas con el paso del tiempo.
---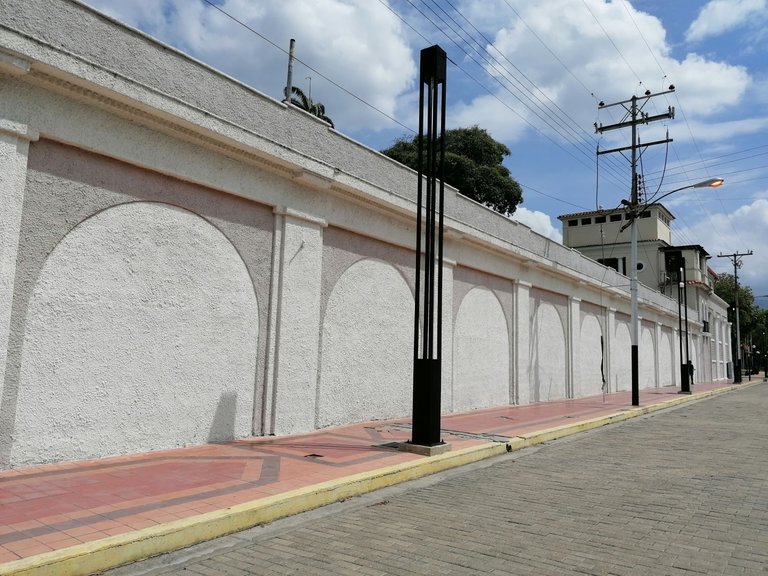 On the other hand this place is right next to a beautiful square, the Plaza Bolivar of Maracay quite big and beautiful, which makes this building look very nice and combines very well with it, I really enjoy passing by here because it is always a delight to the eye, to see clean and well kept places, they are much more appreciated this way.
I hope you liked my publication, but more than that it has been useful, I know that there are many members of this community that like me enjoy to know beautiful and historical places in different parts of the world, so I hope you have been able to read this publication. See you soon friends, we will read each other next time.
Por otra parte este lugar está justo al lado de una hermosa plaza, la plaza Bolívar de maracay bastante grande y bonita, lo que hace que este edificio se vea muy bonito y combina muy bien con el, disfruto mucho de pasar por aquí porque siempre es un deleite a la vista, ver lugares limpios y bien cuidados, se aprecian mucho más de esta manera.
Espero que les haya gustado mi publicación, pero más que haya sido útil, se que hay muchos miembros de esta comunidad que al igual que yo disfrutan de conocer lugares bonitos e históricos de diferentes partes del mundo, así que espero que hayan podido leer esta publicion. Hasta pronto amigos, nos leeremos la próxima ocasión.
---

---
---