A Honey of a Photoshoot: | Baby Bee-coming a Big Boy | Baby Ethan's 4th Month in a Bee Costume
As the 4th month of Baby Ethan's life rolled around, we knew it was time for another animal-themed photoshoot. This month's theme was a cute little bee, and we couldn't wait to see our little one buzzing around in his adorable yellow costume.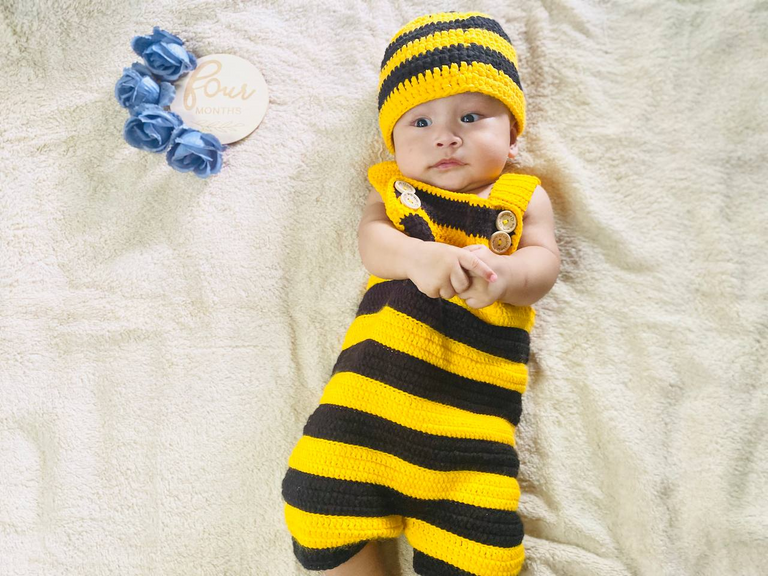 The costume was hand made by my cousin, Samantha, who also happens to be my elementary school classmate. She is incredibly talented and has a knack for crafting, so we knew that the yellow bee costume would be the best animal theme for this month. She worked hard on it and put in a lot of effort to make sure it was perfect an will fir in a four months old baby.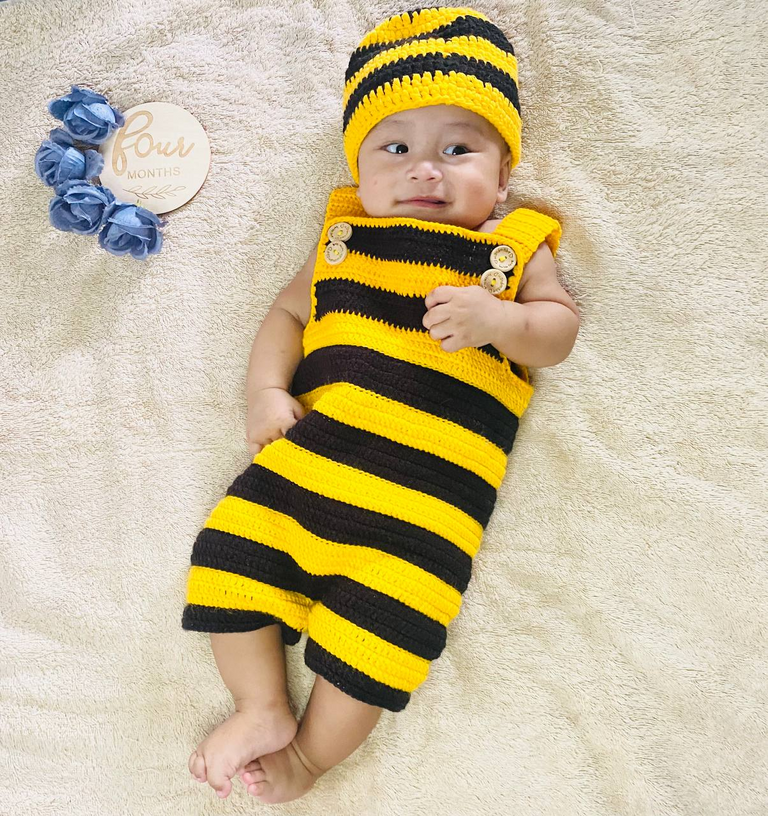 The day of the photoshoot arrived, and we couldn't wait to see Ethan in his new costume. He looked absolutely adorable in his black and yellow striped bee costume, complete with little bee violet flowers and the 4th month sign on his head. He even had a little bee belly that jiggled when he moved. We captured all these moments using an Iphone 11 and with the help of a ring light to get the best lighting possible. Thanks to Mommy Hannah's effort for the setting and, of course, me for the photography and editing skills.
We took a lot of pictures of Ethan in his bee costume, and he was a natural in front of the camera. He smiled and cooed as we snapped away, making it hard to pick just a few favorites. We even got a shot of him "buzzing" by the camera with a big smile on his face, it was so cute.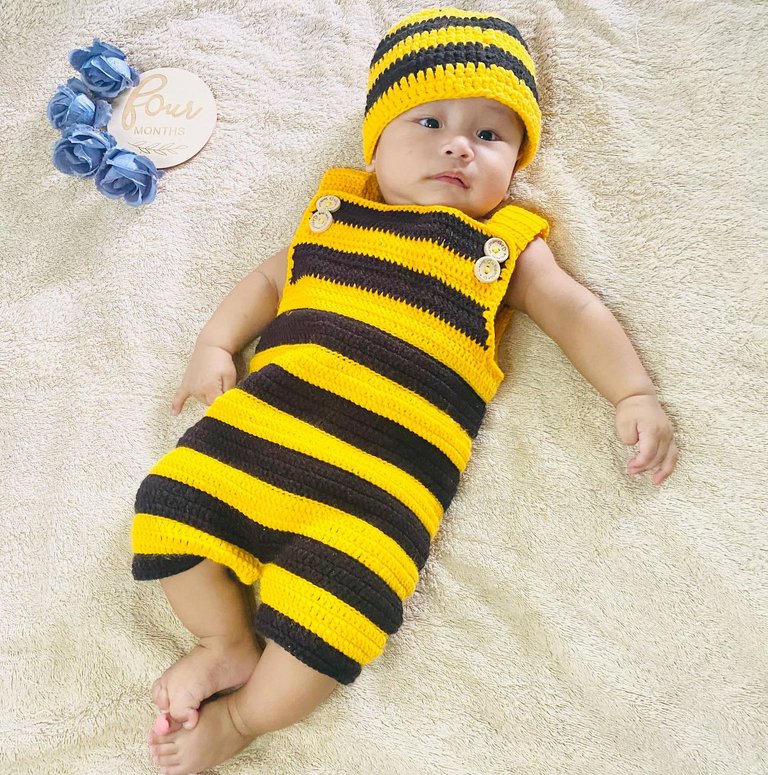 After the photoshoot, we couldn't wait to share the pictures with our friends through Facebook and Instagram and family. They all loved them and couldn't get enough of how adorable Ethan looked in his bee costume. We even received a lot of comments complimenting about the costume itself, with many people asking where we had gotten it from.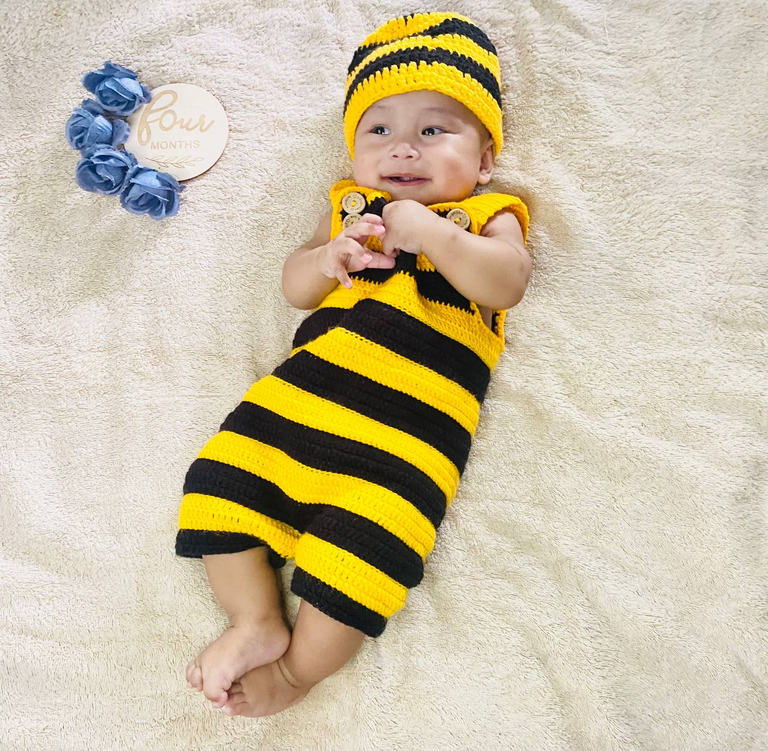 As we looked back on the pictures, we couldn't help but feel grateful for the opportunity to capture these special moments with our little one. Every 21st of the month we dressed up Ethan as an animal, 1st month he dressed up as a cute bunny, 2nd month he dressed up as a yellow chick, 3rd month he dressed up as a reindeer and now for his 4th month he is dressing A bee. We will always treasure these memories and look back on them with fondness, as each month has been special and unique in its own way.
You can check the previous Costume here: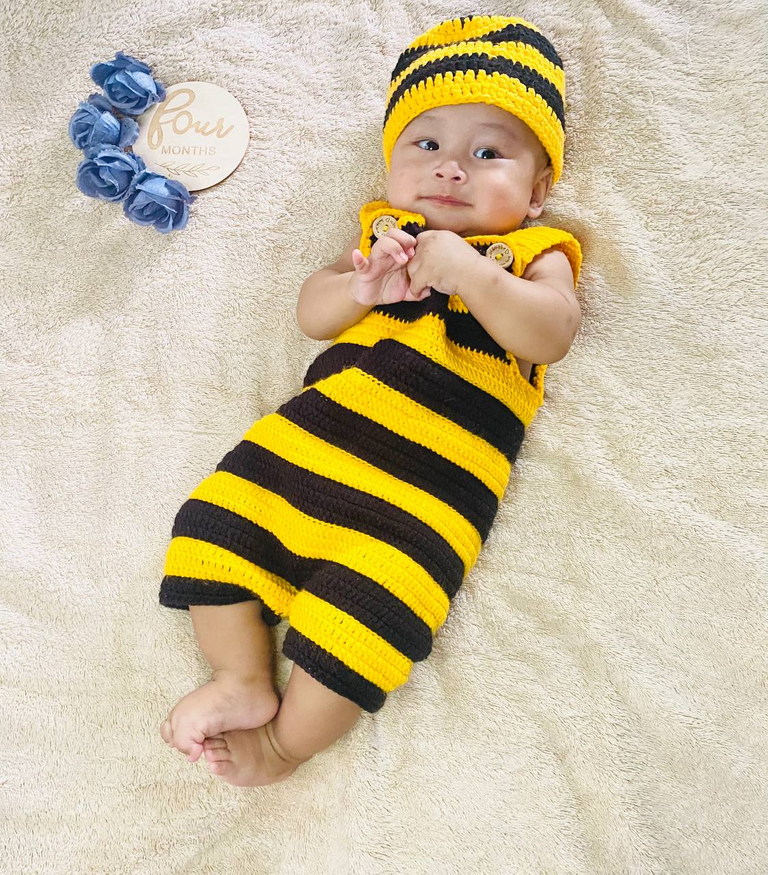 As we reflect on Ethan's 4th month, we can't help but be reminded of the phrase "Buzzing by to greet you a Bee-utiful day", which is so fitting for the occasion. Each month has been an opportunity for us to capture special moments and create lasting memories of our little one growing and developing. We are so blessed to have a happy and healthy baby, and we will always look for ways to make each month special for him. From dressing him up in adorable animal costumes to capturing his milestones with our camera, we want to make sure that we treasure every moment of his childhood. These memories will be cherished forever, and we are grateful for the opportunity to document Ethan's journey as he grows.
Thank you so much to everyone who has been reading my blogs since I started becoming active again. Your support and engagement means the world to me and I'm so grateful for the opportunity to share my thoughts and ideas with you. Thank you for taking the time to read, comment, and share my posts. Your encouragement and feedback keep me motivated to continue writing and creating content. Here's to many more blogs and conversations to come!
Previous blogs about Ethan: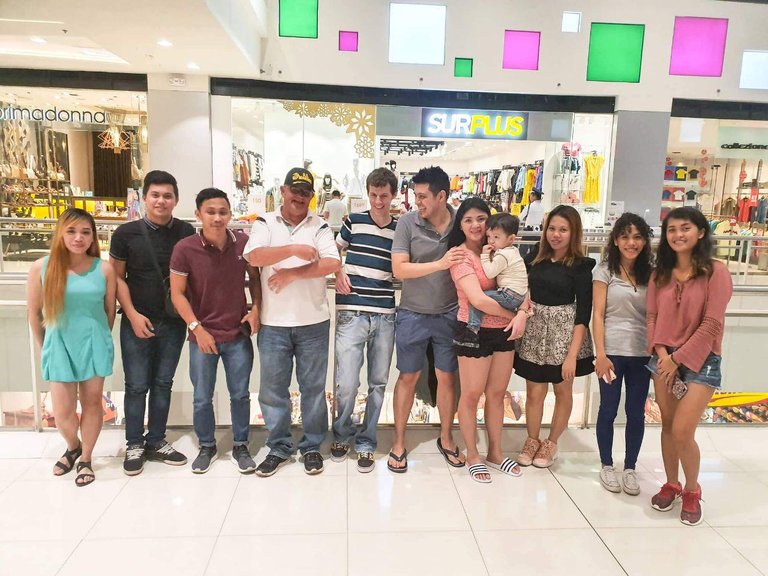 (My Hive Philippines Family)
Follow me on my social Media Accounts
---
---