Accesorios hechos con tela de jeans. || Accessories made with jeans fabric.
Made in canva

Desde hace un tiempo tenía ganas de compartir contenido en esta comunidad, la verdad es que a pesar de gustarme las manualidades, crear joyería me causa dificultad pero esta nueva iniciativa reciclada es una oportunidad perfecta para incursionar en este espacio, cree varios accesorios haciendo uso de la tela jean, hay una infinidad de formas en las que podemos extender la vida de este material y uno de ellos es creando accesorios, tal vez algunas personas no se sientan cómodas usando un collar reciclado, sin embargo hay otras opciones como las pulseras e incluso moñeras.
For some time I wanted to share content in this community, the truth is that although I like crafts, creating jewelry causes me difficulty but this new recycled initiative is a perfect opportunity to venture into this space, I created several accessories using denim, there are countless ways in which we can extend the life of this material and one of them is creating accessories, perhaps some people do not feel comfortable using a recycled necklace, however there are other options such as bracelets and even bows.
---
Algo que noté a la hora de crear estas piezas es que suelo hacer manualidades de forma apresurada, tal vez se deba a que estoy acostumbrada a manejar materiales como el foami o el cartón, con la joyería tuve que tomar un poco más de mi tiempo, de igual manera el acabado no fue completamente prolijo son detalles que con practica mejoran, disfruten de este paso a paso y recuerden no pongan límites a su creatividad.
Something I noticed when creating these pieces is that I usually make crafts in a hurry, maybe because I'm used to handle materials such as foami or cardboard, with jewelry I had to take a little more of my time, likewise the finish was not completely neat are details that with practice improve, enjoy this step by step and remember not to put limits to your creativity.

Materiales: || Materials: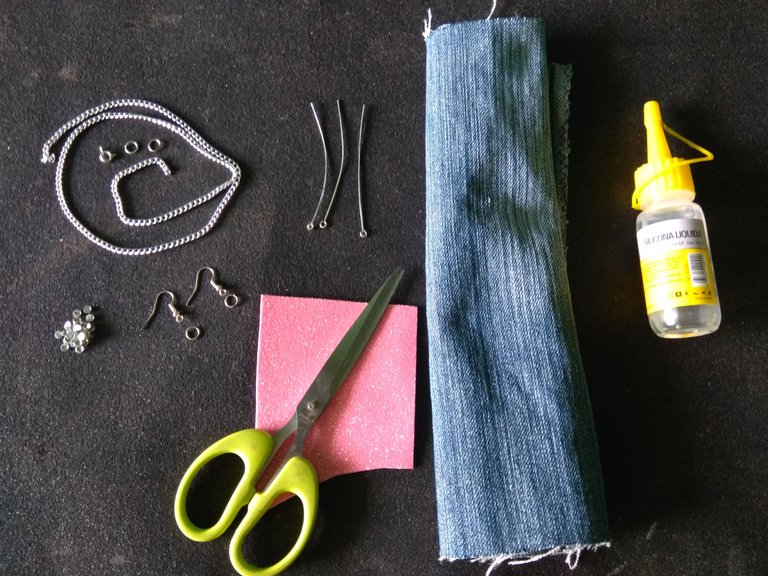 ▪️ Tela de jeans, piezas de bisutería (30 cm de cadena, 1 trancadero, 4 aros pequeños, 2 piezas de zarcillos, y 3 palitos ajustadores), piedras decorativas, foami, silicón líquido, tijeras, regla geométrica.
Denim fabric, costume jewelry pieces (30 cm of chain, 1 chain, 4 small earrings, 2 pieces of tendrils, and 3 sticks), decorative stones, foami, liquid silicone, scissors, geometric ruler.

Paso a paso: || Step by step: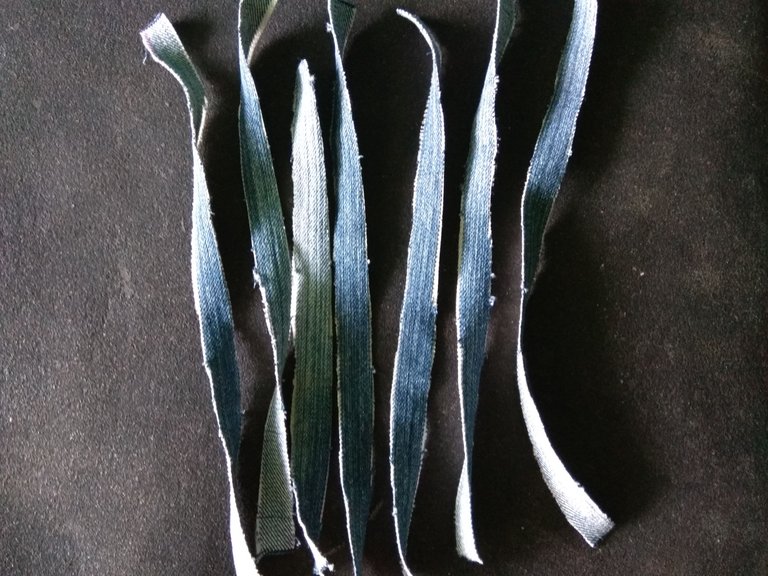 Primer paso: || First step:
▪️ Para crear los accesorios es necesarios cortar tiras de tela de jeans, las medidas son: 10 cm x 1,5 cm. En total recorté 5 tiras, 2 para los zarcillos y 3 para el collar.
To create the accessories it is necessary to cut strips of jeans fabric, the measures are: 10 cm x 1.5 cm. In total I cut 5 strips, 2 for the earrings and 3 for the necklace.
---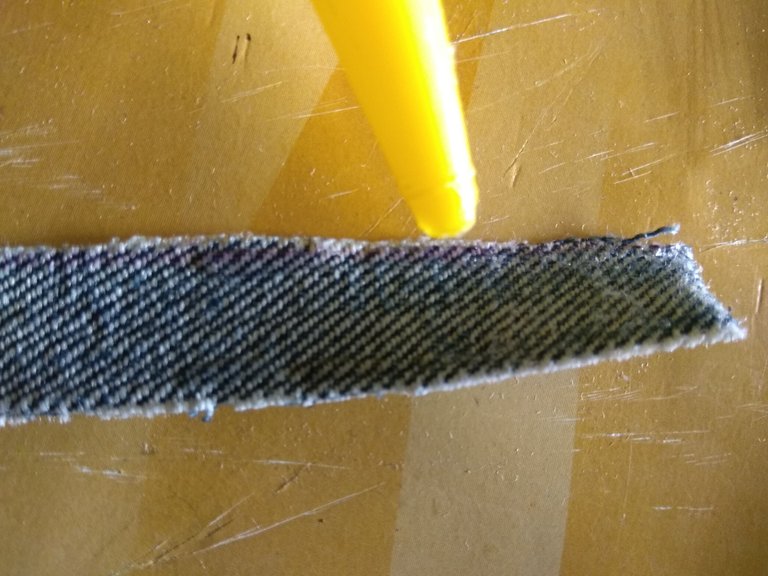 Segundo paso: || Second step:
▪️ Apliqué un poco de silicón líquido en las orillas de la tira, de esta manera al enrollar se mantendrá sujeta la estructura.
I applied a little liquid silicone on the edges of the strip, this way when rolling it up it will hold the structure in place.
---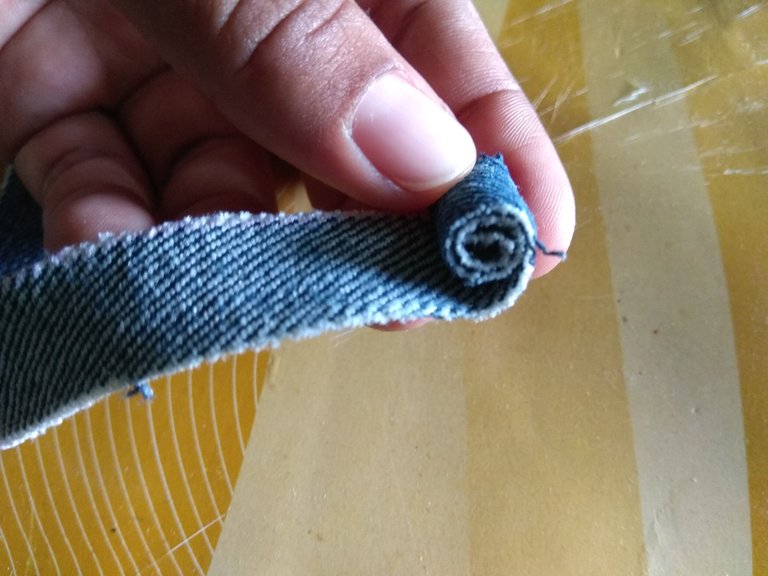 Tercer paso: || Third step:
▪️ Enrollé hasta acabar con la tira recuerden ir agregando un poco de silicón, repetí ese paso con otra tira y de esa manera obtuve los zarcillos.
I rolled until I finished the strip, remember to add a little silicone, I repeated this step with another strip and in this way I obtained the tendrils.
---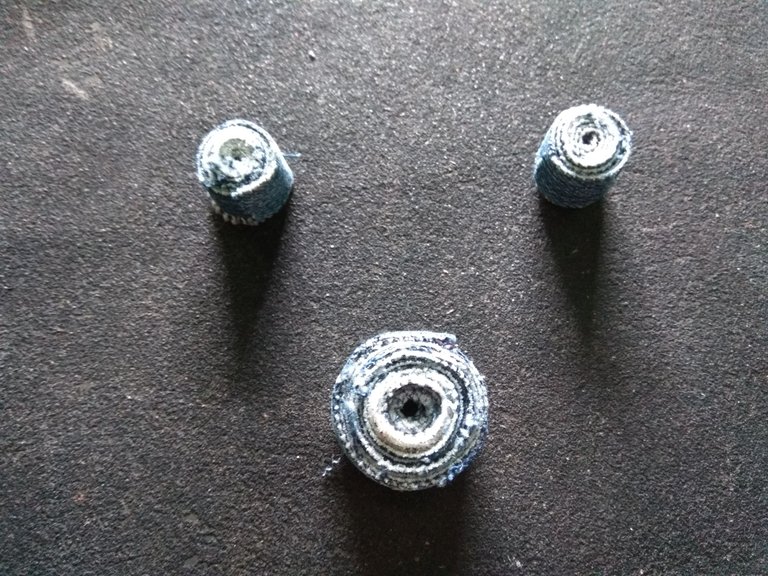 Cuarto paso: || Fourth step:
▪️ Para crear el collar se deben seguir los mismos pasos de los zarcillos, la diferencia es que al terminar de enrollar una tira deberán unir otra hasta enrollar tres tiras.
To create the necklace, follow the same steps as for the tendrils, the difference is that when you finish winding a strip, you must join another strip until you have wound three strips.
---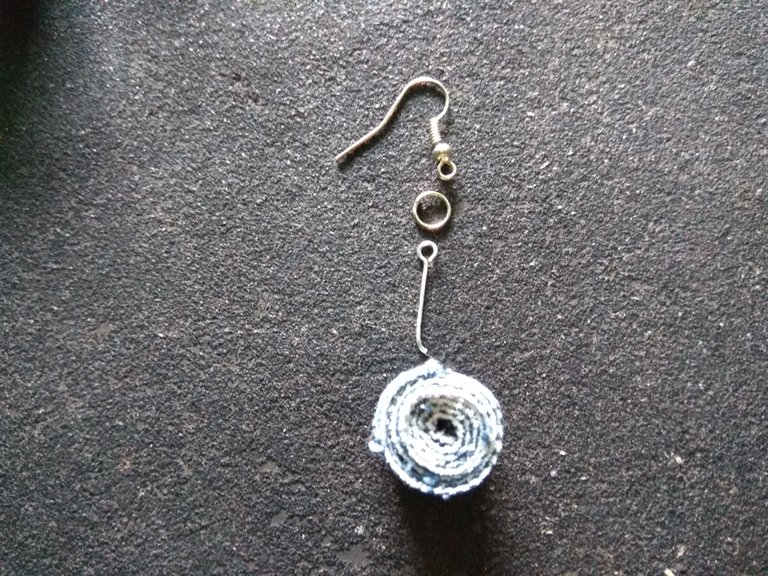 Quinto paso: || Fifth step:
▪️ Es tiempo de convertir estos rollos de tela en accesorios, empecé con los zarcillos, para ello introduje un ajustador a presión, fue muy sencillo puesto que la parte que se introduce es filosa y atravesó fácilmente la tela, luego agregué un arito y desde luego la pieza del zarcillo (no conozco su nombre).
It's time to turn these rolls of fabric into accessories, I started with the tendrils, for this I introduced a snap fastener, it was very simple since the part that is introduced is sharp and went easily through the fabric, then I added a ring and then the tendril piece (I don't know its name).
---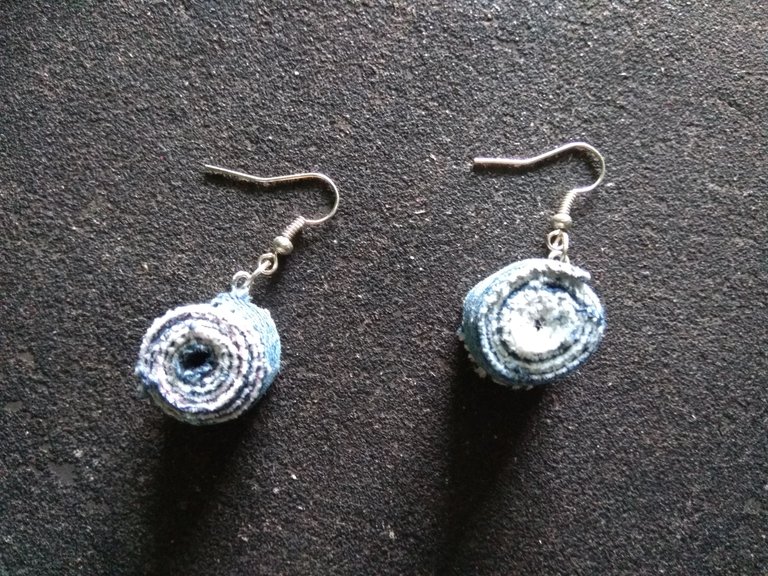 Sexto paso: || Sixth step:
▪️ Repetí el proceso anterior para crear el par de zarcillos.
I repeated the above process to create the pair of tendrils.
---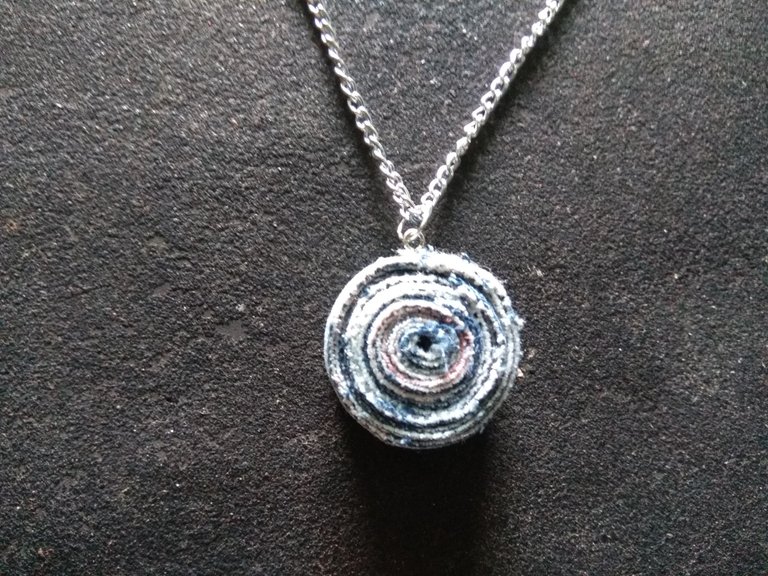 Séptimo paso: || Seventh step:
▪️ Para crear el collar los pasos fueron similares, primero introduje el ajustador, seguido un aro de metal pero en este caso coloqué entre el aro la cadena.
To create the necklace the steps were similar, first I inserted the adjuster, followed by a metal ring, but in this case I placed the chain between the ring.
---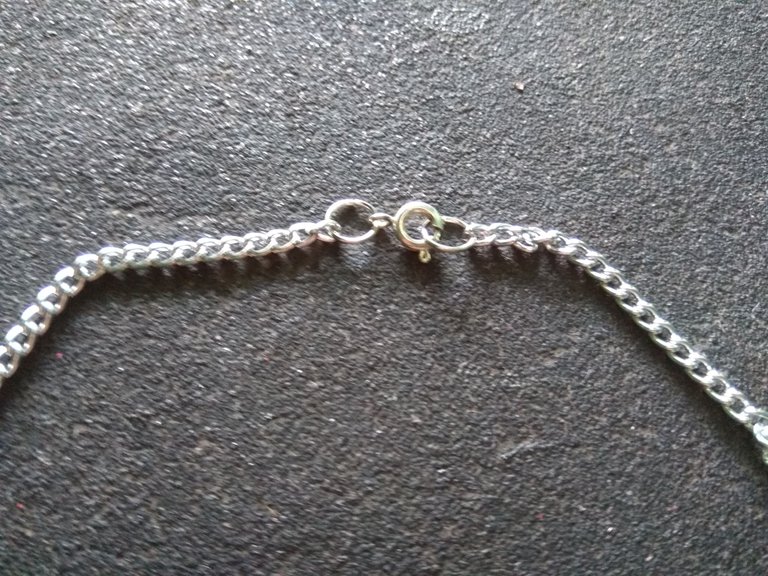 Octavo paso: || Eighth step:
▪️ Al final de la cadena se debe colocar de un lado un aro, del otro el trancadero.
At the end of the chain, a ring should be placed on one side and the locking ring on the other.
---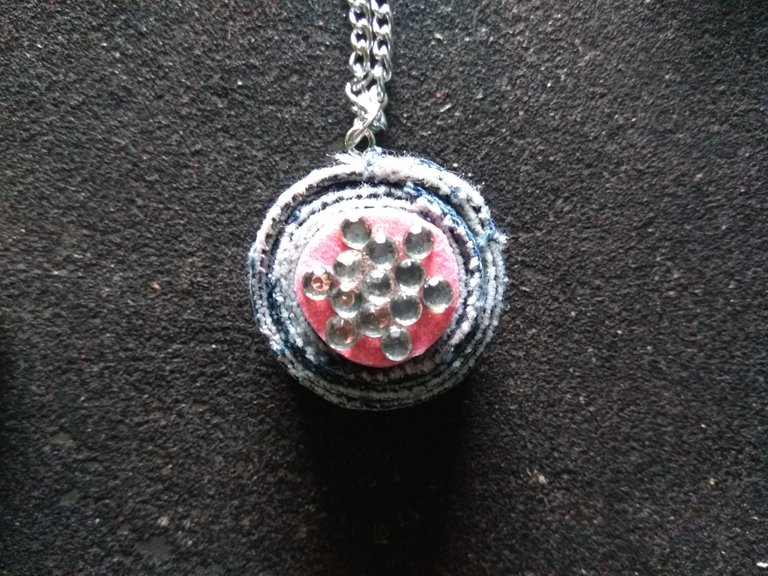 Noveno paso: || Ninth step:
▪️ Mantuve la decoración sencilla como pueden notar, recorté un círculo de foami de 1,5 cm y lo llené con piedras decorativas, luego pegué esto al rollo de tela del collar, para los zarcillos las medidas son diferentes.
I kept the decoration simple as you may notice, I cut out a 1.5 cm foami circle and filled it with decorative stones, then glued this to the fabric roll of the necklace, for the tendrils the measurements are different.
---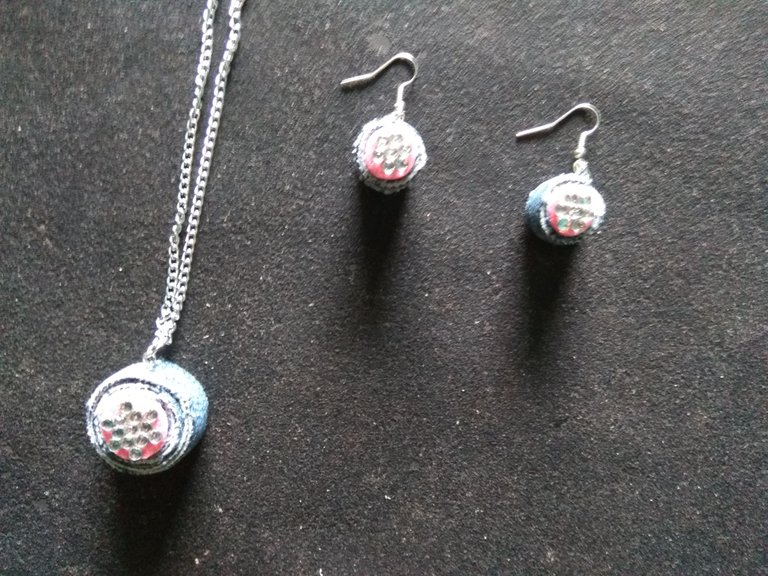 Décimo paso: || Tenth step:
▪️ Apliqué la misma decoración a los zarcillos lo que varían son las medidas, el círculo de foami usado es de 0,7 cm.
I applied the same decoration to the tendrils, what varies are the measurements, the circle of foami used is 0.7 cm.

Accesorios hechos con tela de jeans. || Accessories made with jeans fabric.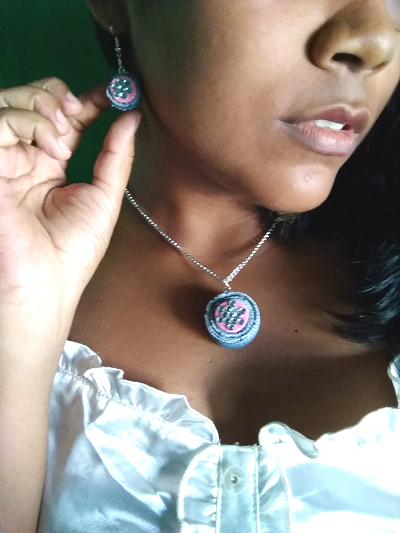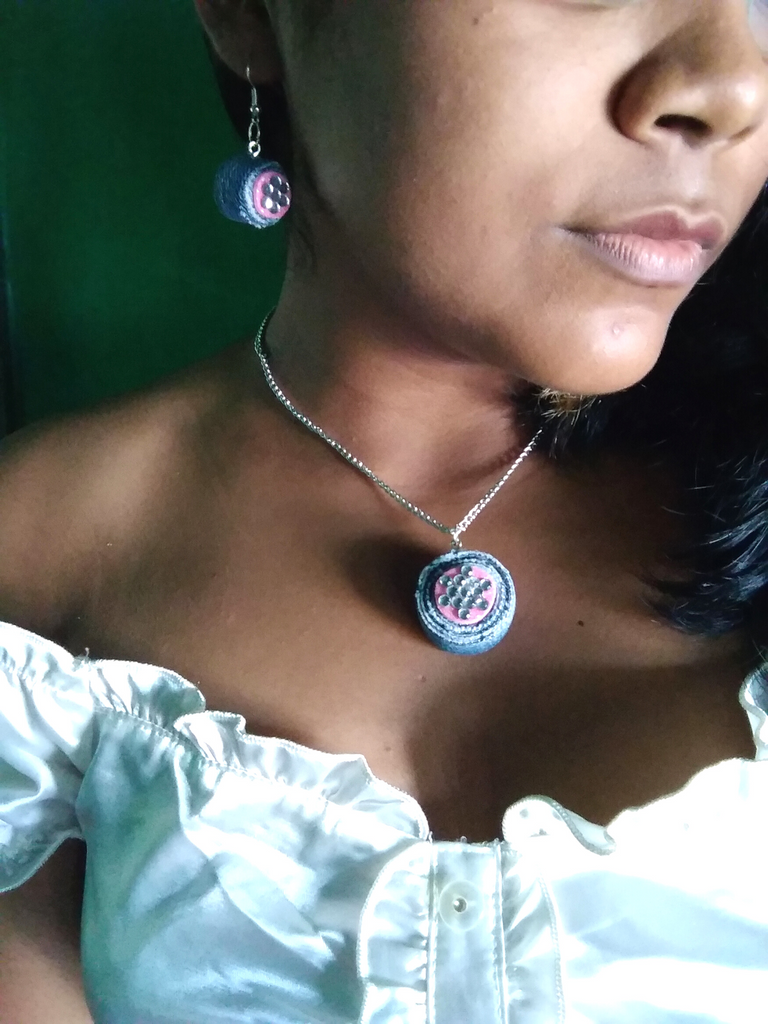 ---
---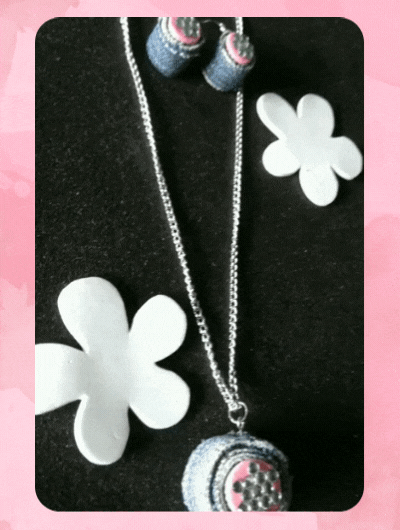 ¿Les ha gustado mi participación en esta iniciativa? es grato ofrecer diferentes opciones para reciclar tela, espero que hayan disfrutado de este proceso y porque no se atrevan a seguirlo, quiero invitar a formar parte de este concurso a
@genice
,
@gabimramirez
y
@mavis16
.
Did you like my participation in this initiative? it's nice to offer different options to recycle fabric, I hope you enjoyed this process and why don't you dare to follow it, I want to invite to be part of this contest to
@genice
,
@gabimramirez
and
@mavis16
.
---
Enlace al concurso: || Link to the contest:
---
[ESP-ING] Jeans Accessories Recycling Contest


Imágenes tomadas desde mi Xiaomi Redmi Note 4. || Images taken from my Xiaomi Redmi Note 4.
Separadores hechos en Canva. || Dividers made in Canva.
Ediciones hechas en Canva. || Editions made in Canva.
Vídeos convertidos en gif || Videos converted to gif IMG2GO
Translator Deepl.
---
---