Aretes hechos con estambre. || Earrings made with yarn.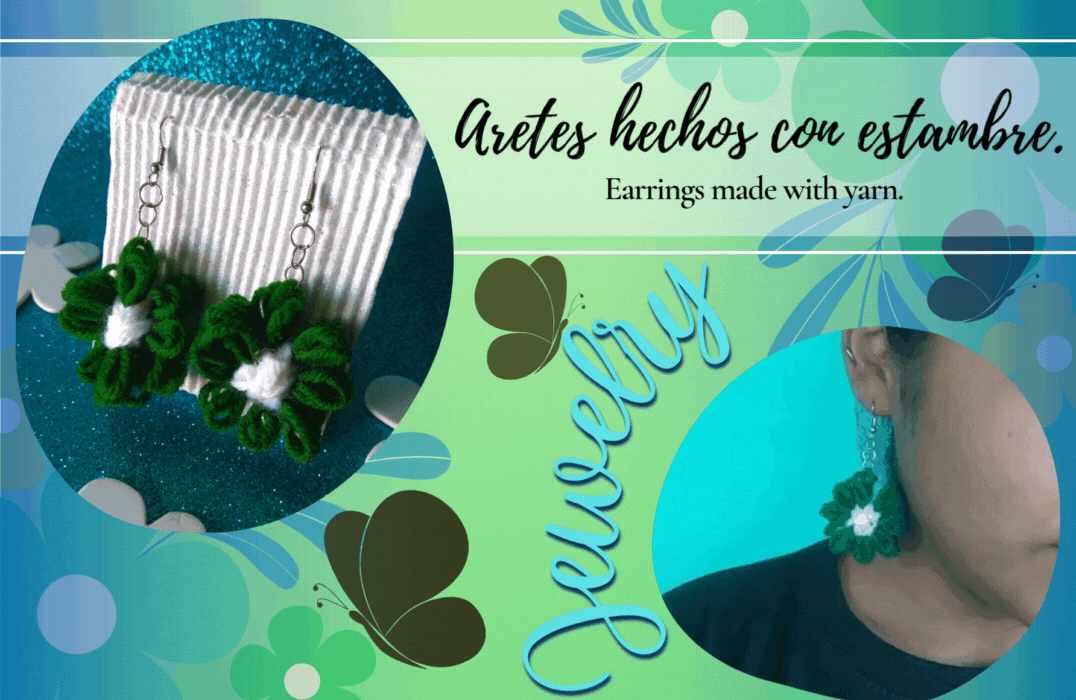 Edited in Canva.
Ya le estoy tomando el gusto a crear accesorios de forma semanal, por supuesto; mis creaciones siguen siendo muy básicas y claramente podrían ser mejor, pero si les digo que disfruto mucho el proceso, estos aretes que les muestro tienen un proceso bastante interesante, para lograr la forma de flor tuve que crear un telar casero usando cartón y clavos, he agregado al tutorial este proceso que se que muchas personas apreciarán.
I'm already getting the taste for creating accessories on a weekly basis, of course; my creations are still very basic and clearly could be better, but if I tell you that I really enjoy the process, these earrings that I show you have a very interesting process, to achieve the flower shape I had to create a homemade loom using cardboard and nails, I have added to the tutorial this process that I know that many people will appreciate.
---
Hacer el telar es muy sencillo, los tamaños pueden variar de acuerdo a nuestras necesidades, para aquellas personas que gustan de trabajar con hilos esta es una manera sencilla de crear flores u otras formas, menciono flores porque hice un telar circular y esta es una forma que fácilmente resulta al usarlo, que este tutorial sea de su agrado es mi objetivo, demos inicio al proceso.
Making the loom is very simple, the sizes can vary according to our needs, for those people who like to work with threads this is a simple way to create flowers or other shapes, I mention flowers because I made a circular loom and this is a shape that easily results when using it, that this tutorial is to your liking is my goal, let's start the process.

Antes de iniciar con el proceso de crear los aretes les quiero enseñar como hacer su propio telar circular en casa, como indiqué anteriormente los tamaños varían según nuestras necesidades, el que realicé es de unos 4 cm en el círculo interno y 8 cm en el círculo externo, usé para crearlo cartón, compás, tijeras, 9 clavos, 1 marcador y una regla geométrica.
Before starting with the process of creating the earrings I want to show you how to make your own circular loom at home, as I indicated above the sizes vary according to our needs, the one I made is about 4 cm in the inner circle and 8 cm in the outer circle, I used to create it cardboard, compass, scissors, 9 nails, 1 marker and a geometric ruler.
---
▪️ Sobre el cartón deben trazar un círculo de 4 cm usando el punto de partida luego trazaremos un círculo de 8 cm, recortamos la base del telar.
▪️ On the cardboard should draw a circle of 4 cm using the starting point then draw a circle of 8 cm, cut out the base of the loom.
---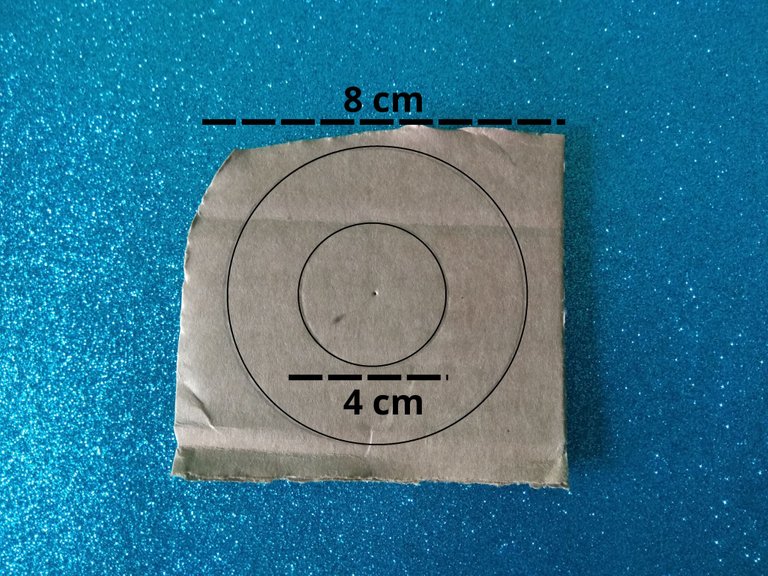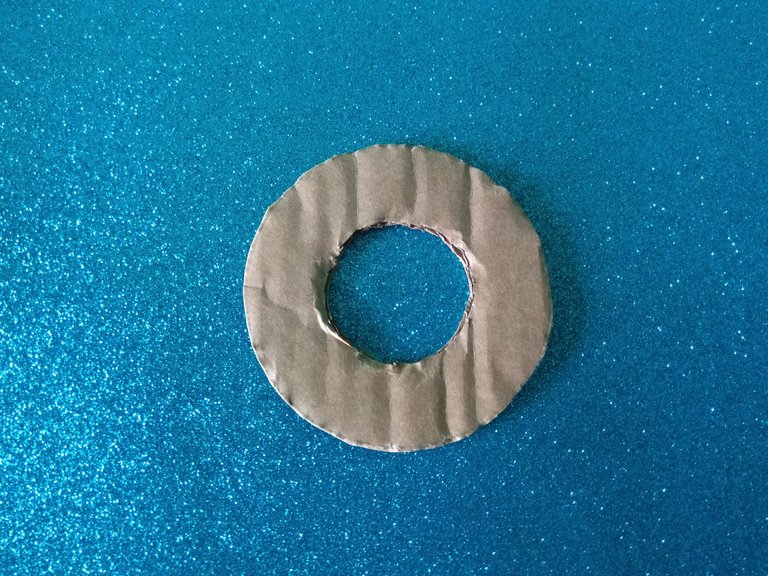 ---
▪️ Marqué 8 puntos, primero marqué en cruz para que los puntos tengan distancias exactas, luego marqué una x entre ellos, el siguiente paso es introducir los clavos en cada punto trazado, agregaremos un noveno clavo que ira en la parte superior.
▪️ I marked 8 points, first I marked crosswise so that the points have exact distances, then I marked an x between them, the next step is to introduce the nails in each traced point, we will add a ninth nail that will go in the upper part.
---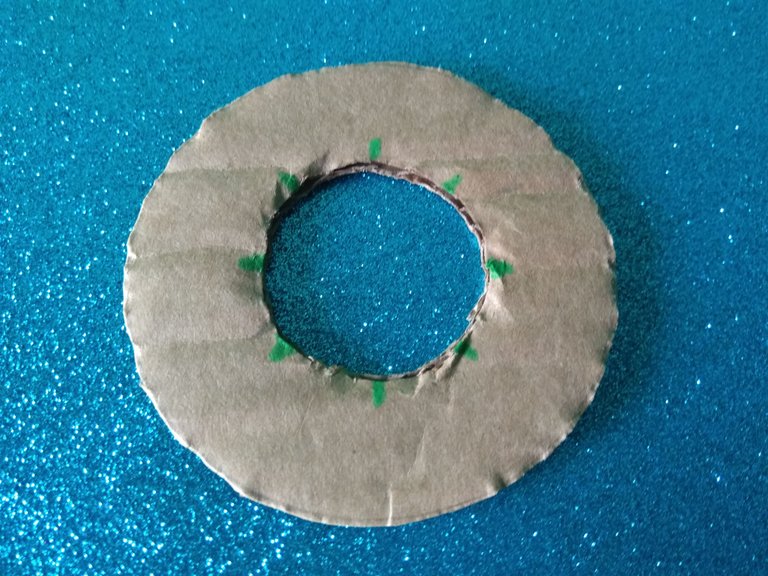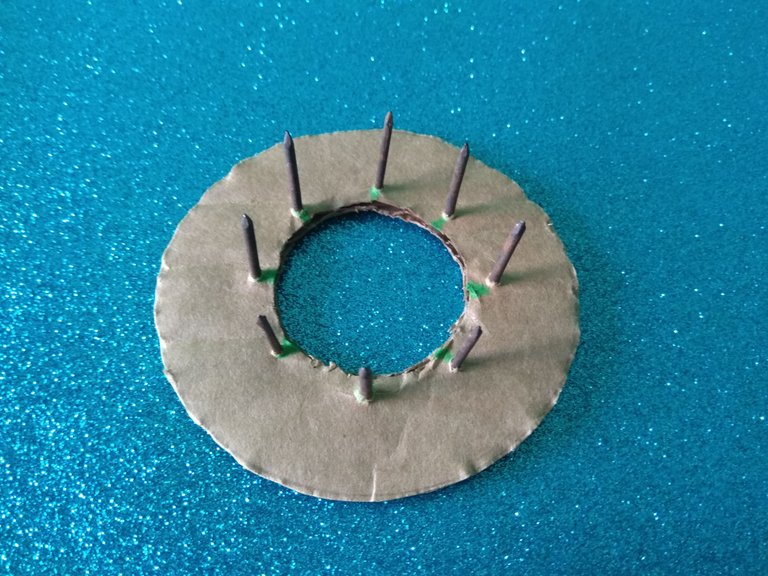 Materiales: || Materials:
Telar circular, estambre verde y blanco, tijeras, par de anzuelos, aguja.
Circular loom, green and white yarn, scissors, pair of hooks, needle.
---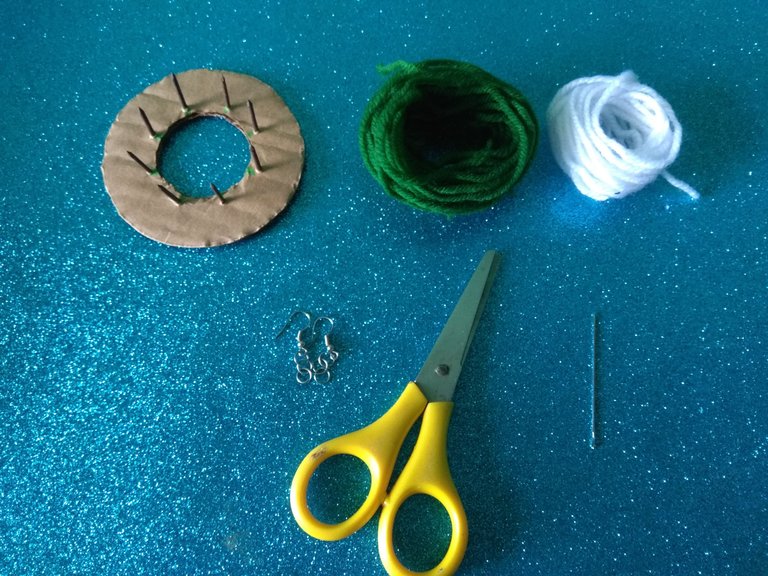 Paso a paso: || Step by step:
Atamos el estambre verde, como ven en la imagen el nudo debe llegar al otro extremo del círculo centrar del telar, colocamos el hilo entre uno de los clavos y procedemos a dar 4 vueltas entre el clavo principal y el de debajo.
We tie the green yarn, as you can see in the image the knot must reach the other end of the loom's center circle, we place the yarn between one of the nails and proceed to make 4 turns between the main nail and the one below it.
---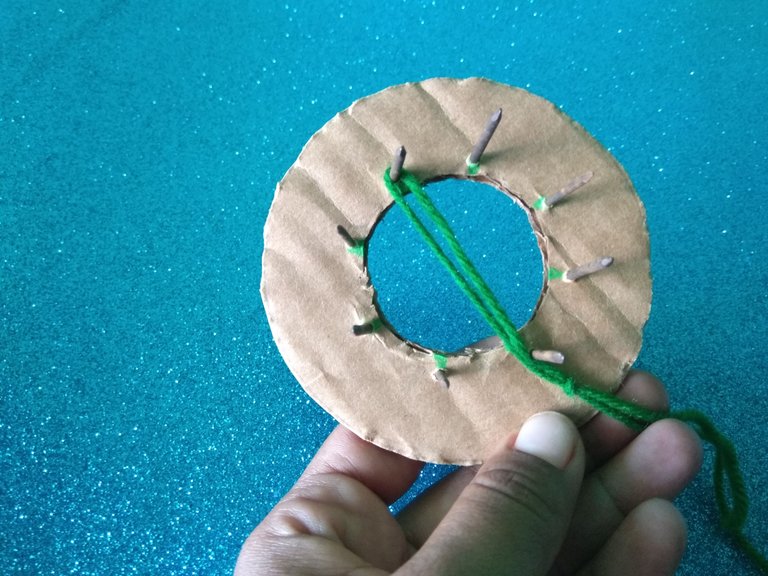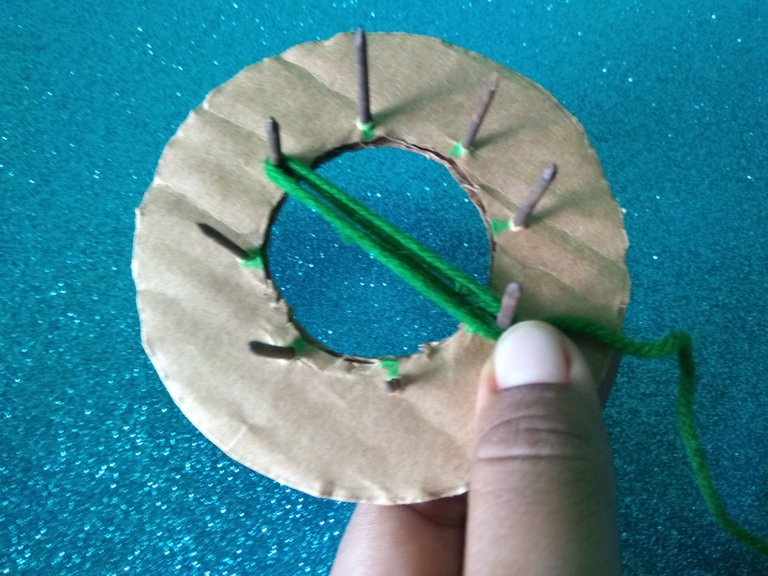 ---
Al dar las 4 vueltas en los primeros clavos pasaré al siguiente, siguiendo el mismo patrón, de ese modo completaré todo el telar, al culminar aseguramos el estambre en el clavo superior para que no se desate.
After the 4 turns on the first nails I will move on to the next one, following the same pattern, thus completing the whole loom, at the end we secure the yarn on the top nail so that it does not come untied.
---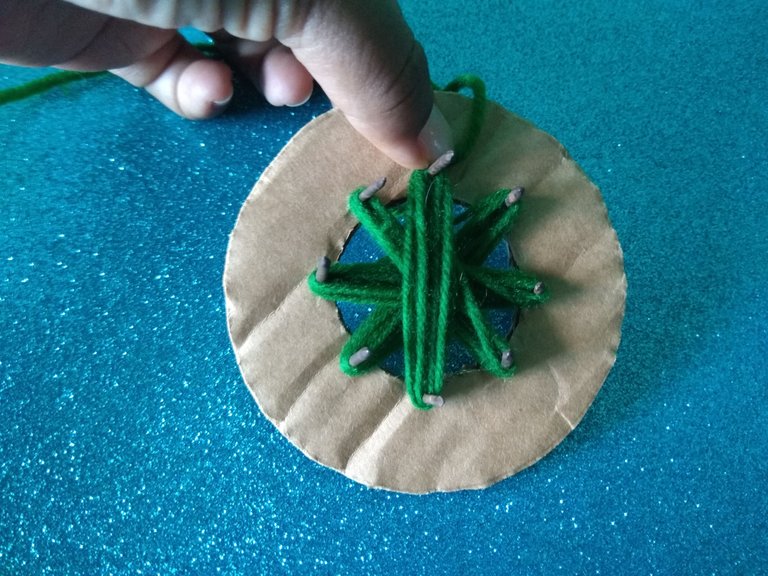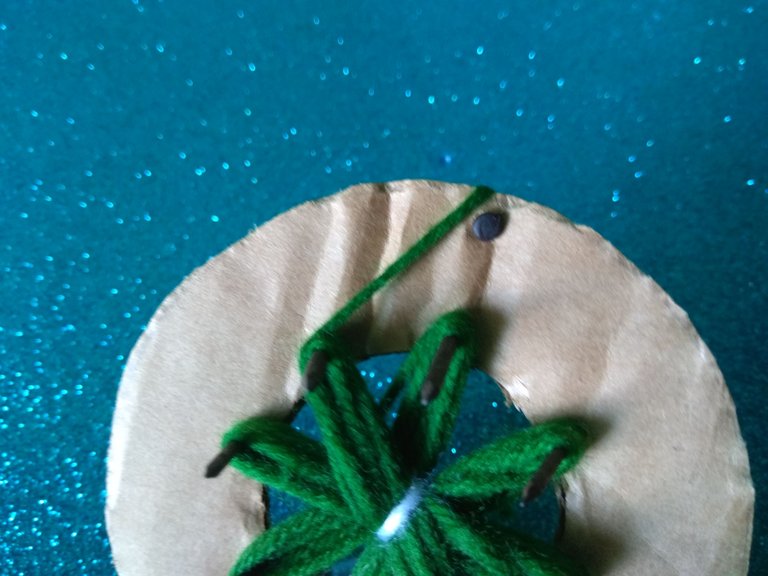 ---
Corté una tira larga de estambre blanco y lo pasé entre de la flor, que los extremos coincidan es muy importante, aseguré en la parte trasera y comencé a pasar el hilo entre cada espacio de la flor, siguiendo el mismo patrón que usé para crear la flor, entre cada clavo superior e inferior.
I cut a long strip of white yarn and passed it through the flower, matching the ends is very important, secured at the back and started passing the yarn between each space of the flower, following the same pattern I used to create the flower, between each top and bottom nail.
---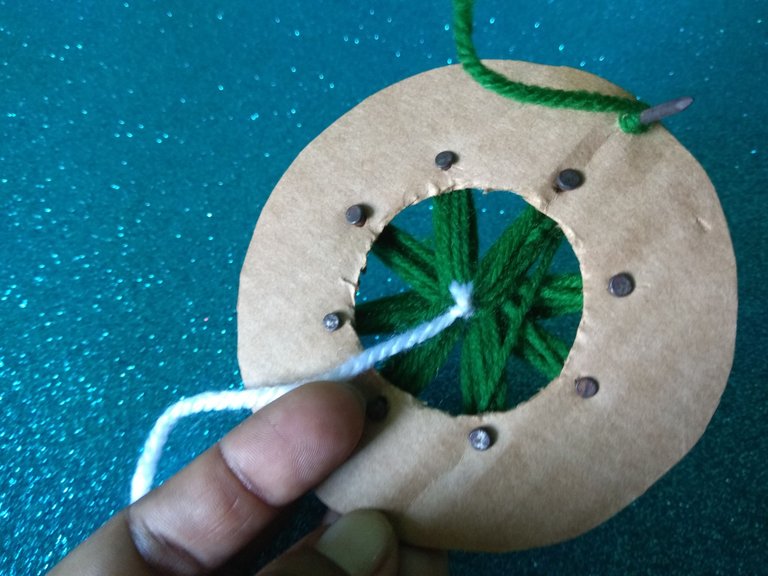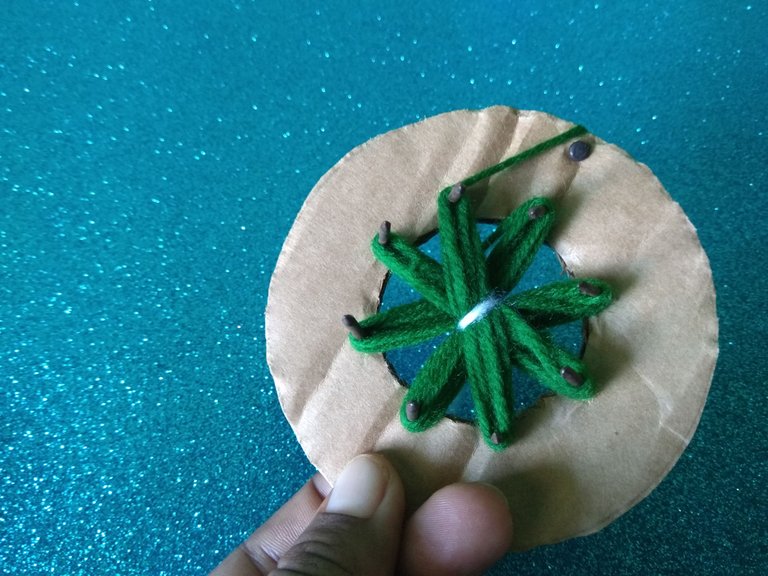 ---
Al terminar se debe atar en la parte trasera, recorten el excedente y escondan los hilos sueltos usando la aguja.
When finished, tie at the back, trim the excess and hide the loose threads using the needle.
---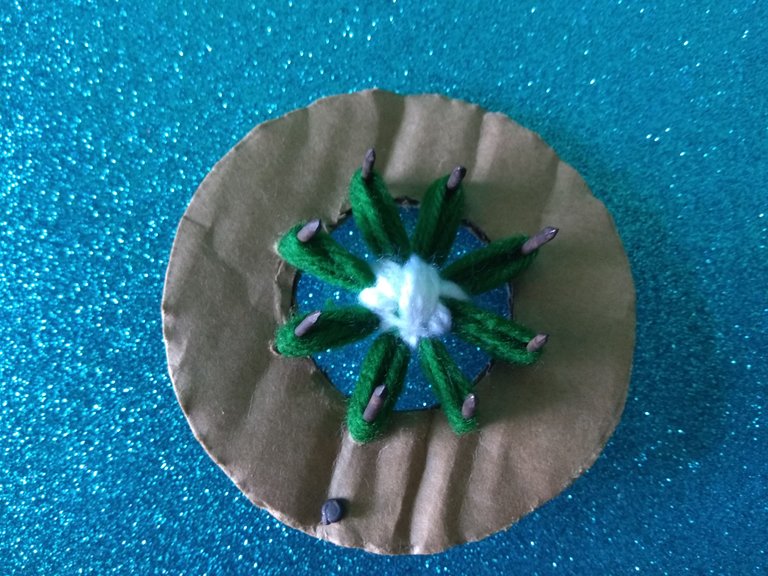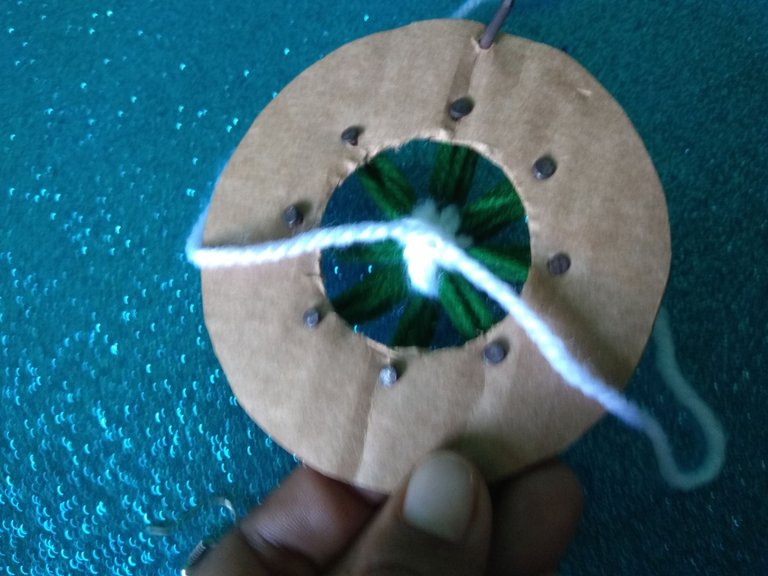 ---
Sacaremos la flor empujando desde atrás hasta logras sacarla del telar, deben tener cuidado en este paso, para que quede una flor más definida deben hacer un telar con los clavos más unidos, el último paso es colocar el anzuelo en uno de los pétalos, repetiremos los mismos pasos en el otro arete.
We will take out the flower pushing from the back until we get it out of the loom, you must be careful in this step, to get a more defined flower you must make a loom with the nails closer together, the last step is to place the hook in one of the petals, we will repeat the same steps in the other earring.
---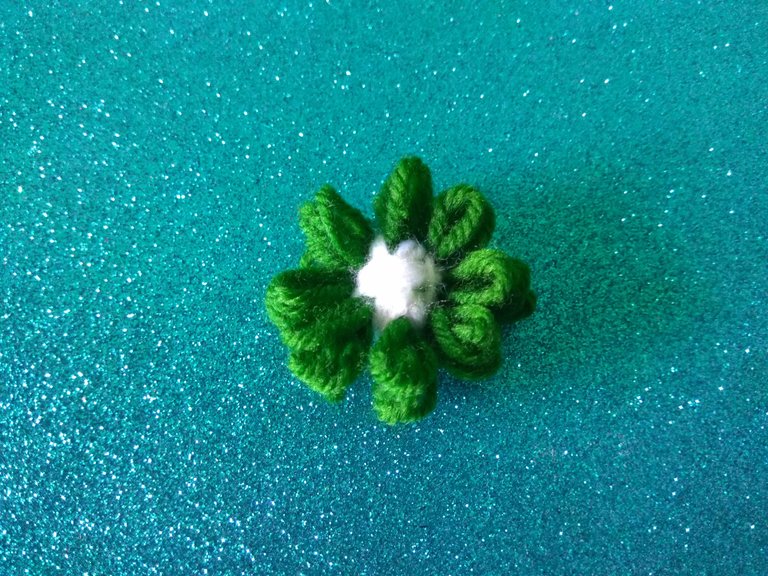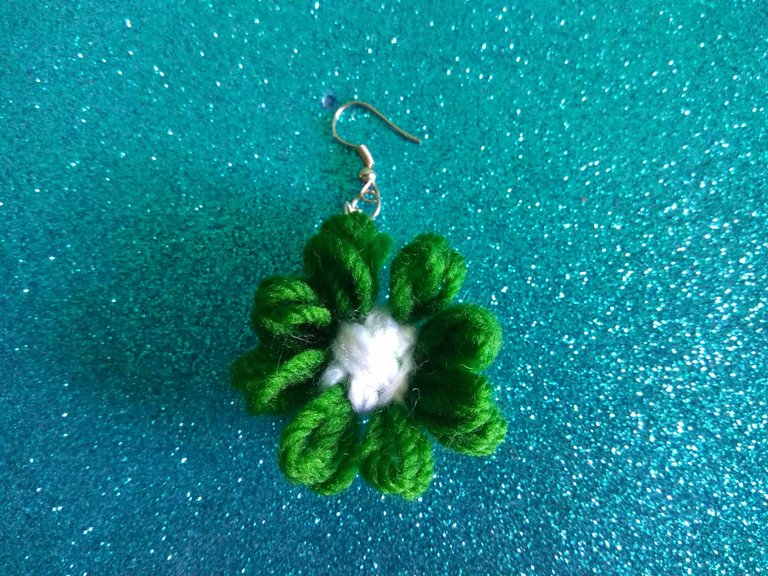 Aretes hechos con estambre. || Earrings made with yarn.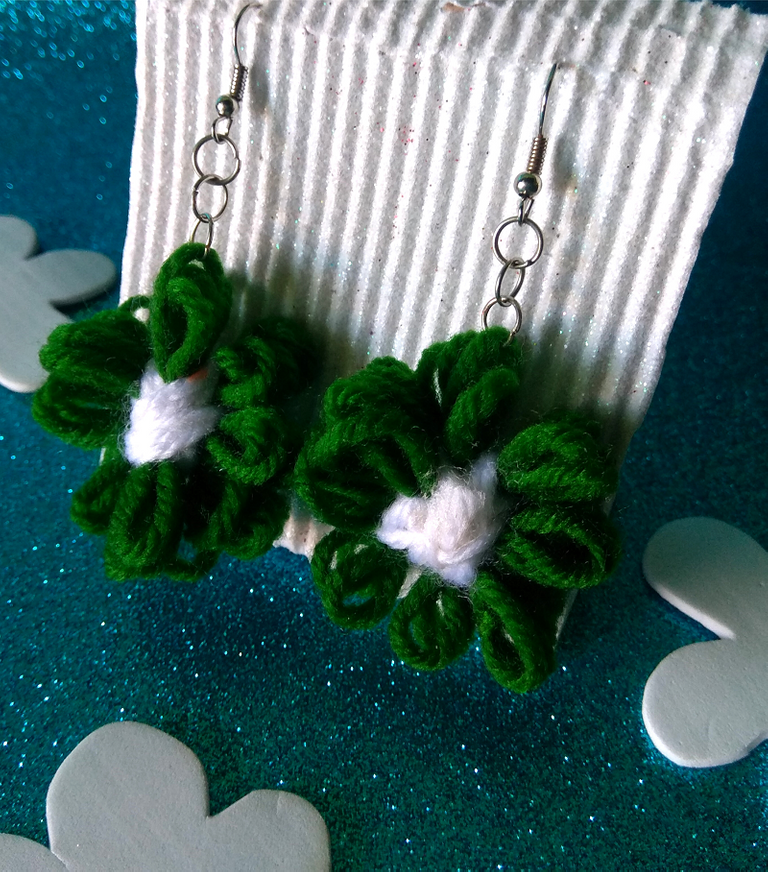 ---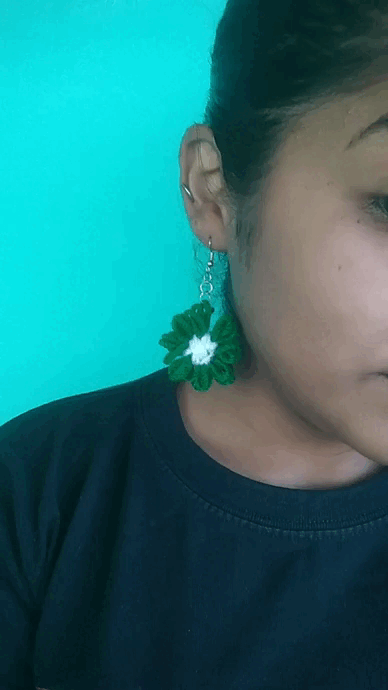 ---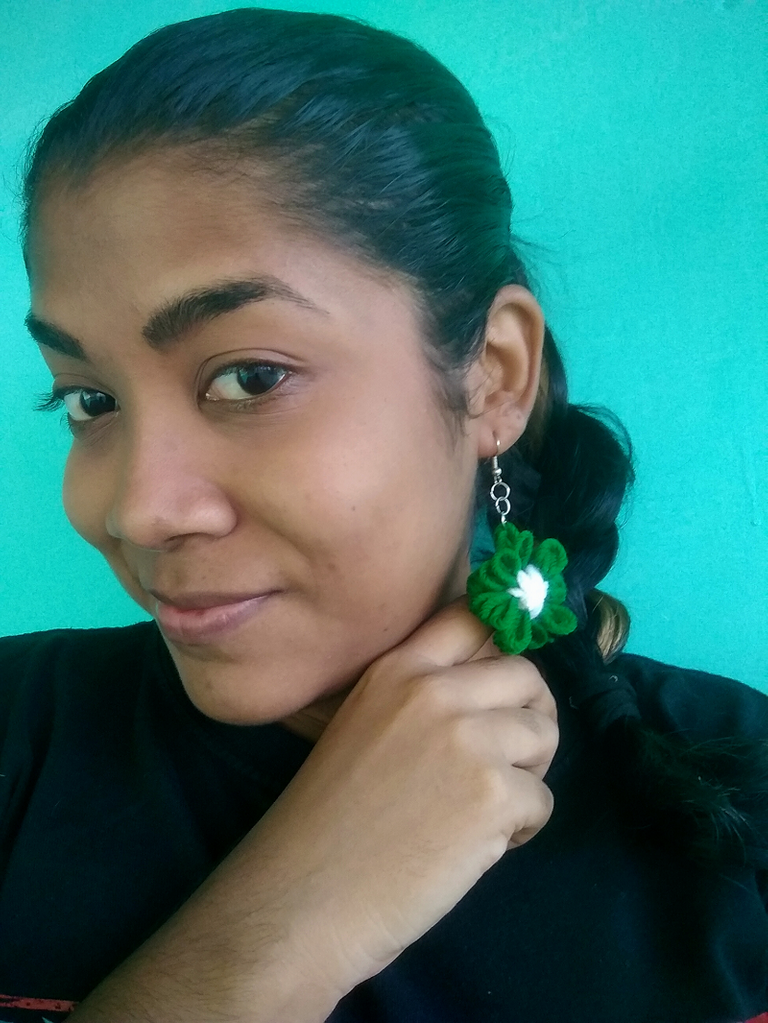 Unos aretes florales con un acabado hermoso, usar el telar facilita enormemente hacer este tipo de accesorios, espero que haya sido de su agrado esta publicación, cuéntame en los comentarios que piensas de esta creación, gracias por llegar hasta aquí.
Some floral earrings with a beautiful finish, using the loom makes it much easier to make this type of accessories, I hope you liked this publication, tell me in the comments what you think of this creation, thanks for coming here.



Imágenes tomadas desde mi Xiaomi Redmi Note 4. || Images taken from my Xiaomi Redmi Note 4.
Separadores hechos en Canva. || Dividers made in Canva.
Ediciones hechas en Canva. || Editions made in Canva.
Vídeos convertidos en gif || Videos converted to gif IMG2GO
Translator Deepl.
---
---