Bizcocho húmedo de naranja. || Moist orange sponge cake.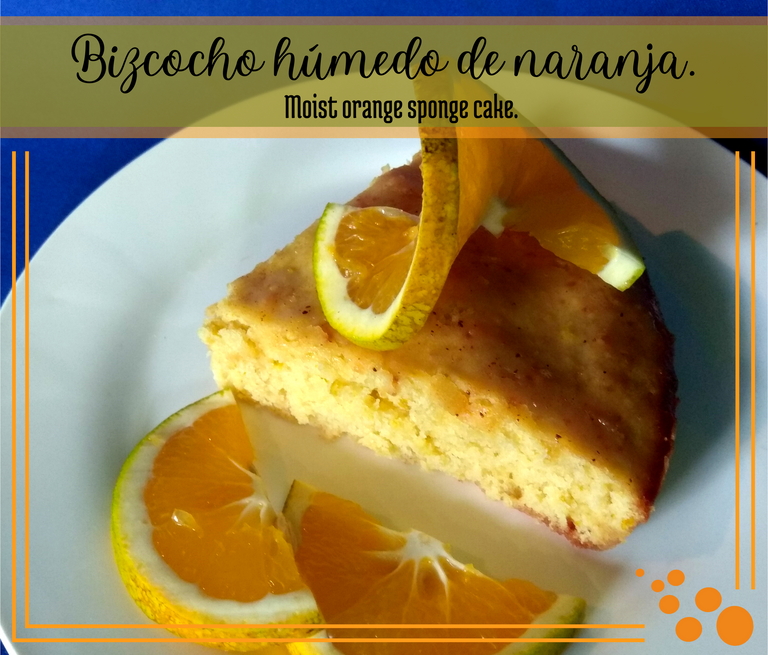 Edited in Canva
Un bizcocho húmedo con un sabor intenso a naranja, es la propuesta dulce que les traigo este fin de semana, cuando digo intenso no exagero, el sabor a naranja se apodera del postre si les gusta esa fruta deben seguir este tutorial, además; no requieren de muchos ingredientes para hacerlo, en una tarde calurosa queda perfecto este bizcocho húmedo con sabor refrescante.
A moist cake with an intense orange flavor, is the sweet proposal that I bring you this weekend, when I say intense I am not exaggerating, the orange flavor takes over the dessert if you like that fruit you should follow this tutorial, also; do not require many ingredients to make it, in a hot afternoon this moist cake with refreshing flavor is perfect.
---
Fue una receta improvisada, tenía en mi nevera cuatro naranjas y no sabía que preparar con ellas, aunque si sabía que quería comer torta así que fusioné ambas ideas, pueden usar avena o harina integral para hacer de este un postre saludable, hoy salí un poco de la dieta sana y me di este rico gusto que de vez en cuando no viene mal, sé que a muchos les encantará.
It was an improvised recipe, I had in my fridge four oranges and did not know what to prepare with them, although I knew I wanted to eat cake so I merged both ideas, you can use oatmeal or whole wheat flour to make this a healthy dessert, today I left a little healthy diet and I gave myself this rich taste that from time to time does not hurt, I know many will love it.


Ingredientes: || Ingredients:
▪️ 1 taza y 1/2 de harina de trigo, 3 naranjas, 4 cucharadas de azúcar, 2 cucharadas de mantequilla, 1 huevo, canela al gusto.
▪️ 1 and 1/2 cups of wheat flour, 3 oranges, 4 tablespoons of sugar, 2 tablespoons of butter, 1 egg, cinnamon to taste.
---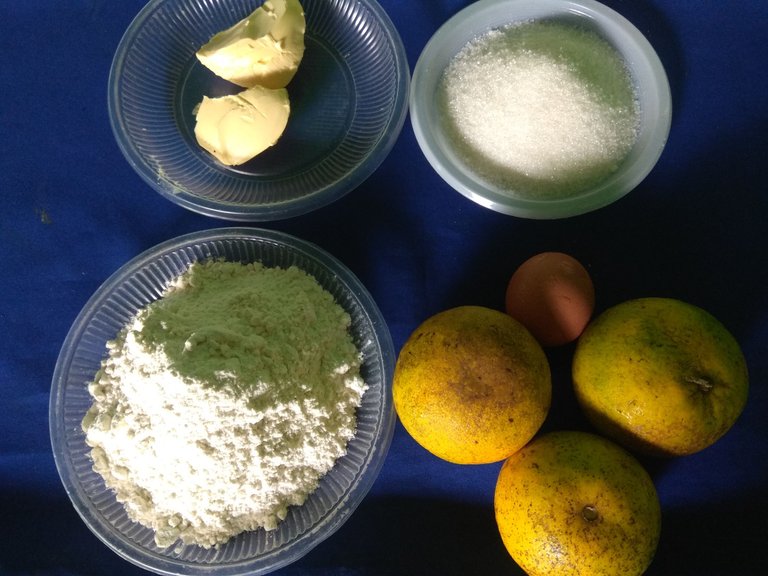 Preparación: || Preparation:
Lo primero que hice fue exprimir 2 naranjas, me aseguré de que el zumo quedara sin semillas, en la licuadora procesé los ingredientes líquidos, el zumo de naranja, el huevo, y la mantequilla previamente derretida, además agregué la cascara de una naranja entera, esto hará que el sabor sea intenso, pero deben procesar muy bien para que los restos que queden sean mínimos.
The first thing I did was to squeeze 2 oranges, I made sure that the juice was seedless, in the blender I processed the liquid ingredients, the orange juice, the egg, and the previously melted butter, I also added the peel of a whole orange, this will make the flavor intense, but you must process very well so that the leftovers are minimal.
---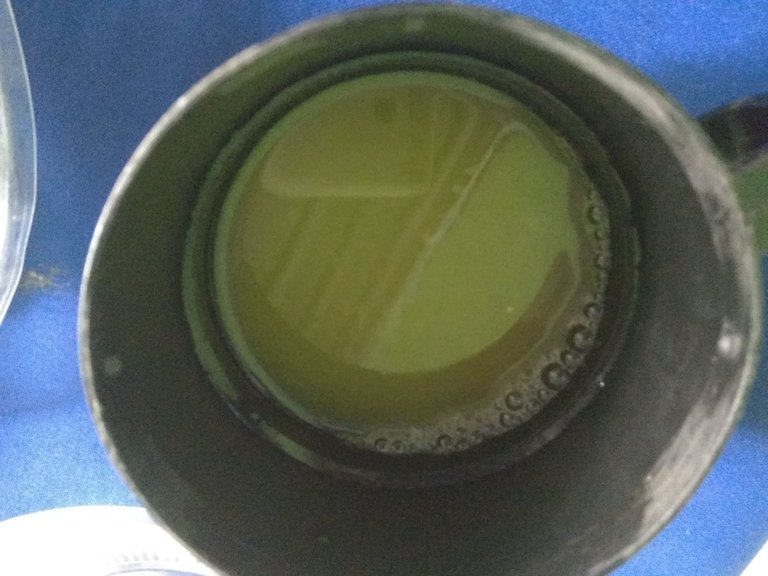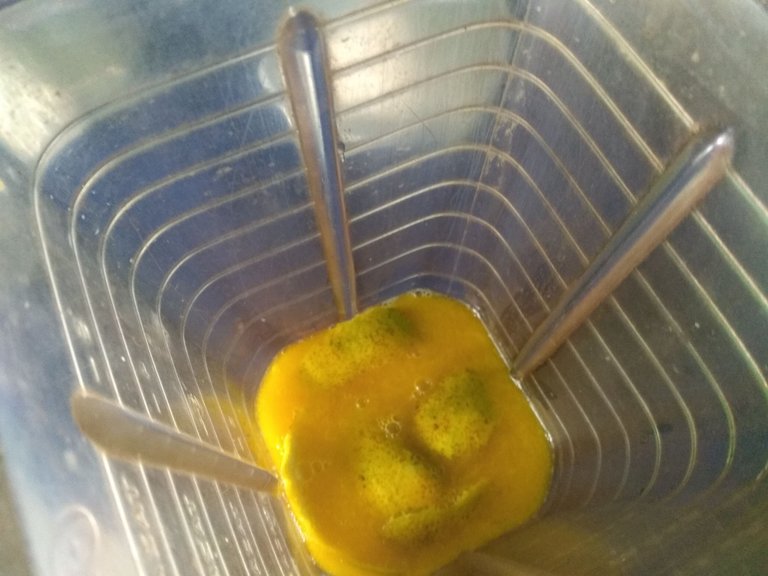 ---
Pueden colar la mezcla procesada para eliminar los restos de la cascara, personalmente me gusta ese toque de pequeña ralladura en el bizcocho así que, yo dejé los restos, luego incorporé 3 cucharadas de azúcar, y mezclé un poco.
You can strain the processed mixture to remove the remains of the peel, personally I like that touch of a little zest in the cake so I left the remains, then incorporated 3 tablespoons of sugar, and mixed a little.
---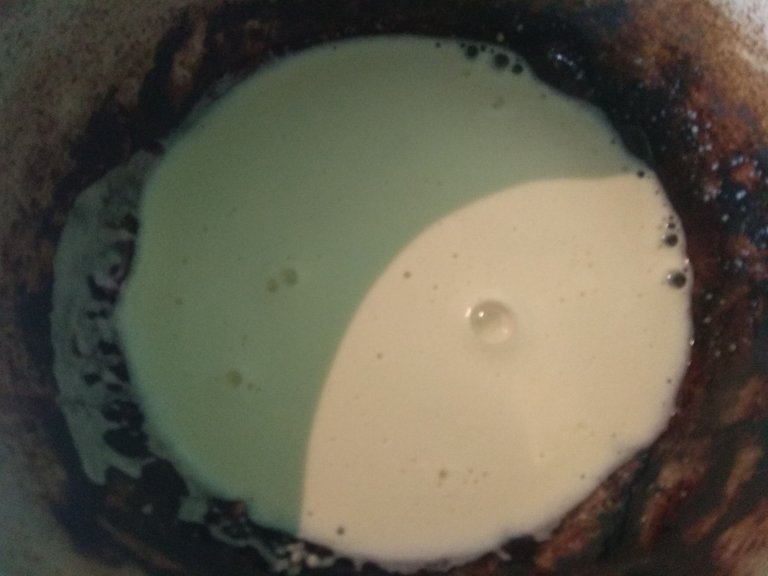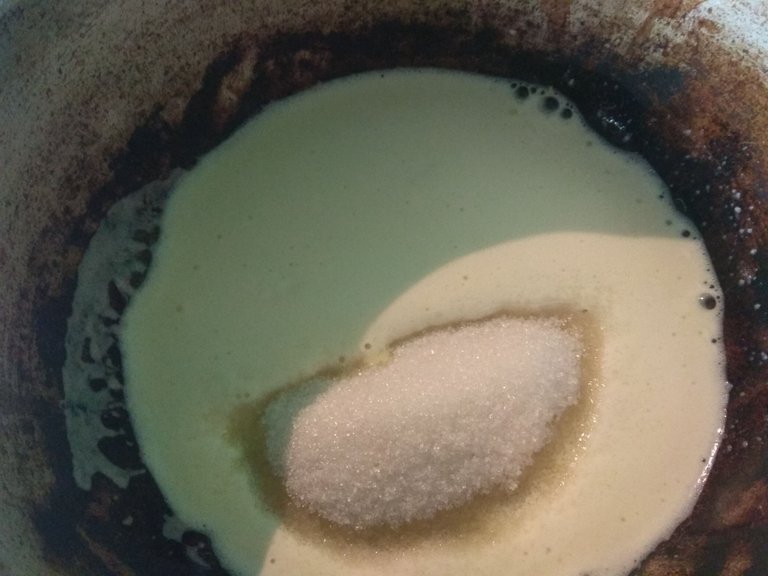 ---
Incorporé la harina de trigo poco a poco hasta lograr que se mezclara por completo, obtendrán una mezcla un poco densa.
I incorporated the wheat flour little by little until it was completely mixed, you will obtain a slightly dense mixture.
---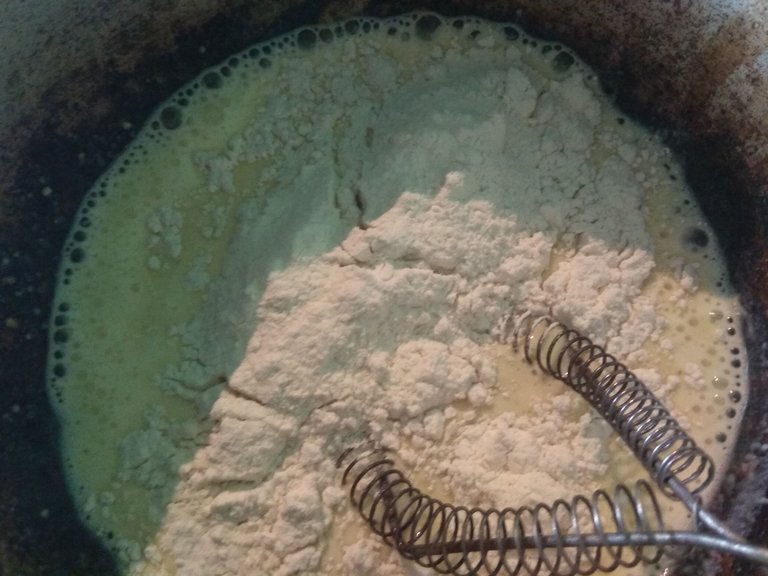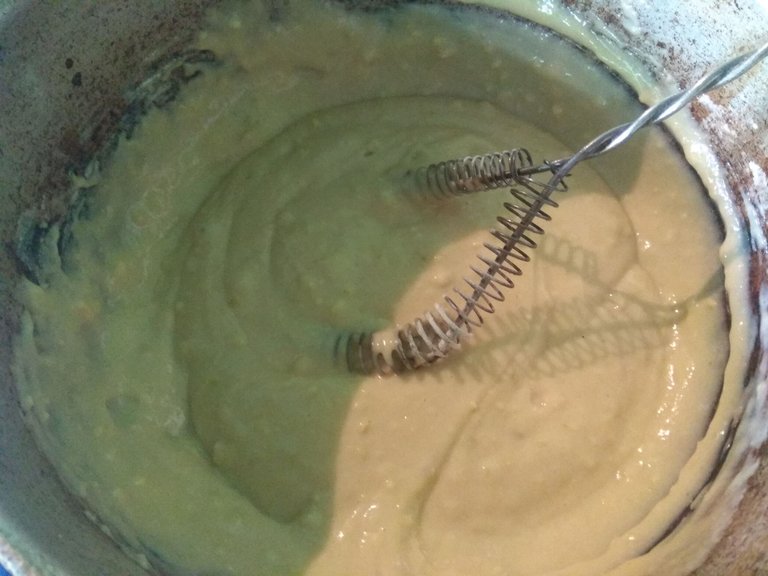 ---
Enhariné una bandeja y agregué la mezcla, precalenté el horno a 200°C durante 20 minutos este paso es vital, luego bajé la temperatura a 170°C, introduje la bandeja con la mezcla y horneé el bizcocho durante 25 minutos.
I floured a tray and added the mixture, preheated the oven at 200°C for 20 minutes, this step is vital, then I lowered the temperature to 170°C, inserted the tray with the mixture and baked the cake for 25 minutes.
---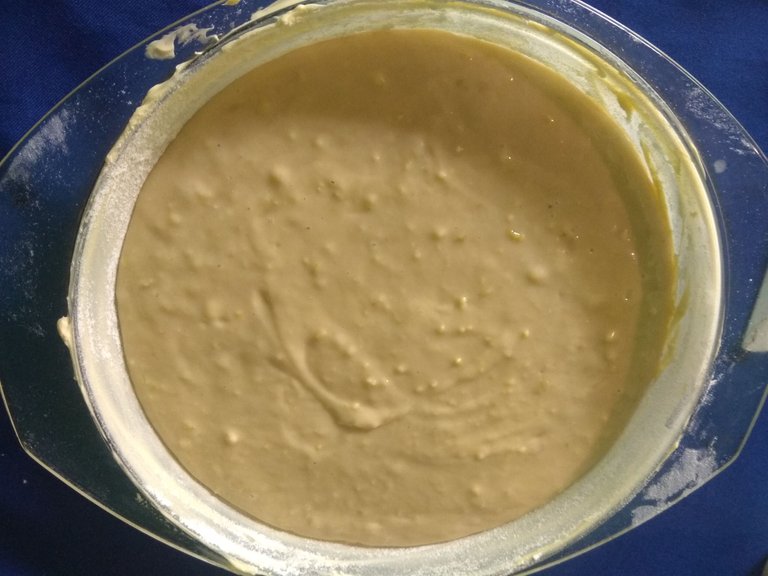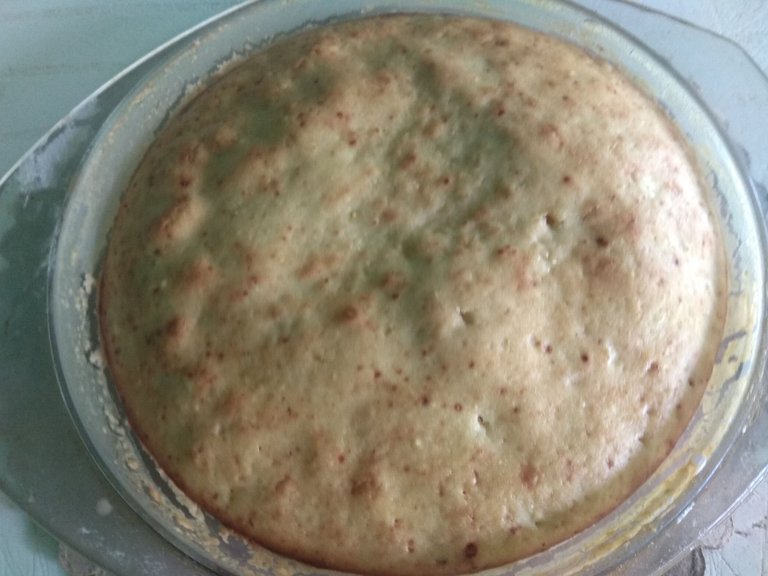 ---
Para preparar el jarabe que humedece el bizcocho es necesario exprimir una naranja, ese zumo lo llevé al fuego junto a una cucharada de azúcar y canela al gusto, esto debe cocinarse a fuego bajo hasta que el azúcar disuelva, bañen el bizcocho con este jarabe mientras el pan esta tibio, es mejor comer este bizcocho frío, el sabor será intenso y refrescante.
To prepare the syrup that moistens the cake it is necessary to squeeze an orange, that juice I took it to the fire along with a tablespoon of sugar and cinnamon to taste, this should be cooked over low heat until the sugar dissolves, bathe the cake with this syrup while the bread is warm, it is better to eat this cake cold, the flavor will be intense and refreshing.
---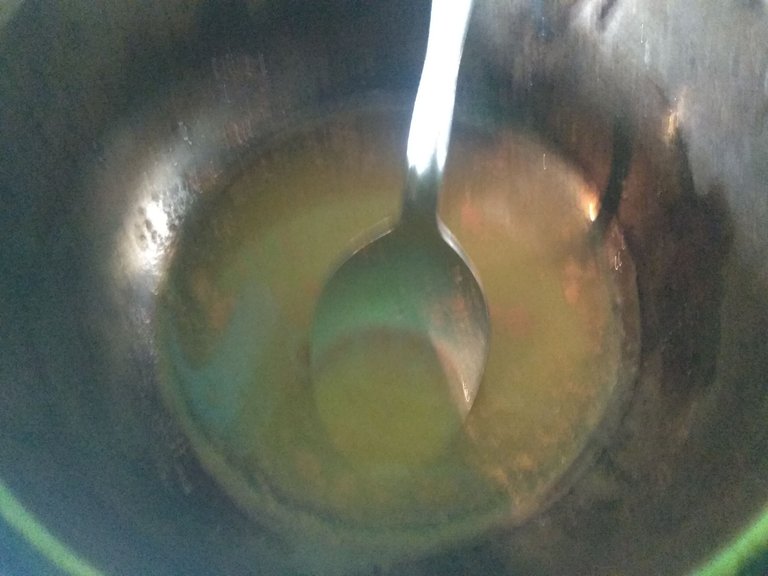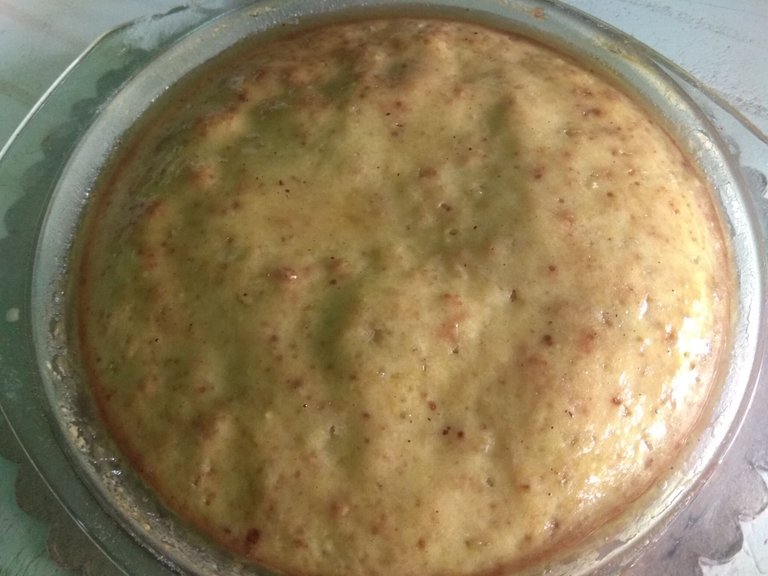 Bizcocho húmedo de naranja. || Moist orange sponge cake.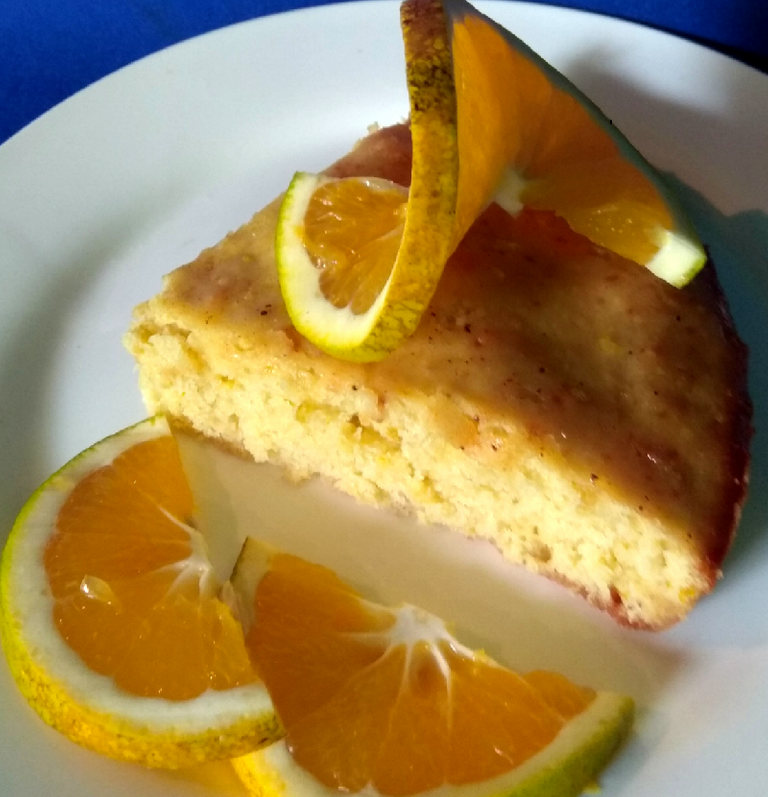 ---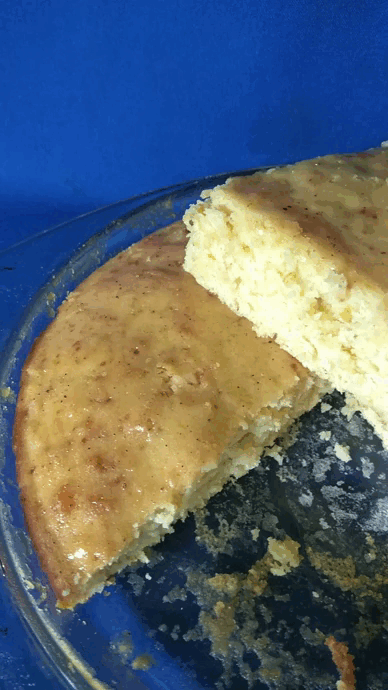 ---
Este fin de semana endulza tus tardes con este rico postre, como ven es muy fácil de hacer, tampoco se necesita mucho para hacerlo, si les gustan las naranjas les encantará el sabor intenso de este bizcocho, al no retirar los restos de la cascara logré que la naranja tuviera una fuerte presencia, eso me gustó; aunque pueden colar como indiqué en el paso a paso, espero que les haya gustado esta receta, leeré sus comentarios sobre este post, gracias por llegar hasta aquí.
This weekend sweeten your evenings with this rich dessert, as you can see it is very easy to make, you don't need much to make it, if you like oranges you will love the intense flavor of this cake, by not removing the remains of the peel I managed to give the orange a strong presence, I liked that; although you can strain as I indicated in the step by step, I hope you liked this recipe, I will read your comments on this post, thank you for coming here.



Imágenes tomadas desde mi Xiaomi Redmi Note 4. || Images taken from my Xiaomi Redmi Note 4.
Separadores hechos en Canva. || Dividers made in Canva.
Ediciones hechas en Canva. || Editions made in Canva.
Vídeos convertidos en gif || Videos converted to gif IMG2GO
Translator Deepl.
---
---