Cartuchera o lapicera kawaii. || Kawaii pencil case or pen.
Made in canva

Recibí el fin de semana con una manualidad kawaii, estoy preparando mi participación en la iniciativa activa de la comunidad hive diy, pero mientras termino con ello quiero compartirles esta tierna manualidad que hice hace unos días, el principal material usado es el foami lo que creemos con este material no necesita de mucho esfuerzo para que quede hermoso, es el caso de esta cartuchera aunque parezca que detrás de ella hay una gran elaboración no es así, la realidad es que es muy simple de hacer sigue leyendo para que conozcas el proceso.
I received the weekend with a kawaii craft, I am preparing my participation in the active initiative of the hive diy community, but while I finish with it I want to share with you this cute craft I made a few days ago, the main material used is foami what we create with this material does not need much effort to make it beautiful, is the case of this pencil case although it seems that behind it there is a great elaboration is not so, the reality is that it is very simple to do read on to know the process.

Materiales: || Materials: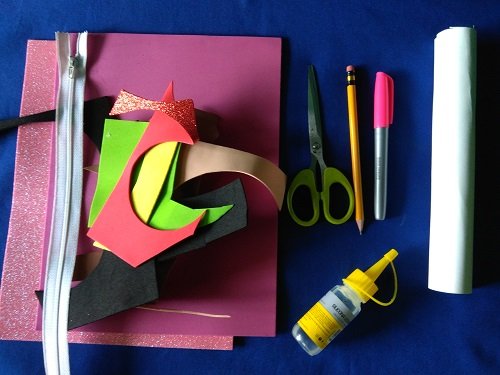 ▪️ Cartulina escolar en color blanco, retazos de foami negro, beige, verde y rojo, amarillo, foami tipo carta en color rosado y fucsia, marcador negro punta fina, pintura al frío blanca, pincel, cremallera de 30 cm, lápices, tijeras, regla geométrica, silicón líquido.
▪️ School cardboard in white, scraps of black, beige, green and red foami, yellow, pink and fuchsia foami, black fine tip marker, white cold paint, paintbrush, 30 cm zipper, pencils, scissors, geometric ruler, liquid silicone.

Paso a paso: || Step by step: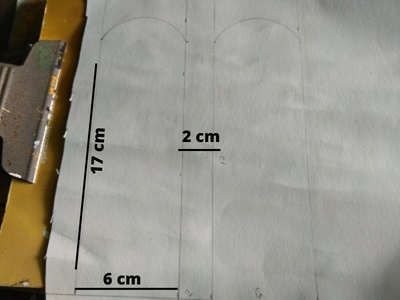 Primer paso: || First step:
▪️ La cartulina escolar será usada para crear el patrón con forma de paleta de helado, para ello creo dos figuras de 17 cm de alto y 6 cm de ancho, unidas con una línea de 2 cm, tomen como referencia la imagen presentada.
The school cardboard will be used to create the pattern in the shape of a popsicle stick, for this I create two figures of 17 cm high and 6 cm wide, joined with a line of 2 cm, take as a reference the image presented.
---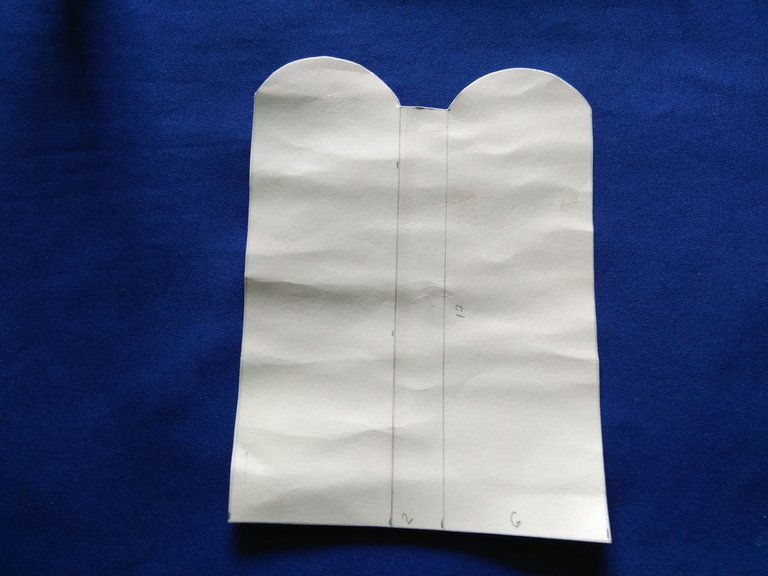 Segundo paso: || Second step:
▪️ Recorté la forma y la dejé así no remarqué ninguna línea.
I cut out the shape and left it like this and did not mark any lines.
---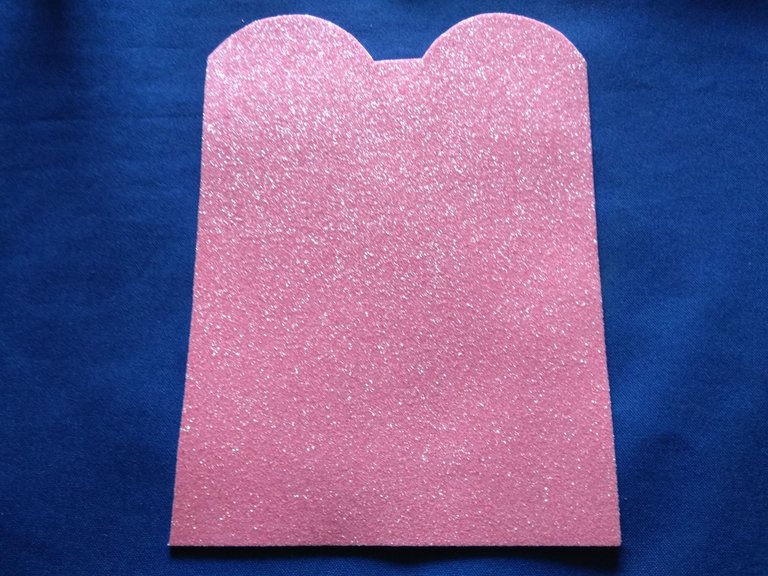 Tercer paso: || Third step:
▪️ Remarqué la figura en el foami rosado y luego la recorté, ahora si es necesario marcar ligeramente las líneas usando la regla geométrica y una tijera.
I traced the figure on the pink foami and then cut it out, now it is necessary to lightly mark the lines using the geometric ruler and a scissors.
---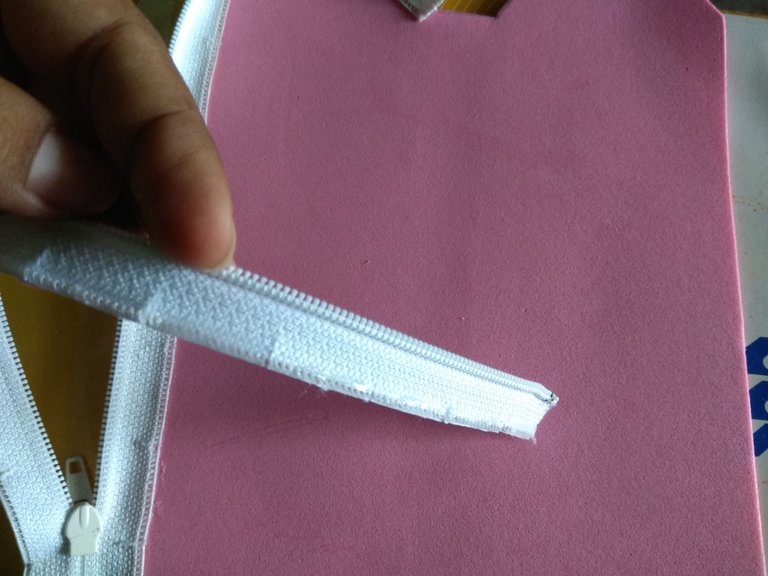 Cuarto paso: || Fourth step:
▪️ Abrí el cierre e hice pequeños cortes a lo largo, esto facilitará la labor de pegarlo al foami, ese sería el siguiente paso aplicar silicón líquido y pegarlo al helado de foami.
I opened the zipper and made small cuts along its length, this will make it easier to glue it to the foami, that would be the next step, apply liquid silicone and glue it to the foami ice cream.
---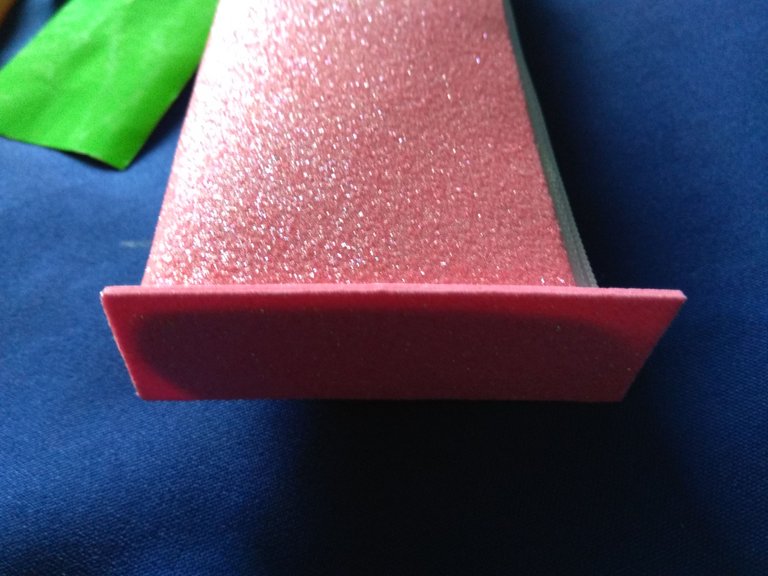 Quinto paso: || Fifth step:
▪️ Recorté una tira de foami y la pegué la base de la estructura, al secar recorté el excedente este truco es genial para no tener que tomar medidas.
I cut a strip of foami and glued it to the base of the structure, when it dried I cut the excess, this trick is great for not having to take measurements.
---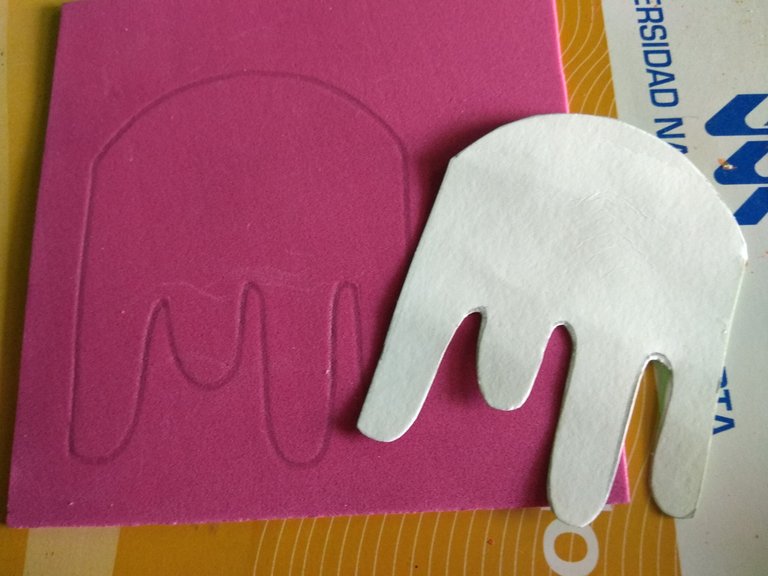 Sexto paso: || Sixth step:
▪️ Al tener la estructura restaría crear las decoraciones, para el efecto de helado derretido usé el foami fucsia y tomé como referencia las medidas del patrón hecho de cartulina.
For the melted ice cream effect I used the fuchsia foami and took as a reference the measurements of the cardboard pattern.
---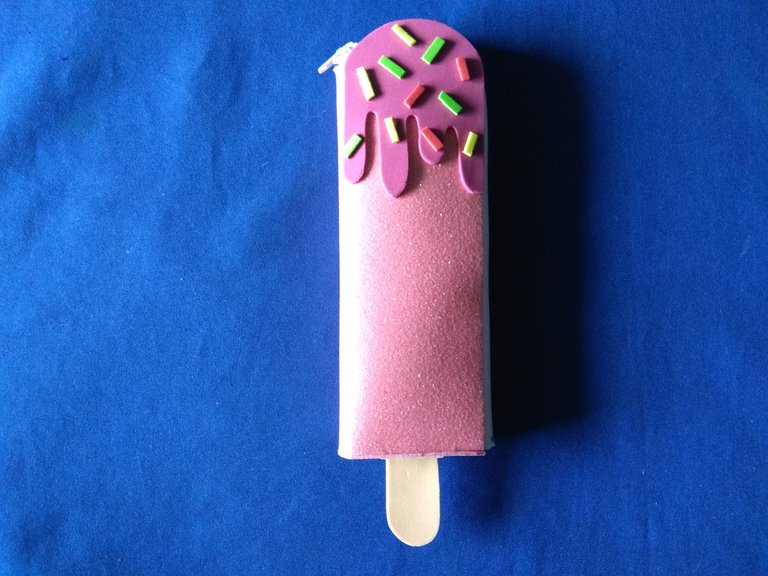 Séptimo paso: || Seventh step:
▪️ Pegué a la estructura la pieza hecha anteriormente y pegué sobre ella pequeños recortes de foami en colores variados para semejar chispas, también pegué una paleta hecha de foami beige.
I glued the previously made piece to the structure and glued on it small foami cutouts in various colors to resemble sparks, I also glued a palette made of beige foami.
---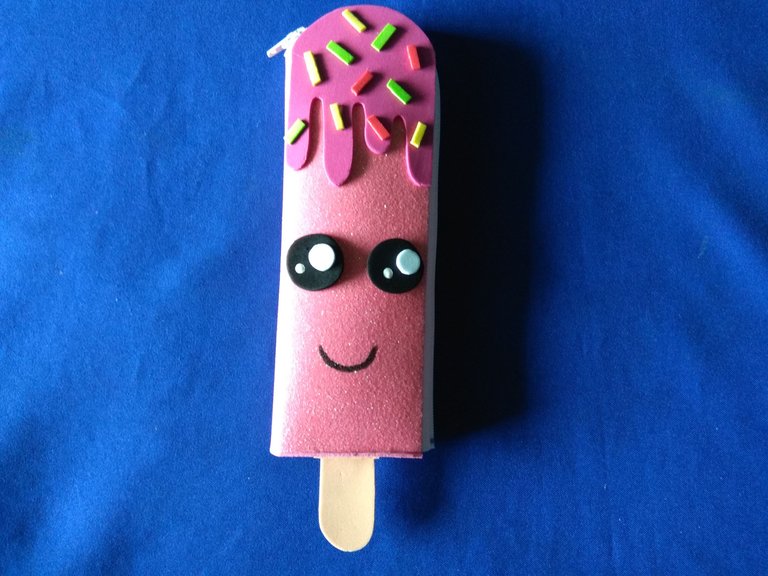 Octavo paso: || Eighth step:
▪️ Para que se vea aun más kawaii agregué unos grandes ojos tiernos y una pequeña boca hecha con marcador.
To make it look even more kawaii I added some big tender eyes and a small mouth made with marker.

Cartuchera o lapicera kawaii. || Kawaii pencil case or pen.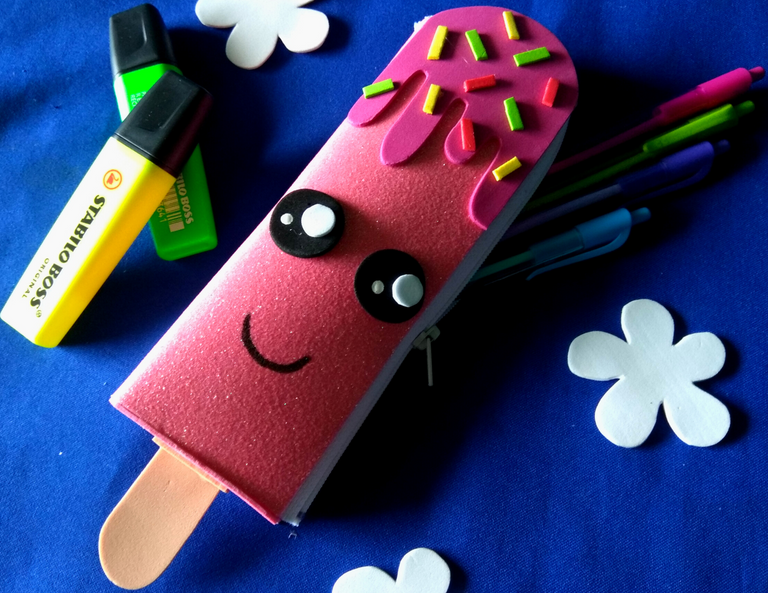 ---
---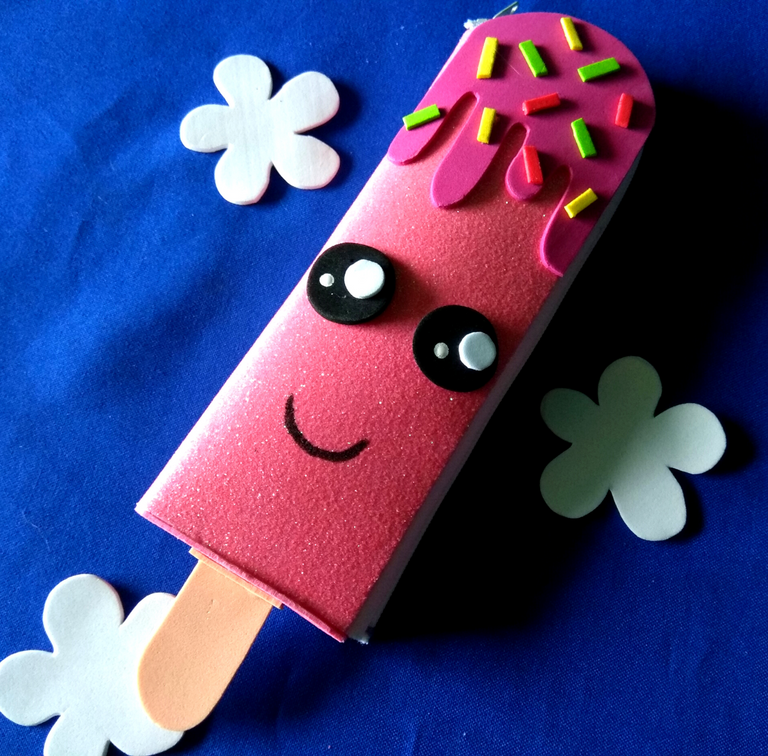 Una practica manualidad al estilo kawaii, esta combinación de colores es sencillamente tierna, la expresión es una de mis parte preferidas, son formas simples que pueden hacer apoyándose en una regla geométrica, creo que al hacerla muchos de ustedes no querrán usar esta cartuchera de los linda que es, se convertirá en un adorno de su escritorio, espero leer en los comentarios que opinan de este tutorial, gracias por llegar hasta aquí.
A practical kawaii style craft, this combination of colors is simply cute, the expression is one of my favorite parts, they are simple shapes that can be made using a geometric ruler, I think many of you will not want to use this pencil case because it is so cute, it will become an ornament of your desk, I hope to read in the comments what you think of this tutorial, thanks for coming here.



Imágenes tomadas desde mi Xiaomi Redmi Note 4. || Images taken from my Xiaomi Redmi Note 4.
Separadores hechos en Canva. || Dividers made in Canva.
Ediciones hechas en Canva. || Editions made in Canva.
Vídeos convertidos en gif || Videos converted to gif IMG2GO
Translator Deepl.
---
---