Empanadas de plátano macho. || Plantain empanadas.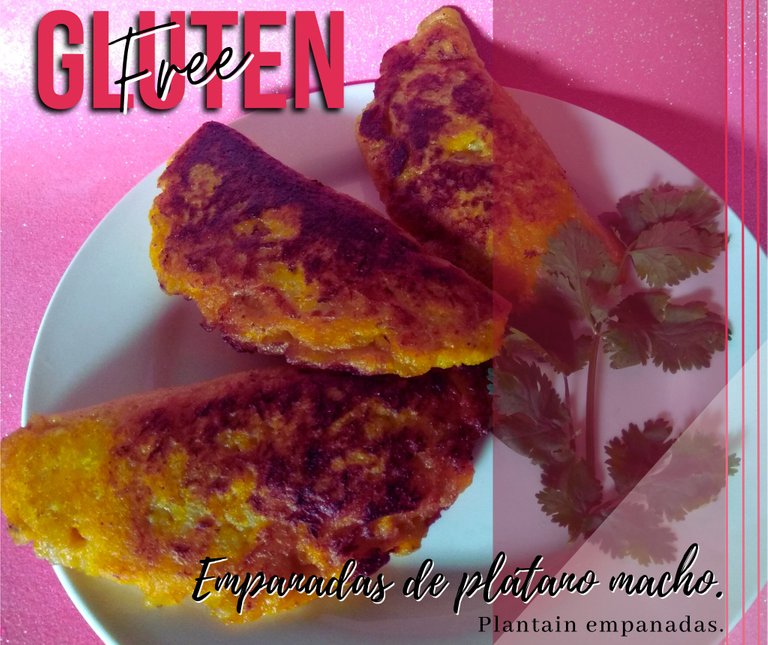 Edited in Canva
Hive food nos invita a preparar platillos libres de gluten, hace poco intenté compartir un plato que a mi parecer era sin gluten, por falta de investigación cometí un grave error, es por ello que ahora participo con más seguridad, es necesario leer las etiquetas y conocer que alimentos son actos para celiacos, no tengo ningún familia que padezca o tenga dicha intolerancia al gluten, aunque si puedo decir que hace más de un año me enfermé del colón, cada vez que comía harinas me sentía muy mal e inflamada, un especialista me recomendó eliminar por un tiempo las harinas de mi dieta y optar por alimentos que de forma natural no contengan gluten, el plátano se convirtió en uno de mis más fieles aliados.
Hive food invites us to prepare gluten free dishes, recently I tried to share a dish that I thought was gluten free, for lack of research I made a big mistake, which is why I now participate with more security, it is necessary to read labels and know what foods are acts for celiacs, I have no family who suffers or has such intolerance to gluten, Although I can say that more than a year ago I got sick with colon, every time I ate flour I felt very bad and inflamed, a specialist recommended me to eliminate for a while the flour from my diet and opt for foods that naturally do not contain gluten, the banana became one of my most faithful allies.
---
La receta de hoy gira en torno a este alimento con grandes propiedades alimenticias y de sabor inigualable, debo resaltar que gracias a investigar pude aprender que algunos productos en su proceso de envasado pueden contaminarse, es por ello que deben leer las etiquetas, por ejemplo, si compran pollo deben leer que esté libre de trazas de gluten, esto me parece interesante porque naturalmente este alimento no contiene gluten pero puede contaminarse, es una recomendación valiosa para personas con intolerancia.
Today's recipe revolves around this food with great nutritional properties and unparalleled flavor, I must emphasize that thanks to research I learned that some products in their packaging process can be contaminated, which is why you should read the labels, for example, if you buy chicken should read that it is free of traces of gluten, I find this interesting because naturally this food does not contain gluten but can be contaminated, it is a valuable recommendation for people with intolerance.
Ingredientes: || Ingredients:
▪️ 2 plátanos machos, 1/2 pechuga, 1 papa, 2 zanahorias, 1 cebolla, cebollín, cilantro, 2 dientes de ajo, onoto, orégano, sal, aceite.
▪️ 2 plantains, 1/2 breast, 1 potato, 2 carrots, 1 onion, chives, cilantro, 2 cloves of garlic, onoto, oregano, salt, oil.
---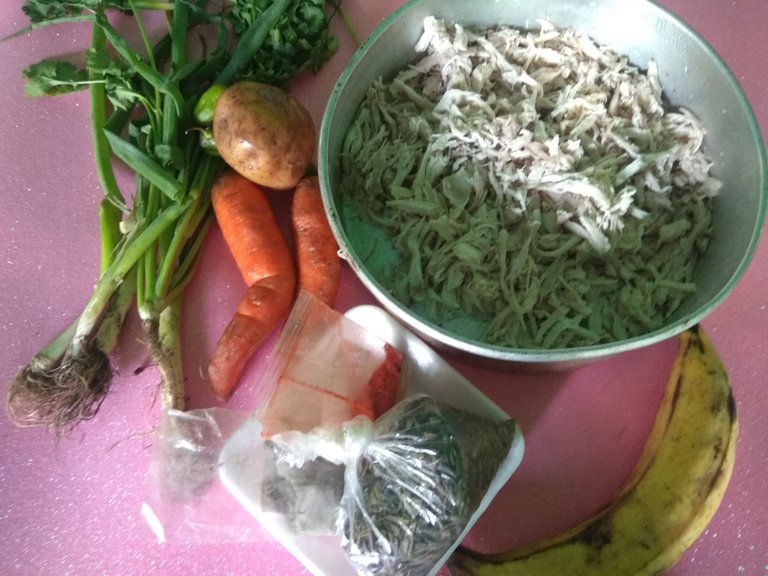 Preparación: || Preparation:
El pollo que usé de relleno era parte de la comida de almuerzo, guardé un poco para rellenar las empanadas, pueden reducir las cantidades si desean porque de 2 plátanos hice 3 empanadas, primero llevé a hervir el pollo durante 40 minutos porque estaba congelado, debe estar cocido a la perfección, luego retiré del agua y dejé enfriar, reserven el agua.
The chicken I used for the filling was part of the lunch meal, I saved some to fill the empanadas, you can reduce the quantities if you wish because from 2 plantains I made 3 empanadas, first I boiled the chicken for 40 minutes because it was frozen, it should be cooked to perfection, then I removed from the water and let it cool, reserve the water.
---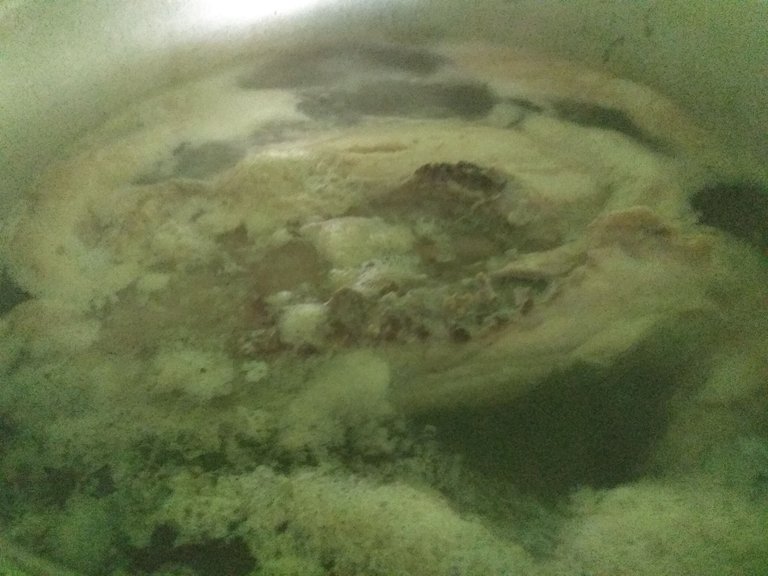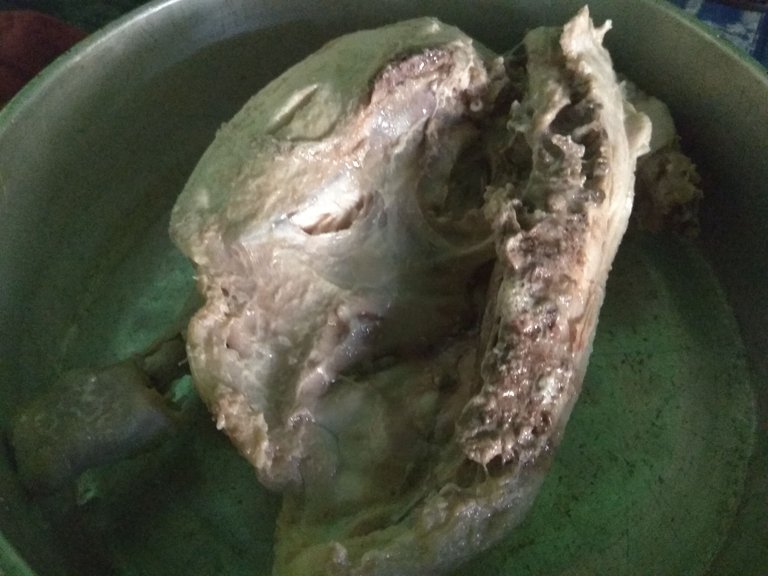 ---
Es necesario deshebrar el pollo para esta preparación, como paso siguiente lavé y corte todo lo que usaría para guisa, zanahorias, cebollín, papas, cilantro, es necesario machacar los dientes de ajo también.
It is necessary to shred the chicken for this preparation, as a next step I washed and cut everything I would use for stewing, carrots, scallions, potatoes, cilantro, it is necessary to crush the garlic cloves as well.
---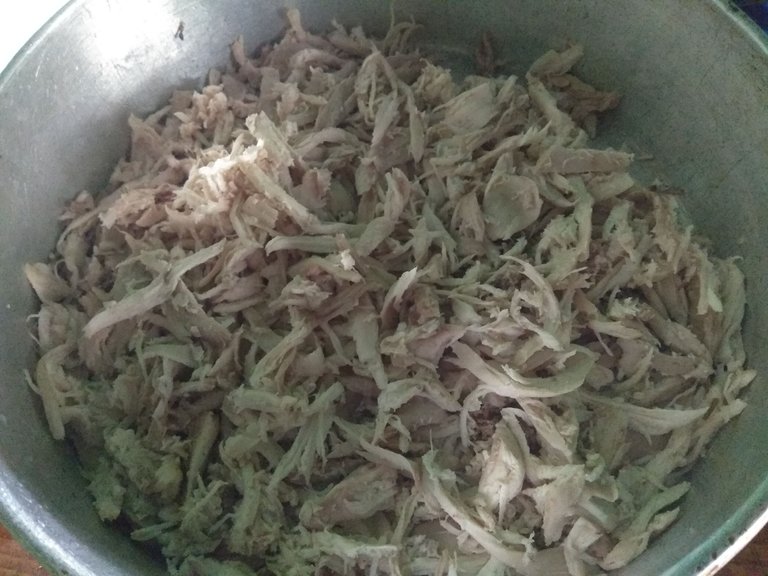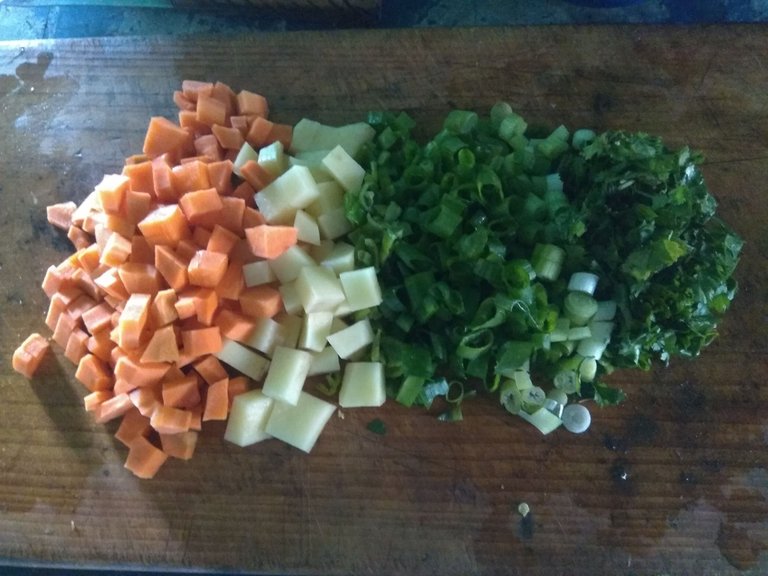 ---
En una olla caliente agregué un poco de aceite y comencé a sofreír los vegetales, añadí el pollo deshebrado y el condimento al gusto, dejé cocinar para que los sabores impregnaran el pollo durante unos minutos.
In a hot pot I added a little oil and began to sauté the vegetables, added the shredded chicken and seasoning to taste, let it cook so that the flavors would permeate the chicken for a few minutes.
---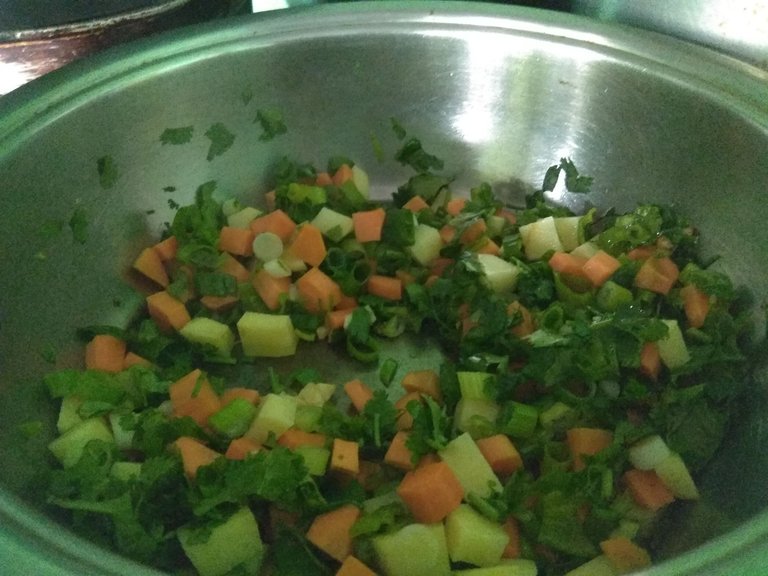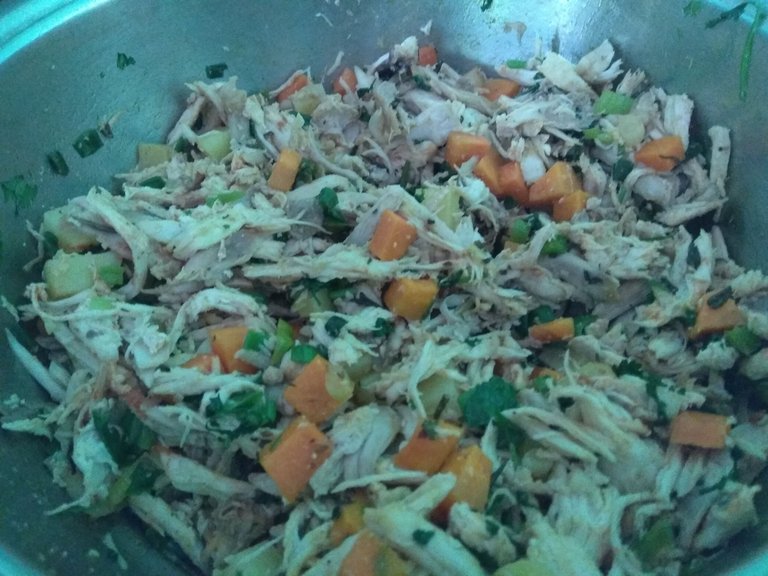 ---
Agregué dos tazas del agua que reservé, el agua donde el pollo se cocinó, también se debe añadir un poco de sal y dejar cocinar hasta que reduzca y el líquido espese.
I added two cups of the water I reserved, the water where the chicken was cooked, also add a little salt and let it cook until it reduces and the liquid thickens.
---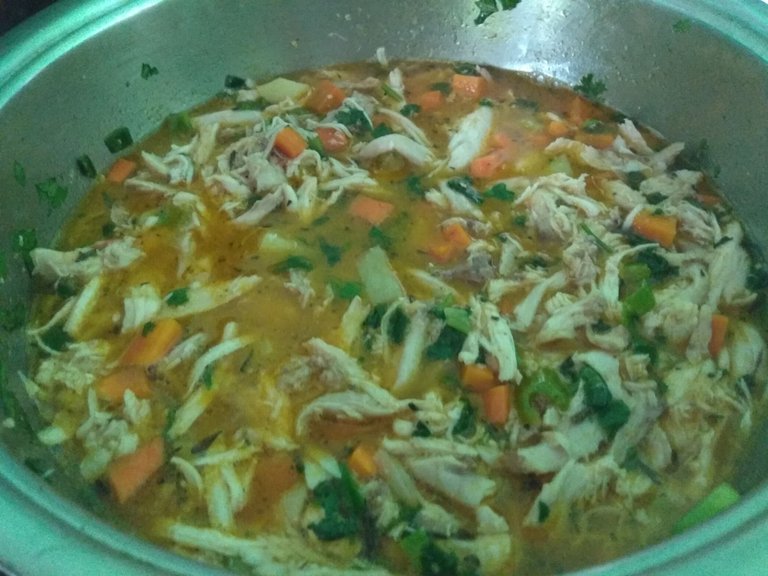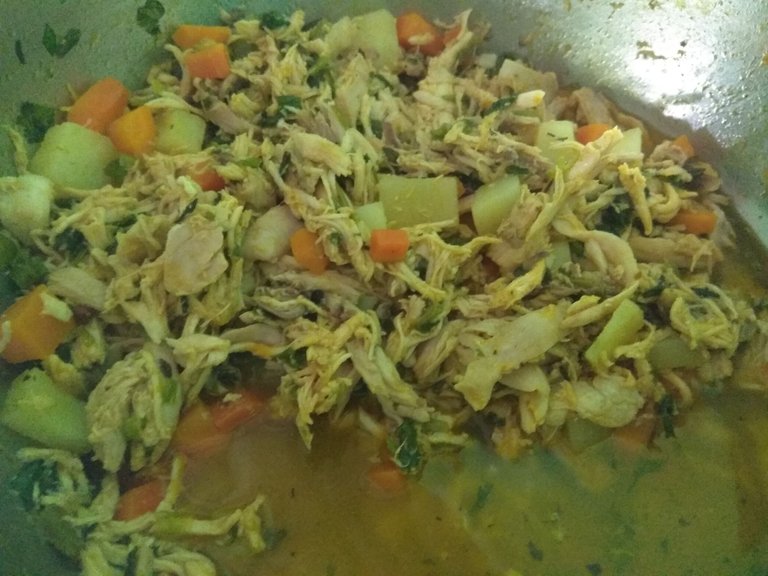 ---
Para hacer la masa se debe cortar en pedazos los plátanos y llevar a hervir hasta que estén blandos, herví solo uno porque ya tenía uno listo, al estar listo lo retiré del agua.
To make the dough, cut the plantains into pieces and boil them until they are soft, I boiled only one because I already had one ready, when it was ready I removed it from the water.
---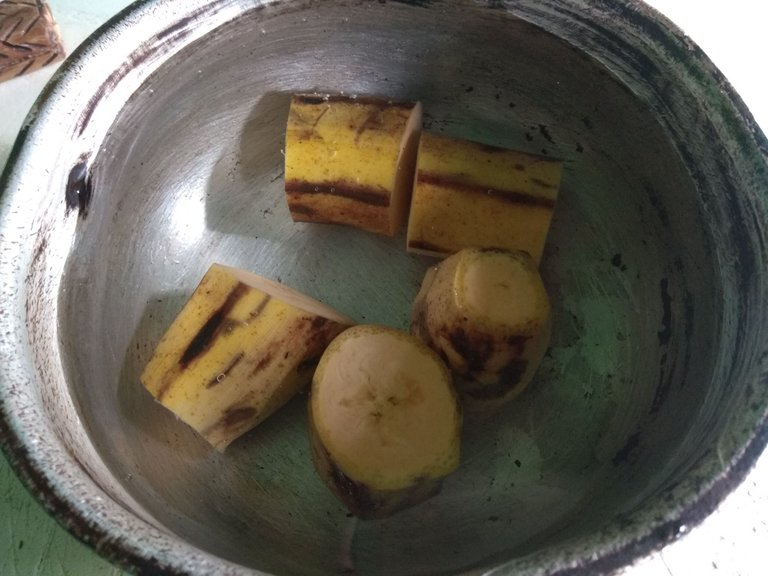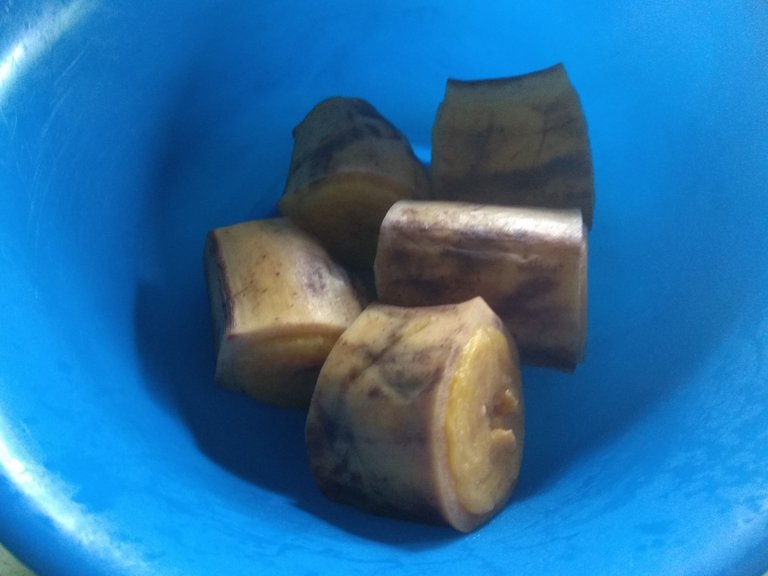 ---
Retiré la cascara del plátano y trituré hasta hacer una masa, un tips que puedo darles que deben que el plátano este frío para amasar así obtendrán una masa más firme, agregué un poco de sal al gusto.
I removed the banana peel and mashed until I made a dough, a tip I can give you is that the banana must be cold to knead so you will get a firmer dough, I added a little salt to taste.
---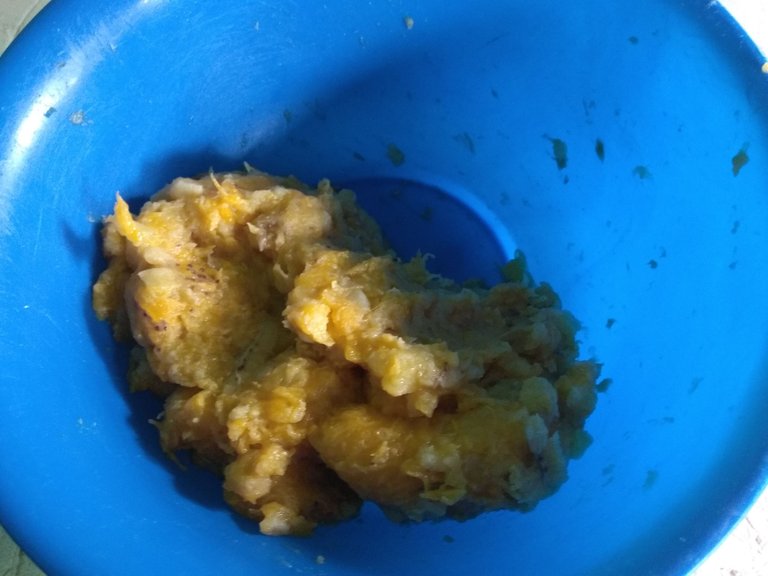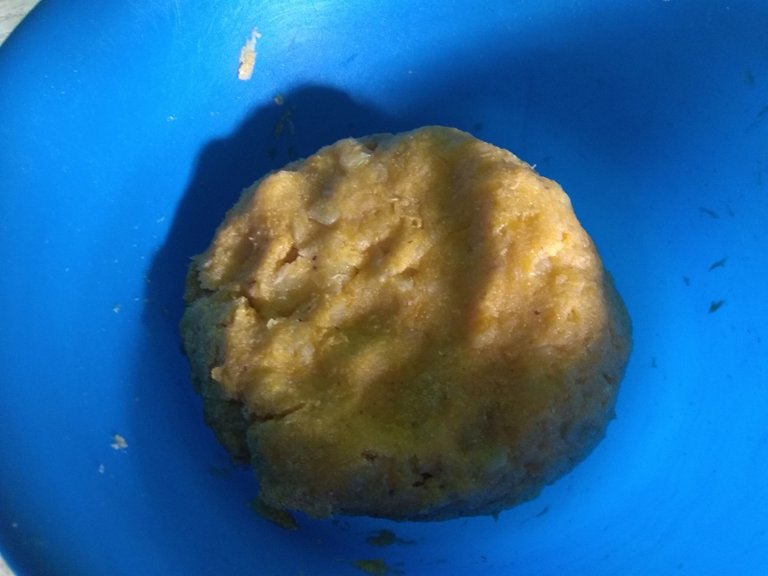 ---
En un plato coloqué una bolsa para armar mis empanadas, la unté con un poco de aceite y extendía una bolita de masa de plátano, no debe quedar muy delgada o se romperá, agreguen un poco del relleno y cierren la empanada.
On a plate I placed a bag to assemble my empanadas, I spread a little oil on it and spread a small ball of banana dough, it should not be too thin or it will break, add a little of the filling and close the empanada.
---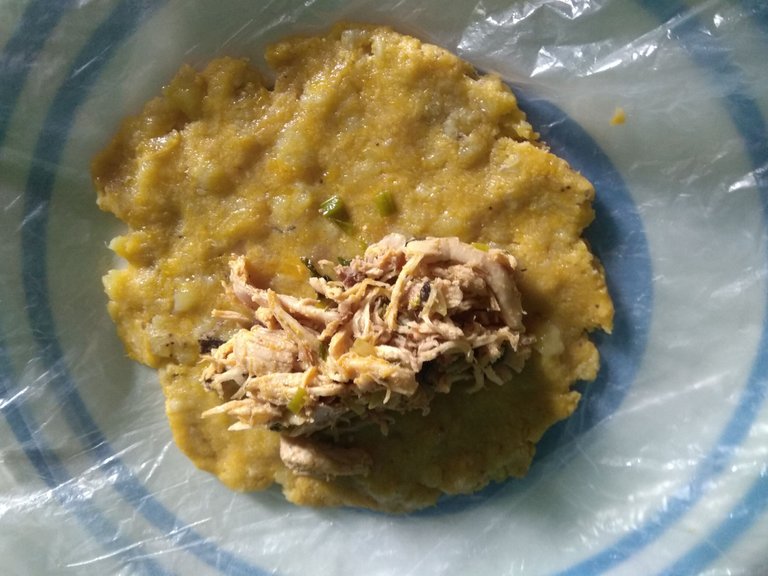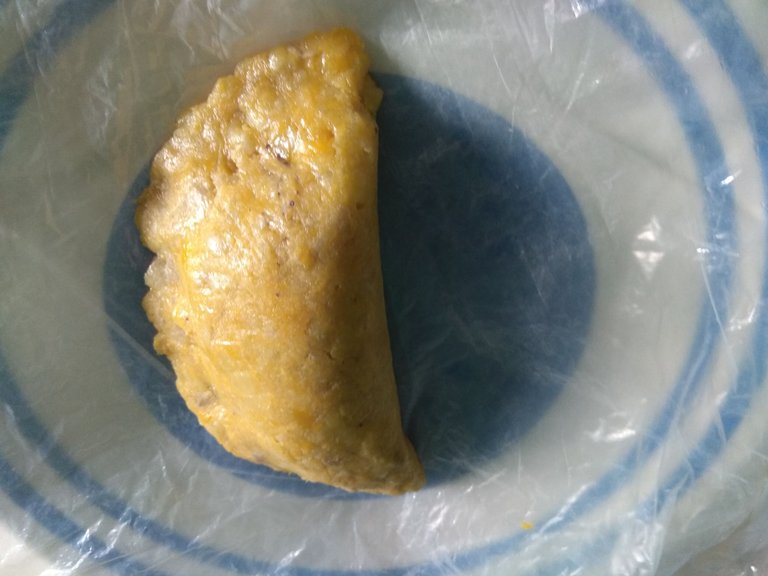 ---
Cocinen las empanadas en un sartén caliente con un poco de aceite, solo un poco, deben estar pegados al sartén porque el plátano se quema muy rápido, ambos lados deben estar dorados y estarán listas.
Cook the empanadas in a hot pan with a little oil, just a little, they should be stuck to the pan because the plantain burns very fast, both sides should be golden brown and they will be ready.
---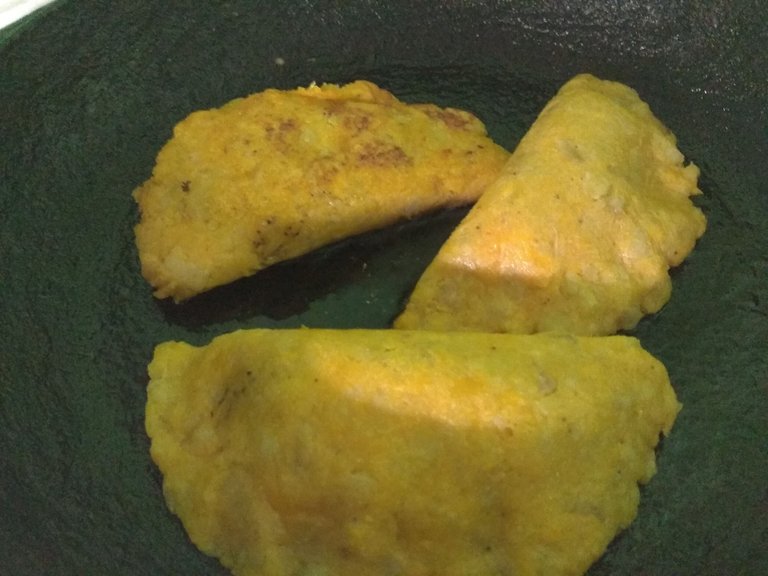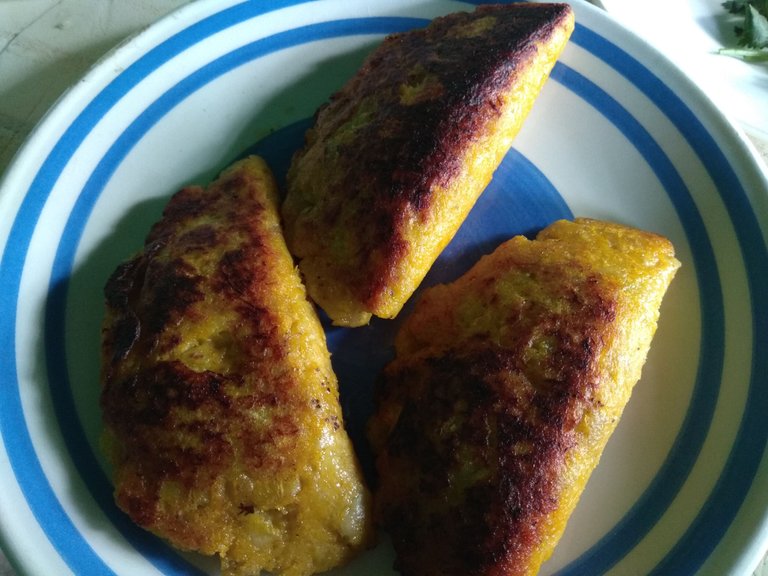 Empanadas de plátano macho. || Plantain empanadas.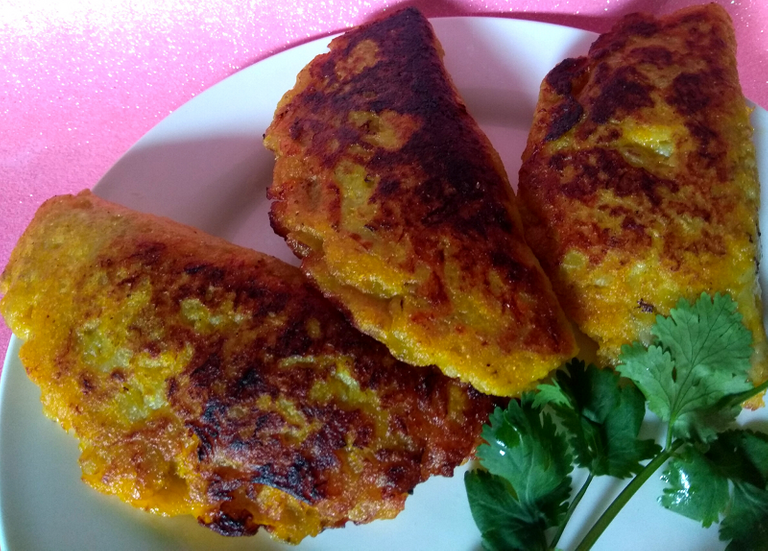 ---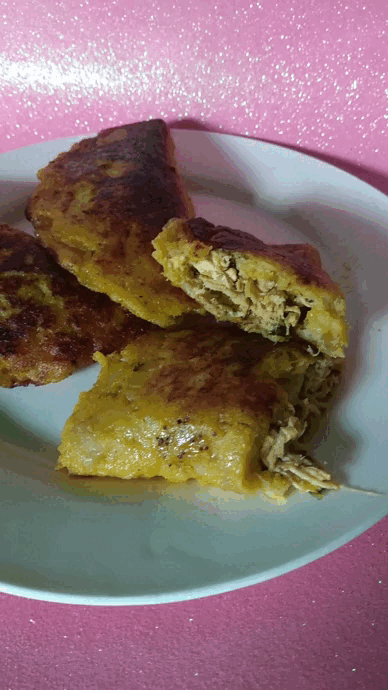 ---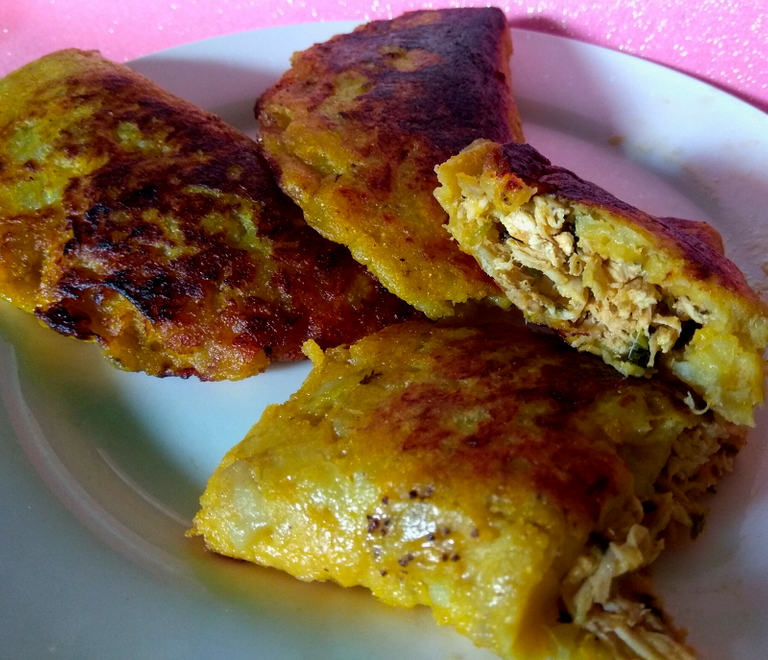 Estas empanaditas pueden ser un muy nutritivo desayuno, si desean en vez de freír pueden hornear, aunque fritas quedan riquísimas resalta mucho el sabor del plátano macho, una comida libre de gluten que además de sana es rica, en el proceso de aprender sobre los alimentos libres de gluten encontré cosas interesante, que honestamente desconocía por completo, concuerdo con la idea de leer las etiquetas para tener seguridad en lo que se consume, quiero invitar a este movimiento a
@genice
.
These empanaditas can be a very nutritious breakfast, if you want instead of frying they can be baked, although fried they are delicious, the flavor of the plantain stands out a lot, a gluten free food that besides being healthy is delicious, in the process of learning about gluten free foods I found interesting things, that honestly I did not know completely, I agree with the idea of reading labels to be sure of what is consumed, I want to invite
@genice
to this movement.
---
[ESP] | [ENG] — INICIATIVA: Una Comida sin Gluten.

Imágenes tomadas desde mi Xiaomi Redmi Note 4. || Images taken from my Xiaomi Redmi Note 4.
Separadores hechos en Canva. || Dividers made in Canva.
Ediciones hechas en Canva. || Editions made in Canva.
Vídeos convertidos en gif || Videos converted to gif IMG2GO
Translator Deepl.
---
---