Estalla tus piernas con esta rutina. || Make your legs explode with this routine.

Edited in Canva.
Hace mucho que no comparto en esta comunidad, quiero regresar con una rutina que para mí estuvo potente, la realicé en el gimnasio en el que entreno, pero puede realizarse en casa, para ello les dejaré algunos tips de cómo puede adaptarla al hogar, en esta rutina trabajaremos gran parte del tren inferior, podrán sentir que en cada movimiento trabajan una zona, es una rutina muy completa que a mí me gustó mucho porque me exigió.
It's been a long time since I last shared in this community, I want to return with a routine that for me was powerful, I did it at the gym where I train, but it can be done at home, for this I will leave some tips on how you can adapt it at home, in this routine we will work much of the lower body, you can feel that in each movement work an area, it is a very complete routine that I really liked because it demanded me.
---
Cuando entrenen intenten dar lo mejor de sí, exigirse cada vez más créanme al terminar la rutina estarán cansados, pero con una gran sensación de victoria, sin más iniciaré con la explicación, pero antes les mostraré un calentamiento que realicé en mi casa antes de ir a entrenar, en el gimnasio entrenamos de una manera diferente, por ello quise mostrar un acondicionamiento dinámico que activa el tren inferior y es fácil de ejecutar.
When you train try to give your best, demand more and more believe me at the end of the routine you will be tired, but with a great sense of victory, without further ado I will start with the explanation, but first I will show you a warm up that I did at home before going to train, in the gym we train in a different way, so I wanted to show a dynamic conditioning that activates the lower body and is easy to execute.

Calentamiento || Warming up:
1. Rotación de cadera:
1. Hip rotation:
---
Rotar la cadera es un movimiento bastante básico que puede ayudar a mejorar tu rango de movimiento en las sentadillas, como ven en el gif deben pararse firmes y rotar una pierna flexionada, este calentamiento lo hice por series de 15 repeticiones por 3 series.
Rotating the hip is a pretty basic movement that can help improve your range of motion in squats, as you see in the gif you must stand up straight and rotate one leg flexed, I did this warm up in sets of 15 reps for 3 sets.
---
---
2. Elevación lateral de piernas:
2. Lateral leg raises:
---
La elevación lateral es otro movimiento que deben considerar antes de entrenar el tren inferior, uno de los grandes beneficios de realizar la elevación es fortalecer las caderas, para ejecutar deben apoyarse de una base firme en mi caso fue una pared, luego procedí a elevar una pierna 15 veces y luego elevé la otra, recuerden que las series deben ser 3.
The lateral elevation is another movement that should be considered before training the lower body, one of the great benefits of performing the elevation is to strengthen the hips, to execute must be supported by a firm base in my case was a wall, then proceeded to raise one leg 15 times and then raised the other, remember that the series should be 3.
---
---
3. Sentadilla profunda con extensión:
3. Deep squat with extension:
---
Este movimiento involucra principalmente los músculos de las caderas, muslos y glúteos, recuerden mantener un movimiento controlado en cada ejecución, bajen lo más que puedan y luego extiendan las piernas, las repeticiones son 15 por 3 series.
This movement involves mainly the muscles of the hips, thighs and buttocks, remember to maintain a controlled movement in each execution, lower as low as you can and then extend the legs, the repetitions are 15 for 3 sets.
---
---
4. Sentadilla convencional:
4. Conventional squat:
---
Para finalizar el calentamiento hice sentadillas convencionales tomando como guía la pared, esto me permite tener un límite a la hora de bajar, es un buen tips que pueden ser las personas principiantes, 15 repeticiones por 3 series.
To finish the warm up I did conventional squats taking the wall as a guide, this allows me to have a limit when going down, it is a good tip for beginners, 15 repetitions for 3 sets.
---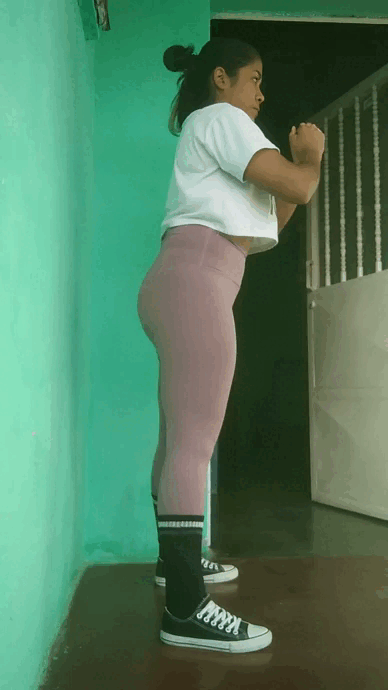 1. Hip thrust:
1. Hip thrust:
---
El hip thrust es uno de los movimientos que más me gusta para trabajar los glúteos, cuando entreno en el gimnasio lo hago con barra y suelo emplear sobre carga progresiva y reducir las repeticiones en cada serie, es decir; empiezo con 70 kg y en cada nueva serie aumento 10 kg, la primera serie son 20 repeticiones, luego 15 repeticiones, tercera serie 12 repeticiones y la última serie 10 repeticiones continuas, para posicional las piernas extiendo una primero y luego llevo la otra a la altura de la rodilla, al sentirme cómoda elevo la cadera y arriba procedo a contraer glúteos y hacer una pequeña retroversión de pelvis.
The hip thrust is one of the movements that I like to work the buttocks, when I train in the gym I do it with bar and I usually use progressive load and reduce the repetitions in each series, ie; I start with 70 kg and in each new series I increase 10 kg, the first series are 20 repetitions, then 15 repetitions, third series 12 repetitions and the last series 10 continuous repetitions, to position the legs I extend one first and then take the other to the height of the knee, when I feel comfortable I raise the hip and up I proceed to contract buttocks and make a small pelvis retroversion.
---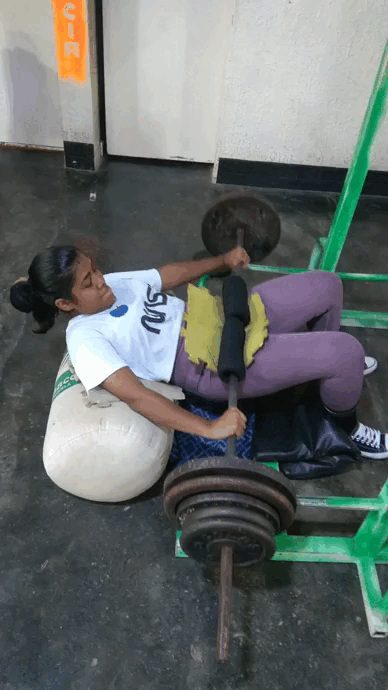 Nota:
Note:
---
El hip thrust puede ejecutarse en casa, para ello busquen una base estable que no sobre pase su rodilla, apoyen sus escapulas y posicionen los pies, pueden usar una botella de agua o hacer el movimiento sin carga.
The hip thrust can be performed at home, so look for a stable base that does not exceed your knee, support your scapulae and position your feet, you can use a water bottle or do the movement without load.

2. Elevación lateral de pierna extendida en cuadrupedia:
2. Quadruped lateral leg raise with extended leg:
---
Este movimiento es estupendo para reducir la grasa situada en los muslos y fortalecer los glúteos, lo realicé usando una pesa tobillera de 5 kg, en el banco me coloqué en posición de cuadrupedia alineando los brazos con los hombros, solo apoyé una rodilla y la otra piernas debe estar extendida, elevo la pierna alineada a la otra rodilla en un movimiento controlado, eleven y bajen controlando el movimiento y el peso, deben ser 20 repeticiones por 4 series.
This movement is great to reduce the fat located in the thighs and strengthen the buttocks, I performed it using a 5 kg ankle weight, on the bench I placed myself in quadruped position aligning the arms with the shoulders, I only supported one knee and the other legs should be extended, I raise the leg aligned to the other knee in a controlled movement, raise and lower controlling the movement and weight, should be 20 repetitions for 4 sets.
---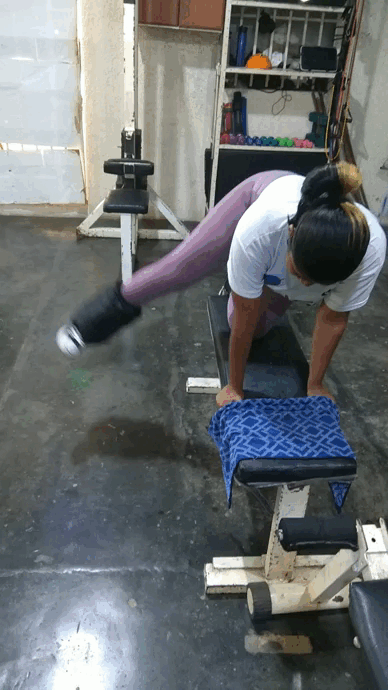 Nota:
Note:
---
En casa se puede ejecutar fácilmente este movimiento, recuerden colocar algún apoyo en el piso puede ser una toalla, colóquense en cuadrupedia y realicen las repeticiones, en casa hagan el movimiento sin carga controlando la ejecución.
At home you can easily perform this movement, remember to place some support on the floor can be a towel, place yourself in quadruped and perform the repetitions, at home do the movement without load controlling the execution.

3. Sentadilla unilateral en suspensión:
3. Unilateral suspension squat:
---
En el gimnasio en el que entreno hay cuerdas que nos permiten trabajar en extensión, realizar la sentadilla unilateral de esta manera era algo nuevo para mí, debo decir que es uno de los movimientos más exigentes que he realizado, sentí el trabajo principalmente en los cuádriceps, aunque al emplear los brazos también trabajé los bíceps y las dorsales, se ejecuta posicionando las cuerdas a la altura del pecho, al bajar se deben extender los brazos y realizar una sentadilla profunda con una pierna totalmente extendida, al subir deben presionar con fuerza, contraer abdomen y llevar nuevamente la cuerda a su posición inicial, recuerden inhalar al bajar y exhalar al estar arriba, 20 repeticiones por piernas por 4 series.
In the gym where I train there are ropes that allow us to work in extension, perform the unilateral squat in this way was something new to me, I must say that is one of the most demanding movements I've done, I felt the work mainly in the quadriceps, although when using the arms also worked the biceps and lats, it is executed by positioning the ropes at chest height, when lowering the arms should be extended and perform a deep squat with one leg fully extended, when ascending should press hard, contract abdomen and bring the rope back to its initial position, remember to inhale when lowering and exhale when up, 20 repetitions per leg for 4 sets.
---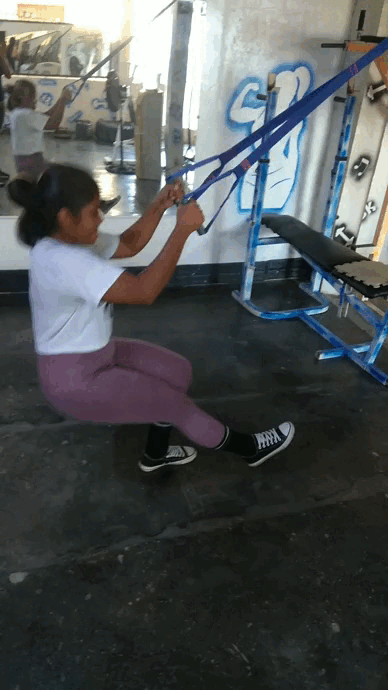 Nota:
Note:
---
En casa podemos realizar este movimiento, aunque se ejecución será diferente, buscaremos algún apoyo puede ser la pared, colocaremos las manos con nuestros brazos extendidos a la altura de la cadera, llevaremos uno de nuestros pies atrás del otro no debe tocar el piso, en ese punto procedemos a bajar los más que podamos.
At home we can perform this movement, although the execution will be different, we will look for some support can be the wall, we will place our hands with our arms outstretched at hip height, we will take one of our feet behind the other should not touch the floor, at that point we proceed to lower as much as we can.

4. Salto al caucho o cajón:
4. Jumping to the rubber or box:
---
El salto al caucho es un trabajo pliométrico que trabaja el tren inferior y también la zona media al contraer para tomar impulso, también permite elevar las pulsaciones en cada repetición, es un movimiento que parece simple, pero es exigente, la altura de la superficie a saltar dependerá de tu nivel de entrenamiento, como ven yo soy principiante aun, sin embargo, al ser un movimiento que se ejecuta de forma dinámica, puedo sentir sus efectos, al saltar tomen impulso y deben contraer el abdomen, los pies deben caer al mismo tiempo en el caucho o cajón, 20 repeticiones por 4 series.
The jump to the rubber is a plyometric work that works the lower body and also the middle zone to contract to take impulse, also allows to raise the heart rate in each repetition, is a movement that seems simple, but is demanding, the height of the surface to jump will depend on your level of training, as you see I am still a beginner, however, being a movement that runs dynamically, I can feel its effects, when jumping take impulse and must contract the abdomen, the feet must fall at the same time on the rubber or box, 20 repetitions for 4 series.
---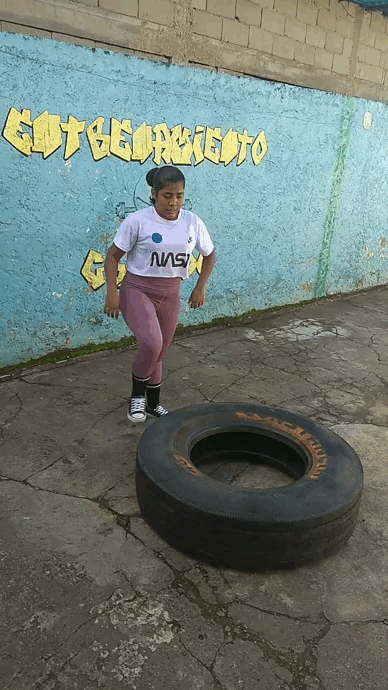 Nota:
Note:
---
Para ejecutar en casa necesitarán un cajón que sea estable, o pueden usar los escalones de alguna escalera si viven en departamentos, tomen impulso y salten, no permitan que su mente los bloquee este tipo de movimiento requiere de confianza y seguridad.
To perform at home you will need a box that is stable, or you can use the steps of a staircase if you live in an apartment, take impulse and jump, do not let your mind block you, this type of movement requires confidence and security.

Al igual que el movimiento la respiración también debe ser controlada en el entrenamiento, la hidratación también es parte vital de una buena jornada de ejercicios, tengan en mente descansar poco entre ejercicios y entre series lo que necesiten para regresar a la acción que puede variar entre 3 a 4 minutos dependiendo de la intensidad y las cargas que manejen.
As well as the movement, breathing must also be controlled in training, hydration is also a vital part of a good day of exercise, keep in mind to rest a little between exercises and between sets what you need to return to action that can vary between 3 to 4 minutes depending on the intensity and the loads you handle.



Imágenes tomadas desde mi Xiaomi Redmi Note 4. || Images taken from my Xiaomi Redmi Note 4.
Separadores hechos en Canva. || Dividers made in Canva.
Ediciones hechas en Canva. || Editions made in Canva.
Vídeos convertidos en gif || Videos converted to gif IMG2GO
Translator Deepl.
Imagen incrustada. || Embedded image. 1
Rutina hecha por el entrenador. || Trainer-made routine Kellys Rodríguez Instagram
---
---